Hey there! Are you all looking forward to 2014? Are you glad that 2013 is over or do you wish it would have held on a little longer?
2013 was full for us. There were some ups and downs but a lot of milestones for me and for little man.
I left my full time job after seven years to work part time. I started this blog!!! Little man had a lot of mommy time this summer and then started his school journey into kindergarten. We've had more time to spend with our friends and family and we have met lots of new friends and great neighbors.
2013 has been challenging in many ways but we have had some amazing moments as well. I am sad because the time seems to be flying by but I am also anticipating what this next year holds for our family. We are truly blessed and we try to remember and focus on that fact often.
So, I have never had a "word of the year" but I have seen it going around the blog world and I think it sounds like a great idea. An opportunity for focus.
Can you imagine summing up what you want the next year to be in one word and thinking about it on a daily basis? See it written on a sticky note on your bathroom mirror, on the fridge, in your car, etc. Talk about in your face.
When I started thinking about the upcoming year and what I wanted it to look like I kept going back to the words organization and simple. There were a lot of sentimental words and feelings that ran through my mind but I was more interested in something that meant action, getting things done.
Then this word came to me and I had to keep reminding myself that it isn't an actual word. But…I decided to roll with it anyway. And…drum roll…the word is:
Organize + Simplify = Organify
I know that I would be a better mom if I was more organized and if the systems in our home functioned efficiently.
I know I would be less stressed if I kept my house clean on a regular basis and not just when I know people are coming over.
I know I would be happier if I kept up with the laundry.
I know I would be calmer if everything in my home had a place of it's own versus random piles in every corner.
I know I would be more at peace if I had less stuff and spent less money on stuff.
For the month of November of 2013 I completed my 30 Days To Firing On All Cylinders challenge. It was fun and gave me a kick in the rear in the right direction but I've got a LONG way to go.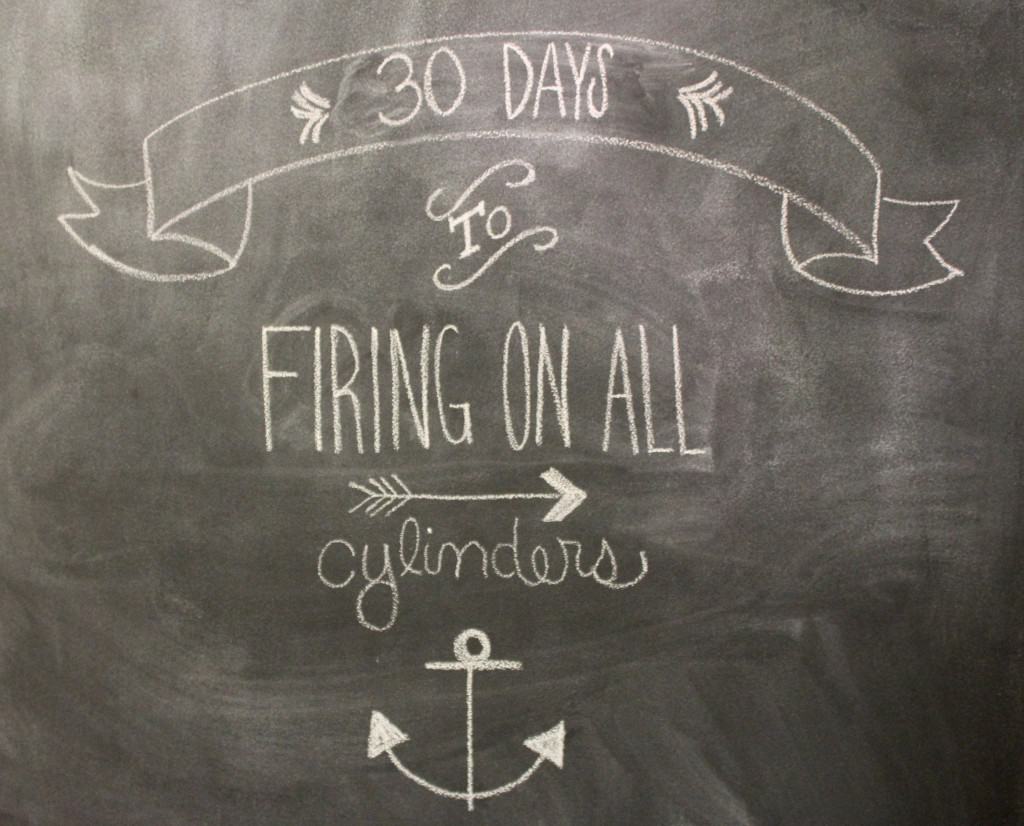 So we are getting down to business. We are going to ORGANIFY the heck out of this house so we can spend more family time and less time working so that 2015 will be filled with lots of lovey dovey mushy moments because we will have more time for them.
Here are some of the DIY and organizational projects I hope to tackle in 2014 (in no set in stone order):
1. Finish my office/craft room: paint and organize book shelves, organize desk, tame the crazy cords situation, hang wall art.
2. Purge and organize the pantry for the 78th time!
3. Purge and organize our kitchen cabinets for the 117th time!
4. Storage solution for little man's artwork.
5. Organize email folders and inbox.
6. Organize photos on my laptop.
7. Figure out lighting in office and playroom.
8. Build furniture for the back deck and figure out front porch area. Swing?
9. Organize paint and paint supplies.
10. Re-evaluate laundry room storage systems and laundry room makeover.
11. Organize my filing system, create a command center and make a plan for staying on top of paperwork.
12. De-clutter attic spaces.
13. Decide on and commit to a work out regime. Triathlon?
14. Fix closet storage situation in the playroom.
15. Organize and stock up on cleaning supplies. DIY cleaning supplies?
16. Paint or replace nightstands.
17. Landscaping: mulch, stone path in back yard.
18. Paint shingles and front porch.
19. Tile kitchen floor. Herringbone pattern?
20. Tile master bathroom floor.
21. Paint interior trim and door hardware.
22. Install and paint wood paneling in kitchen bar area.
23. Change out light fixtures in hallways. DIY drum shade fixtures?
24. Rearrange wall art in the playroom.
25. Fix problems: leaky sinks, freezer, paint touch ups.
26. Go through little man's clothes and toys (about 4 times a year).
27. Clean out and organize garage. Build work bench?
28. And finally the usual: make sure we floss our teeth, wear clean clothes and take showers at least every other day :)
And here is my 2014 wish list: new kitchen countertops and bar overhang, new knobs for kitchen cabinets, wire for overhead light in playroom, small outdoor garden.
As you can see there will be no shortage of projects for blog material this year so stay tuned!
We welcome you 2014…BRING IT ON!!!