Filling up an empty bookshelf can be one of the most intimidating tasks when decorating your home. I know, I've definitely been there. It actually has taken me a lot of practice to figure it out and it seems crazy but there is quite a bit of science that goes into learning how to style a bookshelf!
Fear not because my friend Heather of The Decor Fix is here to help! She has put together a fun online course that teaches you everything you need to know about styling those pesky bookshelves! I have taken the class and I can tell you the information is invaluable!!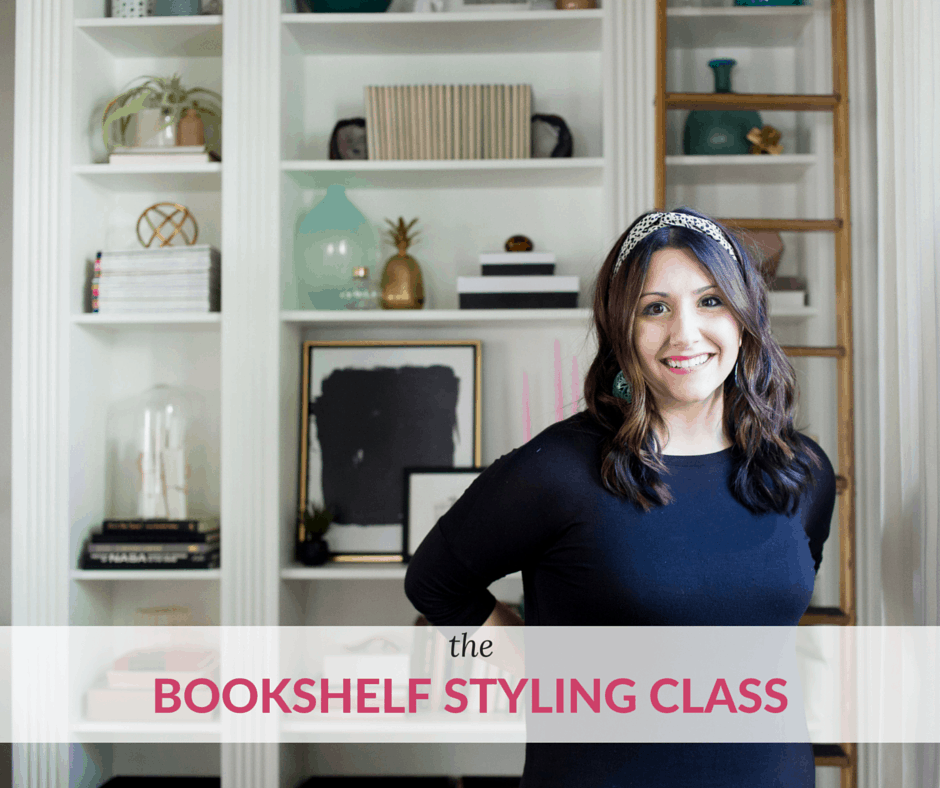 The class is great because you can move at your own pace, watch the videos over and over and she even offers homework and cheat sheets to hone your skills. I promise the stress of that daunting bookshelf will disappear after you've learned all the tips and tricks Heather has to offer!
Heather's blog is full of decor coaching in all areas so make sure to book mark it because it's really a great resource. She is my go-to when I get stumped on a space in my own home and need simple tips that really work!
I mean how amazing is this giant set of shelves she styled here? Most of us could only dream of being able to do this. Before I started blogging and really practicing my decorating skills this would have been a nightmare to me. But seriously, you can learn it I promise!
Here are my massive bookshelves that I styled in one of my first room makeovers. I've since tweaked them but you get the idea and I know I can definitely use some help!
See how I've improved my open shelves in our dining room with a little practice???
How To Style A Bookshelf
Now through March 1st you can sign up for the class for the introductory price of only $29! The price goes up to $49 after that so don't wait! Click HERE to enroll and how to style bookshelves like the pros! I know you will enjoy it!
Also, we have a lot of great stuff coming this week! I'll be revealing my new gallery wall and my updated master bedroom so you will definitely want to check back!
Cheers to a great Monday!

*Affiliate links used