One Room Challenge: Big Boy Room Week 5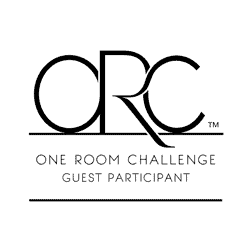 Welcome to Week 5 of the One Room Challenge!
Catch up on Week 1, Week 2 and Week 3 and Week 4!
I think for me this has been the toughest ORC yet! I don't know if I'm just overtired or if it was the bed situation not working out but I feel myself running out of steam. We are headed on a little low country adventure this weekend and although I'm dying for a few days away it's going to make finishing up the room by next week tough!
If you remember – the bed, mattress and nightstand that my sister gave us didn't end up working in our space. You can read about the tragedy here if you missed it. But just in the nick of time an amazing little mattress fairy called Leesa found her way to our door step. Literally, our front door!
Have you guys seen this mattress company? The Leesa mattress was created for all types of sleepers and the 3 layers of dense foam form to your body when you lay on it. The gray striped cover is adorable but more importantly it is also super soft and comfy!
Not having to go to a mattress store, try them out, figure out how to get it home (in my Prius – I mean find a truck to borrow, drive to the store, strap it down and pray it doesn't fly off into the middle of the Interstate) was a dream come true! All you do is place an order, allow 3-5 days for it to be built for you, then it ships free to your door!
When the mattress arrived we just unpacked it, rolled it out on the bed and watched it come to life. Seriously cool!
Here is a better look at little man's new bed from Ikea. I'm crossing my fingers that we'll have time for a fun little DIY hack!
The room is small and awkward because of the window placement so this bed was a much better option because of the low profile and simple design. And the mattress fits it like a glove…or the other way around :)
Someone looks pretty excited to finally have his new bed!
Oh and we got the artwork hung and the surf board out of storage!
I still have to hang the lights this week…eeek! My 'to-do' list keeps growing!
Currently the bamboo dresser is still in it's original state and it might stay this way, at least for now. We also took this mirror that I had in the hallway and hung it up to see if we liked it and I think it's a keeper!
I've still got a lot to figure out as far as shelves and book storage :(
It's so hard to get a picture of this guy that's not 100% blurry so I just love this! He was over the moon with the new bed and mattress and couldn't wait to sleep on it the first night. He made me test it out too and we are both approve!
Here is the 6 week punch list:
Replace dresser
Get the bed and nightstand from my sister – FAIL – buy new bed DIY hack
Find artwork for over the bed.
Find lighting and install.
Buy and hang new bookshelves.
DIY existing mirror – No DIY, used a different mirror
Buy new bedding and DIY Shibori pillows
Accessorize.
Paint room (this is still under major negotiation, me = yes, him = big fat NO) – definitely not happening
The punch list doesn't seem too bad but some of these items are time consuming so it's going to be tight.
And thanks to Leesa my Itsums.com budget board is still intact!
Great news too for all of you in need of a new mattress! Leesa is offering my readers $75 off with the code: SUMMER75 and don't forget shipping is free and they offer a 100 night risk-free trial!
I can't wait to browse the other one room challengers so make sure to stop over at Calling It Home to see all of them!
Cheers!

{Thanks to Leesa for providing the mattress for our review and thanks to Itsums.com for continuing to support Simple Stylings. All my opinions are my own.}