One Room Challenge Fall 2014: Week 3
Welcome to Week 3 of the ORC y'all!
You can check out the link up today at Calling It Home.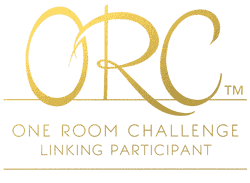 I just have one question for you…
It gets worse before it gets better…RIGHT???
This is the state of my bedroom with EVERYTHING emptied out of the closet. It's like my closet threw up in here, it's disgusting!
You know what I'll be doing this weekend :(
So as always design plans change when the brain gets to thinking and the fingers get to searching the internet!
After removing the wire shelving on the back wall I couldn't stomach leaving the rest up. I dislike them that much!
I have always liked the Martha Stewart Closet Organizer systems at Home Depot and I happened to find the one I wanted on sale! The sale price is gone now but I ended up getting it for $183 (with free shipping) which just seemed like a no brainer.
I've decided to utilize the right wall that doesn't have an angled ceiling for my clothes storage. I'm planning to use the left wall for shoe storage and jewelry and accessories.
We finished sanding and spackling and got everything painted! The paint color is Filtered Shade by Valspar Reserve, the same as the bedroom, and I love it!
Also I acquired this mirror below (for free) so I'm going to use it instead of mounting one on the wall. I think I'm going to like having the full length mirror in here. Don't worry, there will be a little DIY to the frame going on!
And here is a little teaser of something fun to come!
Progress Update
1. Remove wire shelving at the back of the closet (I removed it all!)
2. Add a mirror and dresser, shelf for sweater storage
3. Remove florescent light fixture and add a chandelier
4. Add a cozy rug, artwork and a possible ottoman
5. Create new shoe storage
6. DIY jewelry storage
7. Purge and organize clothes (in process as you can see!)
8. Add baskets for storage
***
So I feel like I've made some decisions and a little progress but I definitely have a busy week ahead!
Have a lovely weekend friends!
If you missed the plan and need to catch up here are Week 1 and Week 2 posts!