One Room Challenge Fall 2014: Week 5
Welcome to Week 5 of the One Room Challenge friends!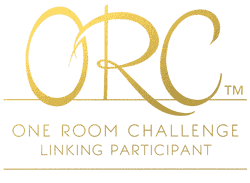 If you need to catch up you can check out Week 1, Week 2, Week 3 and Week 4.
When I look at the progress and pictures from this week I feel pretty good about where we are but there are a few major details that are still in the works. I don't want to spill the beans on them yet but just know I've got a busy week ahead of me :) I can almost feel my clothes hanging on the new racks!
***
The major feat this week was hanging the chandelier, patching more holes and adjusting the shelving unit to where I wanted it. I actually need two more shelves for my shoes but I'm probably going to DIY something quickly since it's too late to order more.
These are just my pretty shoes. I still have to pick up my boot hangers and I have seasonal shoes hidden away in a basket.
Another big check off the list is the dresser. I had an old dresser in the garage that I painted aqua (Sherwin Williams Watery) with a sample pot I had on hand.
The knobs were clear glass before and although I liked them they didn't pop against the aqua enough…so I sprayed them gold.
This mirror is here just as a test. I think it will compete too much with the full length mirror once it gets in the room so we'll see. I like the idea of having it over the dresser though.
I pulled the woven basket from my living room to house my scarves.
I picked up a two of these baskets from HomeGoods that fit on top of the organizer to hold seasonal items. One has flip flops and summer shoes and the other will hold my scarves in the summer and hats, bathing suits and covers ups in the winter.
I sprayed these Ikea hooks gold and hung some purses behind the door. Don't worry, these aren't my mom bags :) I'm still deciding on a place for those!
***
Progress Update
1. Remove wire shelving at the back of the closet (I removed it all!)
2. Add a mirror and dresser, shelf for sweater storage
3. Remove florescent light fixture and add a chandelier
4. Add a cozy rug (found one but it's too small) and artwork
5. Create new shoe storage
6. DIY jewelry storage
7. Purge and organize clothes (in process)
8. Add baskets for storage
I feel pretty good about this but like I said I have a few big tasks left so say a little prayer for me :)
Make sure to head over to Linda's blog, Calling It Home, to see all the linkups today and the ORC participant posts from yesterday!
I hope you all have a wonderful weekend!
***
Here are a few more of my recent room makeovers: