One Room Challenge, Week 1:Room Intro & Plan
Hi Y'all,
Okay, I have a confession to make! I had a major mommy moment today because I was thinking it was Tuesday all day long! Usually that might be a good thing but I was one day behind on my blog posts :(
I had originally planned that I would not do a Wednesday Reads post today because I am focusing on my One Room Challenge post but that isn't what I said in my post yesterday…oops!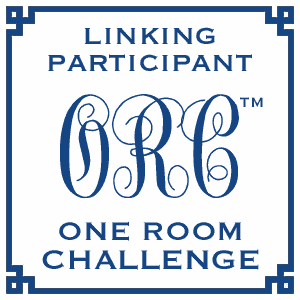 So needless to say, we aren't having a Wednesday Reads post (because it's Thursday now) but I will be back with a great one next week so sorry about that!
The reason for my post today is to let you know that I am going to link up and participate in the One Room Challenge hosted by the amazing Linda from Calling It Home. The ORC is an event where 20 bloggers come together to make over an entire room over the next six weeks. There are a some amazing bloggers in the challenge so check them all out! Their Week 1 posts are live now!
A cool thing about this challenge is that Linda is opening it up to other bloggers to link up their rooms and participate along with them. You know I'm always up for a good challenge so I will be making over my: DECK! Yep, that's right, a deck is considered a "room" if you're from the South right?
If you follow me on Instagram or Facebook you have probably seen bits and pieces of the brand new deck that my dad built for me at the end of last year. It is really beautiful and I am so grateful for an extremely handy Papa!
The sad thing is I haven't done anything with it. A lone grill and a hodge podge of random furniture is all it holds. And I fear if I don't take this challenge it may not get finished. I am dreaming about hanging out on it with a fire going and steaks on the grill…yum!
This is seriously sad! And a little photo bomb :)
I am definitely going for a coastal or nautical vibe with cozy furniture, classic coastal texture and modern patterns. I plan on using a lot of color and I want it to be fun place to gather with friends and neighbors.
Here is my inspiration board:
I plan on finding a colorful outdoor rug and some fun pillows. I have already found a few items from Target at great discounts. I will be hunting for some unique accessories, lighting and I am crossing my fingers on finding some sort of vintage cooler.
I'm going to use coral, navy blue with some pops of aqua along with metal, wicker and twine accents. Tiki torches, string lights and hopefully a cool pendant will create some fun and cozy lighting!
As usual I'll be working on a very tight budget so the furniture is going to be the biggest dilemma. Originally I thought that I would attempt to build something but after costing it out I'm not so sure it's worth it so we'll have to see. I'm praying that I'll get lucky and come across the deal of the century!
Thanks so much for hosting Linda and y'all can go check out the participating bloggers Round 1 here and the linking participants here!
Stayed tuned on Thursdays over the next six weeks and see how I transform the deck into an inviting hangout to be used Spring, Summer and Fall!