One Room Challenge: Week 4 Flamingo Wallpaper!!!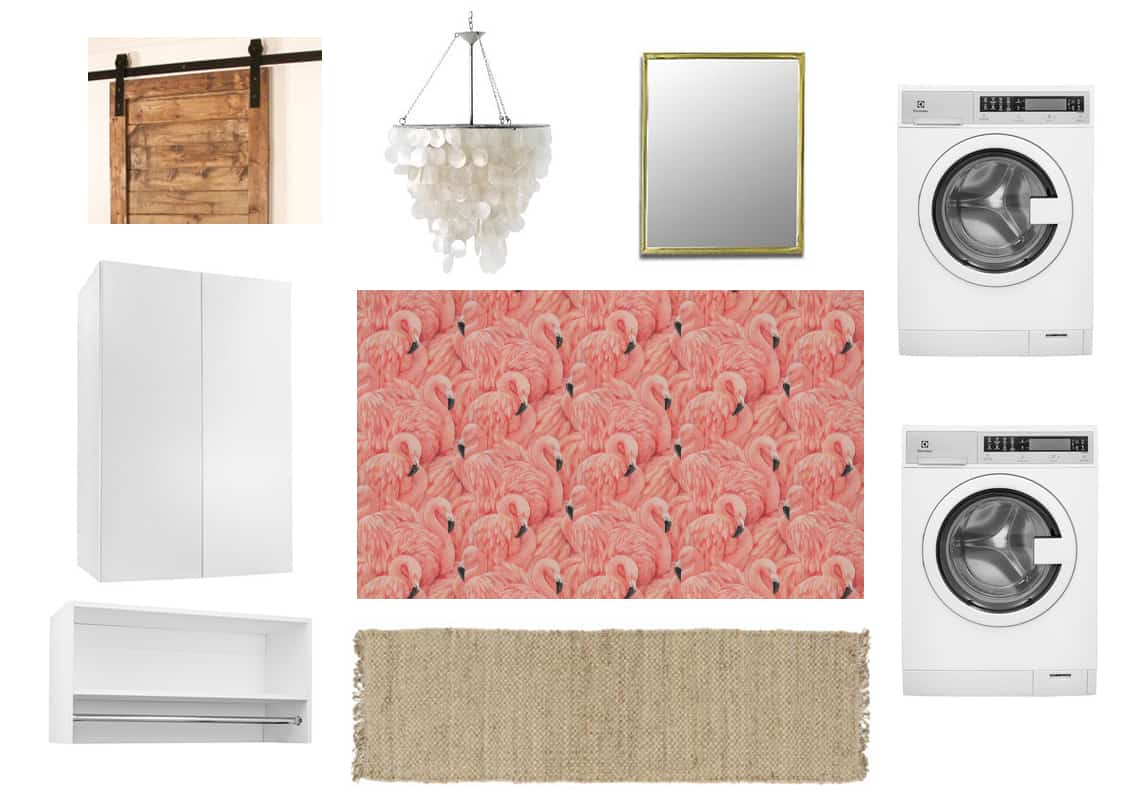 Barn Door Hardware // Chandelier // Cabinet // Wallpaper // Rug
One Room Challenge: Week 4 Flamingo Wallpaper!!!
It's that time again friends (how do the weeks go by so quickly during the ORC?) and today I actually do have a little bit of fun progress!
Yep, you guessed it! It's FLAMINGO WALLPAPER DAY!!! I am absolutely, 100% in love with this wallpaper from Wallpaper Direct. The colors are so pretty, there is lots of texture it's the perfect touch of whimsy.
I know at least a third of you are going to think I'm certifiably bonkers but I swear it looks SO good! Even my little man was giddy with excitement when he saw it! We both said this is now our favorite 'room' in the house :)
Believe it or not I opted to have the wallpaper installed by a professional. I was prepared to do it all myself then I realized that time is more valuable than the amount of money I spent on it and my sanity is still intact! More on that decision later…
I was worried about putting bold wallpaper in such a small space but it actually makes it feel bigger!
And, it seems a little underwhelming now but the light was was also installed this week and I'm very happy with the choice.
The walls will definitely be toned down once I get the washer and dryer and cabinet in here. Bottom line is, it makes me and my son so happy when we see it and that is the most important thing!
I'm behind with the barn door hardware installation (and the building of the doors) but I did get the track support board up.
The punch list is still pretty long, particularly the barn door project, but I'm crossing my fingers and holding my breath we can make it happen!
Project Punch List:
laundry room demo & prep
replace washer & dryer
shop for accessories (finished by today)
install light fixture
install wallpaper
install barn door hardware (in process) & build barn doors (next two weeks)
put together & hang cabinet (end of next week)
accessorize (2 weeks out)
If you missed the first to weeks you can find them here: Week 1 // Week 2 // Week 3
Make sure to head over to Calling It Home to see all of other amazing room updates!
Cheers!