One Room Challenge Week 5: Laundry Room Details & Delays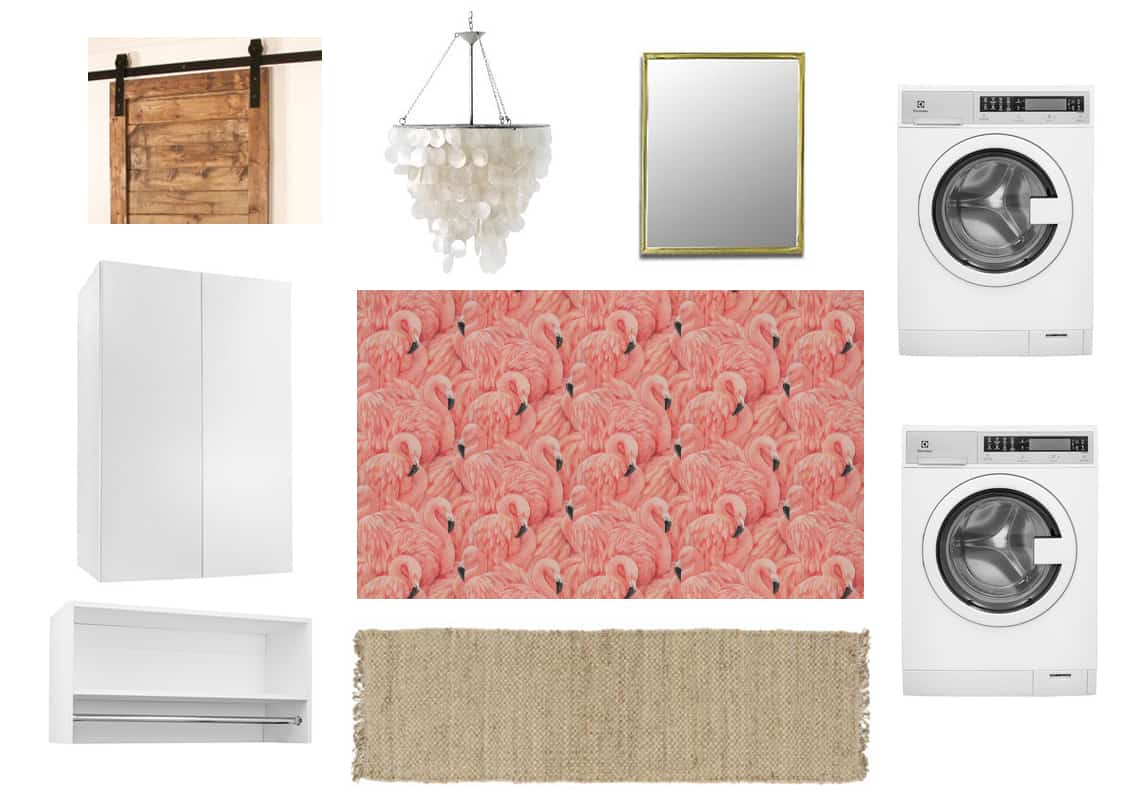 Barn Door Hardware // Chandelier // Cabinet // Wallpaper // Rug
One Room Challenge Week 5: Laundry Room Details & Delays
Good evening friends! As you can tell from the timing of my post that I'm incredibly behind schedule. This has been one of those weeks where life just seems to throw a wrench in all of my plans :( Oh well, I'm going to pick up my tools tomorrow and push forward!
The biggest upset this week was not getting farther along with the barn doors and hardware. I got the mounting board hung, patched and painted but that was about it. The materials for the doors have been purchased but I haven't started building! Say a prayer for me y'all!
On a positive note I got the stacking kit for the new-to-me washer and dryer and put them in their place. That was actually a lot easier than I had expected. You can see that the bold wallpaper isn't quite as bold anymore with the appliances in. I will be so happy to have some floor space in here soon!
I found these awesome pulls for the new cabinet from Hobby Lobby this weekend and I love them! I painted them a pinkish coral color that I matched to the wallpaper.
The jute runner came in and I love the texture it adds to the space. It is a bit darker than I thought it would be but I still love it!
Grits is checking it out for approval :)
He's still on the fence but I think he'll come around :)
I did get the frames around the waters lines painted so that they blend in. I should probably paint the inside too but I think I'm too lazy! Ignore the bad lighting, these are nighttime iPhone pics :)
Here is the mounting rail for the barn door hardware. Hopefully I'll have some updates on Instagram stories tomorrow!
So next week I plan on sharing the barn doors and cabinet as well as the full reveal. Say prayers, cross your fingers and send over any extra hours in the day you may have left over. I'm going to need it :)
Project Punch List:
laundry room demo & prep
replace washer & dryer
shop for accessories
install light fixture
install wallpaper
finish installing barn door hardware
finish building barn doors
put together & hang cabinet
accessorize (1 week out)
If you missed the first to weeks you can find them here: Week 1 // Week 2 // Week 3 // Week 4
Make sure to head over to Calling It Home to see all of other amazing room updates!
Cheers!