Shopping Spotlight: Complete Outfits from The LOFT
Happy Friday!!! I hope you guys had a great week!
I wanted to share a different type of post with you today and I hope you enjoy it! I don't know about you guys but I LOVE to shop…but with a day job and a busy 7-year-old I don't have much time. The LOFT is one of my favorite stores because I love their style but I love their sales even more! At LOFT you can build outfits from head to toe with so many affordable options to choose from.
One thing I'm trying to do now when I purchase clothing pieces is to make sure I can build a complete outfit. The worst is when I bring home a pair of pants or top that I love then don't have the right items to pair with it. Then it will sit in my closet with the tag on it until I find something that works. Whomp whomp!
So I've put 4 outfits together for you, all from the LOFT, that will hopefully offer some inspiration for building complete outfits. And lucky for us EVERYTHING is 40% off right now with the code: FALLSTYLE!!! You can't beat that friends!
***
One of my favorite outfits for fall is a comfy boyfriend shirt or tunic with dark washed skinny jeans and a cute coat! I love this fall look and this coat is to die for and it's 40% off of $168!
Sunnies // Coat // Tunic // Jeggings
This swing dress is adorable for an evening event or date night and is perfectly paired with this drop necklace!
Dress // Necklace // Earrings // Sunnies
This outfit is great for the office and you can pair the ruffle top with these sateen leggings or dressy joggers!
Blouse // Joggers // Sunnies // Necklace // Earrings
This might be one of my favorite edgy outfits! Pair the faux leather pants and shimmery tee with this casual cardi and you don't have to live in L.A. or NYC to rock these hot pants :)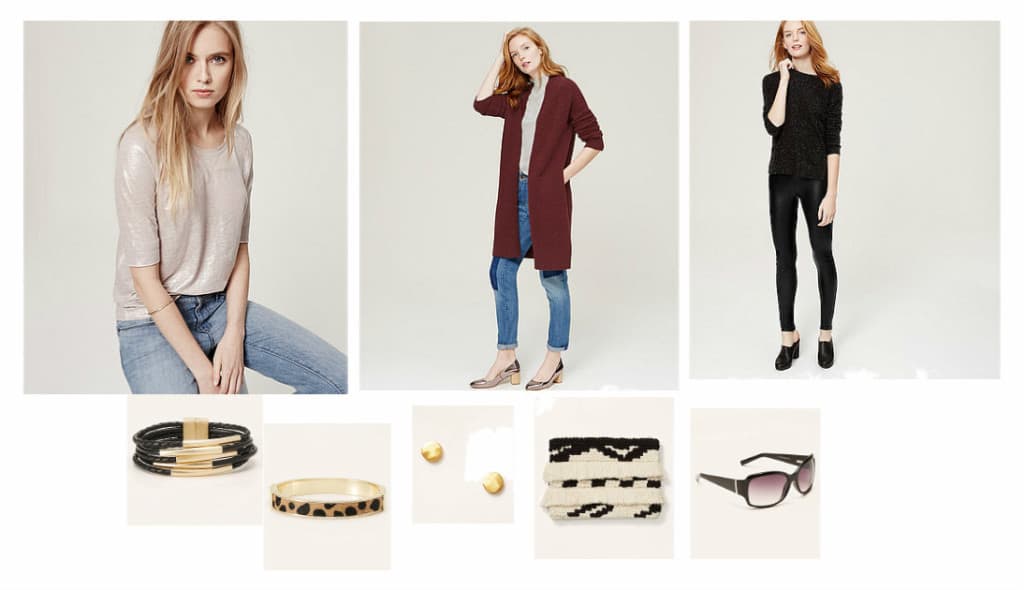 Shimmer Tee // Long Cardi // Faux Leather Leggings // Bracelet 1 // Bracelet 2 // Earrings // Clutch // Sunnies
And give me these stacked heel sandals and I will pair them with everything!!
***
Let me know what you think about this type of post! Do you try and build complete outfits when you shop?
I hope you have a great weekend friends and I'll see you here on Monday!
Cheers!