Easy Last Minute Advent Calendar
Good morning guys!
I finally decided on an advent calendar so I thought some of you (like me) who haven't come up with anything yet might enjoy this super easy chalkboard one.
I vowed to simplify the holiday season this year so instead of having to keep up with a treat or activity each day and a specific bible verse I decided we would just count down the days and read the Christmas story at our own pace.
So far little man has not been disappointed and is having fun counting down!
All I did was freshen up our board with a new coat of paint and drew 24 circles with chalk using a glass for sizing. Then I wrote the numbers inside the circles.
I don't have a circle for the 25th, well because it didn't work out for spacing and we all know what that day is right?!?!
I moved the new to us glass cabinet under the chalkboard and filled it with glassware for entertaining. I added some simple greenery from our Christmas tree and a few pine cones (spray painted gold) to the clam shell bowl.
Cute little vignette, don't you think?
That's it, easy peasy! What are you doing for your advent calendar?
Oh, and you can check out last year's advent calendar here! I guess procrastinating is just how I roll :)
Have a great hump day friends!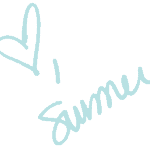 LINKING UP