Easy Valentine's Rice Krispie Treats
Happy Valentine's Day friends!
Quick question. Do you guys (like me) stalk Pinterest and have grande ideas of baking that 7-layer red velvet cake or making the perfect chocolate souffles for your family? Well, today I'm giving you a pass and telling you to shut Pinterest down and go grab the marshmallows and Rice Krispies. They are quick, easy and delicious, and as long as it has sugar in it you're kids don't care what kind of desert it is! It's also great with a side of hot chocolate and your kids will love you for taking a few minutes out of your day to share a sweet treat. And to them it IS a 7-layer homemade red velvet cake, right???
Here's a great TIP too that I just learned from my sweet co-worker, Jen! When you make your rice krispie treats, butter your dish or mold really well with softened butter and also slather it on your hands and you will be able to mold the treats into any shape you want. Maybe I'm the last person on earth to learn this trick but I'm so excited because it made getting these sticky treats into the silicone heart shaped mold so easy! And a little extra butter never hurt anyone.
I use the recipe on the back of the mini marshmallow bag exactly and they come out perfect every time if you use the butter!
This simple treat made an ordinary moment in an ordinary day extraordinary.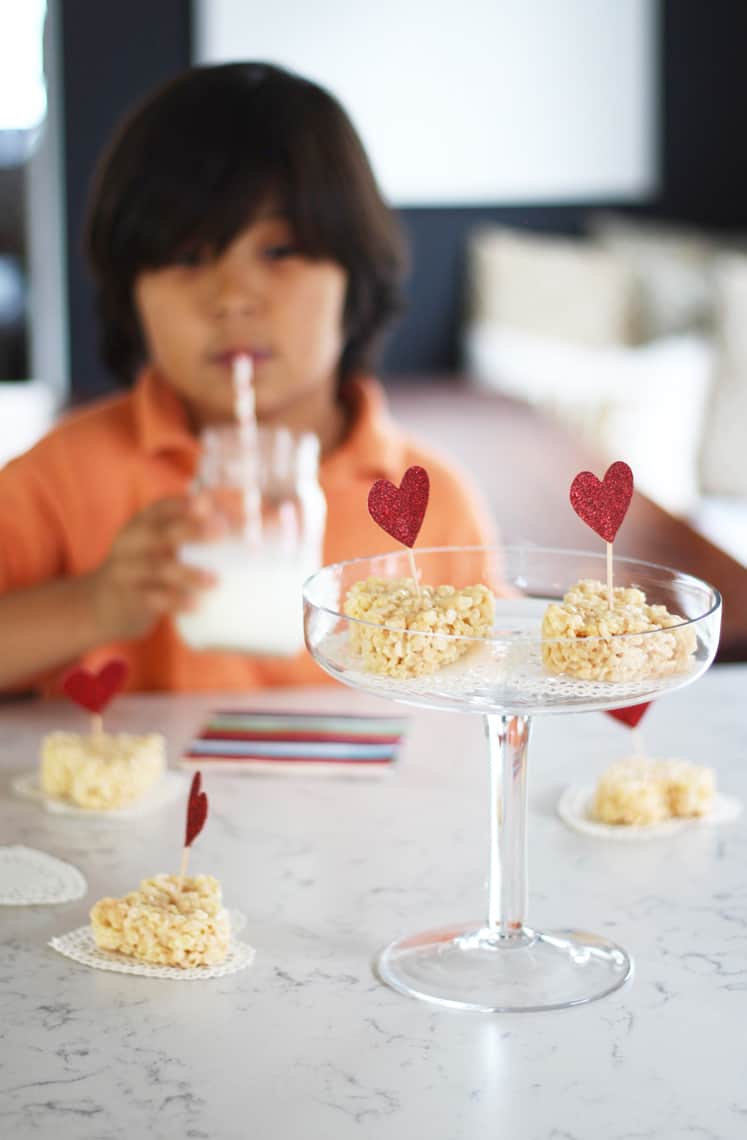 I'm dying to try these with other types of cereals. What other cereals or recipes have you used?
We hope you guys have a wonderful Valentine's Day!
Cheers!