The art of cooking. That's what cooking is, right? An artform?
While I don't always feel this way when I'm trying to get dinner ready on a Tuesday night after homework and before bedtime, I truly believe cooking is a form art. Or at least it feels that way when done with some care and attention.
I knew it was going to be a great day as I walked into the brand new Sur La Table kitchen in Huntersville, NC. I had some of my favorite girls with me, I was taking a break from work and we were cooking up some French favorites for fall.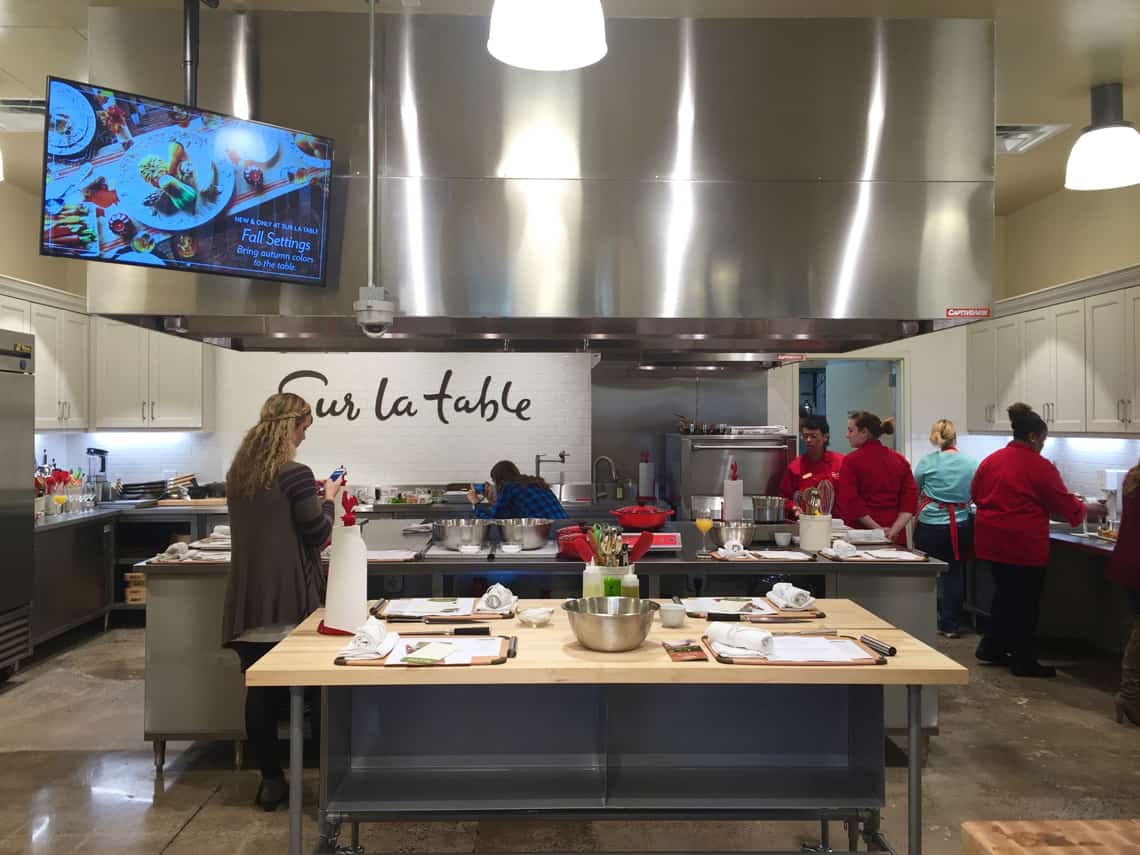 When we arrived we were greeted by Chef Robyn and her staff and were introduced to everything in the kitchen. The kitchen had every piece of equipment you can image, the best of the best!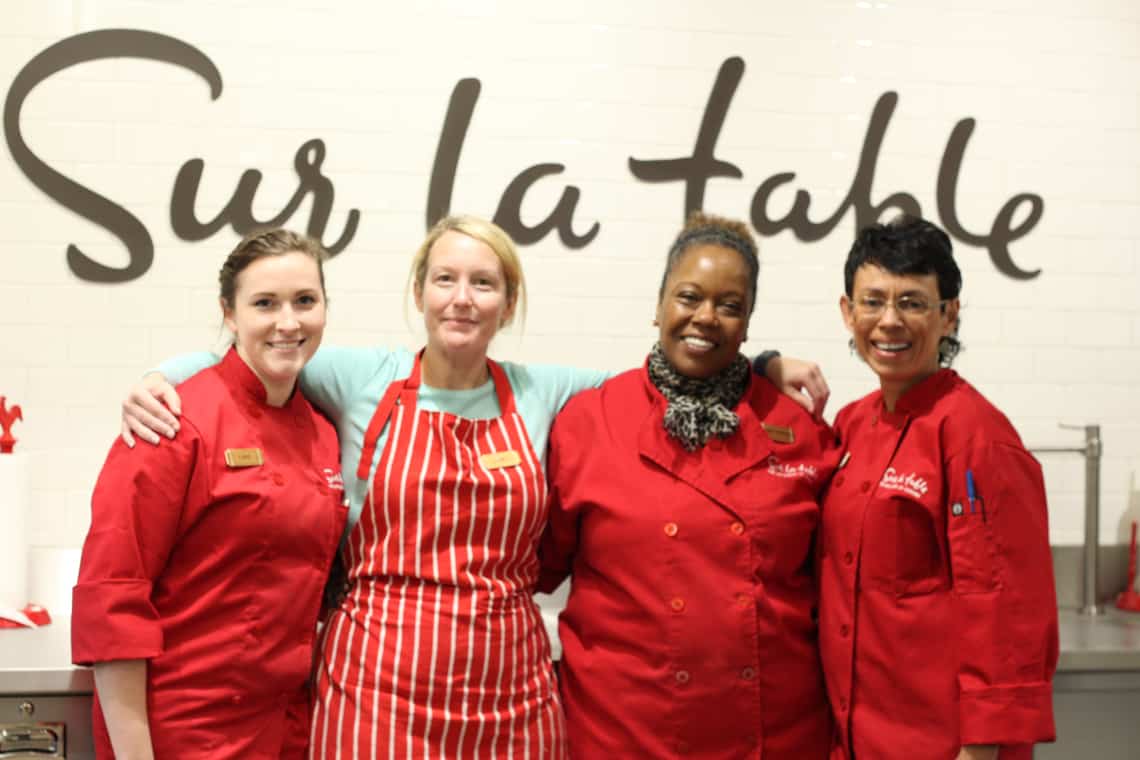 From the left is Lane, pastry chef; Jaime, kitchen assistant; Robyn, head chef; and Vera, savory chef. Shame on me but I had to ask what a savory chef. is I guess I really needed this class after all :) You could tell these women are passionate about what they're doing and were so happy be teaching us!
And since we were at the 10am classcoffee and mimosas were a must!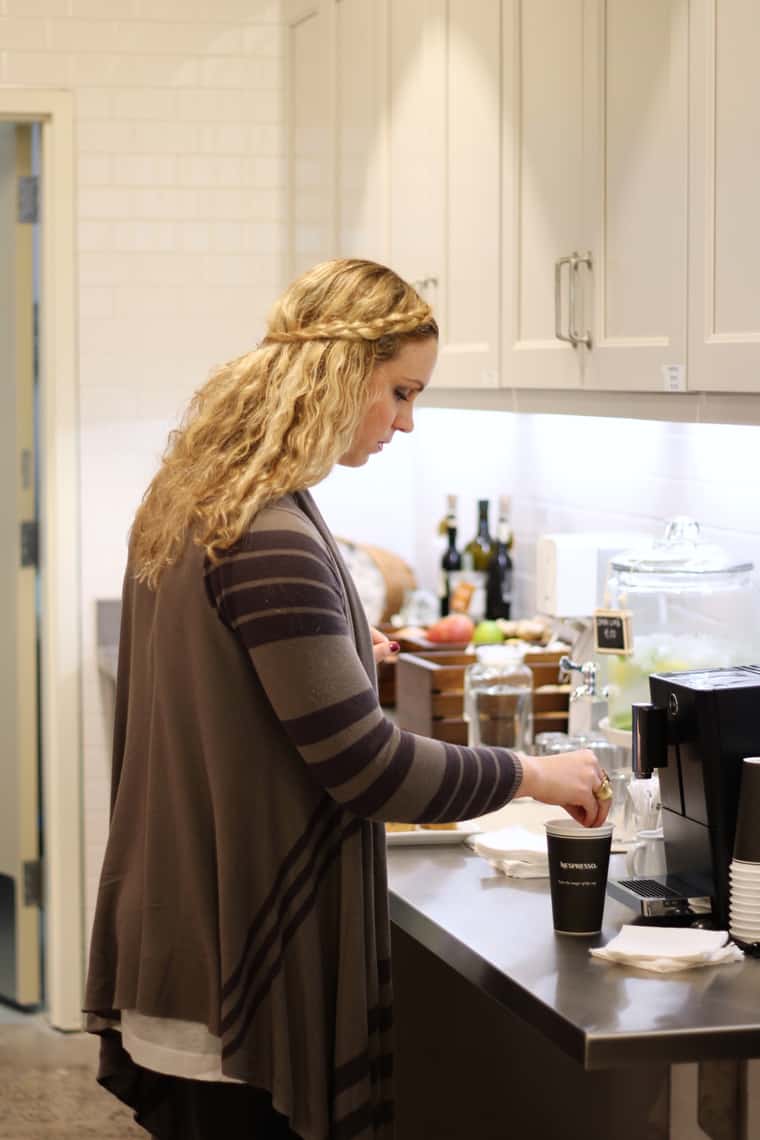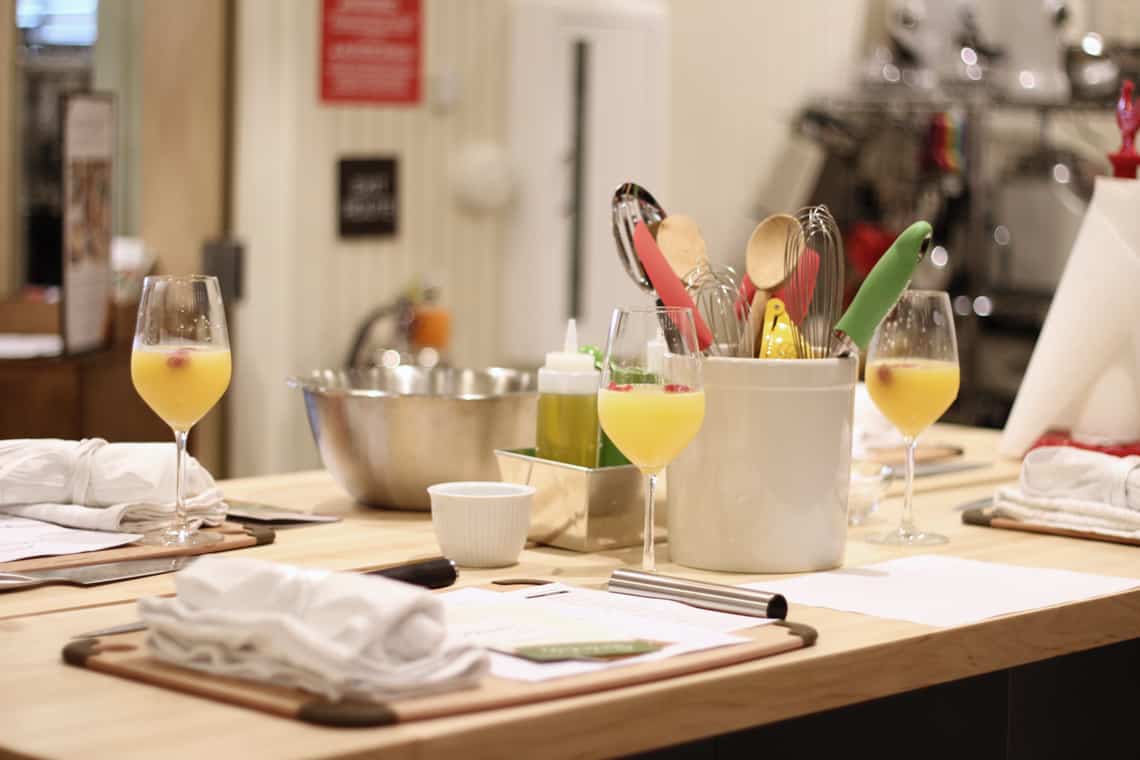 We dove right into the first course of the class, the Creamy Mussel Soup with Saffron! I love mussels but even the girls who weren't sure said this soup was to die for! And the gorgeous Le Creuset Dutch oven that we used was not too shabby either! This is definitely one on my wish list.
Robyn also taught us how to slice and dice the herbs for the broth. Did you know that if there are mussels that didn't open after being cooked then they are no good?
The second dish we created was the Salad Verte with French Vinaigrette. I didn't know this but vinaigrette's are made with one part vinegar to three parts oil. Then you can add any spices or flavoring you like. The key here is whisking the vinegar and other ingredients while you add the oil. I apparently was not the best whisk-er but I got the hang of it! :)
Beth and Robyn are getting down to business!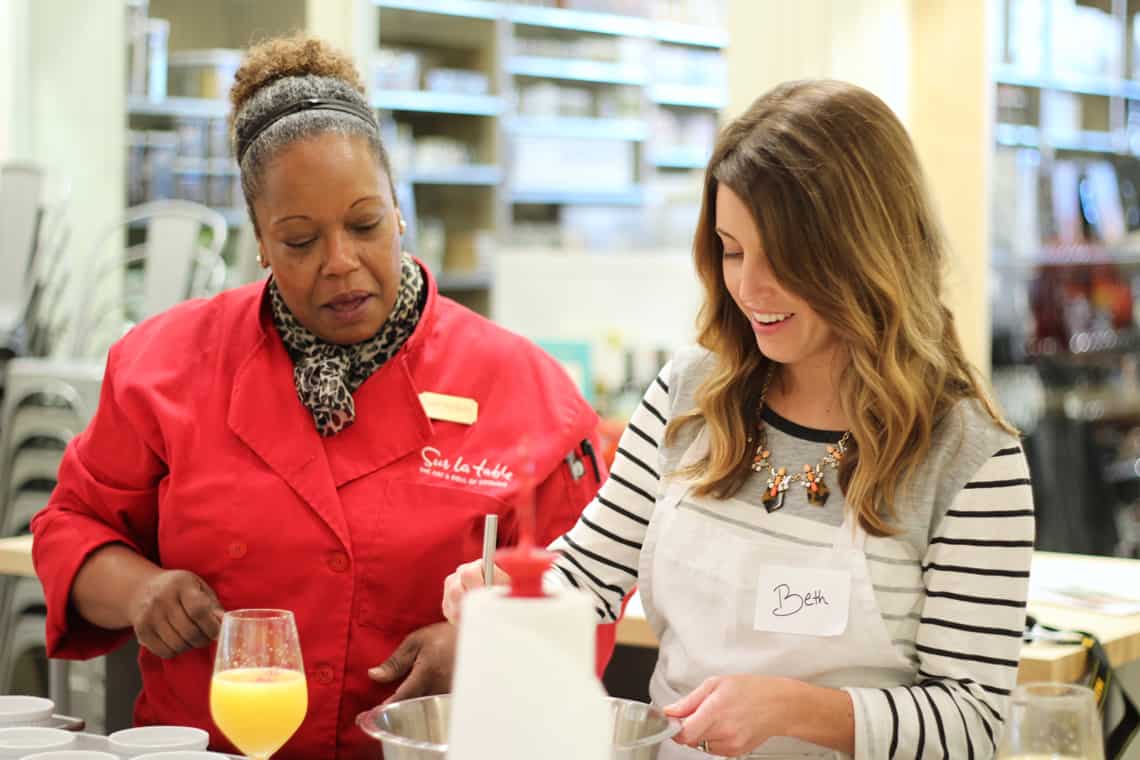 Next up was the main course, Steak Au Poivre with Flamed Brandy and Mustard Sauce and it was as decadent as it sounds! Seasoning the steak with salt and pepper, searing it in the pan, then finishing it off in the oven is what makes it nice and juicy. Then use the leftover juices in the pan to make your sauce.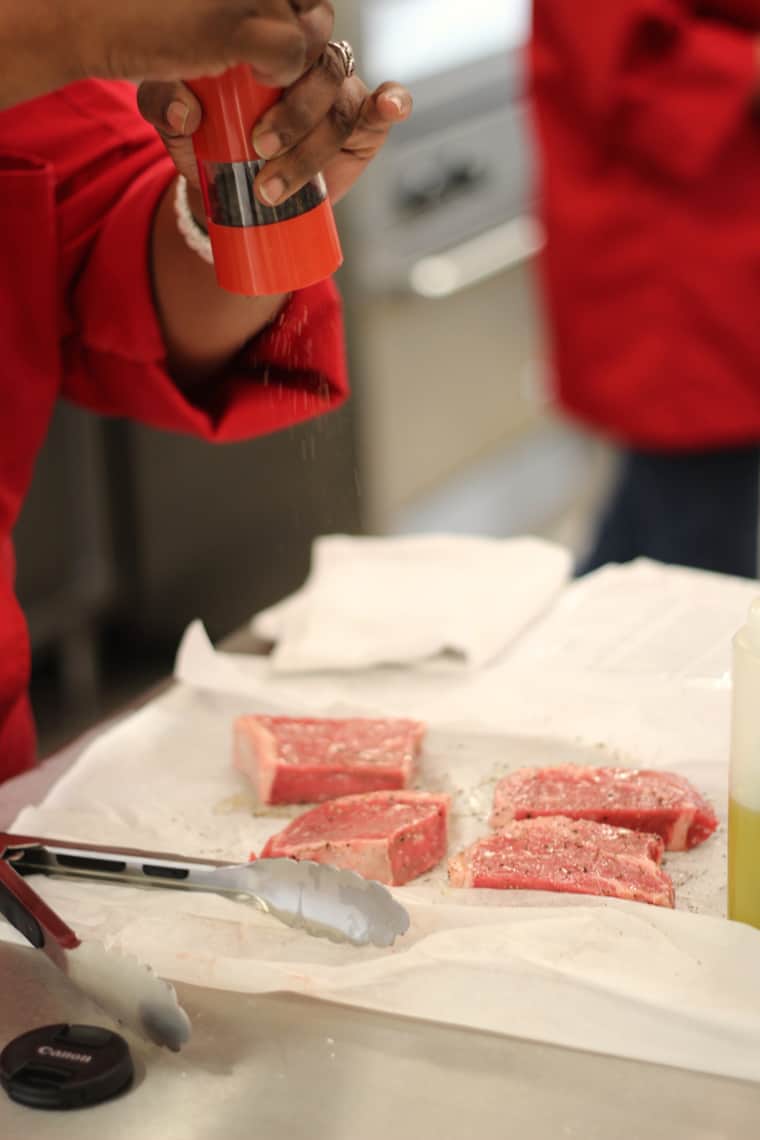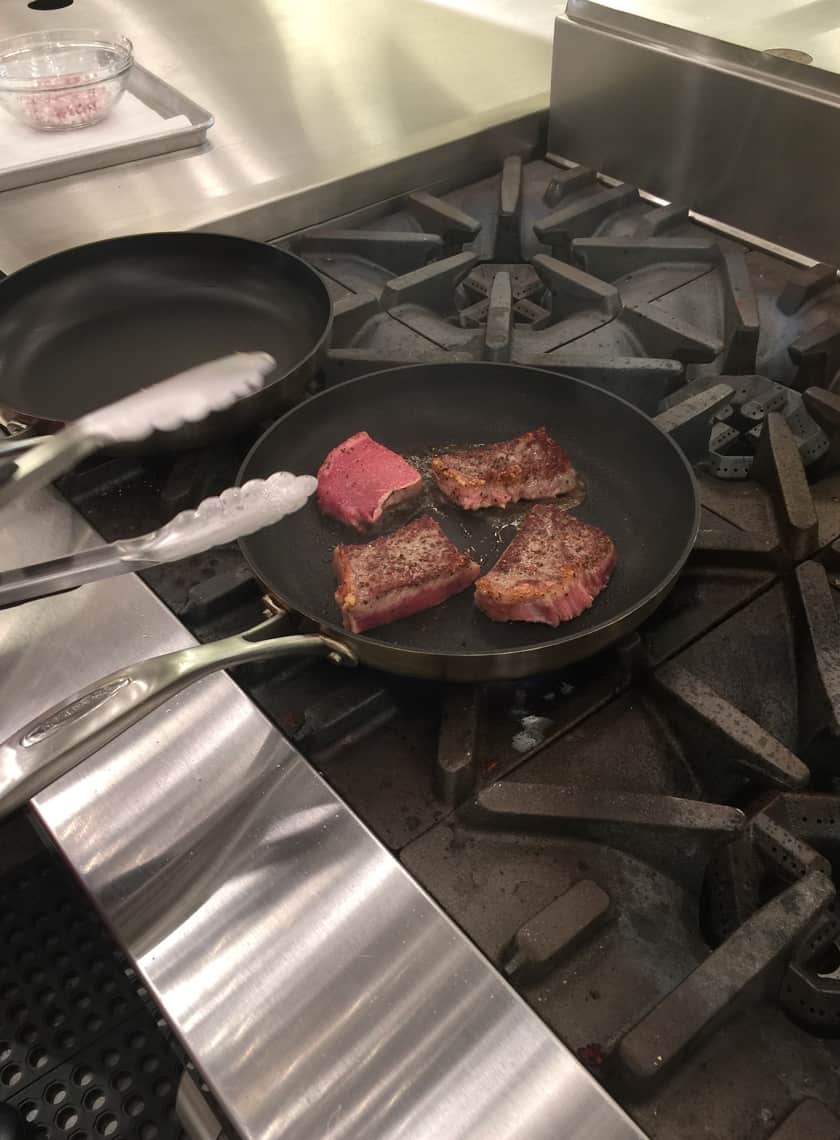 And finally, the ever elusive Dark Chocolate Soufflé with Vanilla Bean Créme. I never thought I would be able to make a soufflé (and I still may not be able to re-create it at home) but the Sur La Table chef's sure made it seem attainable! We only had to melt the chocolate twice :) When we finally took the soufflés out of the oven we were ecstatic and they tasted even better than they looked!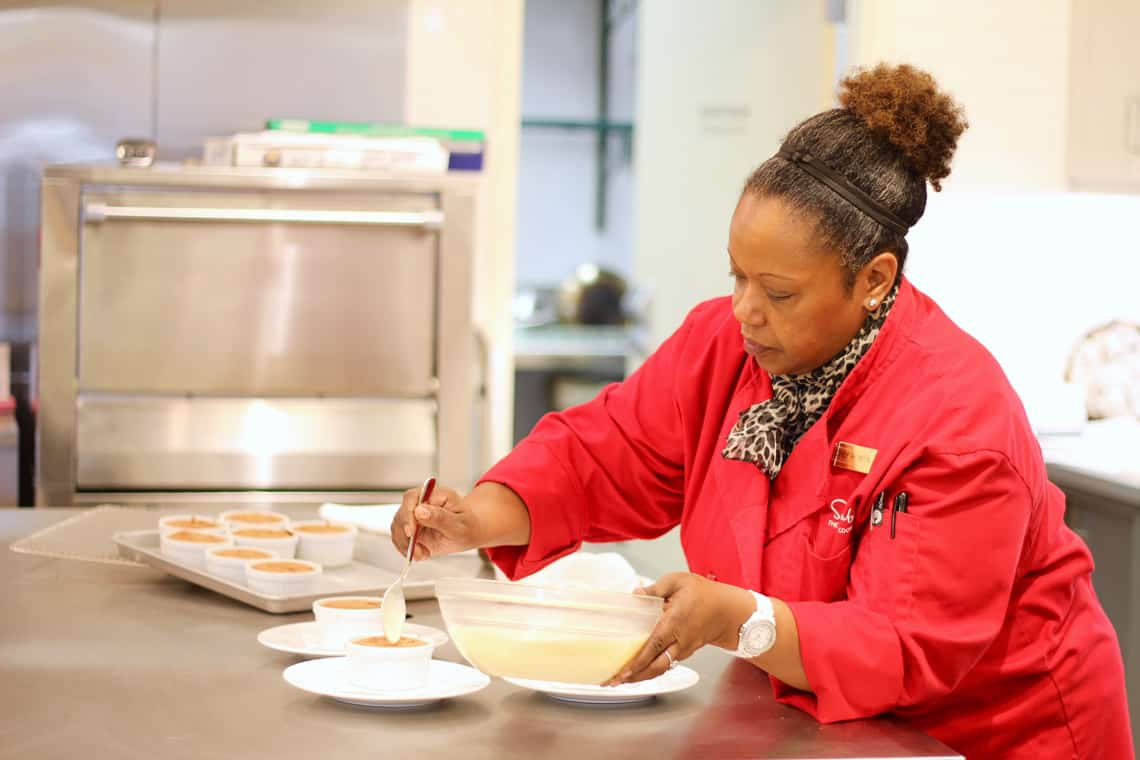 I think the most important thing I realized during our class was that having the right tools is essential! I'm here to tell you, that cooking in a well-equipped kitchen makes such a difference. We learned about proper tools, chopping methods and tips and tricks for each dish we prepared. It's only natural that my Christmas list doubled in size and includes mostly cooking items now!
Here are my top must-haves for a proper kitchen:
[show_shopthepost_widget id="1213059″]
Now that our kitchen reno is finished I'm trying to decide what will stay and what will go and I definitely have some new wishes! But I must say the best Christmas present this year is a Sur La Table gift card for a cooking class!
I bought my my guy one (and gave it to him early) and we are doing the Romantic Seafood Supper date night class on 12/19 if anyone wants to join!!!! It's going to be a blast!
I hope you all have a wonderful Thanksgiving and are able to spend time with friends and family (hopefully eating lost of Turkey!)
I'll be back with some Black Friday, Small Business Saturday and Cyber Monday deals for you!
Cheers!

{A special thank you to Sur La Table for providing this experience for us and sponsoring this post. All ideas, words and opinions are my own. Thank YOU for supporting the brands that make Simple Stylings possible.}