Citrus Honey Vinaigrette Salad Dressing
{All photos by Paige Winn Photo}
Citrus Honey Vinaigrette Salad Dressing
Every year during back-to-school time I've got food and getting back into a consistent routine on the brain! I spent most of yesterday making school lunches for the week and prepping dinners as well. I'm also ready to get back on a regular exercise schedule and re-focus on healthy eating.
I love salads but I have a love-hate relationship with them from my own kitchen. I find it hard to have all of the ingredients on hand to make a really yummy salad, but mostly I don't enjoy store-bought dressings! Often when I go out to eat I'll order a salad because I never think mine taste as good at home.
I'm vowing to change this and invest a little time (and ingredients) in creating some delicious homemade salad dressings! This is hopefully the first in a series of dressing recipes that I'll be sharing and I'm thrilled with the way it turned out! Next I'm working on a blue cheese vinaigrette for a twist on the typical wedge salad.
This citrus honey vinaigrette was inspired from Mezzaluna, a restaurant we tried on a recent trip to Hendersonville, NC. We had the herbed goat cheese salad and it was so good we had to try and recreate it.
We could tell the dressing had orange and honey in it, although the honey is not a dominant flavor, and I assumed the there was olive oil, a form of vinegar and a squeeze of lemon. This is the combination we came up with that worked really well! It's so light and refreshing and you can't tell that it's not a restaurant dressing.
RECIPE:
4 tablespoons orange juice
4 tablespoons honey
Juice from 1 lemon
2 tablespoons white wine vinegar
1/4 cup olive oil
Salt and pepper to taste
Makes 4-6 servings.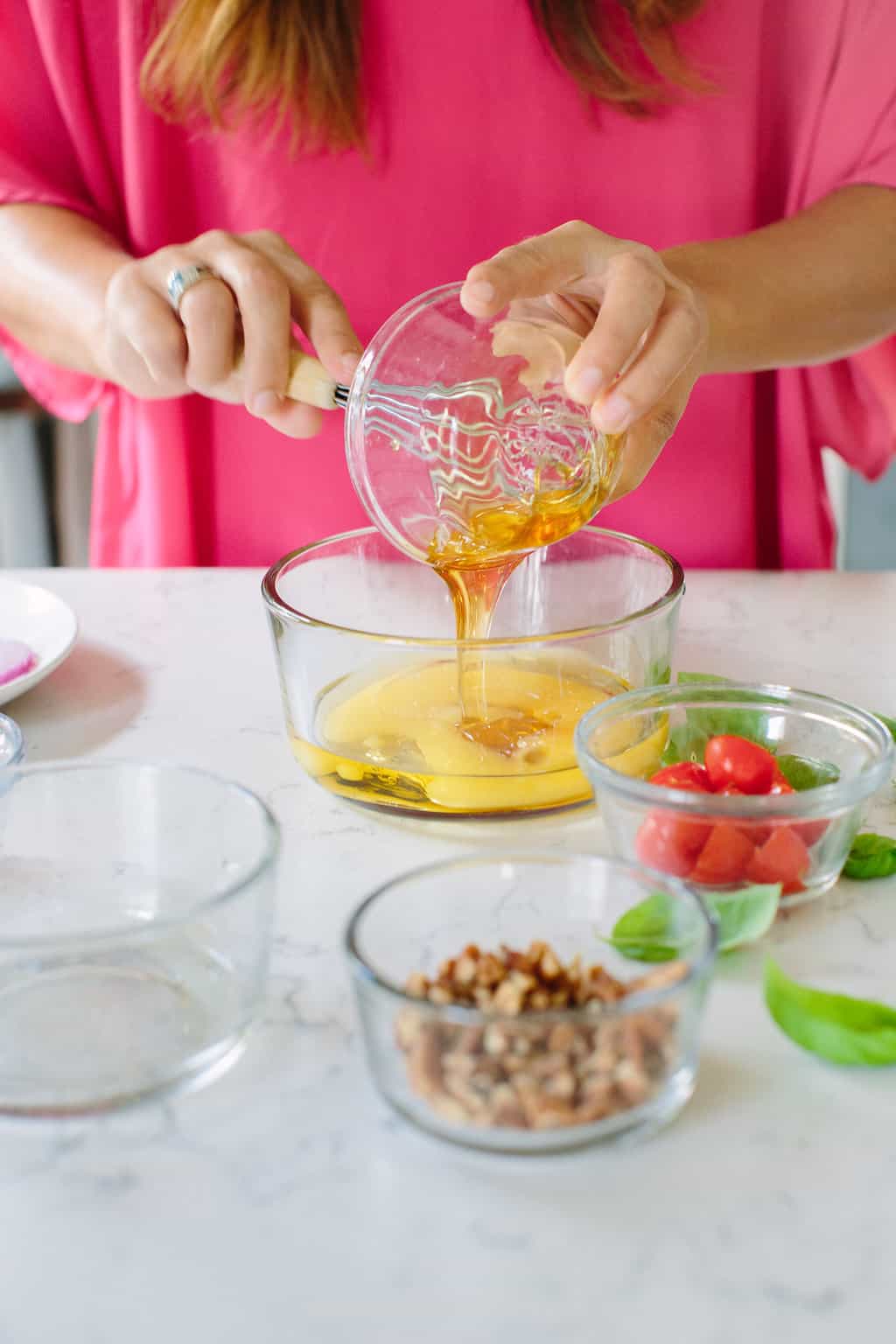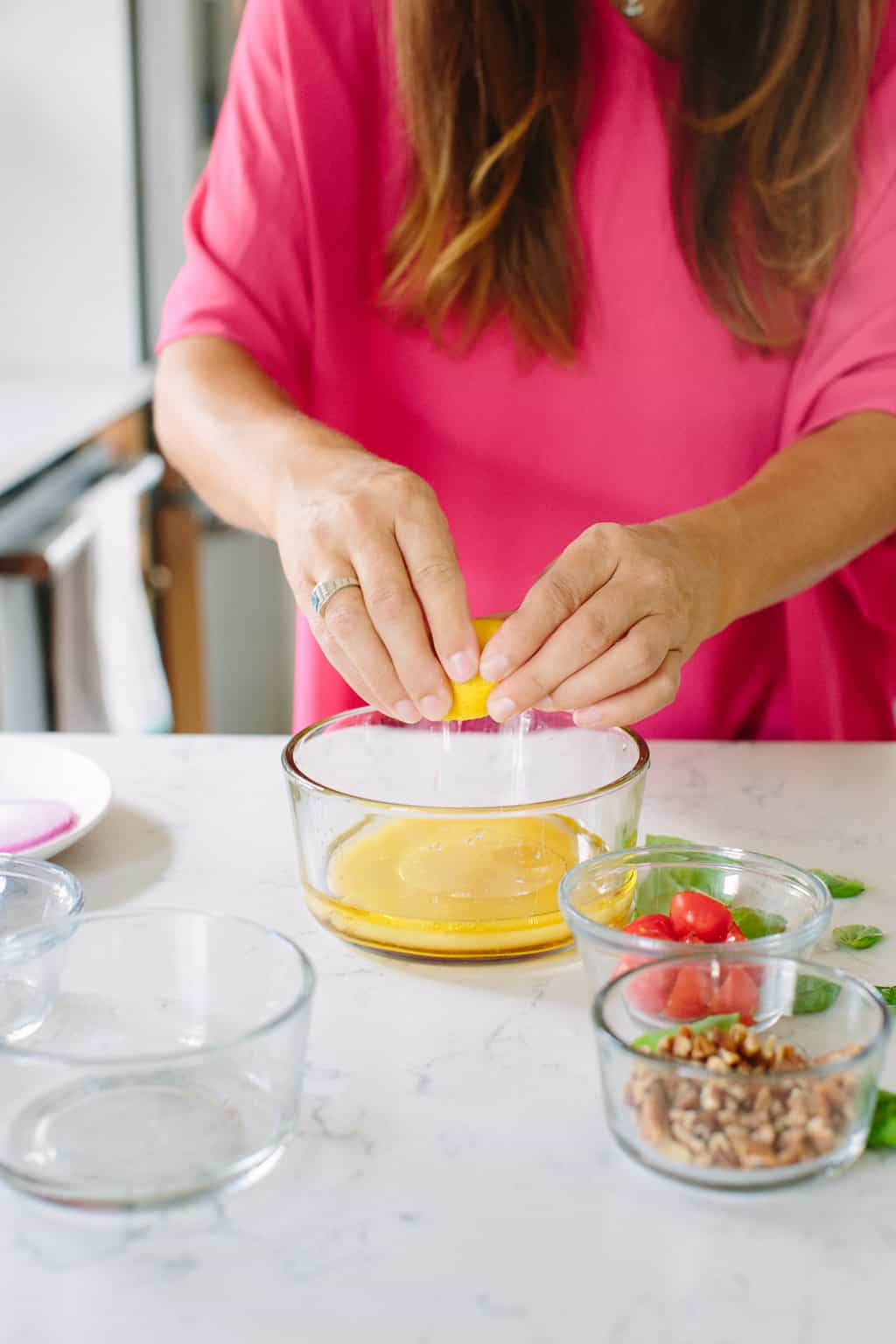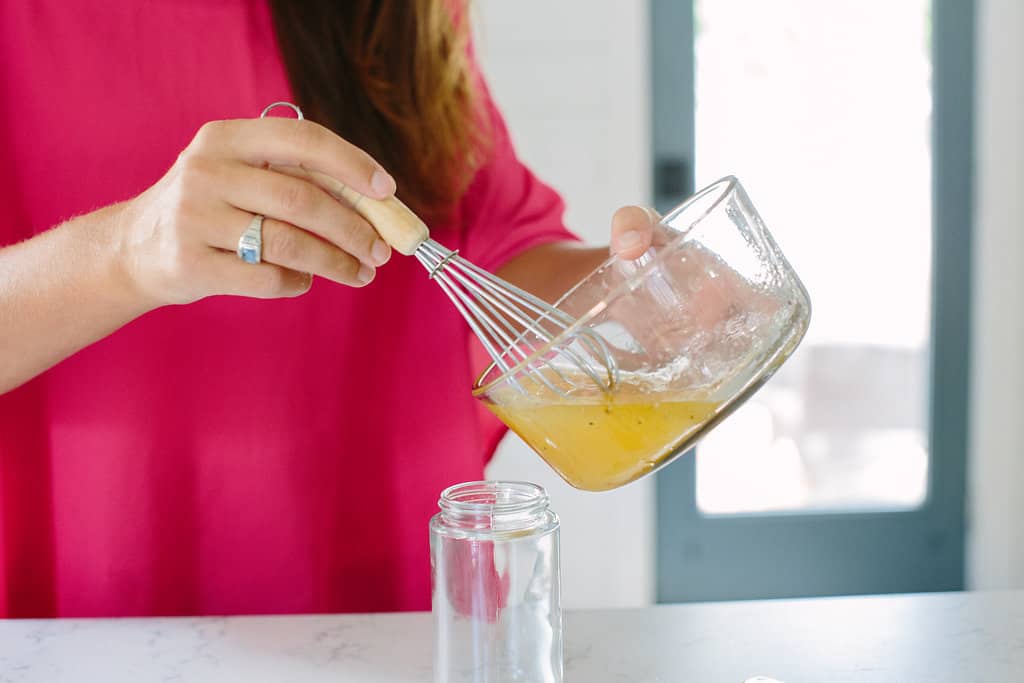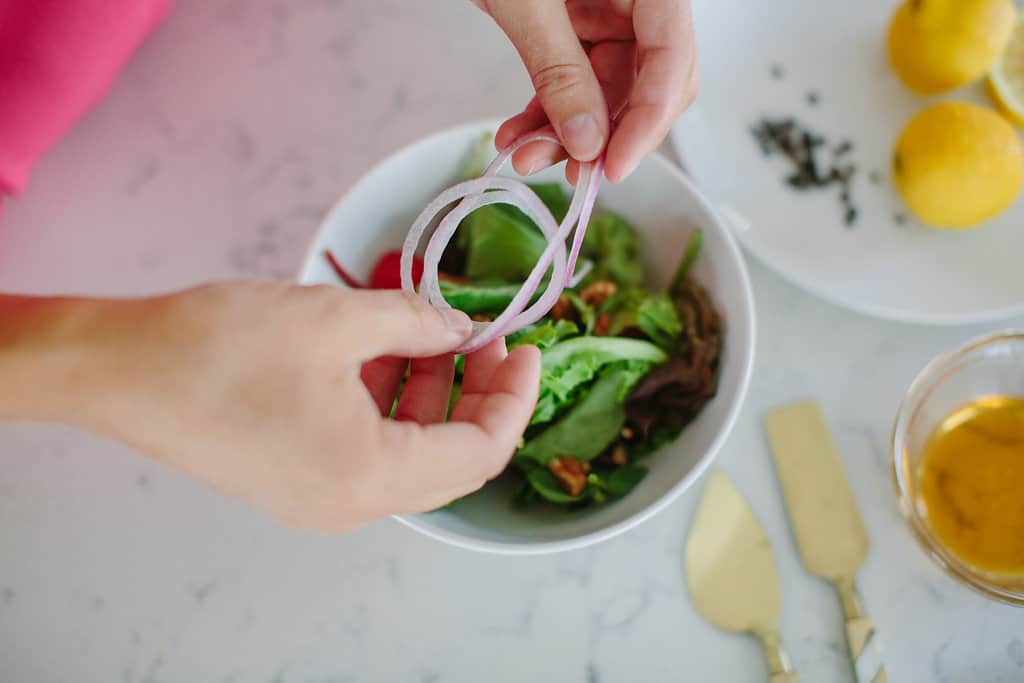 As for the salad ingredients, field greens, pecans, red onion, cherry tomatoes and goat cheese are my go-to but you could use almost any combination. I love spinach or kale and walnuts or pine nuts too! Raisins and cranberries a great if you have a little sweet tooth.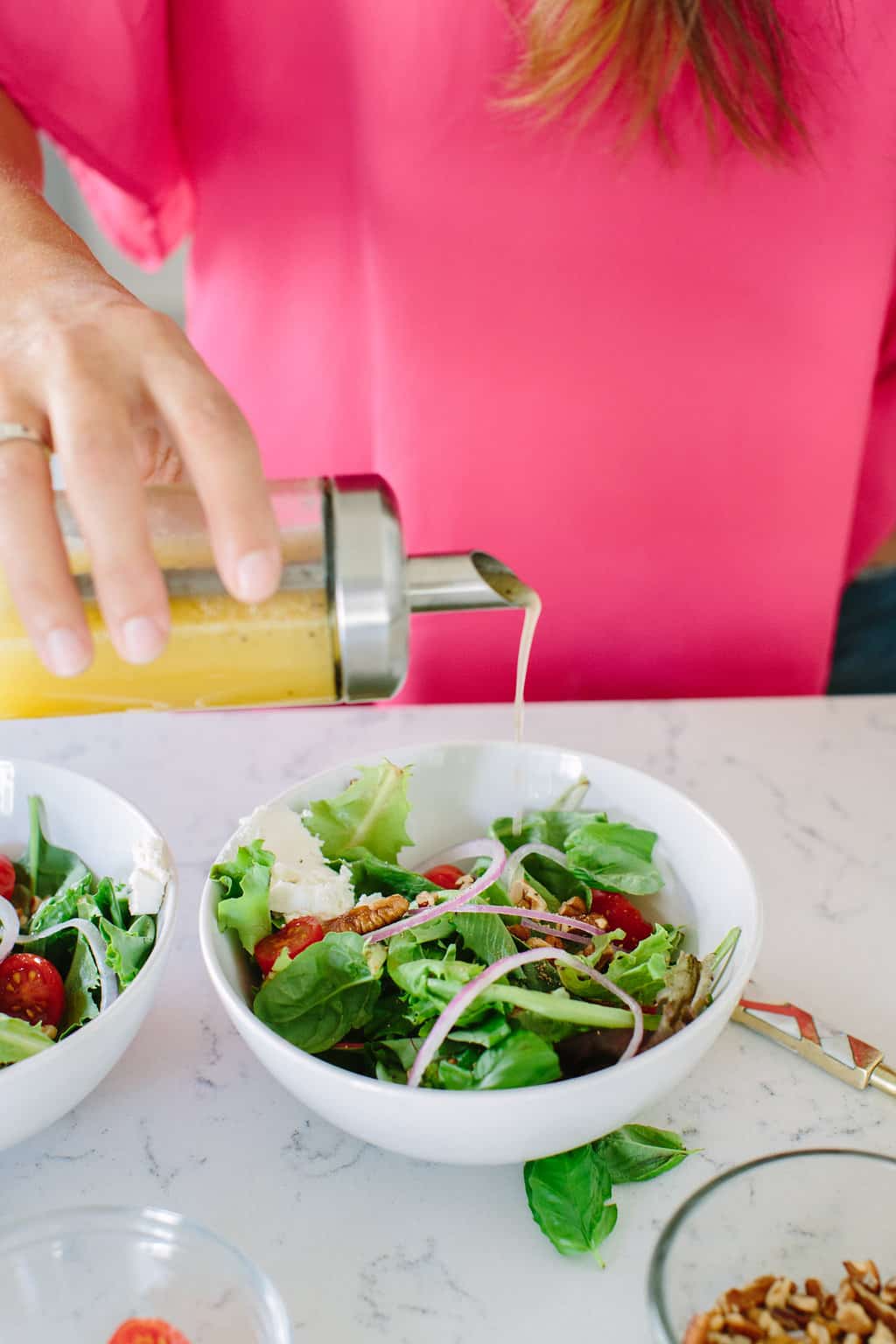 I always like to add fresh herbs to my salad and basil goes perfect with this flavor palette.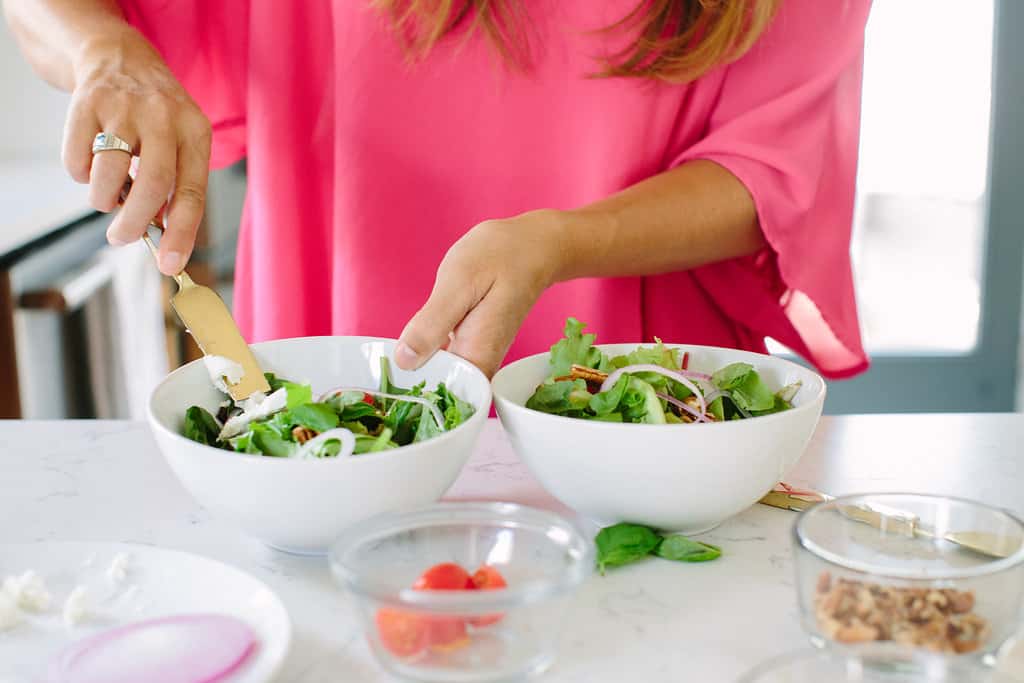 I'm finally convinced that I can make restaurant-style salads at home and it's 100% true that the dressing is key! And it's definitely not as intimidating as you think.
I feel the same way about sauces too. I'm working on a street taco recipe with a rich Mexican crema that I hope to share soon!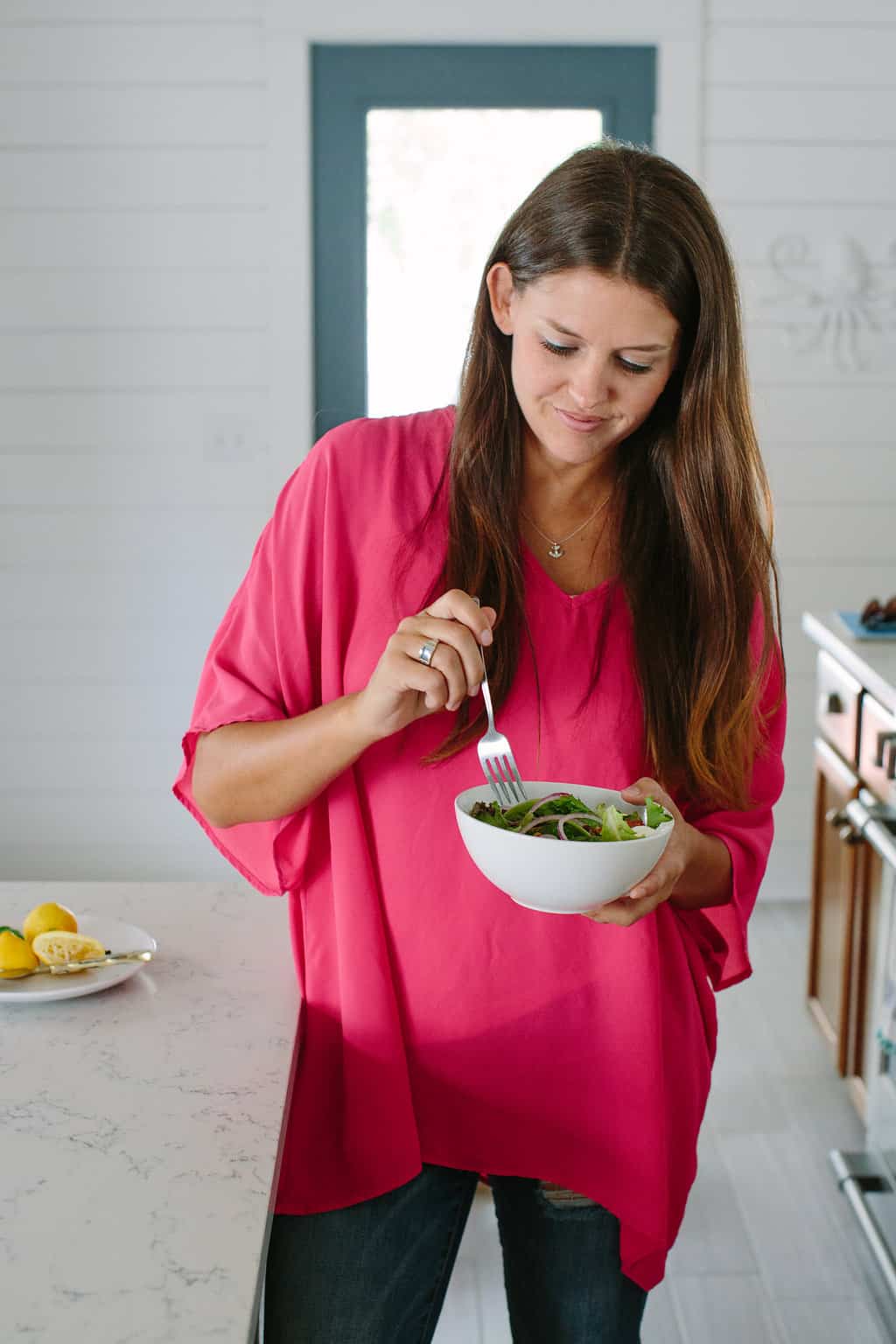 My top is from La Senorita Jolie
[show_shopthepost_widget id="1855060″]
So what do you think/ Are you disappointed like I am about how your salads taste at home? What are your favorite salad dressings?
Cheers!