Corn and Crab Chowder Recipe + A Good Read
Happy day friends! I hope you are well and had a wonderful weekend! I've been working on this post for awhile and I'm so excited to finally share it with you! I love writing recipe posts and food styling is SO much fun! With the help of my incredible photographer, Paige Winn, I was able to capture some really great images that I hope you love as much as we do! There is a unique story behind this recipe too so grab a cup of coffee and follow along.
Corn and Crab Chowder Recipe + A Good Read
My son and I spend a lot of time at the library these days and I happened to pick up a book by New York Times best selling author, Mary Kay Andrews, called "Ladies' Night" without knowing anything about it until I read the back cover. I love a good chick book and Mary Kay Andrews is one of my favorite authors. If you haven't read "Ladies' Night" yet you definitely need to add that one to your list as well as "The Weekenders".
This book is about a woman named Grace whose marriage ends tragically and is sent to divorce recovery classes mandated by the court where she meets a man and falls in love. But, the ironic part of the story is that Grace is a professional blogger and interior designer whose blog gets hijacked in the divorce by her ex-husband and she has to start a new blog from scratch. She returns to her roots of DIY projects, budget friendly home makeovers and food posts (sound familiar?!) and she creates a corn and crab chowder as one of the first posts on her new blog.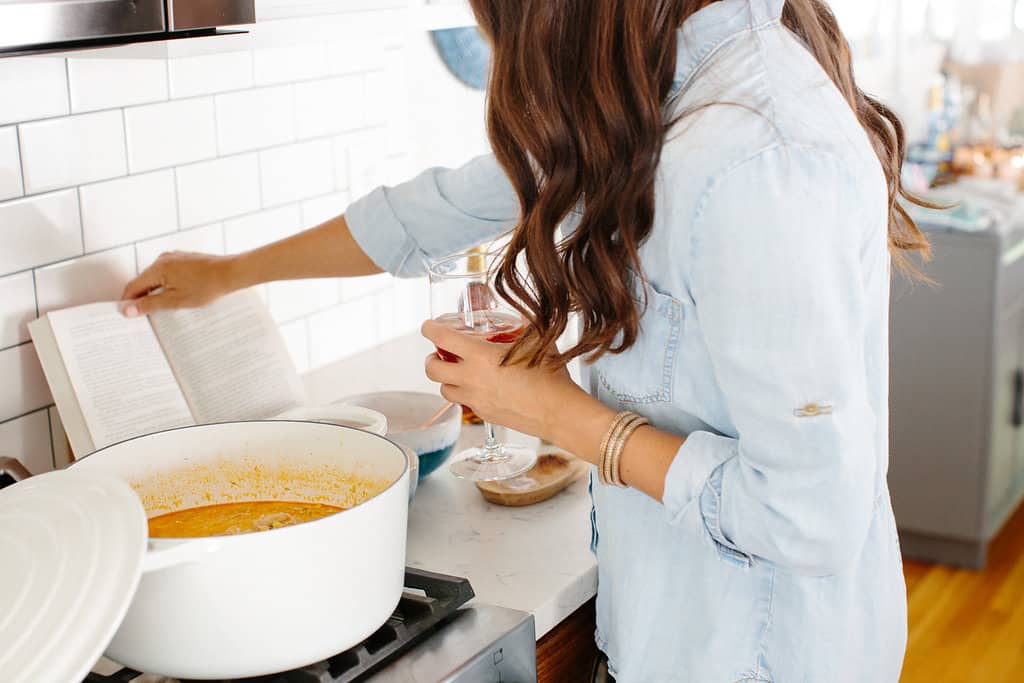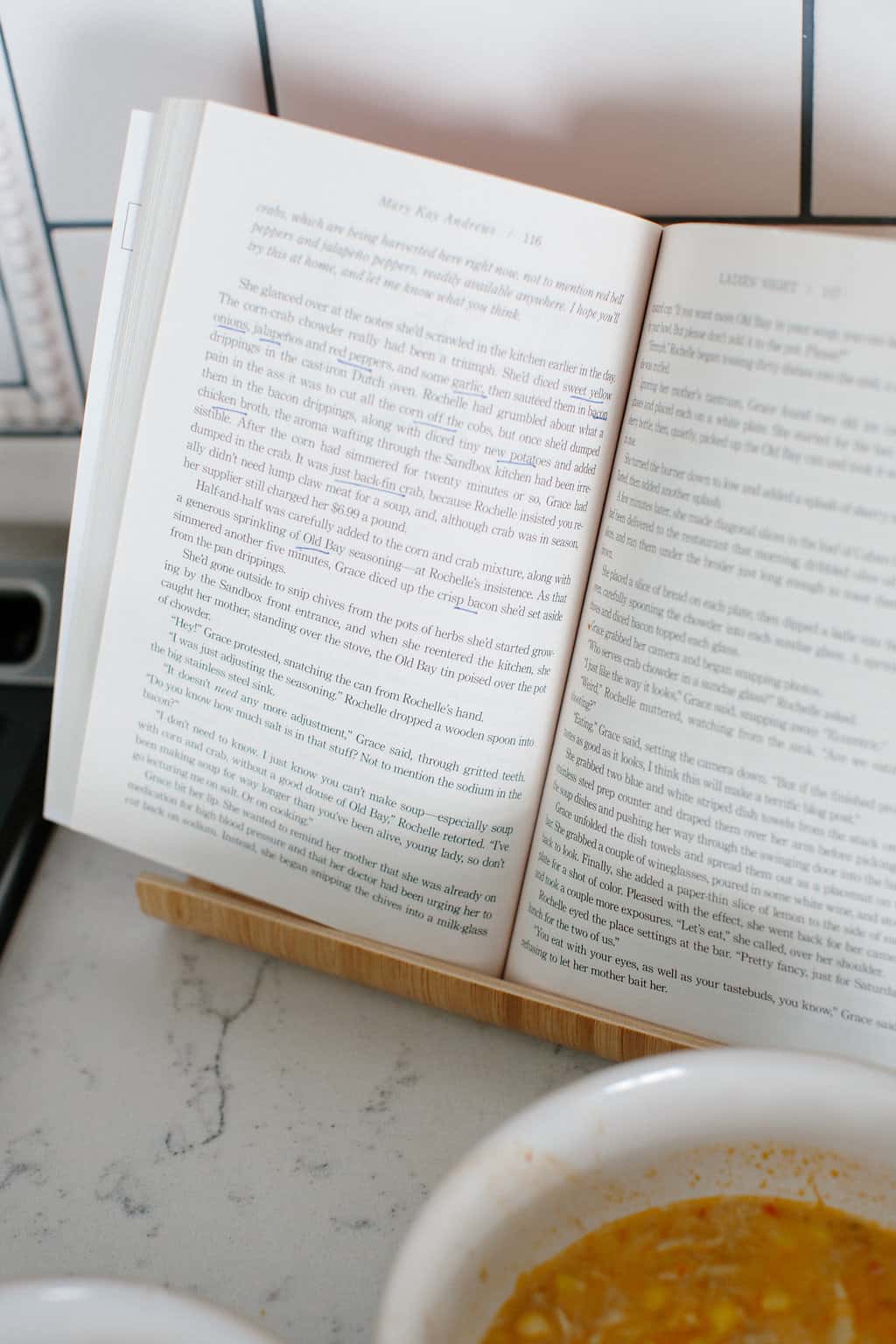 So, do you see where I'm going with this? Of course I fell in love with the book and proceeded to recreate the recipe in real life to see if it could be done and how it would taste. I'm happy to report that I followed many of the ingredients and instructions that Grace – or Mary Kay Andrews rather – explained in the book and it actually turned out to be a fabulous recipe! Not many of the proportions were given so I had to improvise there but it went surprisingly well!
In the book Grace makes the chowder from start to finish in a Dutch oven and serves it to her mother who owns a bar/restaurant called the Sandbox in their Florida town. Her mother liked the chowder so much that they made several more batches and served it as a special in the restaurant that night. I could completely visualize the scene from the Dutch oven to the place settings and even Grace styling the finished product to photograph for her blog. I was connected in every way.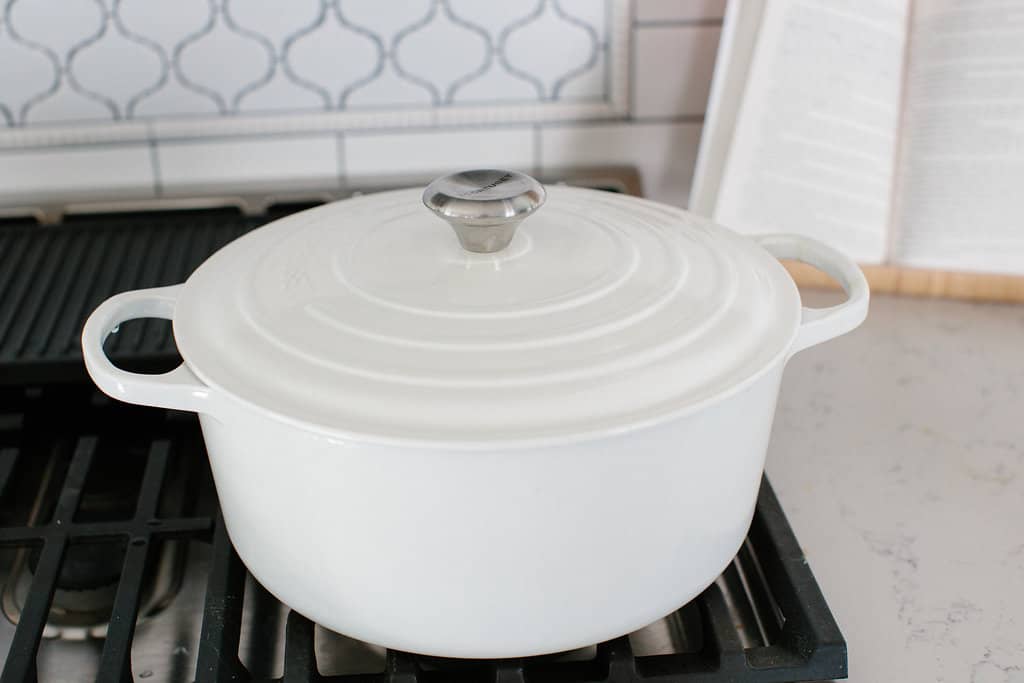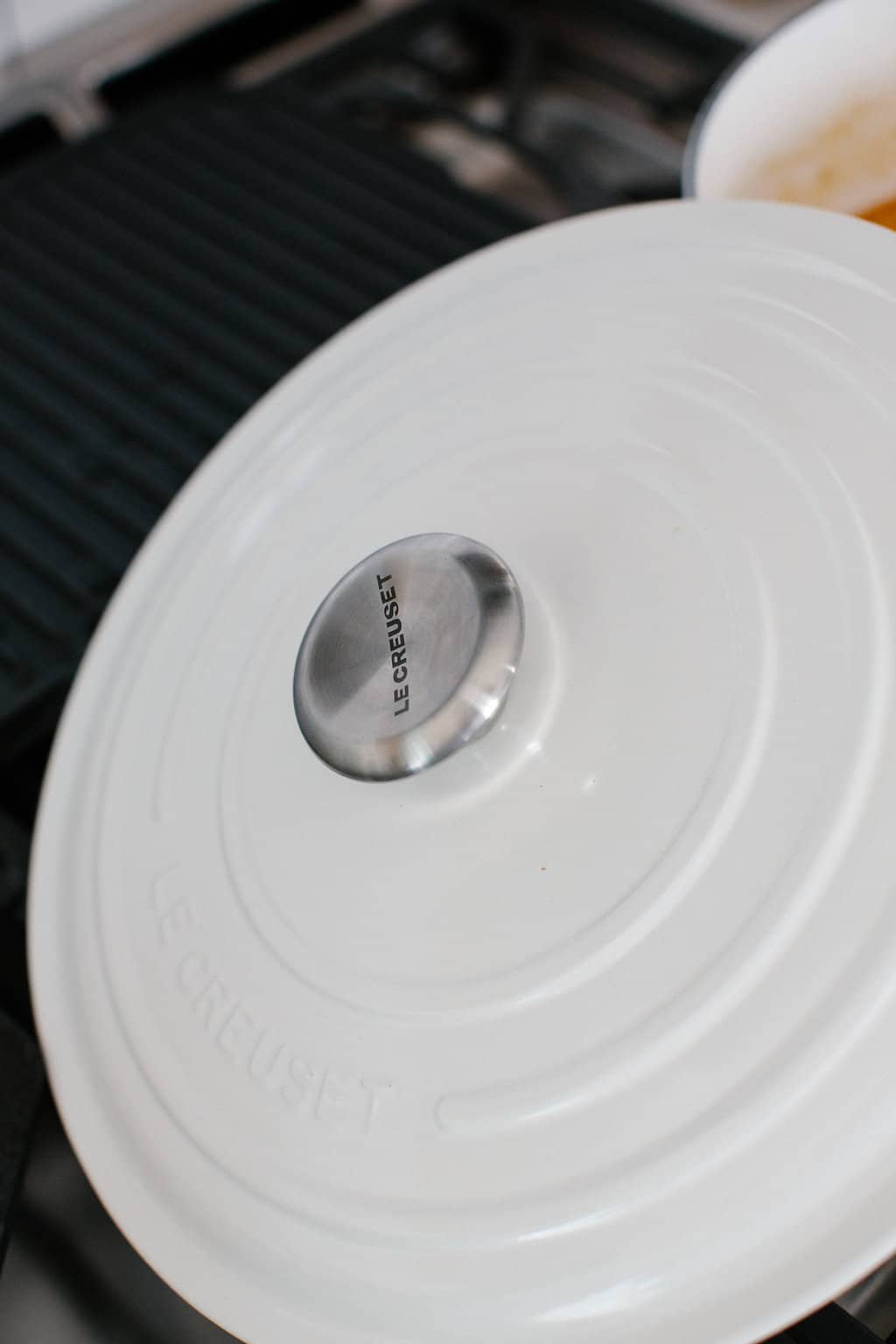 I knew my recipe and photographs would not be complete without a Dutch oven to cook the chowder in and this beautiful, white Le Creuset Dutch oven from Bed Bath & Beyond was the perfect one! It matches our white kitchen and allows the ingredients and colors in the rich soup to pop off the page. I have since used the Dutch oven to cook several other things including a whole chicken in the oven and I'm not sure how I survived this long with out one in my arsenal of kitchen tools.
So without further ado, here is my version of the corn and crab chowder based on the recipe from the book:
Ingredients:
5 slices of bacon
4 ears of sweet white corn, shaved off the cob
2 lb. crab meat
1 red bell pepper, diced
1 jalapeño pepper, seeded and diced
1 large sweet yellow onion, diced
3 cloves of garlic, minced
1 lb. baby new potatoes, diced
32 oz. chicken broth
1 cup half-n-half
2 tsp. Old Bay seasoning
1 tsp. sea salt
1 tsp. pepper
1 sprig of fresh tarragon
Fresh chives or 3 green onions, thinly sliced
Sherry vinegar
*Optional: several drops of hot sauce of choice
Instructions:
Cook the bacon slices in a Dutch oven and set aside. Sauté the peppers, onions and garlic in the bacon drippings until tender. Roughly puree the mixture in the Dutch oven with an immersion blender. Add in the corn, new potatoes, chicken broth and tarragon. Cover and cook for 20 minutes on medium-low heat. Stir in the crab meat, half and half, Old Bay, salt and pepper and let simmer for 5 minutes. Add a few splashes of sherry to taste and serve with crusty bread drizzled with olive oil.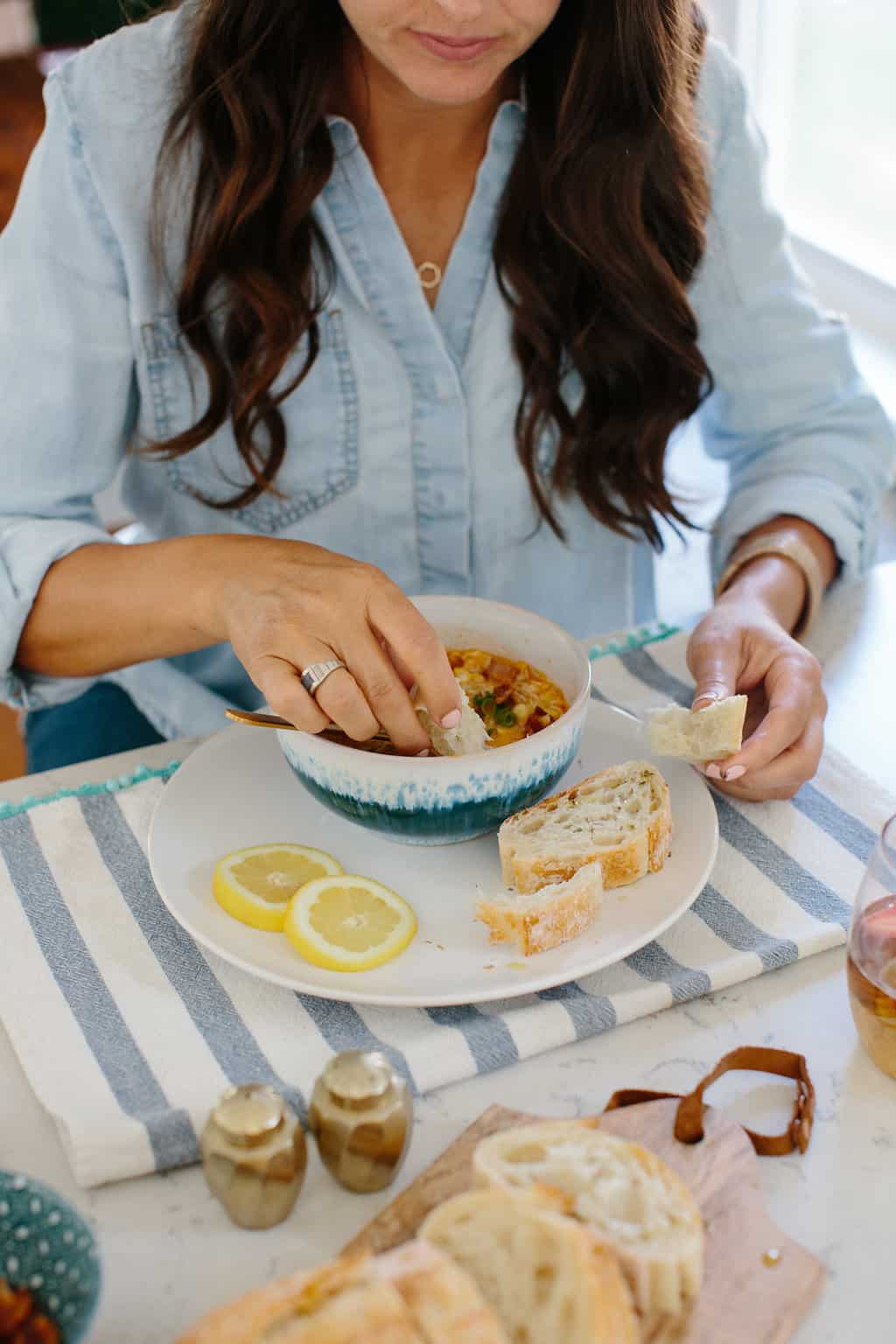 If you love chowder, especially the kind with delicious crab meat, you should definitely try this at home! Being the southern girl that I am whose second home is the North and South Carolina coasts, I was thrilled with idea of making this recipe come to life. So pour a glass of wine, grab the book and your Dutch oven and have some fun! It makes a huge pot that can feed a family of 4 at least twice! And soup is great for freezing too so you can never make too much!
Oh and guess what!?!?! After I made the recipe and was doing a little more research for the post I realized that Mary Kay Andrews is releasing a cookbook on May 2nd and it looks like the her corn and crowder will be included! I pre-ordered the book and I.CAN.NOT.WAIT to get my hands on it to read the original recipe! It's funny how life works out sometimes isn't? Enjoy!
Cheers to a great week!

{Thank you to Bed, Bath and Beyond for providing the beautiful Dutch oven for this post and thank YOU for supporting the brands that make Simple Stylings possible. All opinions, designs and ideas are 100% my own.}