Spring Recipe Blog Hop: Dairy-Free Avocado Egg Salad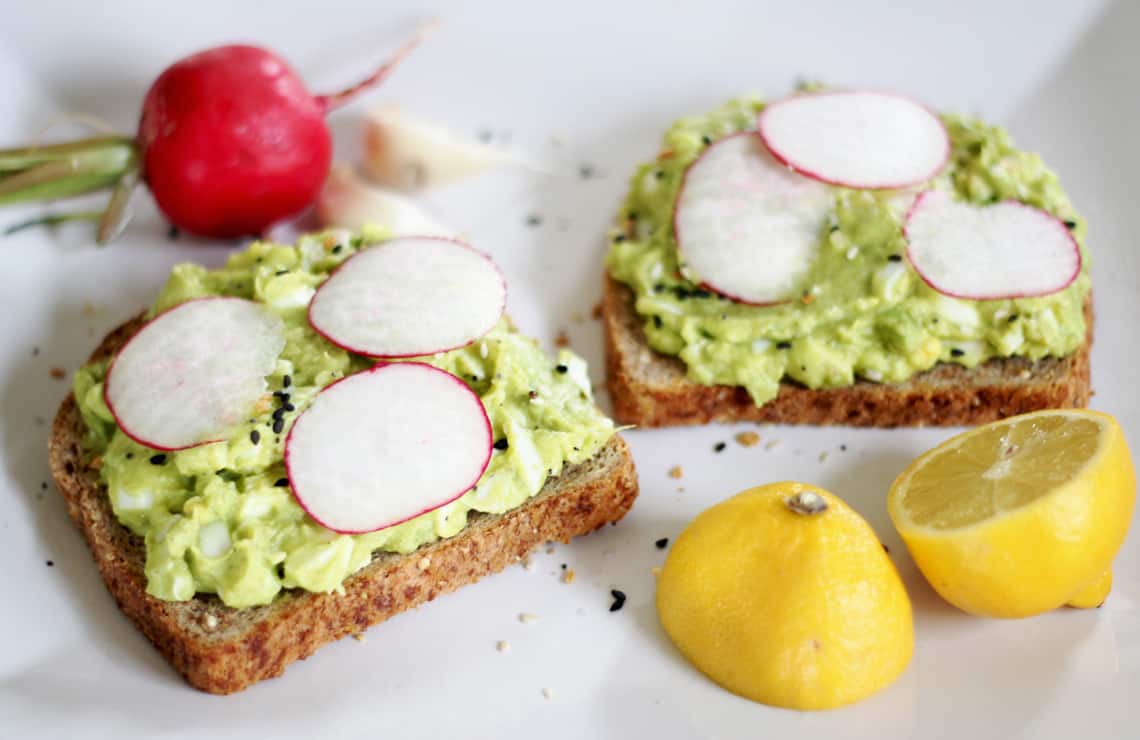 Spring Recipe Blog Hop: Dairy-Free Avocado Egg Salad
Happy First Day of Spring y'all!
This week's schedule is a little different due to some pre-scheduled posts, but today we have a great spring recipe blog hop and I'll be back Thursday with our spring home tour! So much goodness this week!
I'm excited to share the blogosphere with some amazing ladies that have come together to bring you a collection of awesome spring recipes! There is a list of the participating blogs at the end of the post and you can hop around and check out all of the goodies!
As most of you know I've done several rounds of Whole30 over the past two years and during that journey I have perfected a super simple, dairy-free egg salad recipe using avocados. I love egg salad and this is a delicious alternative to the traditional version that calls for lots of mayo. Don't get me wrong, I love mayo (yay Duke's) but I also love having a healthier option that is equally yummy!
Now for the simplest of recipes…
Ingredients
1. 1 ripe avocado (soft, not mushy)
2. 2 hard boiled eggs
3. 1/4 tsp sea salt
4. 1 tsp minced garlic
5. Juice of 1/2 lemon (or to taste)
6. Radishes and seasoning for garnish
7. Toast of your choice
Instructions
Chop up the boiled eggs and avocado and mash together in a bowl until you achieve your desired consistency. Then stir in the garlic, salt and lemon juice. Now slather it on top of your favorite toast and ENJOY! I love Ezekial sprouted wheat bread. Or if you are gluten free just skip the bread and serve over a bed of lettuce. Easy Peasy!
I like to top my with fresh radishes and my Everything But The Bagel seasoning. Crushed red pepper or paprika are also great toppings if you don't have the bagel seasoning.
NOTE: You can add the salt and lemon juice a little at a time to see how much you prefer…and you can always add more. The egg to avocado ratio can also be adjusted. If you prefer more egg I would suggest using 3 eggs to 1 avocado.
So what do you think? Egg salad without the mayo?!?! Would you try it?
Krista of The Happy Housie has put together this fantastic blog hop and you are not going to be disappointed! Now, you get to check out some of my friends' drool-worthy recipes! I mean look at those cakes y'all!
Today some of my friends are sharing their beautiful and inspiring spring recipes as well!
Hop over to see what they are sharing…
Raspberry Lemon Quench at The Happy Housie
Amazing Gluten Free Popovers at Willow Street Interiors
Easy Strawberry Ice Cream Cake at My Uncommon Slice of Suburbia
Chocolate Challah Bread at Place of My Taste
Low Fat Oreo Fluff Dessert at On Sutton Place
Gluten/Dairy Free Easter Egg Lemon Sugar Cookies at Zevy Joy
Fresh Citrus Angel Food Cake with Lemon Curd at Sincerely, Marie Designs
Painted Easter Cake with Chocolate Nest at Craftberry Bush
The Best Carrot Cake Recipe at Happy Happy Nester
Lemon Cheesecake Mini Tarts at The House of Wood
Flower Pretzels at Home Made Lovely (formerly AKA Design)
Lemon Shortbread Squares at A Pretty Life
Dairy Free Avocado Egg Salad at Simple Stylings
Gluten Free Double Chocolate Chip Cookies at Taryn Whiteaker
Easy Cake Batter Dip at Amber Tysl
Tea Cake Sandwich Recipe at Shabbyfufu
Toasted Coconut Nest Cupcakes at Nina Hendrick Design Co.
Pink Lemonade Chiffon Naked Cake at Summer Adams
Kid Favourite Rice Krispie Spring Eggs at Duke Manor Farm
Cheers!