Blogger Stylin' Home Tours: Spring Edition
Happy BLOGGER STYLIN' HOME TOURS week y'all! BSHT are some of my favorite weeks of the year and all of a sudden my home is exploding with color!
If you are a first time visitor from the the Nester's amazing blog, welcome! I'm so excited you're here. Enjoy the tour and hang out a little while if you like and check out some of our projects!
***
Well, I went from wanting all white everything to realizing that vibrant color, at least in the spring time, really makes me happy. The backdrop is still light and bright but the pops of color are popping even more! I'm mid construction in a lot of areas in the house but I've managed to add a few elements of spring in some of my favorite spots.
First I changed out the old Instagram photos with burlap mats in our gallery wall grid for these nature prints. I found a loose leaf art print book on clearance from Barnes & Noble last year for $3.50 and they finally found a home.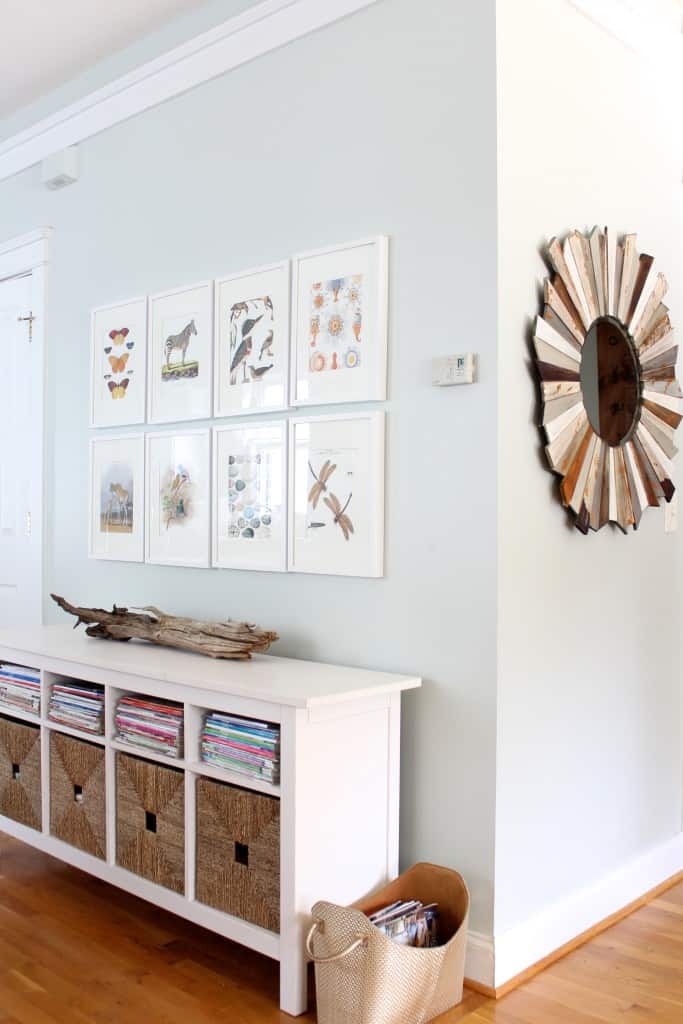 I like to switch out the driftwood piece for flowers on the buffet and tulips are always one of my favorite. Trader Joe's has such a great selection right now.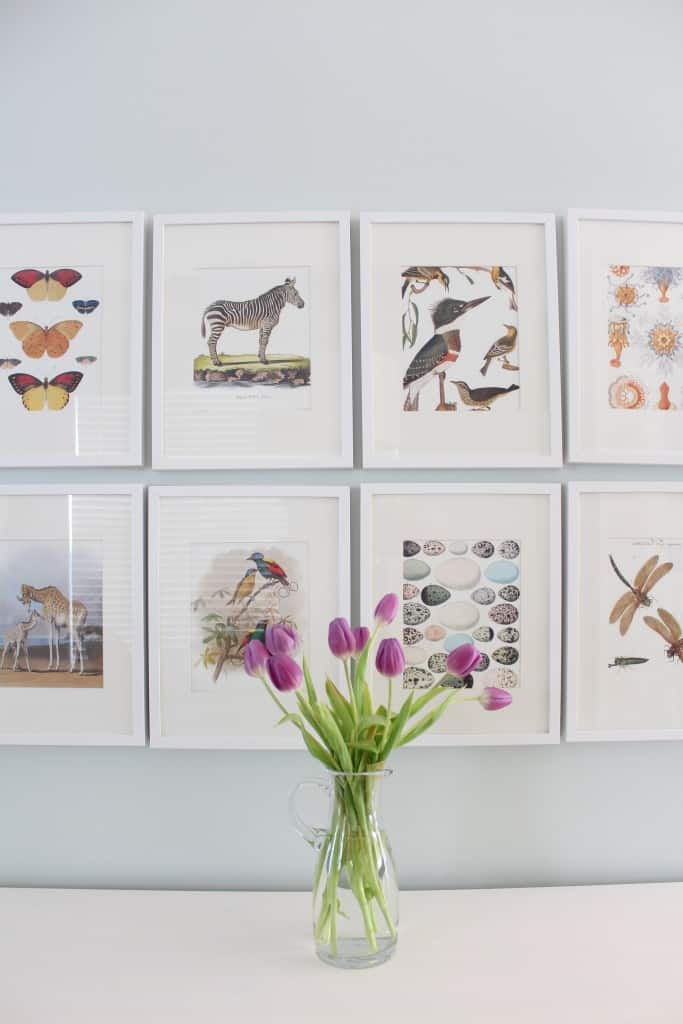 The Ikea buffet is one of my favorite pieces because I can store items in the bins that I want to keep out of sight and also organize my magazines. I'm a certified magazine hoarder! You will find a stack in every room in our house.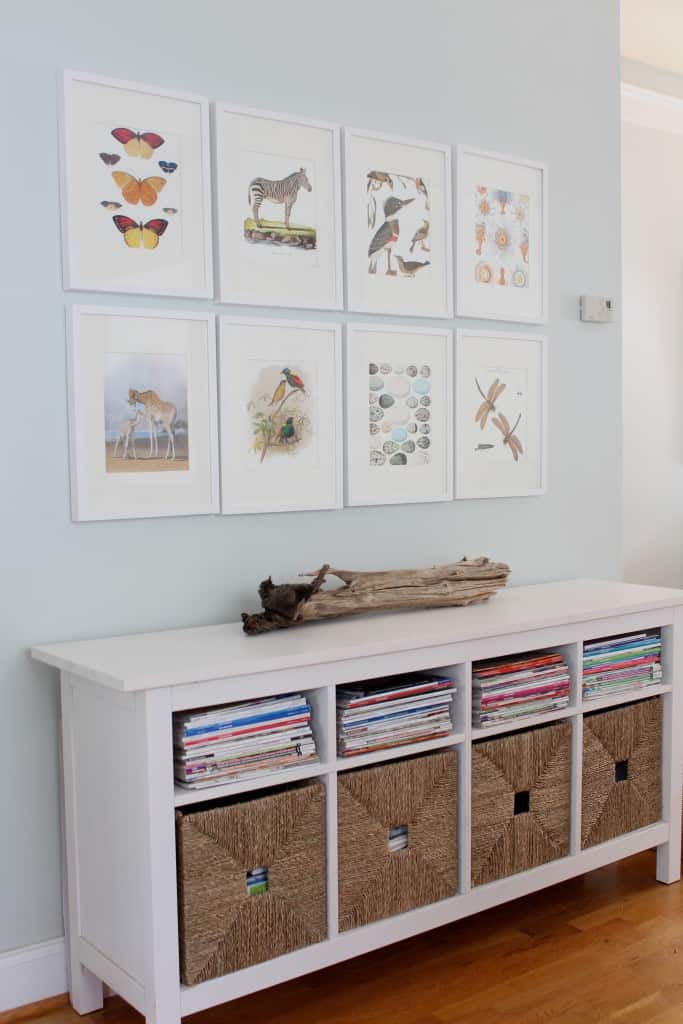 In case you missed our cafe style dining room reveal you can check it out here. I wanted the space to be cozy and stylish, an inviting place to gather with friends and family.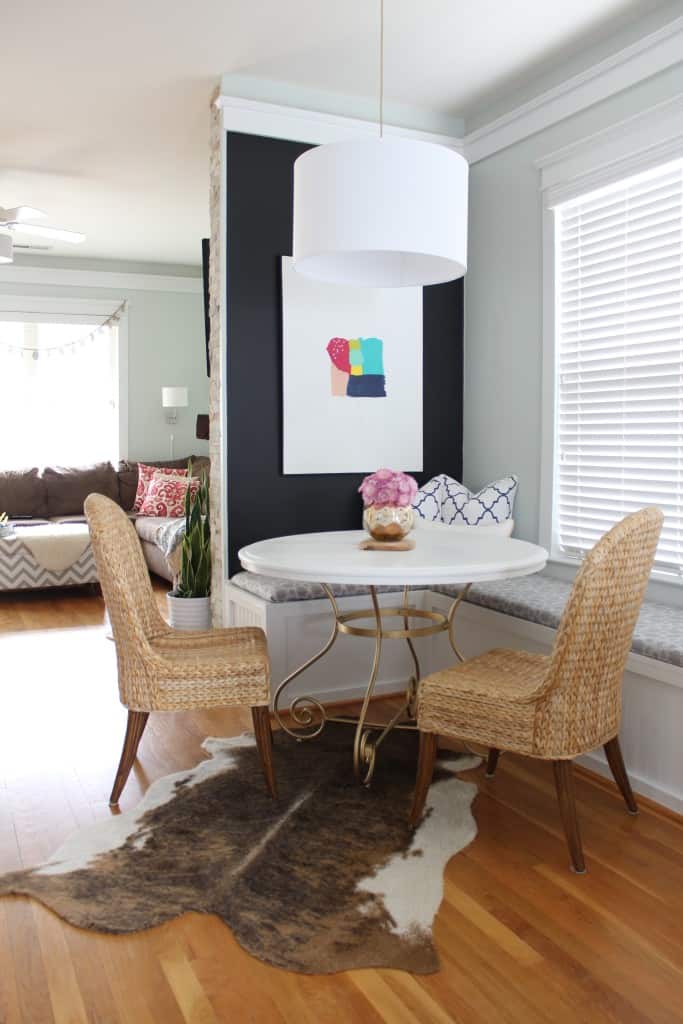 Fresh fruit is also a must around here so when the flowers have seen their last day we throw some apples and bananas on display. Wait that rhymes :)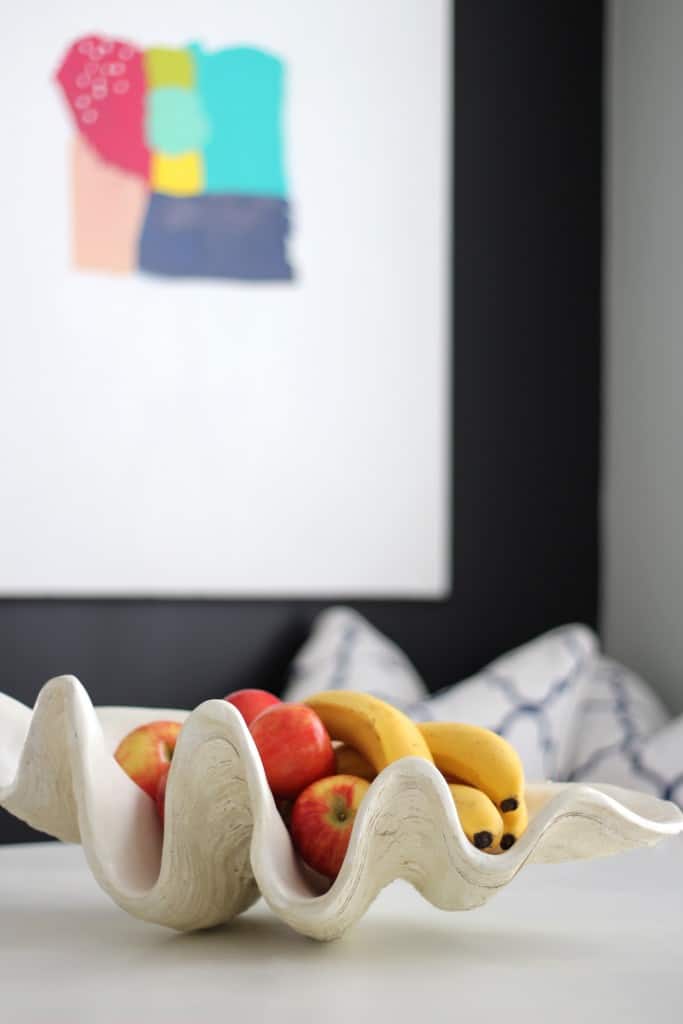 Here is the real itch I'm having this spring ~ painting. I don't know why, I'm not the least bit an artist, but I got the bug and now I can't stop! I've been watching YouTube videos and trying to learn a few skills but really I just wing it. I also created the painting on the black wall in our dining room.
I'm also sharing the evolution of one of my paintings on Instagram right now so you can see and non-painter does it :) Follow along and guess which painting it is!
I spruced up my work space with some more flowers and paintings because let's face it, I need a little coaxing to actually sit down at my desk. You can read about my DIY pallet desk here.
Last year I was rather ambitious and remodeled my office space while also making over my deck.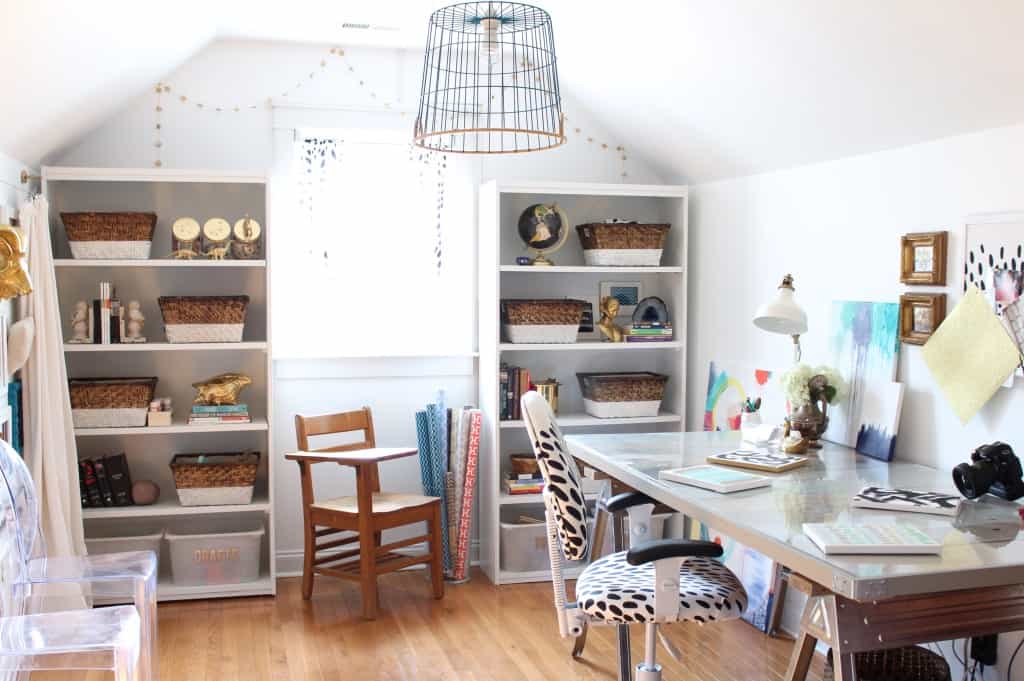 See what I mean with the color explosion! I still haven't been able to part with these sweet little dried roses so I decided to washi tape them to the wall next to my inspiration board.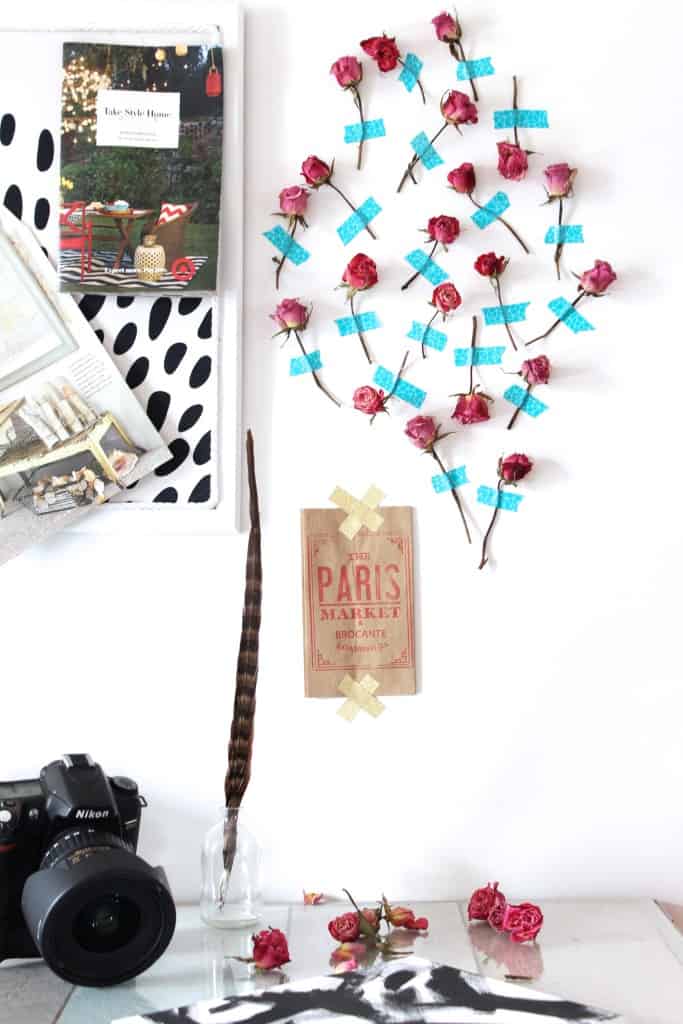 More painting, more color, more flowers.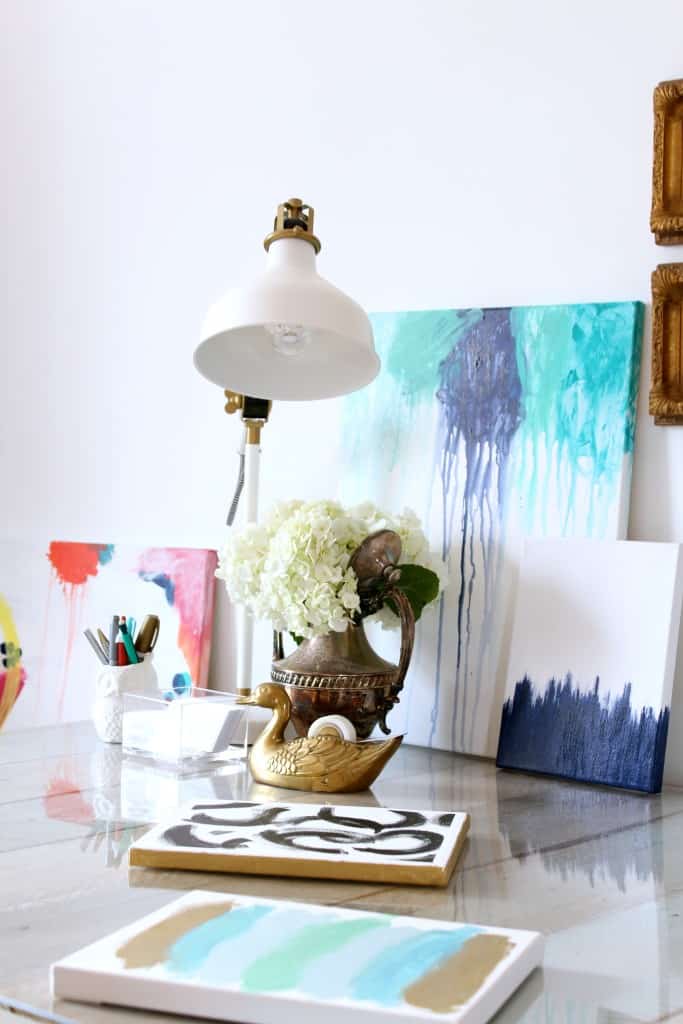 And a few extra tulips to brighten up my favorite coffee nook in my bedroom where I am editing this post right now!
There you have it! I hope you enjoyed the tour. I'm currently working on my kitchen renovation and a front porch makeover so hopefully I'll have another updated tour this summer!
Now head over to Julia's place for some major eye candy!
Thanks so much to our fabulous host, Lindsay of The White Buffalo Styling Co.! The tours so far have been amazing and I can't wait to see the rest. Here is the full schedule so you can make sure to follow along!
MONDAY:
TUESDAY:
Burlap and Lace
WEDNESDAY:
THURSDAY:
My Fabuless Life
FRIDAY:
Primitive & Proper
Claire Brody
The Blissful Bee
***
Cheers!

LINKING UP: Place Of My Taste //