Blogger Stylin' Home Tour: Organic Coastal Christmas 2013
Hi Y'all! Welcome to my home! I am so glad you're here.
If you are joining me from Kristin's site, Bliss at Home, thank you so much for stopping by! Isn't Kristin amazing!
If you read my Christmas Sneak Peek post you probably already know that I decided to go with an organic coastal Christmas theme this year. I love all things coastal but I also fell in love with vegetable centerpieces when I saw Emily A. Clark's blog post.
And since I have been committed to using what I already have around my home and spending less I thought this theme would be perfect.
So here is what I ended up with and it has been so much fun!
I am loving swag! I have never used or really thought about swag before but I think it gives a modern edge to traditional holiday decor. I've found that Trader Joe's is the best source for inexpensive swag, garland and wreaths but you've got to get it early. All of mine came from TJ's.
This is our entry way/living room and I love this IKEA buffet because it always makes a great place for a simple vignette.
For our mantel I made these coffee filter pom poms and added some greenery, oysters shells, two deer that I borrowed from my mom, and our favorite Russian ornaments. So simple.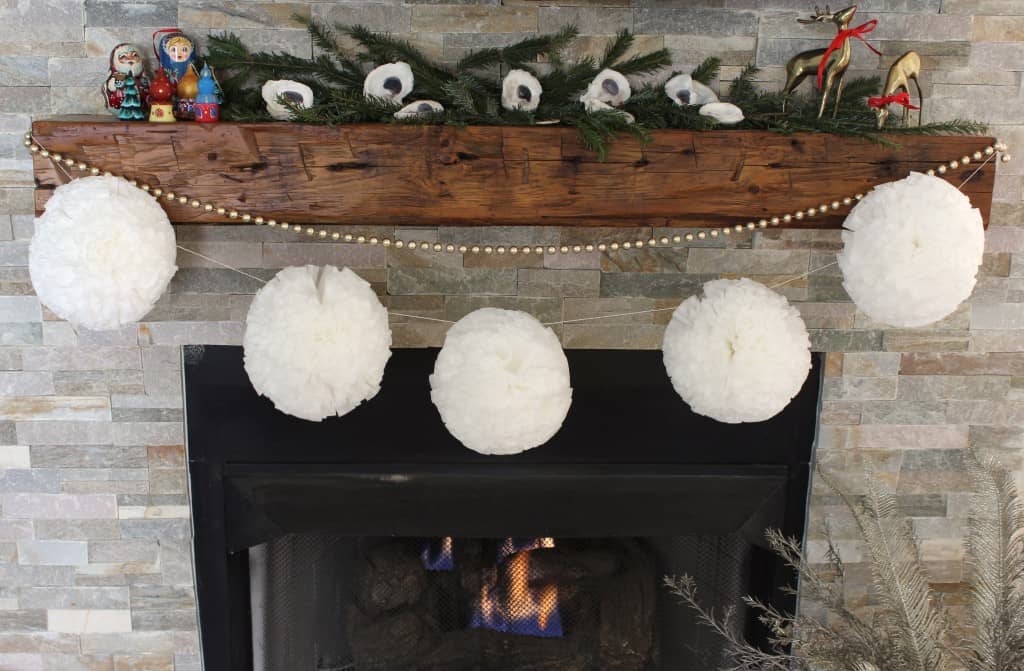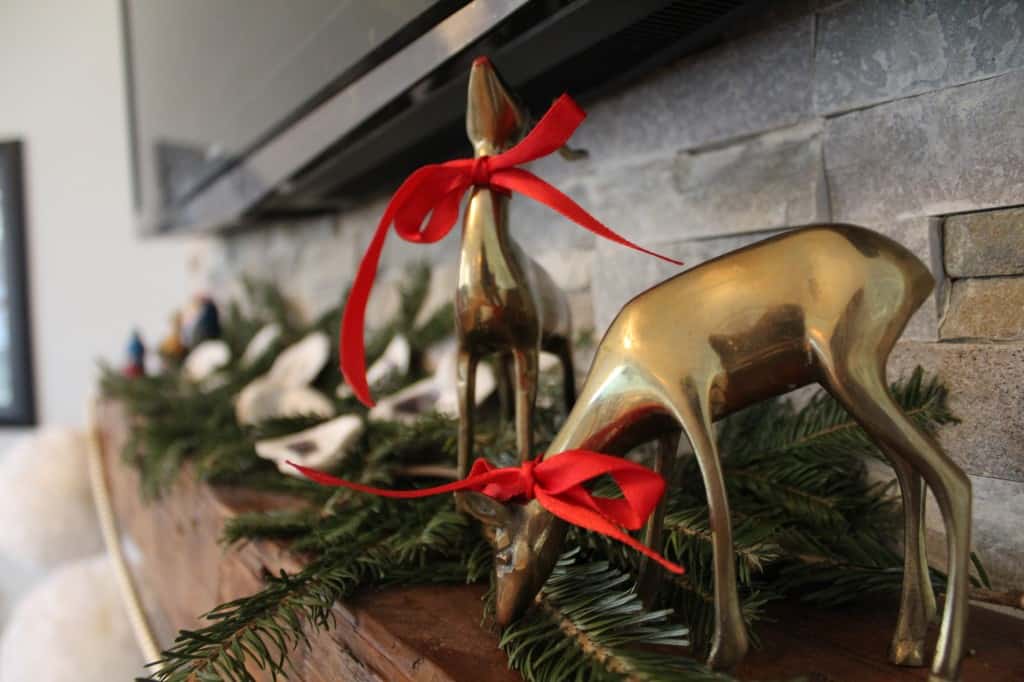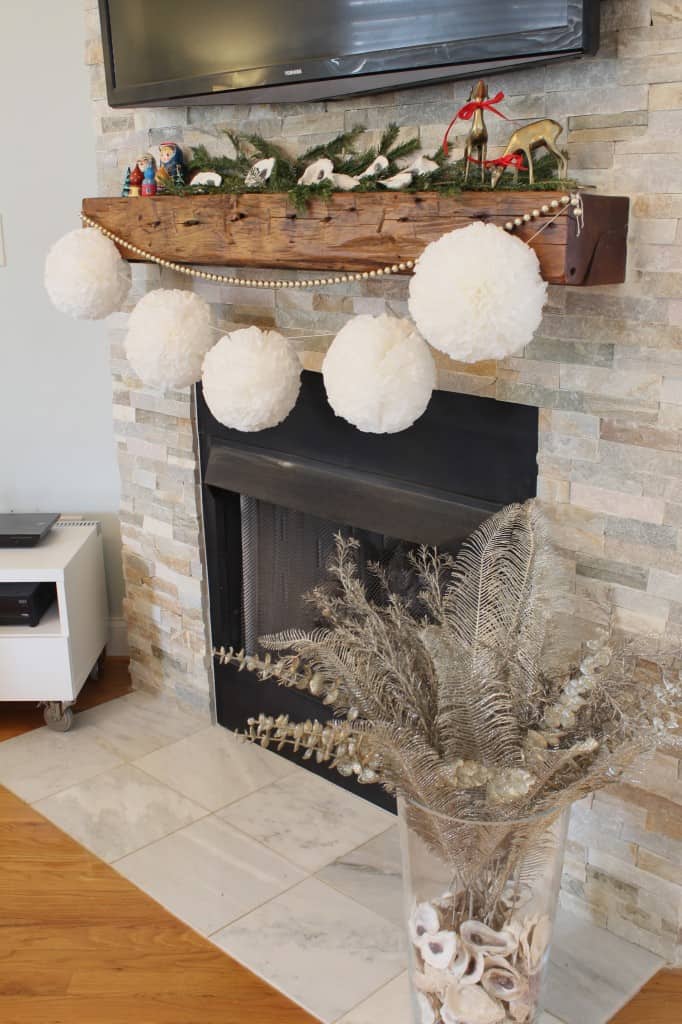 For the dining room and tablescape I wanted to go simple but bold.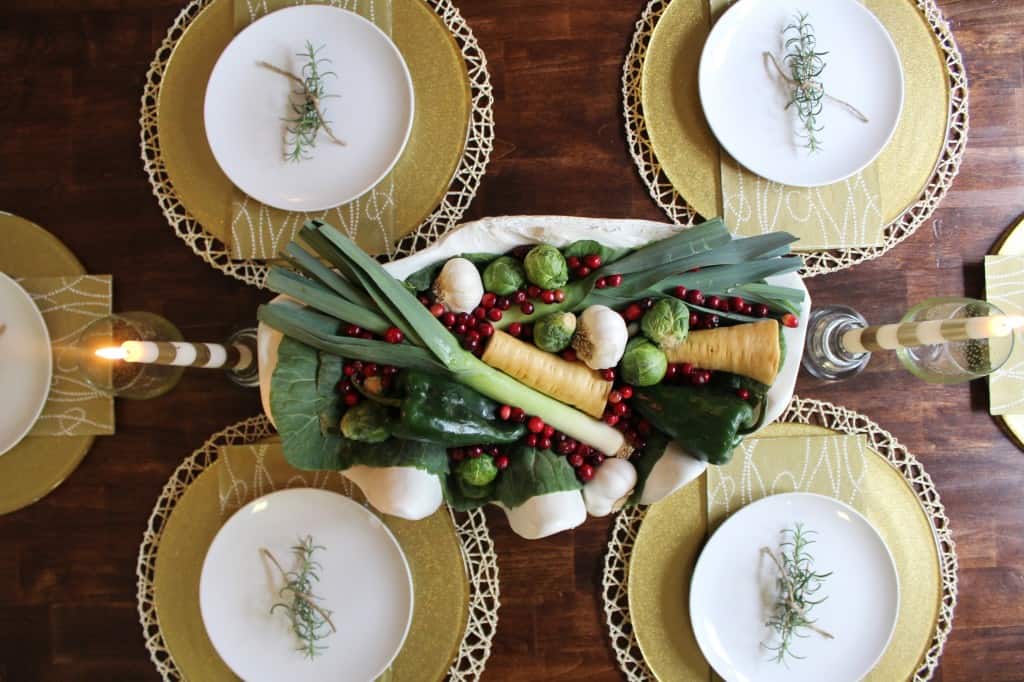 I created this vegetable centerpiece choosing vegetables that I thought I would use or could try in a new recipe. I layered them in my clam shell bowl and added a few oyster shells to top it off.
I had everything for the place settings already except the paper napkins (because we are a paper napkin kind of family!) which I bought for about $2 at the party store.
The placemats are from IKEA, the gold chargers are a Habitat Restore find for $2 each, the white plates are our everyday salad plates and the rosemary came from the pots outside our front door!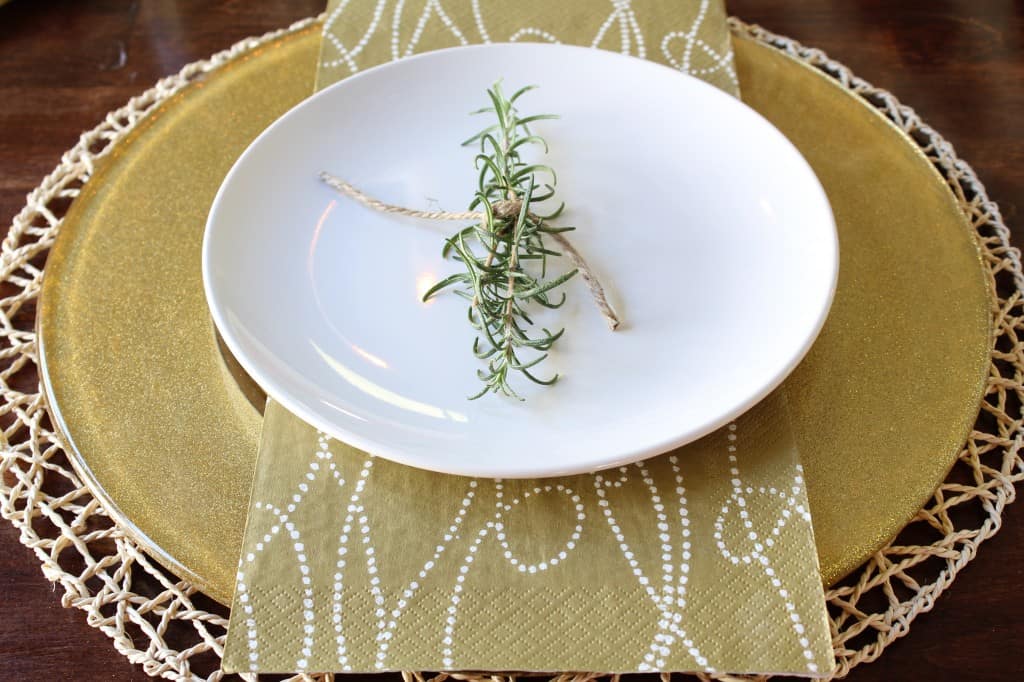 My white candlesticks came in handy and I spray painted them with gold stripes. I made the confetti wine glasses with a gold glass paint pen and a stemless wine glass from the Target dollar bin. The Target dollar bin just keeps getting better and better, right?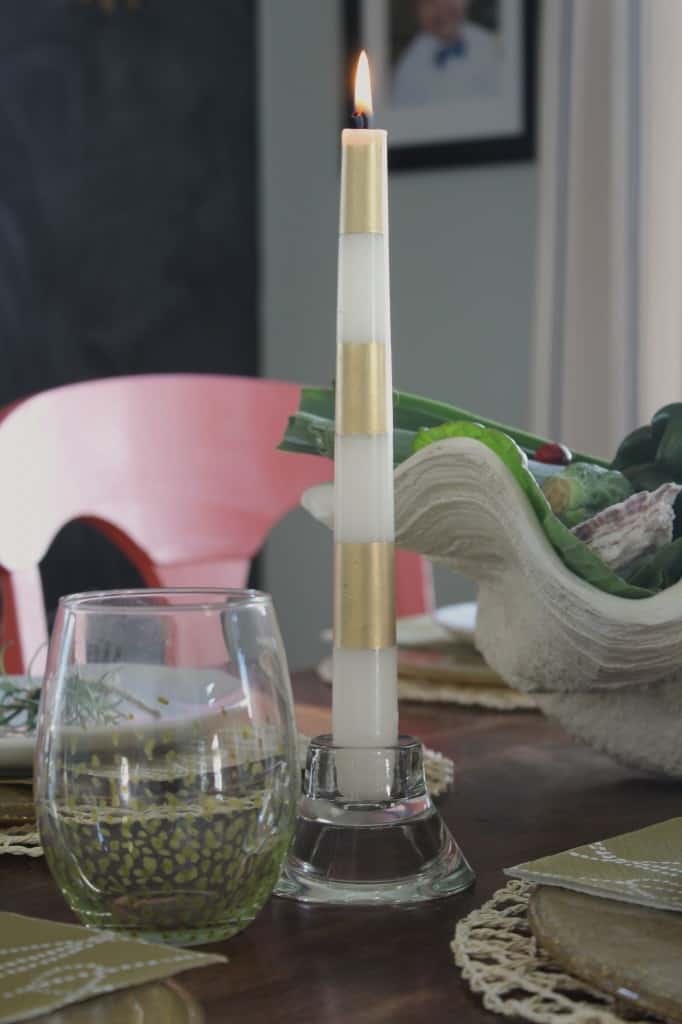 And here is more swag! These pinecones came from a park near our house and I had the twine from another project. Can you say FREE!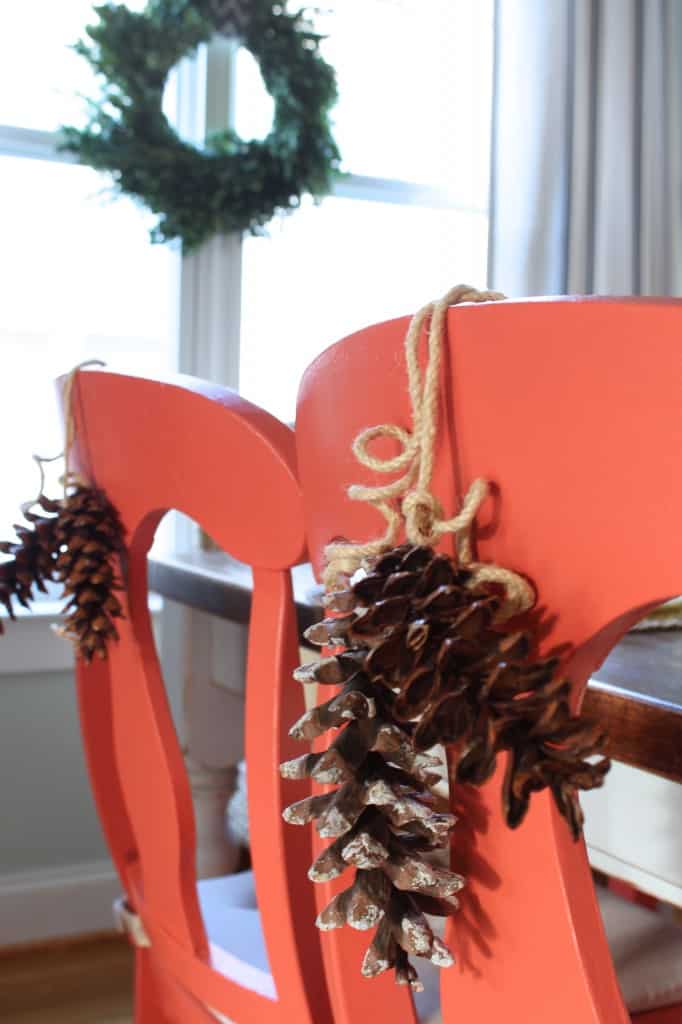 On to the kitchen. Other than doing a lot of de-cluttering I only changed a few things in here. I added a boxwood wreath to the window above the sink, some fresh flowers and a big decorative ornament that I got from a Walmart after Christmas sale last year.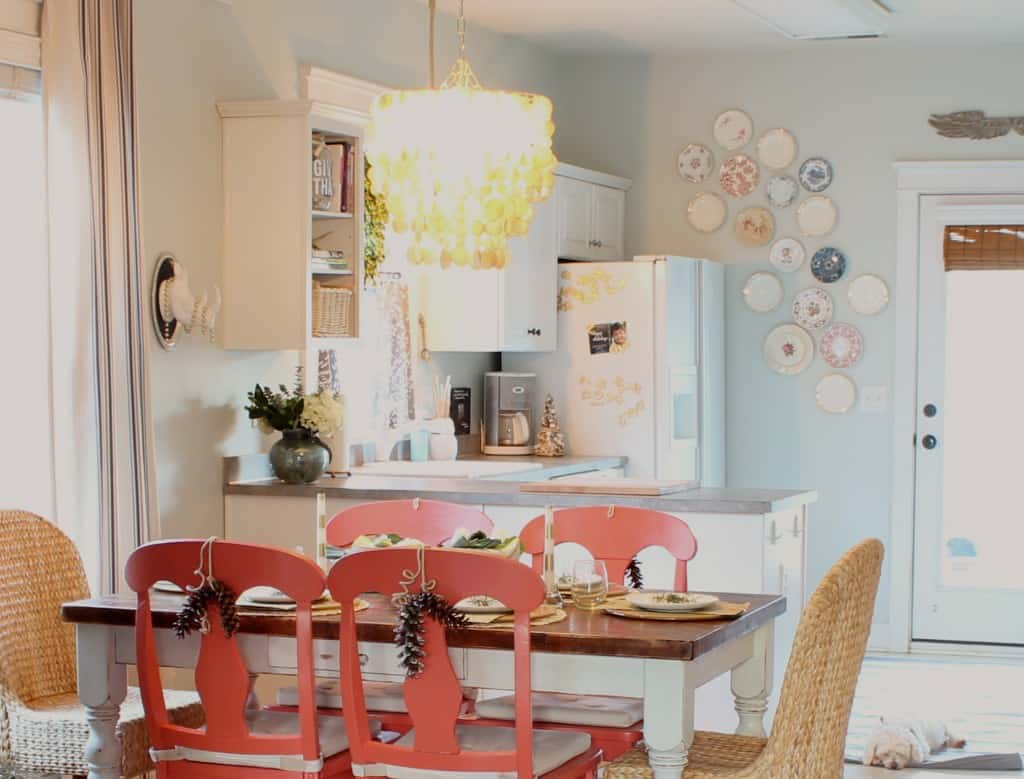 To make a few fun accessories I painted my paper towel holder (gold of course), made the soap dispenser out of a mason jar, and painted the tips of some wooden spoons and put them in the owl utensil holder upside down.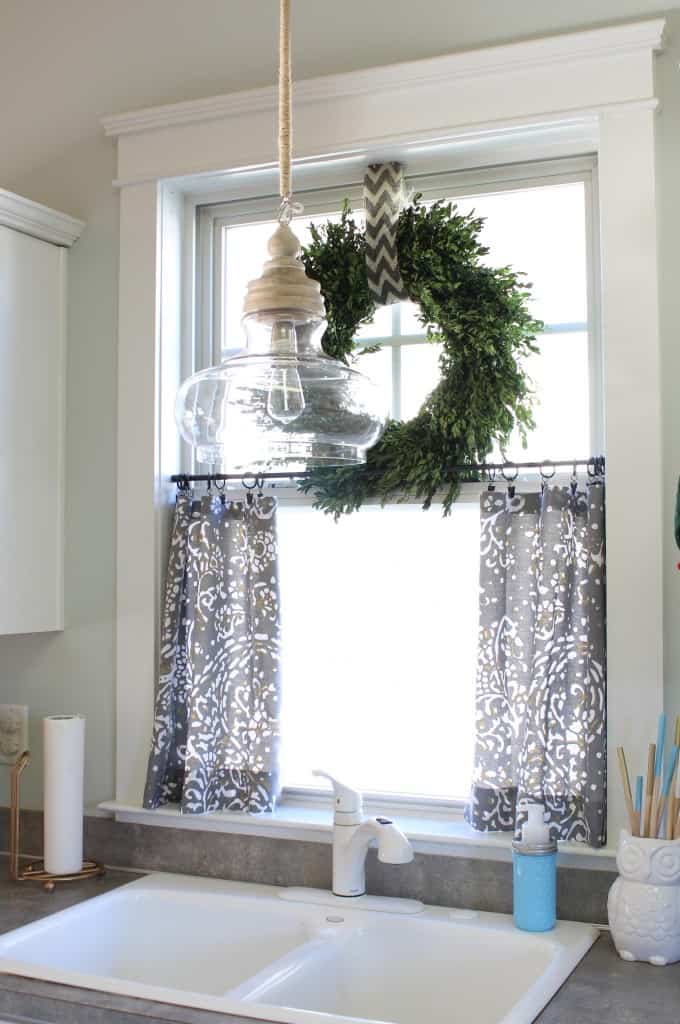 I did buy this woven wine basket from HomeGoods for $6.99 because it was too cute to pass up and could be used as a utensil and napkin caddy in the future. And yes, I did open that bottle already :)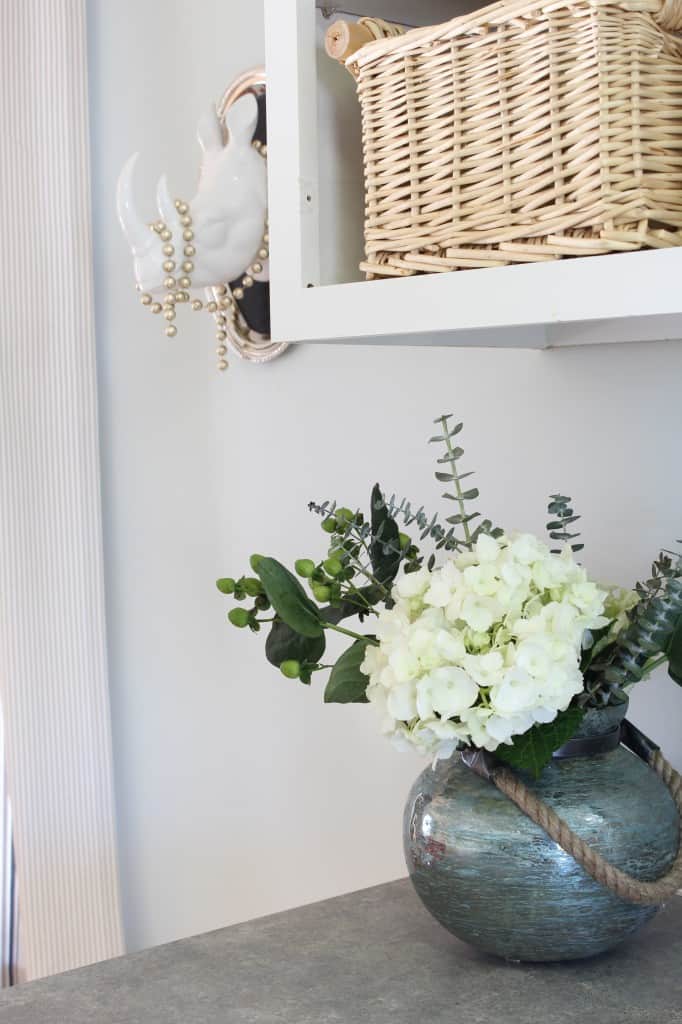 Of course any decor is not complete without faux taxidermy (and a little bling) and this one has a story behind it. I have wanted one for awhile and my mom finally ran across this one (either at Ross or Hobby Lobby, sorry I can't remember) for less than $10 so I thought that was a steal.
There is also a craze over these silver dollar store trays that are SO versatile. Look at what Jennifer at Dimples and Tangles has done with them! I was only able to find one at our store so I spray painted it with chalkboard paint and was going to use if for a menu board or just chalkboard art until my son gave his two cents.
I was wandering around the house trying to figure out where to use the tray and where to hang Mr. Rhino and my 5-year-old said he knew what I could do. So he grabbed the tray and the rhino and held it up telling me (in his words) to mount it on the tray and hang it in the dining room. And that is where it is. What an eye he has, my little partner!!!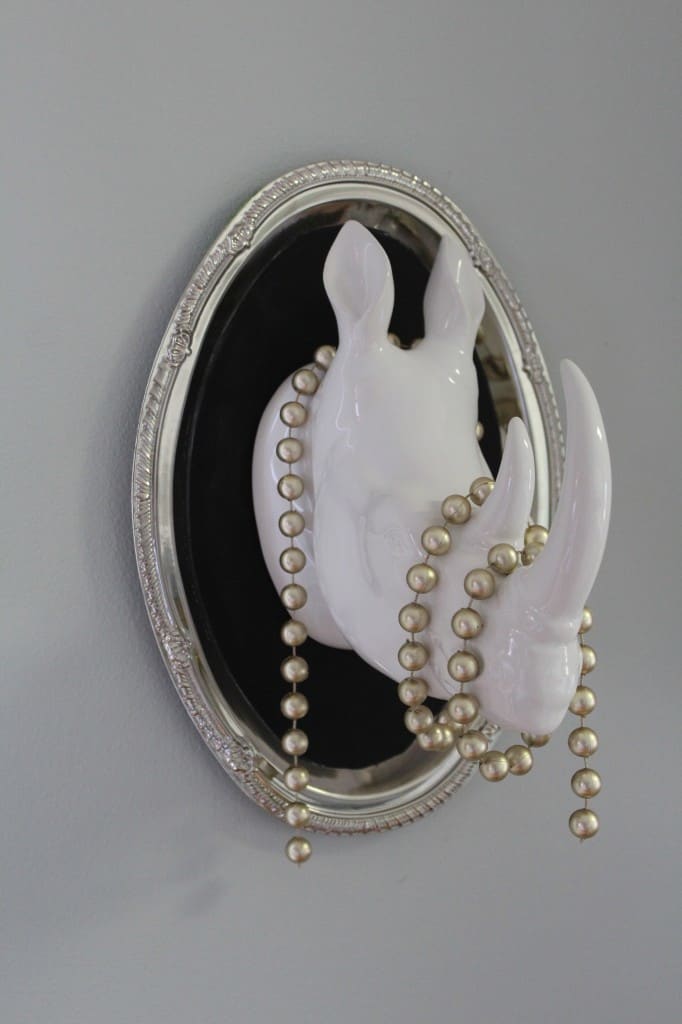 Moving on to the newly updated downstairs bathroom. Our home is a pretty small, open concept home so I also decided to add a little Christmas to our bathroom. There will be a full post about the makeover on the blog soon so stay tuned.
The lobster print comes from The Handmade Home book series Art For The Traditional Home. If you haven't seen their books, full of tons of great artists, you should check them out.
They would also make great Christmas gifts. Every page is perforated so you can tear them out and frame them for your own wall art. Genius!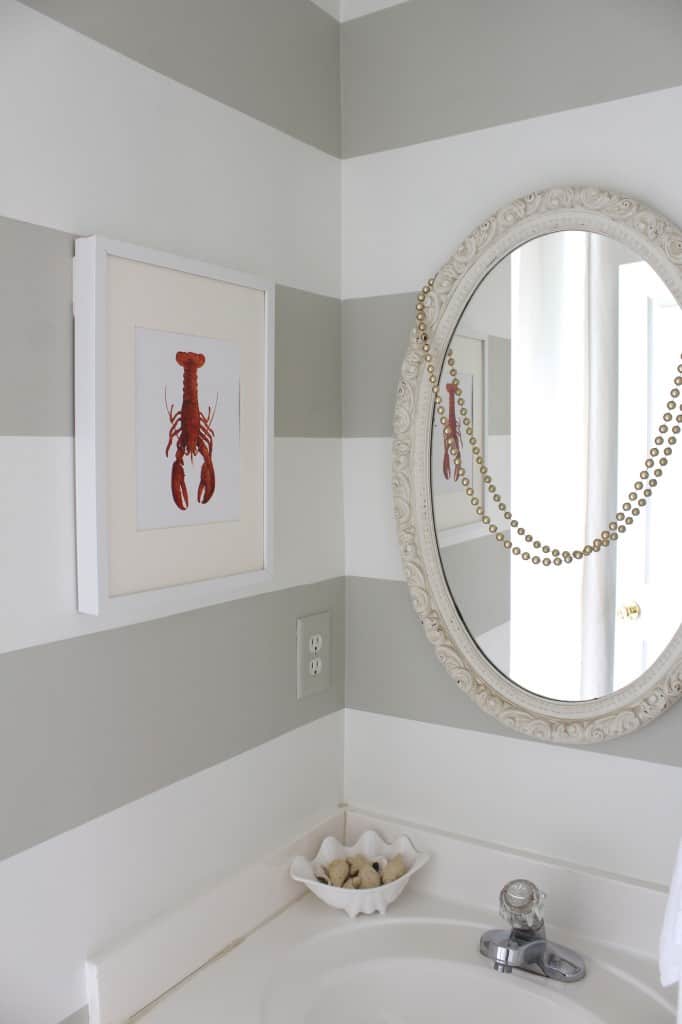 Christmas would not be complete without an advent calendar and a chalkboard and this is my DIY version.
I seriously nailed these wood shims directly to the wall and hot glued the small clothes pins to them. I wrote the advent cards on a plastic notebook divider I had laying around and clipped them with a piece of candy. So easy!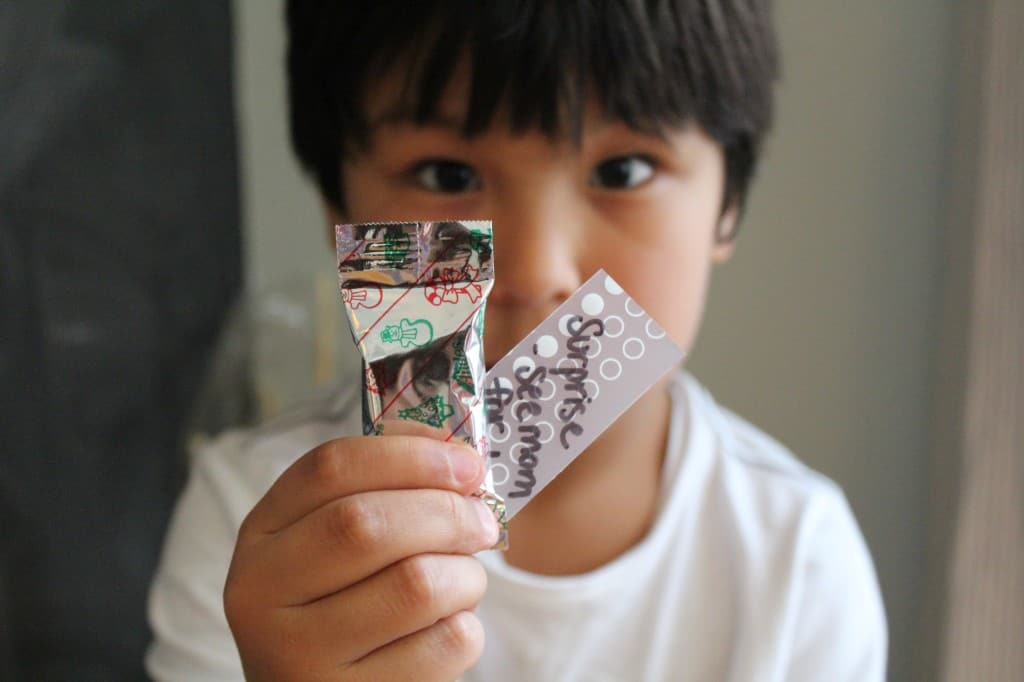 Also on the chalkboard wall is the sunburst Christmas card holder that I made out of popsicle sticks and a small round mirror from Michaels.
The tour wouldn't be complete without a picture of little man's festive room!
Here are a few other pictures of random accessories around our home.
DIY oyster shell christmas tree project.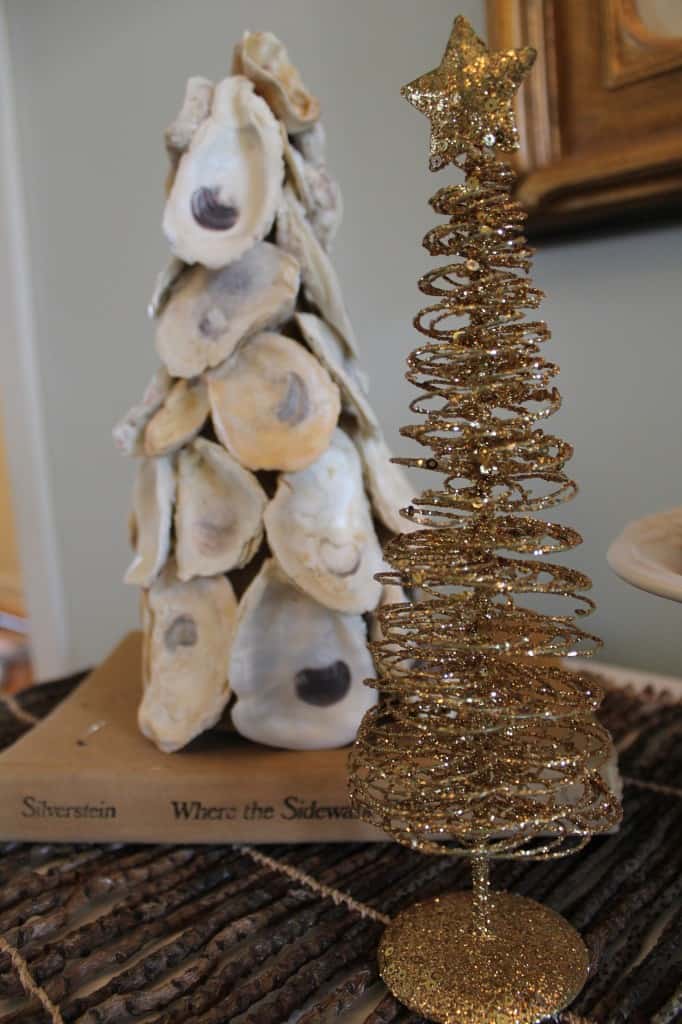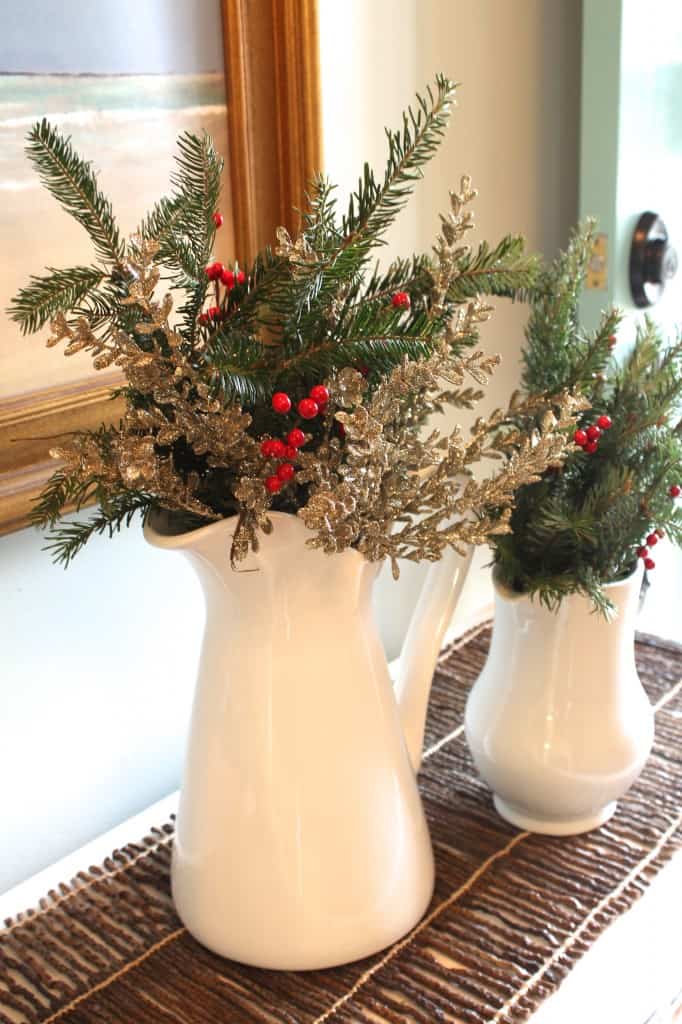 Say hello Angel the Elf.
You might be wondering where our tree is but if you look at the first picture again you will see it. Yes, it is on our front porch.
This may be weird but I have decided that it is cool because no one else on the block has one on their porch! I decided to do this because our space is so small that it is really cramped with the tree in the living room.
Since we were putting the tree up pretty early this year I decided we would decorate it pretty on the porch and then bring it inside in a couple of weeks and add all of our fun ornaments.
So we are decorating our tree twice…sort of. I will make sure to post a picture of the indoor tree later.
As for the ornaments on this tree, I spray painted the tips of pinecones silver and gold, I filled plain glass ornaments with sand and wrote letters on them with my glass pen and used nautical rope for garland!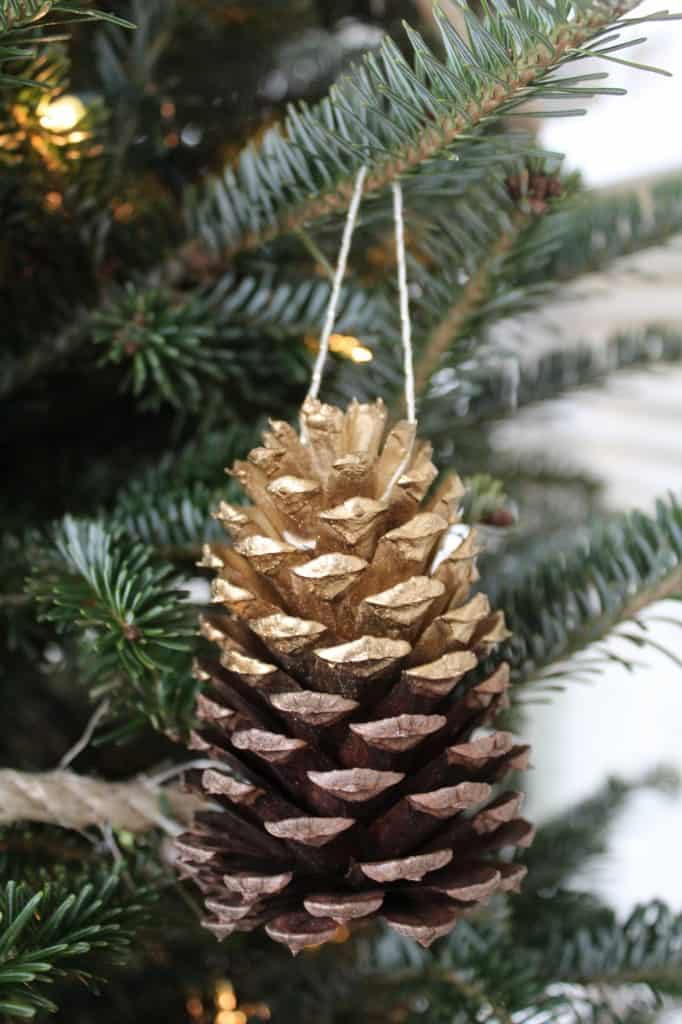 Thank you so much for joining me on this tour. I am humbled to be a part of this amazing group and thanks to Lindsay at The White Buffalo Styling Co. for hosting and inviting me!
I hope you and your family have a wonderful Christmas and holiday season. Keep it simple and give thanks. The birth of Christ is an incredible reason for celebrating.
I will be posting some follow ups on these DIY Christmas projects over the next couple weeks so stay tuned OR sign up to get my posts delivered directly to your email! It is super easy, just use the subscribe box at the top right.
Please hop on over to Sarah's site, Laquer & Linen, for the next leg of the tour. She is incredibly talented so you will not want to miss it!
And here is the line up for the rest of the week! You can see Monday's and Tuesday's bloggers here.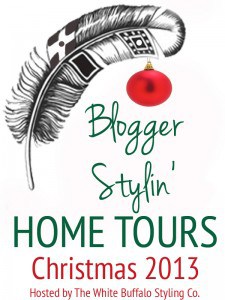 Wednesday:
Emily – Jones Design Company
Jamie – C.R.A.F.T.
Lucy – Craftberry Bush
Michelle – Decor and the Dog
Whitney – The Curtis Casa
Kristin – Bliss at Home
Summer – Simple Stylings
Sarah – Lacquer and Linen
Danika – Gorgeous Shiny Things
Kelly – View Along the Way
Thursday:
Kennesha – Restoration House Interiors
Jenna – SAS Interiors
Chris – Just a Girl
Kelly – Eclectically Vintage
Michelle – Iron and Twine
Amanda – Our Humble Abode
Julia – Cuckoo 4 Design
Bethany – Dwellings by Devore
Lindsay – Makely Home
Jennifer – Dimples & Tangles
Friday:
Shauna – Perfectly Imperfect
Traci – Beneath My Heart
Jen – The Chronicles of Home
Jennifer – Tatertots and Jello
Kristin – Hunted Interior
Eileen – A Creative Day
Gabbi – Retro Ranch Reno
Shannon – Shannon Berry Design
Lakeitha – Lakeitha Duncan
Kristen – KFD Designs
Jessica – Dear Emmeline
Sarah – Royal Marigold
Carmel – Our Fifth House