2017 Fall Home Tour: Seasonal Decorating On A Budget
2017 Fall Home Tour: Seasonal Decorating On A Budget
Happy fall home tour Thursday friends! I'm SO excited to share our early fall home with you today! If you are visiting from ZDesign At Home we really appreciate you stopping by! Isn't Zabrina's home beautiful?! I hope you are enjoying the week full of tours so far and I hope you stick around for a bit and subscribe to get our emails before you go so you don't forget to check back :)
So without further ado…welcome to our home!
***
Hello, my name is Summer. I love the color blue, cats, the beach, black coffee and ALL the fall things! Of course I like summertime too but I think that goes without saying :) But one thing I also love is decorating on a budget! I think it's important to have a few seasonal investment pieces such as a good wreath, pretty dishes, throws and pillows, but I don't like spending a ton of money on other seasonal decor. And let's face it, I have better ways to spend my money rather than buying a brand new decor scheme every season.
With that said, I'm going to show you how I decorated with items from Target's dollar spot for under $30 while incorporating our fall investment pieces!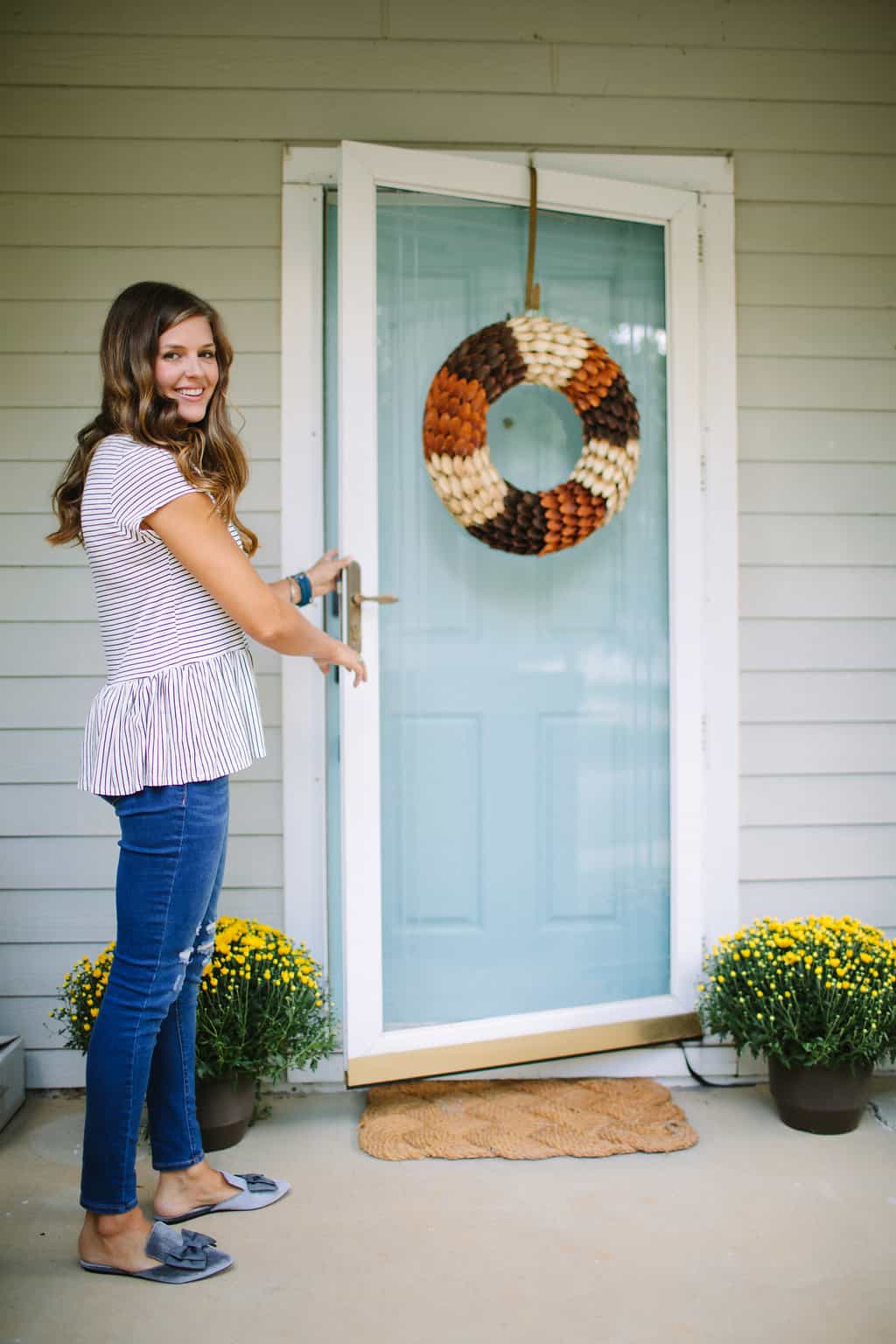 The wood wreath is one of the investment pieces that we will use every year and at $25 from HomeGoods it still feels like a steal!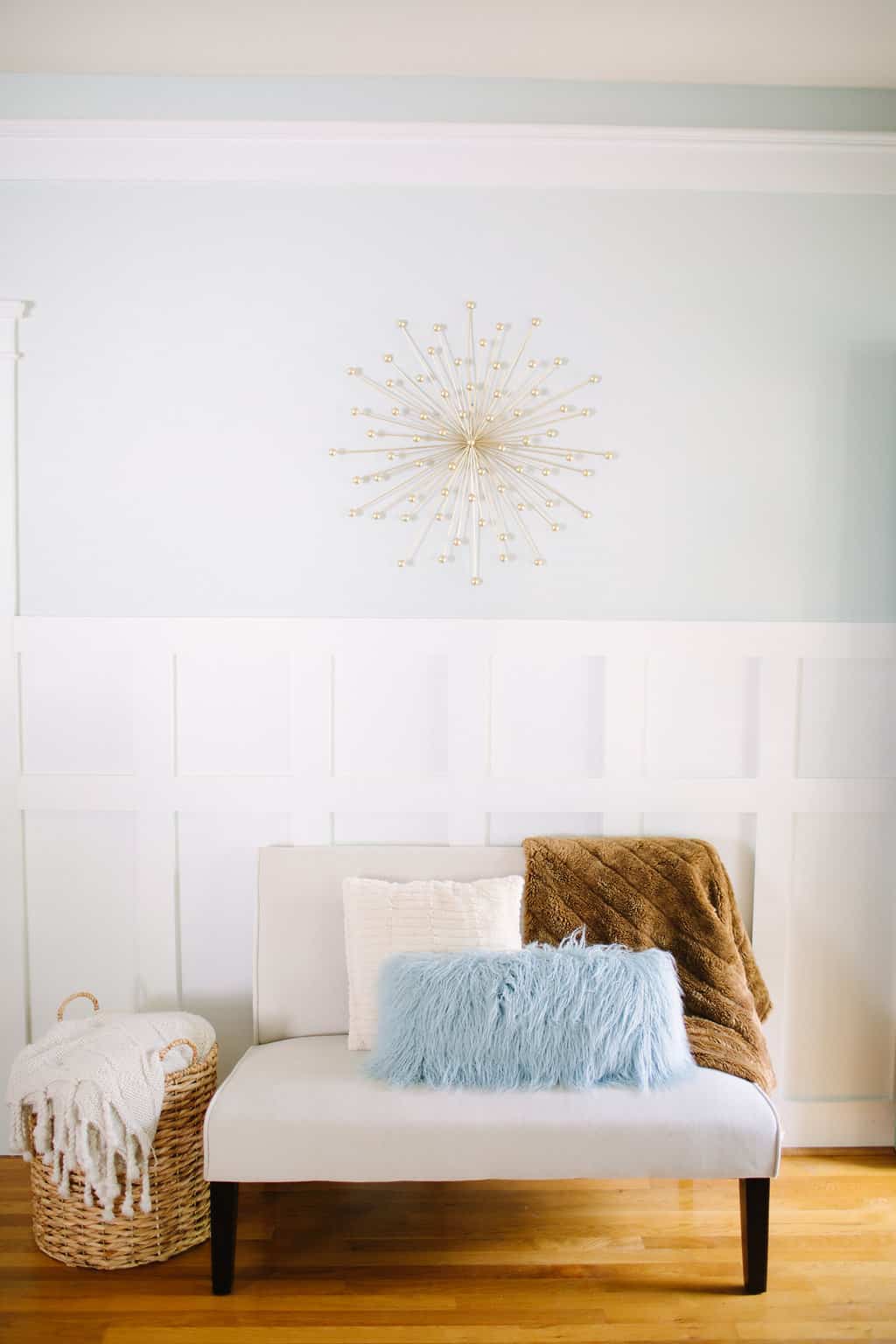 Bench / Tassel throw (similar) / Basket (similar) / Faux fur throw (similar)
These are throws and pillows that we have collected over the years that I rotate in and out seasonally.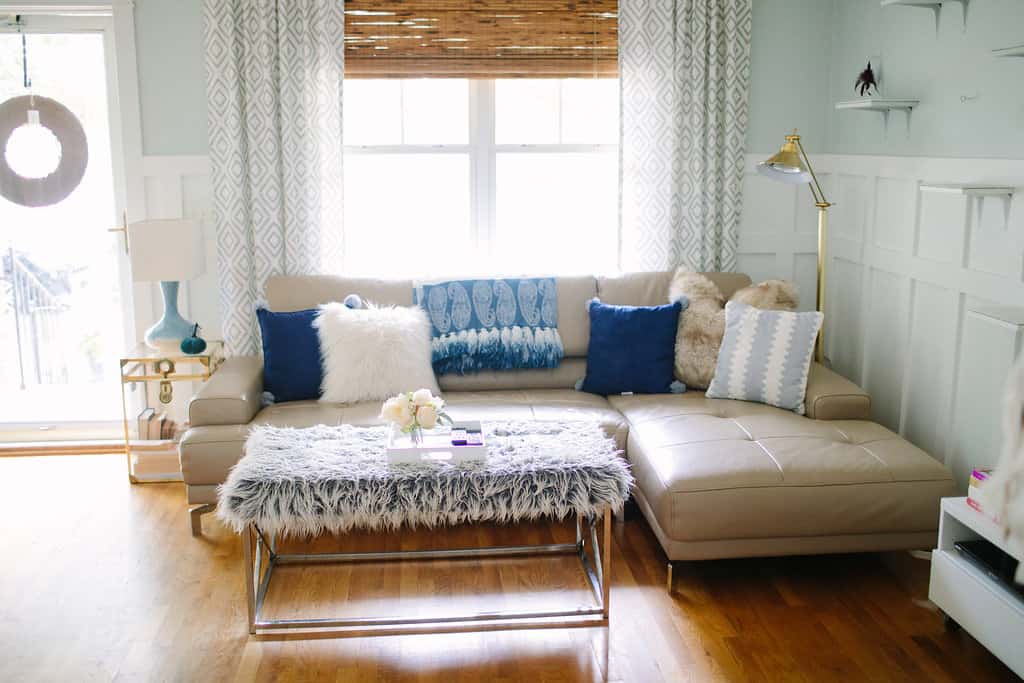 Leather sectional / Coffee table (the faux fur is a DIY) / Large faux fur pillow
The felt ball garland was a gift from a friend and the tassel garland was a DIY from years ago. I love using these in early fall before it's cold enough to need the fireplace. The teal velvet pumpkin was a $1 and the white pumpkin was $3, both from Target.
The vase holding the hydrangeas from our yard was $5, the napkin rings were $1 for a set of four and the navy napkins were $3 for a set of four (from last year).
The light-up cheers sign was also from one of the discount sections in Target and was around $12 but we've had that for some time now.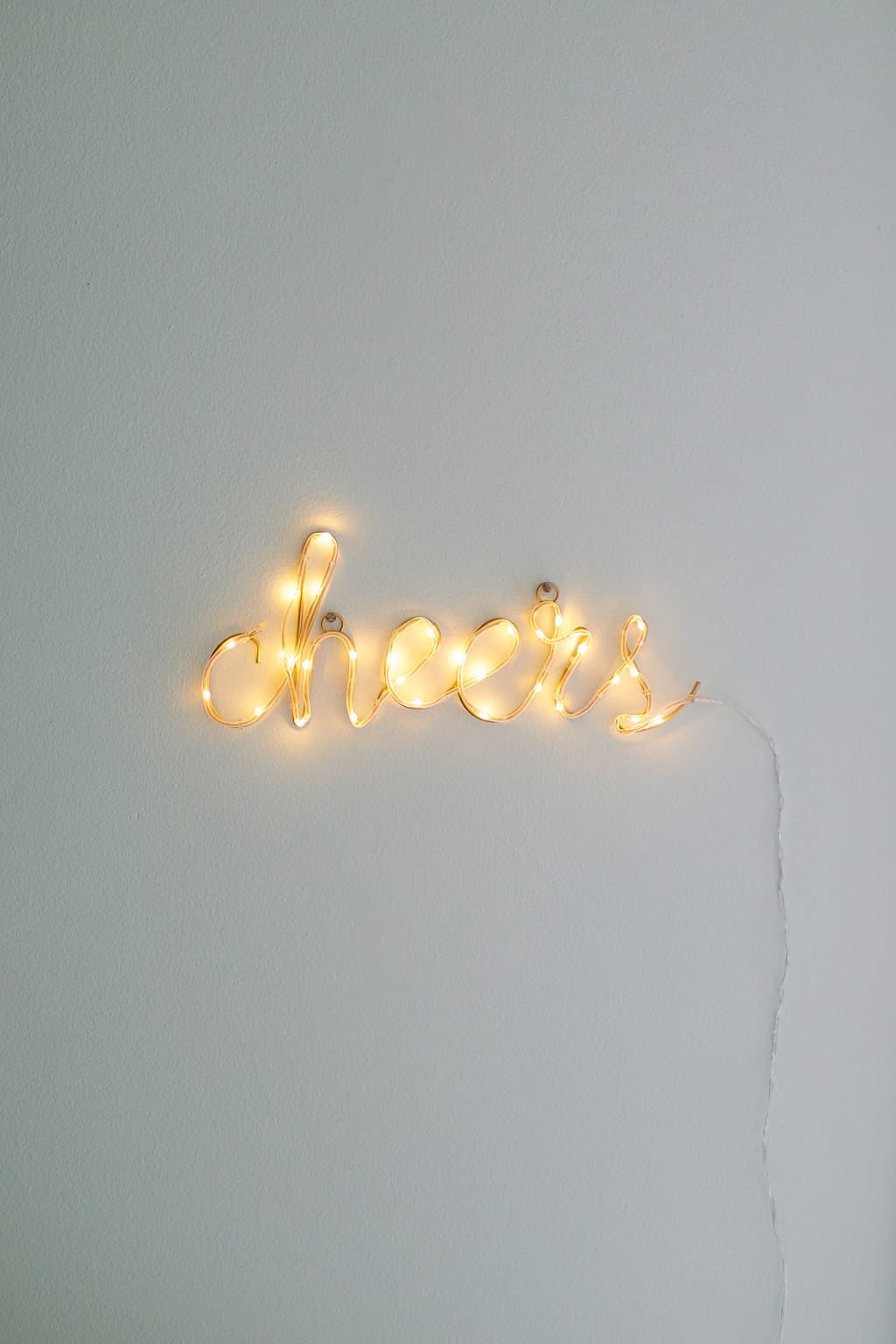 The small navy casserole dishes were $3 also from the dollar section.
The table runner was $19.99 from HomeGoods and this is another investment piece that we will use on many occasions throughout the year so I'm not including that in the amount spent for our fall decorating.
I think we got these dishes last year on clearance at HomeGoods. The gold flatware is from Target.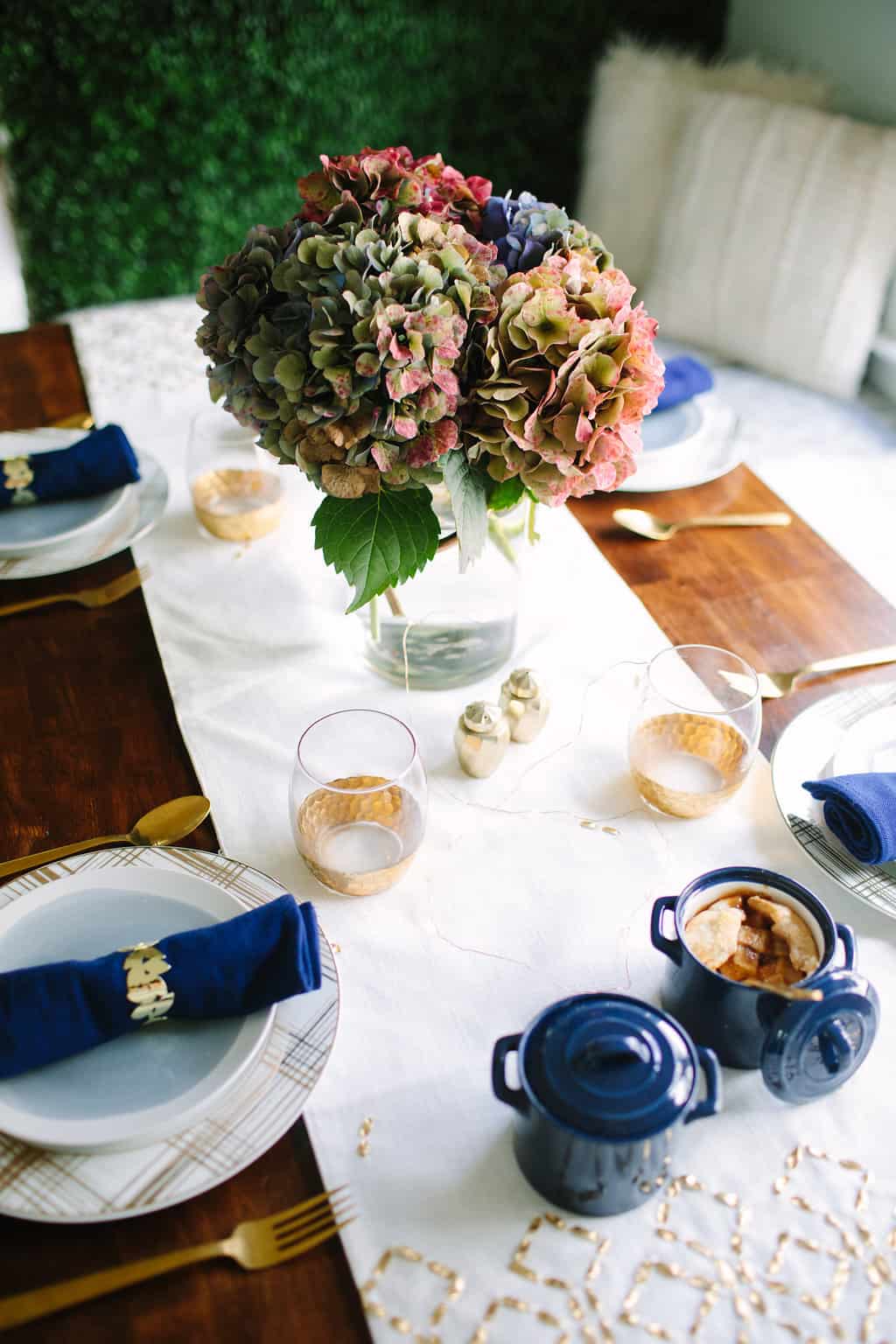 The pineapple bowl is vintage from a thrift store in the mountains of NC and it's holding the battery pack for the mini LED string lights – also $1 from Target's dollar spot!
And by the way I actually made mini peach cobblers in the casserole dishes for dessert and they turned out incredible! The 'Always Be Grateful' dish towels were $3 for the pair.
Don't you just love the color of these hydrangeas as they are on their way out for the season?!?!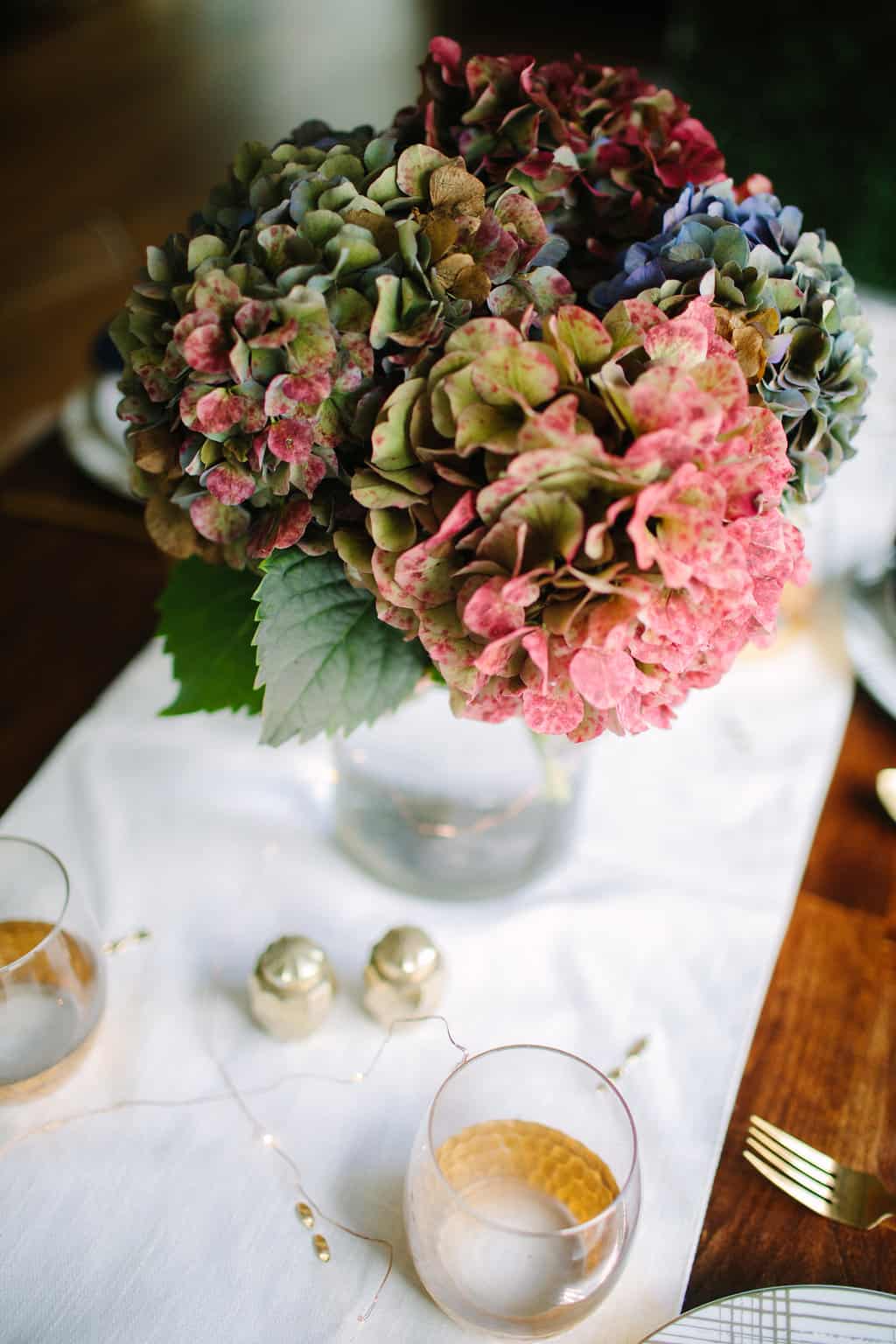 Our acrylic dining chairs are from IKEA and you can read all about the faux boxwood wall HERE.
Honestly all you need in the kitchen is a bowl of seasonal fruits or veggies and some pretty hand towels. The shade on our window is from DrawnCompany and the fabric is from Online Fabric Store.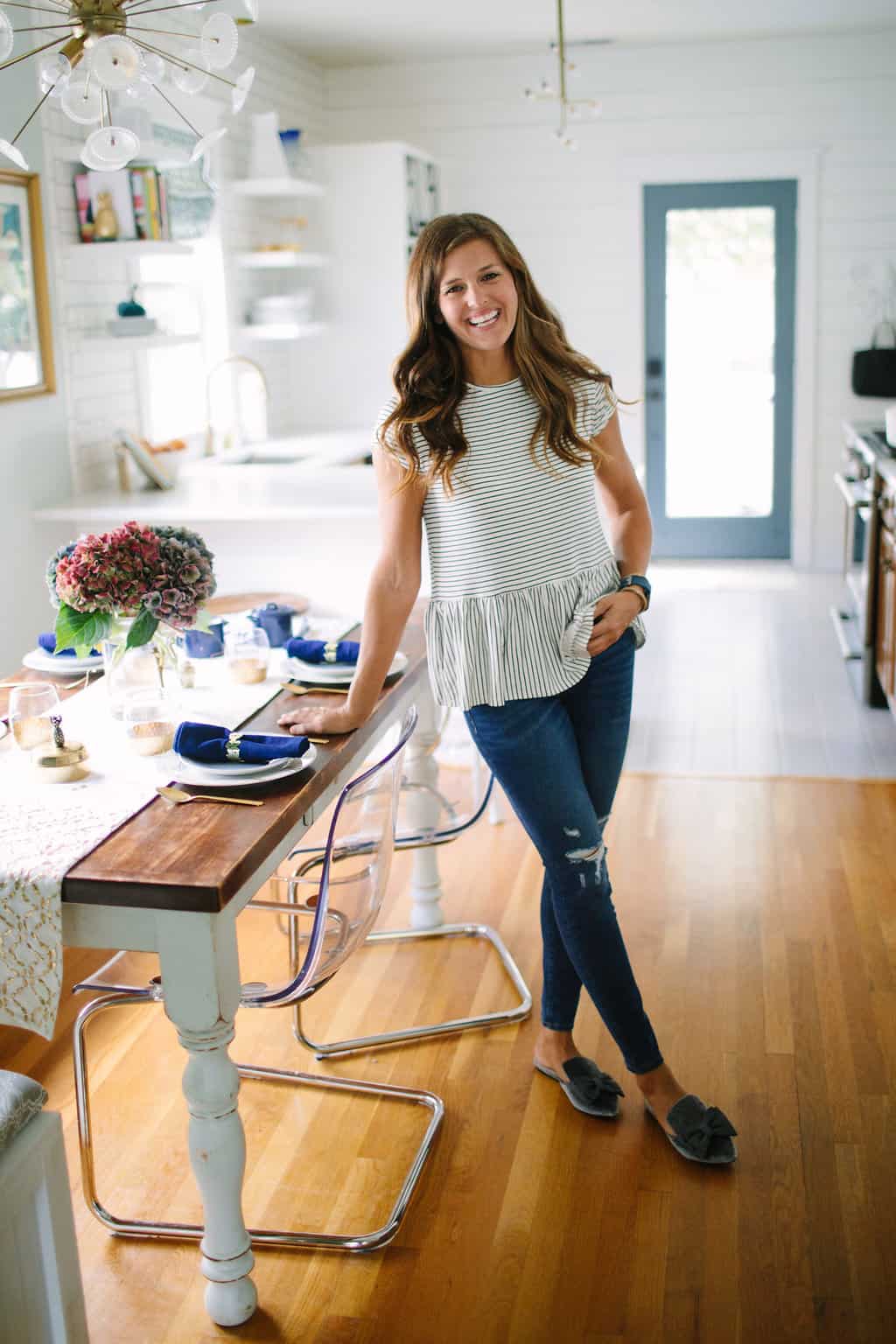 Peplum tee (similar) / Mid-rise distressed skinny jeans / Suede bow mules (similar) / Art (opposite wall)
I spy another $1 velvet pumpkin! The few other things I don't mind spending a few dollars on are fresh seasonal fruits and veggies for decorating AND enjoying. Flowers and plants are also money well spent because I just think they make us happy. At least they do me!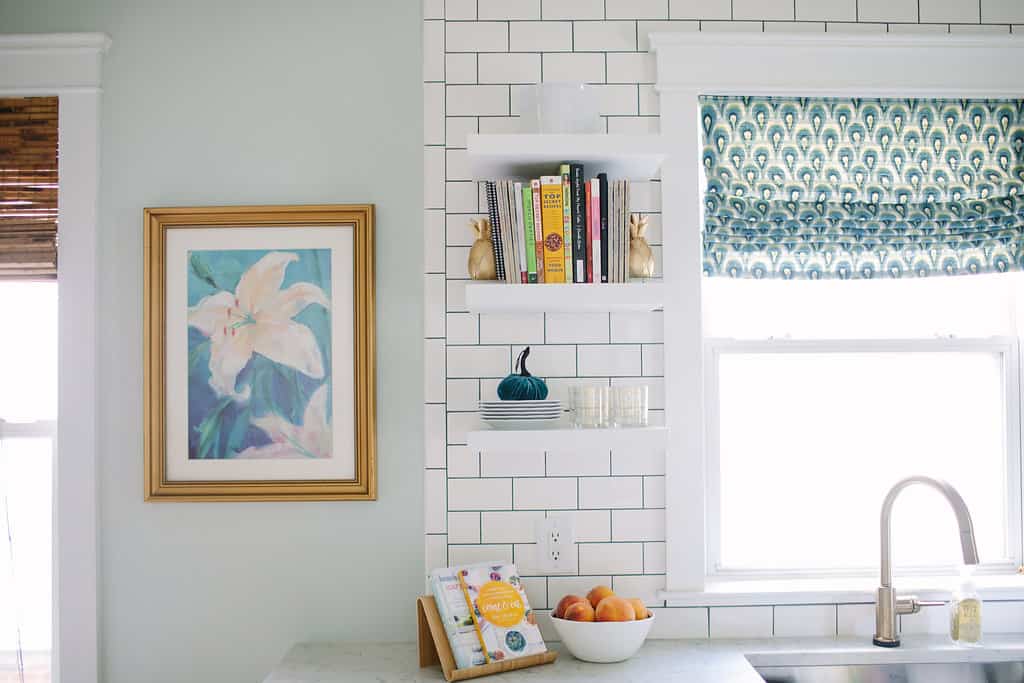 And of course the star of the show is Grits here. He loves having his photo taken, unlike his mama.
On a quick side note I wanted to mention my new favorite jeans – these mid-rise distressed skinny jeans from Old Navy! I have never been able to wear ON pants until these mid-rise Rockstar jeans came out. I don't know what it is, they have just never fit my body well. But…that is over now because I am loving these and I'm thinking about buying another pair 'just in case!' If you're on the fence about the size I would size down. I typically wear a 6 but I'm wearing a 4 in these and they fit perfectly.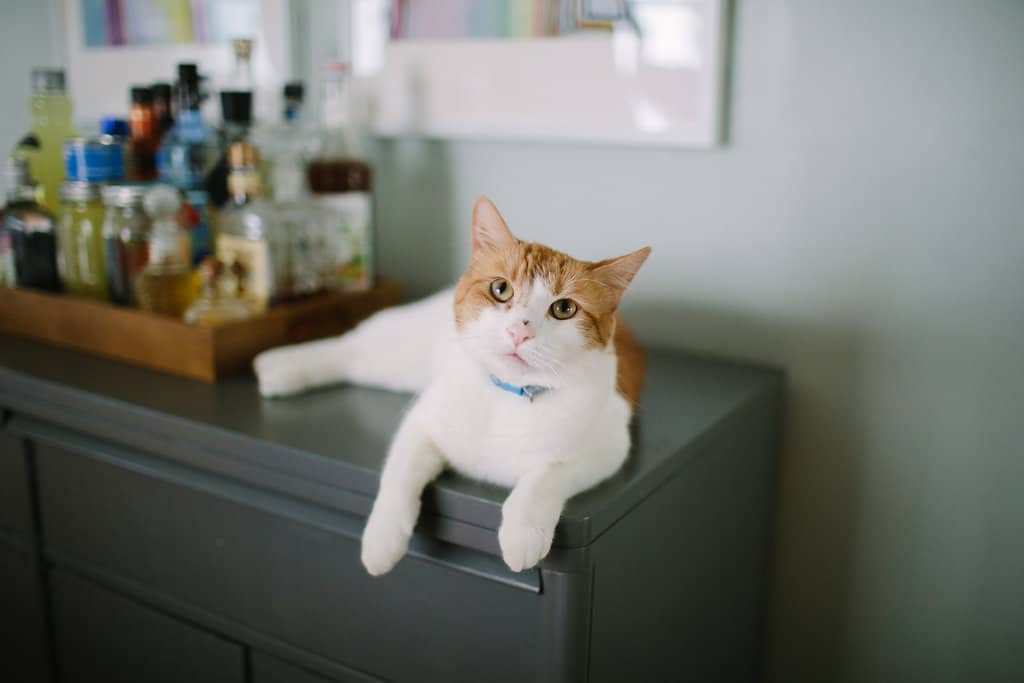 The fixtures in the kitchen and dining room are from one of my favorite sources for unique lighting, Lucent Lightshop.
Honestly I wasn't sure about the mule trend but these bow-embellished ones have won me over! I found these at TJ Maxx but I'm linking a few similar ones below.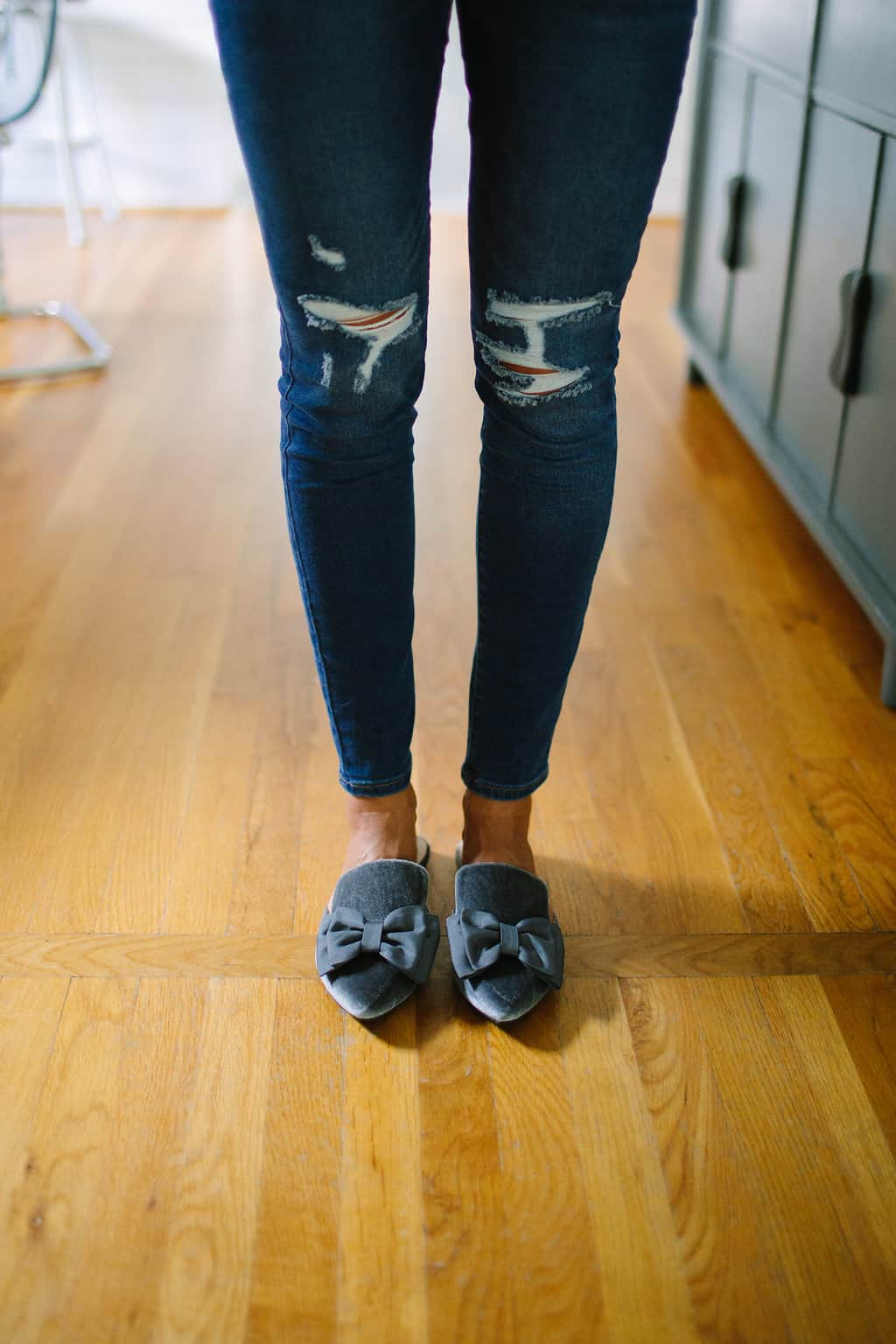 Similar bow mules HERE, HERE, HERE, HERE, and HERE.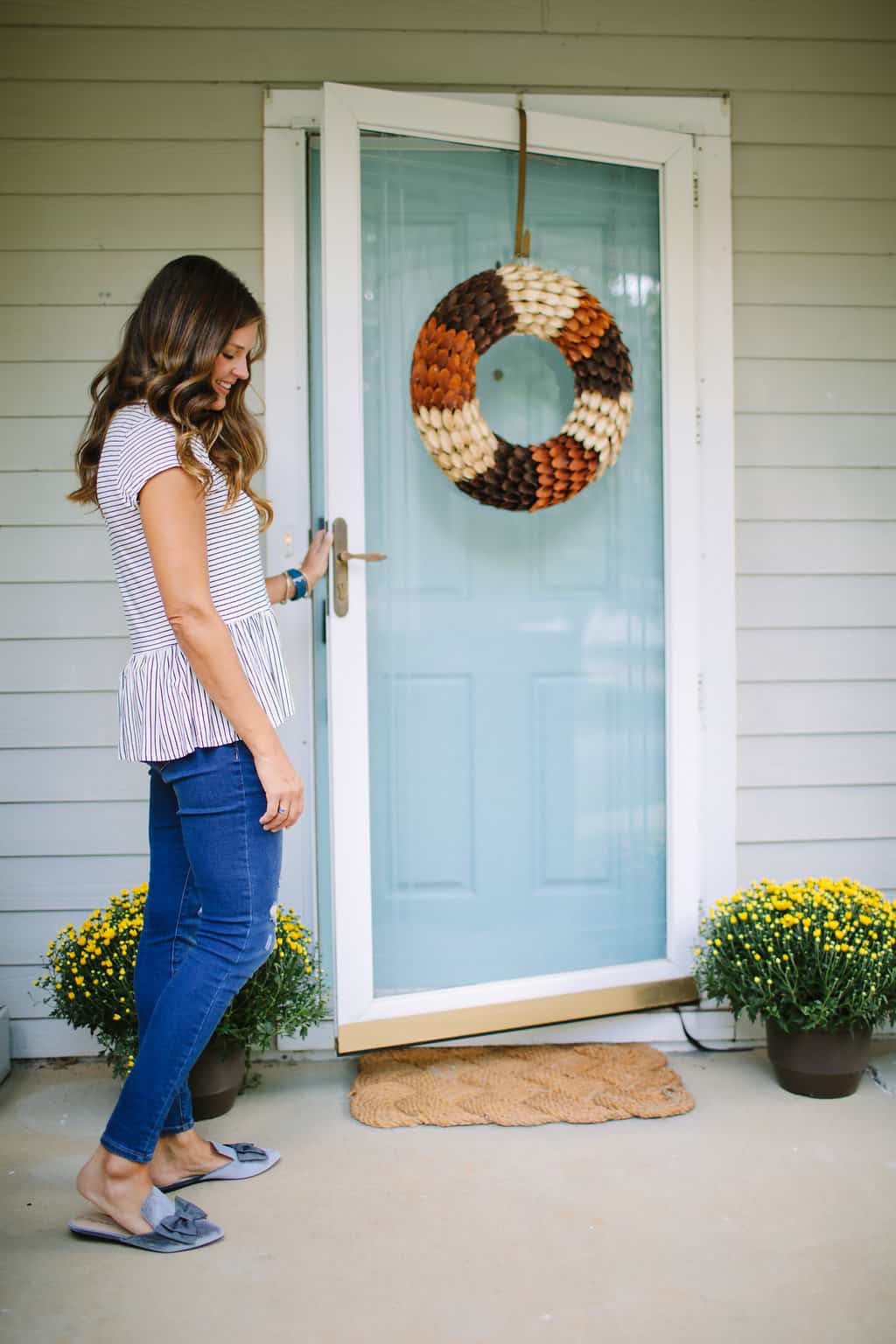 Well folks, I hope you enjoyed the tour and the gorgeous pictures from my incredibly talented friend, Paige Winn. I hope this makes decorating seasonally feel a little less daunting! All you need to do is invest in a few staple pieces that you will use year after year, hit up Target, the dollar store or any other discount shop for a few extra goodies and get creative!
Honestly, September in North Carolina is very early fall here and we are only just seeing the first signs of mums and pumpkins. I'll definitely be adding a few more real pumpkins a little later on in the season so make sure to check back. You can also find our past fall home tours HERE. If pumpkins are already out in your town and you need a great centerpiece idea for an upcoming soiree check out my fall pumpkin vase!
Now head on over to the lovely Life & Home @ 2012 blog to continue on with the fun tour of gorgeous homes! And a huge THANK YOU to Marty of A Stroll Thru Life for hosting these fun tours each season and kicking our butts into gear early so we can enjoy the fall to it's fullest!
Monday
Tuesday
Wednesday
Thursday
Friday
Far Above Rubies
Cheers!