Blogger Stylin' Home Tours: Fall 2014
Hi Guys!!!
I'm SO glad you're here and I'm excited to share our fall home tour with you for another edition of the fabulous Blogger Stylin' Home Tours!
If you're coming from DIY Showoff thanks so much for visiting! Isn't Roeshel's space incredible???
So, what are you waiting for? Come on in…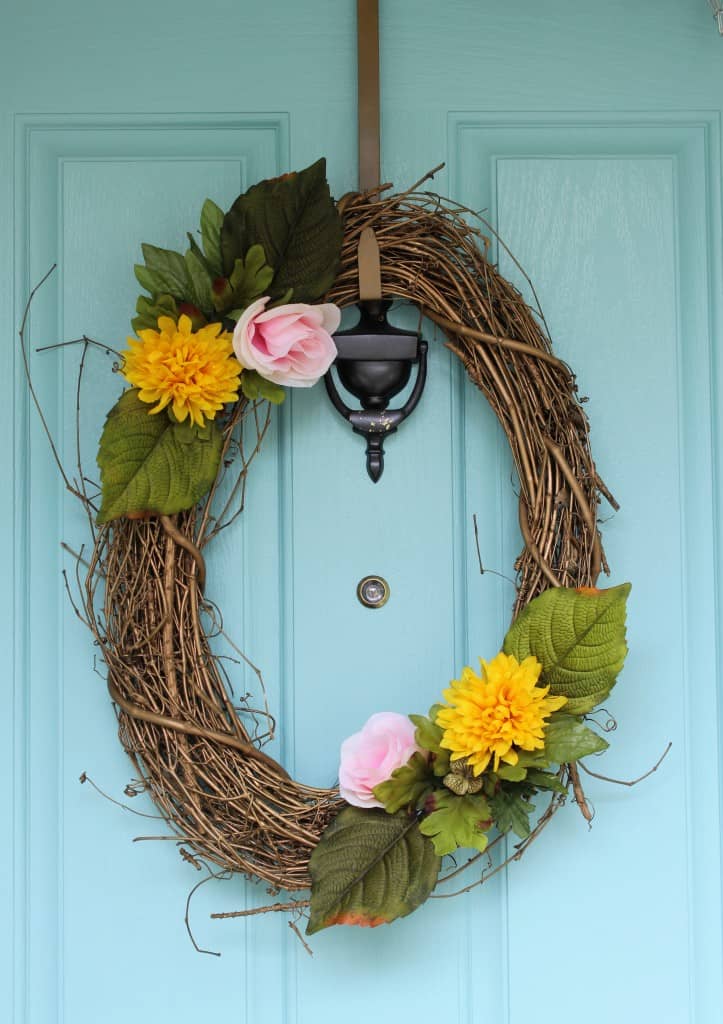 Welcome to our front porch.
I don't normally go all out with mums but I got a great deal on these at Home Depot and the bright yellow was a perfect match to my super easy DIY wreath!
I told my little man it was too early to carve the pumpkins and he couldn't stand it, he had to do something :)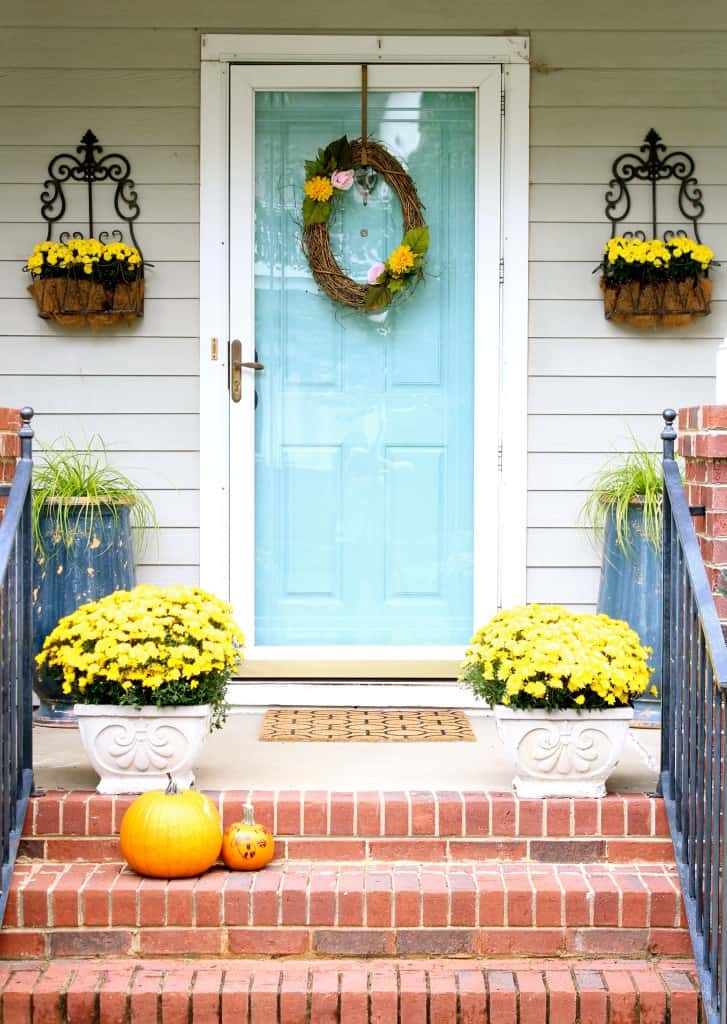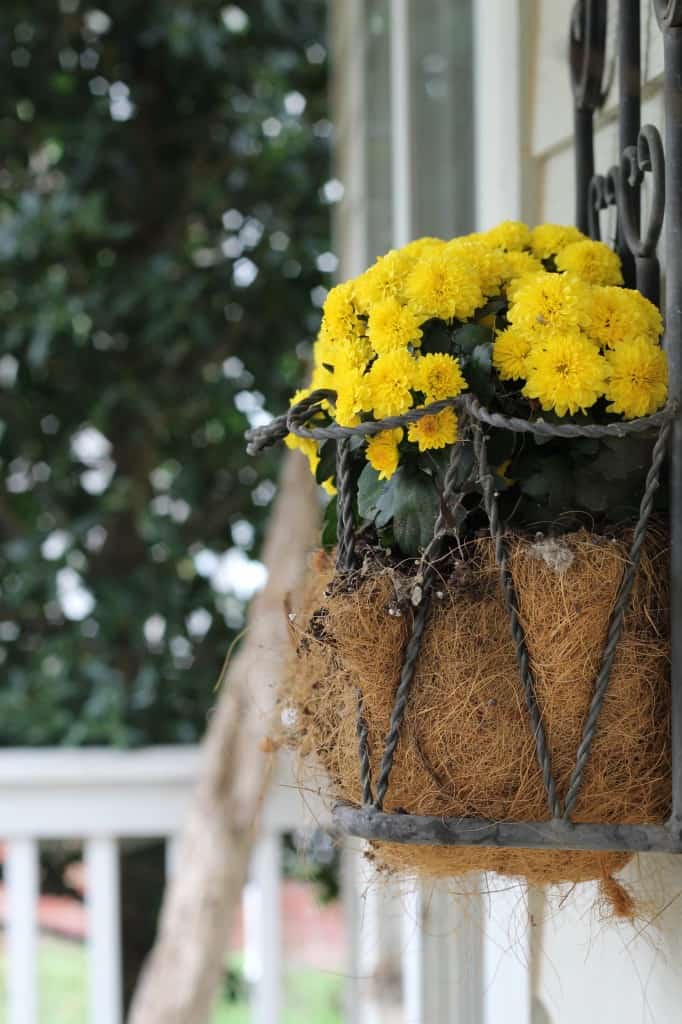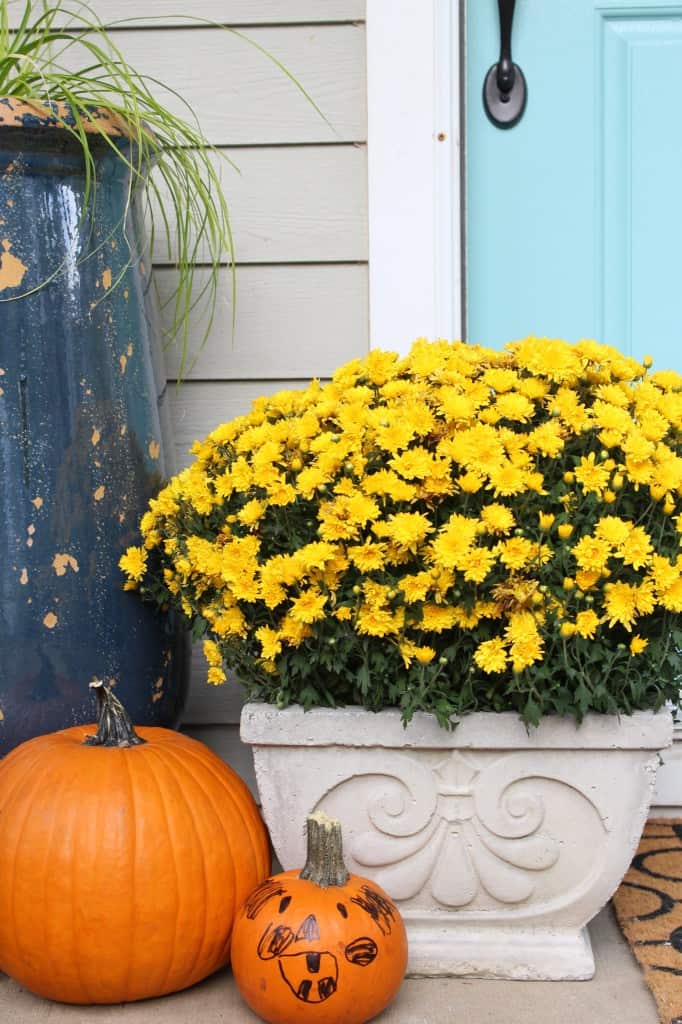 When you walk into our home the main living area is one open space. The living room opens to the dining area and then to the kitchen so I try and keep my decor pretty consistent throughout.
I went with a rustic, neutral theme this year but the pops of orange definitely stand out.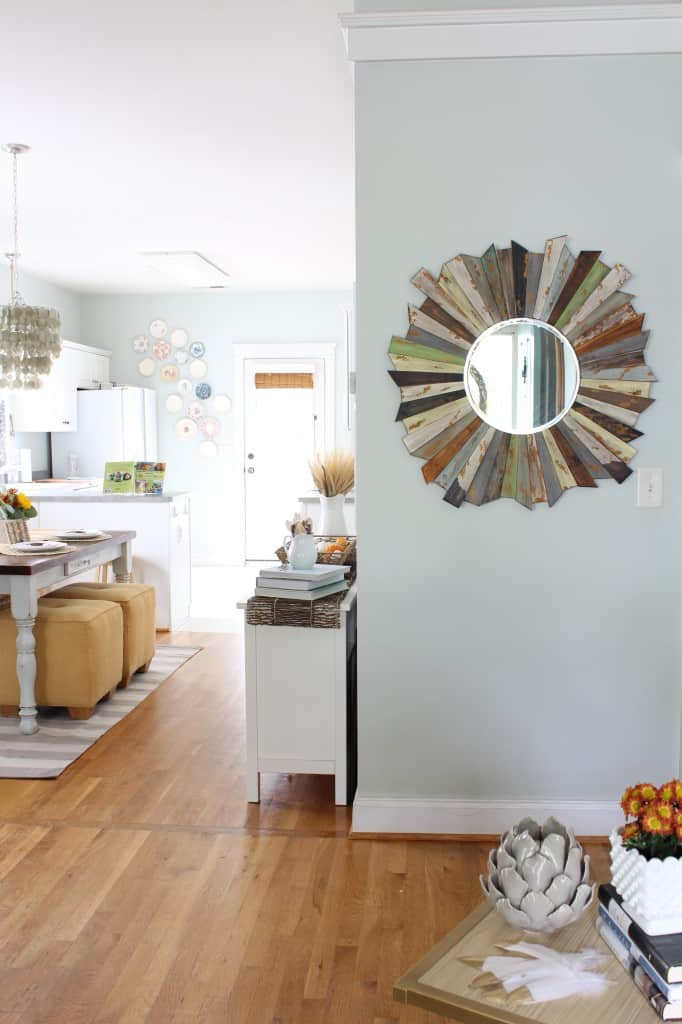 The yellow and green in my DIY faux flower letter still works with the fall decor and the chalkboard wall always gives a cozy vibe.
And, yep, I cut bangs! Not sure I'm used to them yet but what they hay, they grow out right?!?!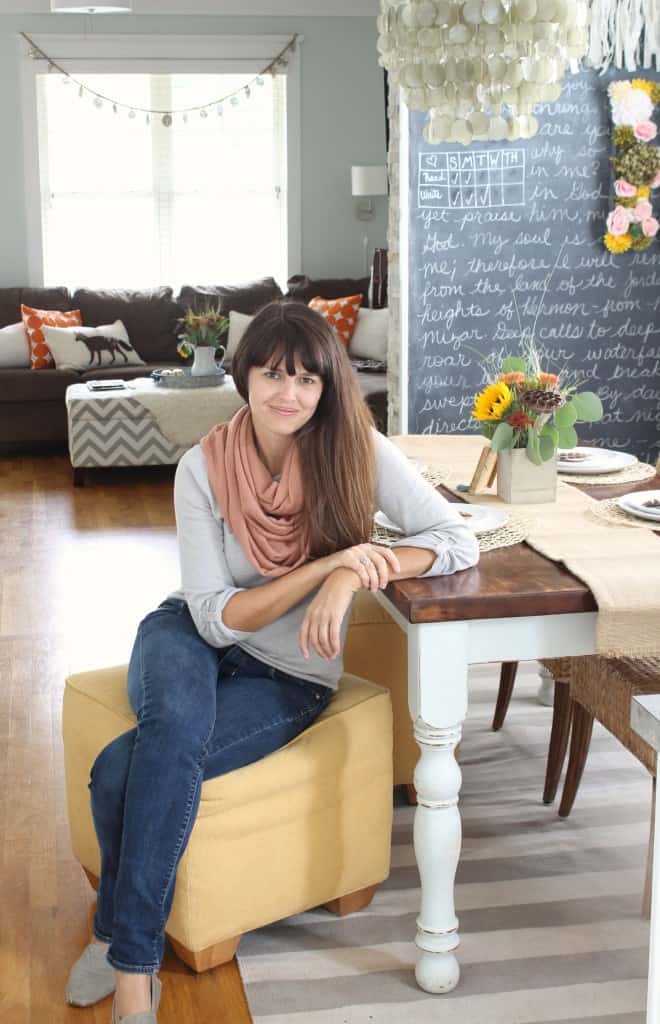 I pulled these orange Target pillows out of my son's playroom to add some orange in the living room. The fox pillows are from HomeGoods last year and add a little whimsy to the space I think.
I gravitated to all things living this year so fresh flowers, pumpkins and gourds make up most of the decor. I used vases and pitchers I already had. All of the flowers and most of the pumpkins and gourds came from Trader Joe's.
In the sitting area I changed out the throw blanket, added a tiny rust colored mum to my favorite milk glass and scattered feathers around.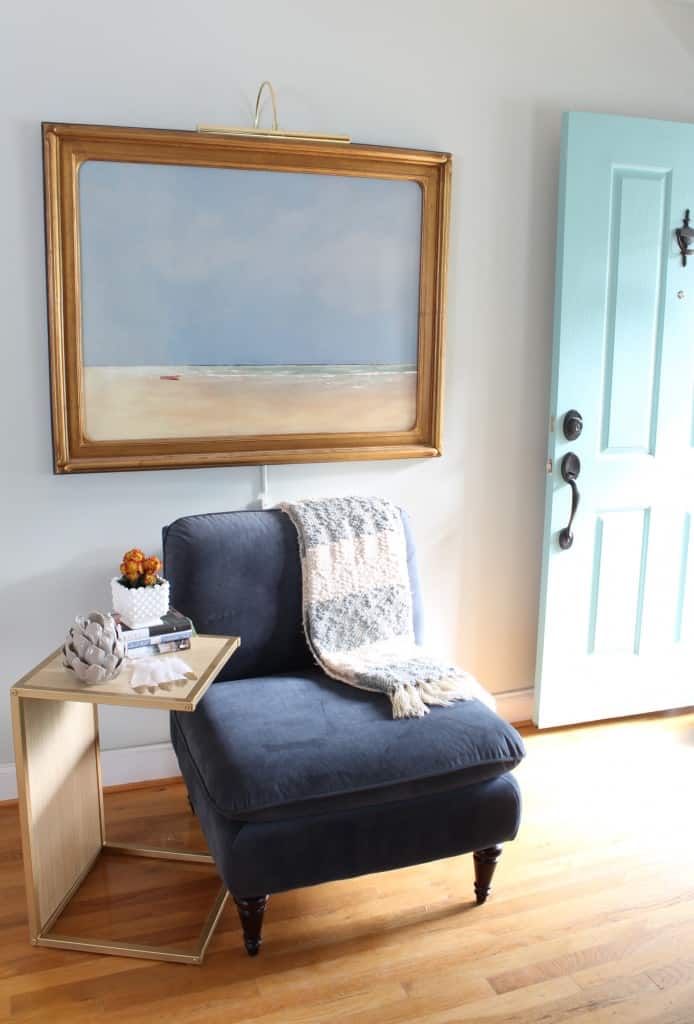 In my book candles are a necessary part of transitioning into fall. The first thing I do when I walk in the door is light the candles, especially the yummy ones. I'm burning a Cinnamon Coffee Cake candle from Kirklands Home right now that is to die for!
The DIY feather garland is simple but brings even more texture to the fireplace wall. Unfortunately I don't have a lot of mantle room to decorate but the small pumpkins and gourds fit perfect in their little pile.
One of my only purchases this season was the gold lantern from Kirklands Home. I believe the gold pumpkins are from Pier 1 but I've had them for awhile.
(I should probably clean my TV screen sometime too!)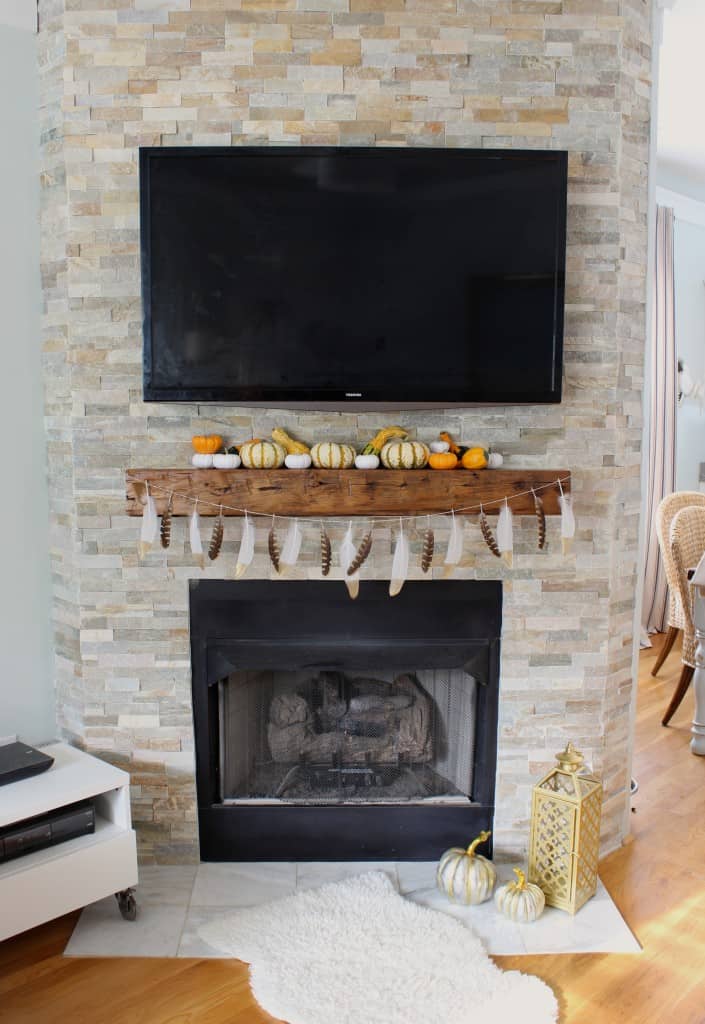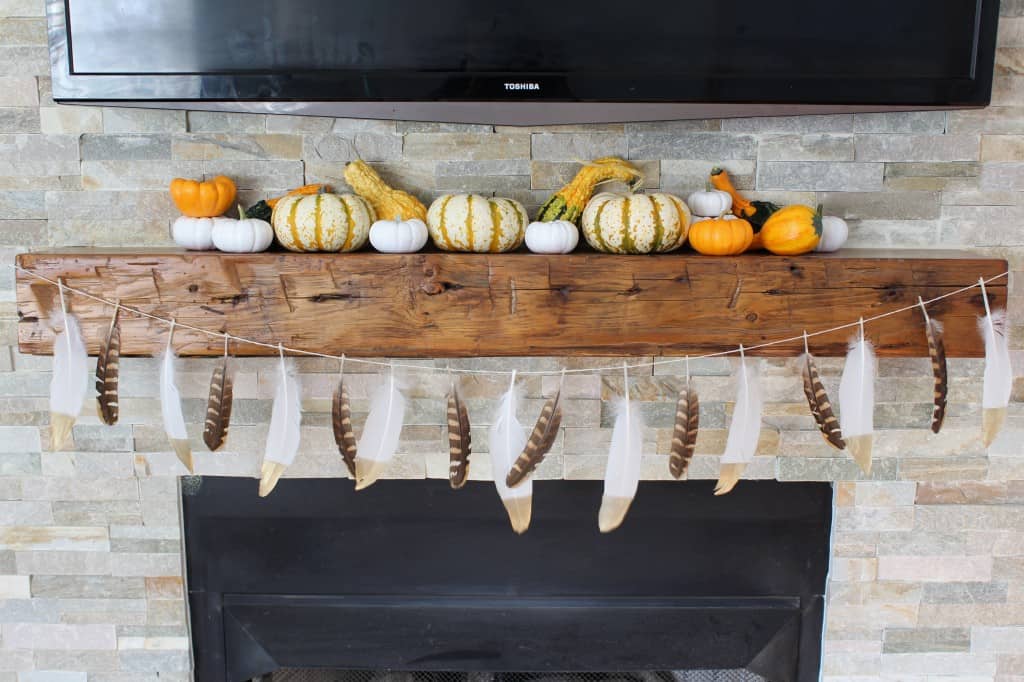 We are always a little chalkboard obsessed over here but I never get tired of seeing those sweet crooked letters while little man talks about all the fun things he wants to do this season!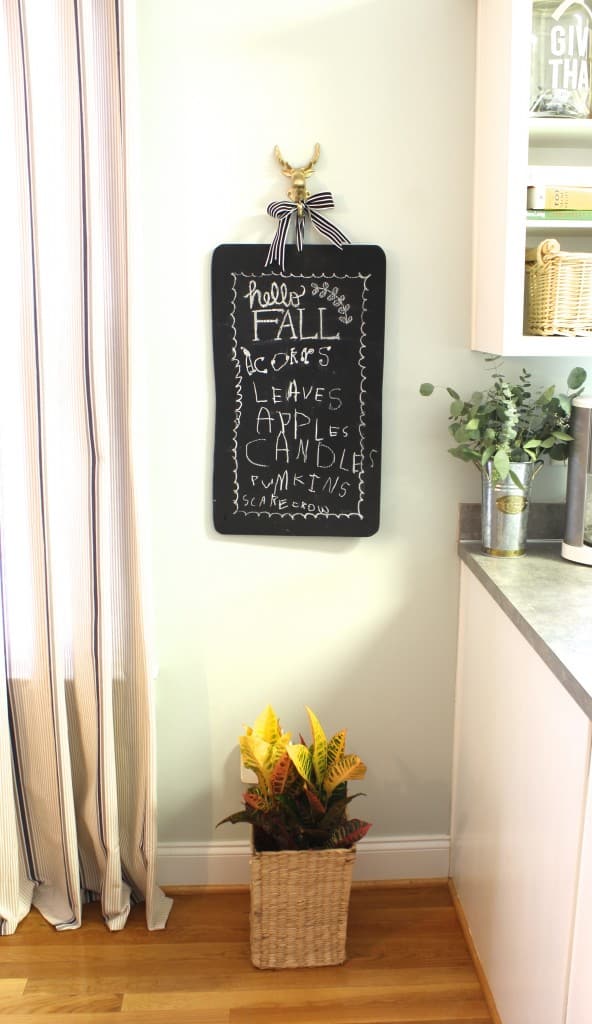 The hook is from Hobby Lobby and I painted it gold of course! #goforgold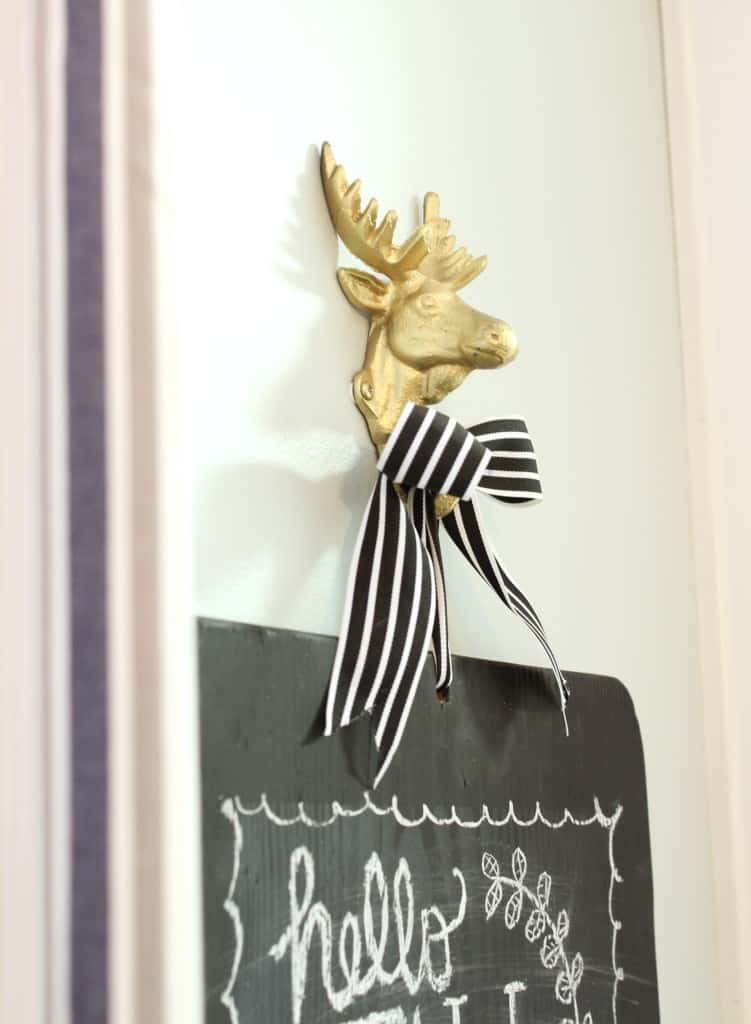 I ended up moving the bean filled mason jars off the table and replaced them with flowers but I like this shot so I'll keep it!
Fall brings out a nesting bone in me and I want to bake and burn candles and snuggle up on the couch with my little man. I also feel an earthy vibe: family, festivals, gatherings, celebrations to come, good books (The Kinfolk Table and Bread & Wine are a few on my list).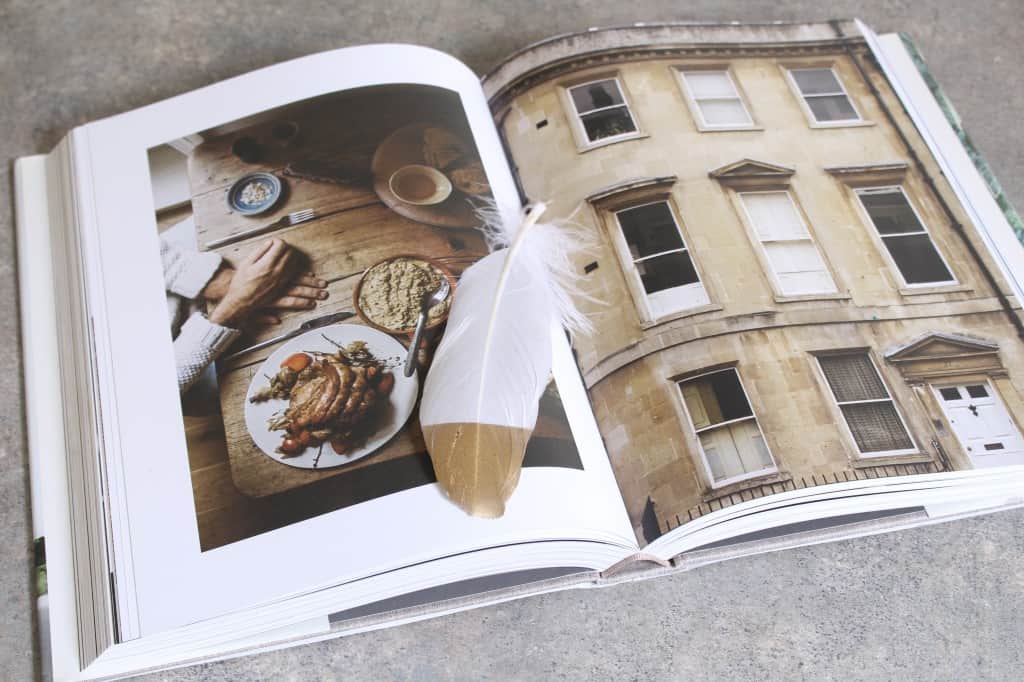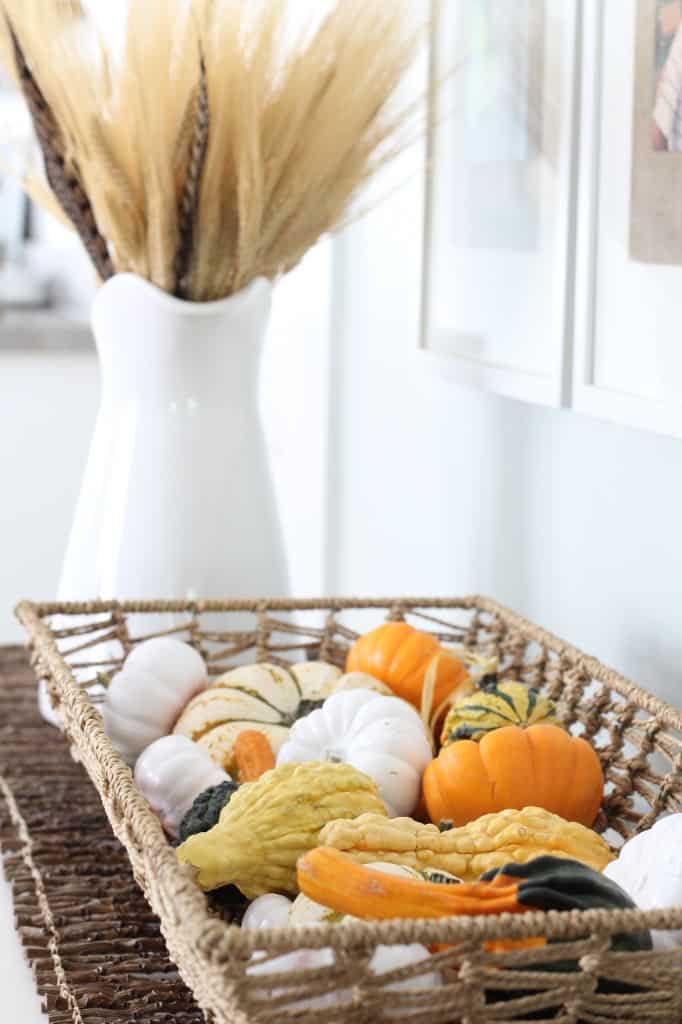 Well, I finally killed the herbs in my paint can herb garden but I filled them with mums and I might love it this way even more! We found this crazy green gourd at our grocery store for only $3.99 and we couldn't pass it up! Isn't it crazy!
I had great intentions of decorating the deck and having some photos of a gorgeous s'mores soiree but it's been raining here in Charlotte for the last 3 days so boo on that :( Oh well, another post for another day right?!?!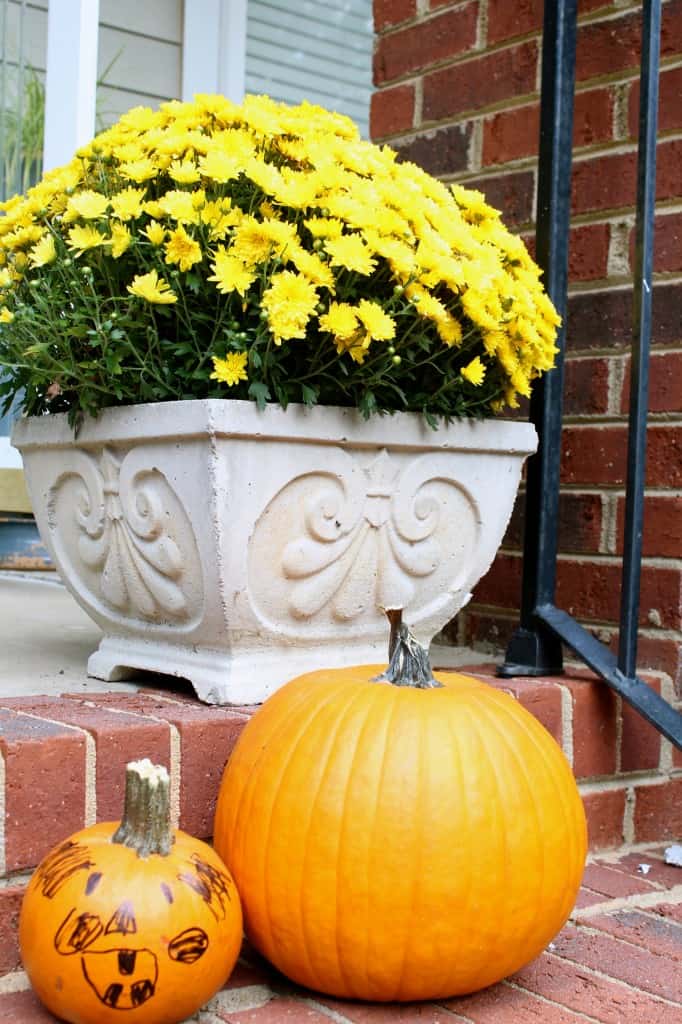 So that's all folks!
Thank you again for coming by and hanging out with me! I really appreciate you!
Make sure to hope over to Shabby Creek Cottage to continue the tour. Gina has definitely got something up her sleeve!
Here is the tour line up in case you missed it.
And a HUGE thank you to our lovely and gracious host, my friend, Lindsay of The White Buffalo Styling Co.!!!
You can click on the pictures below to view their posts.
MONDAY (start of the tour at The White Buffalo):



TUESDAY:



WEDNESDAY:



THURSDAY:
FRIDAY:




***
Check out my BSHT Favorite Room Edition and my BSHT Christmas Edition from last year!