Home of the Month: Simply Classic Home of Olive and Ford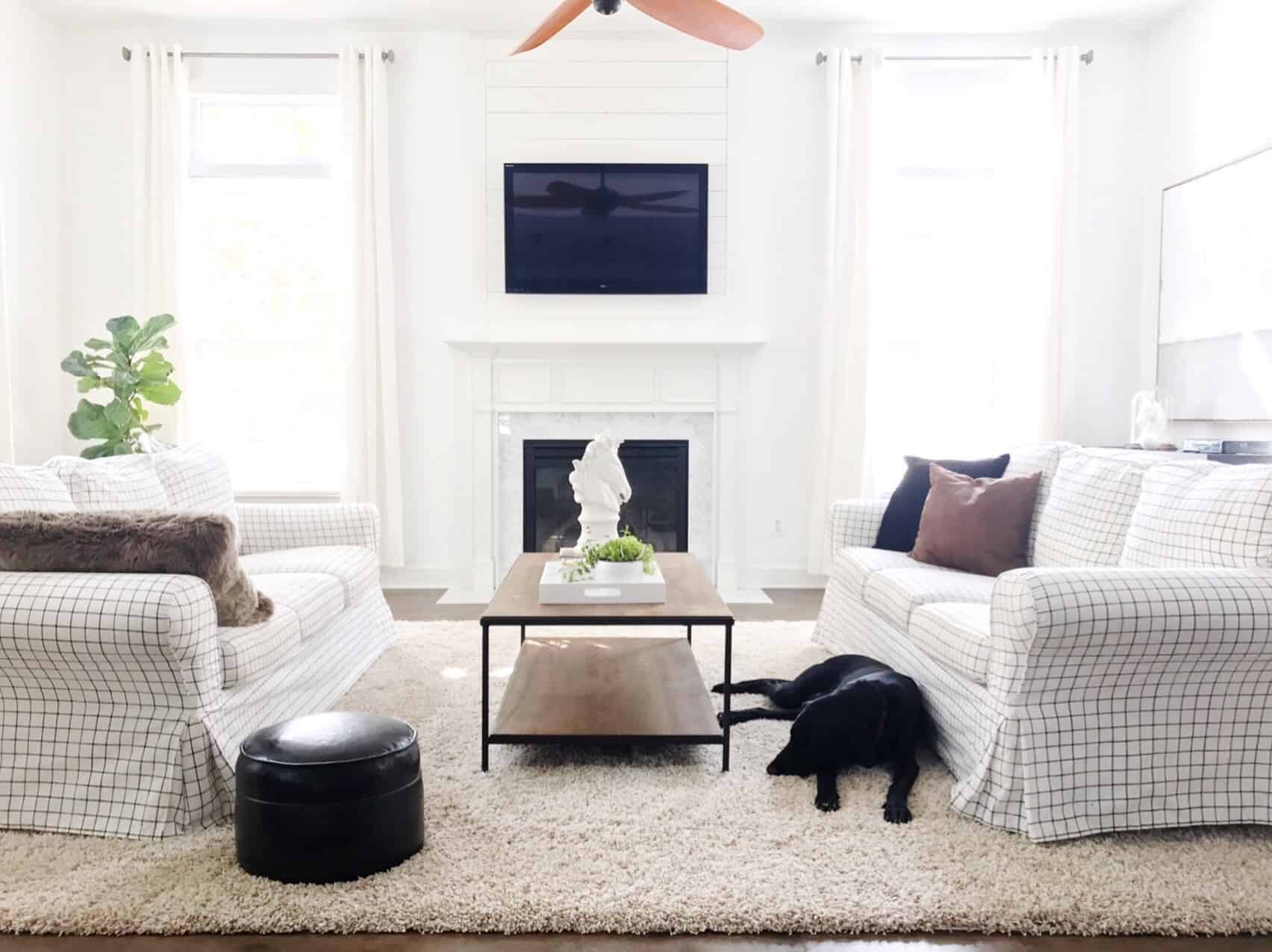 Home of the Month: Simply Classic Home of Olive and Ford
Happy Tuesday friends! I hope you all had a wonderful Thanksgiving and are recovering nicely from the binge eating…or was that just me?
Well, it's my favorite day again and I'm SO excited to share the beautiful home of Kate from Olive and Ford Design for December's edition of Home of the Month! I have followed Kate on Instagram for several years now and more than anything I'm drawn to her decluttered spaces. Her beautiful and thoughtfully planned out designs are just the icing on the cake :)
I also love Kate's philosophy about how to get designer looks on a budget and I think she has done one heck of a job! Here is what she has to say about her own personal style:
"My taste often exceeds my budget, so I found the perfect formula to get high style from thrift stores and big box stores — a monochromatic color scheme, clean lines, statement lighting, and a touch of nature. Those four elements unfailingly combine into a comfortably elegant, simple, livable home."
Now, come on in and let's start the tour!
I love the white walls, minimal decor with earthy tones and texture popping up here and there. And how perfect is that pup taking a snooze on the pretty slipcovered sofa?!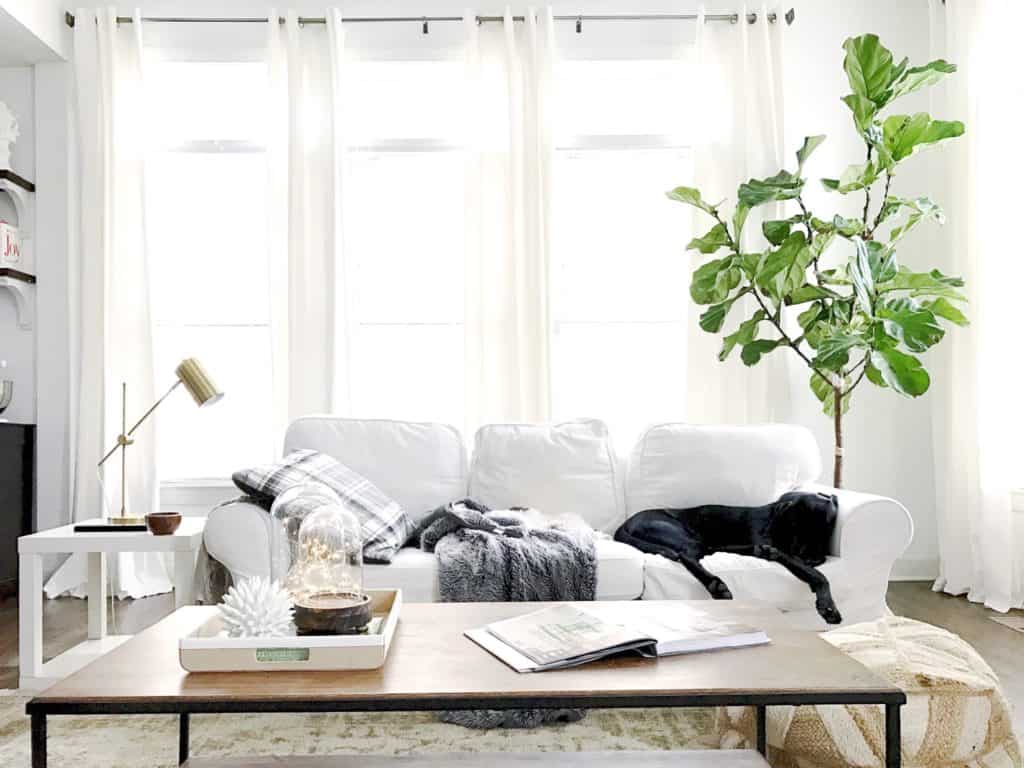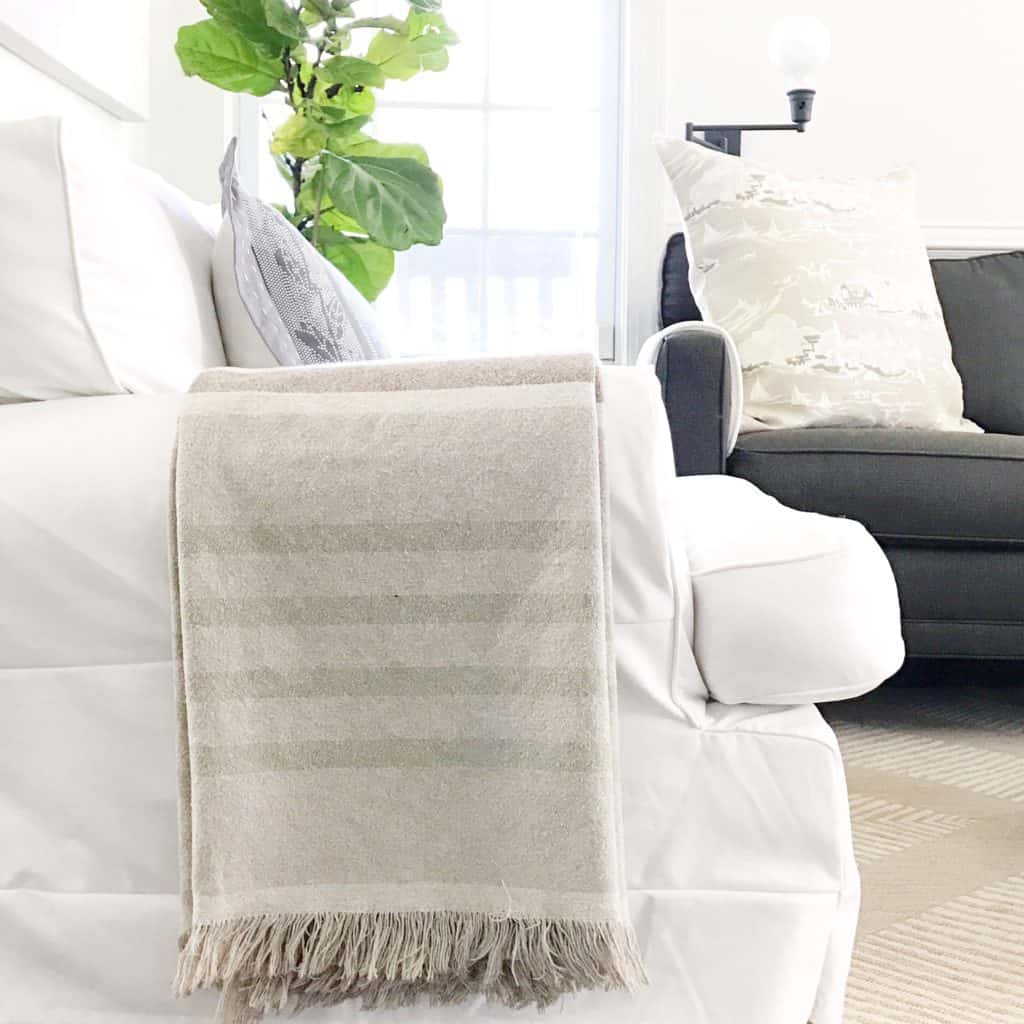 Although the cross artwork is bold it's minimal in color which makes it a strong but subtle addition to the room.
I definitely have major fiddle leaf fig envy! All house plants that enter our home die a swift death at the hands of our maniacal cat, Grits.
And how cute is little Scout popping out from a bath in this gorgeous space. I am crazy about that shower curtain too!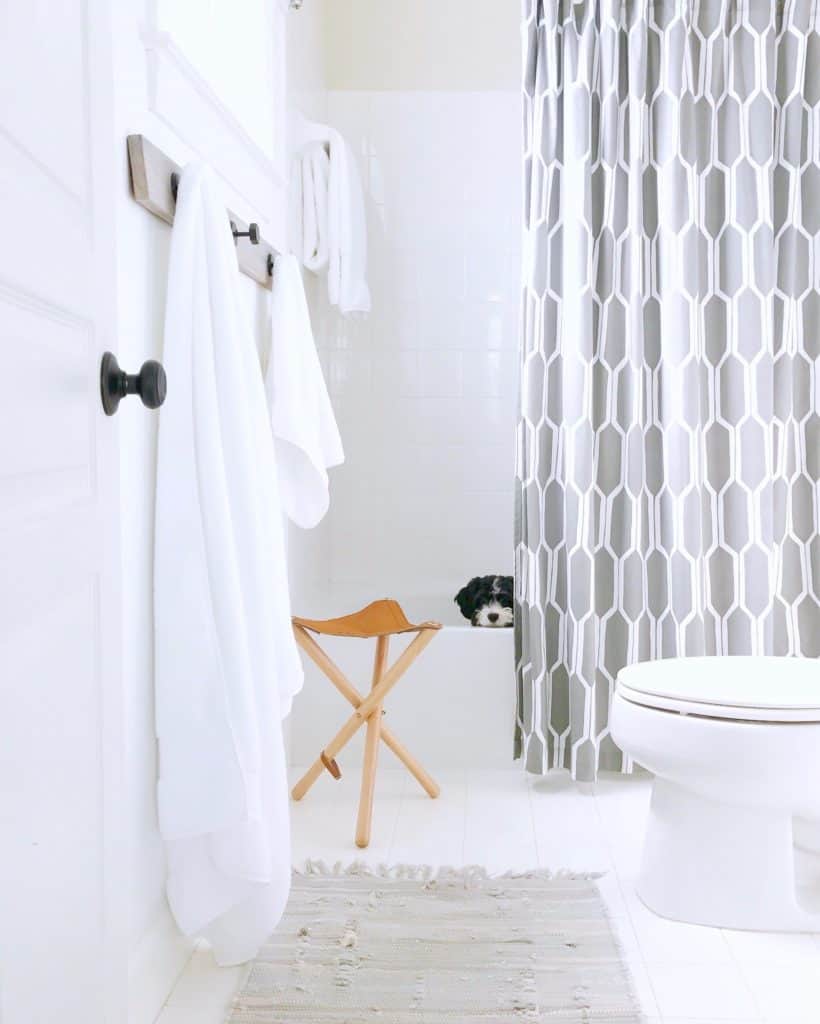 Welcome to paneling heaven! I'm a sucker for a good shiplap, wainscoting or board and batten and I've had this grid paneling project on my master bedroom to-do list for as long as I can remember. Kate, you're definitely inspiring me to tackle it sooner rather than later!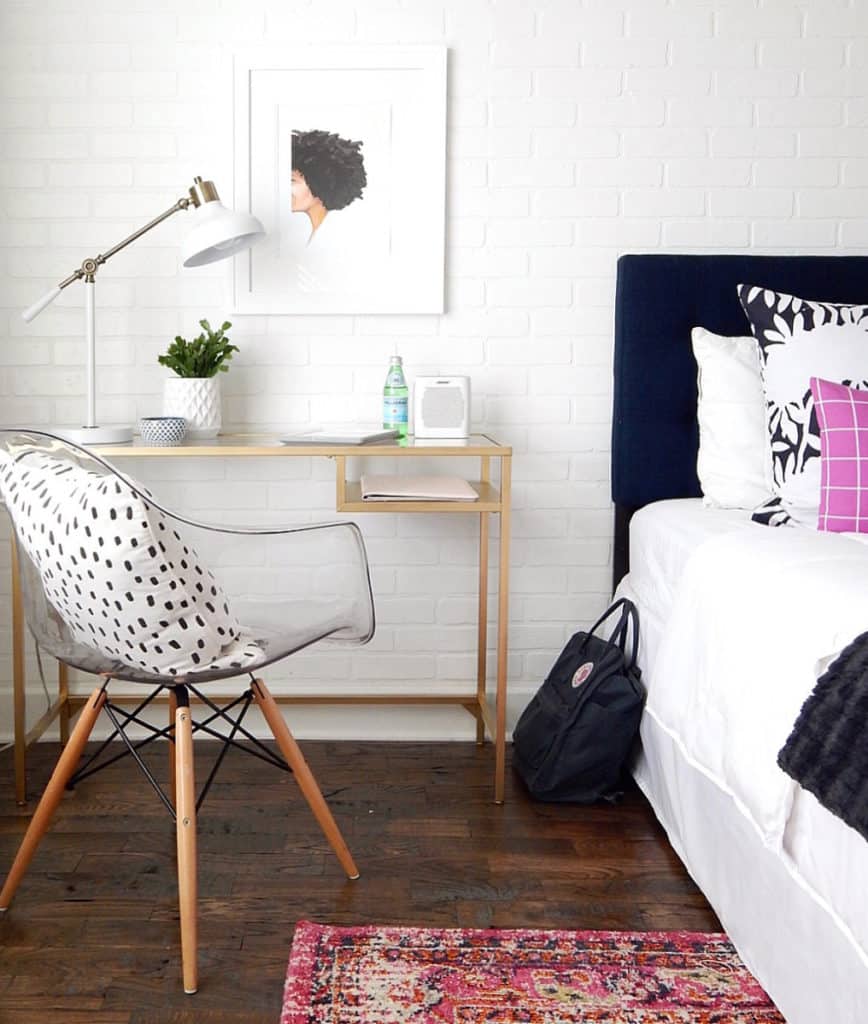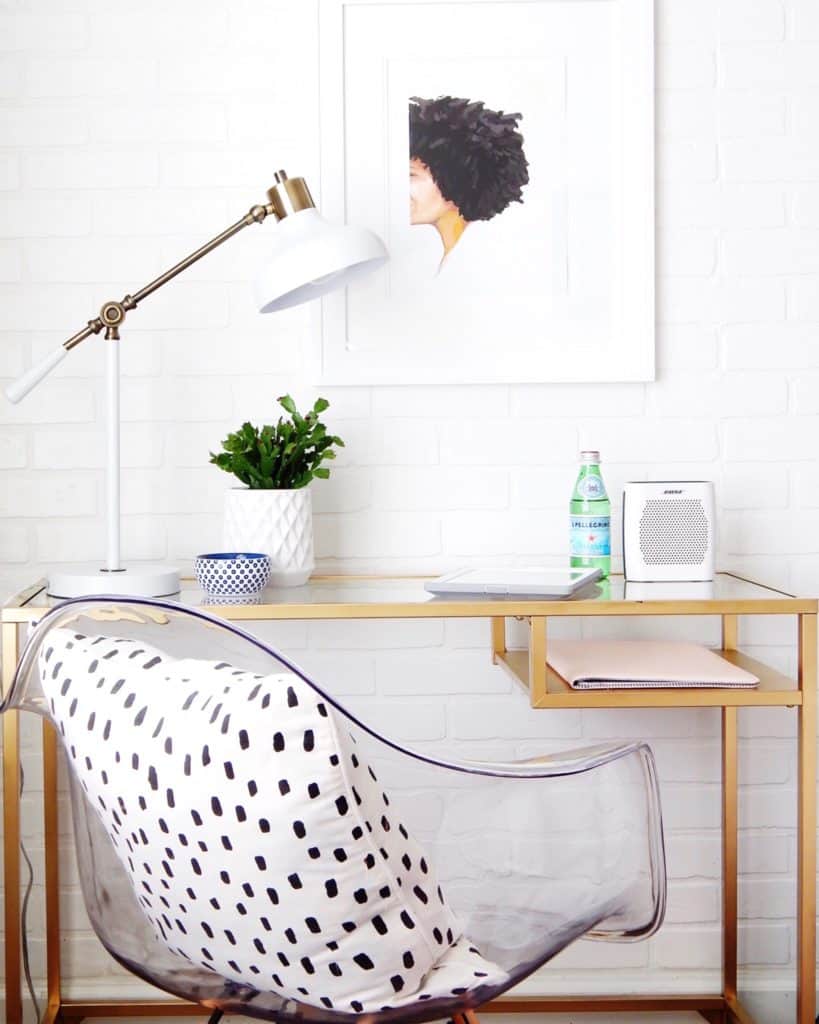 Here is another one of Kate's statement light fixtures and I think it's perfect with the high ceilings!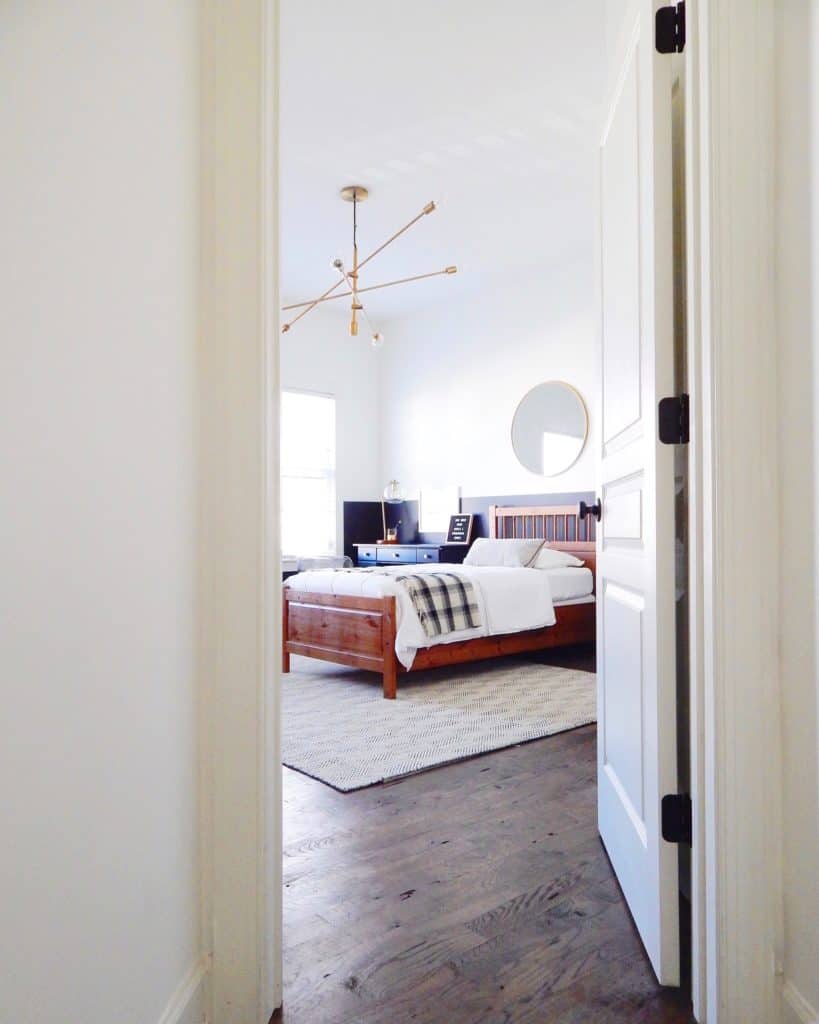 This room is one of the first that drew me to Olive and Ford's Instagram and I have it pinned for my little man's big boy room inspiration! I love the color block walls.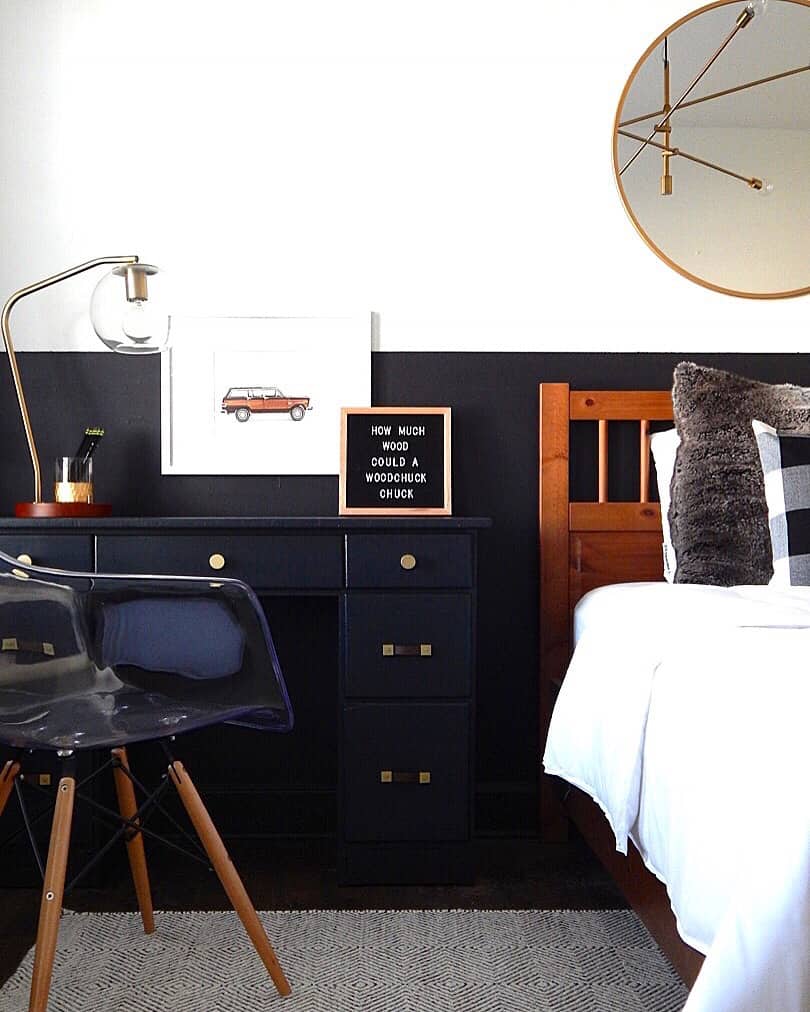 Well that's a wrap folks!
So what do you think friends? Are you as happy about these bright clean spaces as I am??? Decluttered, light, bright, simple, stylish – the words that come to my mind in every room of Kate's home. Dare I say my design soul sister! Make sure to follow along on Kate's design journey via Instagram and Facebook! I really feel like Kate's designs are practical and achievable so I hope you are as inspired as I am!
Well that's a wrap of our fabulous Home of the Month features for 2017! If you missed any of the past tours you can catch them all right HERE.
Cheers!