Feels Like A DIY Christmas: Oyster Shell Tree
Hi Guys! I hope y'all are having a great weekend!
Today I have another easy DIY project for you! I made an easy oyster shell Christmas tree using a cardboard cone from Michael's, a hot glue gun and my stash of oyster shells.
The great thing about this project is that you could use literally anything you have around your house to make a tree that fits your style. You could use other shells, leaves, pieces of driftwood, cotton balls, marshmallows, felt petals, Cherrios or Fruit Loops for the kids, the options are limitless!
As you probably know I like to keep it simple and whenever possible I choose to skip all of the technical measuring stuff and just eye ball it! So I started at the bottom of my cone and glued the shells on around the bottom, choosing shells that were similar in size and fit next to each other.
I just rotated them until they fit to cover the cardboard cone and worked my way up. I kind of made it up as I went and fit the shells in as best I could. It's not perfect but I think it is cute and fits perfectly with my decor.
It is that easy! Are you guys working on any DIY Christmas fun withyour family? With little ones?
I can't wait to show you how all of these little projects come together for the Blogger Stylin' Home Tour next week hosted by Lindsay at The White Buffalo Styling Company!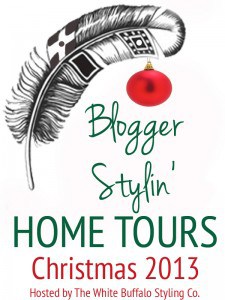 Stay tuned, you will not want to miss all of the amazing homes being featured in this online home tour! I am humbled to be part of it.
Have a great rest day tomorrow!