Home of the Month: A Serene Ocean Isle Beach Home #OIBHAPPY
{View from the back deck}
**UPDATE: Looking for sources? Click HERE to access the beach house source guide!!!**
Home of the Month: A Serene Ocean Isle Beach Home
It's that time of the month again friends where I share a beautiful home tour for your viewing pleasure and this particular home is near and dear to my heart. I'm lucky enough to be able to call this stylish abode my second home! My parents recently bought a lot on Ocean Isle Beach, NC and proceeded to build this stunning masterpiece.
You all know my mom (and dad) have impeccable taste if you toured their previous Lake Norman house, but I think they really outdid themselves this time around. There was no stone unturned nor detail overlooked and it paid off in so many ways.
The house has 5 bedrooms, 5 bathrooms with an elevator, a hot tub (I call it a spool…get it, spa/pool because it's SO big) and multiple outdoor spaces. It's located on a canal so that my dad can have his boat but is only a couple blocks from the beach where my mom can get her fill of the sun and sand. The best of both worlds! It's also within walking distance of all of the shops and restaurants on the island.
I will be creating a source post soon so you can have all the nitty gritty details, but until then leave a comment below with anything thing you want to know so I can make sure to include it. But just a little FYI, my mom is a resourceful shopper and many of the accessories, art and mirrors came from local shops or stores like HomeGoods or Stein Mart. Truly the woman has a real gift!
So without further ado, welcome to the OIB Happy house…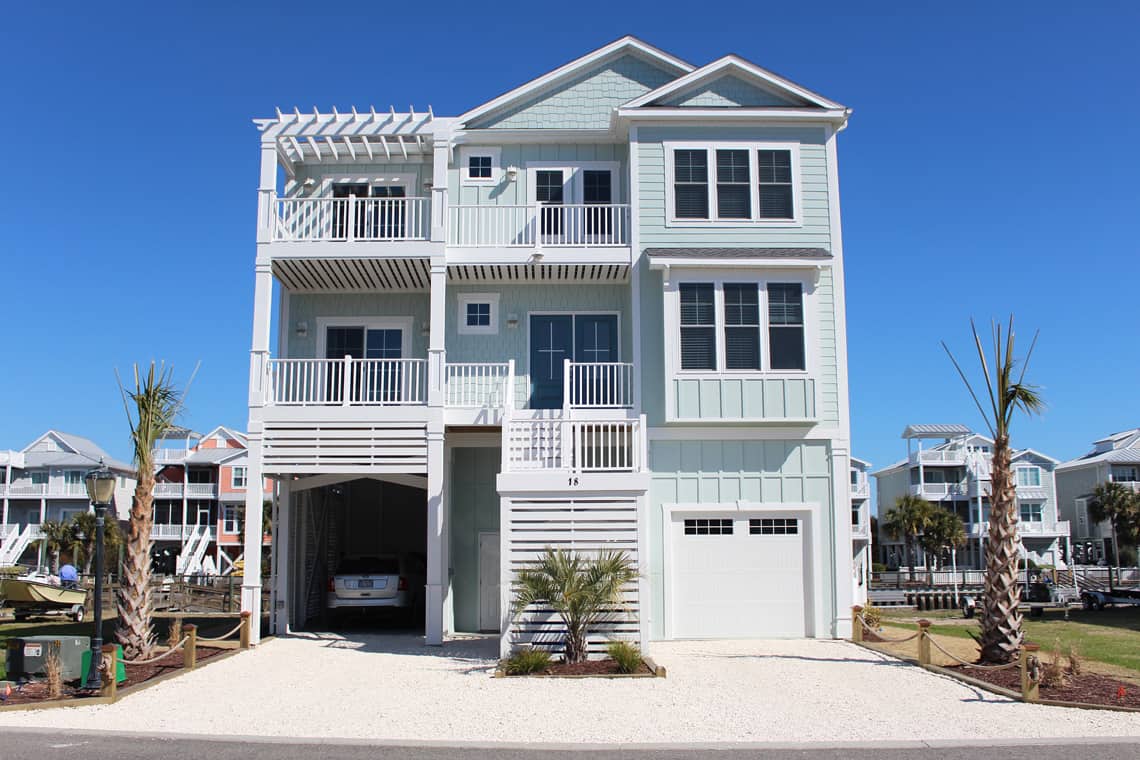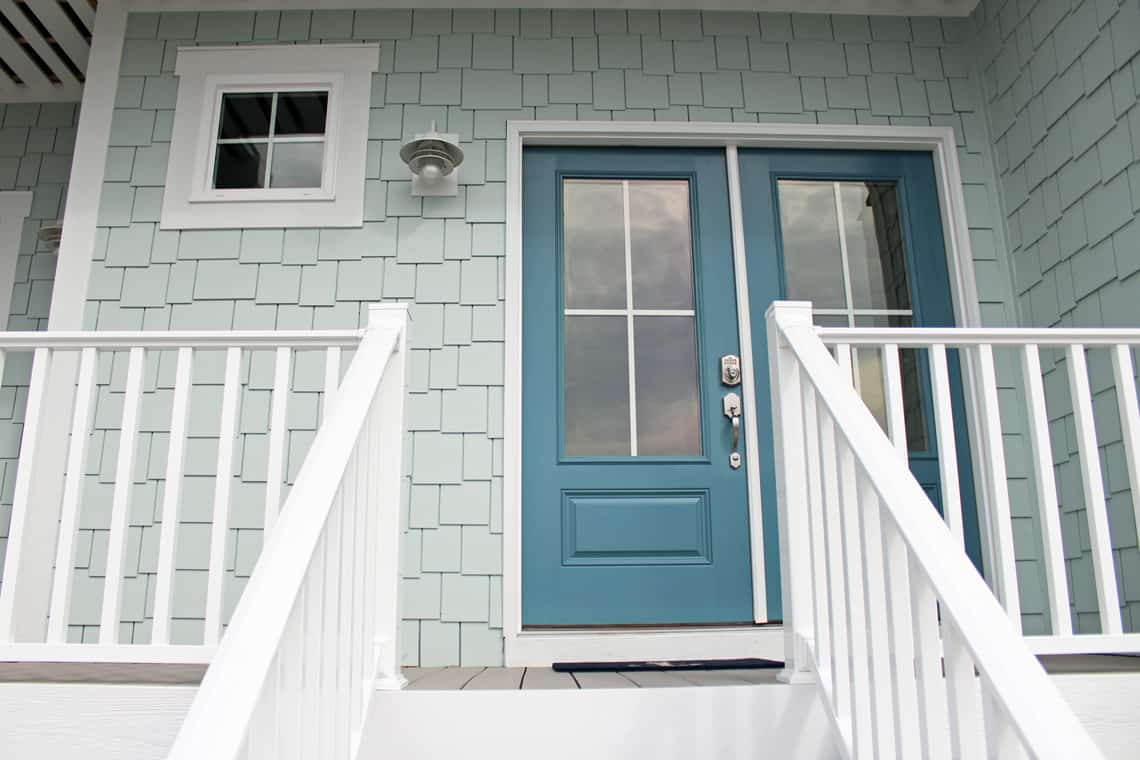 I think my favorite thing about the whole house is the color palette. The soothing blues, greens and grays create the perfect coastal backdrop without being too pastel and 'beachy'! My mom is great at mixing and matching colors to create a cohesive color story throughout a home. Believe it or not she used mostly Silver Strand, Sea Salt and Repose Gray (all Sherwin Williams) which were the paint colors from the lake house.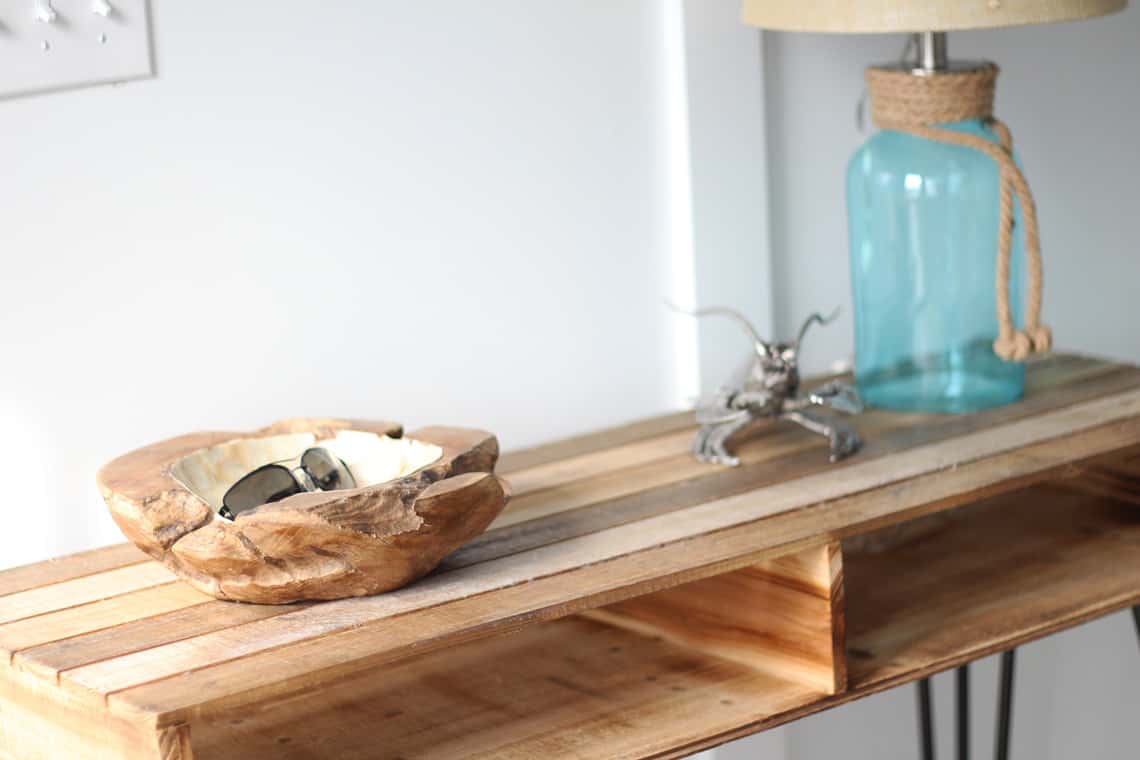 The downstairs master bedroom contains my favorite furniture of all the rooms. I love how the sea grass pops right out of the picture against the white and blue.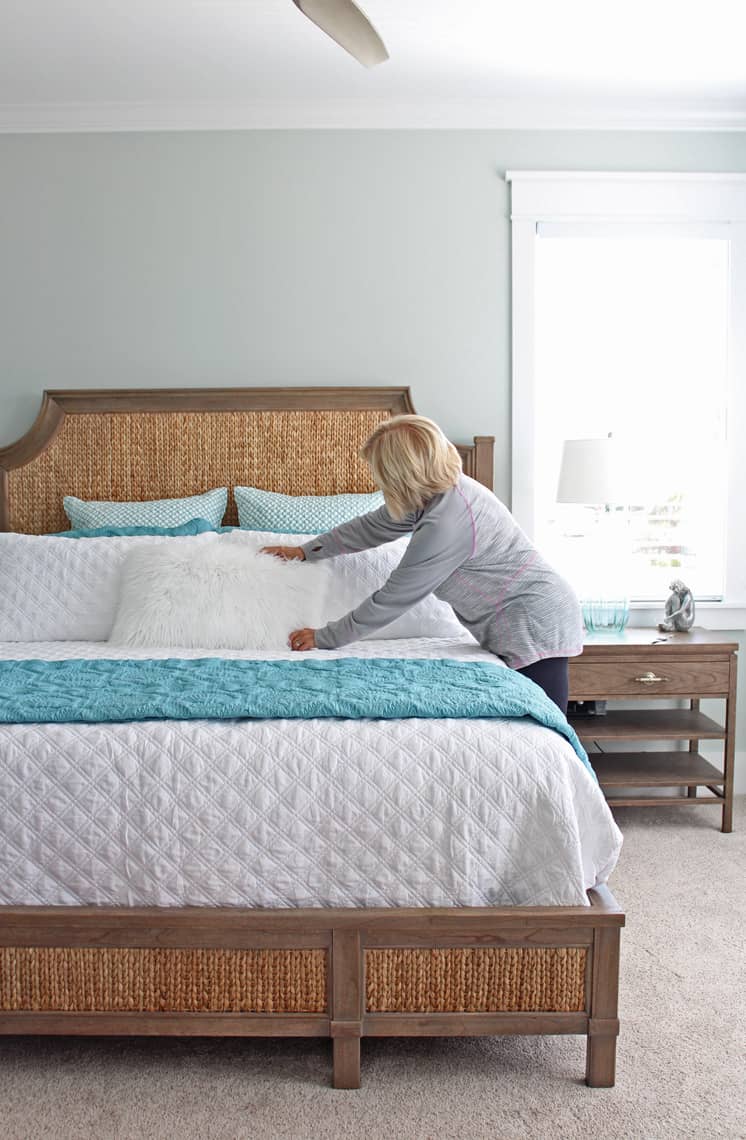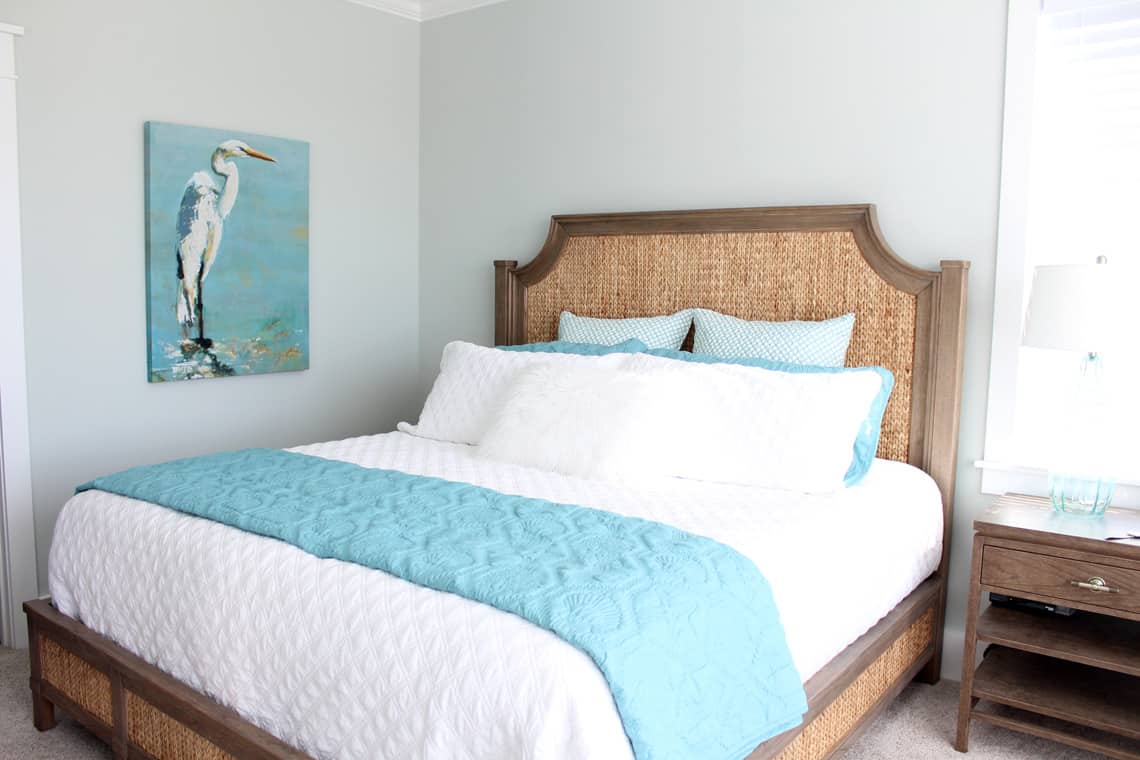 The bathrooms are hard to photograph because of the angles but hopefully you can see how beautiful they are too!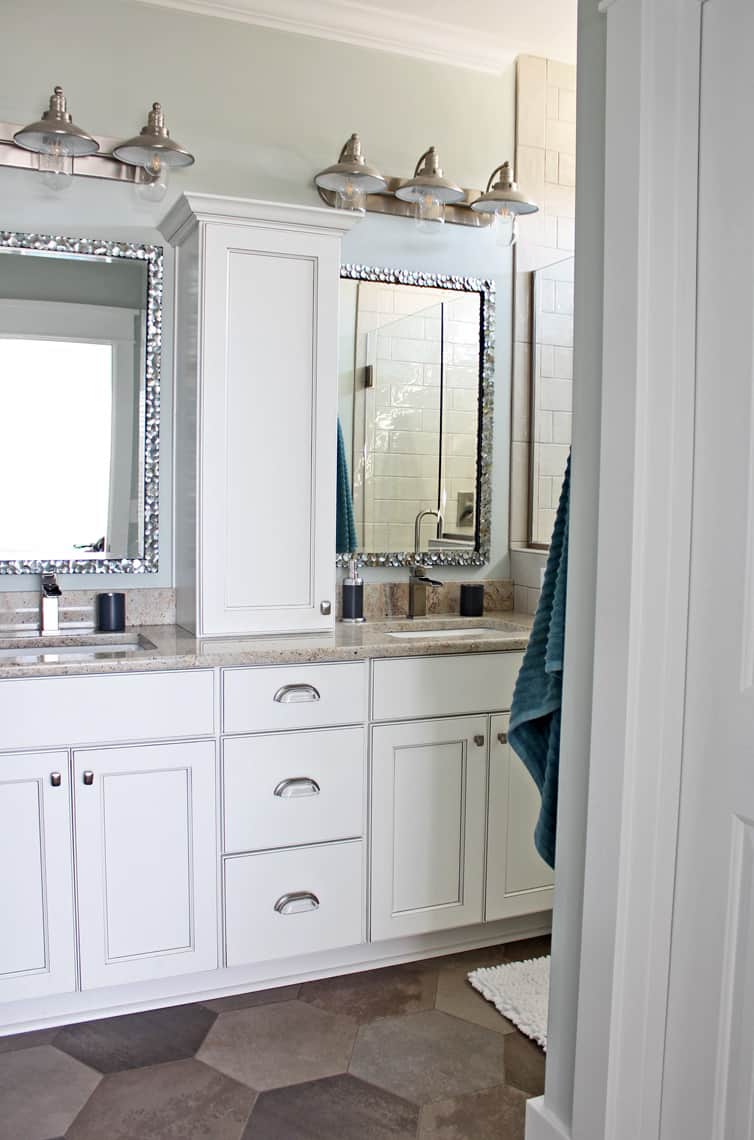 Oh hey, DIY juju hat-inspired art, I recognize you! It makes me smile that my mom loves my creations enough to display them in the house.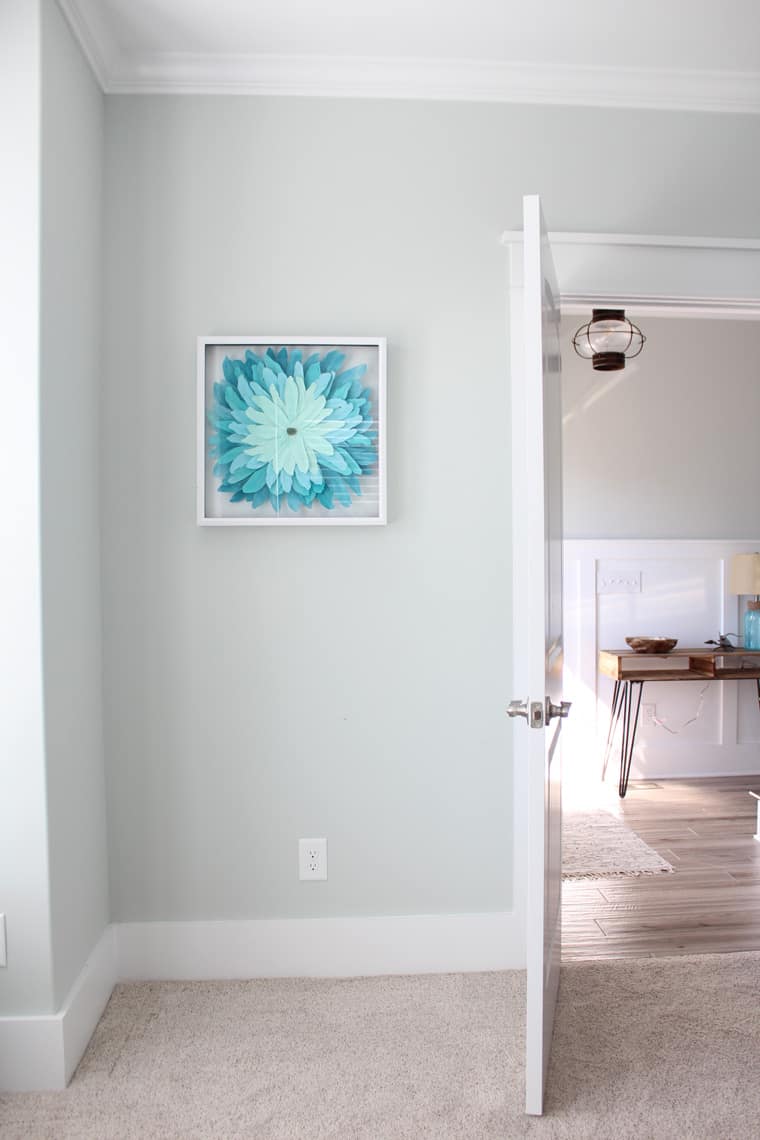 The second downstairs bedroom is a bit more masculine but classic in style. #saltlife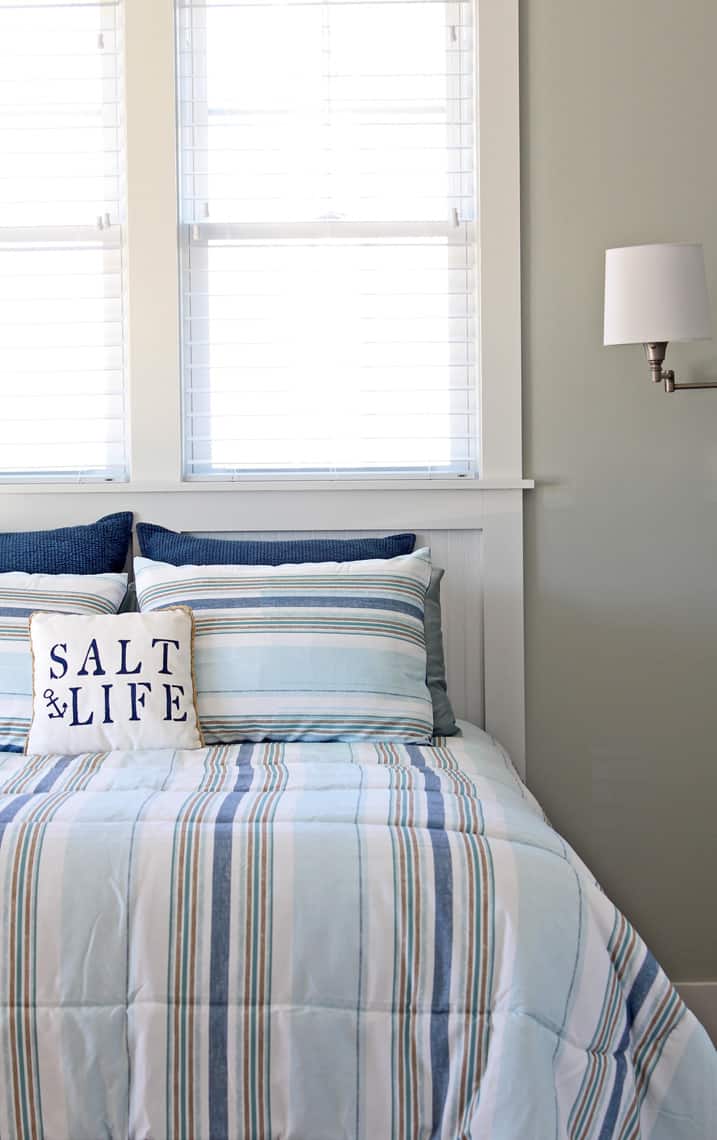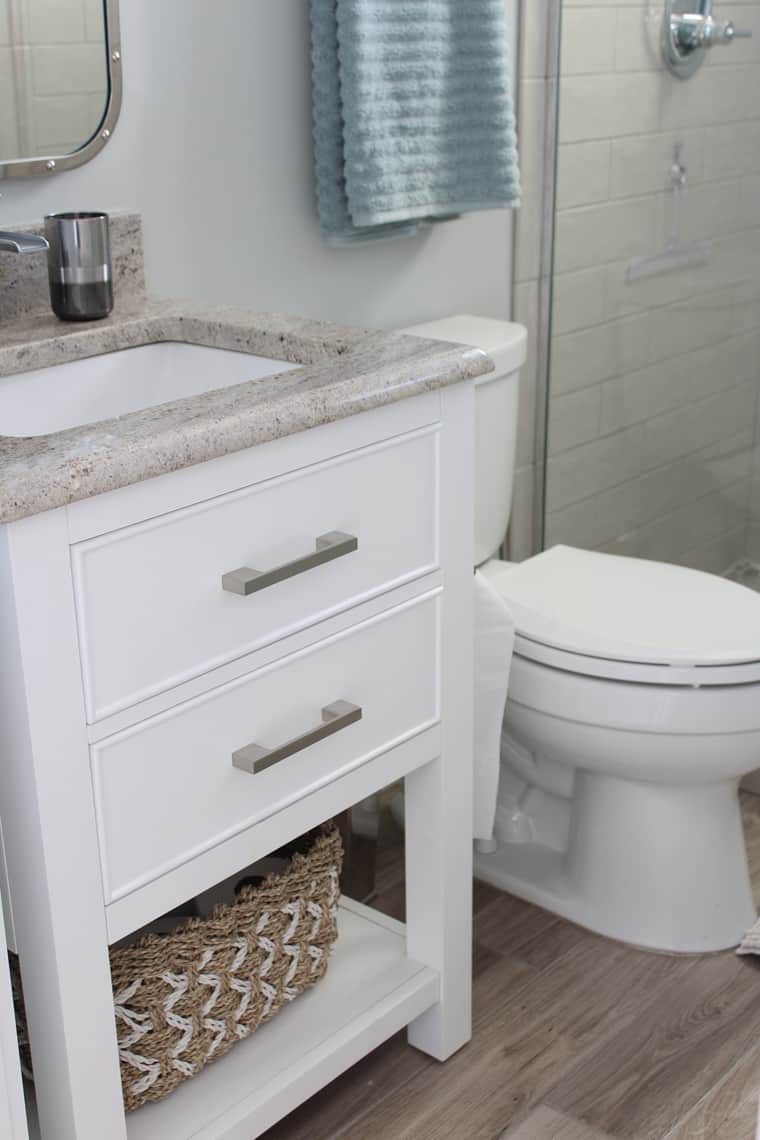 Next up is the fabulous kitchen. I mean how gorgeous is that deep blue island? There is so much wonderful cabinetry and the ice maker and wet bar are a huge plus. I LOVE the gray glass tile backsplash too!
We had a bit of a barstool debacle which is why the island is void of seating. We hope to have them in soon so I'll definitely post an update at some point.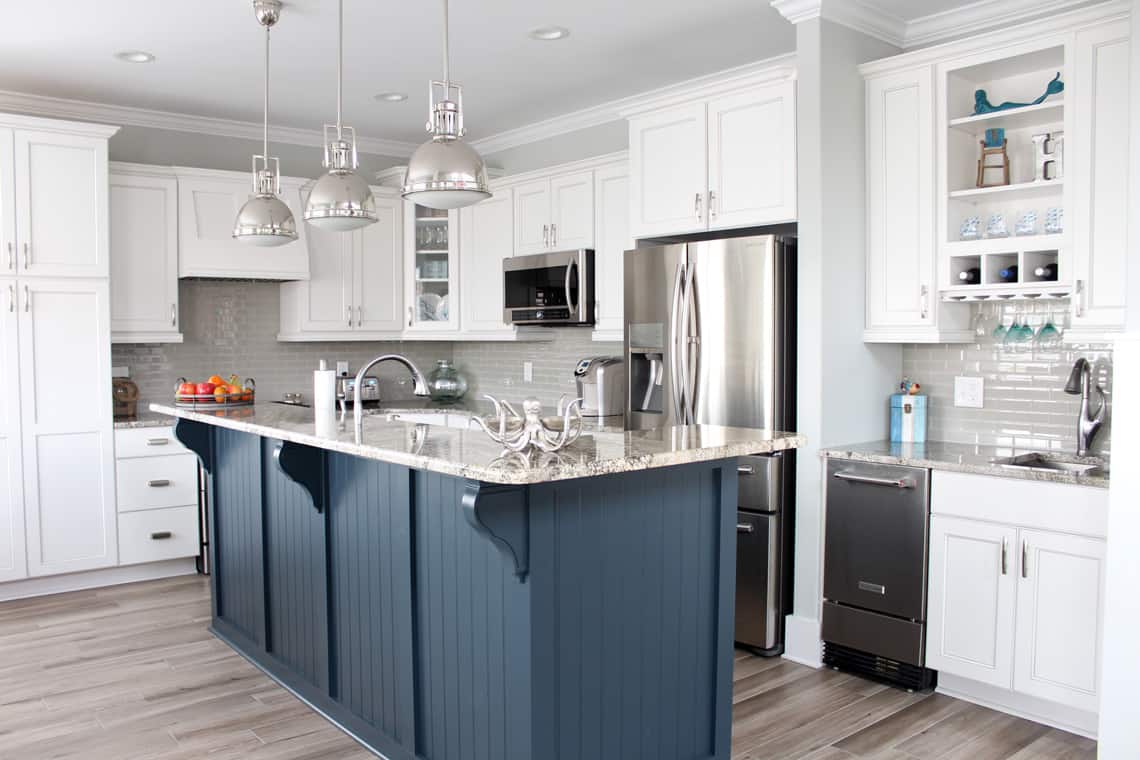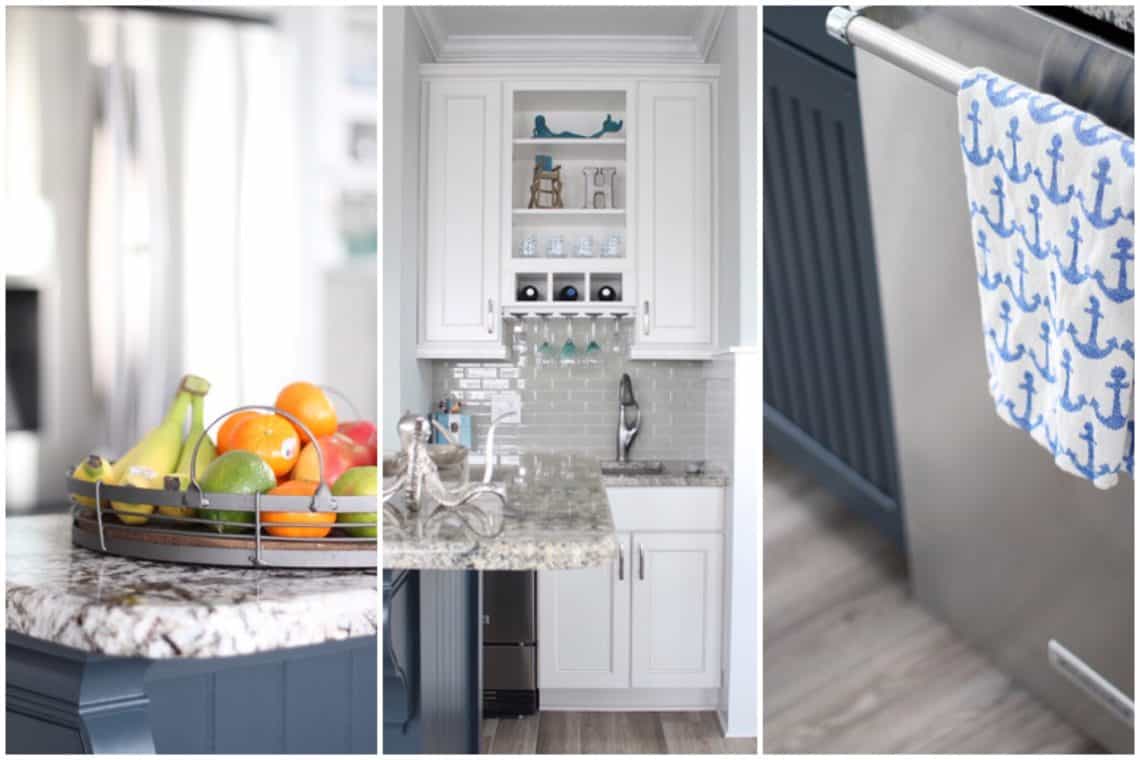 And now for my FAVORITE room in the house – the two story living room with stone fireplace, surround sound and custom built-ins. My mom is a true stylist and thoughtfully chose each accessory.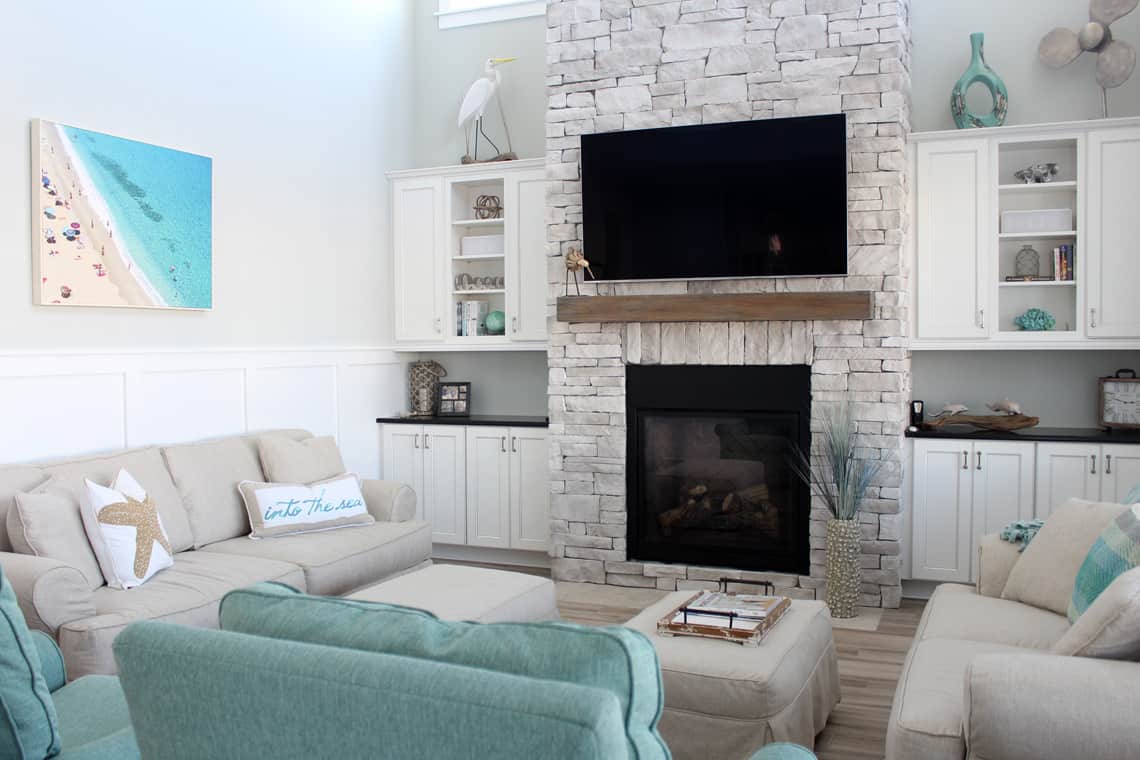 The aerial beach photography art came from HomeGoods but I found a few great online sources:
[show_shopthepost_widget id="2452016″]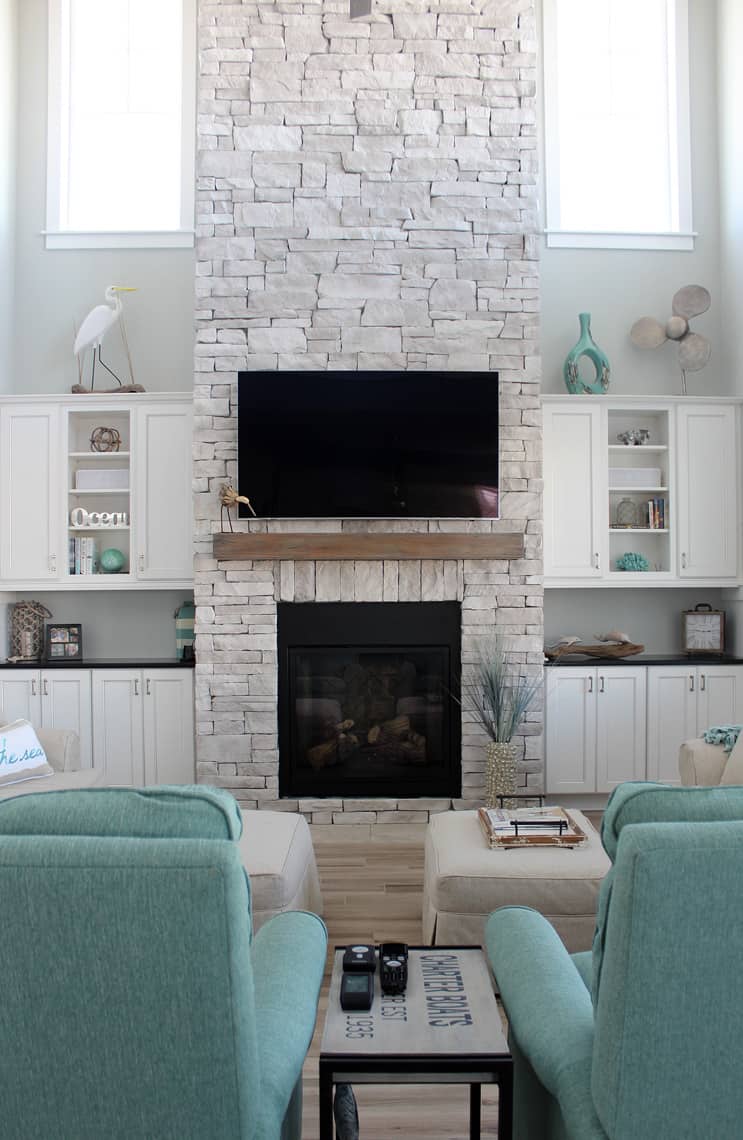 The dining room is our gathering place. It's were we drink coffee and eat breakfast sleepy eyed in the morning. It's where we drink margaritas and play catch phrase after the kids are in bed.
My parents had this chandelier in the lake house too and loved it so much they bought another one for the beach. Hey, if it ain't broke don't fix it right?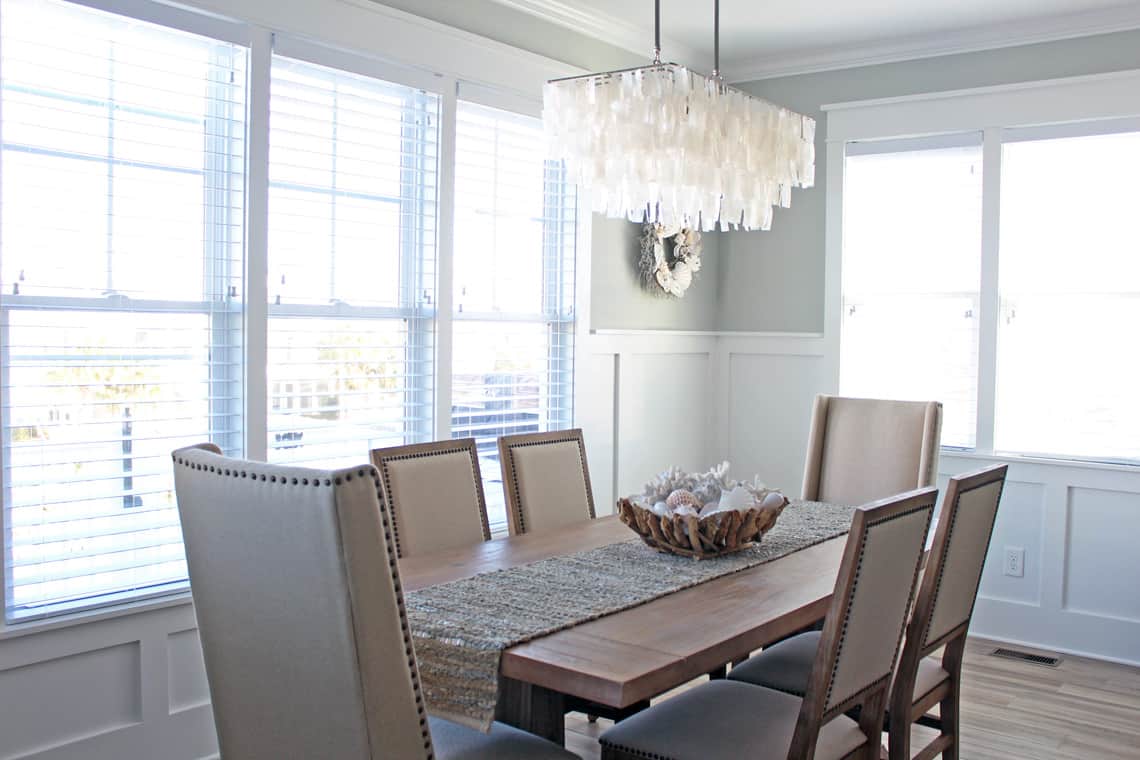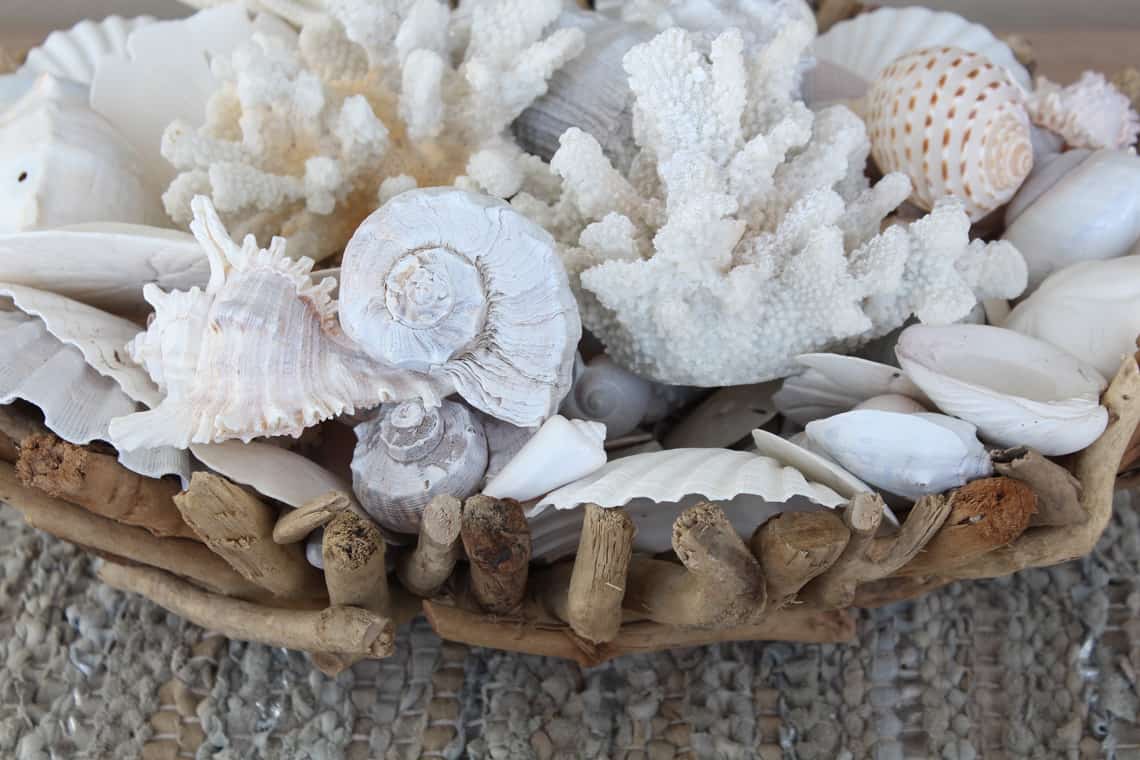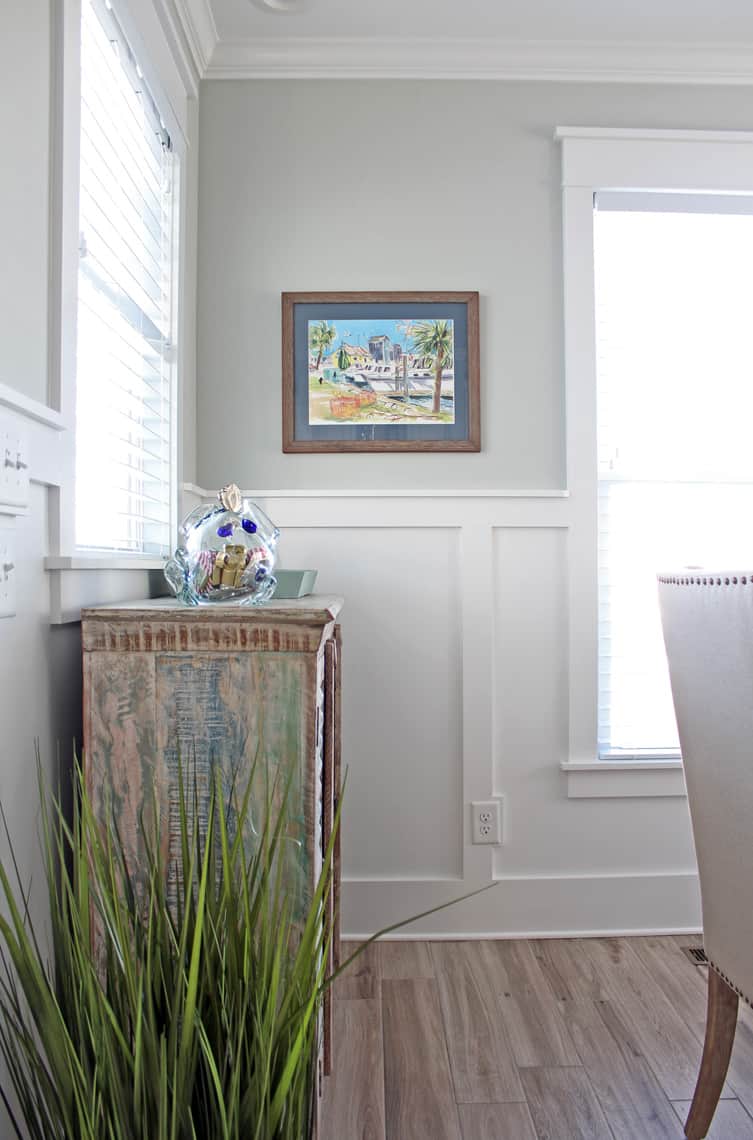 We named the house OIB Happy so we're slowly branding a few items here and there. :)
The main deck isn't fully furnished yet but there will be a dining table and chairs and a few other pieces coming. Isn't the retractable awning great?
This little window is a pass through from the dining room where drinks can be served by our resident bartender…AKA Uncle Bill.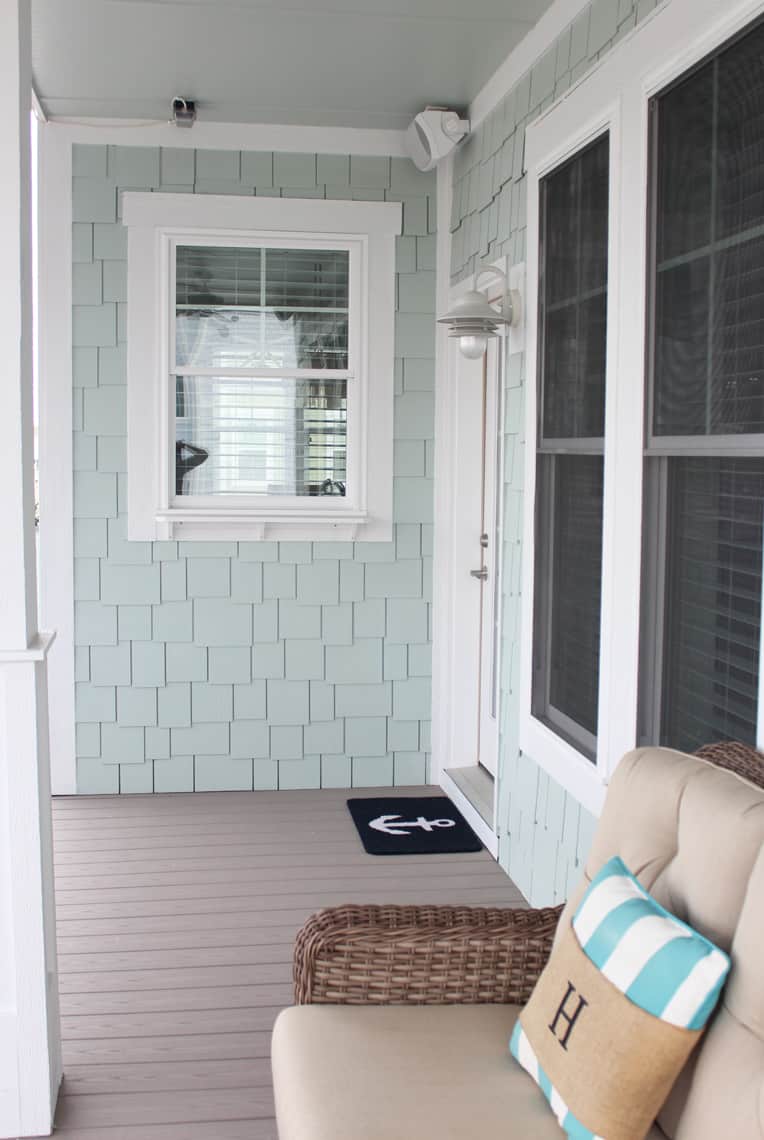 Even the built-in grill is pretty!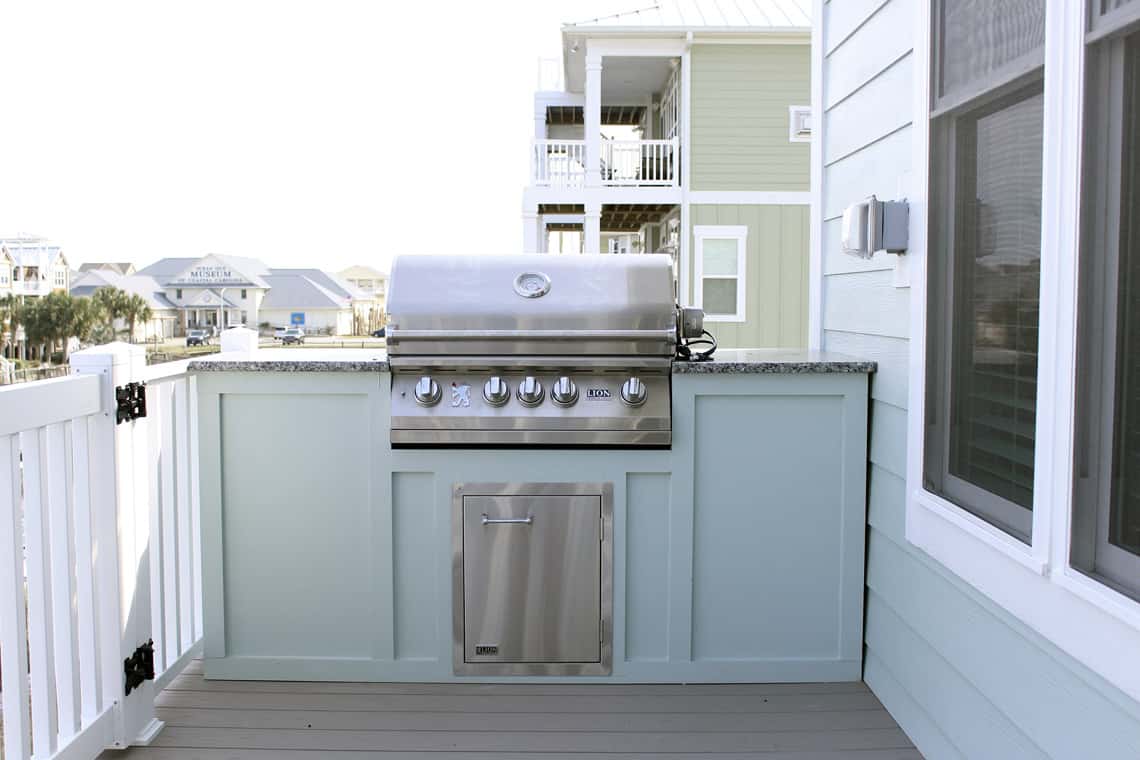 Moving upstairs, here is a shot from the second floor balcony. I love all of the modern fans in the house, especially this one.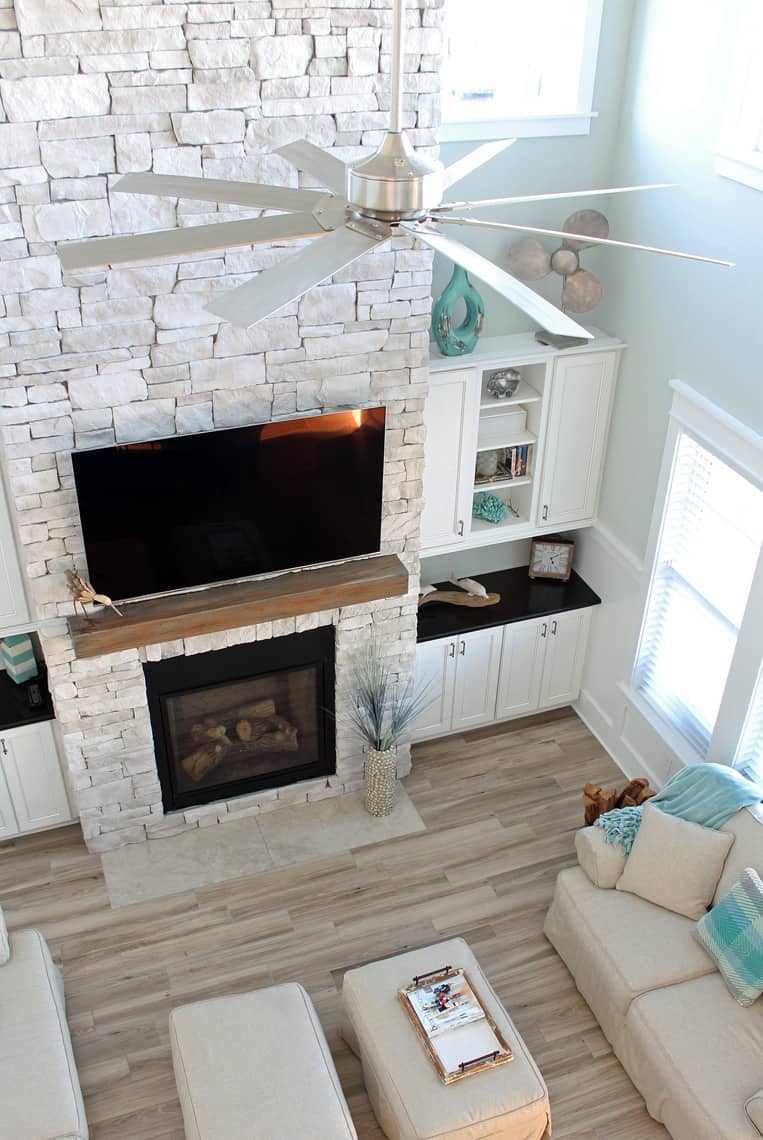 This is the bedroom I claim which is the upstairs master bedroom. It is so cozy and peaceful and has it's own balcony.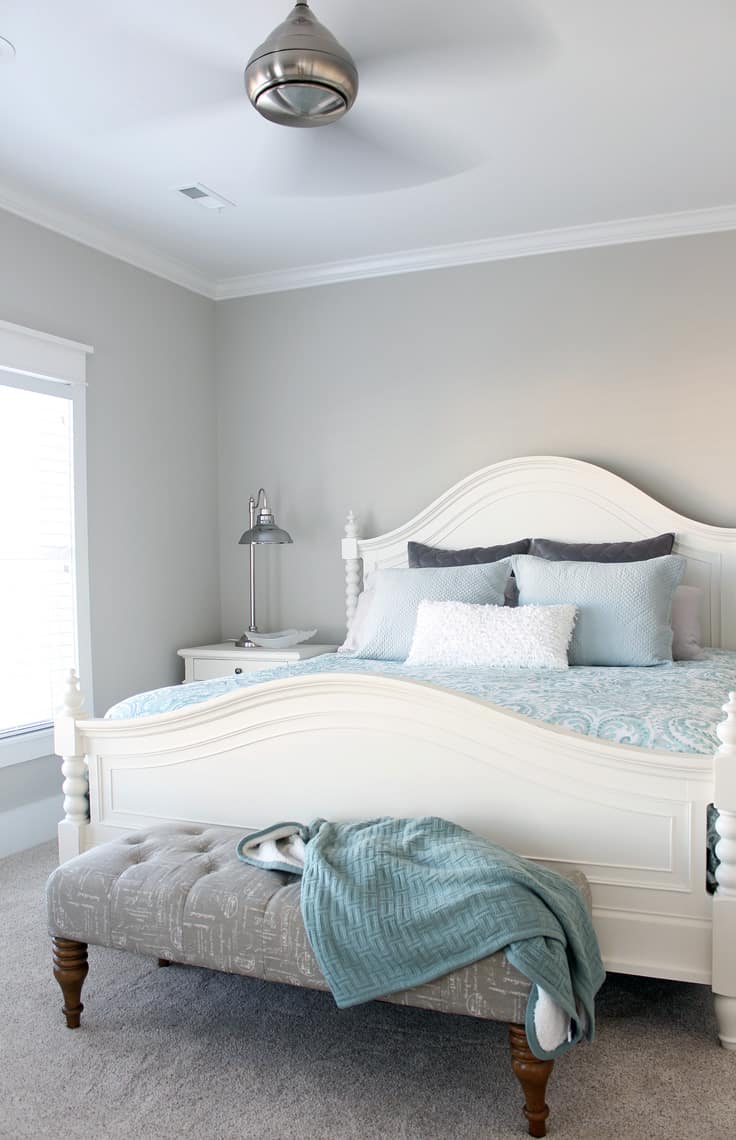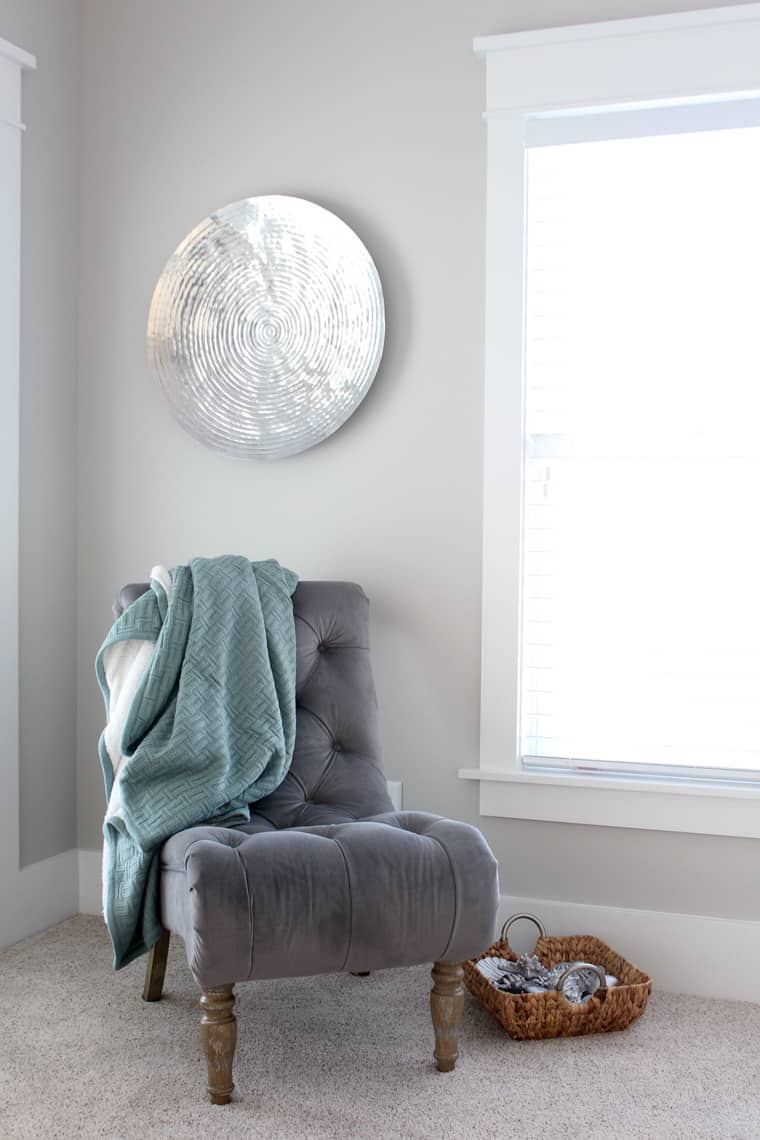 The bathroom is spa like in every way from the black stone shower tile to the floor to ceiling glossy subways.
This room just makes my heart happy! It's the kids bunk room and I love the nautical decor they chose.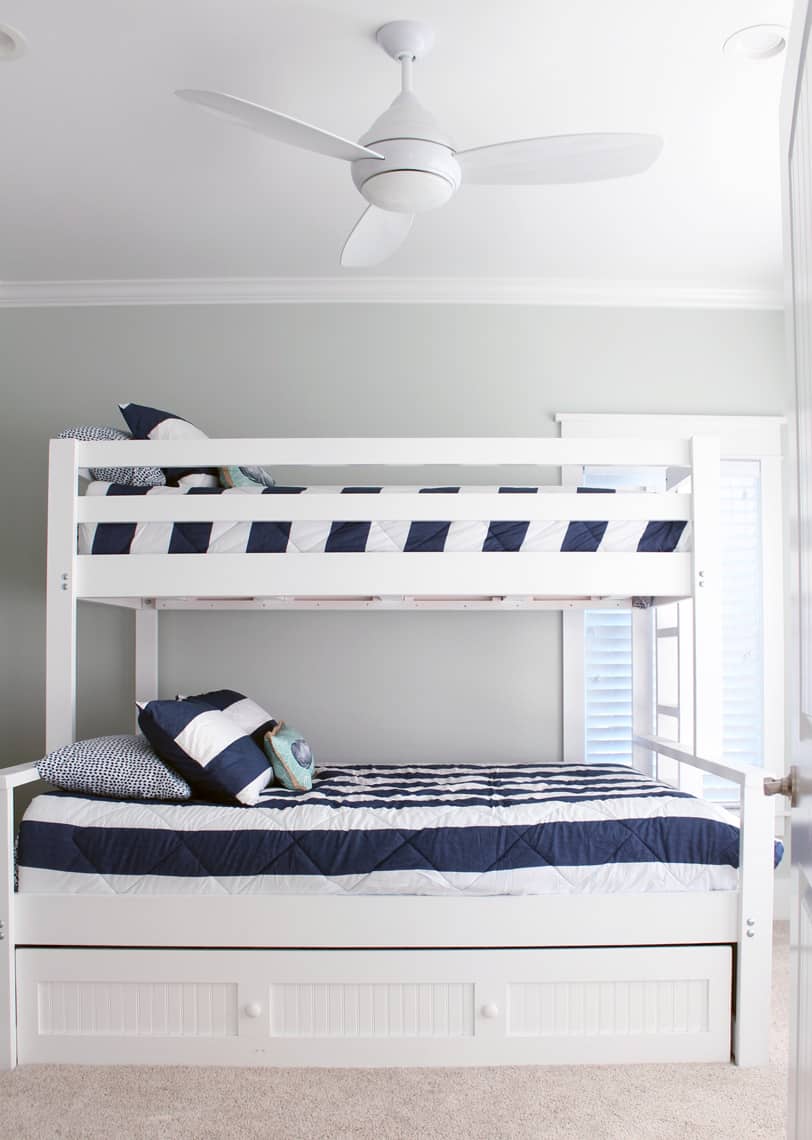 The sliding barn door is so chic and the bathroom penny tile and porthole mirror are perfect. Oh, and those are my little man's sweet toes!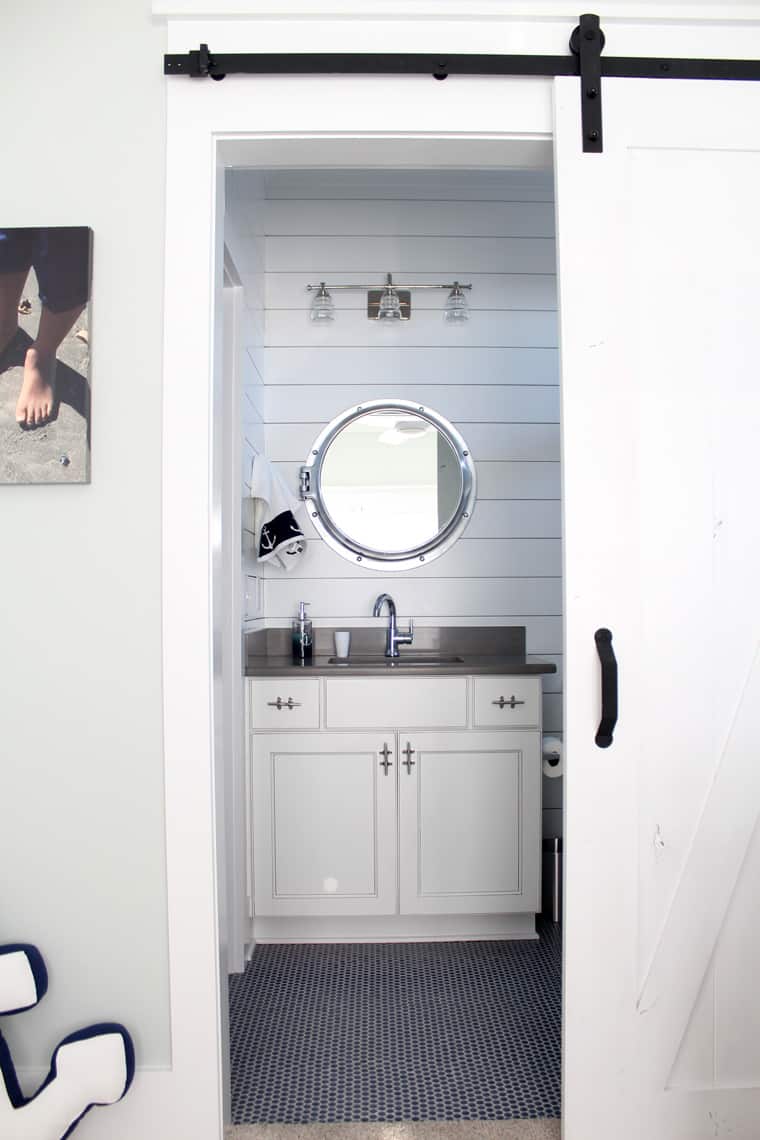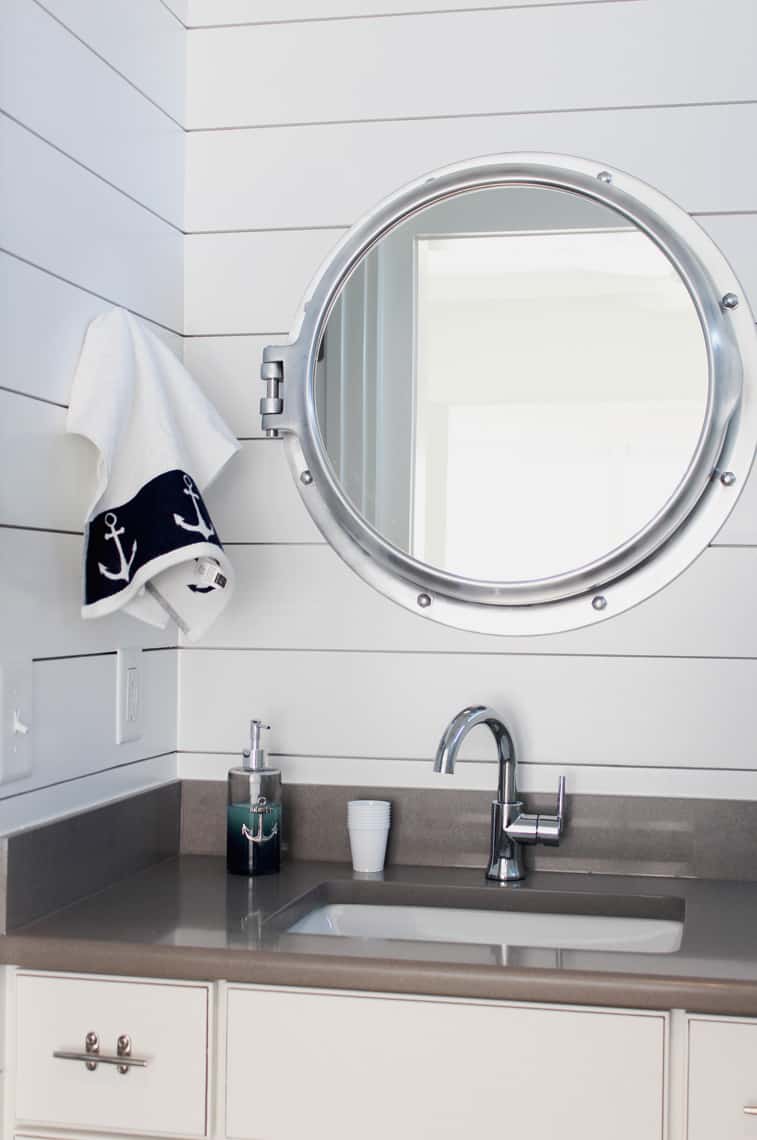 The third bedroom upstairs is so bright and calming as all the others.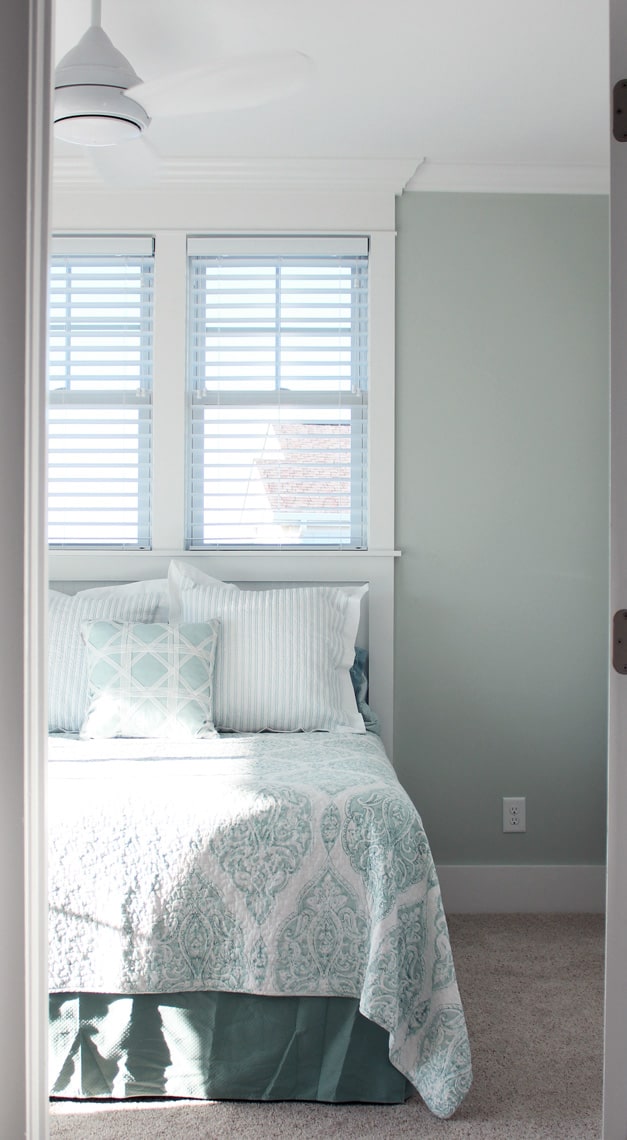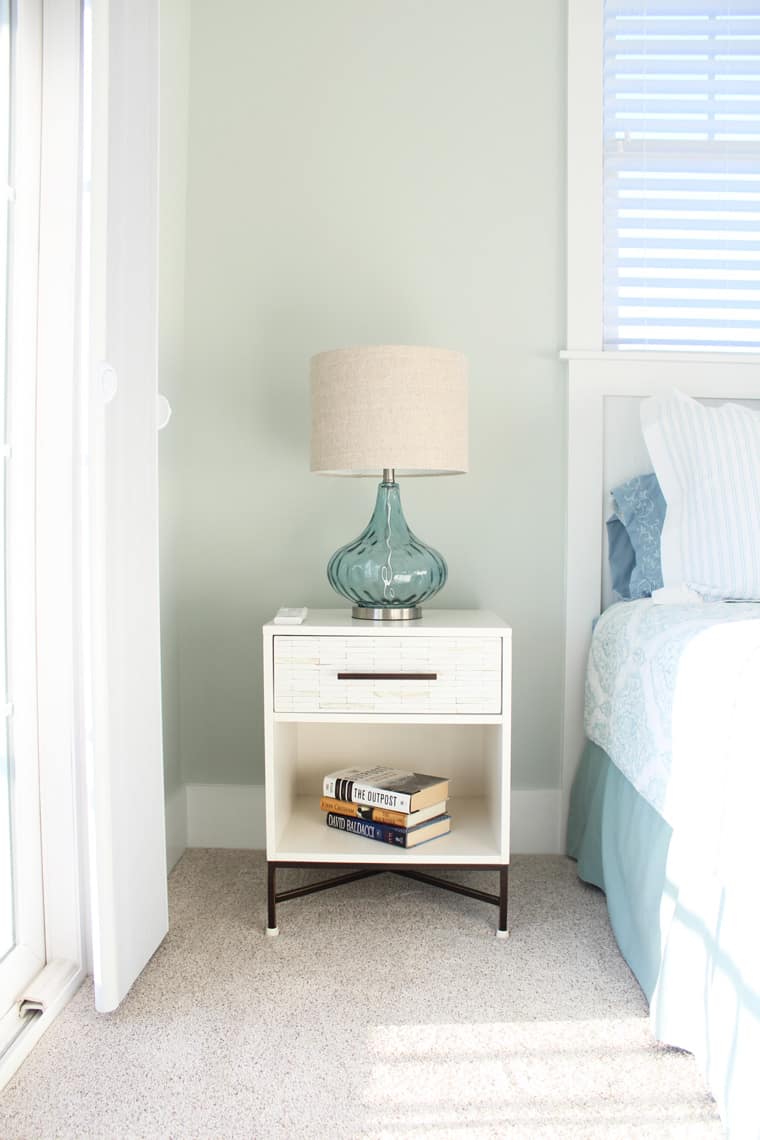 There is also a balcony off this room that connects to the bunk room.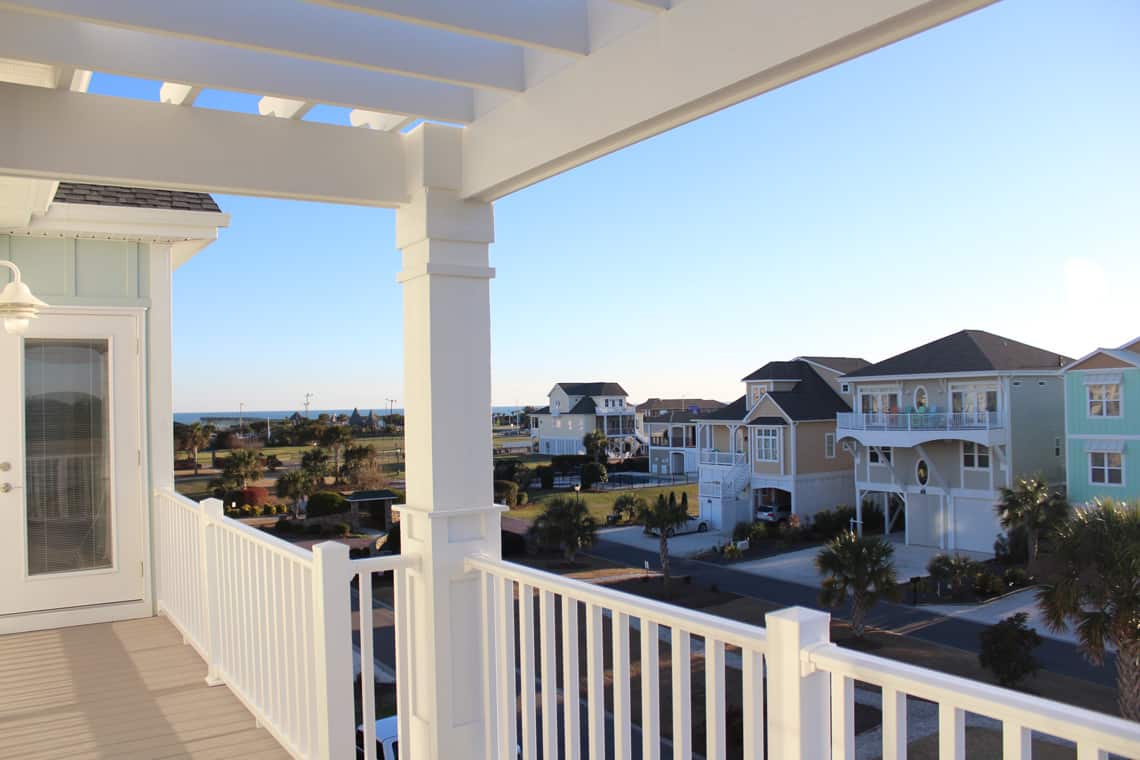 The art in the elevator was gift that I gave to my mom several birthdays or Christmases ago. Now she finally has a spot for it!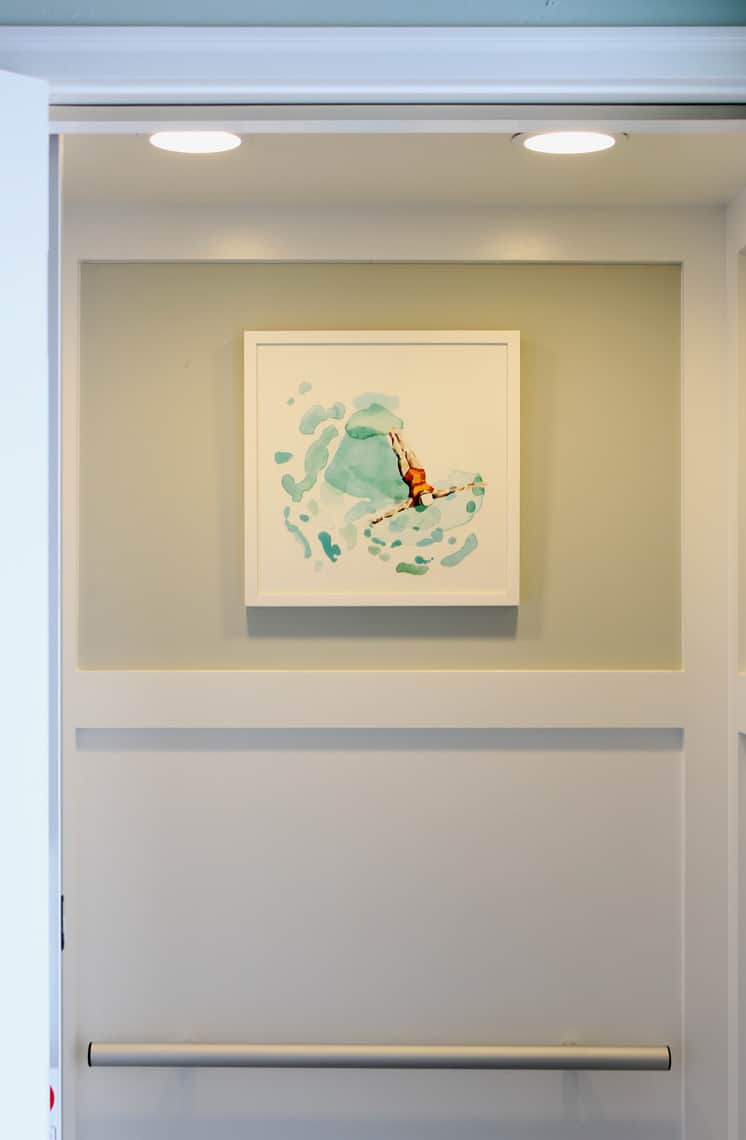 Let's take the elevator down…to the very best, most exciting, and favorite spot in the history of EVER…the spool! :) We have so much fun here, parents and kids alike. It's the perfect place to spend time with one another and enjoy a relaxing dip.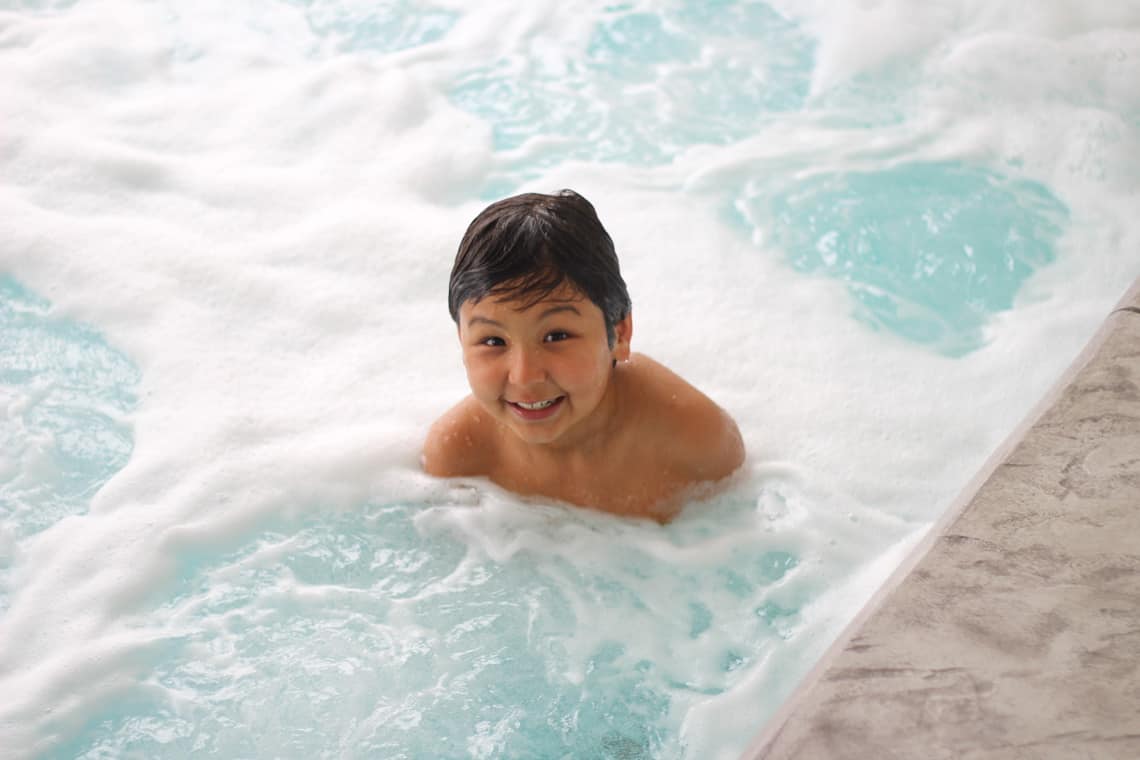 Once the construction was completed I wanted to get my parents a house warming gift. Something to show appreciation for their hard work and as a thank (in advance) for all the time they would welcome us to stay here. When my mom began decorating and I saw these anchor hooks she hung by the hot tub, I immediately pictured five spa robes (one for each bedroom) plus a kid's robe hanging perfectly from the hooks.
When Christy Linens reached out to me to try their products I knew it was a match made in heaven. These bathrobes are so luxurious, they feel like they came right out of a high end spa. And they are unisex so anyone visiting the house can use them which is a huge bonus.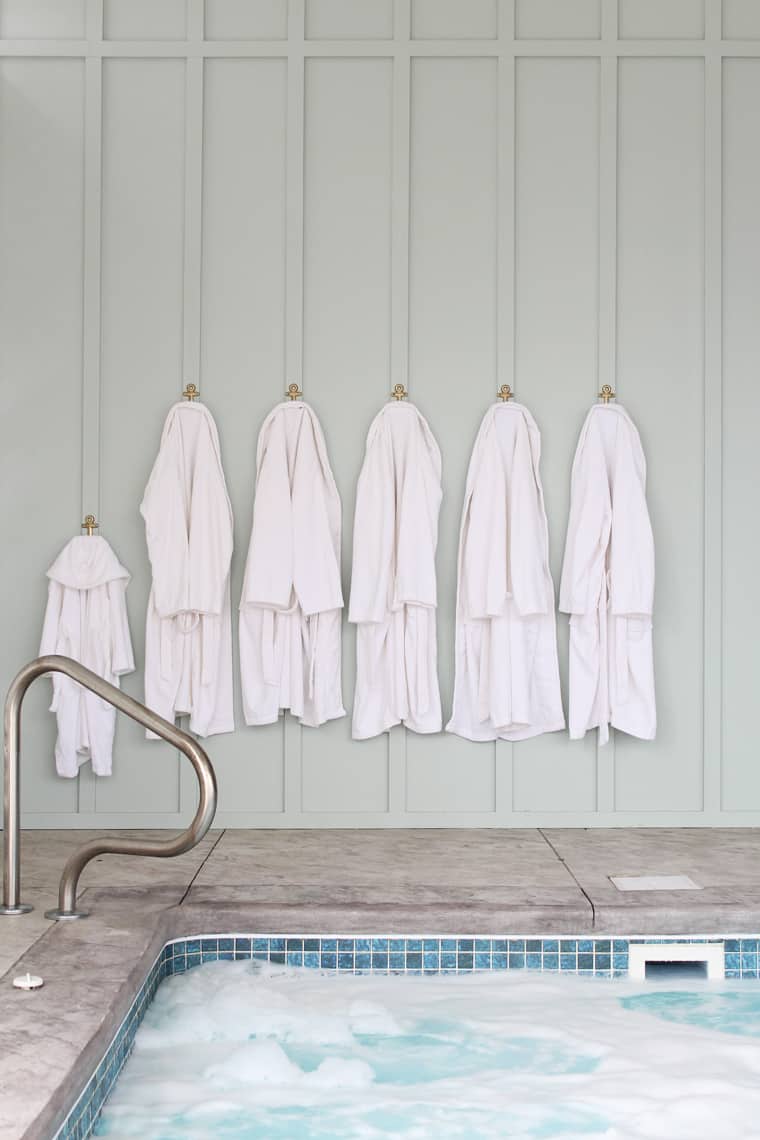 My sweet friend embroidered two of the robes with my parents initials which made the gift even more personal. I really wanted to pamper them and what a treat these supreme velour robes are! And they are just as plush and comfy as they look.
Robes are so great to have here, especially in the winter when going from the house to the hot tub and back. Don't they just look like they were made for this spot?!?!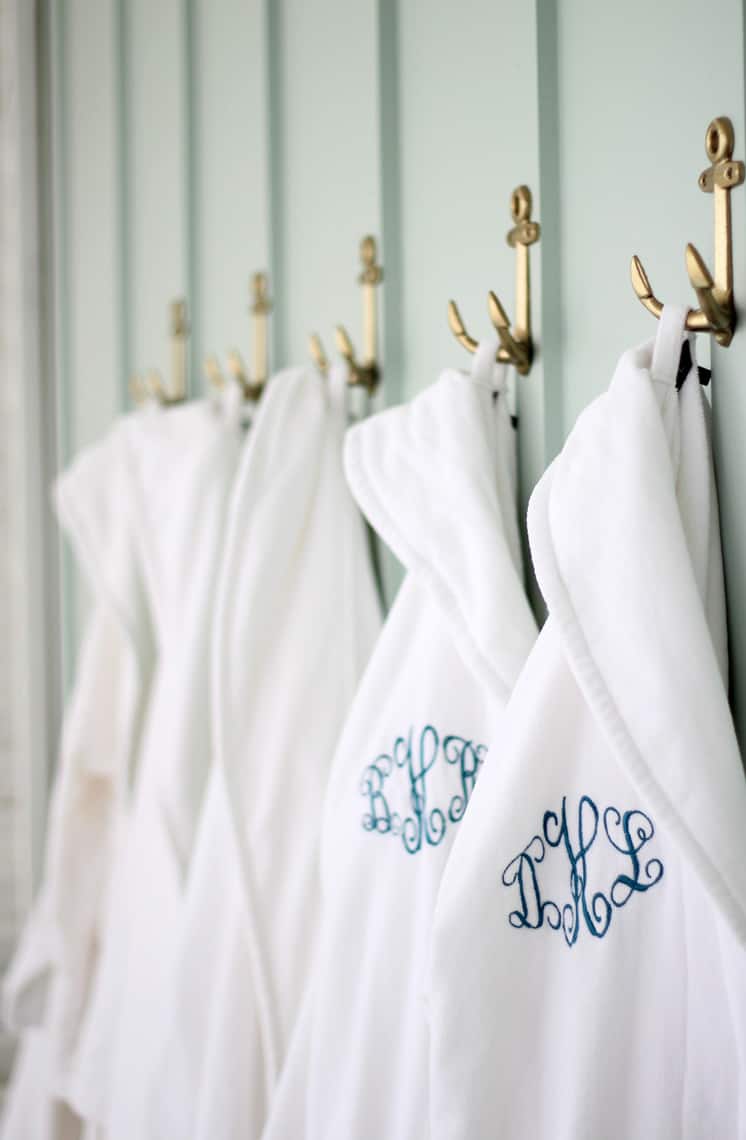 Unfortunately we found the gold anchor wall hooks on clearance at Target but have never seen them there since, online or in the store :( I did find a similar one here.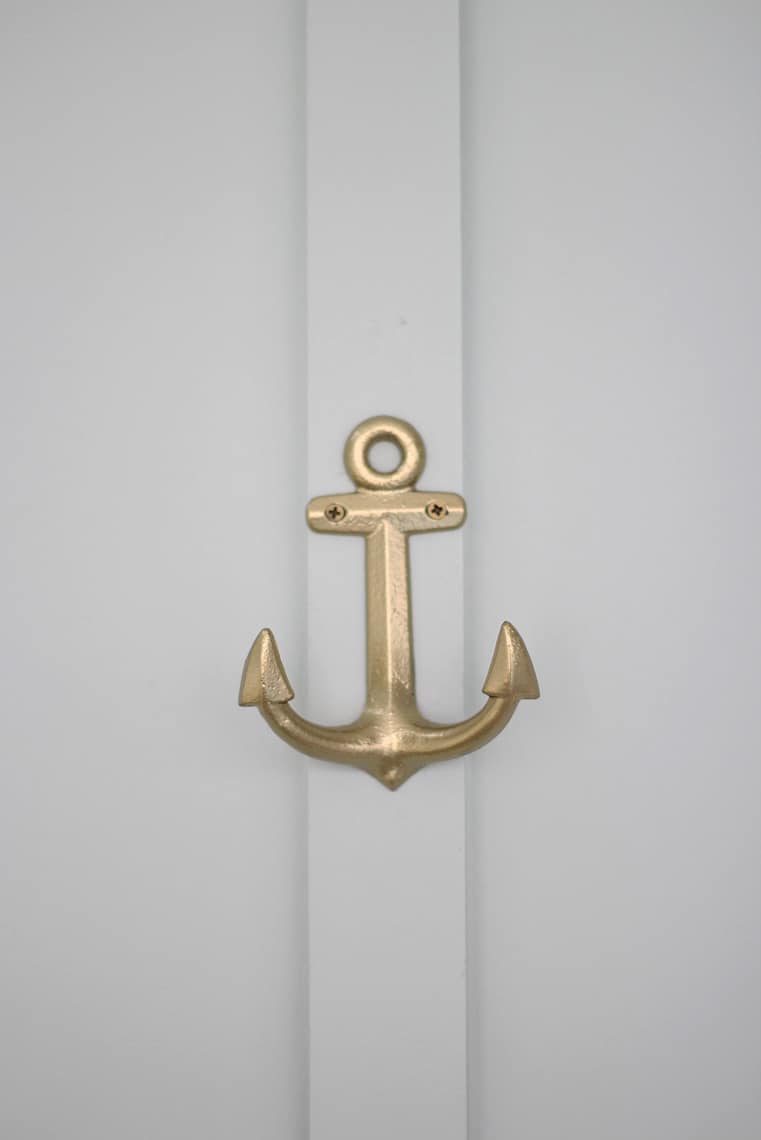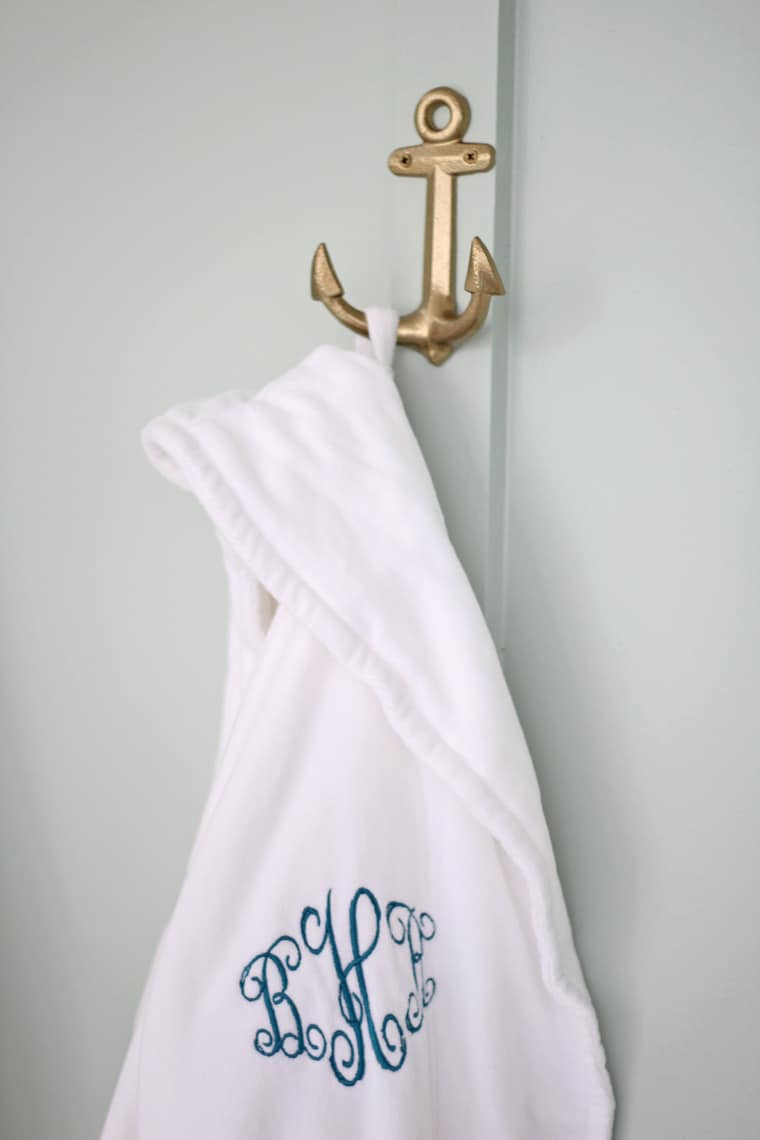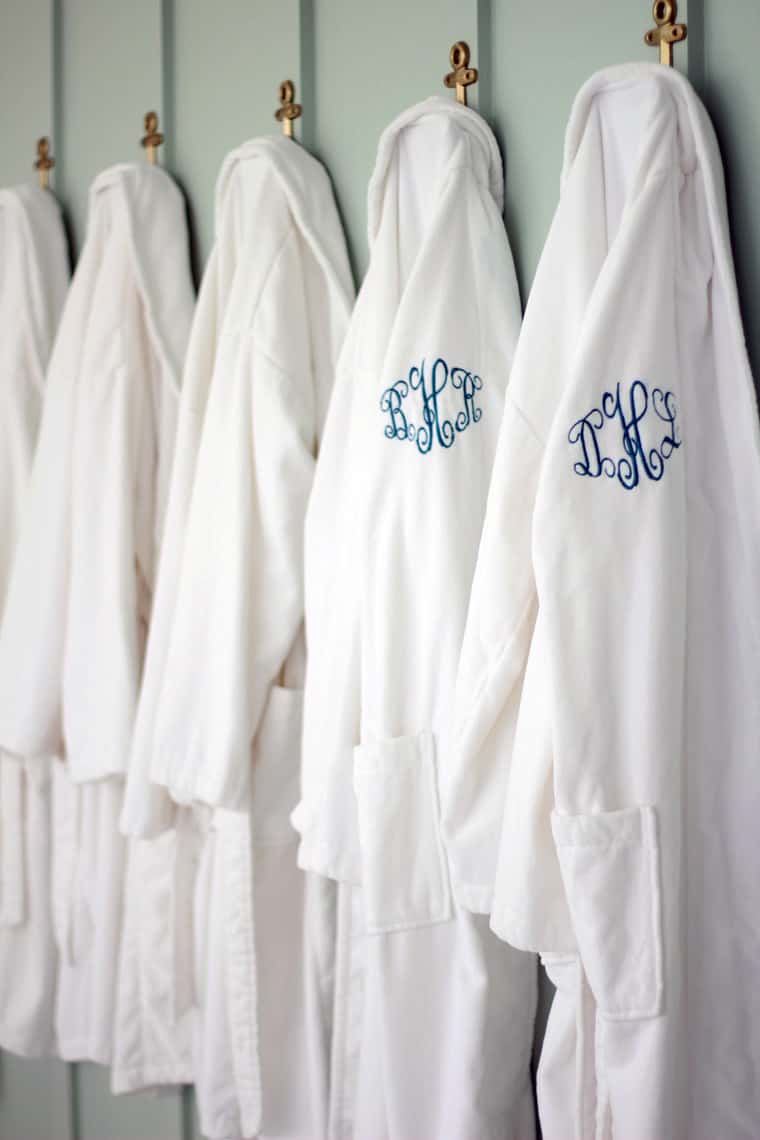 Next to the hot tub is the outdoor bar area that has a refrigerator, sink and lots of prep space for making all the fun cocktails. We're not quite finished with this spot so you can expect some decor with a tiki hut vibe and a flat screen TV on the wall so the guys can watch their sports from the comfort of the hot tub. There is also a bathroom and shower to the right of the bar.
This is the view of the house from the dock.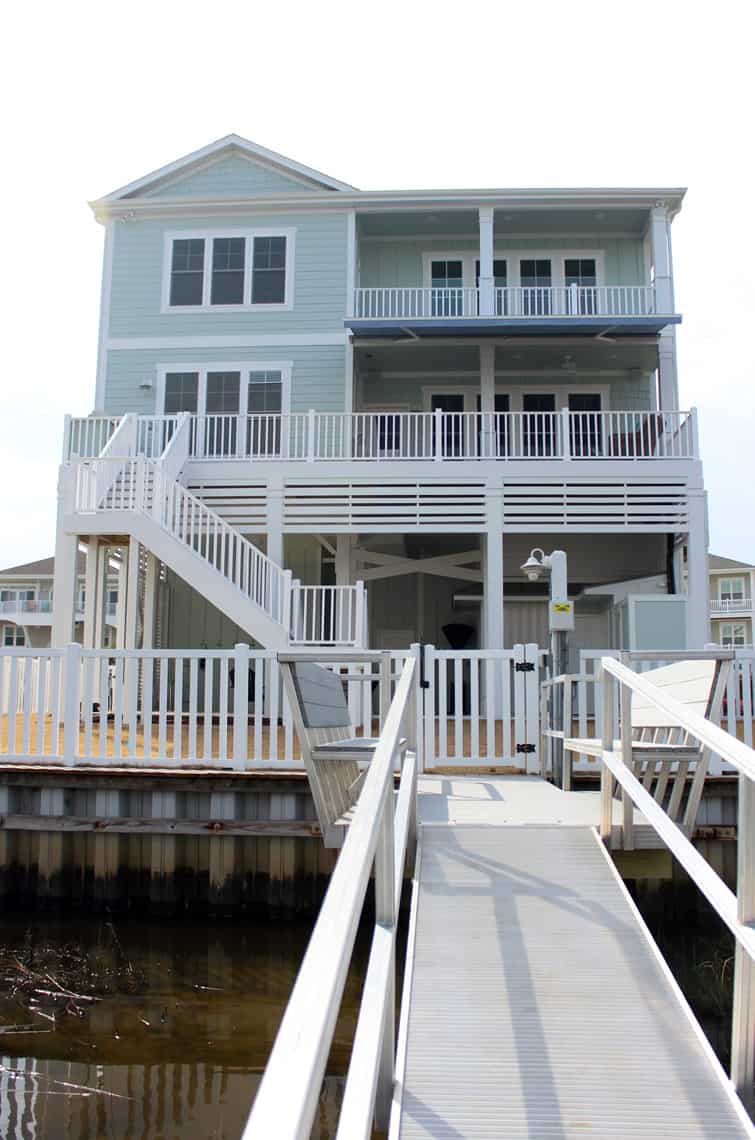 And this is one of the views from back decks.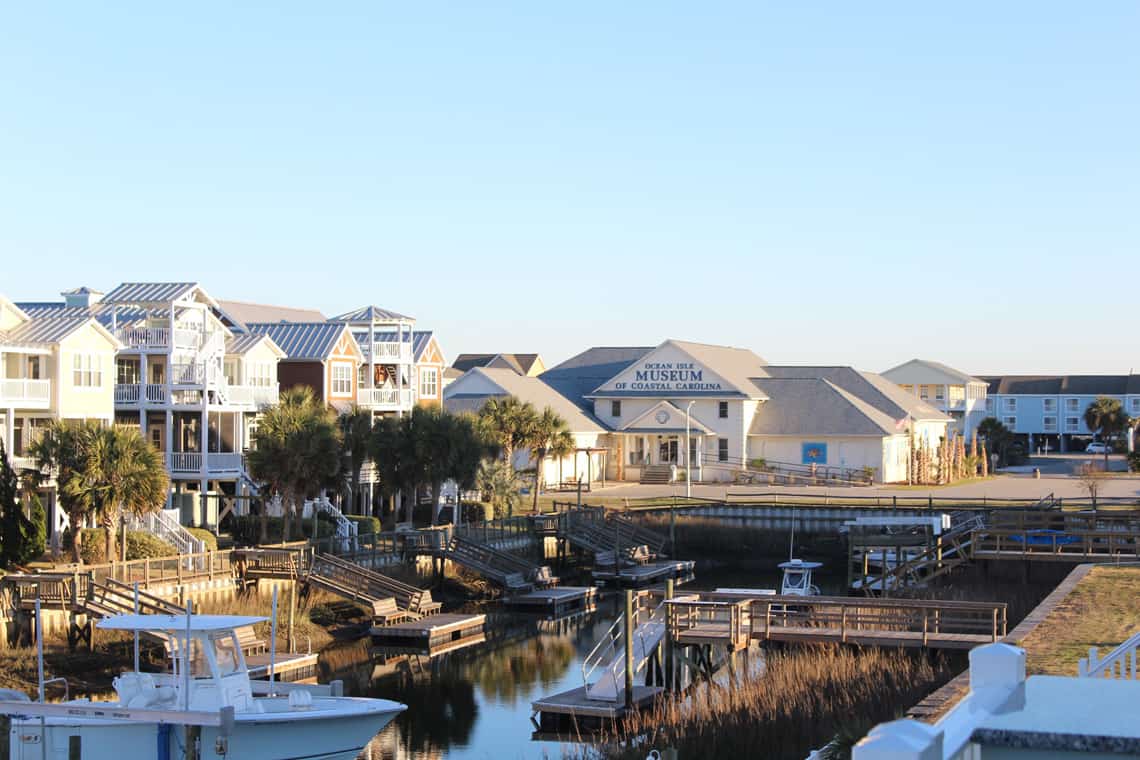 Every beach house needs a beach cruiser. We broke my mom's new bike in over the weekend and I can't tell you how comfortable the seat is on this bike. I guess I'm used to riding my old street bike but this bike is legit!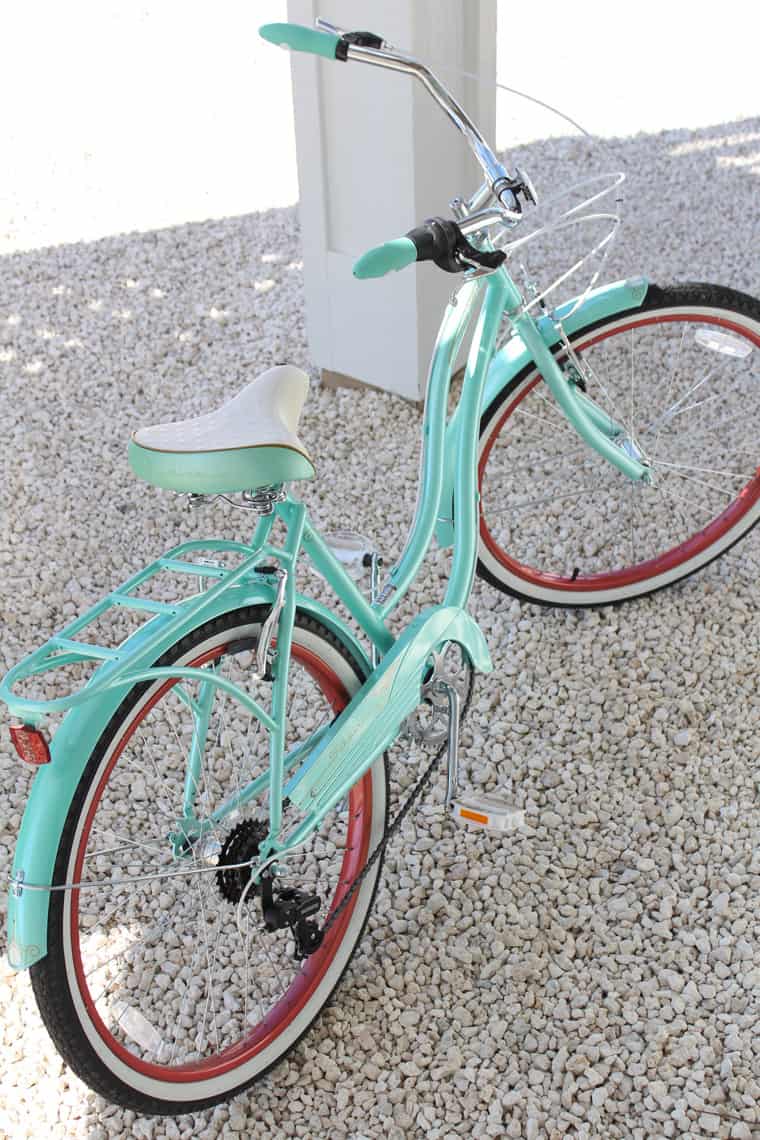 Say hi to mom and dad! They are the best parents and grandparents a girl could ask for! I promise not just saying that because they own this fabulous house that I plan on using A LOT. :)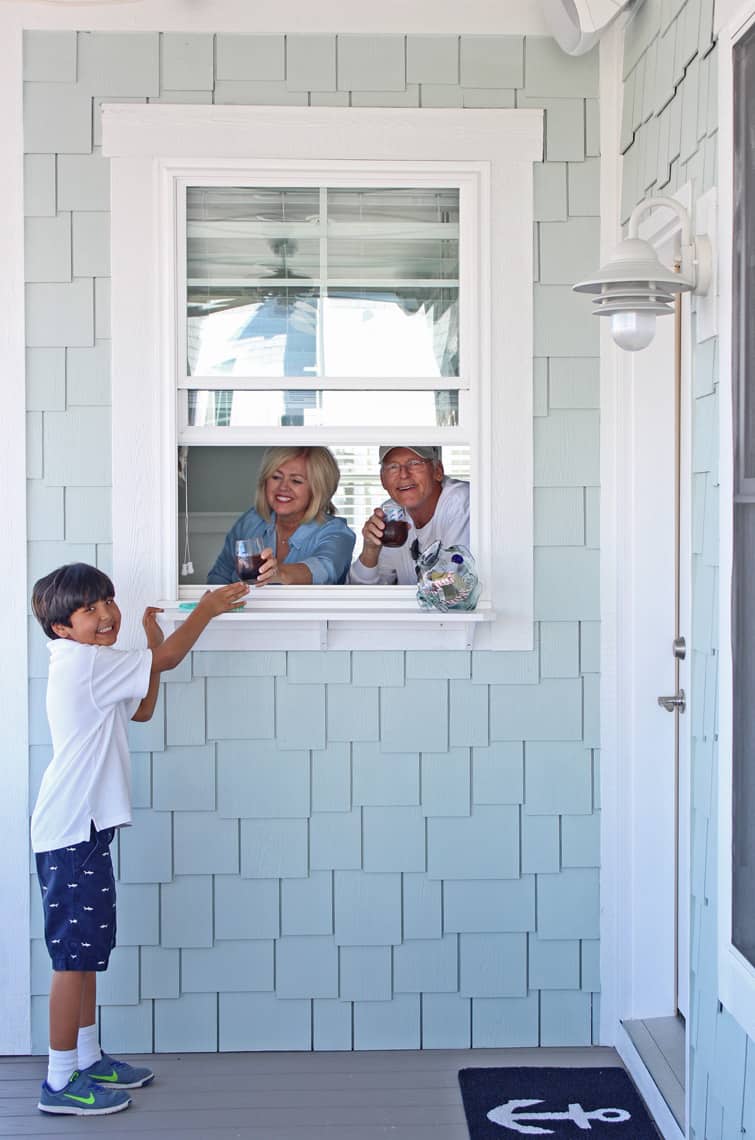 Soooo…I'm dying to know, what do you think? Do you like this style of coastal decor or do you prefer pastels or a more nautical look? I love exploring all styles so let's here it!
My personal style is rooted in coastal decor and highly influenced by my mom's obvious gift and I'm grateful she passed that along to me. I usually take a more modern approach but I don't think there is a room in our home that has not been influenced by the sea in some way.
Thank you guys so much for taking the tour with us and I hope you enjoyed it!
Cheers!

{A HUGE thank you to Christy Linens for sponsoring this post and coming to my rescue with an amazing house warming gift for my deserving folks. And thank YOU for supporting the brands that make Simple Stylings possible!}