HOM: Colorful Home of Designer Gemma van der Swaagh
HOM: Colorful Home of Designer Gemma van der Swaagh
Welcome to the first Home of the Month feature of 2018 you guys! I can't wait to kick off the year with the modern and colorful home of the uber talented designer, Gemma van der Swaagh. Like many of our other features, I found Gemma on Instagram as a recommendation from a friend and the minute I clicked over to her feed I was hooked!
She blows me away with her fun wallpapers and unique lighting but most of all I love how uncluttered her home is. I believe that you have to be very intentional about the details in design to achieve an uncluttered space that still has strong style and Gemma does this flawlessly!
I know you will love her and her style as much as I do, now let's hear from Gemma…
"I live just outside Boston in a historic New England town with my husband and 3 sons. When we moved into our house it was a blank slate so I've been working on making it a home ever since. My personal design style is somewhat eclectic, but I like to keep lines and furniture simple, nothing ornate, which gives me a lot of room to decorate with other aspects that I love. My favorite items in the house are our art and lighting, I can't resist a cool light fixture. I also love bold wallpaper and had fun putting it in some unexpected places. I move our furniture and art around all the time so that things feel fresh – nothing ever stays in one place for long!"
1. Living Room, Dining Room, Kitchen
You guys know that I love a neutral back drop with pops of color and Gemma's art and accessories definitely pop against the light colored walls and wood furniture.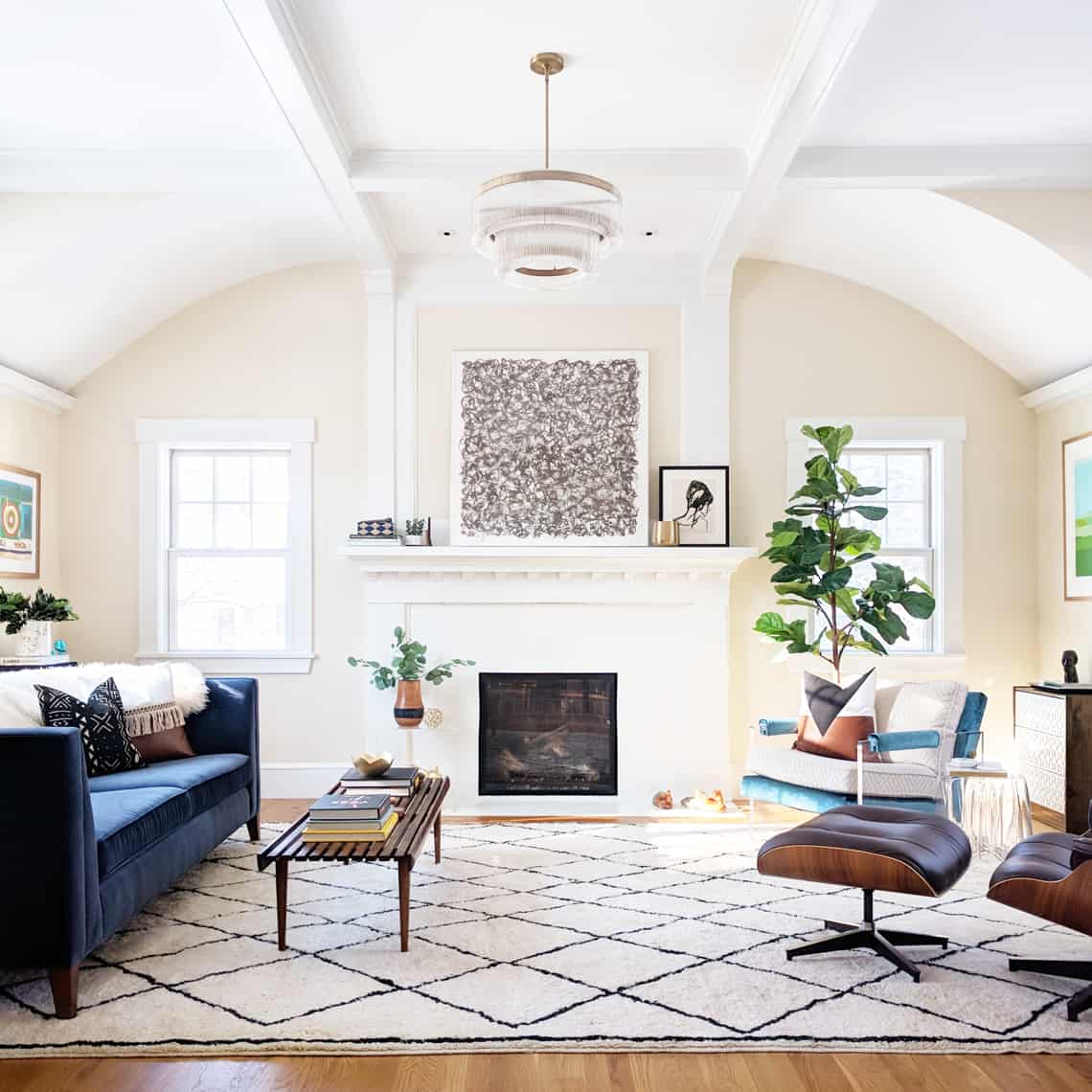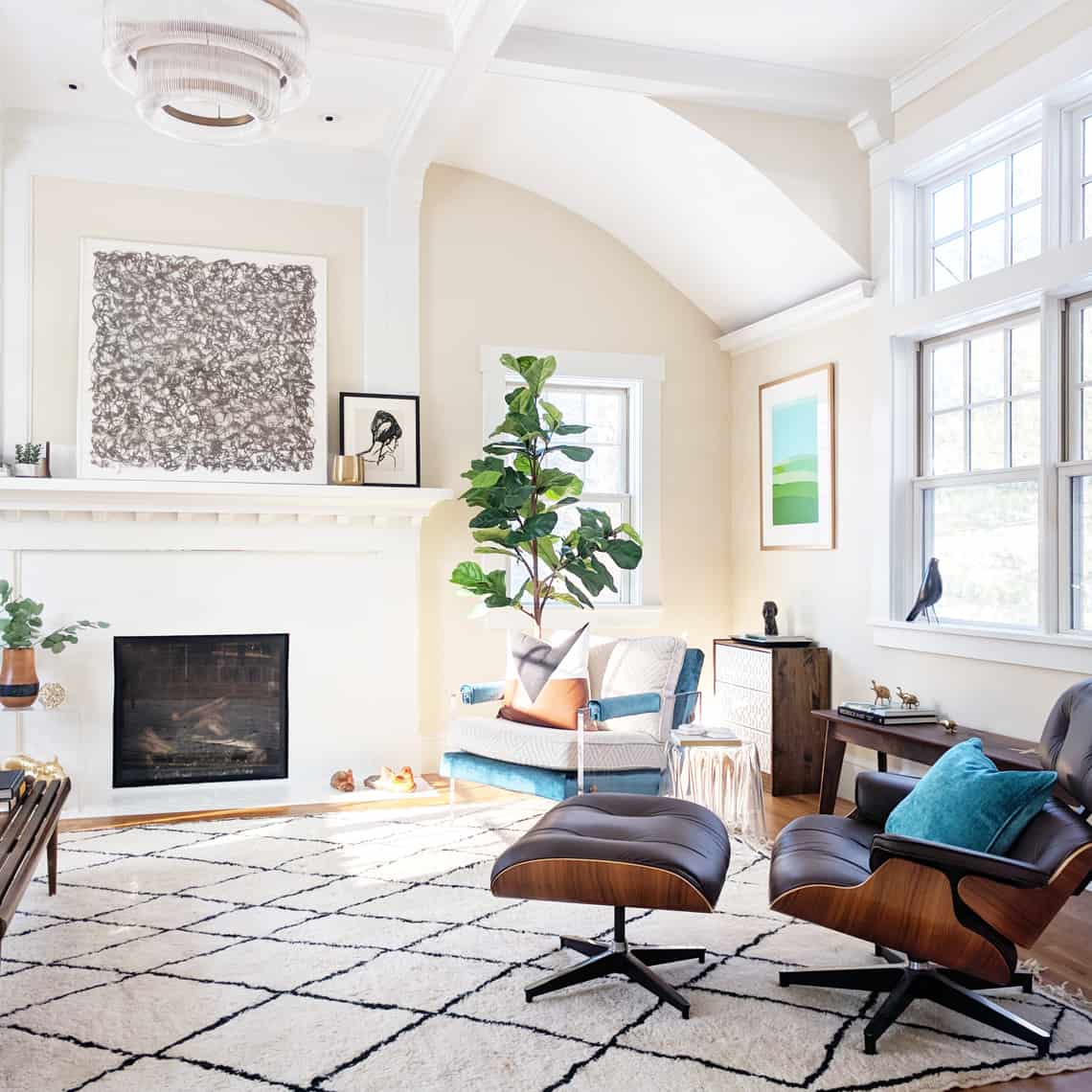 I absolutely love the acrylic furniture which always helps a space feel more open and less cluttered.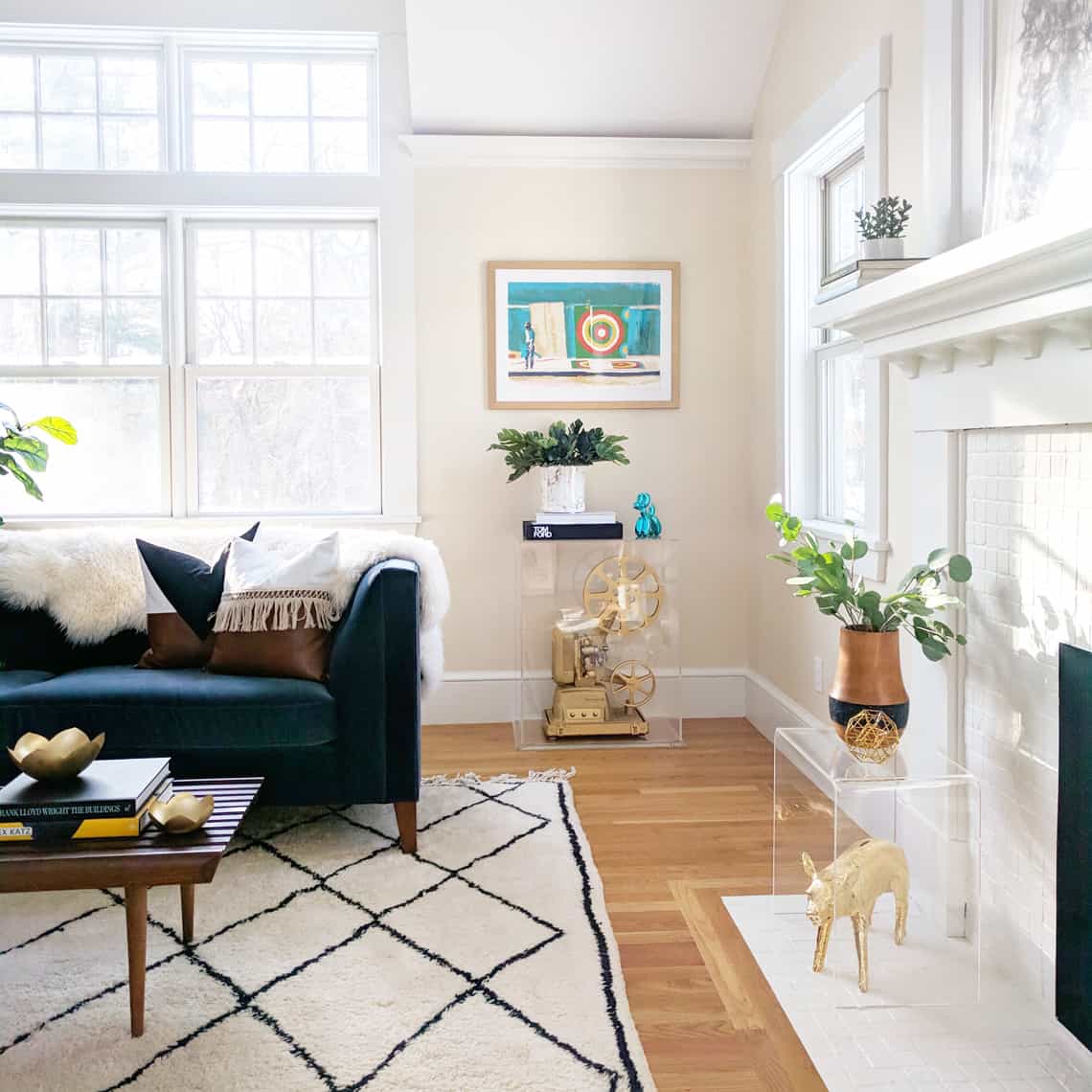 How cozy is this dining nook with the sofa and sheepskin, but the light fixture and art piece also gives the space a modern feel.
How adorable is Gemma's son hanging out in the distance and did you notice the three little wooden chairs under the console table?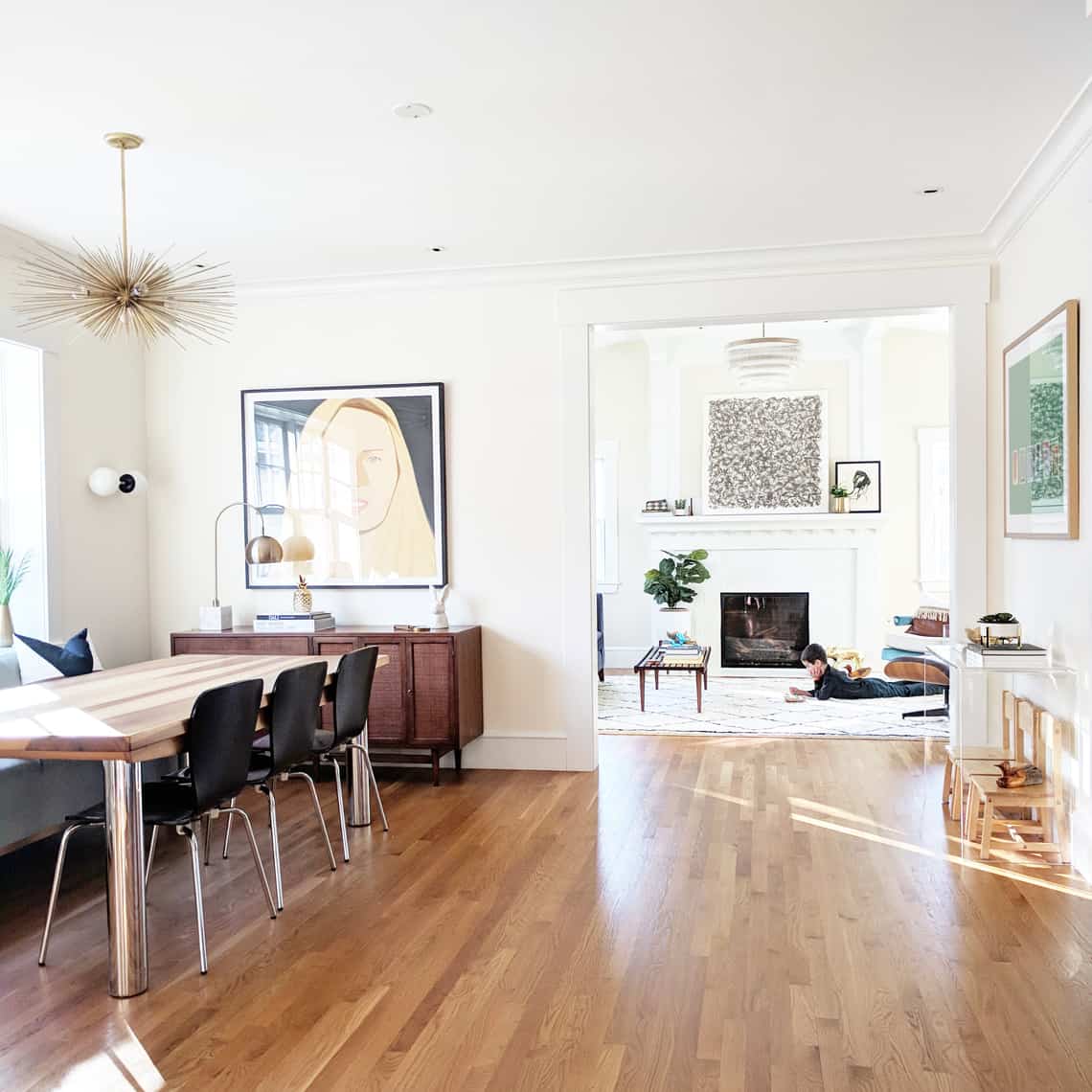 You can really see the open floor plan here and the eat-in island is awesome!
2. Master Bedroom + Bathroom
Talk about a bold statement in the bedroom! This palm wallpaper gives me all the heart-eye emojis!
Then we move into the sitting area with the palest of pink chair cushions and a vibrant green sofa that coordinates perfectly with the accent wall. Gemma kills it in every room with a statement light fixture too!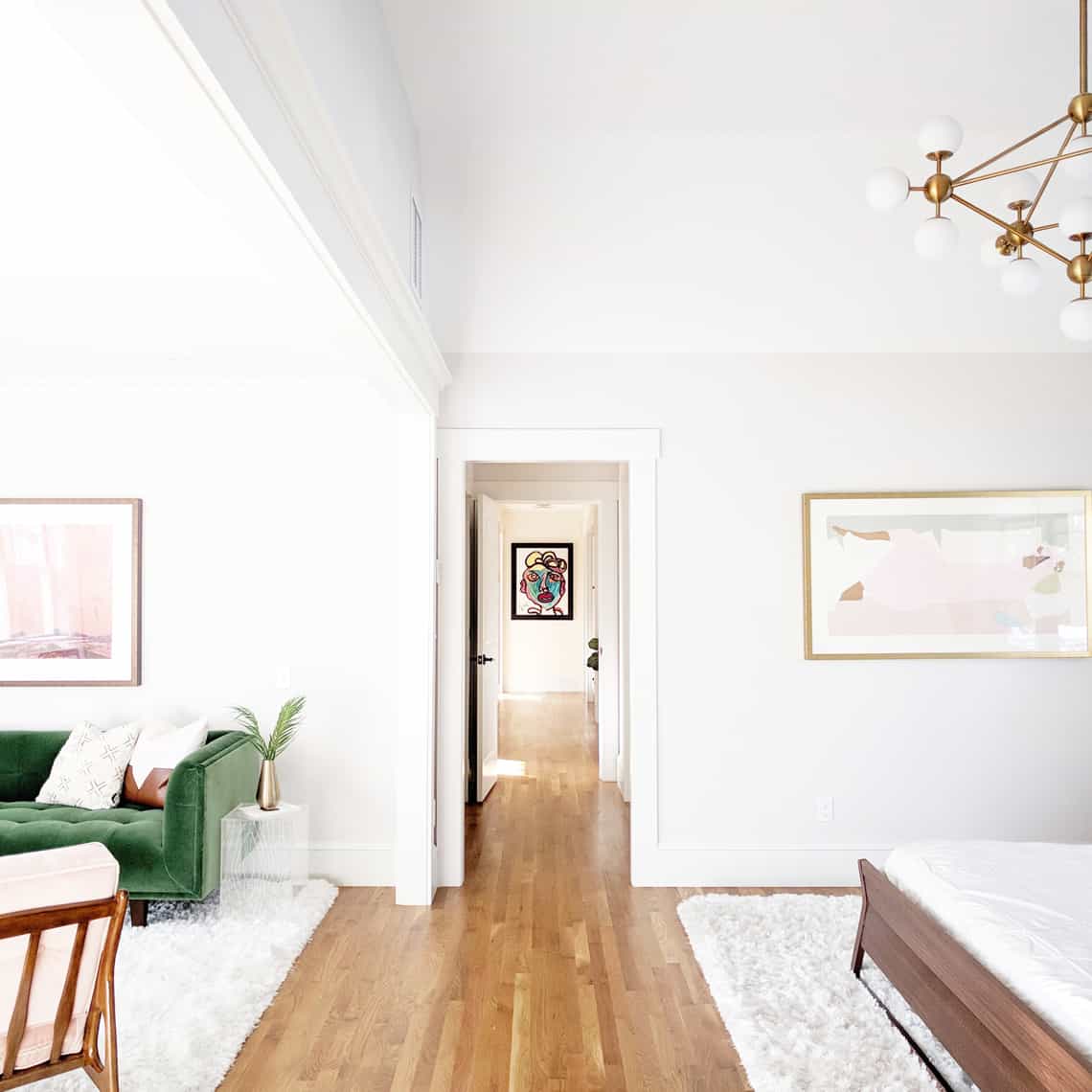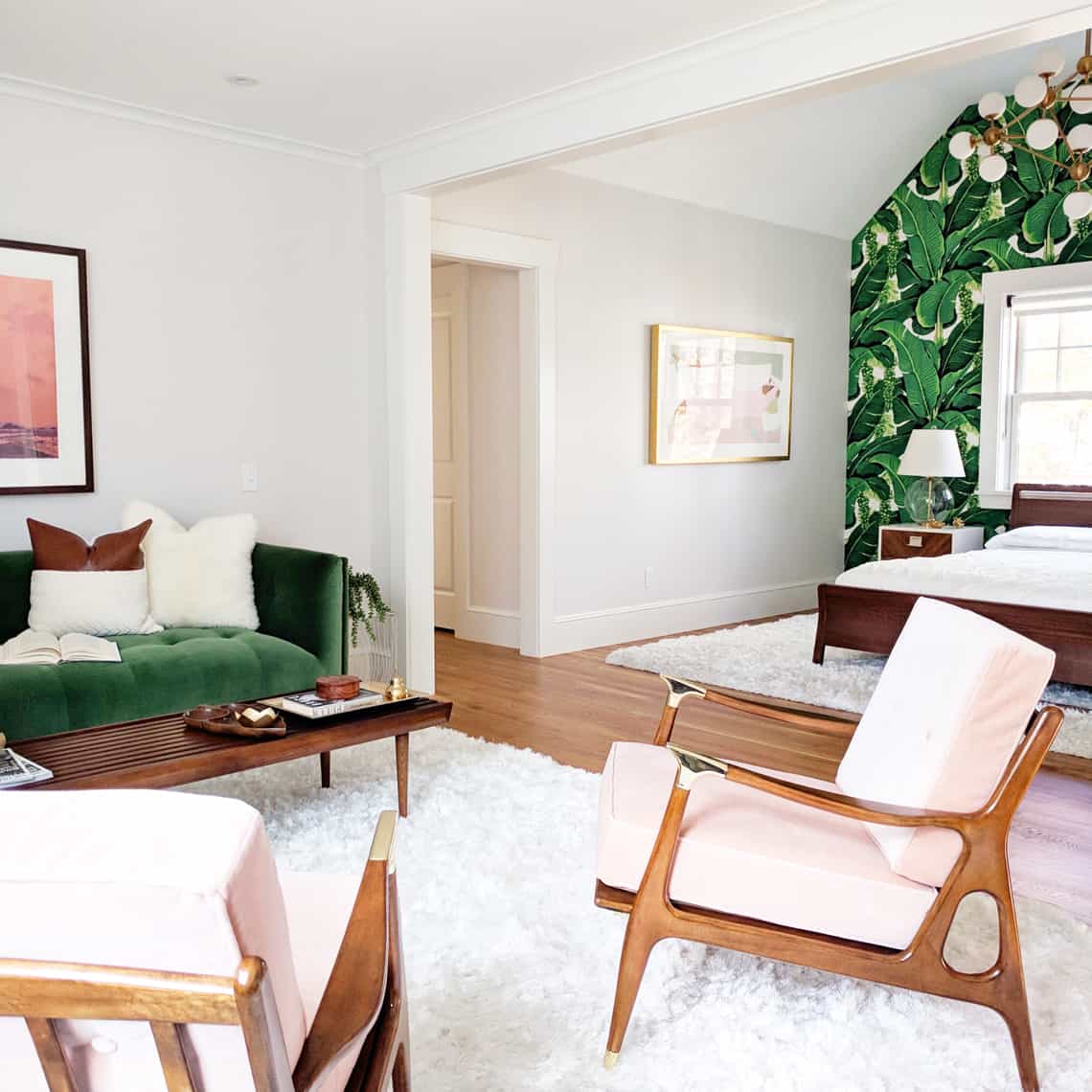 I love the plush rugs and I bet they feel SO good under foot. They also add a ton of texture to the space.
I'm a huge fan of mirror shots too :)
I really have no words for the bathroom other than I'm dying to take a relaxing dip in that tub!
3. Guest Room
I may just have to crash her house sometime so I can be a guest in this room. Such an inviting space! And Gemma, you really know how to select your artwork!
4. Family Room + Entryway
More great lighting and a cozy vibe throughout this kid friendly living space. How fun are these shelves colorfully styled with books and quirky knick knacks!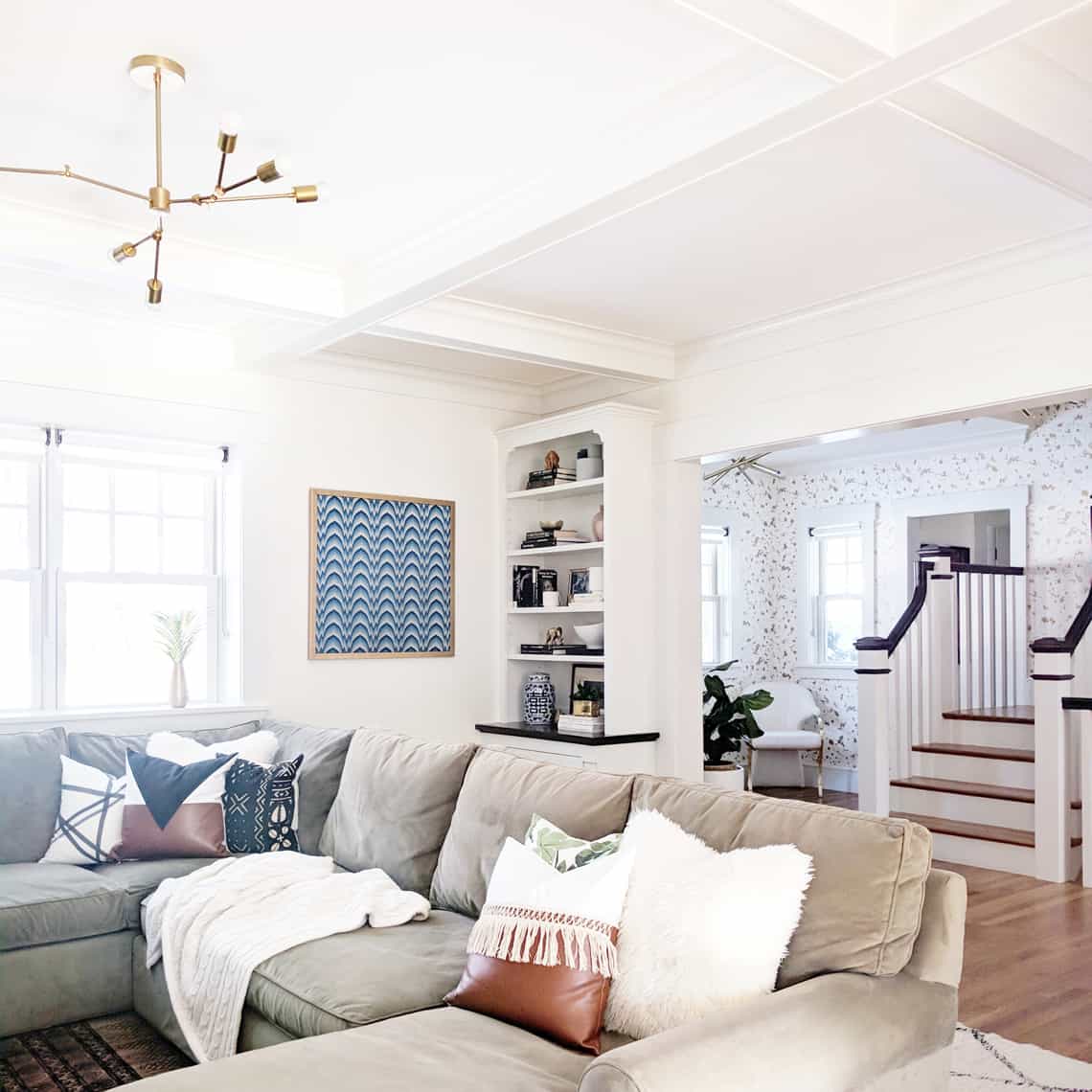 I really love this wallpaper in Gemma's entryway and of course more fabulous lighting.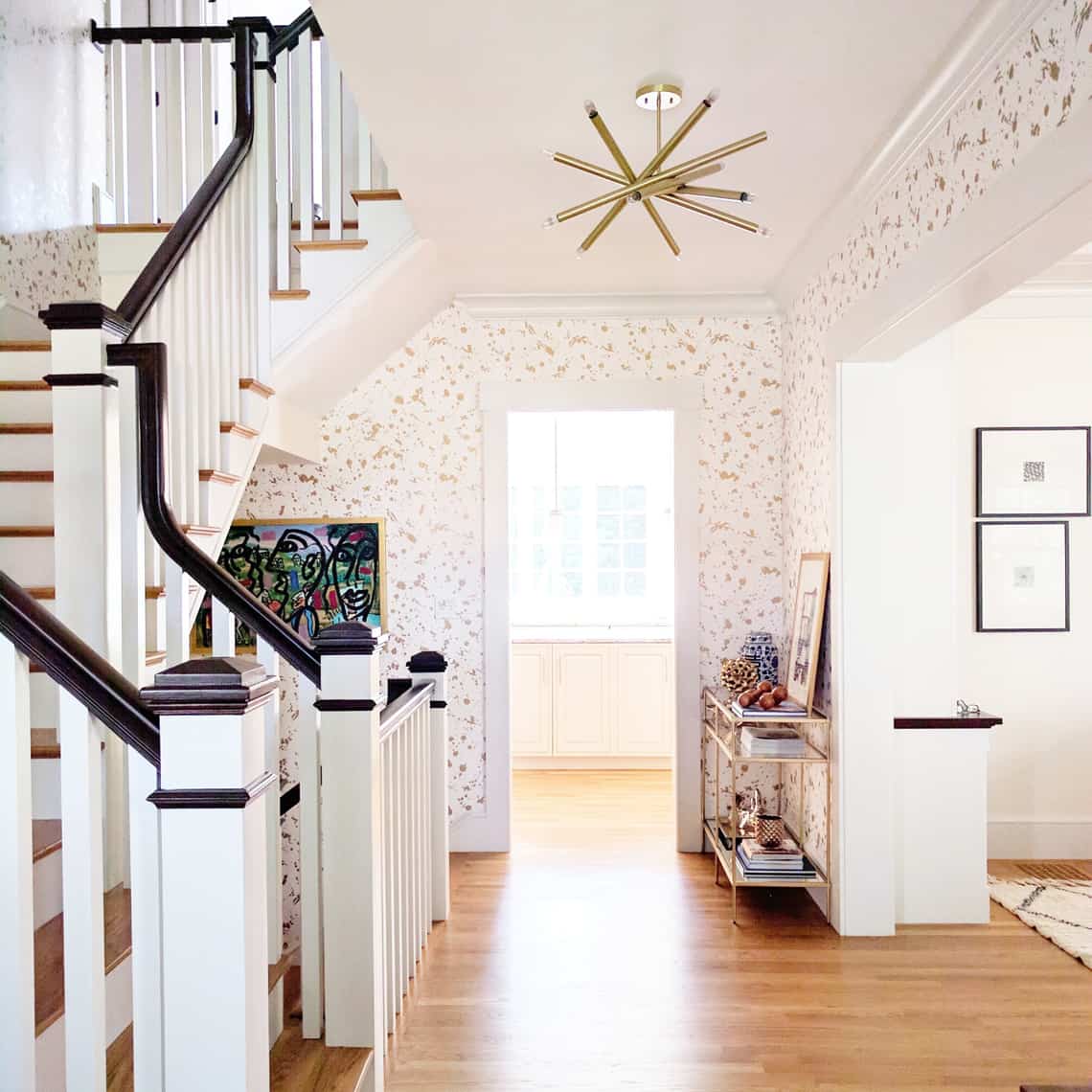 And we go out with a (wallpaper) bang in this awesome space!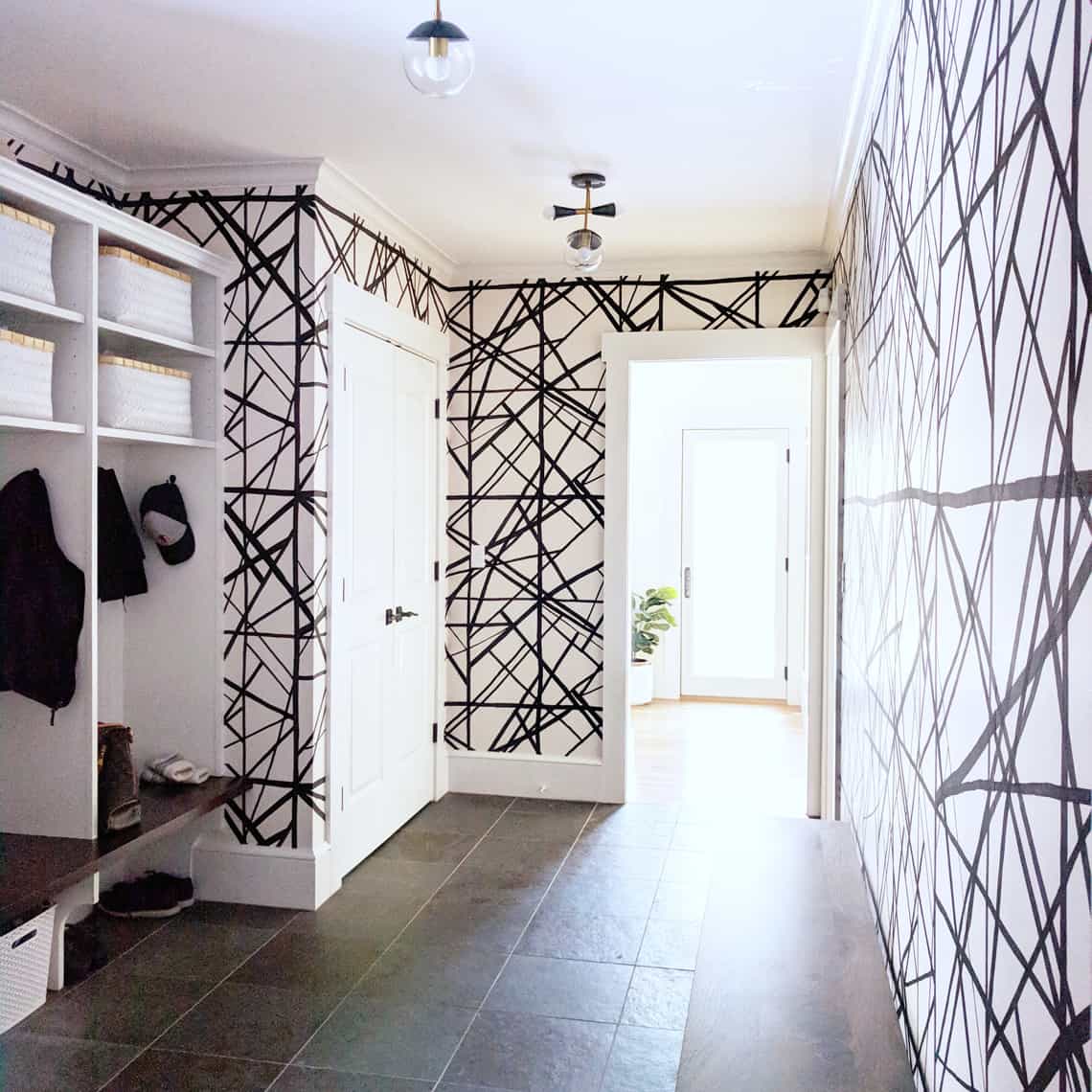 So what was your favorite part? Do her spaces not blow you away? I really can't believe how many amazing designers are out there and Gemma is definitely at the top of my favorites list. Her style is so unique and I'm definitely gleaning some inspo from these pictures to implement in our home.
Thanks for reading and make sure to check out Gemma's portfolio and follow her design journey over on Instagram.
Cheers!