No Sew Bench Cushions for under $65
Good morning guys! How are you?
I feel like I'm posting about my dining room in the wrong order but I haven't finished the banquette post yet so this will have to do. You can see the benches here but everything else is still going to change. I cannot wait for it to all come together!
Today I want to share how I made the bench cushions with no sewing involved and on a very tiny budget. Since I don't sew I hope to one day either learn :) or have some cushions made but that just wasn't in the budget yet. But I think this is perfect temporary solution!
TOOLS:
Plywood cut to size, $7.15
Foam (I used a memory foam mattress topper that I had), FREE
Batting, $10.49
Fabric (I used curtain panels from Target), $42.48 for two panels with 15% off using the cartwheel
Staples, $3.45
Stable gun
Scissors
The hard part about this project is that foam is pretty expensive and I didn't want to invest too much money into this project. I searched my house as I always do and I had an ah ha moment when I realized I had a foam mattress topper laying around that we rarely use. I used the topper for my foam instead of purchasing new foam but you can find the foam online or at your local fabric and craft stores.
Home Depot also has a multipurpose foam product that I considered using although I heard it isn't as dense as upholstery foam. You could double it up and it would probably be fine for a temporary solution. I wanted to double up my foam too but I didn't have quite enough :(
First I measured the size of my benches and bought the plywood at Home Depot and had them cut it to size. I love that they cut it for free and my little man was excited to watch the saw in action.
Next I cut the batting and fabric to size leaving plenty of room to fold over the plywood and ironed out the wrinkles. I laid the plywood down, put the foam on top, then the batting then the fabric and flipped it over so the fabric was on the floor and the plywood was on top.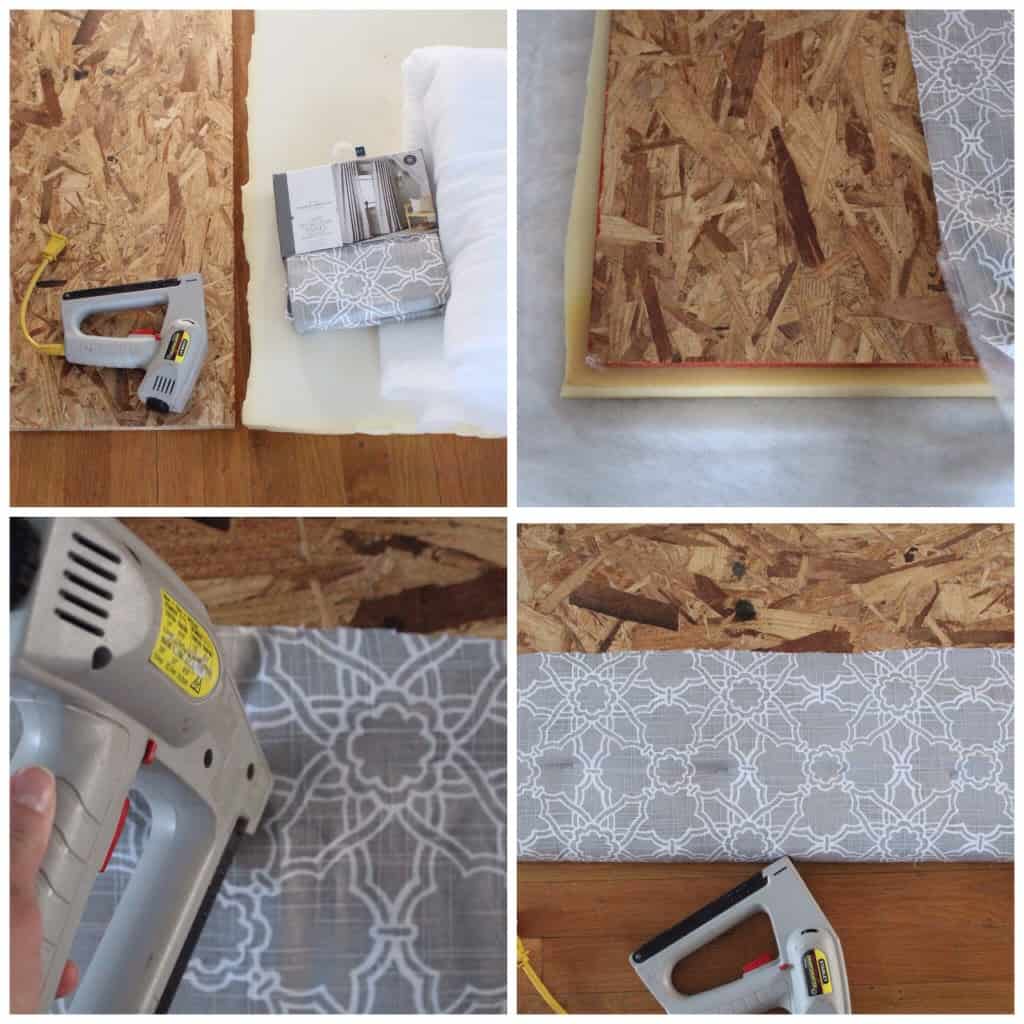 I folded the batting and fabric over one side of the board and stapled it all the way down the length of the board. Then I stapled the other side pulling the fabric tight as I when. Once the sides were stapled I folded the corners and ends up almost like a present. You just have to pull and move the fabric until you get the corners as smooth as possible but don't worry it's not hard. Then I went back around and added more staples just to make sure the fabric was secured.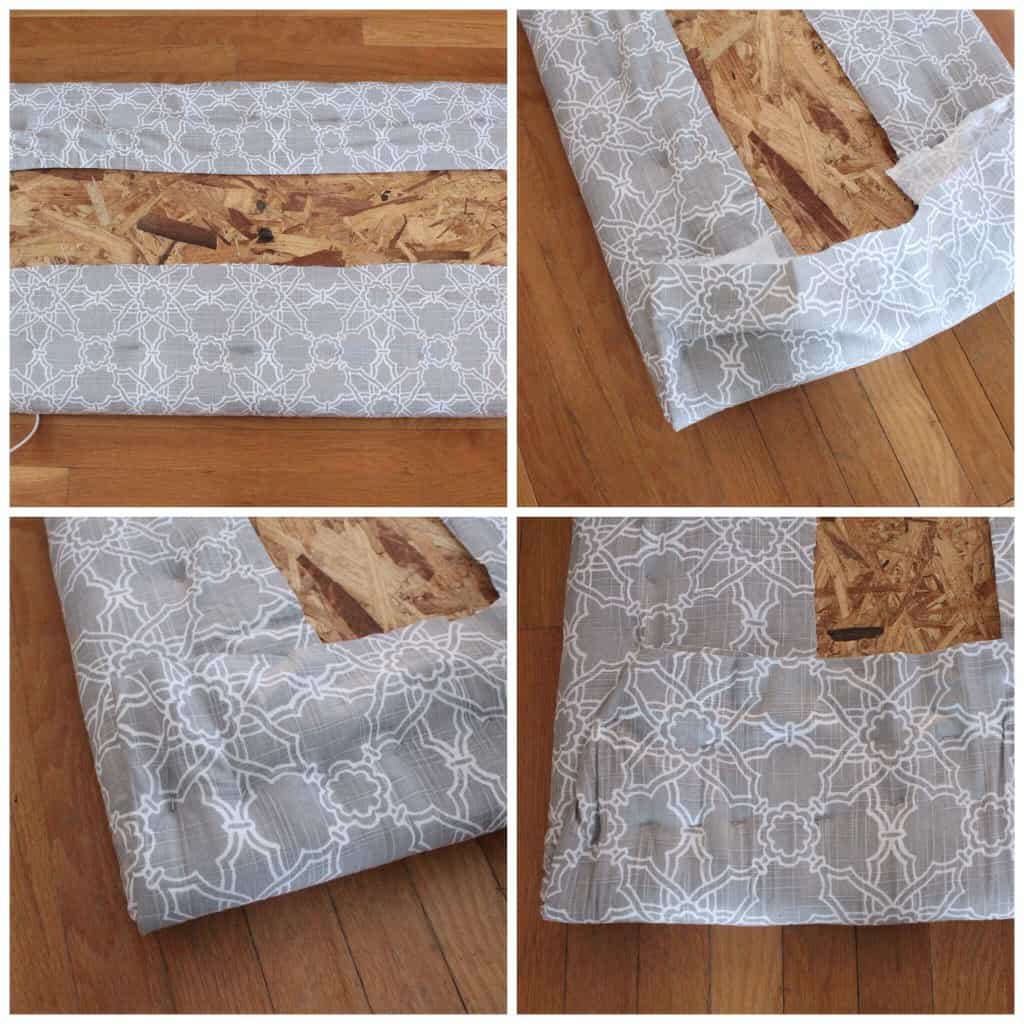 My furry photo bomber :)
And here is the finished product. They definitely aren't as thick as I would like but I think they'll do the job just fine for now and the best part is that I didn't put a huge dent in my wallet!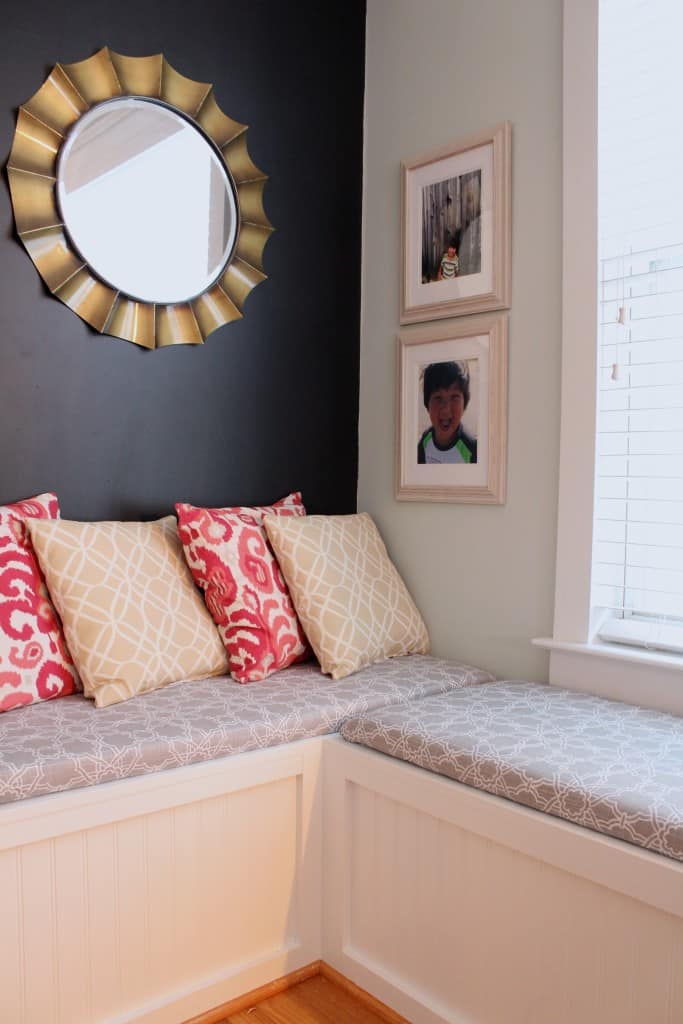 Don't let the mix of pillows and colors and curtains confuse you – this is all changing. Focus on the bench cushions :) What do you think? Hopefully there will be a lot more progress next week and the space will start coming together.
I hope you have a great rest of your week friends!

LINKING UP: Remodelaholic //