DIY Color Block Painted Storage Baskets
Hey there! I hope you are having a great Wednesday!
This post is going to be short and sweet but I wanted to share a quick piece of DIY inspiration. Nothing revolutionary, just an easy way to update items in your home with little to no money involved.
One of my first and biggest projects of the year is underway and I can't wait to finish it…my office/studio!!! If you missed it you can find the inspiration post and design board here.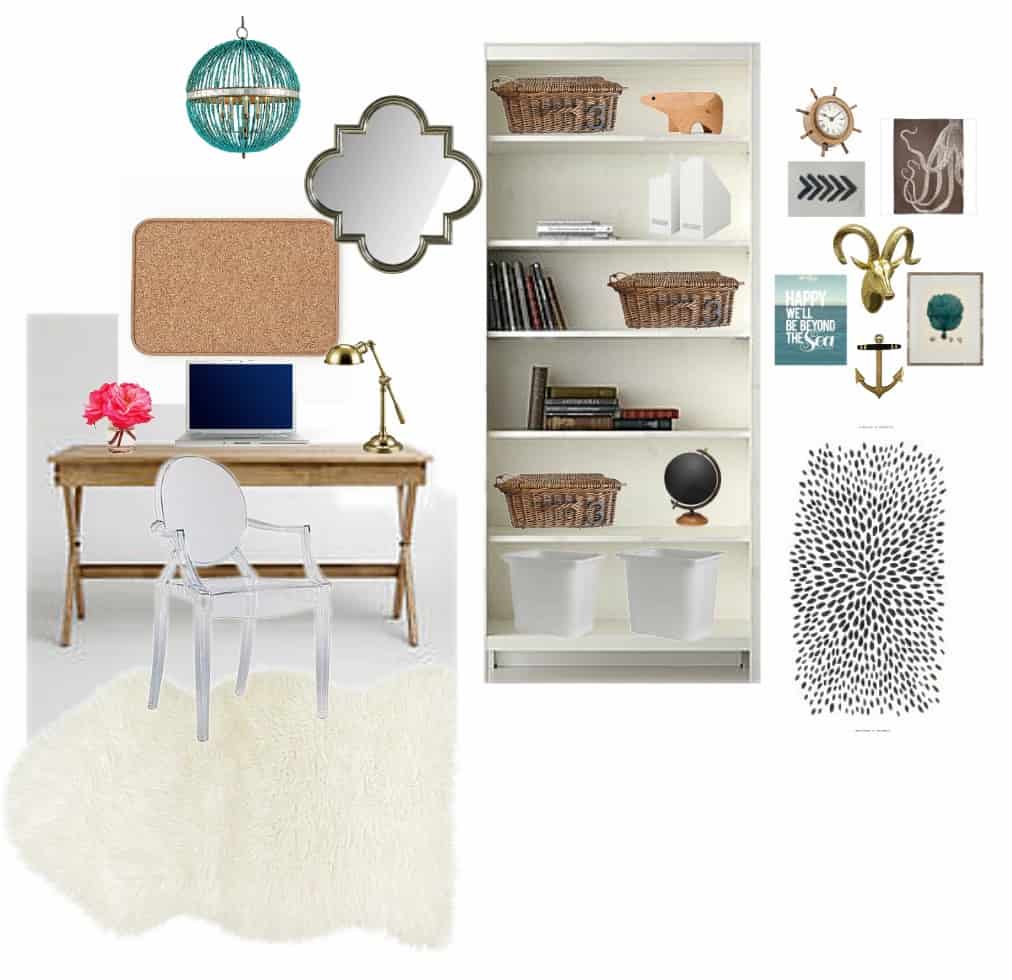 As usual I am on a very tight budget and I want to use as many things as I have on hand already for this reno. I have two bookshelves in the office that will be staying but will definitely receive a coat of paint and a few other tweaks. Here is the before picture…please no judging!!! :)
I have 8 woven baskets that I plan to use on the bookshelves to house various office and crafting supplies but I wanted to give them a fresh look. And since I am going light and bright in here the dark rattan was just too heavy for my taste.
I know, I can't believe my space looks like this :( A little embarrassing…just pretend you never saw it, deal?
I have seen lots of painted baskets lately particularly at HomeGoods and Target's Treshold line and I knew I could achieve something similar from my baskets.
Here are a few example photos of baskets I have seen at HomeGoods:
And at Target:
I bought my baskets several years ago for a very good price from Walmart (I want to say about $5-$7 per basket) and they have held up pretty well. They have a linen liner that is held into place with velcro so they are super easy to clean if needed.
All I did was tape off the area I wanted to paint with painters tape and covered the top with a small trash bag. I gave them two coats of white spray paint and the old baskets have been transformed into a fresh new look.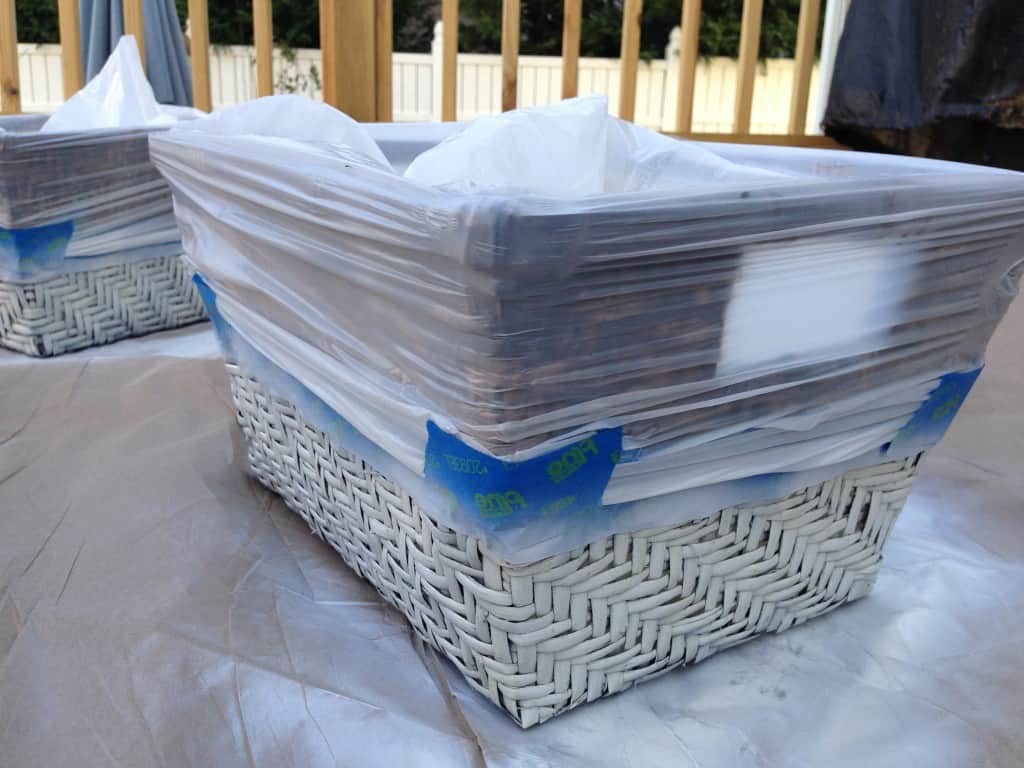 When I say I use what I have on hand I am not kidding! I had some white, heat resistant spray paint that is used on stuff like grills (I used it on my chiminea…post to come) and some white spray primer.
I used the heat resistant spray first and it ran out on the last basket so I used the white primer. Both worked fine and looked perfectly white :) And the baskets took the paint really well.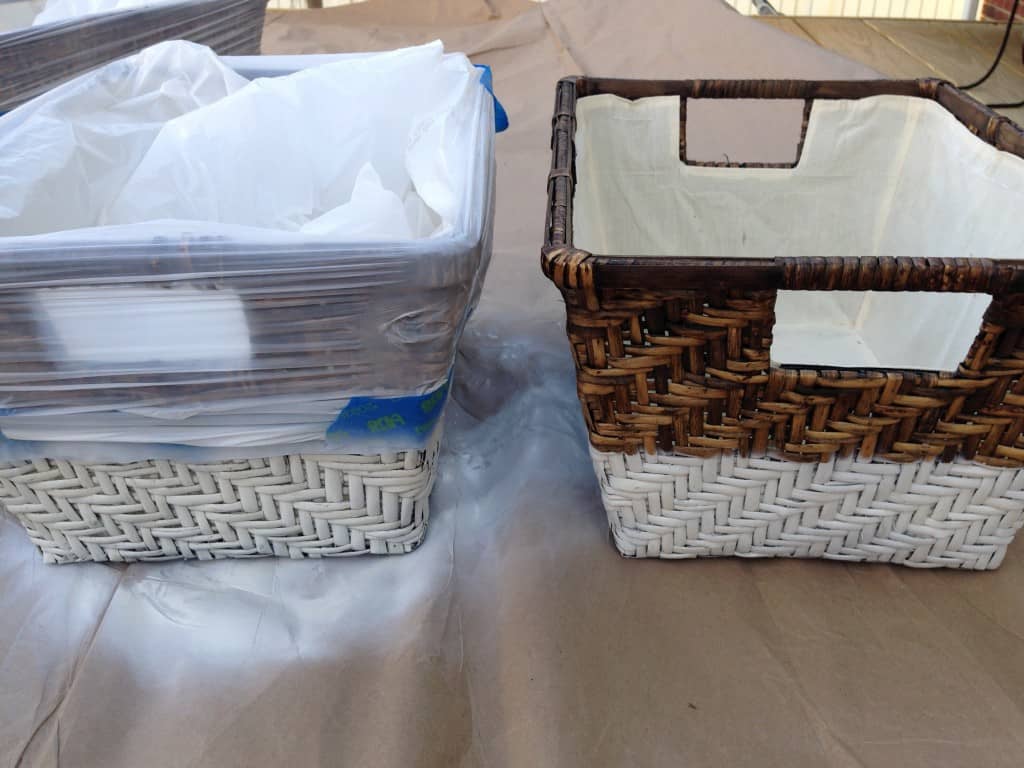 I am constantly looking around my home to see if I could easily update tired items with a can of paint or other simple tweaks. What can you spray paint for a new look, an old frame, a mirror? An old brass lamp or accessory in a new gold or clean white?
Stick around to see the baskets in all of their organizational glory in the final office reveal in a couple weeks!
Have a great week!