DIY Pallet and Sawhorse Desk: The Reveal
Happy Tuesday everyone! Are you guys getting hit by snow yet? Looks like the South is going to shut down again :) Twice in one season is pretty rare for us and frankly I feel like hibernating when it's this cold outside. Bring on the Spring!
This post has been a long time coming and I am SO excited to finally share it with you. I think I actually started my desk project at the end of the summer or very early fall. It wouldn't have taken that long if I had worked on it from start to finish but I took a lot of time looking and deciding on style, materials and process since this was the first time I have ever built a piece of furniture…ever!
You are going to have to forgive me though because I am doing this a little backwards. I am going to post the reveal of my desk first and then I will share more details about it in a few days. There is just a lot going on here with snow, Valentines day and my office project that I want to get this in your inbox and several other office projects before that reveal.
So here goes and ignore the hideous cord situation underneath the table. I am going to deal with those soon :)
I built the desk out of pallet wood, galvanized steel sawhorses and a plexiglass top.
I painted the individual boards different colors and diluted the paint with water so that it would soak into the wood better and keep the weathered look.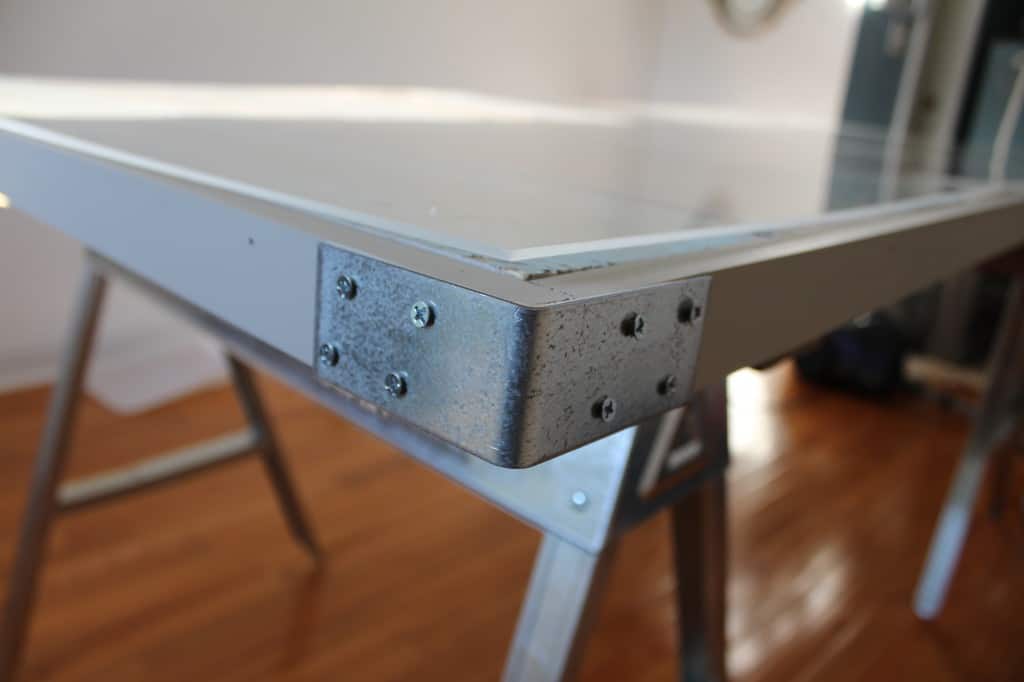 I finished the edges of the table top with 1″x2″ boards and four galvanized steel metal brackets to balance out the legs.
So what do you think? It is a bit of a different style for me but I really love the way it turned out and the size of it too.
I promise I will post all the details in the next few days and you will see it styled in my office reveal soon too! I can't wait for it all to come together!
Stay safe in the snow southern folks!
I am linking this post up with The Blissful Bee and several other lovely ladies so swing over and check out all the great projects!!!
I am linking up with Dimples and Tangles and Best of the Nest!