Good morning, it's me again! How are you guys?
If you follow me on Instagram you know I recently rescued this navy blue chair from my parents storage unit. It's so cozy I decided to give it it's own little sitting area.
I had a table next to the chair but it's old and didn't really work in the space and I needed something. I stumbled across this dorm room style Target table on clearance for $17.48!!! By the way there are so much fun fall decor at Target right now as well as a ton of sales!
Of course I wasn't really digging the pink but I knew the frame would look great painted gold. The modern style typically wouldn't be my cup of tea but I think it pairs well with the traditional chair and ornate frame.
I debated about whether or not to paint the rails of the frame before putting it together but in the end I decided it would be easier to put the table together and tape it off and paint.
I used my favorite gold paint, Rustoleum's Metallic Gold, and finished it with a clear gloss enamel. Make sure if you use the clear coat to spray quick thin coats so it doesn't drip or mess up the base paint.
I probably would have preferred that the inserts were glass or acrylic but the light wood is growing on me! I also love how I can scoot the table closer to the chair or even under the chair if necessary.
I think a big mirror ball would look fabulous sitting on the floor under the table! #gottohaveamirrorball
I just found this amazing fleece throw at HomeGoods for $14.99 and the gray artichoke candle holder is also from HomeGoods and was $12.99. The glass vase was one of my spray painted condiment bottles.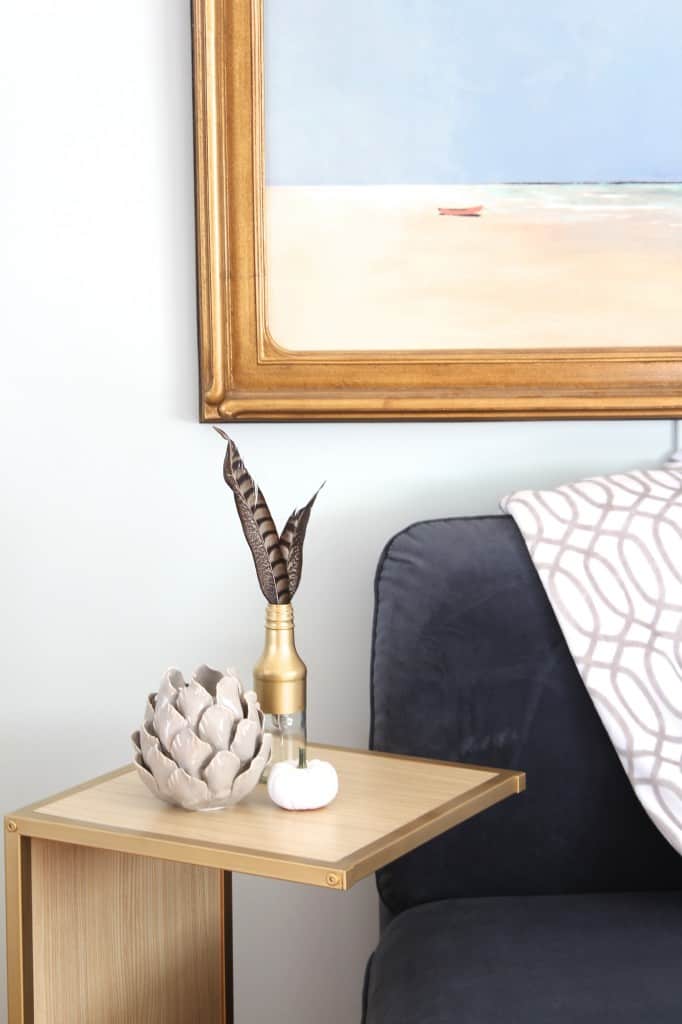 What do you think? $17 well spent?
It's almost Friday y'all!
***
Check out my gilded vases from glass condiment bottles and all my other projects here or under the Project Diaries tab!