March Madness DIY Bracket Art
Hi guys! I hope you're having an awesome weekend and enjoying tons of college bball (upsets…sorry Duke, not!) like we are!
I know this is a bit late since we are already through the first round of games but I had to share it! This is going to be short and sweet so here goes.
Thanks to Danielle from The Cheerful Home for posting this on her Instagram feed and for Jennifer from Dear Lillie for creating this free printable we were able to make a fun and STYLISH way to keep track of the NCAA tourney bracket!
You should go check out these fabulous blogs for some great DIY projects and inspiration and download the printable from Dear Lille if you want to try it yourself!
First I went to Dear Lillie and downloaded the printable and uploaded it to Staples website and had it printed as a 24″ x 36″ engineering print. Staples site is ver easy to use and the print was ready for me to pick up in a few hours. You can see detailed instructions on Jennifer's post about ordering the print.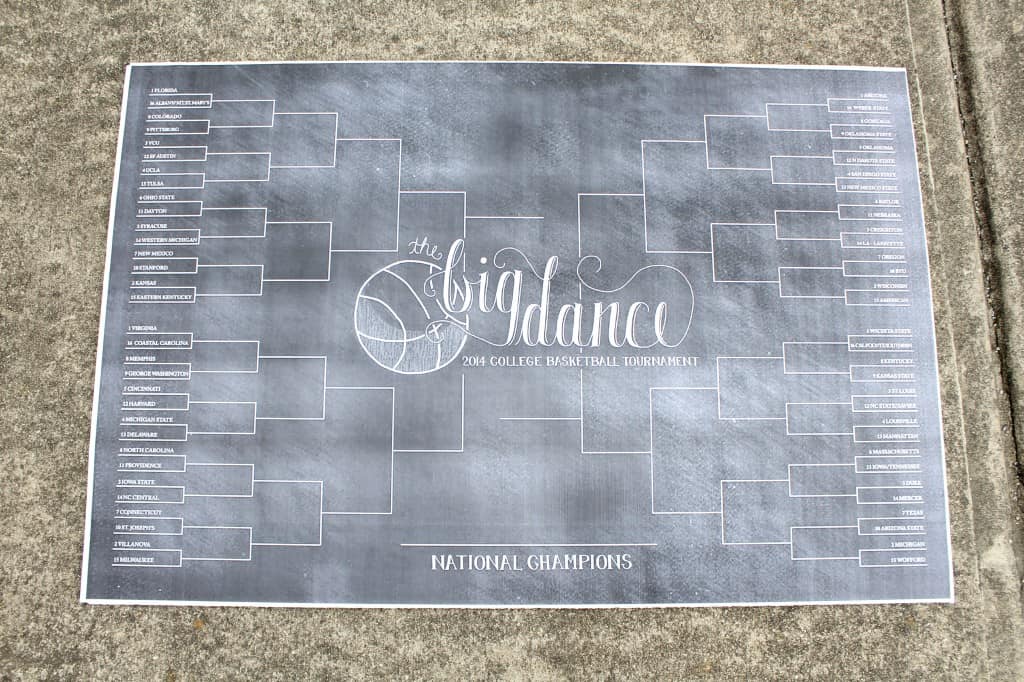 When I picked up the print I grabbed this cardboard tri-fold display board and cut the two sides off leaving the middle section which was exactly 24″ x 36″. I used an Xacto knife to cut the sides right along the folds so they came apart easily.
I used 3M picture hangers and attached them to the back of the cardboard so I could easily hang them on the wall without making a mess.
I used spray adhesive and glue dots to attached the print to the cardboard. Glue dots are my new best friend and I'm using them to hang a lot of little man's artwork on the walls in the playroom.
Once the printable was attached to the cardboard I lined the edges with some aqua washi tape that I had on hand to give it a finished look. I had planned on building a frame for it like Jennifer did but obviously ran out of time…there's always next year!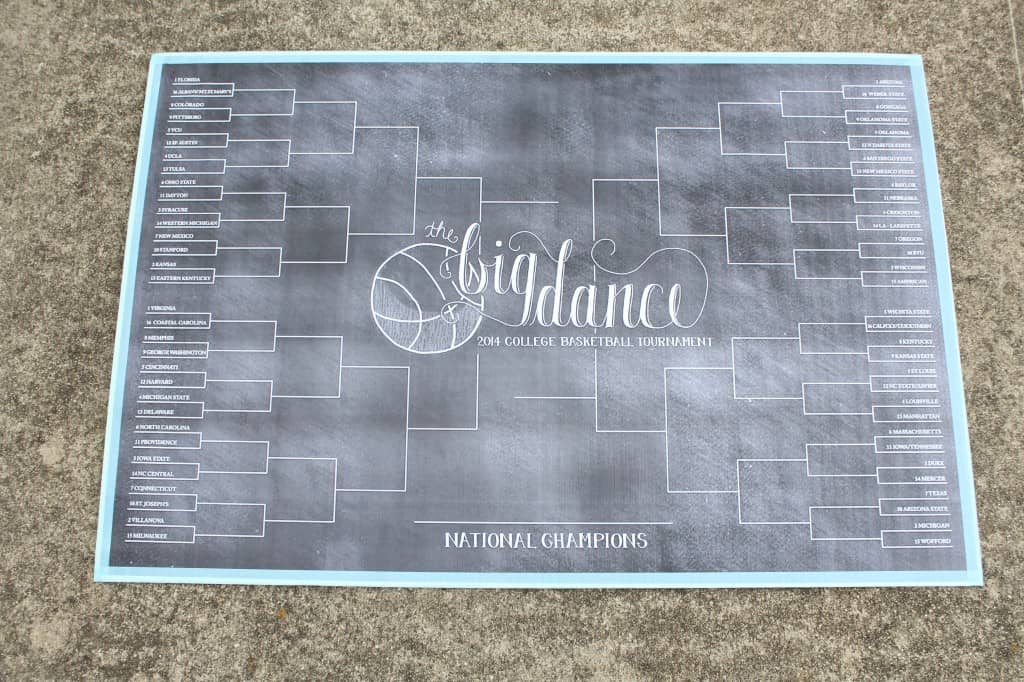 Then I pressed it on the wall with the 3M strips and started writing the winning teams with a gold paint marker. Can you tell which team we cheer for??
Pretty cool huh?! Now if only I had a cute, rolling bar cart to sit under the new "artwork" to use at the imaginary party we are going to have then we would be all good!
Oh yeah, the print was only $3.00 and the board was $6.49 so a pretty cool bang for very little buck!
I hope you guys have a great weekend and I'll see you in a couple days! I'll be resting tomorrow :)