Kitchen & Dining Renovation Updates
I know I say this EVERY.SINGLE.WEEK. y'all but TGIF!!!!! This week has been extra exhausting because I started out on Monday not getting enough sleep and it has just gone downhill from there. Don't you hate when you start off a fresh week that way? I'm seriously considering heading back to bed in a minute for a morning nap….but my 'to do' list is probably not going to allow it.
Anywho, I can't wait to share with you the updates on the kitchen and dining room renovation! The pictures aren't going to look like much because I've really just finished the decision making and prepping stages but I always like to see progress.
Here is the updated design board for the kitchen. If the budget pans out I've decided to add a couple things to the list: plank the back wall where the door is and replace the dingy door with a new Dutch door…fingers crossed!!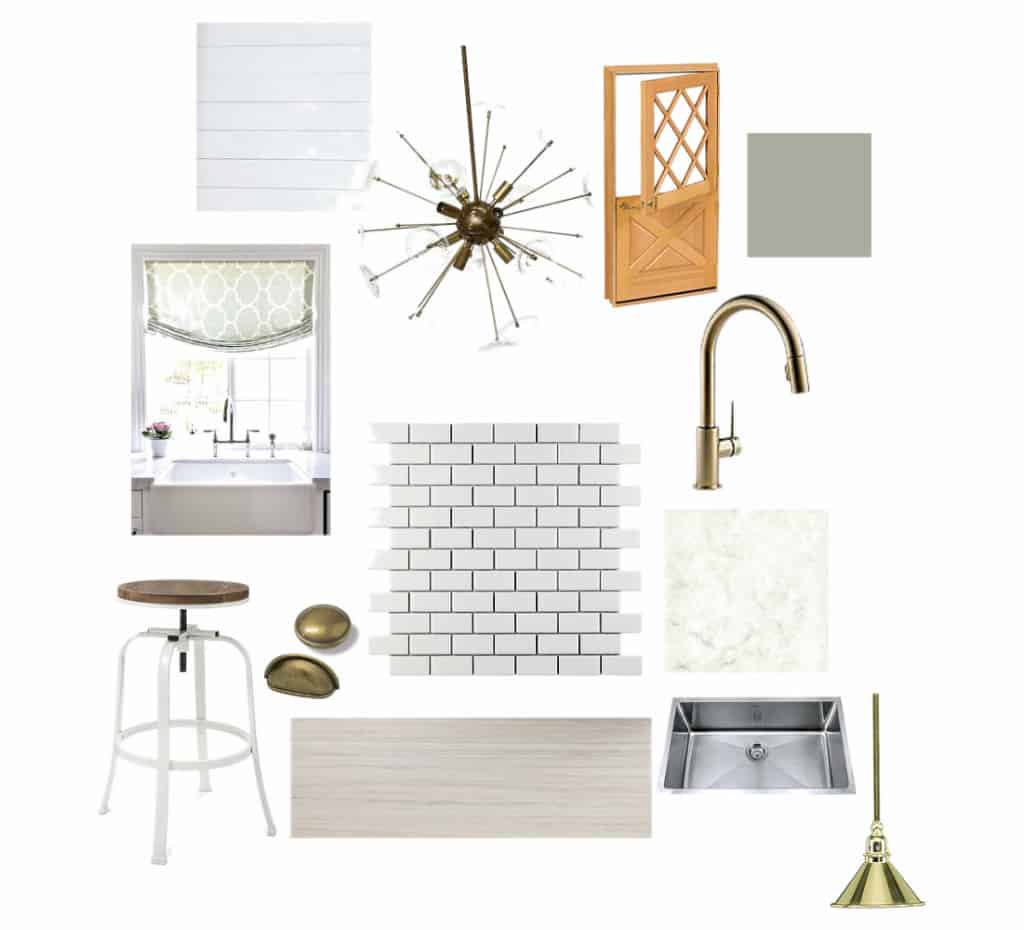 I've definitely decided to make the leap to a champagne bronze faucet! I was undecided on it mainly because I think it's still a design "risk" for lack of a better description but I had to remind myself that this is my space and I love it and that's all that matters! It is such a beauty and the touch feature is a must. This is the Delta Trinsic with Touch2O Technology and they have so many styles and options to choose from. Once my parents finished building their house mom said that one feature she can't live without now is a touch faucet. Go big or go home right?
I think the undermount stainless steel single bowl sink is going to work much better than the white sink with the brass faucet. I went back and forth but I say mix those metals!!!
I finally decided on a paint color for the cabinets and it's going to be the Sherwin Williams Dorian Gray! Thanks for all of your input on Instagram! It really helped push me over the edge to commitment. Cabinet cleaning and painting will commence this week!
I'm also considering a quartz countertop now instead of the butcher block. Since the lower cabinets will be gray I worry about the butcher block making it look too dark and less like the 'white kitchen' look that I'm going for.
Oh and I found the PERFECT adjustable counter to bar height stools from Target! They were exactly what I wanted and were around $128 for the pair with free shipping. They are large and sturdy and the white base sold me!
***
I'm happy to say the dining room is coming along nicely and will be ready to reveal in the next week or two! This updated board is a bit different from the one before because I'm using a lot of what I already have and trying to stay below budget!
We've finished the banquette, cushions and the freshly painted table. My table is a Habitat store find but it's similar to this tulip table with a different base. It wasn't my first choice but I bought it a long time ago and had never needed it until now…and it was only $30! It's probably not a permanent solution but it will do for now.
I also plan on taking down the mirror on the chalkboard wall and replacing it with a piece of art like this Brit Bass painting or perhaps a DIY of my own??? If you don't know Brit Bass you definitely need to check out her work, it is beautiful!
The dining chairs are from Pier 1 and are very similar to the dining chairs that I have that will be staying in the space.
I'm still tossing around pillow and fabric options but they will be in the blue/gray scheme for sure.
And for the final bold addition to this space is this awesome faux hide rug! They have always intrigued me but haven't quite fit into any of my spaces until now!
***
Well there you have it! Here are a few of the current pics I snapped this week. It's pretty much a blank canvas which is always the best.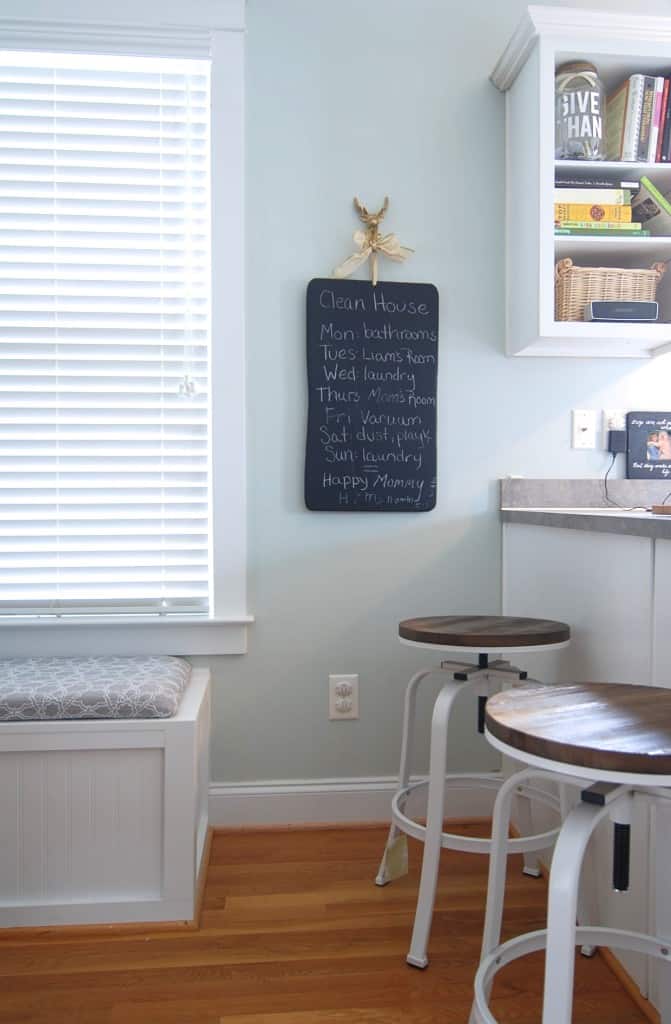 I also removed the plates from the wall and although I love them I'm not sure they will return, at least not in the original pattern
I recently inherited a new fridge and although it's still white it is counter depth and the front is not rounded like my old monster of a fridge. It's crazy how much smaller it looks than my old one and it doesn't feel any smaller on the inside. Win, win!
This gallery wall is opposite my dining table and banquette and I plan on changing out the picture and replacing the burlap mattes. I'll probably go with a coast themed collection.
I'm also going to change out the picture here but not sure what I will use but it may stay empty depending on how the art on the chalkboard wall turns out. I just threw these pillows here because I had them laying around but there will be more pillows coming soon. My mom recently gifted me the Home pillow and I love it so that one will be staying!
You can read about the DIY no sew bench cushions here.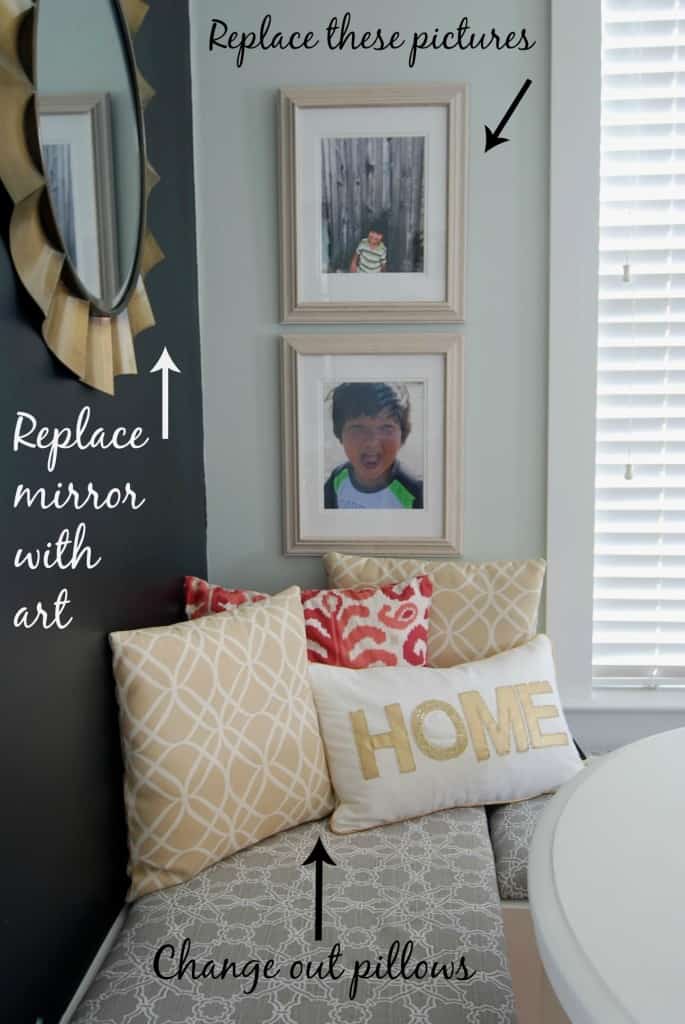 I had to throw in a couple of dining room sneak peeks too!
I'd love to know what your thoughts are! Also, I'm trying to decide whether or not to keep the chalkboard wall. It's always been one of my favorite parts of our dining area but now I'm on the fence. Should it stay or go???
Cheers and have a wonderful weekend you guys!