Hi Guys! How's it going?
I wanted to bring you more details on some of our Christmas DIY's and as I as writing and uploading pictures I couldn't believe how many things we made on the teeniest of budgets. You guys, you DON'T have to spend a ton of money to have a beautifully decorated holiday home! All you have to do is inventory what you have and think a little bit outside of the box.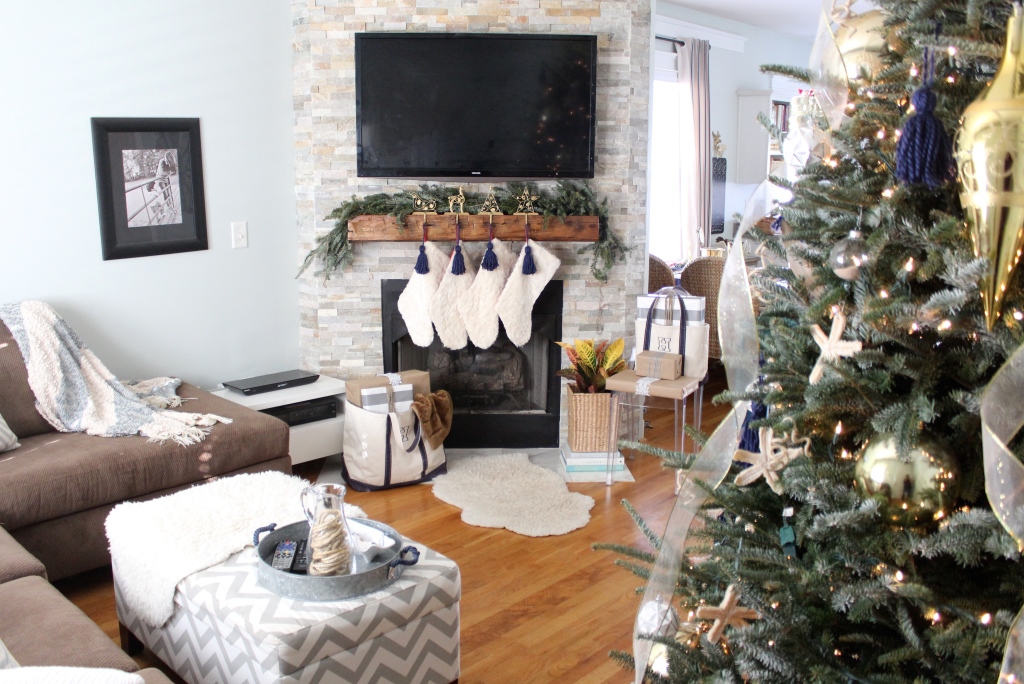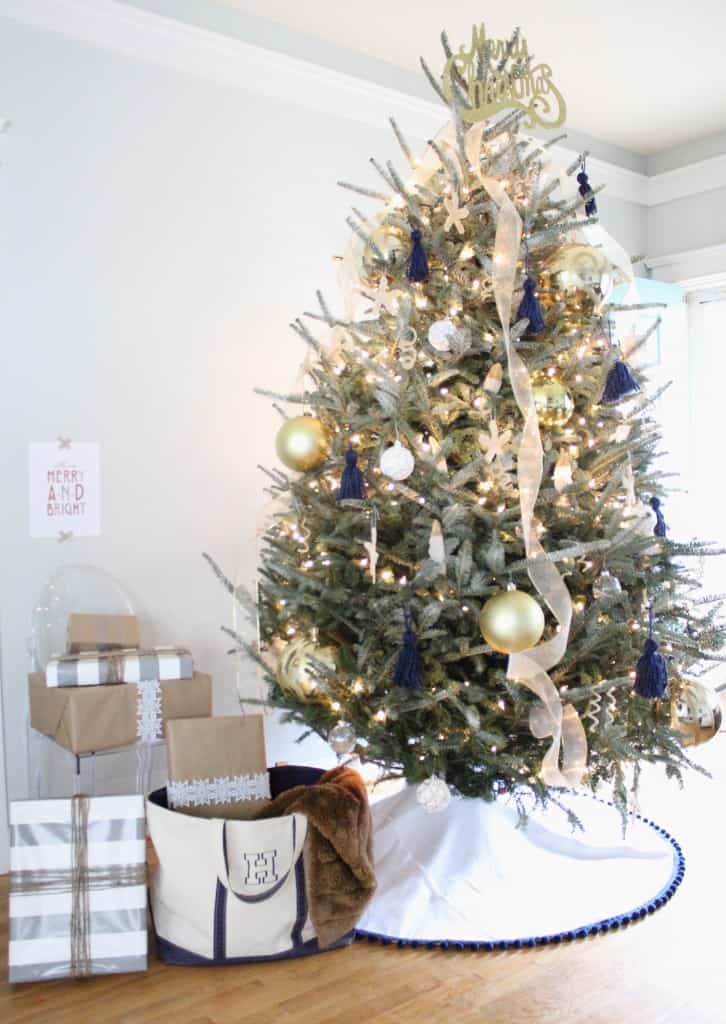 To start, I like the tree skirt we have however it wasn't working with my vision this year but I didn't want to ruin it. I had to come up with a solution that was both cheap and easy to revert back to the original.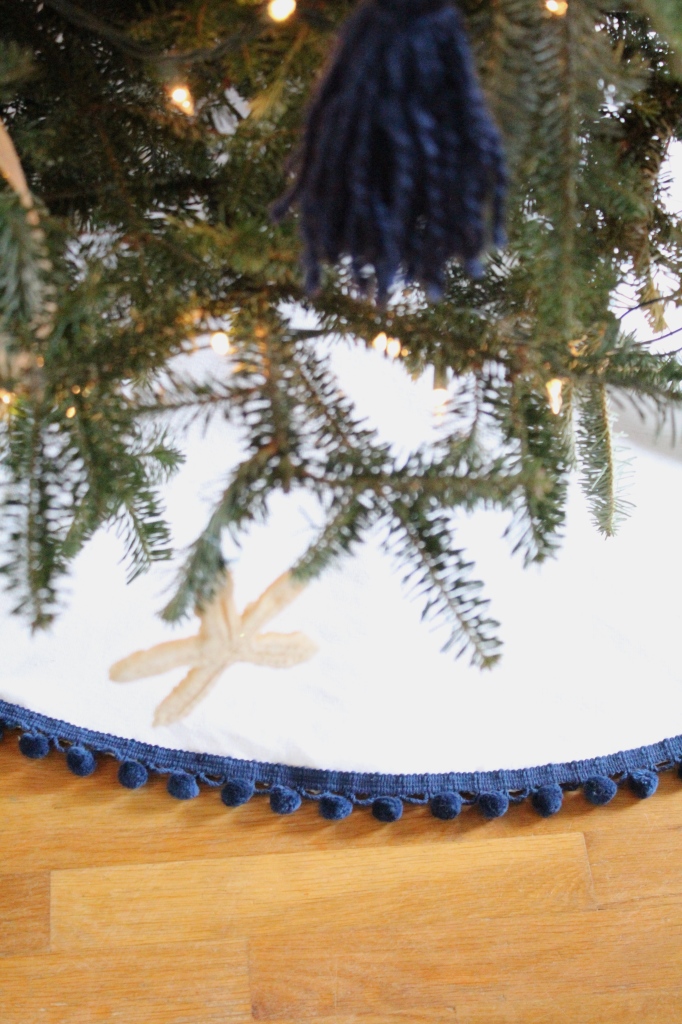 I found this white fabric and adorable navy blue pom pom trim (perfect) at our local Habitat Restore for $1 per yard. I flipped the tree skirt over, cut the white fabric to fit and simply hot glued the fabric to the skirt. Then I hot glued the trim around the edge. In case you didn't realize it hot glue works really well on fabric :)
I only hot glued the edges so if should be pretty easy to remove the trim and fabric it I want to go back to the original.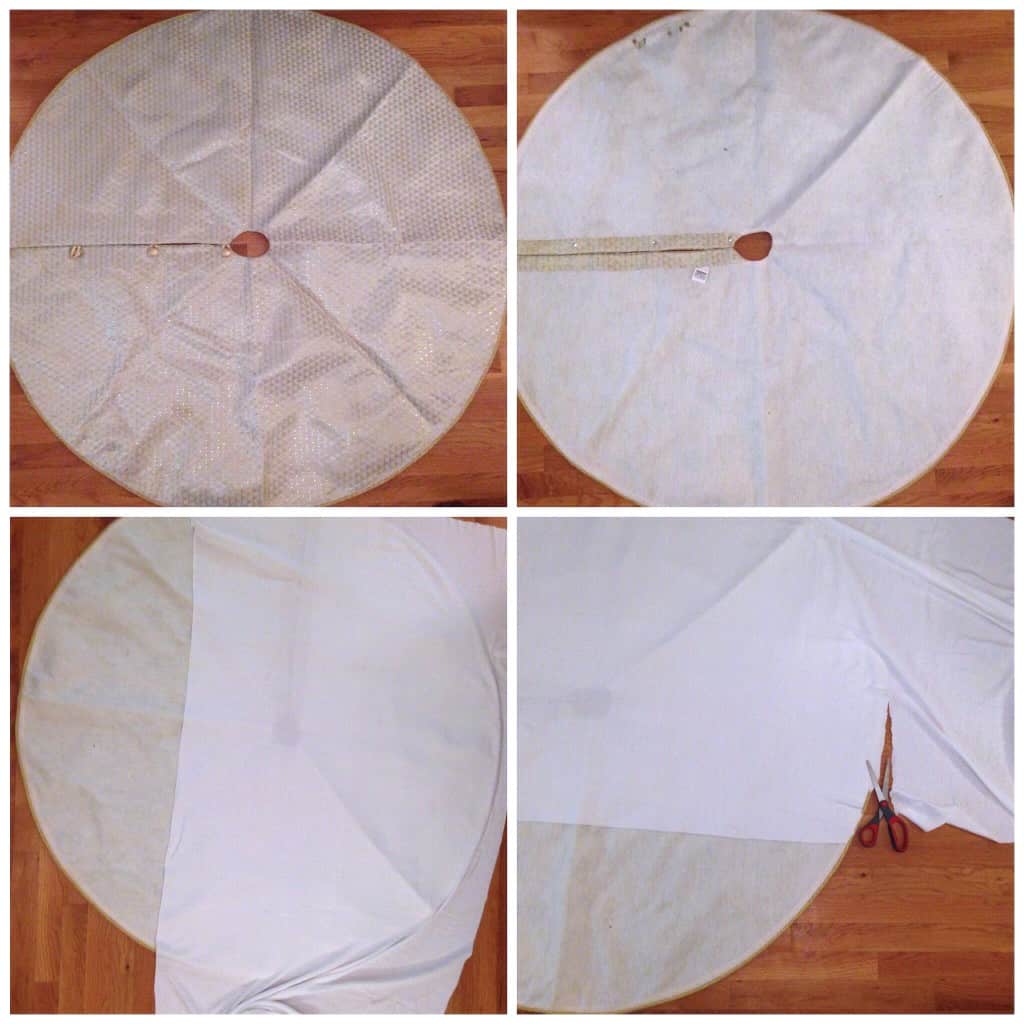 I did a similar thing with the stockings. I had bought a bunch of red stockings from Walmart on sale two years ago (for about $1-$2 per stocking if I remember correctly) but again the red wasn't what I had in mind. Luckily I had just the right amount of leftover fabric from my faux fur stool makeover to cover the fronts of the stockings.
Also the fresh garland on the mantel is leftover trimmings from our tree.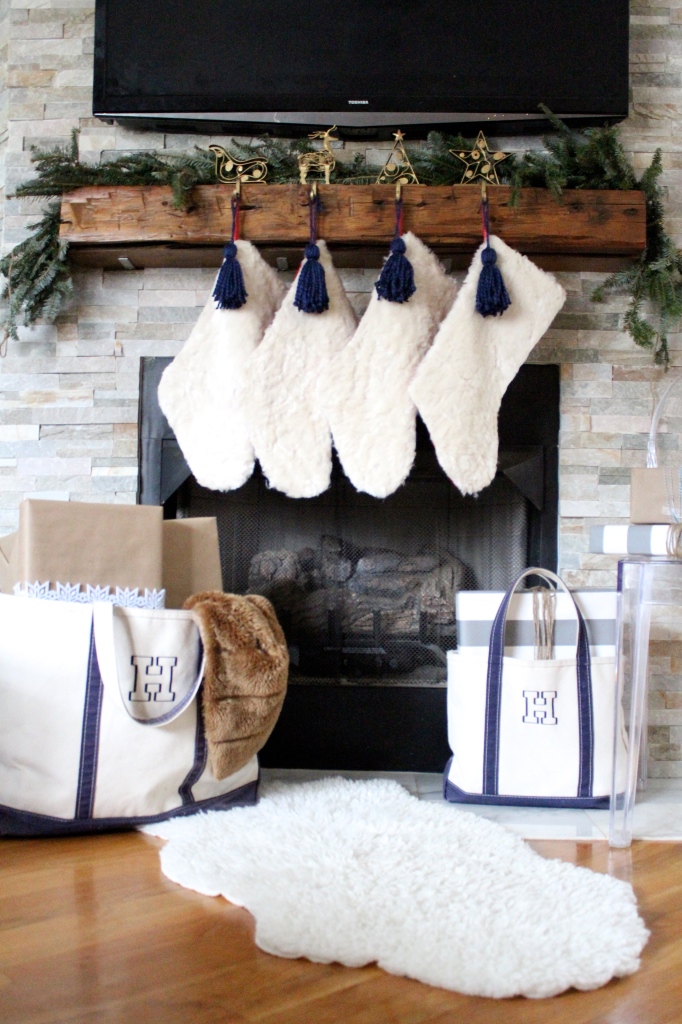 I cut the faux fur and glued it directly to the fronts of the stockings.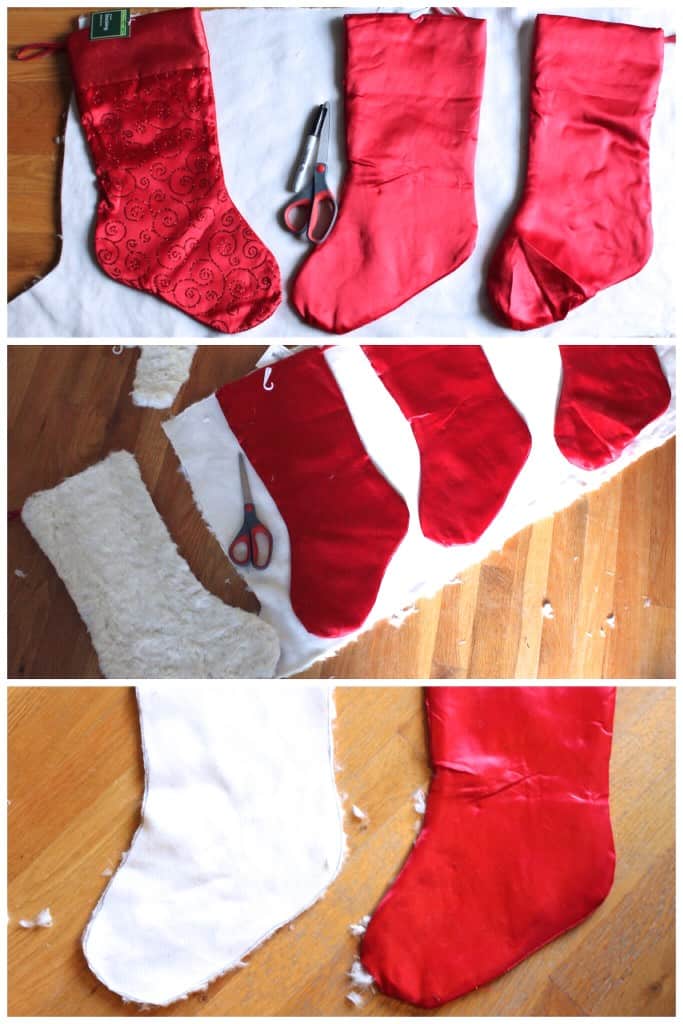 For the ornaments I used ones we already had from previous years (bought on sale after Christmas) and we made the navy blue yarn tassels and the salt dough starfish. For the tassels I followed this tutorial and for the starfish I used this tutorial.
We used the glass ornaments filled with sand from last year's organic coastal Christmas tour as well as the gold tipped feathers that we made this fall.
Pinterest is an amazing thing isn't it?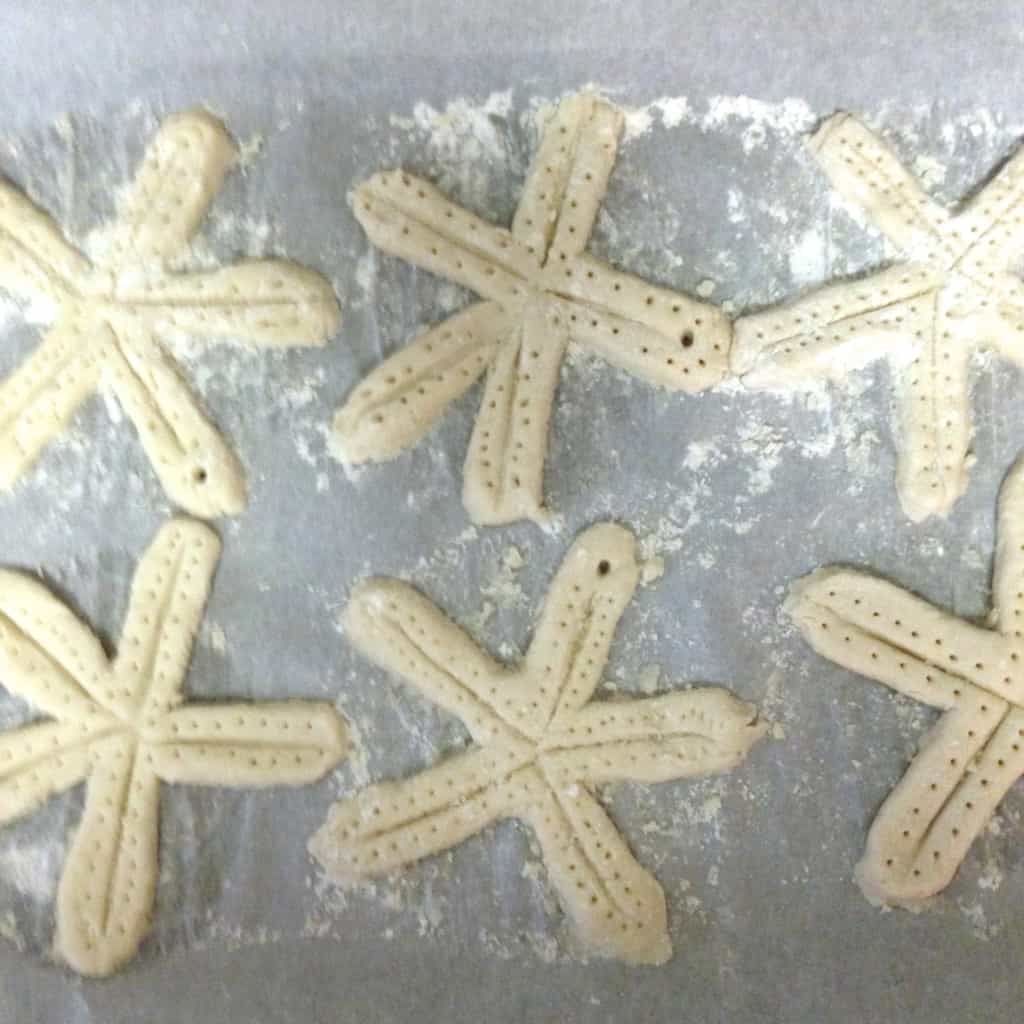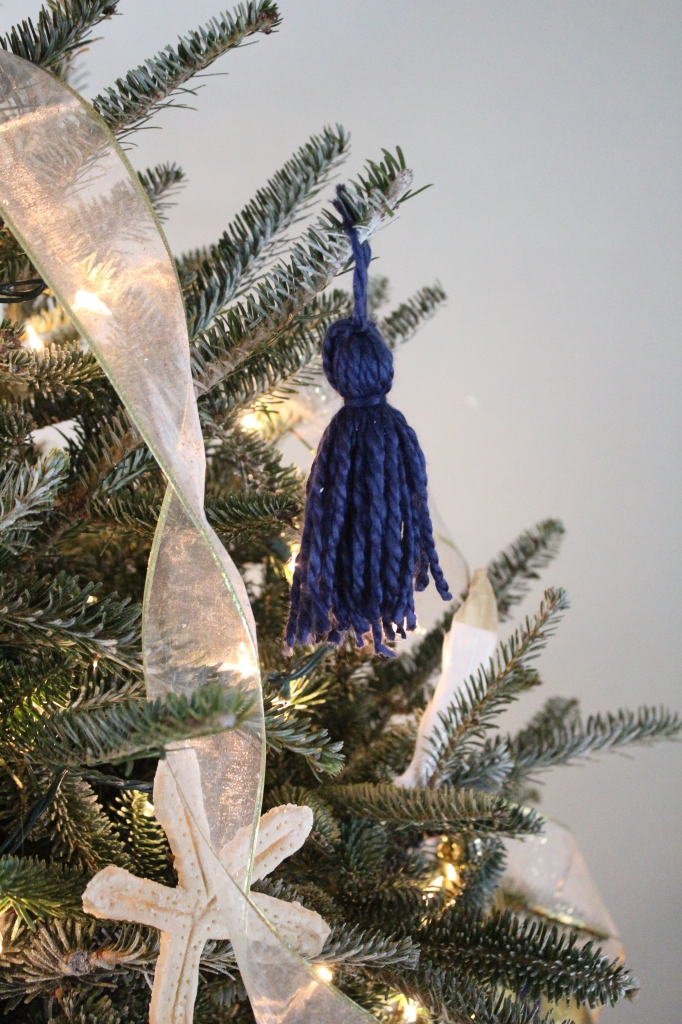 These are the only ornaments I bought this year. They were around $3 for 6 from the Habitat Restore.
The DIY no-sew place settings were so fun to make using more of the $1 fabric. You can find more details on my nautical Christmas table post.
I also make the striped candles with dollar store tapered candles and gold spray paint. I had already made these for another project. You can see how I make them here.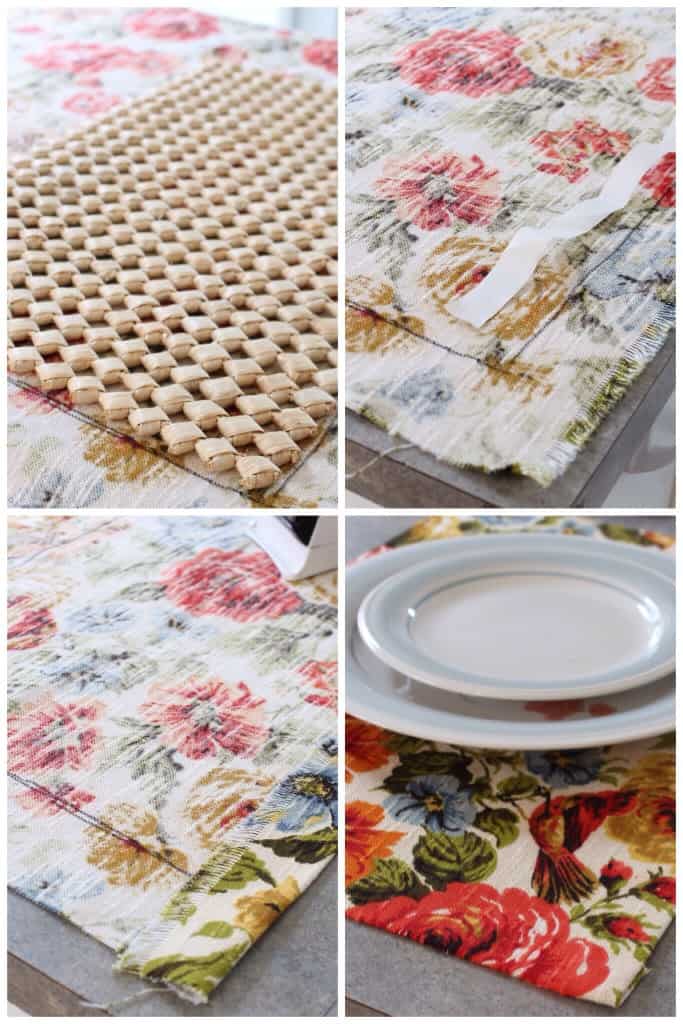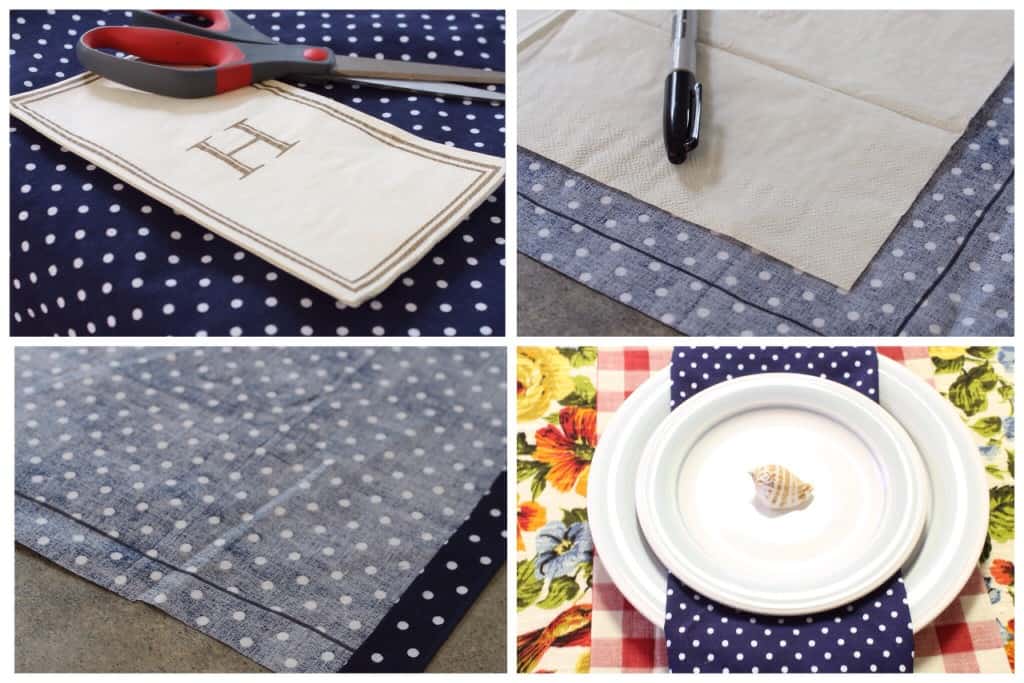 Another Habitat Restore find transformed into this fun and unique nautical wreath. You can find the full post here.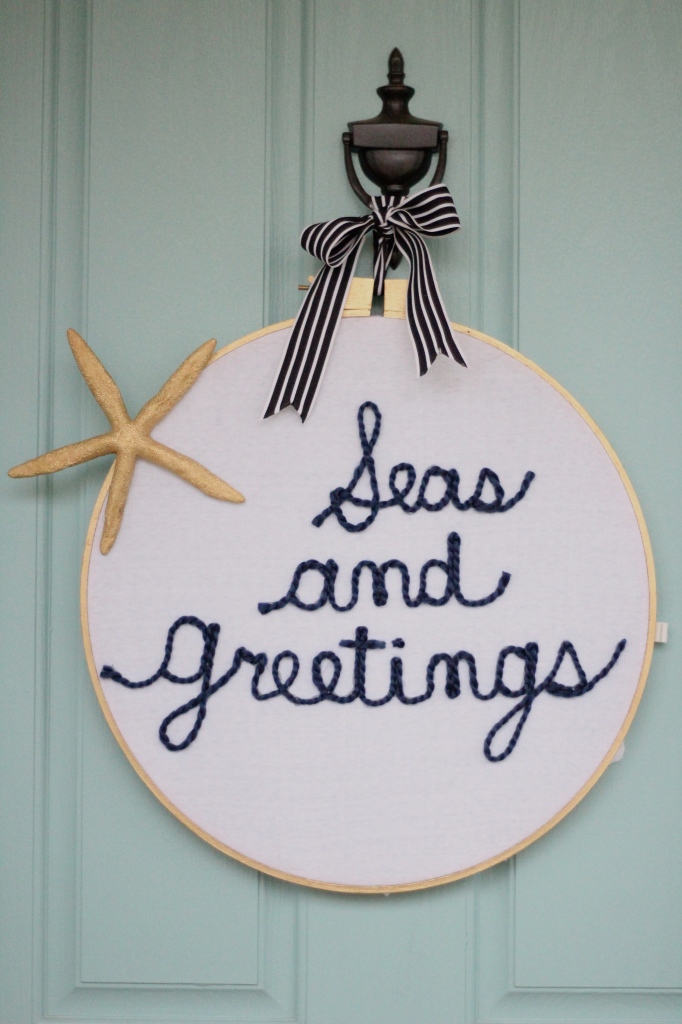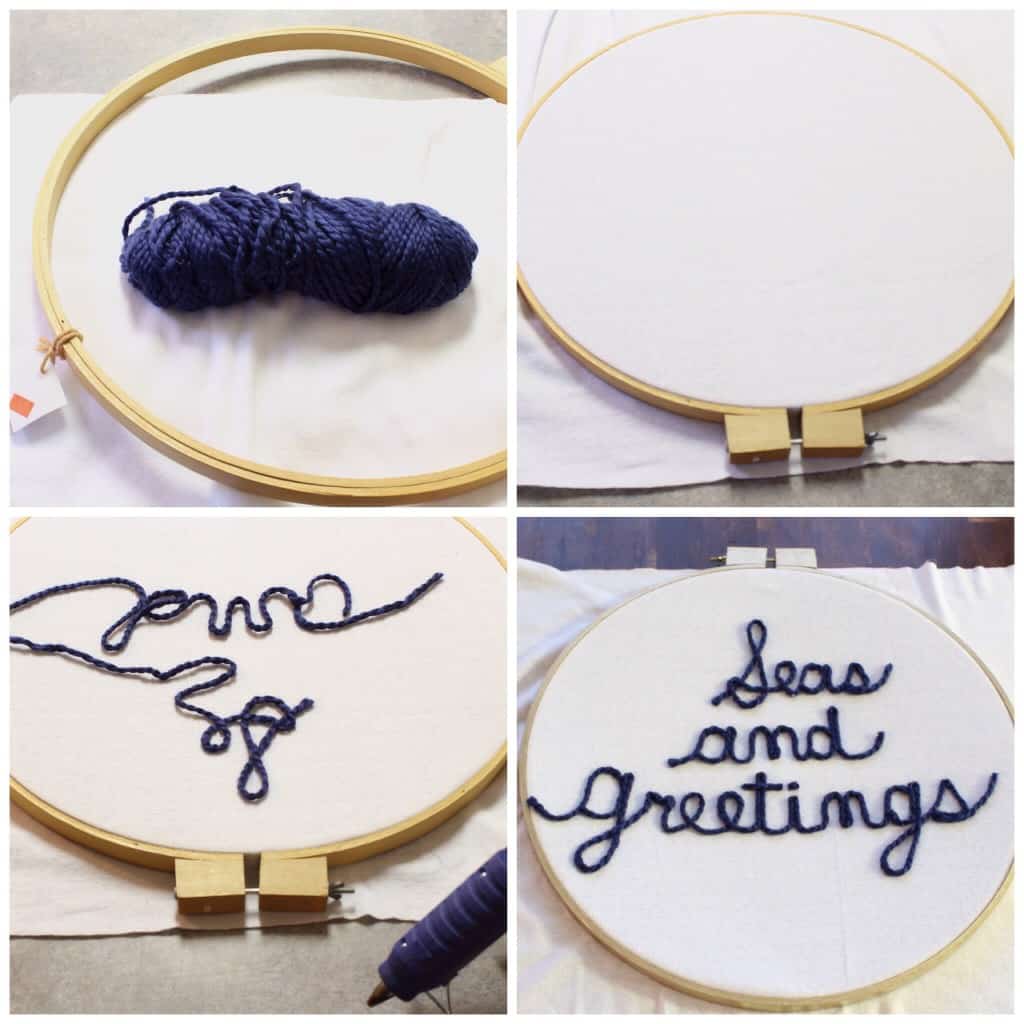 And of course our easy last-minute advent calendar.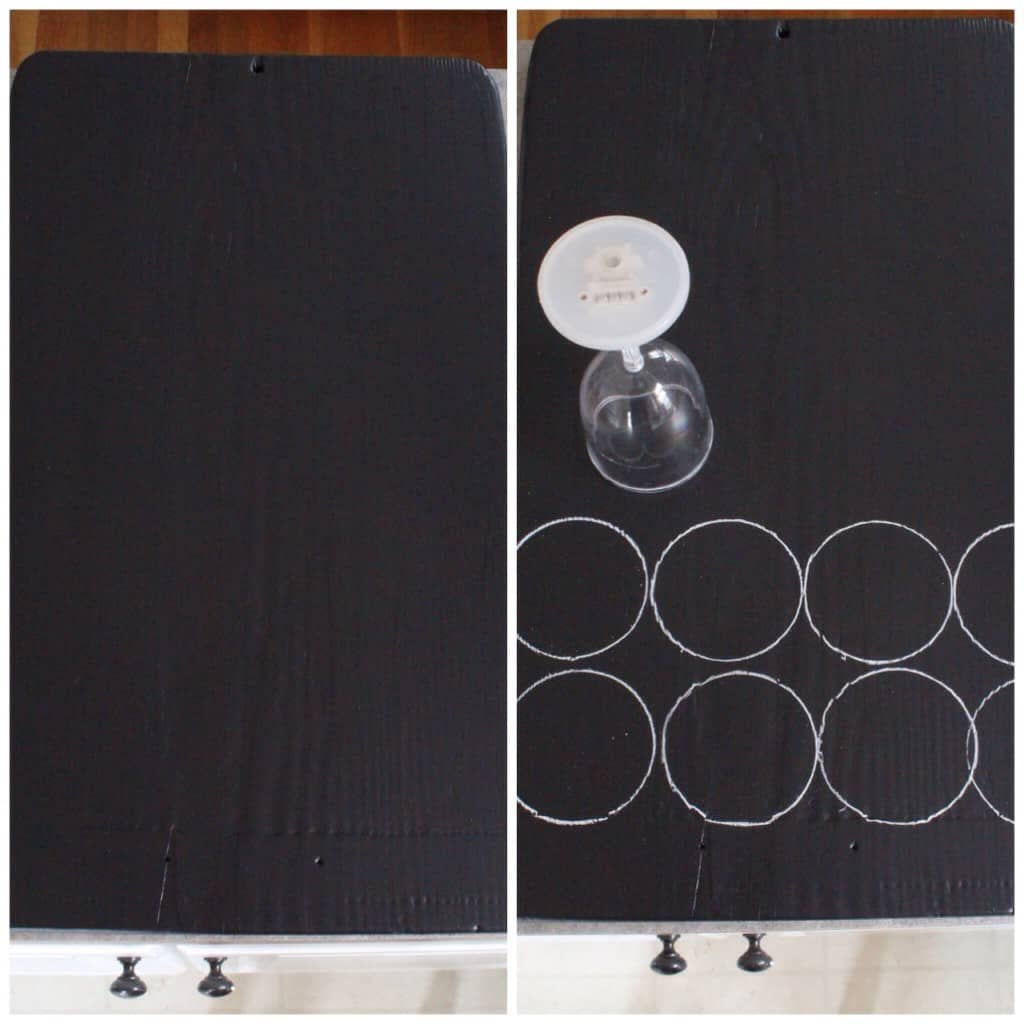 Last but not least we used simple kraft or packing paper from the Dollar Tree and I wrapped them with simple twine and string that we had on hand. The striped paper was a HomeGoods find from last year. We also found the fun gift tags in the Target dollar bin. I believe the snowflake trim was also from the Target dollar bin last year.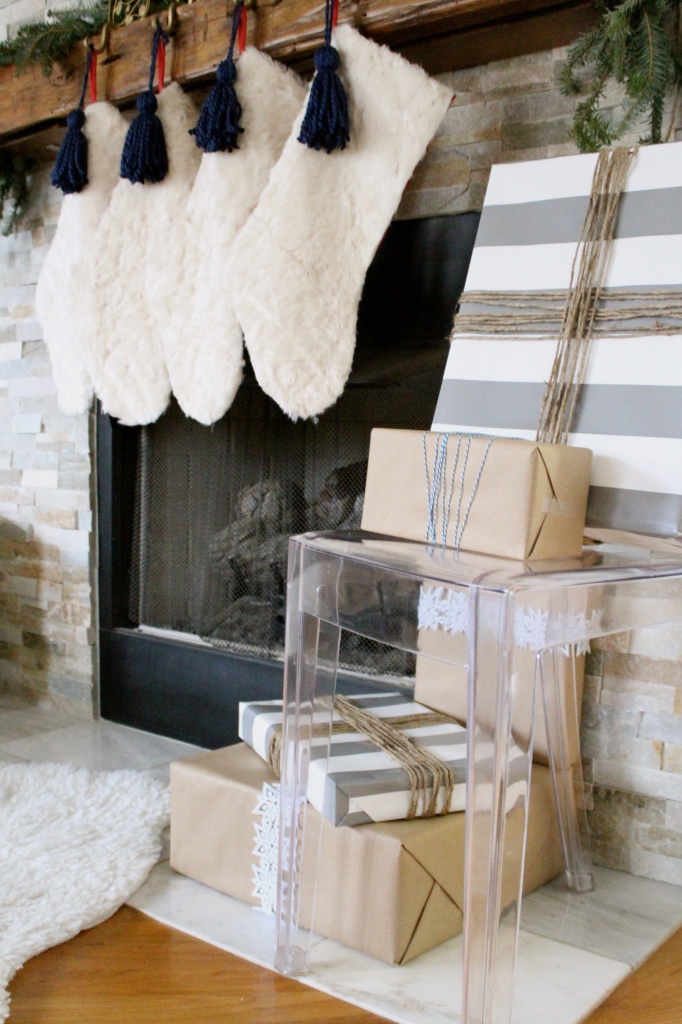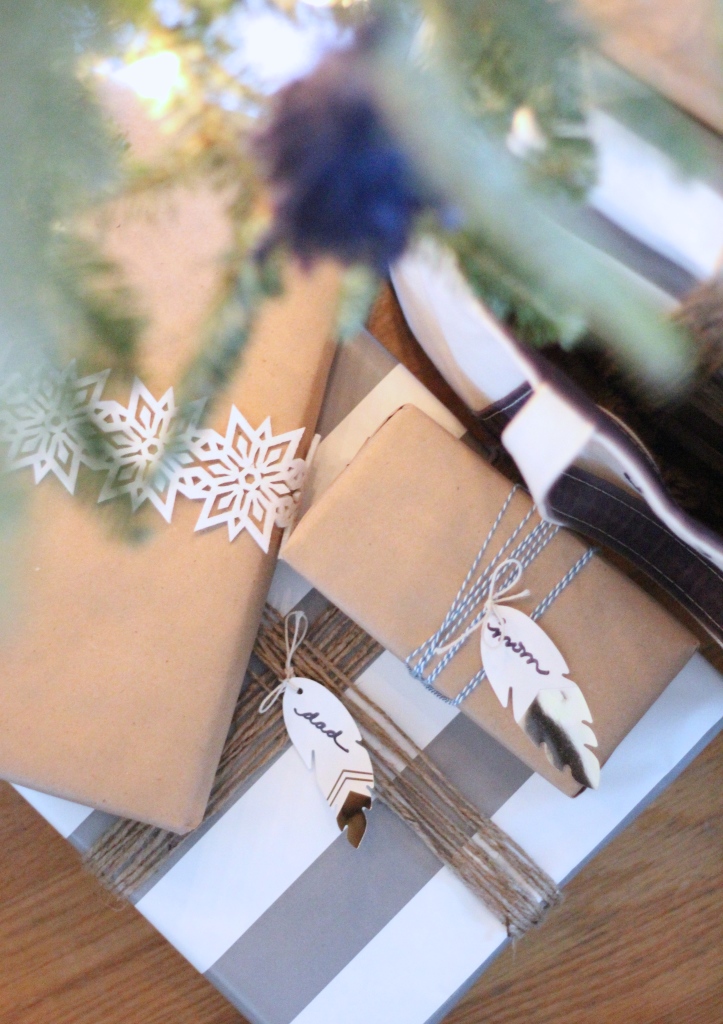 I mean I couldn't believe how much we did on such a tiny budget. And, the great thing about it was little man and I got to spend some QT getting our hands dirty and having some creative fun!
TOTAL COSTS $50 (including the tree)
Live tree from Food Lion $29.95
Tree topper from Walgreens $3.99
6 ornaments from the Habitat Restore $3.00
Fabric and trim from the Habitat Restore $10
Wrapping paper from Dollar Tree $1
Gift tags from Target dollar bin $2
Obviously if you didn't have enough supplies (glue sticks, etc) or any leftover decorations from previous years you may have to spend a little more but $50 including the tree made my wallet very happy!
***
Here are some of last year's Christmas DIY posts: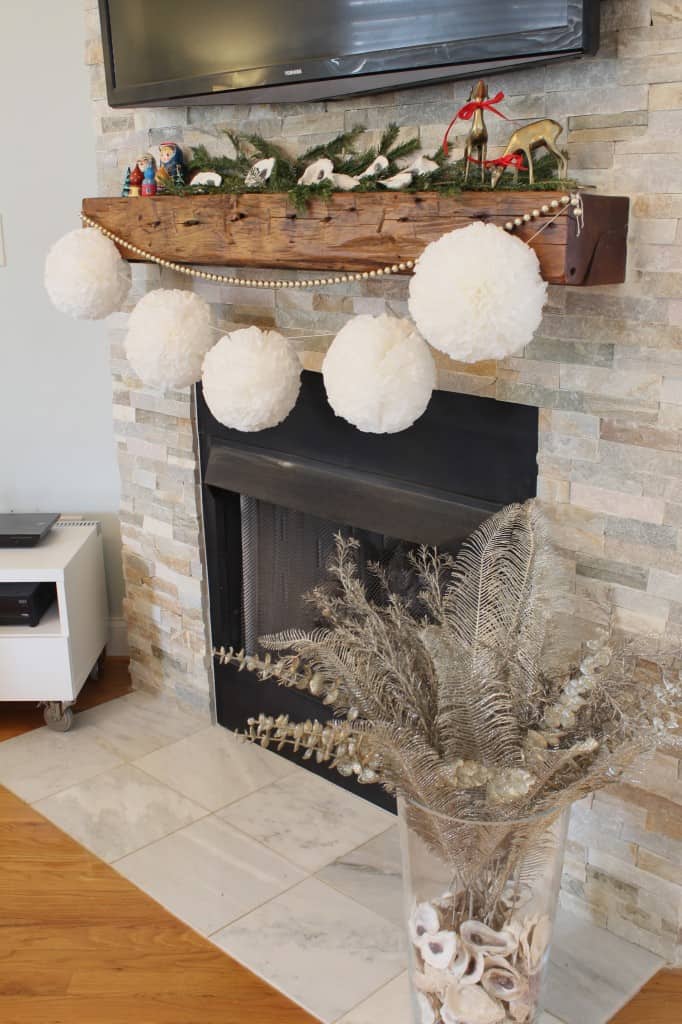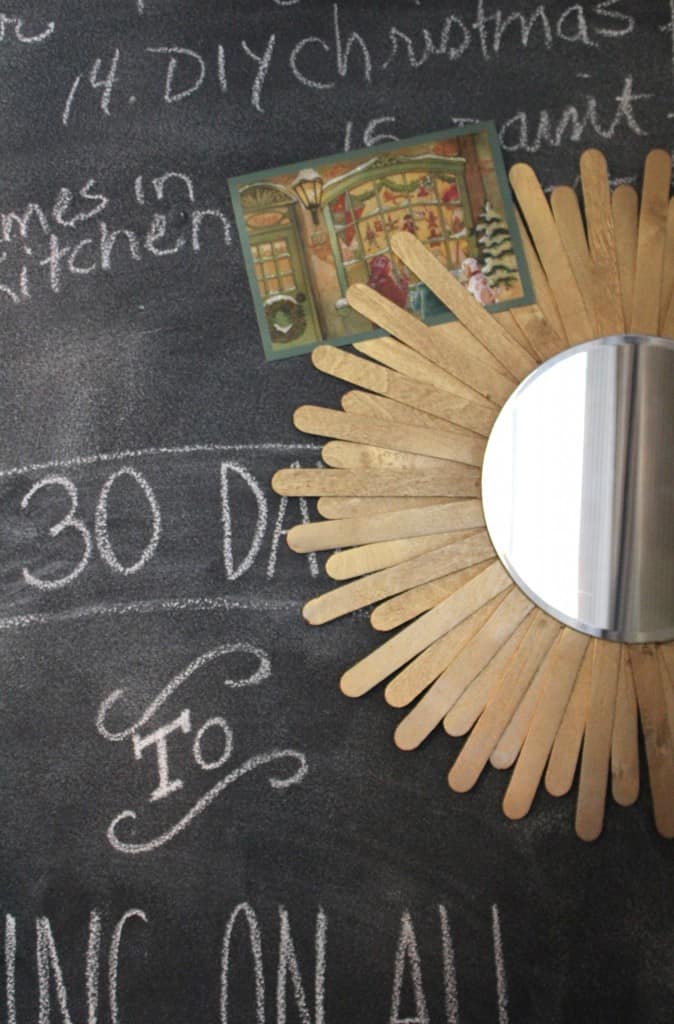 DIY Oyster Shell Christmas Tree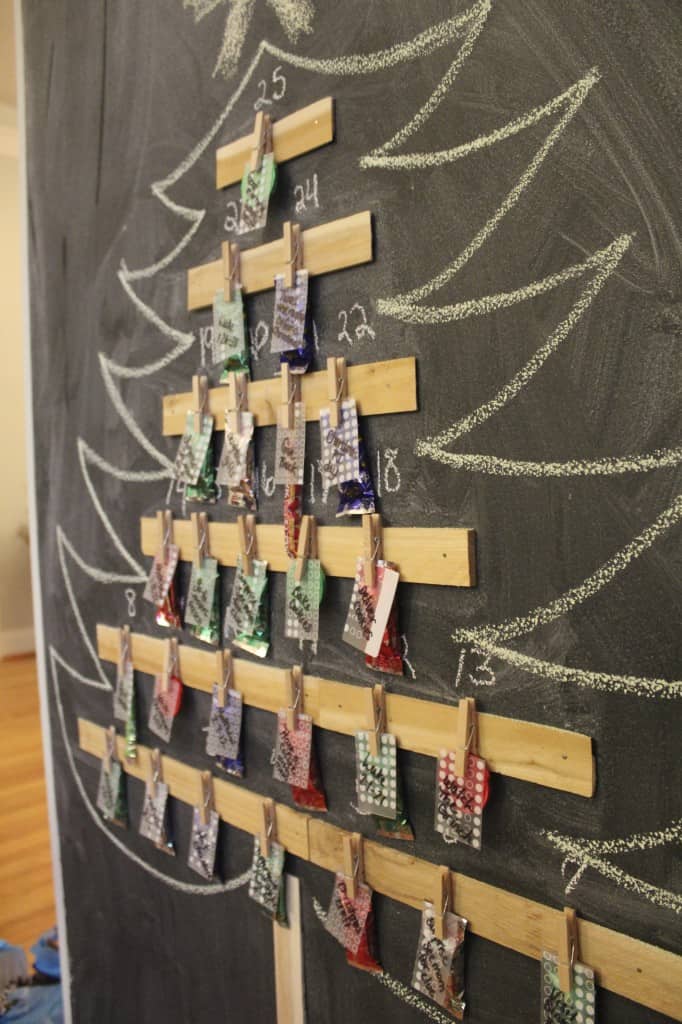 DIY Marshmallow Christmas Tree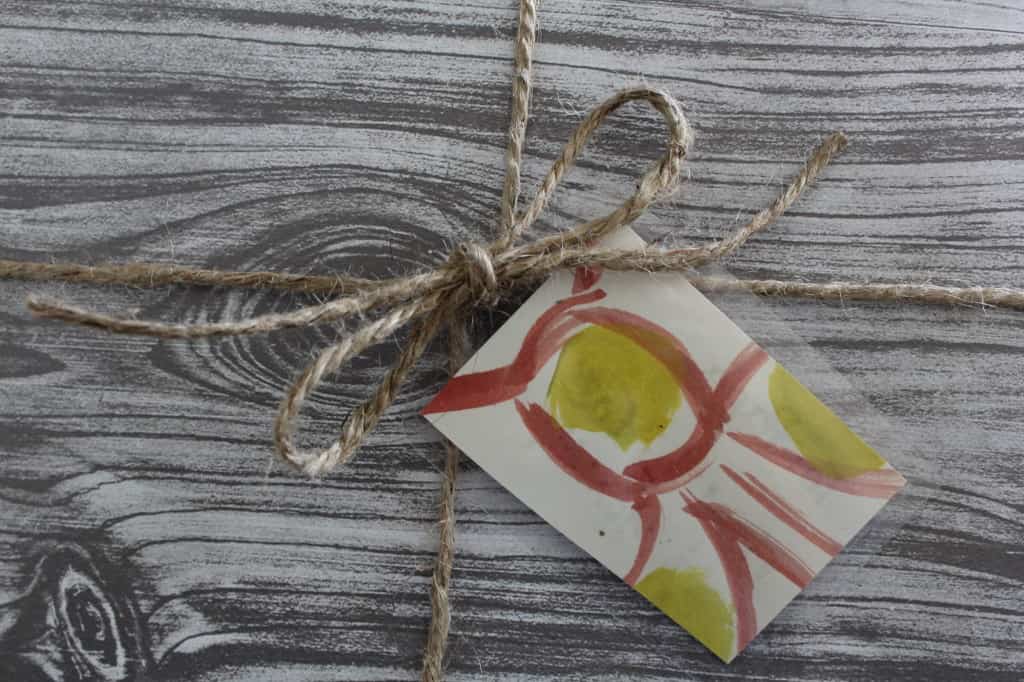 What are your favorite Christmas DIY's? Let me know if you need any last minute DIY ideas because I have tons up my sleeve :)
Have a great rest of the week friends!