DIY Embroidery Hoop Wall Hanging: Holiday Thrift Store Challenge
Are you all as happy as I am that it's FRIDAY?!?!
It has been record cold here in NC for November and I think I'm already over it, lol! But I'm so excited to be taking part in a fun holiday blog hop with some fabulous bloggers today! We've been challenged to purchase an item or items from a thrift store under $25 to makeover or repurpose to use in our holiday decor.
Make sure to check out our lovely host, Alice of Thoughts from Alice! She is incredibly creative and has such a beautiful blog!
Here is my:
DIY HOLIDAY WALL HANGING
For my project I decided to hit Goodwill first but after two different ones I moved on and finally scored at my local Habitat Restore. When I pulled up to the store they had just put out boxes and boxes of fabric on the sidewalk for $1 per yard! I grabbed several yards that I knew I could use in my Christmas decor this season including this white fabric.
When I was browsing inside I also found this giant embroidery hoop for $3 and I knew it had potential! I mean people do some creative projects with these things don't they? Then right before I left (actually I had already checked out) I saw this navy blue yarn for $1.25 so I grabbed a couple and checked out….AGAIN.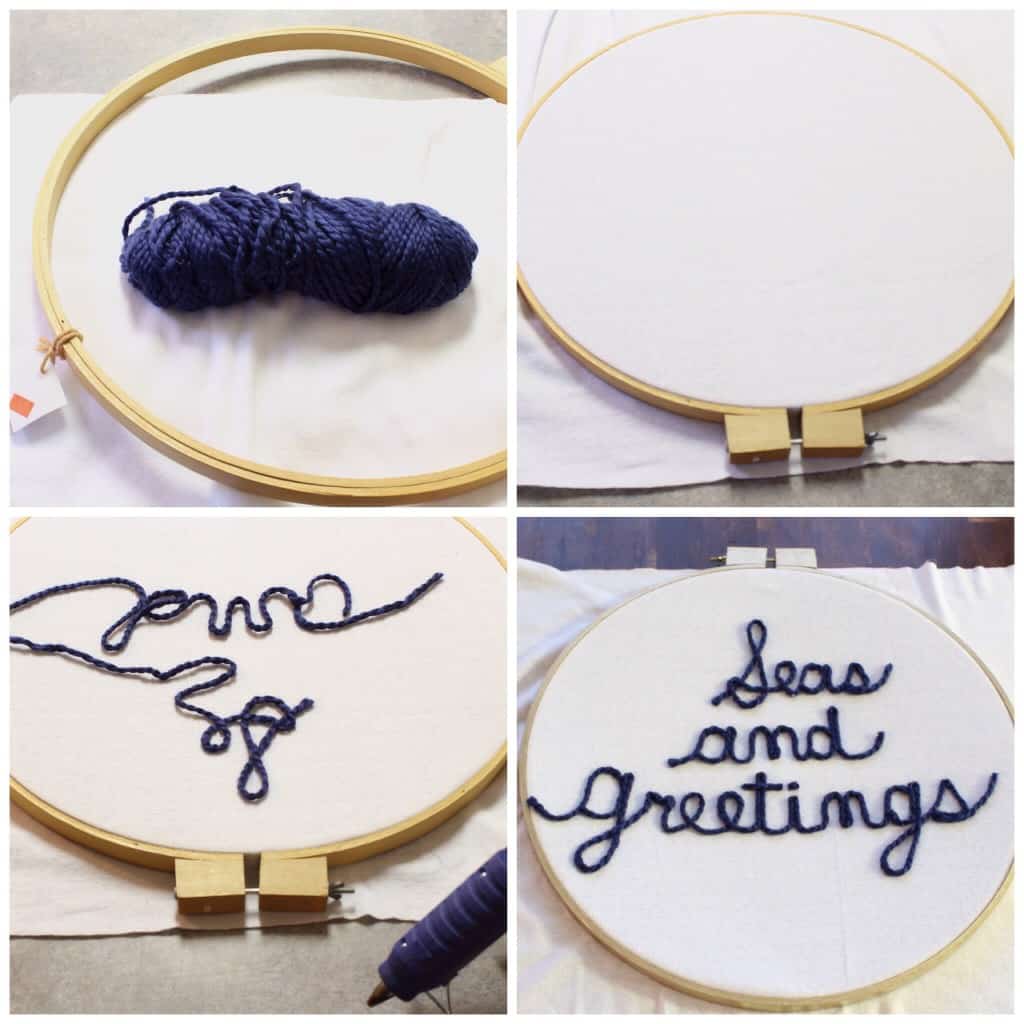 If you can't already tell, I'm going with a nautical Christmas theme this year and I found this adorable saying on Pinterest! Isn't it fun and catchy? My love for coastal decor is definitely coming out again. You can check out last year's Organic Coastal Home Tour here.
So here's what I did: I spray painted the hoop gold, fit the fabric into the hoop and laid out my yarn where I thought I would start the words. Once I had a starting point I slowly hot glued the outline of the letters (one or two letters at a time) and then gently pushed the yarn into the glue.
Once it was complete I hot glued the gold starfish that I had in my office to the hoop, grabbed some twine to hang it up and added the tassel that I also made out of the yarn. I followed this tutorial if you want to see how I made the tassels. Hmm…I see another garland in my future!!
I just got this glass and mirror cabinet from my parents (they cleaned out their storage container and offered some things they didn't want to me! yay!) and I plan on using it for holiday entertaining/storage.
I pulled out some of the ornaments I made last year and filled my clam shell bowl. I think the glass, gold and mirrors are so pretty together.
So, that's a wrap friends! What do you think? I think I'm actually going to use the wall hanging as a wreath on the front door once I pull all of our other decorations out.
I literally have a $0 budget for Christmas decorating this year so outside of a live tree and maybe a couple trips to the dollar store I'm working with what we've got. It's pretty amazing what you can do with thrift store deals or items already in your home if you really put Pinterest your mind to it!
The list of all the participants and projects are below! Make sure to check out all the awesome creations my fellow bloggers came up with. This really is a creative bunch! Have a wonderful weekend!
***
**UPDATED**
Here it is on our front door as our Christmas wreath and I love it!!
***
***
Make sure to check out last year's Organic Coastal Christmas Home Tour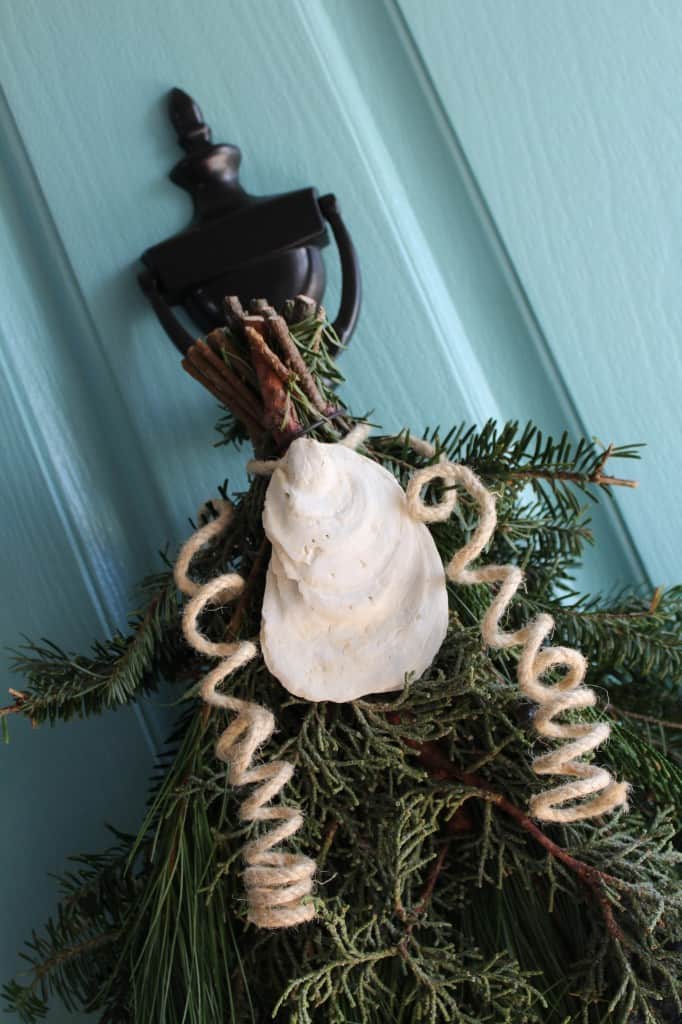 and my Thanksgiving Table Setting and Wildflower Centerpiece.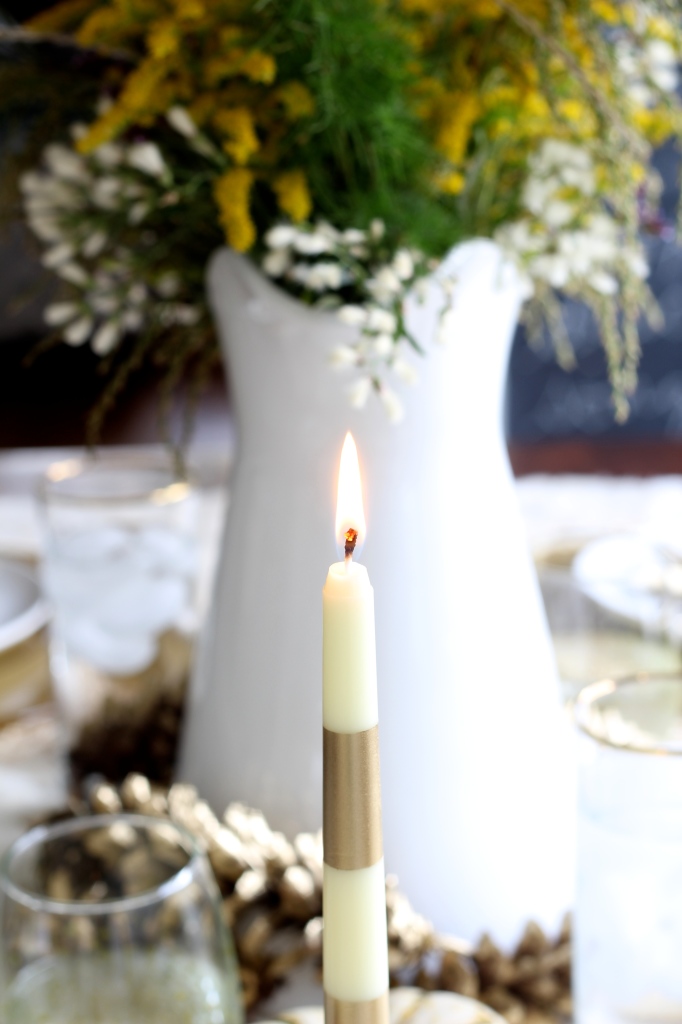 AND don't forget to enter the Blogger's Favorites Giveaway!!!
Have a great weekend friends!!!