Home of the Month: The Boho Chic Home of Goldalamode
Home of the Month: The Boho Chic Home of Goldalamode
Happy Home of the Month day friends!!! I feel like I'm running out of ways to say that this is my favorite post each month…but…it's my favorite post each month :)
Today I'm sharing the gorgeous boho chic home of Cara of the blog Goldalamode! Like many of our other features, I came across Cara's Instagram feed and was instantly hooked! I went directly to her blog and have been a loyal follower ever since. Cara is incredibly talented and her blog was recently nominated for Domino's favorite design blog and you can click over and vote for her HERE. Oh and there's some major pooch eye candy too!
Here is how Cara got started as a Design + DIY blogger:
I started my Instagram, Goldalamode in 2013 but only for fun. I loved posting about our diy projects and rooms that I was redecorating. I love going thrifting and to flea markets! I used to find furniture and refinish it and that's really how I got my start into DIYs and decor. I started posting pictures when my husband and I bought our house 4 years ago. I realized people were asking about some of the things we were doing around the house so I started a blog to give people a little more information to achieve their own DIYs. I started blogging full time last November when I started working with companies more and more. Doing home projects and decorating is my absolute passion. I live eat and sleep DIY projects and decor so the fact that I get to share it with others is a dream come true. I think the best part about blogging is meeting others who are also completely obsessed with home decor. I'm so thankful for the community I'm apart of.
Now without further ado….Enjoy the tour!
***
This color is so pretty and I'm a sucker for pink doors as you know from my laundry room barn door.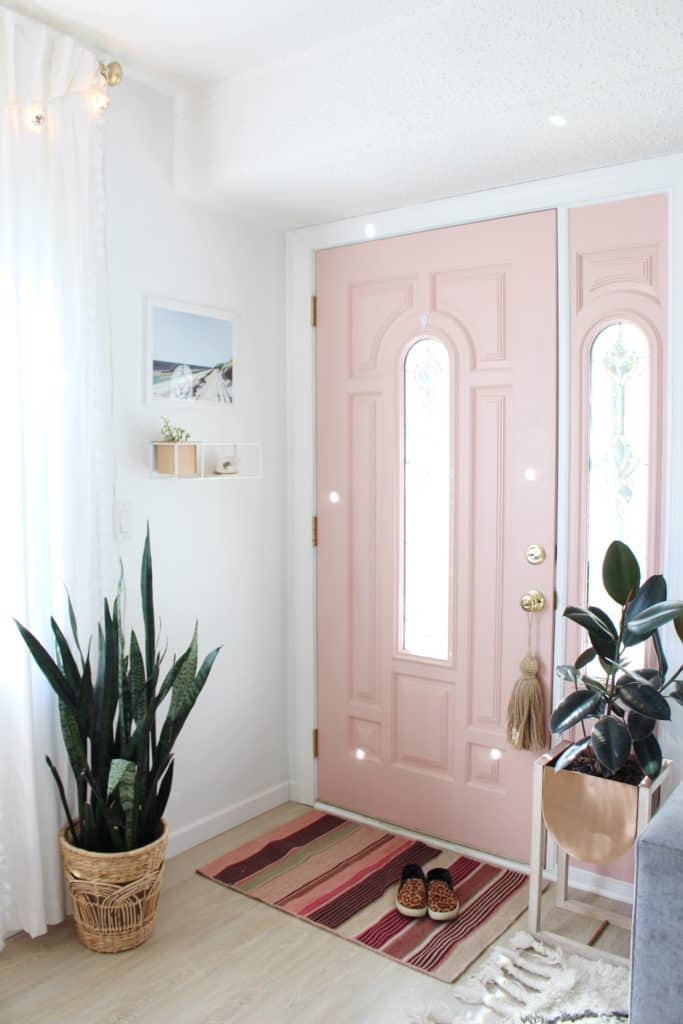 This light fixture might be one of my favorite pieces in Cara's home! Oh heeeyyy cute pup!
There is so much texture in here and Cara does a fantastic job layering it!
This cozy little corner is just perfect and I think her furbaby would agree! I love the tall plant and sparkly disco balls.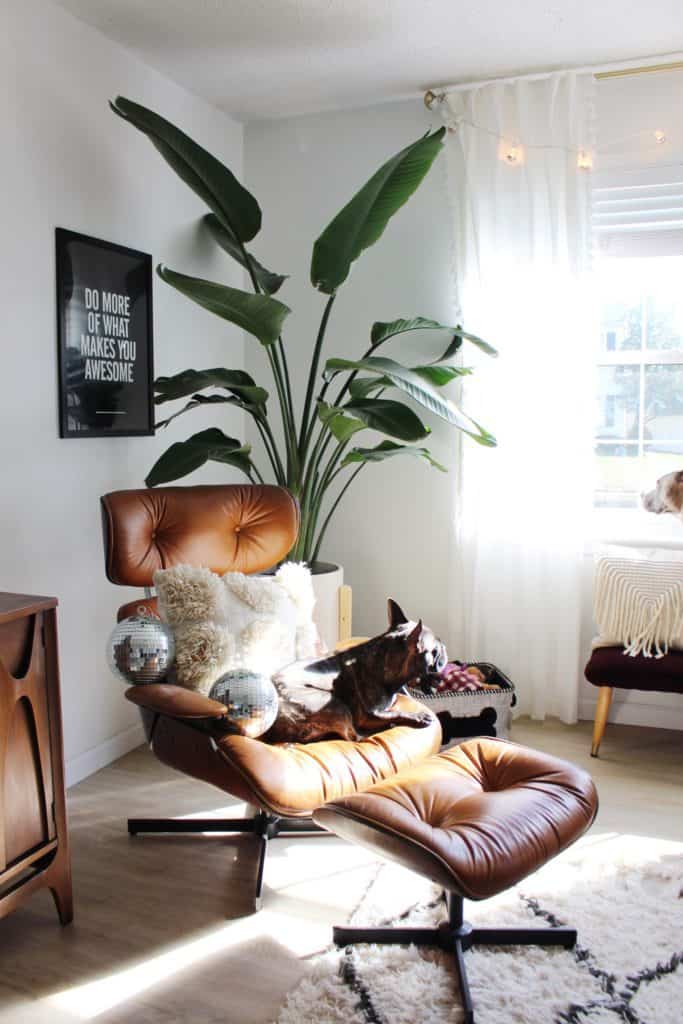 Okay, just kidding about the dining room fixture. This one definitely takes the cake but they are both pretty rad!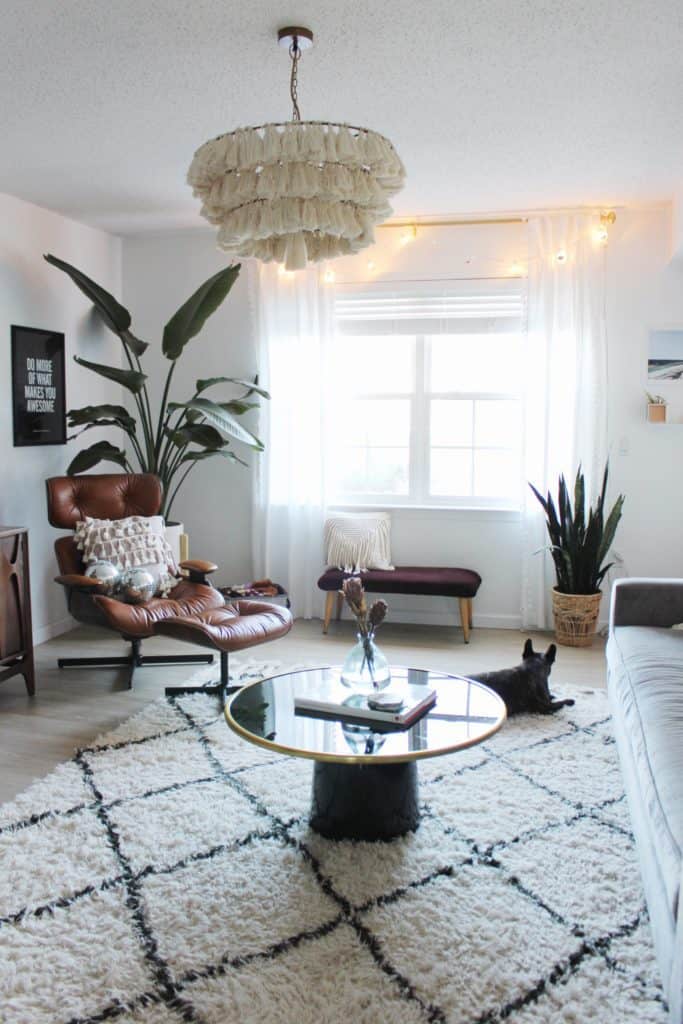 Another perfectly cozy sitting area.
I love that the simple master bedroom is still packed with style.
How cute is this little desk area in the bedroom?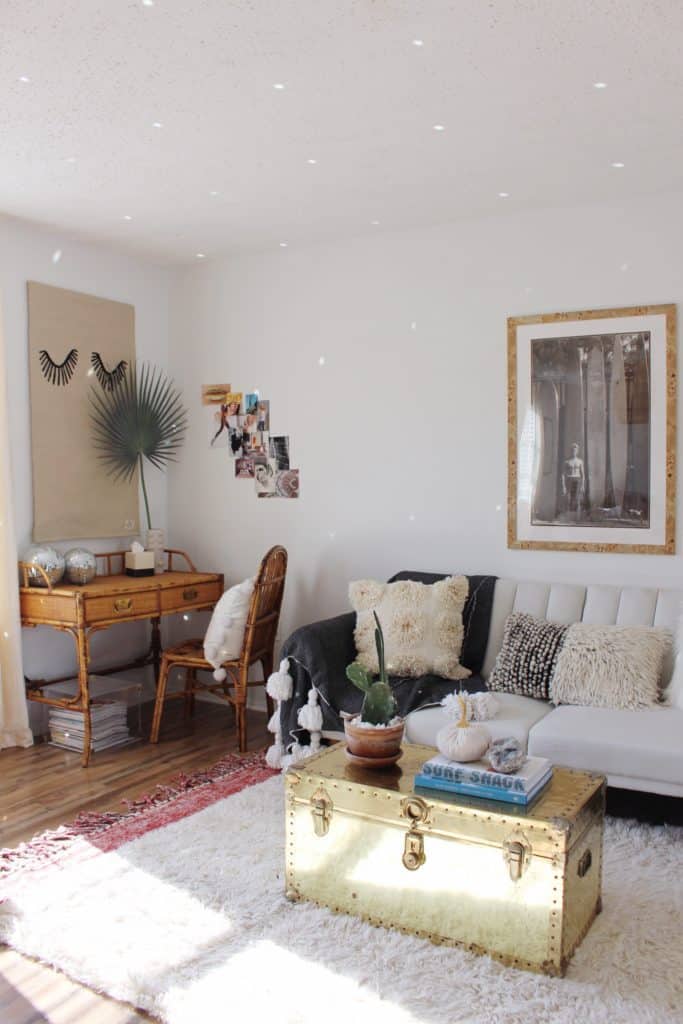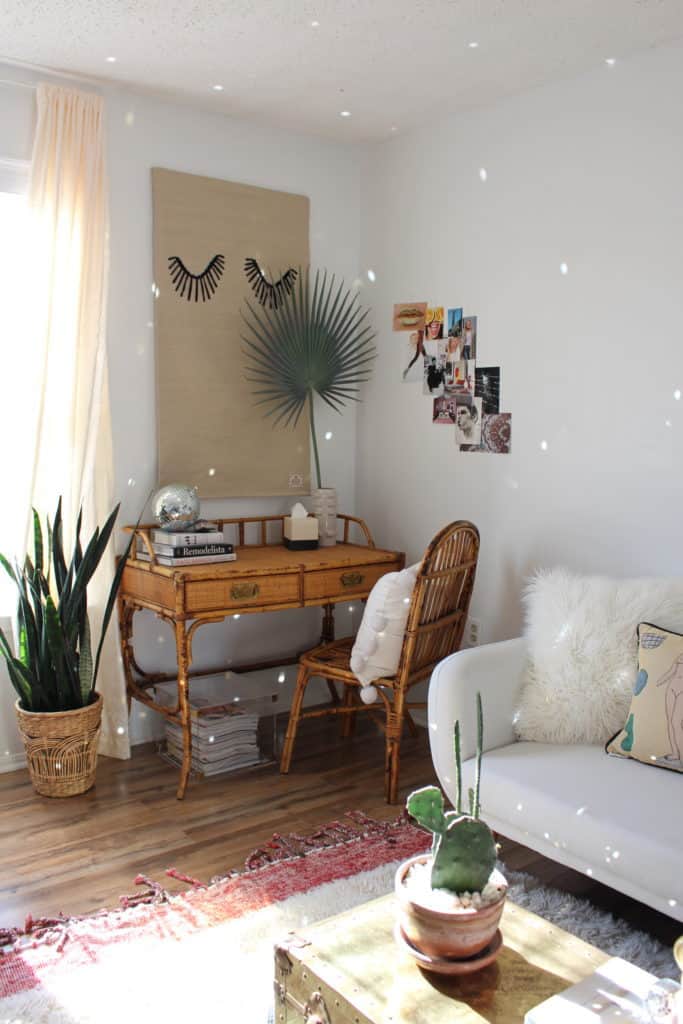 I love Cara's office! We must be kindred spirits with white offices and saw horse desks!
Umm…YES to the hanging chair!!! I might have to add one of these to my space!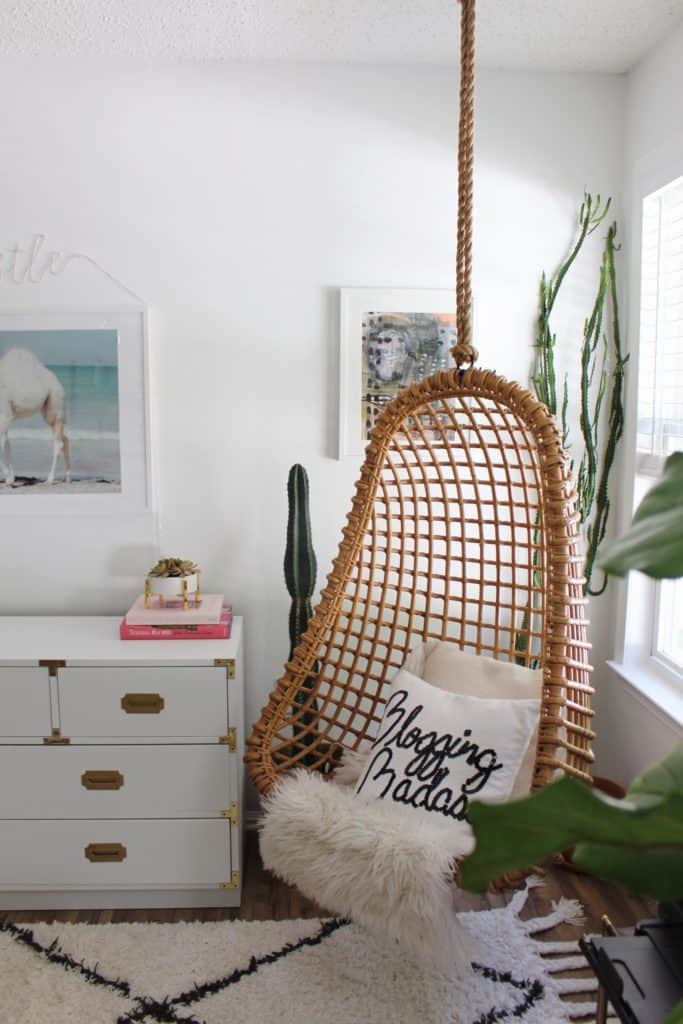 And how inviting is this sweet guest room? That rug is one of my favorites too!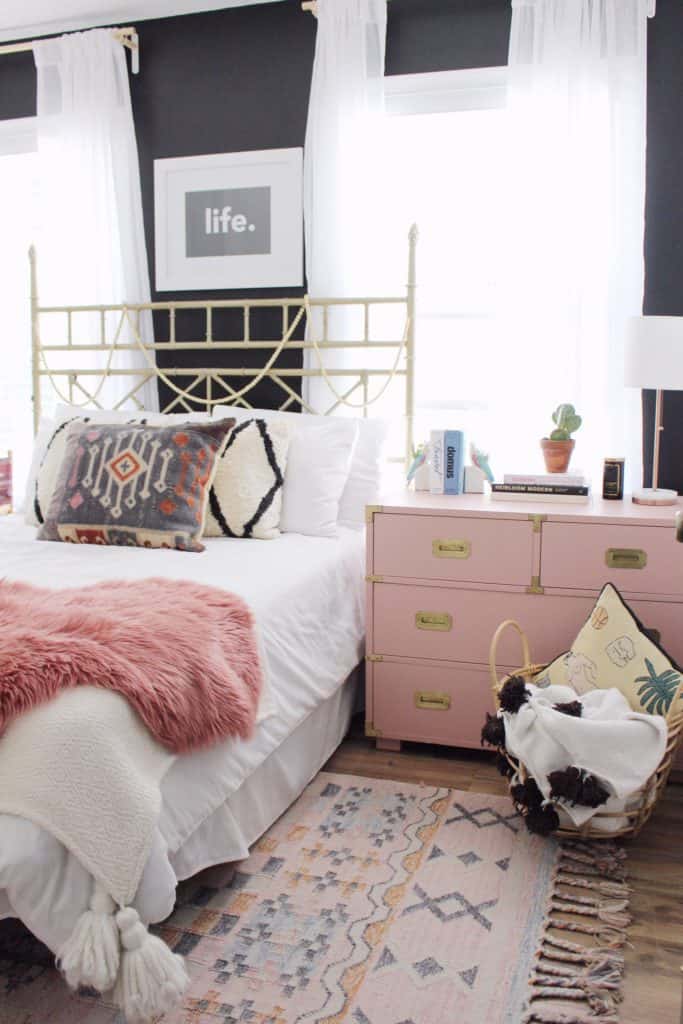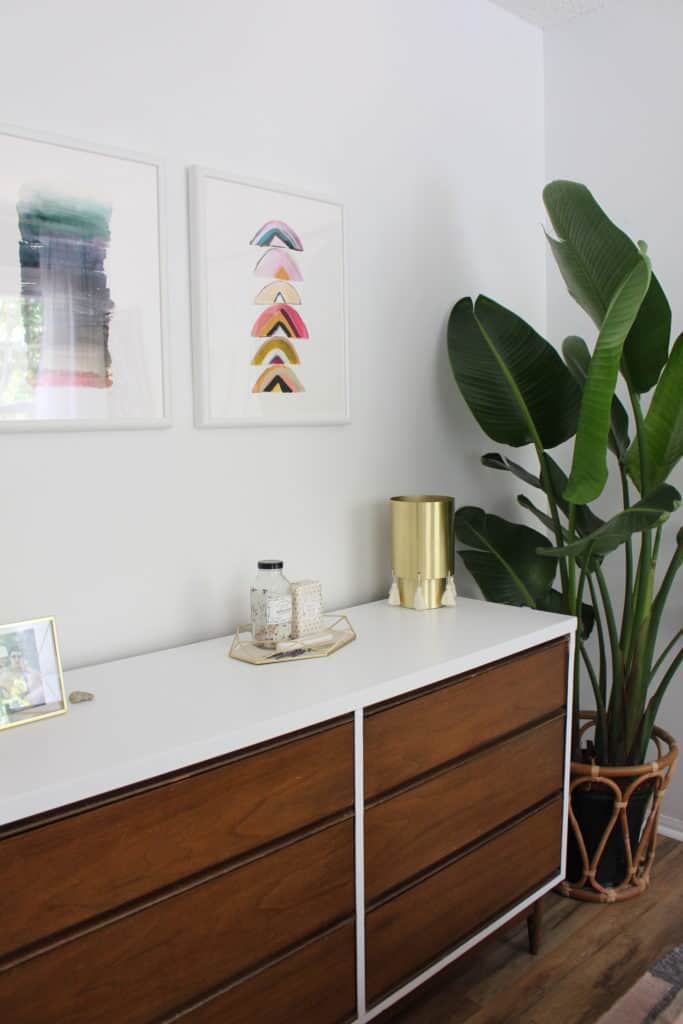 Okay friends! I'm dying to know what you think? I love exploring the homes of designers and fellow bloggers and I'm constantly taking notes and learning from them!
You can find our other Home of the Month features HERE. And make sure to head over to Cara's blog and Instagram feed so you don't miss out on all of her fabulous DIY projects and decorating ideas!
Here are sources for some of the items in Cara's home:
Bedroom seating area:
Sofa: Novogratz Brittany futon
Burlwood Frame: Framebridge
Gold Trunk: antique
Surfer dude print: found at garage sale, from 1920s
Dining Room:
Photo print of girl on wall is by Ciara Perrone (@ciara.perrone)
Front Door color: Pink Quartz by Behr Paint
Master bedroom Love Shack Print: by @laurenlostboys
Desk in bedroom corner: thrift find
Cheers!