Blogger Stylin' Home Tours: Christmas Edition 2014
Good morning and happy Christmas season everyone! I'm so excited to finally share our holiday home tour with you!
This is by far my favorite week of the blogging year :) Have you seen all of the awesome home tours going around?
Jennifer of Dimples & Tangles kills it with her holiday decor every year so if you're hopping over from her blog, well, I just hope you're not too disappointed :) Every inch of her home has a purpose and meaning and I love that!
Our beautiful host Lindsay of The White Buffalo Styling Co. does an amazing job organizing this event and I'm so grateful for the opportunity to participate! I hope you enjoy and be sure to find the full schedule at the bottom of this post and keep hopping to the next home!
I'm sure it comes as no surprise to most of you but I decided to go with a nautical Christmas theme this year. I'm using navy, white and gold, with cabana stripes, rope and tine, and some fun coastal ornaments.
This year, instead of using a traditional wreath or door swag I decided to venture out and make this unique embroidery hoop wreath (or wall hanging). I think it definitely lets people know that they are in for a nautical Christmas when they step inside :)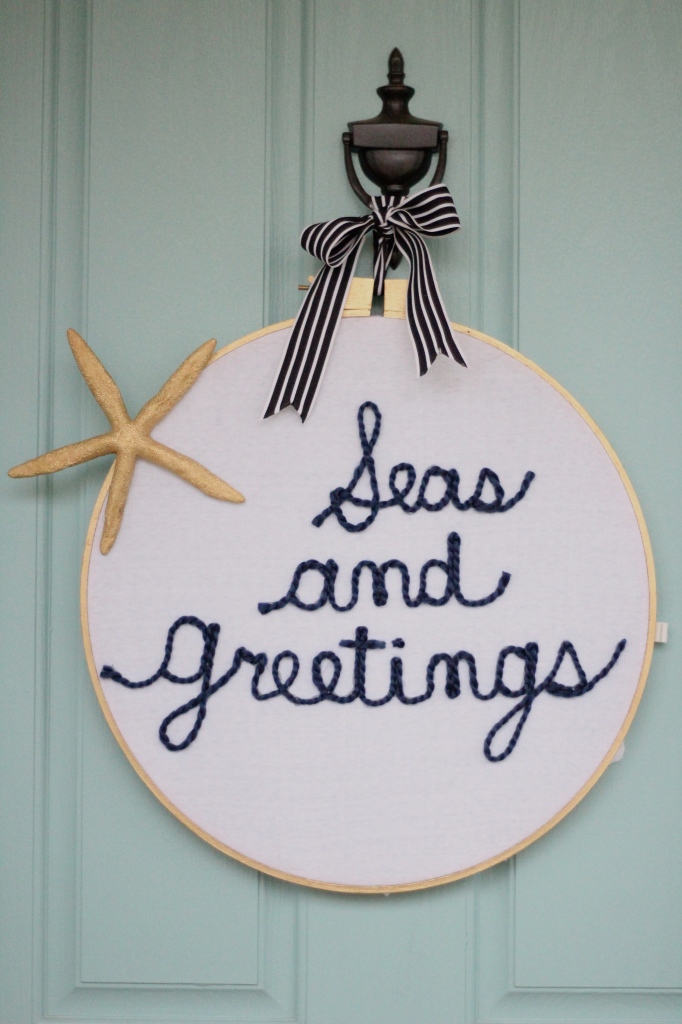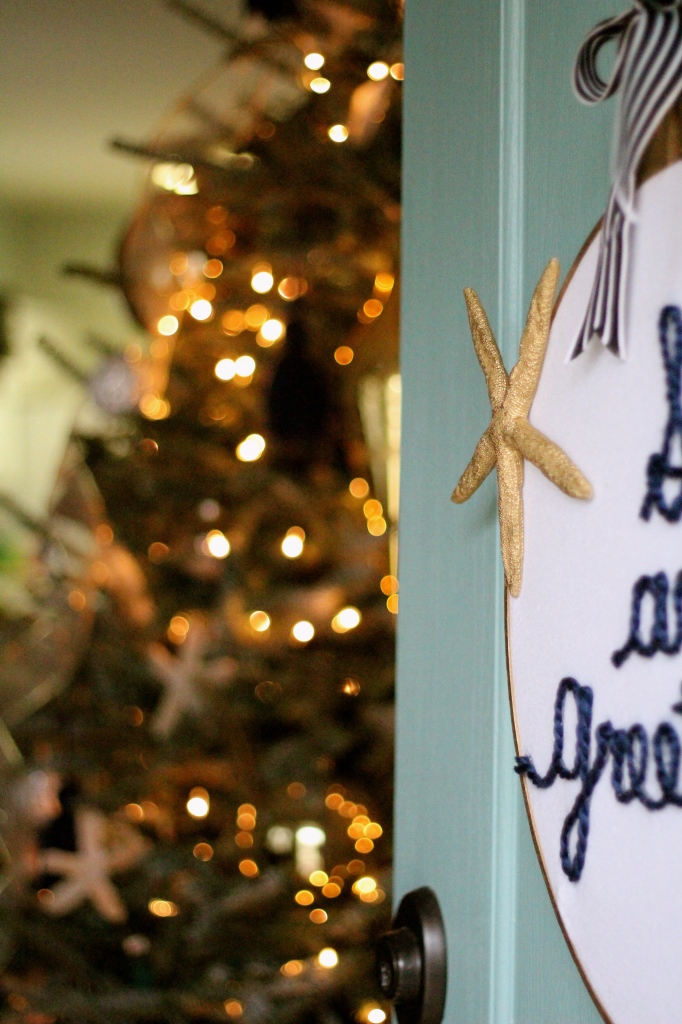 Here is our big 'ole Food Lion tree! Yep, you heard right, we get our tree every year at Food Lion (unless we decide to take a trip to cut down our own) and it's probably the best $29.95 I spend all year. This one was so big we had to cut about a foot off the top and several inches off the trunk too and we have 9 foot ceilings so that tells you something!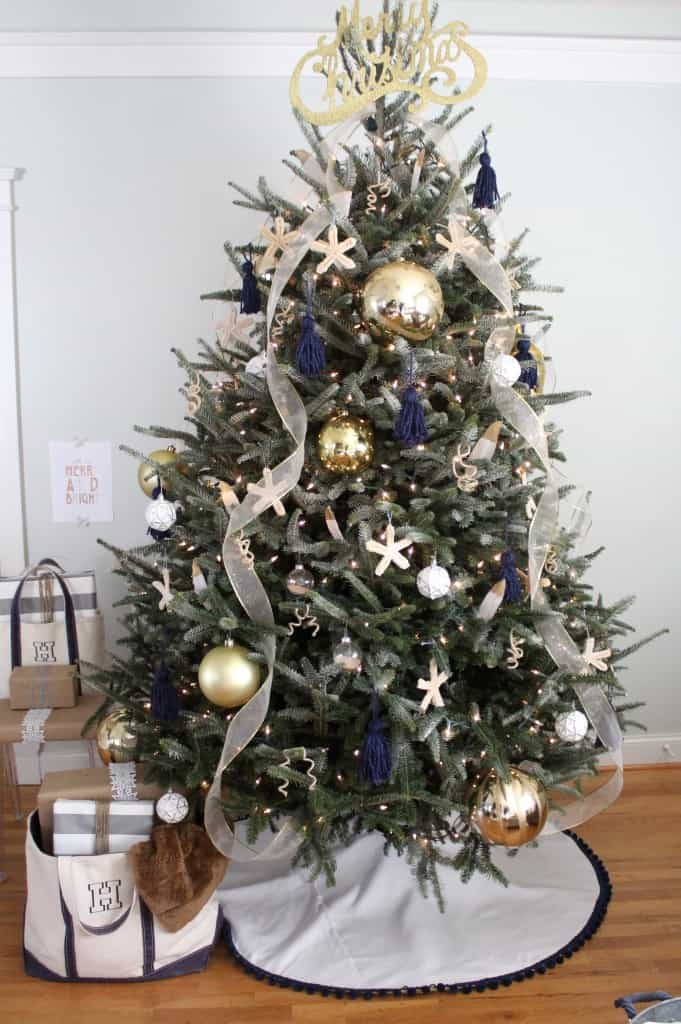 This year we're doing Christmas on a majorly tight budget and I think I spent less than $50 total including the tree!
We made a lot of the ornaments and used what we had from around the house and last year's decor. The giant gold balls are from an after Christmas sale at Walmart several years ago and I think at the time they were less than a dollar each!
I love simple but pretty wrapping paper. We used some fun snowflake trim and twine to give the presents a little something extra!
I threw some rope into the clear pitcher and pulled out one of our many shell bowls to hold gifts tags that I found at the Target dollar bin so they'd be ready to go for labeling gifts.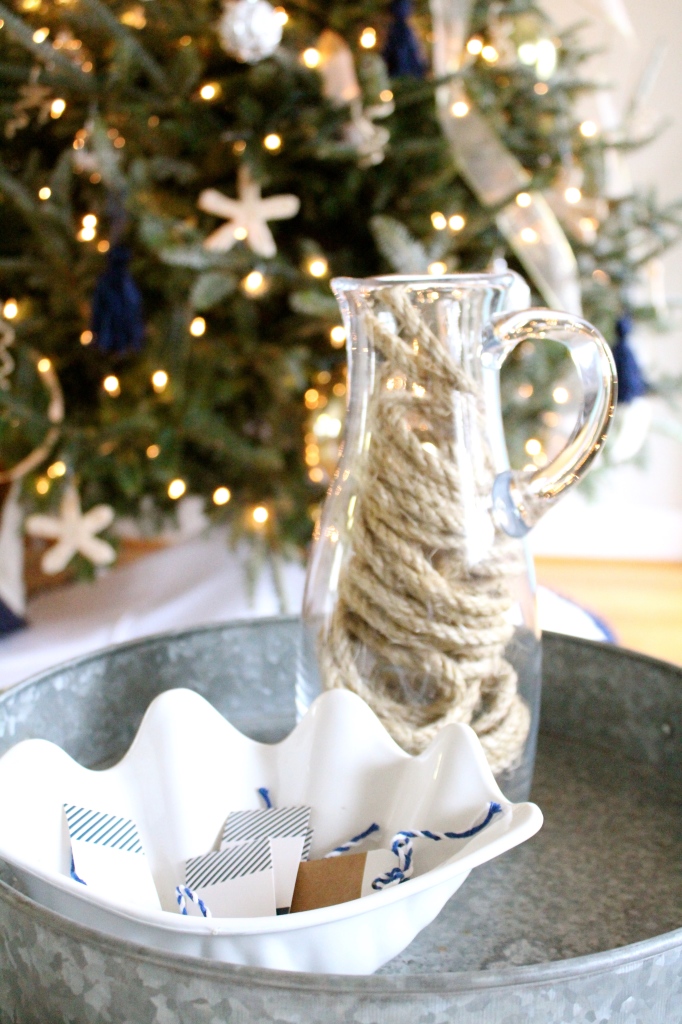 We also had these red stockings from the Walmart after Christmas sale but since I wasn't using red I simply covered the fronts with some leftover faux fur fabric from my stool makeover. I will post a follow up DIY Christmas post early next week so stay tuned.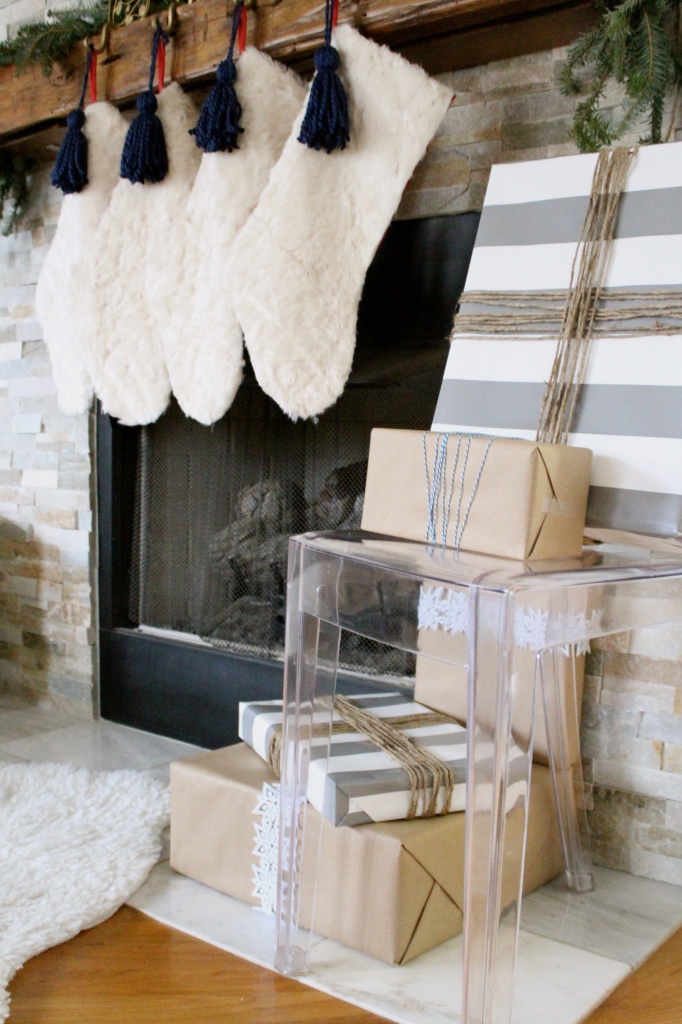 We've had the stocking hangers forever and I painted them gold for last year's Christmas tour.
I made the garland on the mantel from leftover trimmings from our tree and used twine to secure it.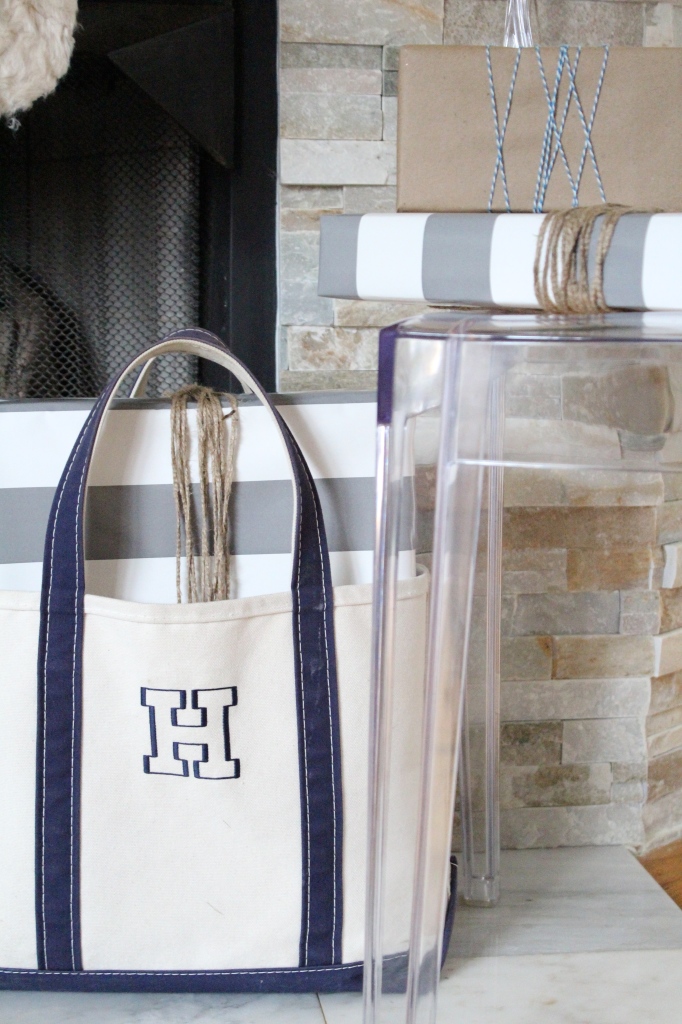 Furby loves to sit by the fire so much so that I don't know how she doesn't get over heated but she loves it :) We lost our sweet 9 year old labradoodle, Sunny, last month and it's going to be difficult not having her around. Honestly I haven't gotten over it yet but I'm getting there.
Here are the DIY ornaments we used. We filled plain glass balls with sand, I made the tassels our of yarn, we used the gold-dipped feathers from our fall tour and little man and I made the salt dough starfish!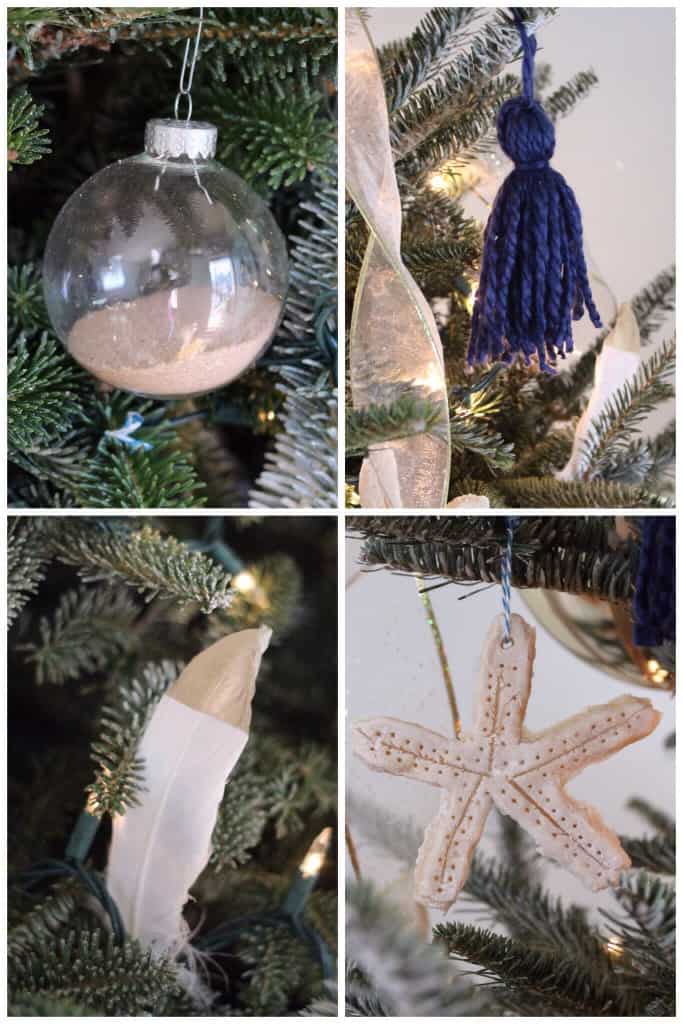 I love how the navy blue yarn tassels pop against the white and gold on the tree!
I also found these gold tipped gift tags at the Target dollar bin! Aren't they awesome and go perfectly with my real gold tipped feathers :)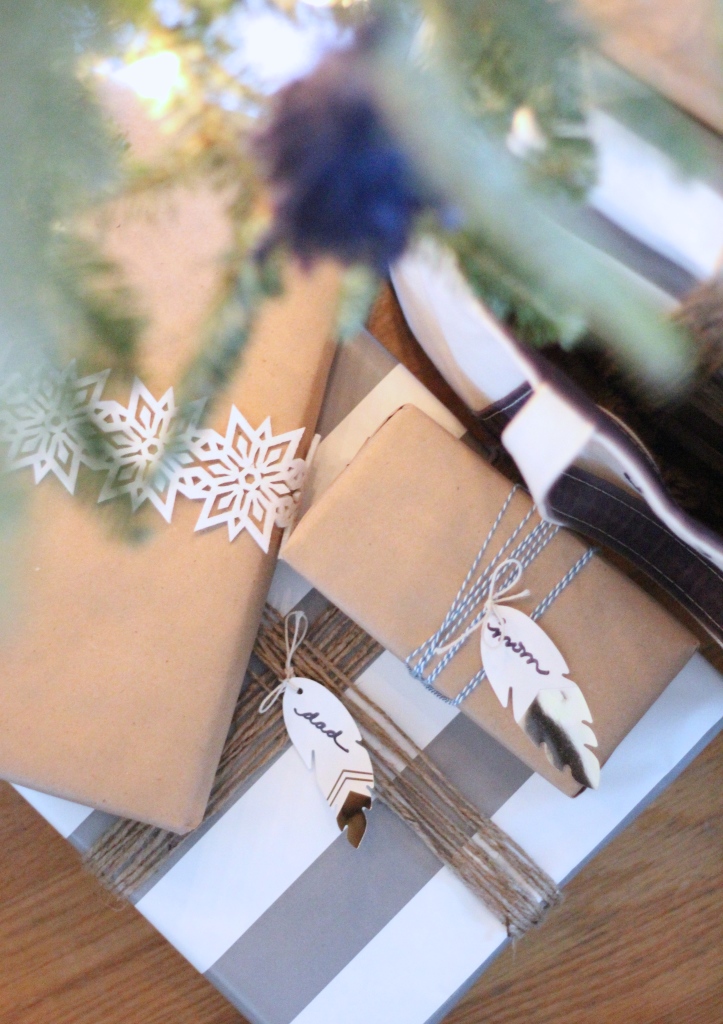 We've had these monogram canvas tote bags and I thought they would be a great way to hold the gifts and add a nice nautical touch.
The brown kraft paper came from the dollar store and the striped paper is from HomeGoods and was leftover from last year.
Here is the view from our kitchen, through the 'dining room' to our living room where the tree is.
Here are a couple shots of our Christmas table setting. You can see the rest of the pics here if you missed it.
I love that our downstairs is wide open and this is the view we have while we're eating dinner!
Here is our last minute chalkboard advent calendar and entertaining cabinet
I had some extra sparkly little ornaments so I strung them on some twine and hung them on the sunburst mirror.
It wouldn't be Christmas without a little glitter and sparkle!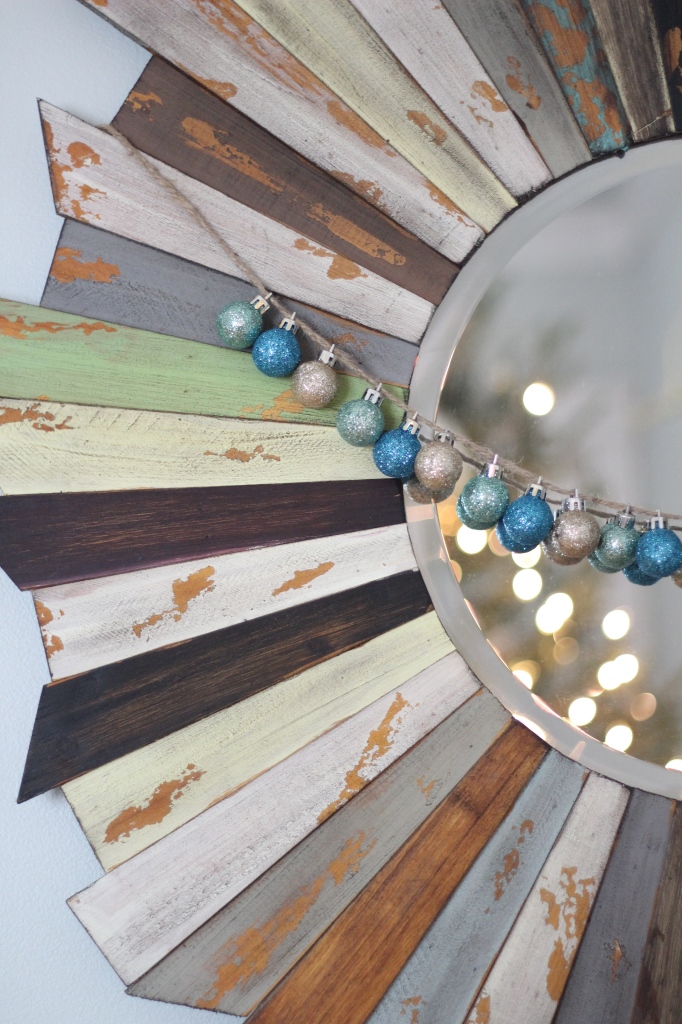 One of my favorite things this year is our tree topper! Because our tree was so big the star we had from last year was just too wimpy to do the job. I was stuck on how to top the tree because I didn't want to buy anything. I was going to just tie a big bow and call it a day until I ran across this hanging plaque at Walgreens. Another one of my favorite stores for anything and everything. (They also have the best prices on toilet paper and paper towels, FYI!!! I wasn't sure if it would work on the tree but for $3.99 I took the gamble and it worked perfectly!
The deal I have with my little man when it comes to holiday decorating is that mommy gets to decorate the tree during the first two weeks of December then he can have at it! He can change it, add stuff, whatever he wants. But this year he decided he wanted to take everything off his shelves and use the 'colorful' decorations in his room. So we had a fun little shelf styling session and he was quite pleased with the end result :)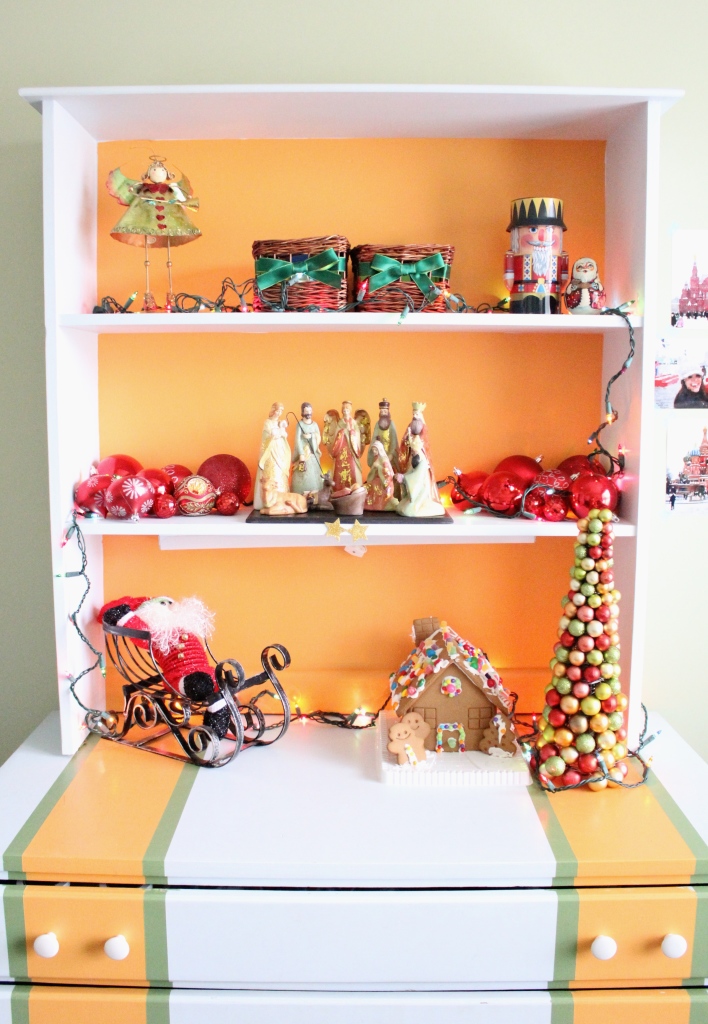 Whew, I'm tired now :) Hope you're not though so you can continue the tour over at Run To Radiance, Tania has some great stuff in store for you!
You can also check out some of my other Blogger Stylin' Home Tours from the past!
If you want to start the tour from the beginning you can head to The White Buffalo Styling Co., where Lindsay updates the links everyday! Thank you so much for allowing me the opportunity to participate! Now I'm off to soak up these last few weeks of the season with my little man and focus on what it's really all about, the birth of Jesus Christ!
Monday, December 8th:
· The White Buffalo Styling Co.
Tuesday, December 9th:
· My Fabuless Life
· This, That, & Life
Wednesday, December 10th:
Thursday, December 11th:
· Finding Home
· The Thriftress
Friday, December 12th:
· Burlap and Lace
***
LINKING UP:
Remodelaholic // Avery Street Design Blog // Dimples & Tangles // Place Of My Taste // Nesting Place //