The Best Honeycomb and Goat Cheese Appetizer
Good morning friends! I'm getting ready to wake up your taste buds this morning. Oh, okay, finish your coffee first!
This appetizer is so easy that there isn't even a recipe to share! But…it's a total foodgasm (sorry for that but it's THAT good)!!!
We discovered this pre-meal heaven while visiting some friends on vacation at Tybee Island, GA who served this when we came over for dinner for the first time. It was so good I was shoveling it in my cake hole as fast as I could, completely embarrassing myself in the process :) Sorry Steiners :)
So, I know it might sound a little odd but this combo is perfection and I meant to post about it long ago! So drum roll…it's raw honeycomb (this is the key), goat cheese, crackers or bread, and pear or apple slices (optional).
Kidding, not kidding! Grab a cracker, slather it with goat cheese, then honey, top with a fruit slice if you prefer, then join me in heaven!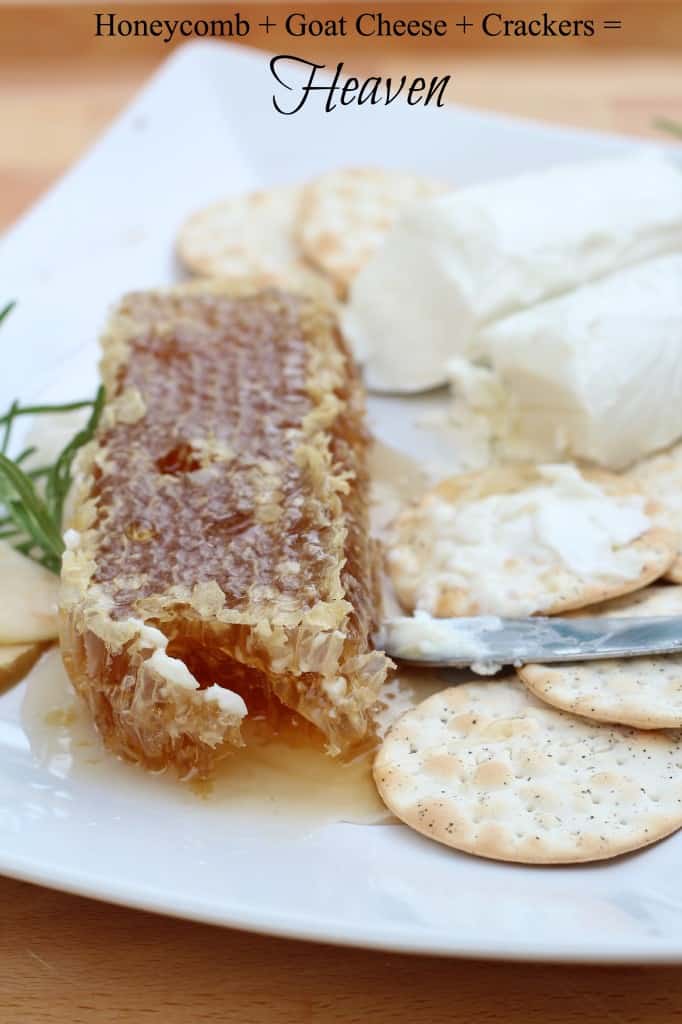 The raw honeycomb is the key and it's actually hard to find. Regular honey will do in a pinch but there is something about the freshness of the honeycomb and the wow factor of your serving it to your guests!
We buy ours from Savannah Bee Company (one of our favorite spots) when we are in Savannah or Tybee and it's by far our favorite. The Savannah Bee honeycomb is hard to find but we've lucked out and found it in one or two select stores in Charlotte. But we recently found some at the farmer's market that is fitting the bill when we run out!
I've found that Trader Joe's has the best price on goat cheese by far. If you're not a goat cheese fan, blue cheese compliments the honey just as well and we love it too!
This little treat is great on water crackers but also delicious on a thin sliced baguette!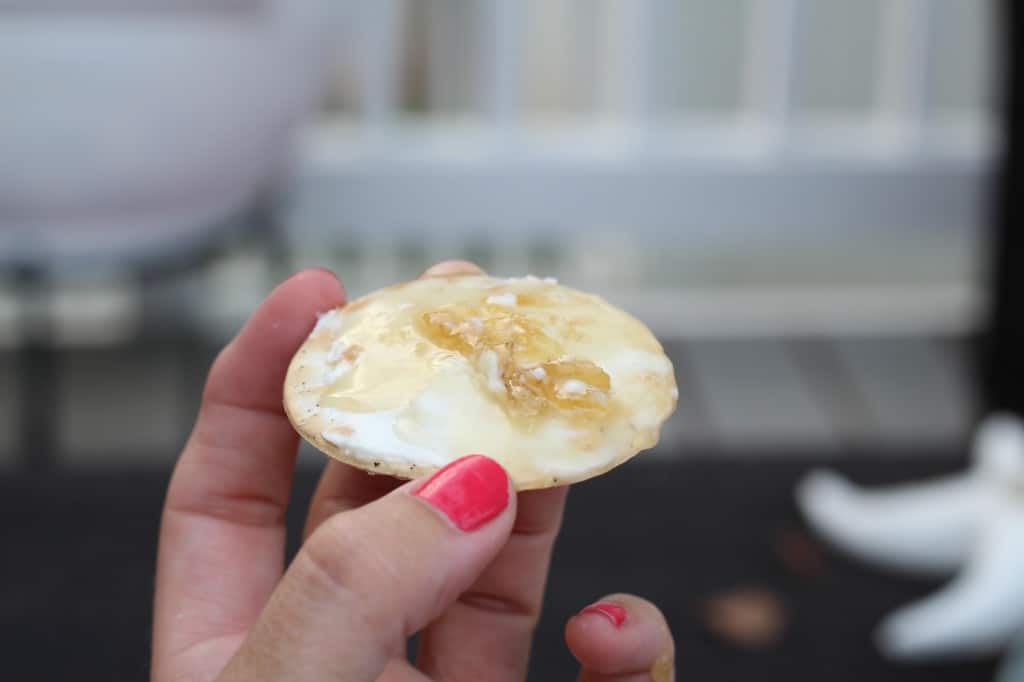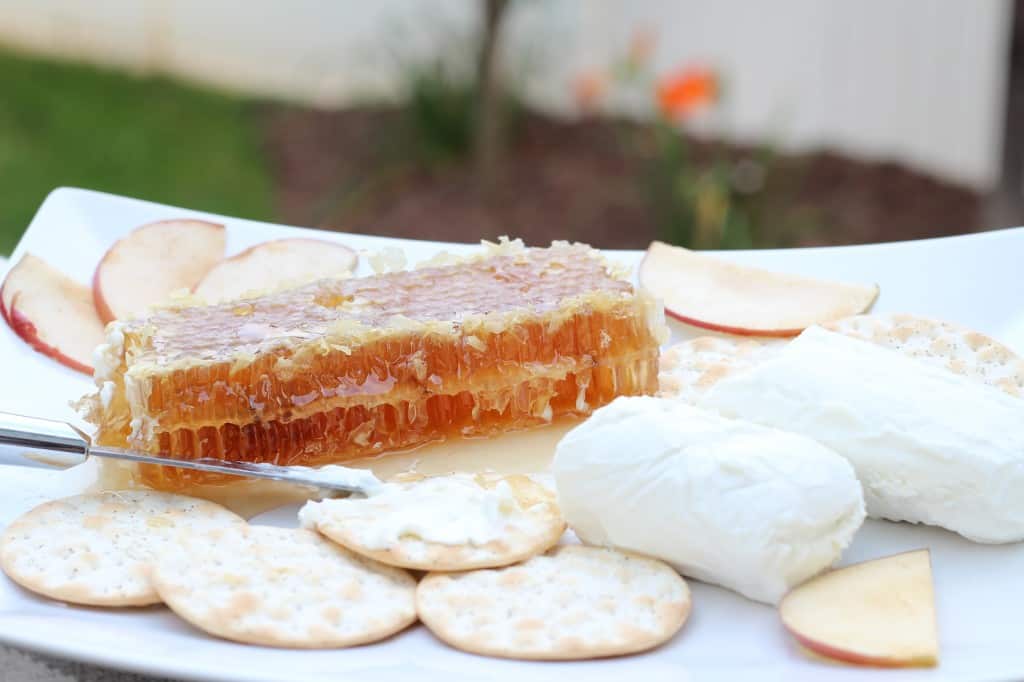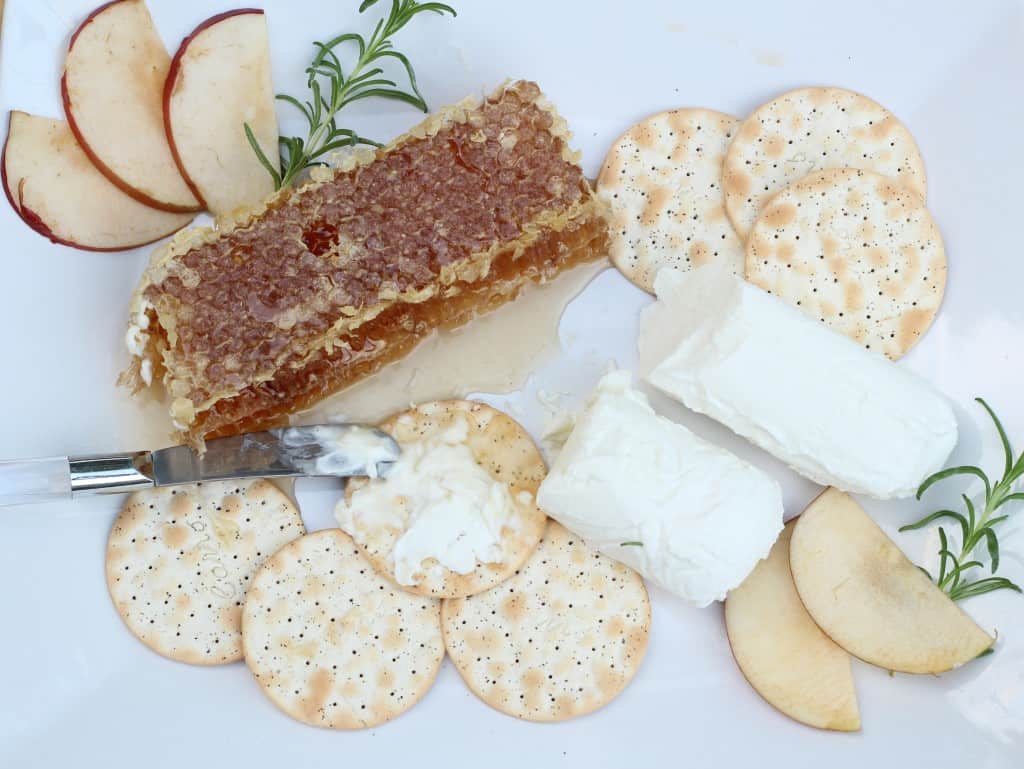 Let's make a deal, next time you have a dinner party or friends over try this and let me know how it goes! I love it that much…not sure I've ever been this confident about anything before :)
Okay, maybe I've gone a little overboard but seriously this has become one of our favorite snacks when we want something a little fancier and is definitely a 'go to' appetizers to server guests!
Does it sound awful or do you think you'll try it? You trust me right :)
I hope you guys have a great rest of the week and don't forget to tour all the amazing room tours on the Blogger Stylin' Home Tours this week! the schedule is below and you can see my favorite room on Wednesday!
Monday, August 25th:
Fieldstone Hill
Tuesday, August 26th:
This, That & Life
Wednesday, August 27th:
Thursday, August 28th:
My Fabuless Life
Friday, August 29th: