A Healthier Sweet Potato Casserole Recipe (Gluten Free)
A Healthier Sweet Potato Casserole Recipe (Gluten Free)
Happy Monday friends!
I hope you all had a great weekend! Raise your hand if you're excited for Turkey Day!!! I know I am! I plan on slowly getting ready this week for the big day by making sure to get my workouts in and lots of sleep before the feast and family time.
My mom is known for some killer recipes and her sweet potato casserole is one of them! Problem is…I'm trying to eat a bit healthier this year overall so I decided to tweak it a little. Sweet potato casserole is definitely not the worst thing you can eat but by swapping a few ingredients we made it a little more healthy and clean.
It's super easy and if, like me, you're trying not to fall completely off the wagon I hope you try it!

Filling Ingredients

:

3 cups sweet potatoes, cooked and mashed – 5-6 small ones or 3-4 large ones

1/2 cup coconut palm sugar [swapped out granulated sugar and used 1/2 cup less]

1/2 tsp sea salt [swapped out regular salt]

2 organic cage free eggs

1 tsp cinnamon

1 tsp vanilla extract

1/2 stick (4 tbsp) grass fed butter or ghee [swapped out regular butter]

1/2 cup almond milk [swapped out regular milk]

1 tbsp +/- organic maple syrup or honey (the real stuff) [I used less sugar overall so I added this for a little sweetness]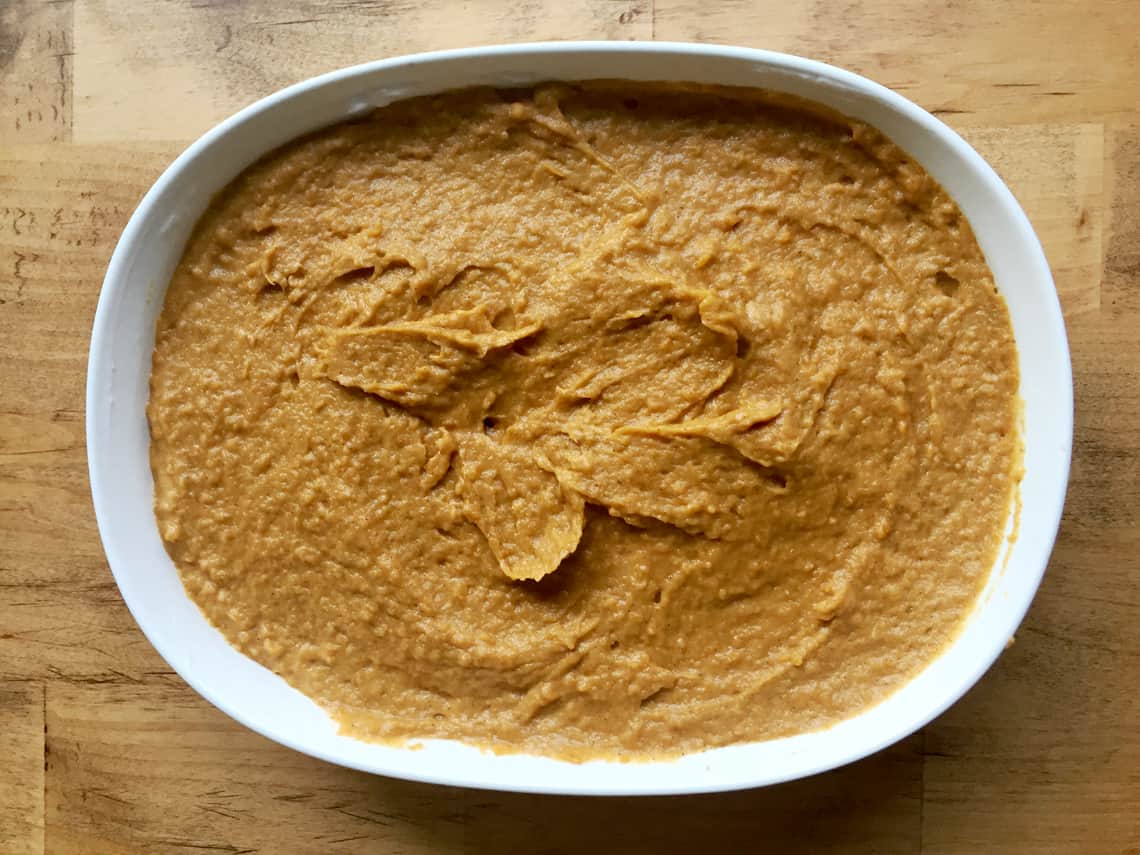 Topping Ingredients

:

1/2 cup coconut palm sugar [swapped out brown sugar and used 1/2 cup less]

1/2 cup coconut flour [swapped out regular flour]

2 tbsp organic maple syrup (or honey) [added for a little sweetness]

1 stick grass fed butter (or 1/3 cup coconut oil), melted [swapped out regular butter, measure out for equivalent to 1 stick if using Kerrygold]

1 1/2 cup chopped pecans
Directions

:

Beat all of the filling ingredients together on med-high speed for 5 minutes. Pour into a greased backing dish. While the filling is beating, mix together the topping ingredients. You may need to use your hands to mix it well. Cover the filling evenly with the topping. Bake for 45 minutes at 350 degrees, until the top is golden brown.

Pre-bake:
Boom!
This came out delicious and was still sweet enough for my taste without as much sugar as the original recipe. Mom, yours is ALWAYS the best but this is a close second :)
So what's on your Thanksgiving menu this year? Are you keeping it under control or is this a complete cheat day? No judgment here :)
If you are trying to avoid a total food hangover this year check out my friend Kristin's post HERE for a few Turkey-day Tips!
And check out more of our recipes HERE.
Cheers and HAPPY THANKSGIVING!!!