7 Secrets to Hosting A Stress-Free Dinner Party With Friends
Have you always wanted to have friends over for a dinner party, but the thought alone overwhelms you? So much so that you give up on the idea of hosting altogether? Don't worry, I'm here to help you host a simple dinner party that is easy to plan, memorable for your guests and that you will actually enjoy!
Here are our 7 secrets to hosting your next stress-free dinner party with friends and grab the FREE dinner party checklist.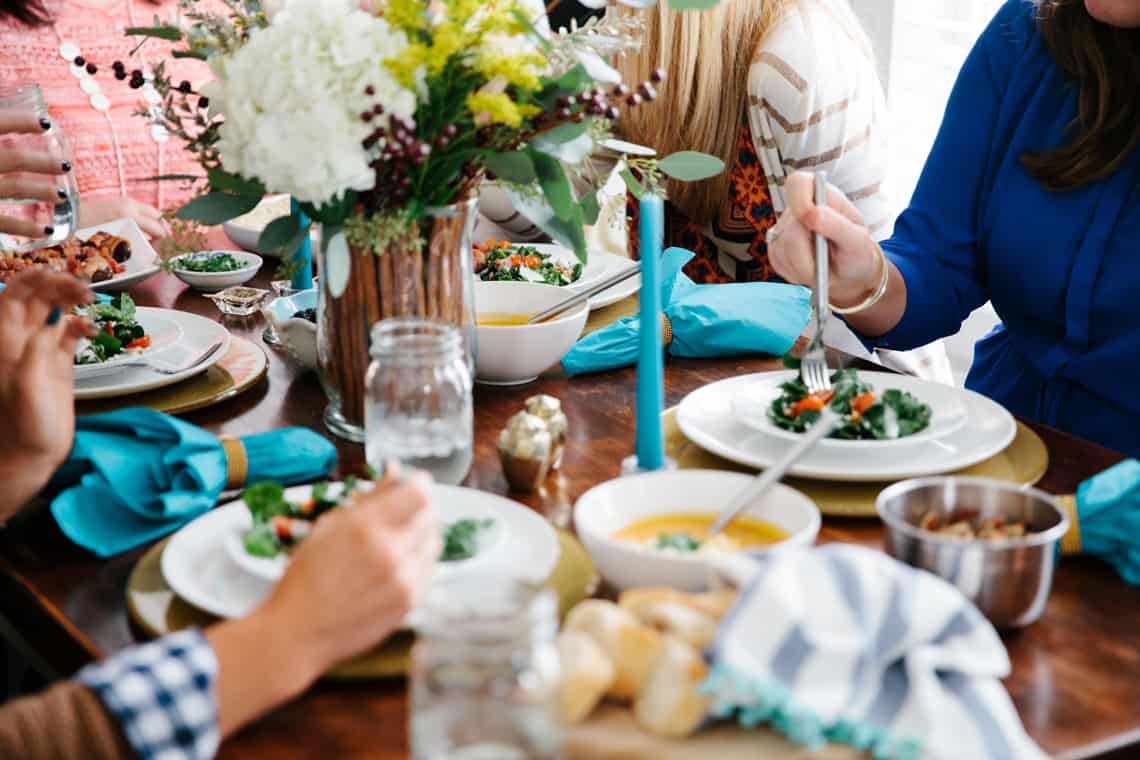 I know it sounds obvious but this was a huge problem for me. Once I finally made myself get completely ready before I did anything else on the day of the party, I was MUCH less stressed. I can't tell you how many times I've opened the door to my guests with no makeup on and half-dried hair.
2
Buy cheap place settings at the dollar store.
Are you low on place settings but don't want to buy an expensive set? Pick up new ones at the dollar store. The dollar store often has fancy-looking dishes that are very affordable. I bought a set of 10 place settings for a dinner party that were white with gold rims and I've used them at gatherings ever since. It's also okay to mix and match which will give your party a fun, eclectic vibe.
3
Rent or borrow a folding table & chairs.
At one of my favorite dinner parties, I didn't have enough seating so I rented a round table and my guests and I ate right in the middle of the living room. Throw a white table cloth and some candles out and you've set the tone. Pro tip: round tables are great for conversation, allowing everyone to be able to talk instead of being relegated to the person stilling next to or in front of you.
4
Make one food item and buy the rest.
Keep it simple. Make one dish from scratch, preferably one that smells delicious in the oven, and serve store-bought items for the rest of the meal. Plate the food on pretty serving dishes and you're good to go. Remember, it's not all about the food or the place, it's about the company.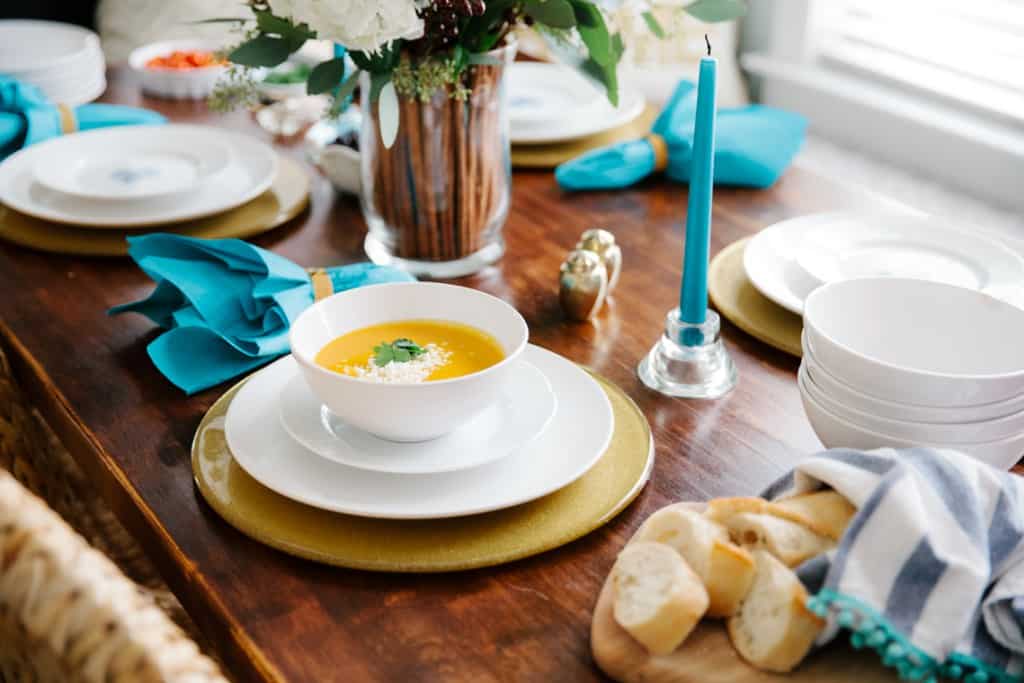 5
Use conversation starter cards.
Do you worry about your dinner party growing stale and running out of things to talk about? My advice is to have some conversation starter cards on hand and I promise you won't run out of topics. Plus they're just fun! I recommend this conversation starter set and it is great for all audiences.
Music is one of the best ways to set the mood for a dinner party and keep it going. Make a Spotify or Apple Music playlist based on the style of your party. Making the playlist long enough for the length of the party is key so you don't have to stop in the middle of dinner and change the music.
7
Dress up store-bought desserts.
This might be my favorite hack of all! Buy several small cakes or desserts (my go-to is Trader Joe's), put them on cake stands and top them with fresh flowers or any type of pretty garnish. The options are limitless. Read how I decorated store-bought cakes with fresh flowers, fruit and even macaroons.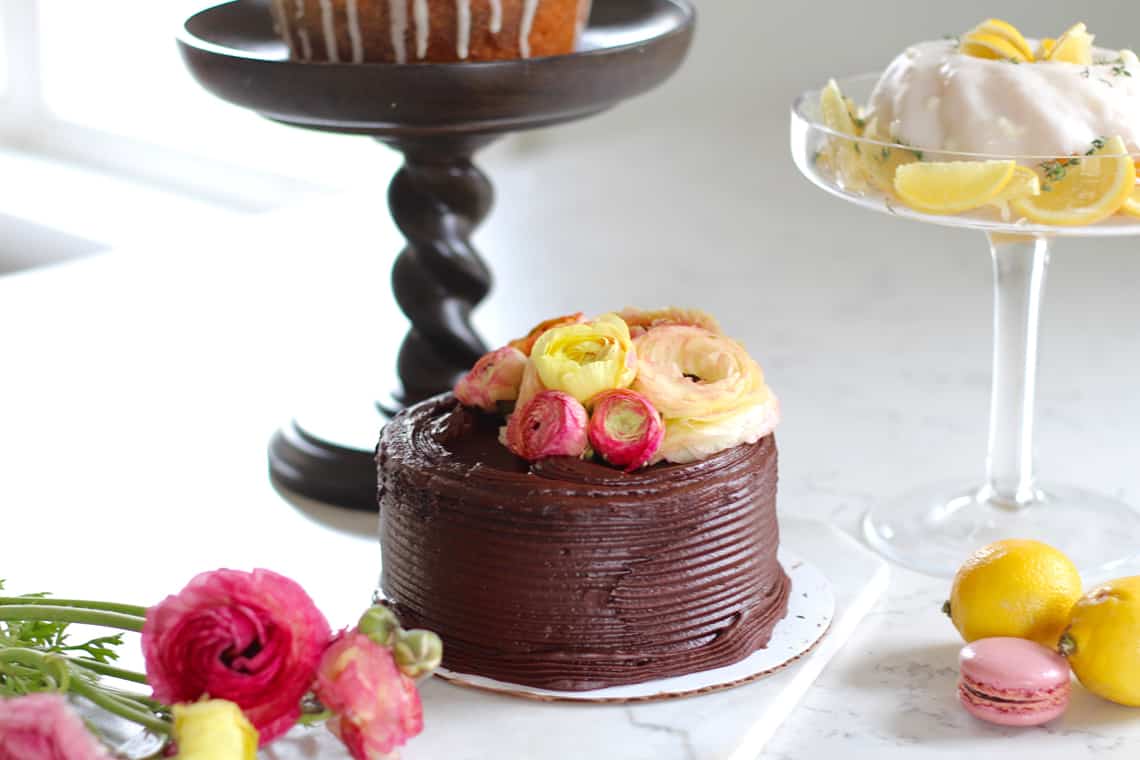 Now…go invite those friends over. Plan your party. Make memories. That is what a stress-free dinner party is all about. Start small, keep it simple and just have fun! I
To help kickstart your next (or first) dinner party I'm giving you my FREE Dinner Party Checklist, so start planning TODAY. You will be so happy with the outcome that you'll be ready to plan your next one!
Free Download
Plan your stress-free dinner party today! Grab the FREE Dinner Party Checklist now!
Thanks for reading and I can't wait to hear all about the dinner parties you plan! Find more entertaining and hosting tips on the blog.