Home of the Month: A Laid Back Lake House
Home of the Month: A Laid Back Lake House
Happy Tuesday! I'm SOOOO excited to have a brand new Home of the Month feature for you. It's been so long since I've posted a HOM and I'm even more thrilled I got to shoot this one myself.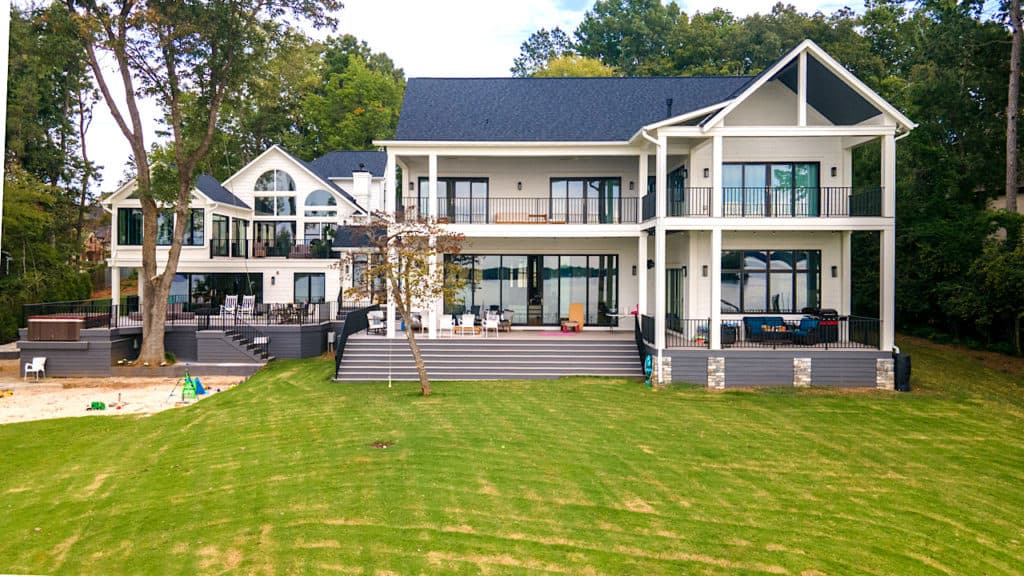 This is the gorgeous, stylish, modern farmhouse, uber kid-friendly lake home of my friends (and former neighbors), the Gibbs. This fun and adorable family of five lived across the street from us while they were building this Lake Norman stunner. Originally from South Africa (we were probably first attracted to their sweet accents), we became fast friends and now I have the pleasure of sharing their home with all of you!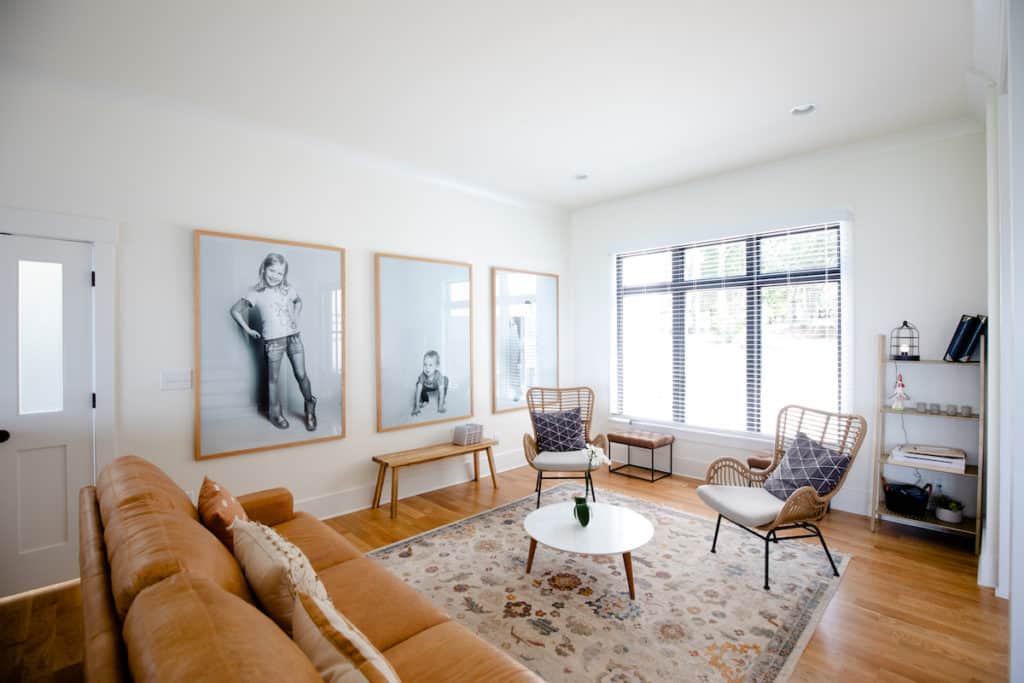 Cally and James designed and decorated the entire house themselves and every inch is thoughtful, intentional and stylishly embraces the kiddos! And lucky for me Cally is not only awesome at designing and decorating but she's also a pretty great wordsmith too! Here's a little more about the Gibbs family in their own words:
"We live in a mid-century modern farmhouse….on a lake. Which makes very little sense but, hey, sometimes neither do we!
We're a family of 4 South Africans and an American and we moved here just over three years ago. We love the area, the space and absolutely adore living on the lake. When we realized we'd have to fully demolish and rebuild the existing house on the lot, it gave us the rare opportunity to really think about what our unique family needed and design something perfectly suited for us.
We're loud and busy and each of us has our own little creative side! So when it came time to plan this house I made sure to include lots open spaces that could be easily changed to suit our purpose at the time and allow for my ever-changing design nature to be catered for (I have a habit of doing full room redesigns on a weekend whim or painting a wall a super bold color just to see how it looks).
I love designing and decorating so the entire process was like chocolate-cake-Christmas pudding-Easter egg hunt-day over and over for me. I got to choose everything myself from the windows, to floors, brickwork, railings, tiles, plumbing – everything! It was great. For the architectural design I went with more of a modern farmhouse (thanks Chip and Joanna for getting into my head).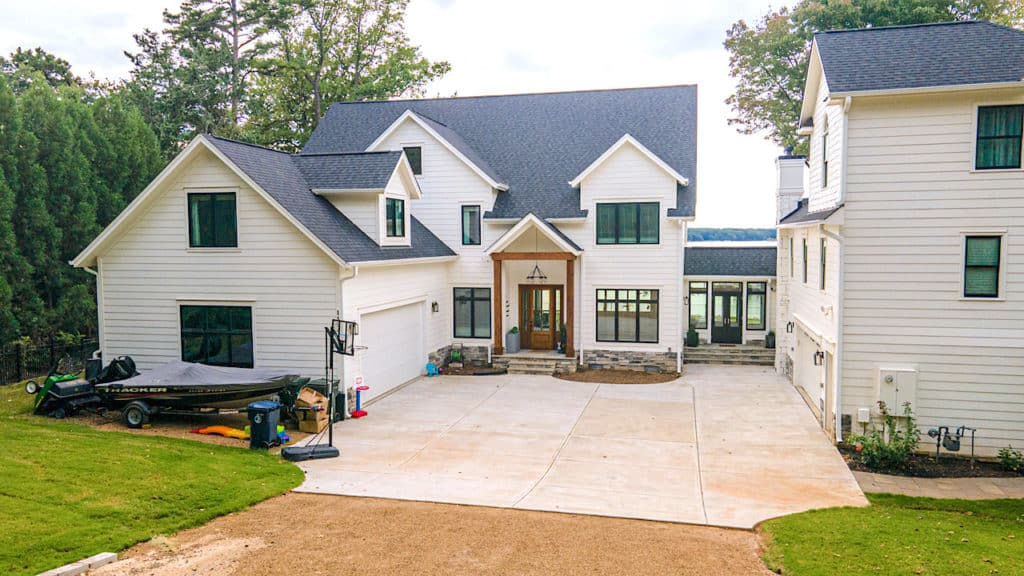 I believe that a rectangle-square shape home is the most beneficial use of space. I wanted to max out the interior by creating spaces that can evolve without much fuss. The layout is very simple with open entryways, lounge/living/kitchen areas and nice size bedrooms.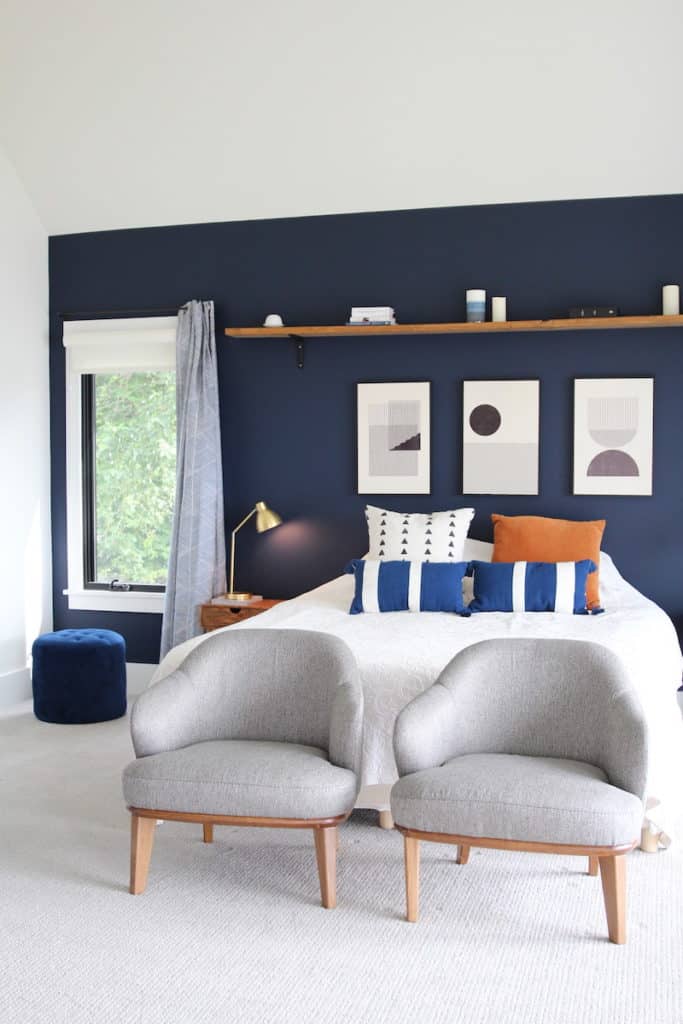 With regards to interior design I chose to go bold, filling it with colors and textures I love. I remember reading somewhere that you should have nothing in your home you don't know to be useful or believe to be beautiful, and that's exactly what I went for. I wanted my house to always make me smile, hence the huge portraits of my incredibly silly but beautifully crazy kids in the entry room. Blue kitchen cabinets with gold handles, eclectic laundry room tile and a fun family pj lounge also help with the happiness factor!
I naturally lean towards mid-century modern design with some modern farmhouse elements. There's also a little bit of boho in me which pops in every now and then. My favorite inspiration source is Havenly. I love their Instagram and highly recommend their service for anyone needing some super budget-friendly but excellent design help.
I love how modern design has evolved to embrace the personality of a home and it's occupants and there's a move towards boldness. Boldness suits us right now. We're a big family with huge personalities and our home is our happy space. Each of us has our zones of creativity within it (although admittedly my husband's zone – being his office, toy shelves and garage – is markedly smaller then mine, which is the rest of the house, not including our daughter's room which is a crazy mess of craft supplies."
***
Now for the rest of the pictures of this beautiful space!
Downstairs Living Areas & Kitchen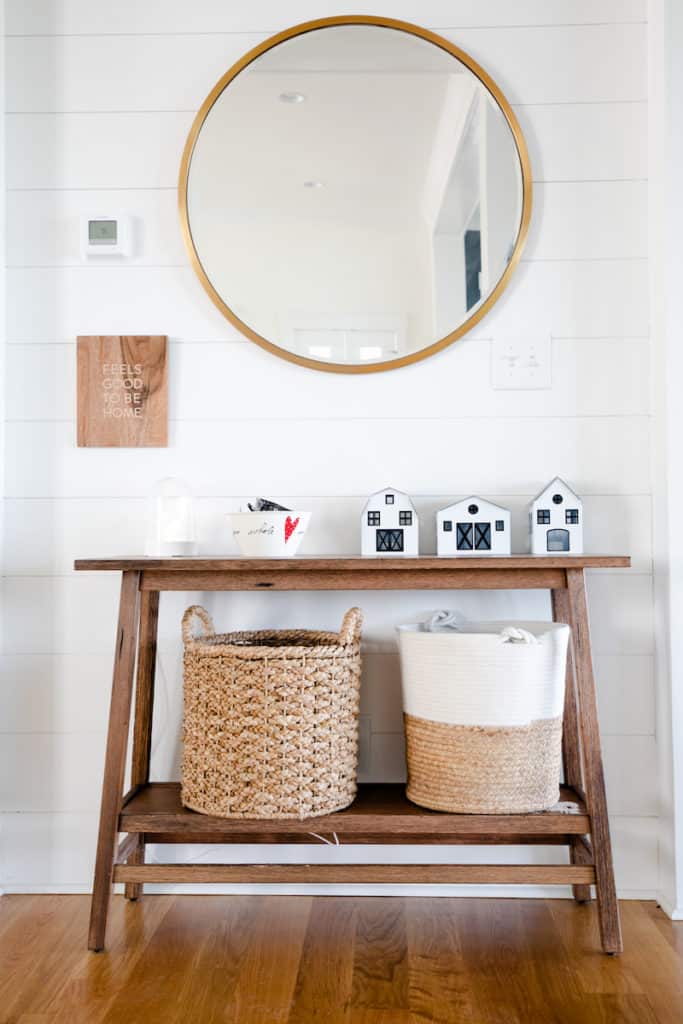 The brick accent walls and the contrasting blue cabinets are stunning!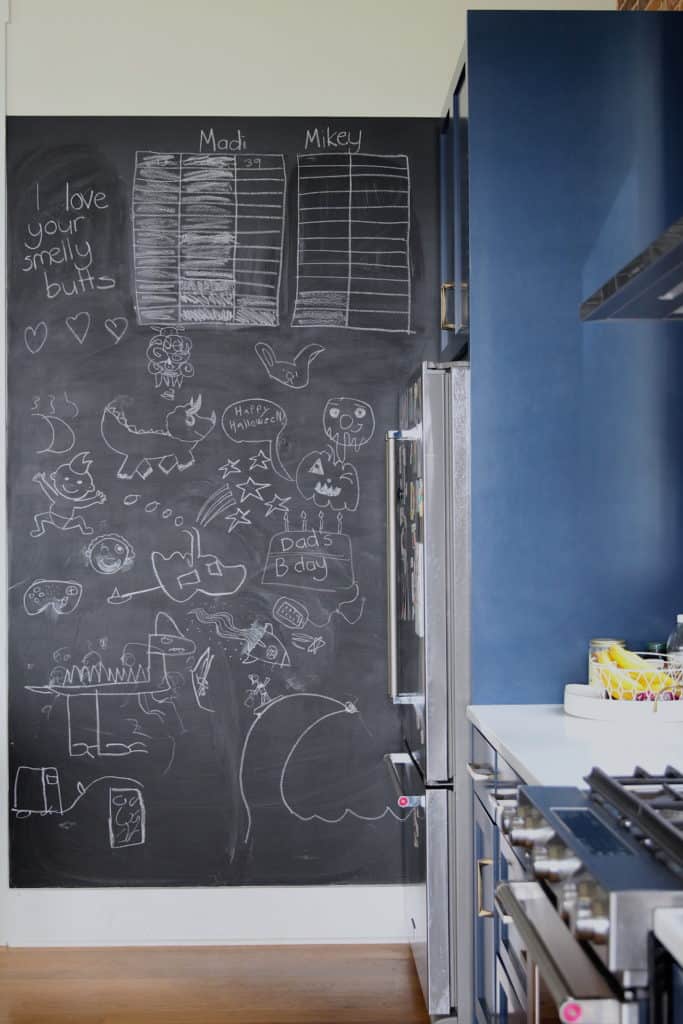 The wide open spaces feel so good and there is tons of room for entertaining.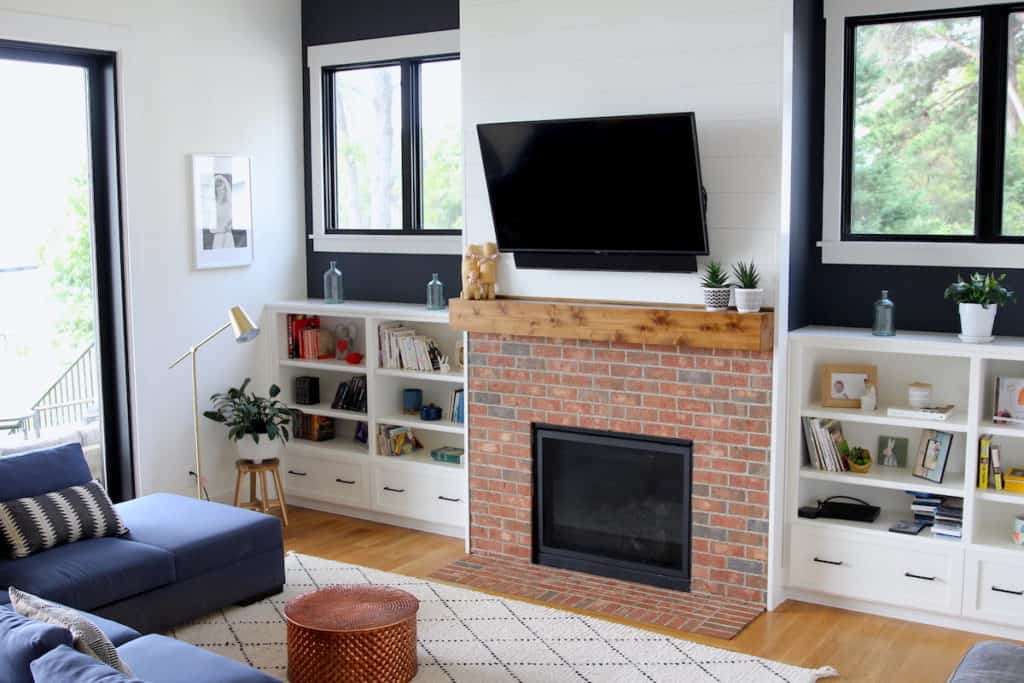 Kids Rooms & Loft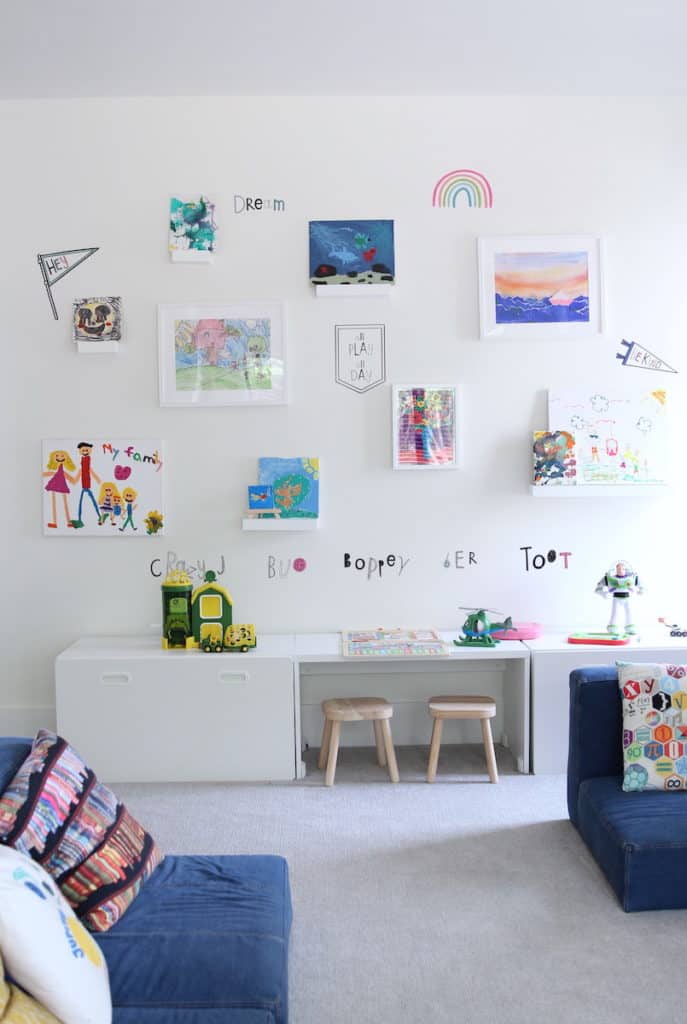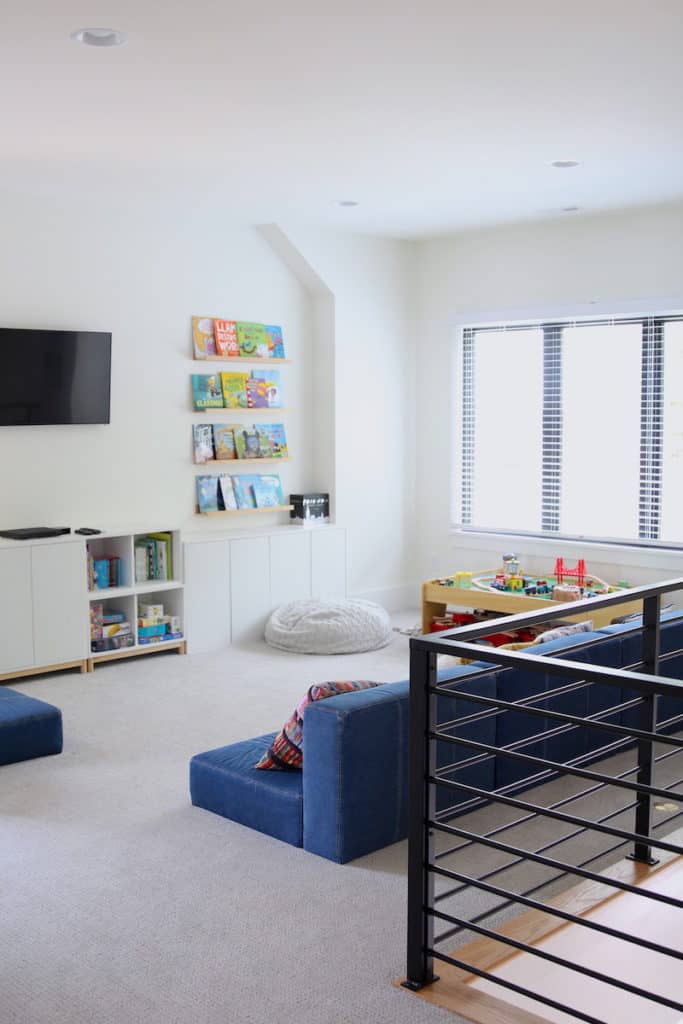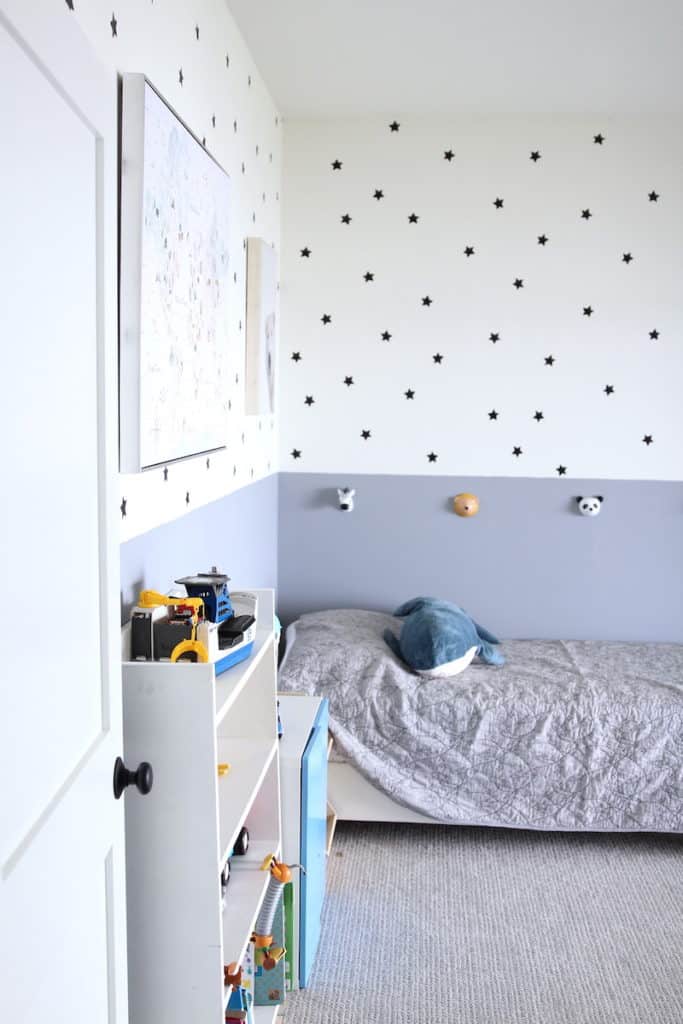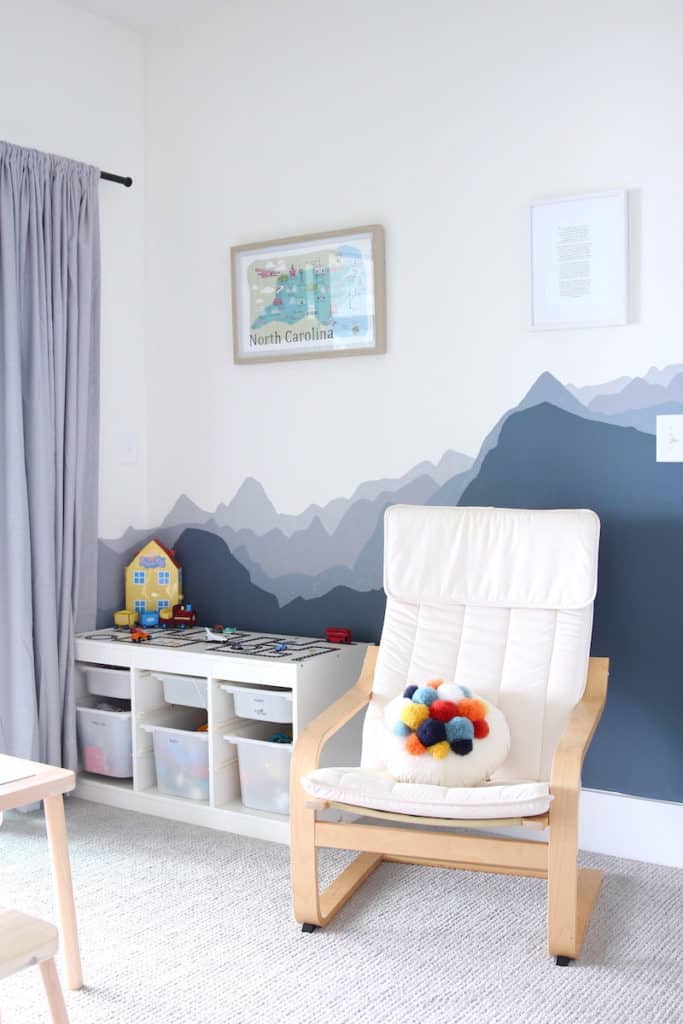 How cool is this mountain wall mural?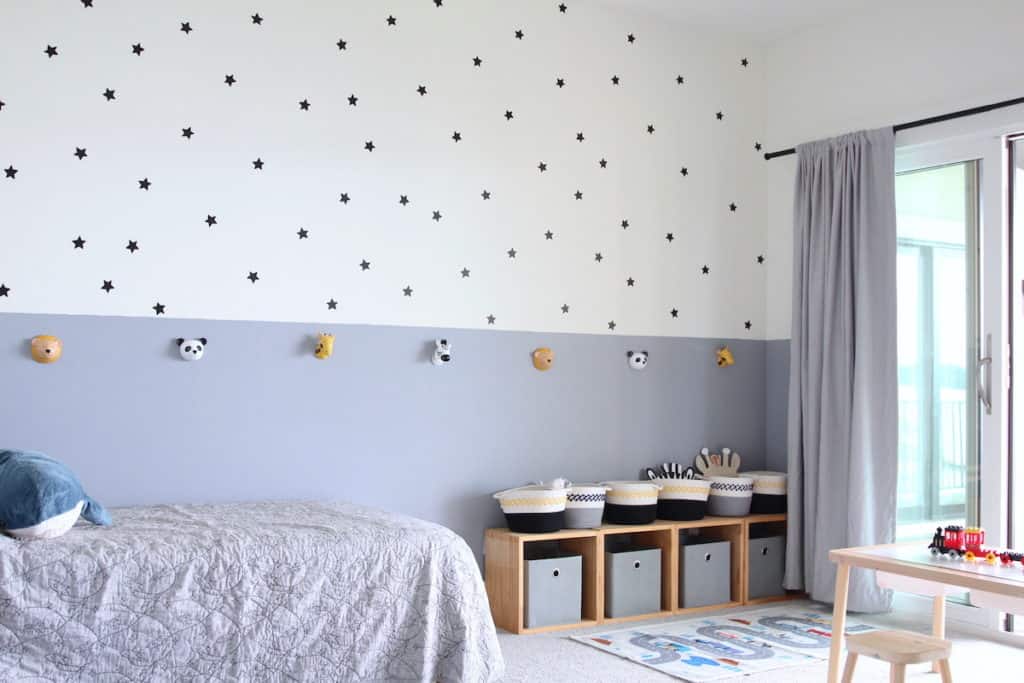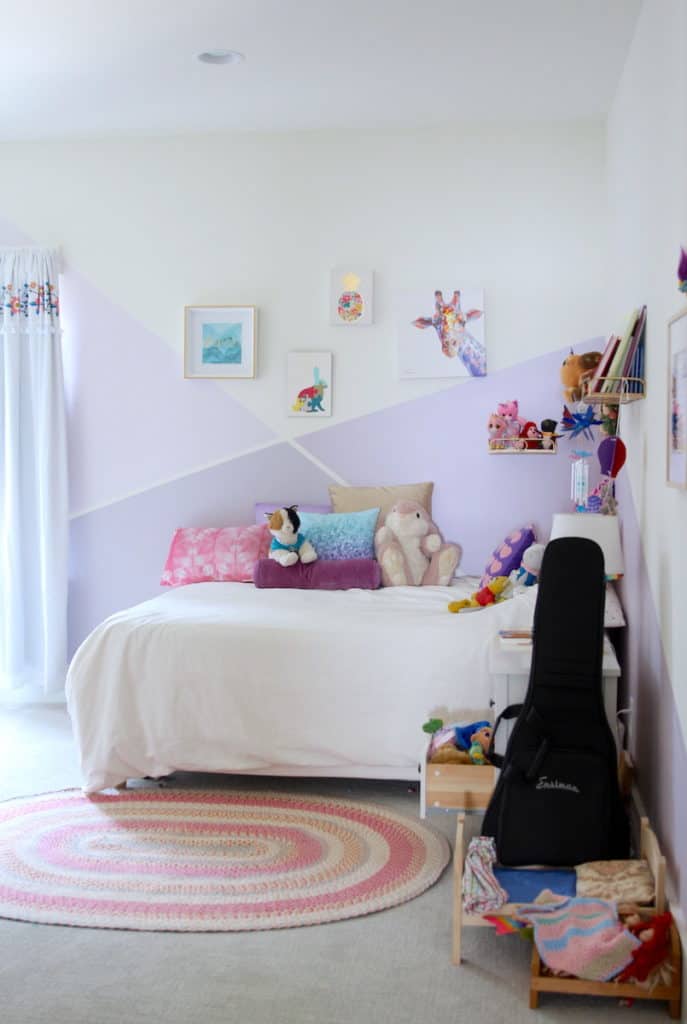 Master Bedroom, Bathroom & Laundry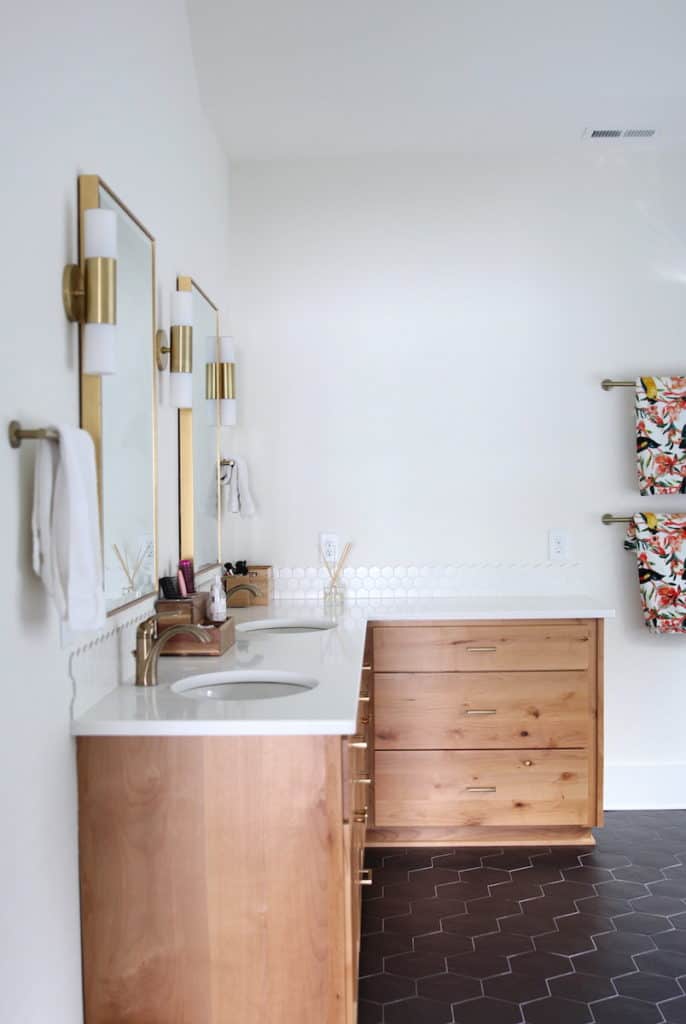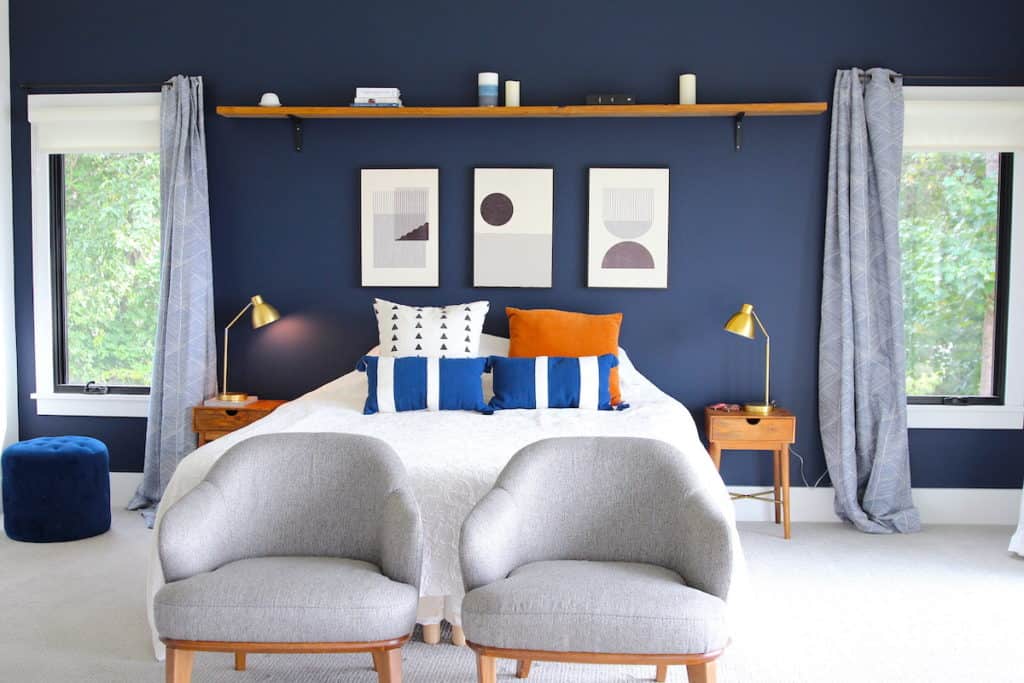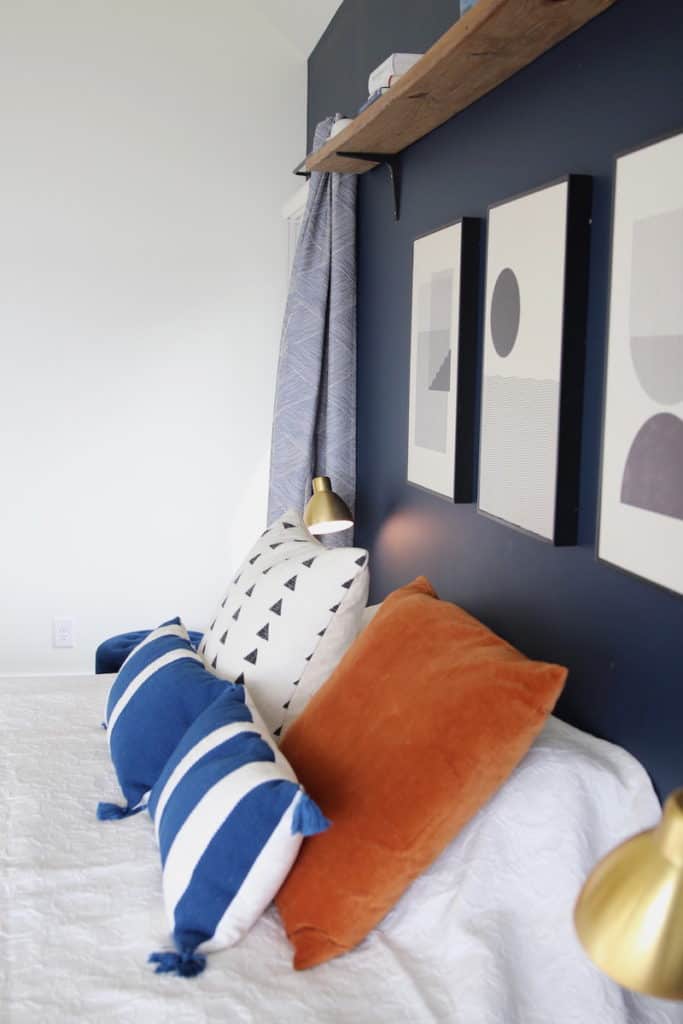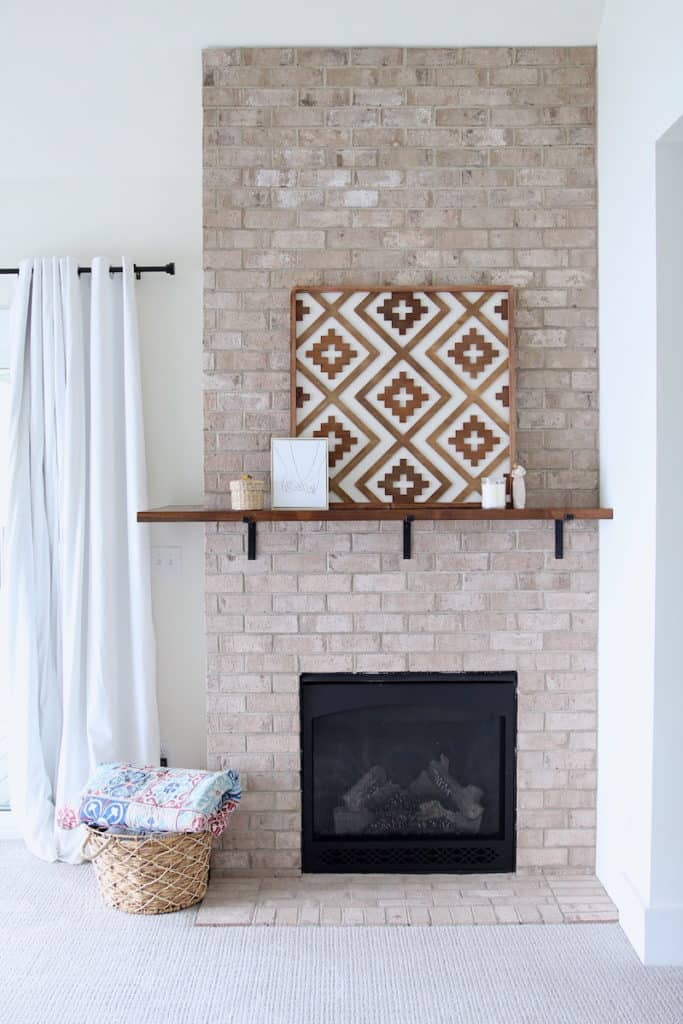 How amazing is this home? Every room has a view and the lakefront is to die for! And just as a side note, the separate section of the home on the left is where Cally's parents live and it's connected to the main house by a breezeway. Incredible right?!?
James is a talented photographer and I was super excited about these drone photos that he shared with me. He shot several of the interiors as well. It's a first for the blog to have drone photos. You can check out his website HERE and we have a few of his toy photography prints in my son's playroom. Very unique!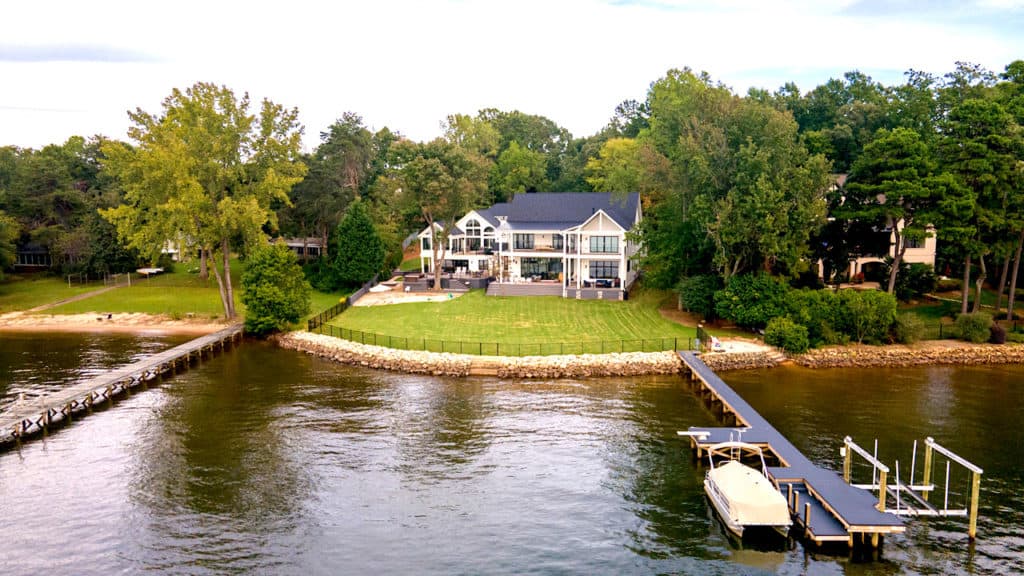 As you know already Cally is a talented designer, but she is also an advocate for new mamas and has a really great Instagram account, @CallyGotKids, dedicated to supporting all things mom. So it's no surprise that Cally designed this home with the kiddos in mind and the ability for the house to grow with them.
I'm so glad you got to meet the Gibbs family, they are so much fun! I love their home and I knew you guys would too. I'm hoping they'll have me back soon to show you a few more spaces! The guest suite and mudroom need some love once Cally gets them where she wants them. James also has an amazing studio office and toy collection that I definitely want to share soon. And the outdoor decks need a post all to themselves lol :)
Thanks so much for reading and you can check out past Home of the Month features HERE.
Cheers!