Lowe's Spring Makeover: A Posh Patio
How to Makeover a Small Backyard and Patio
Welcome to the Lowe's Spring Makeover Posh Patio
All AFTER photos by Laura Metzler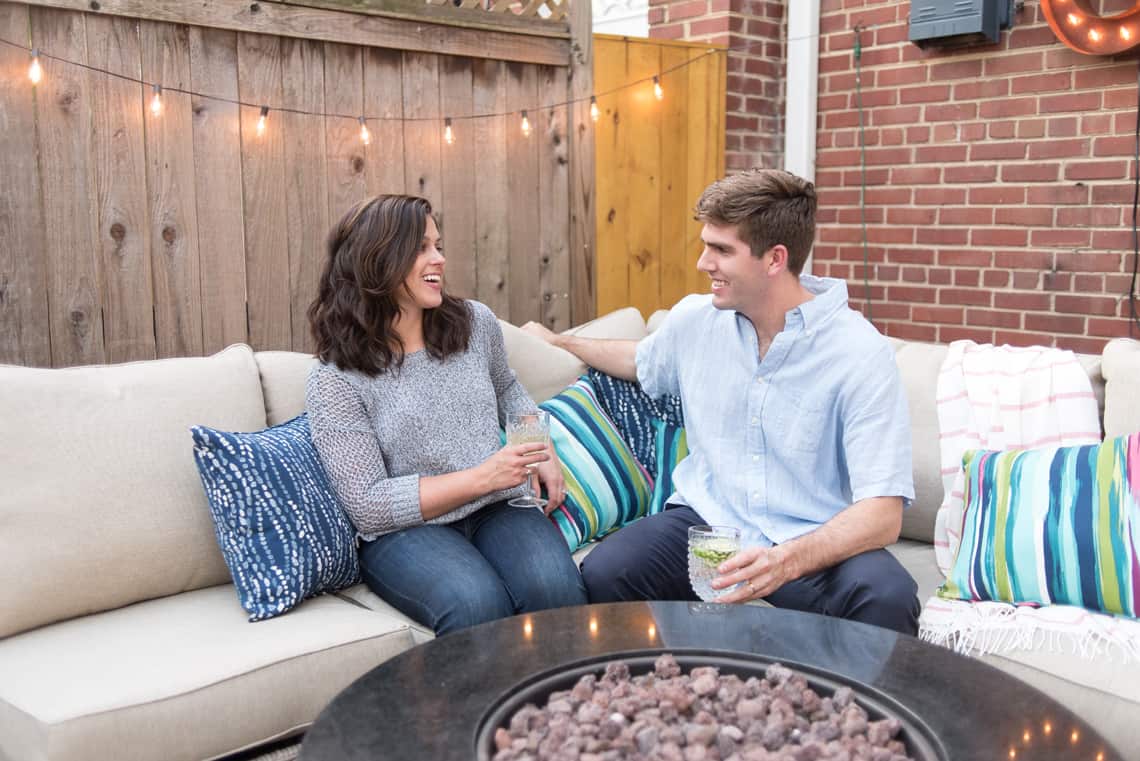 Wow Is the first word that comes to mind when I think of the whirlwind makeover that we executed a couple of weeks ago in Alexandria, VA for the most darling young couple, Sarah and Kyle Glenn. I totally underestimated all the necessary planning that would go into designing a space that I had never seen. There are so many tiny details you never think about ahead of time. But wow at what we were able to accomplish in such a short period of time with an amazing team of volunteers from Lowe's Home Improvement. I can't believe we pulled it off!
Read on because I'm going to show you how to makeover a small backyard and patio.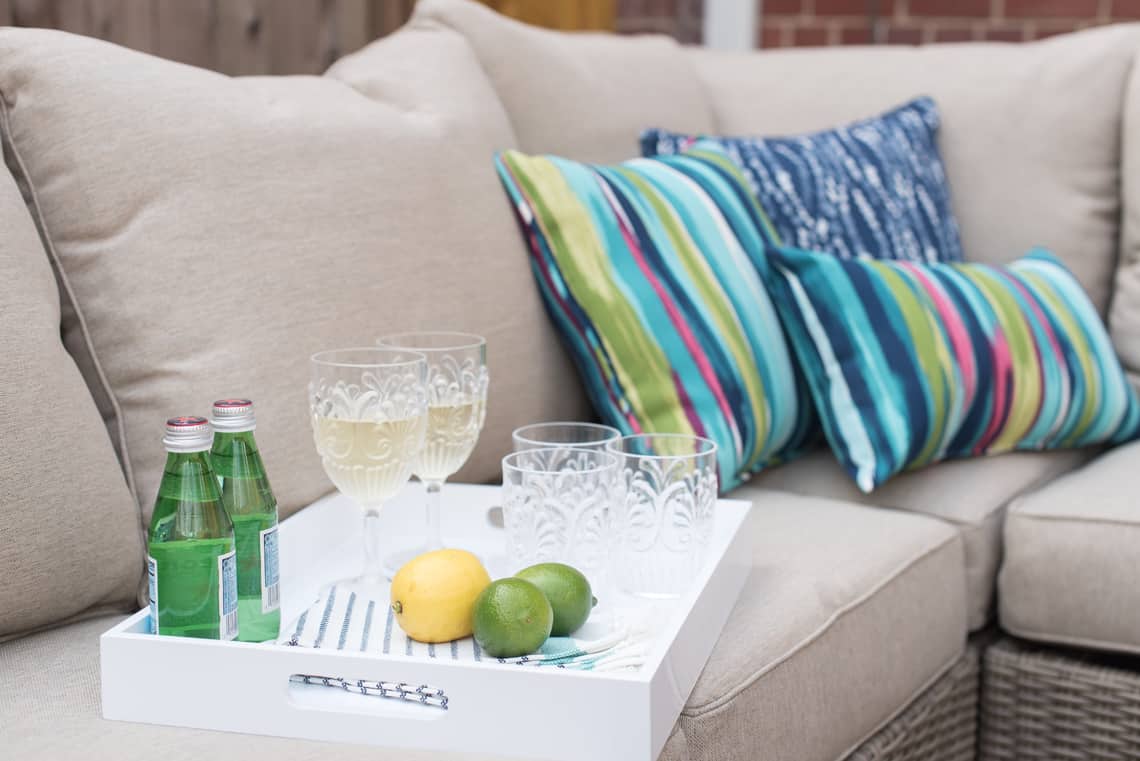 A few of months ago I announced that we were partnering with Lowe's to give a special family a room makeover in their home this spring. We were flooded with amazing applications and after a long deliberation I made the call to the Glenn's that their outdoor space had been chosen! After the initial excitement I hit the ground running, creating design plans and hammering out details.
Before
When I first saw the Glenn's blank slate backyard and patio my heart began to beat a little faster. Outdoor spaces are so precious, especially in a city like Alexandria/D.C., and I love designing them. I wanted to create a space for Sarah and Kyle that would bring their family and friends (and pups!) together. A space that was 100% theirs and reflected both of their personalities. Basically I was determined to make everything on their wish list happen!
Check out how the space looked before the makeover.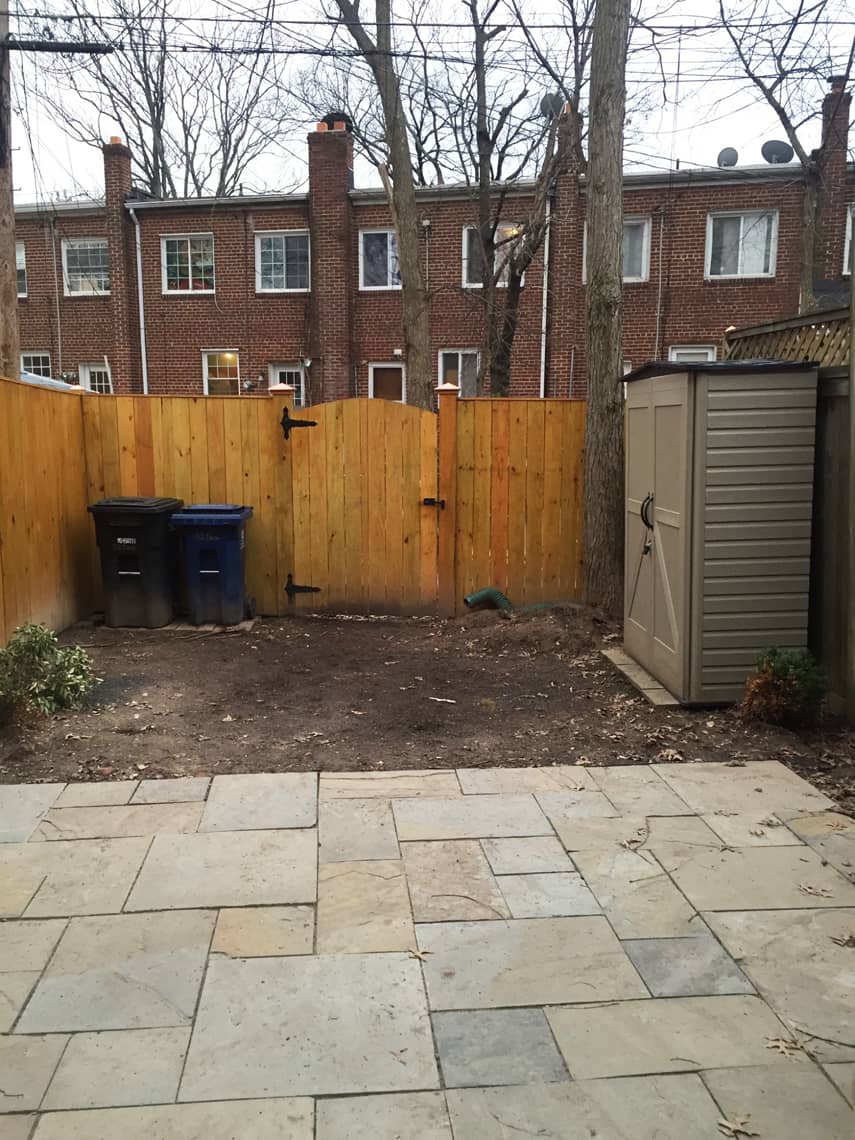 Almost immediately a design plan popped in my head, or a least a direction that I wanted to go. After emailing and chatting with the homeowners I was thrilled and relieved that we were on very similar pages! Comfy seating was important to them – more for hanging out than dining – and a fire pit of some sort was a must. String lights, pops of color and entertaining elements like the potting bench turned bar cart and corn hole boards were the icing on the cake!
Design Plan
Sarah and Kyle are a young professional couple just starting out in their first home. They lucked out last year in the crazy D.C. area housing market and snagged this adorable row house in an up-and-coming neighborhood. They saw potential in the neighborhood as well as the bones of this small but classic home, and they've already done a great job putting their own stamp on it. The couple was comfortable pulling together the interior of their home but they were at a loss when it came to the outdoor space.
One of Sarah and Kyle's biggest passions is their two rescue pups (@fredandsophie)! They dedicate their time volunteering at the rescue where they adopted Fred and Sophie by processing adoption applications, doing home visits, and occasionally attending adoption events. We definitely wanted to create a space that the pups would enjoy too!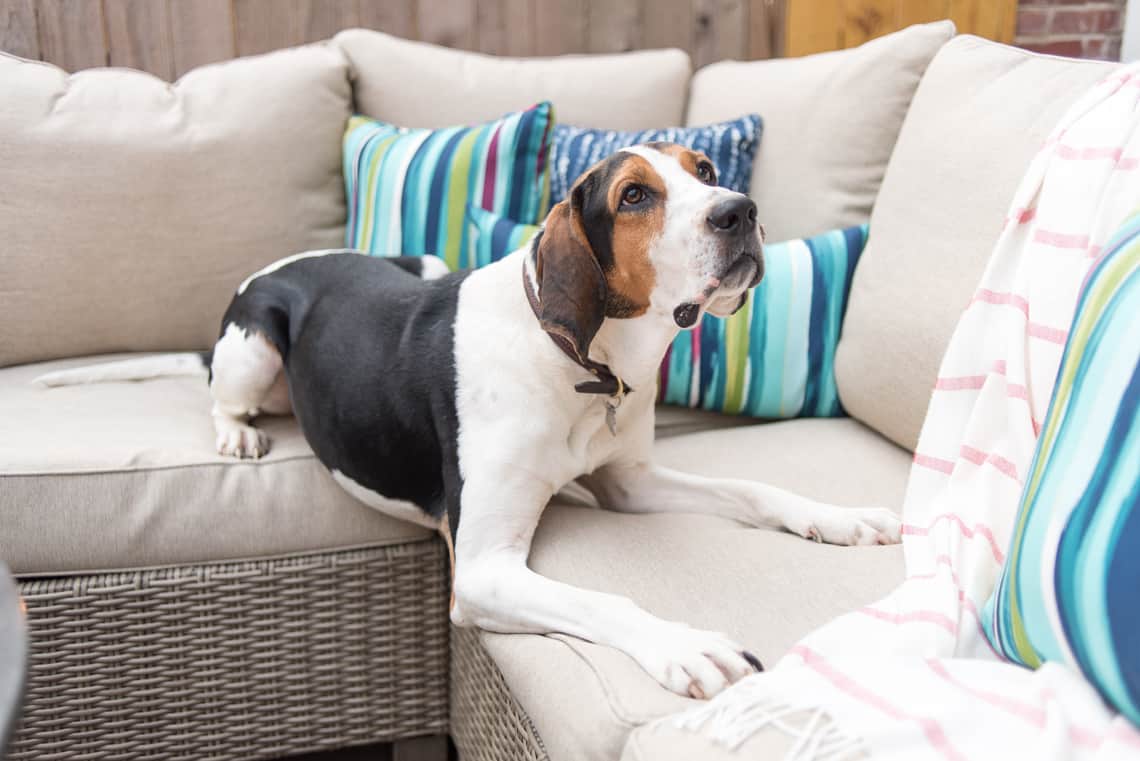 Here are the two design plans I came up with for the space. One for the the furniture and decor on the existing patio and one for the yard area behind the patio.
Patio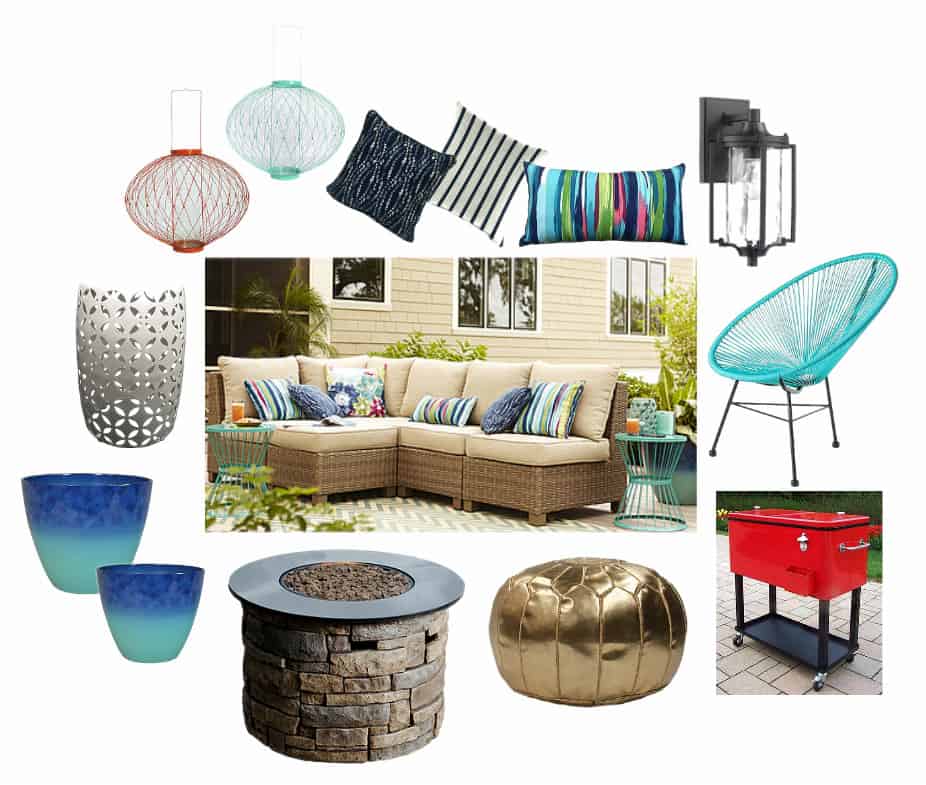 Backyard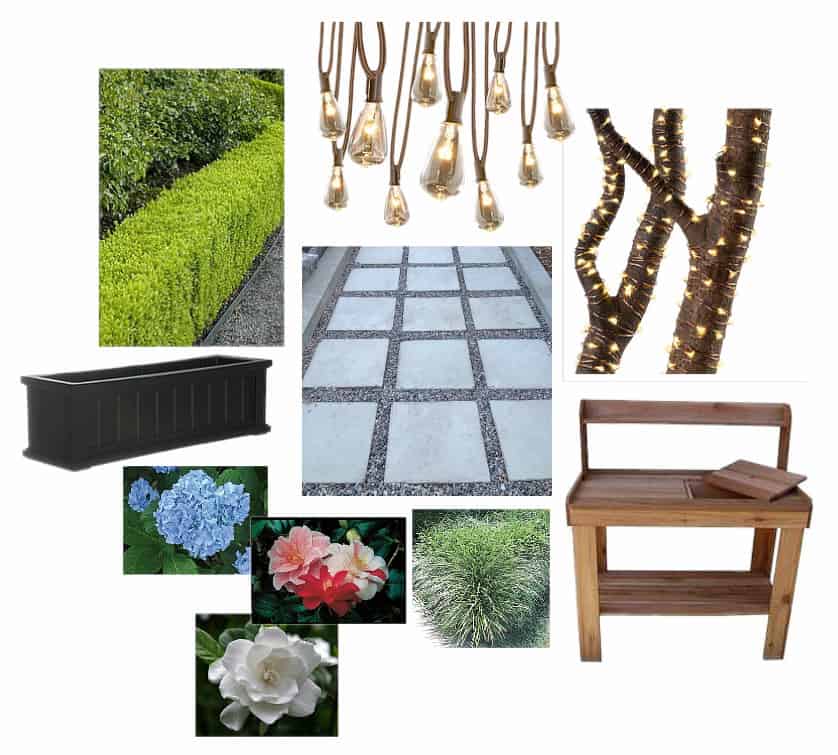 I arrived in D.C. early with my family to sightsee for a few days but when Friday rolled around it was time to get to work! My partner in crime, Michelle of Iron & Twine, joined me on Friday and over coffee we began planning how the next two days would go. Once we had our game plan figured out we went to meet with the couple at the home to see the space for the first time! After chatting for a bit about a few products that we were missing and stopping by the local Lowe's I felt pretty good about how everything was going to play out.
How to Makeover a Small Backyard
DAY 1 – Manual Labor
We had a group of 11 people total (including 7 Lowe's volunteers) to start the day Saturday and after loading up on local donuts we got to work.We had an electrical expert changing the light fixture and a team tackling the planting, painting the back door, putting furniture together, installing the window box and clearing ground for the pavers.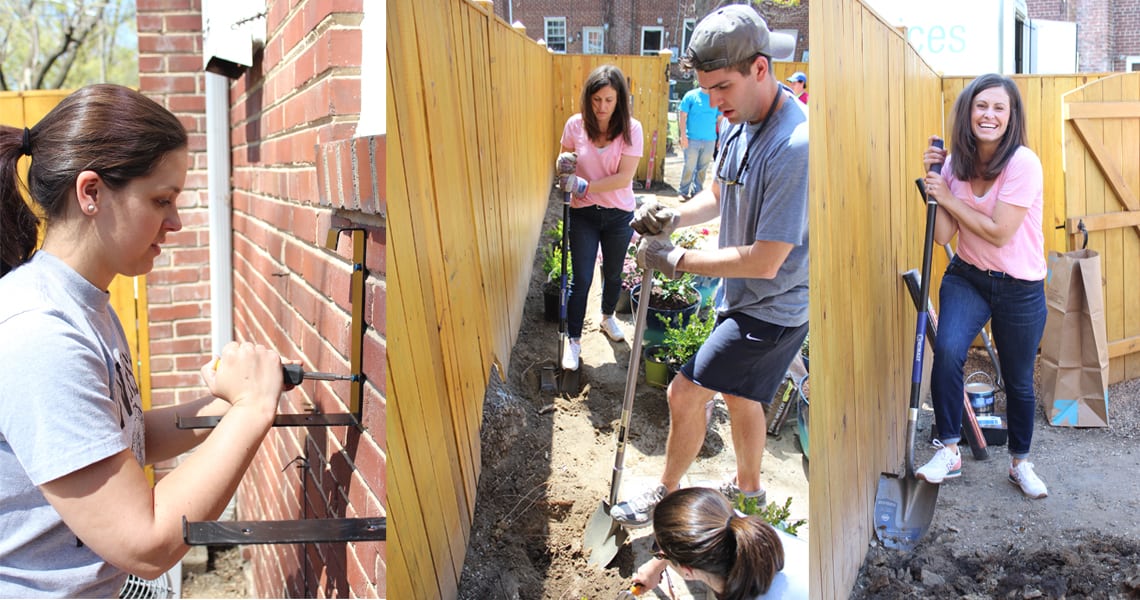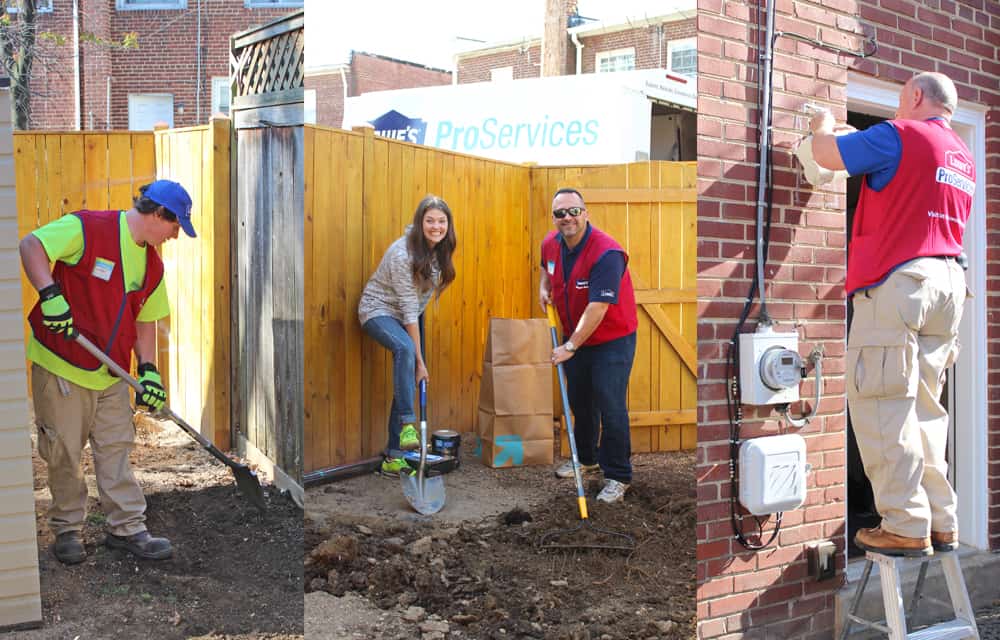 Just so you know, going into this I had no idea how many Lowe's volunteers I would have or what their skill sets would be. I am here to tell you I was overwhelmed with the team we were given. I have never met such kind and hardworking people willing to pitch in for a family they didn't even know!
The Team
This crew gave up their whole day for us and worked in the heat without complaint. I have no idea how I would have pulled off the pavers without their expertise! But like I said I really wanted to be the 'yes' girl on this project for Sarah and Kyle. If they wanted it we were going to make it happen. Thanks to Michelle and my wonderful Lowe's angels we did just that!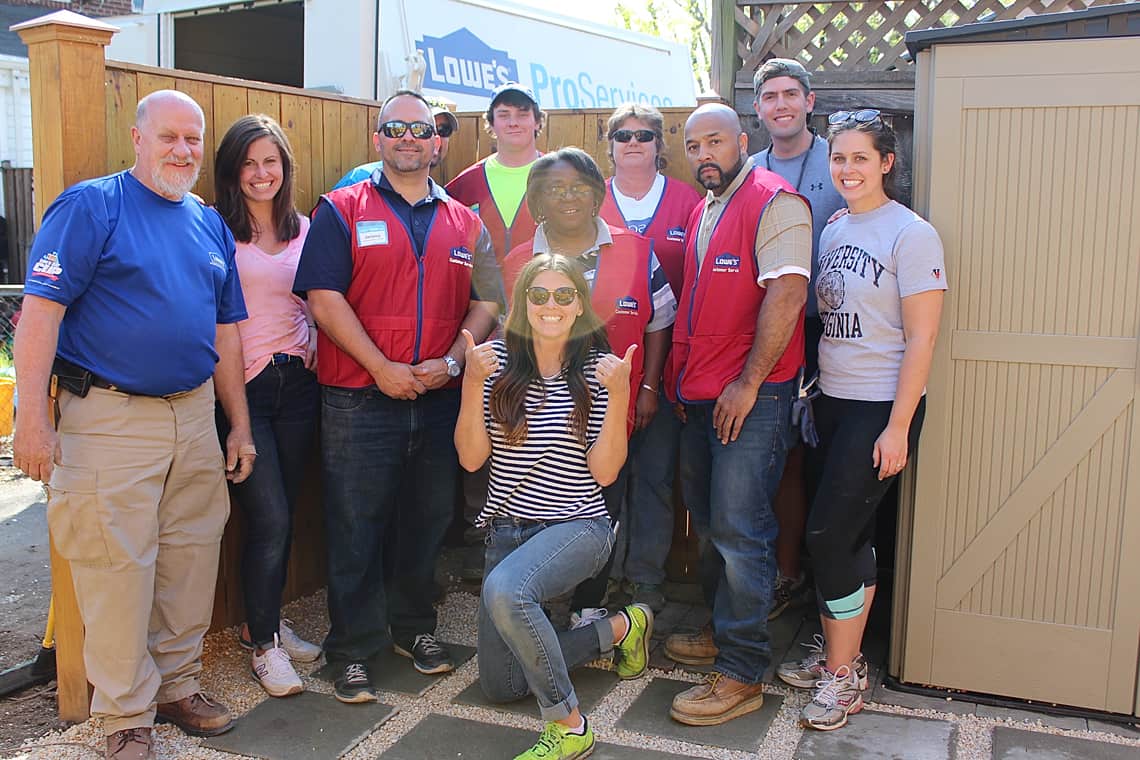 (From left to right. John, Michelle, Jeremy, Josh, Jesse, Cynthia, Beth, Kevin, Kyle Glenn, Sarah Glenn, and yours truly)
One of the biggest challenges we encountered was what to do with the yard space. It was just a dirt square and early on in the planning stages my initial instinct was to sod the whole area. But after lots of brainstorming we decided that large square pavers and pea gravel would be the best solution.
The Dilemma
By using the pavers, the Glenns wouldn't have to worry about watering and the stress of keeping the sod alive given the sun and drainage situation in the backyard. Plus they are a young couple and I wanted to make sure they had as little maintenance as possible. Who wants to be doing yard work when you can be out back with your buddies having a beer and playing corn hole? I was really excited about this decision because pavers in a grid pattern are such a striking design element and I knew it would look great!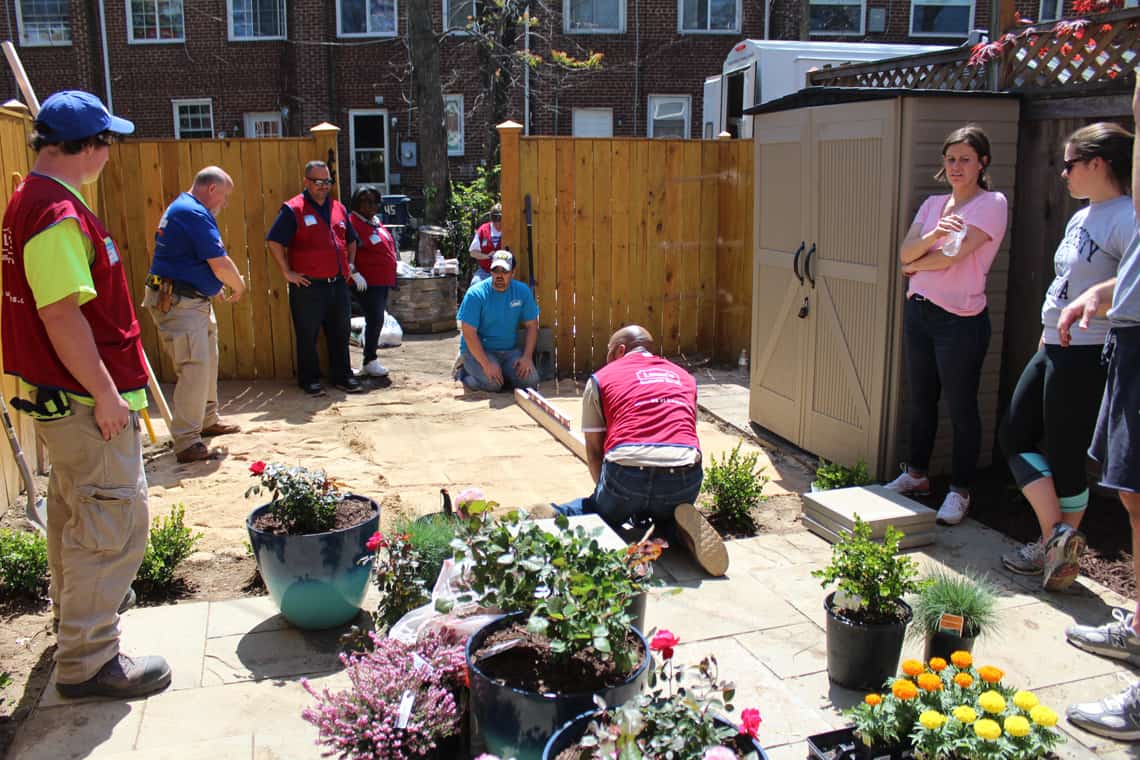 I call this musical pavers.
Before the pavers went in.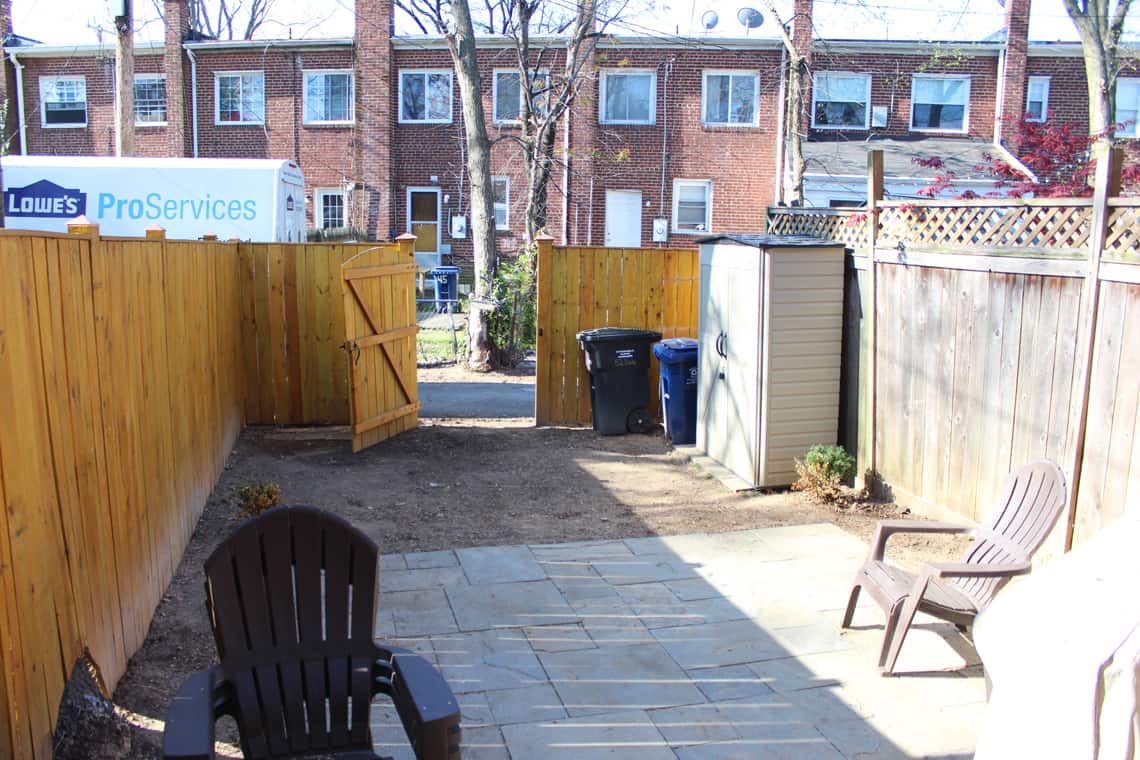 The completed pavers.
Plants, plants and more plants.
DAY 2 – Styling
Once the pavers were down, the plants were in place and the other details were finished it was time to style!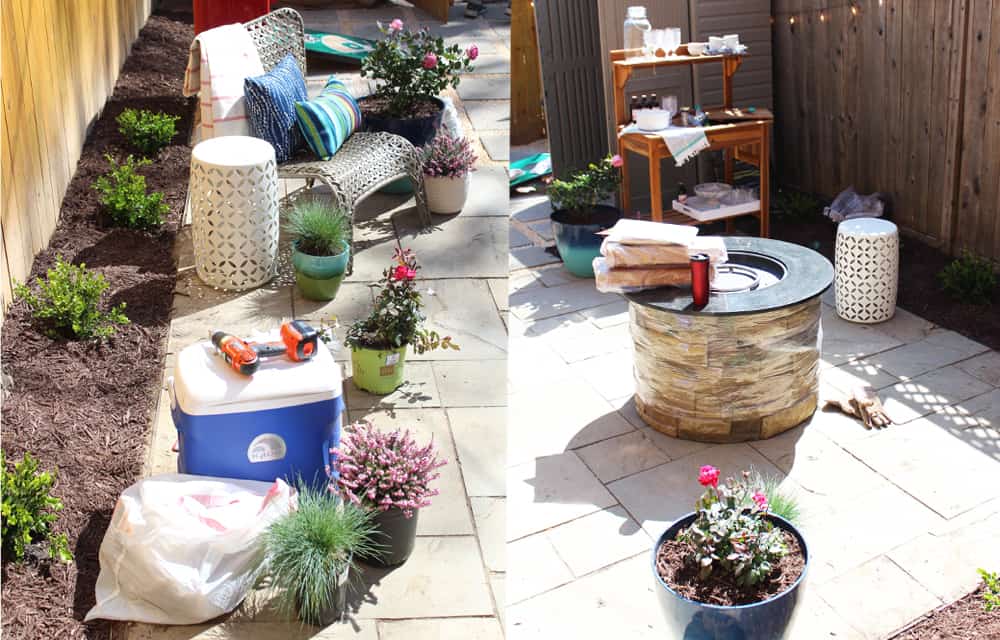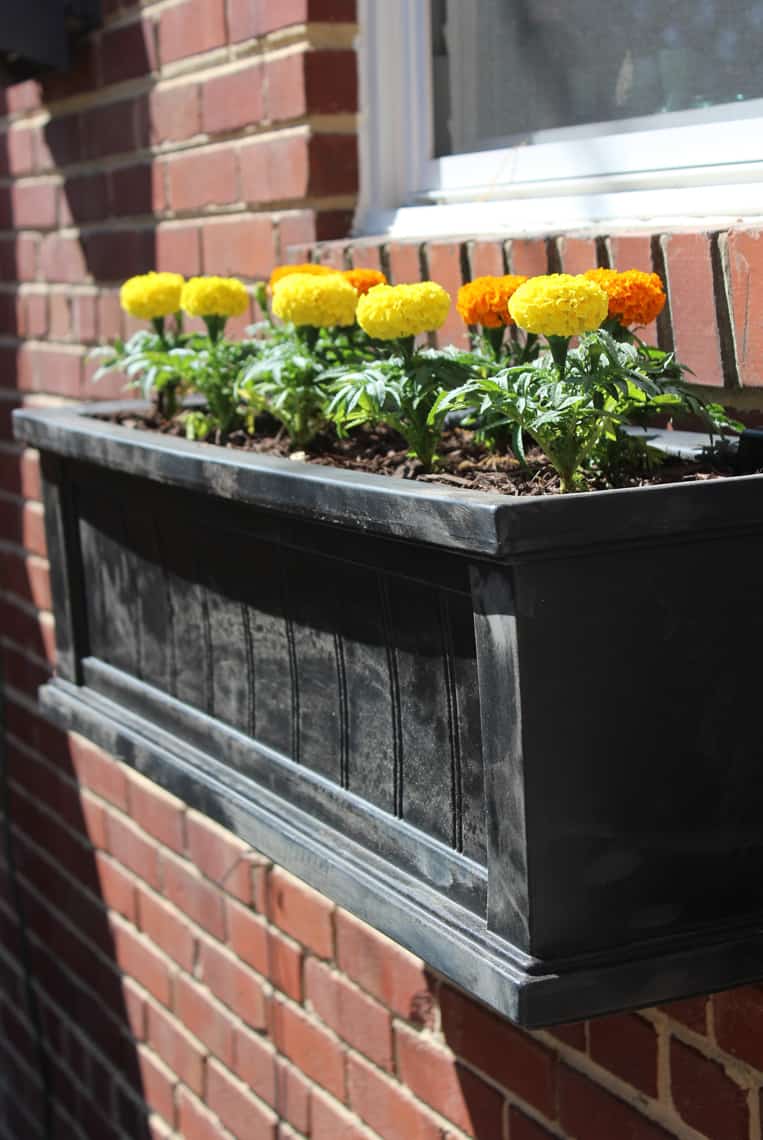 After
Here is the finished backyard and patio makeover.
Before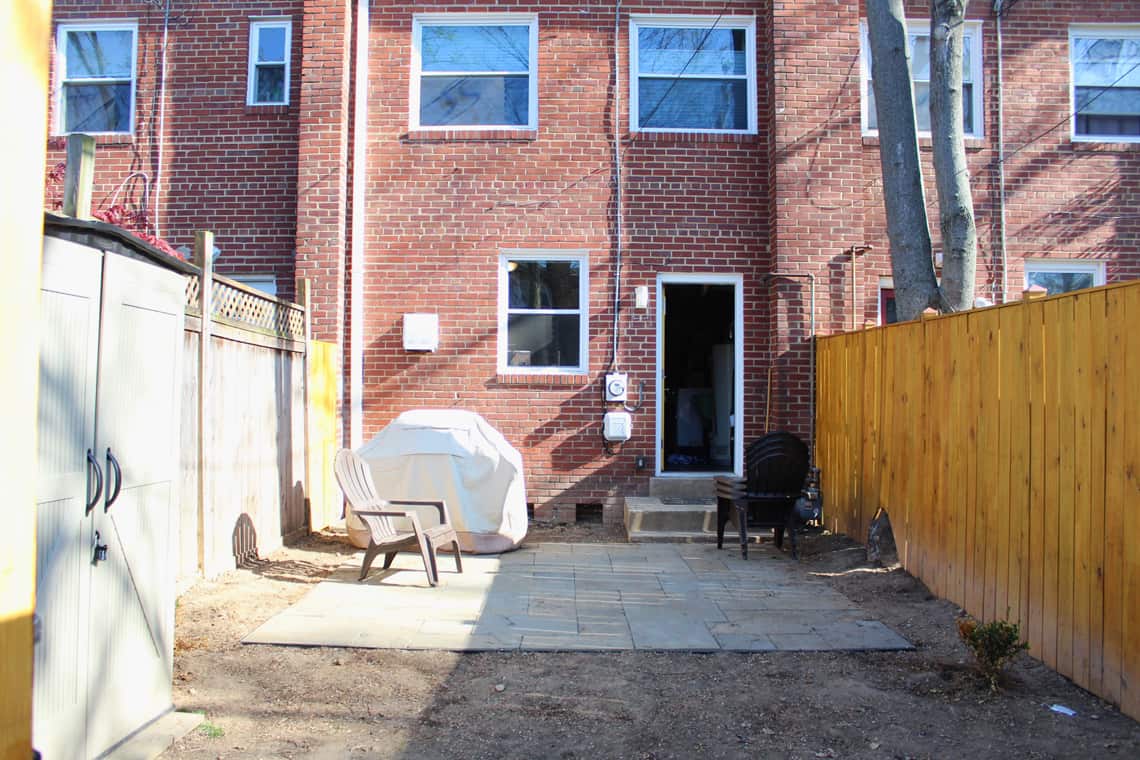 After
Details
One design element that I had in my head and went to bat for was the row of hedges (Winter Gem Boxwoods) that would surround the existing patio. I wanted to create a separate room almost with a doorway from the patio to the backyard so when these babies grow in it's going to look cozy and private.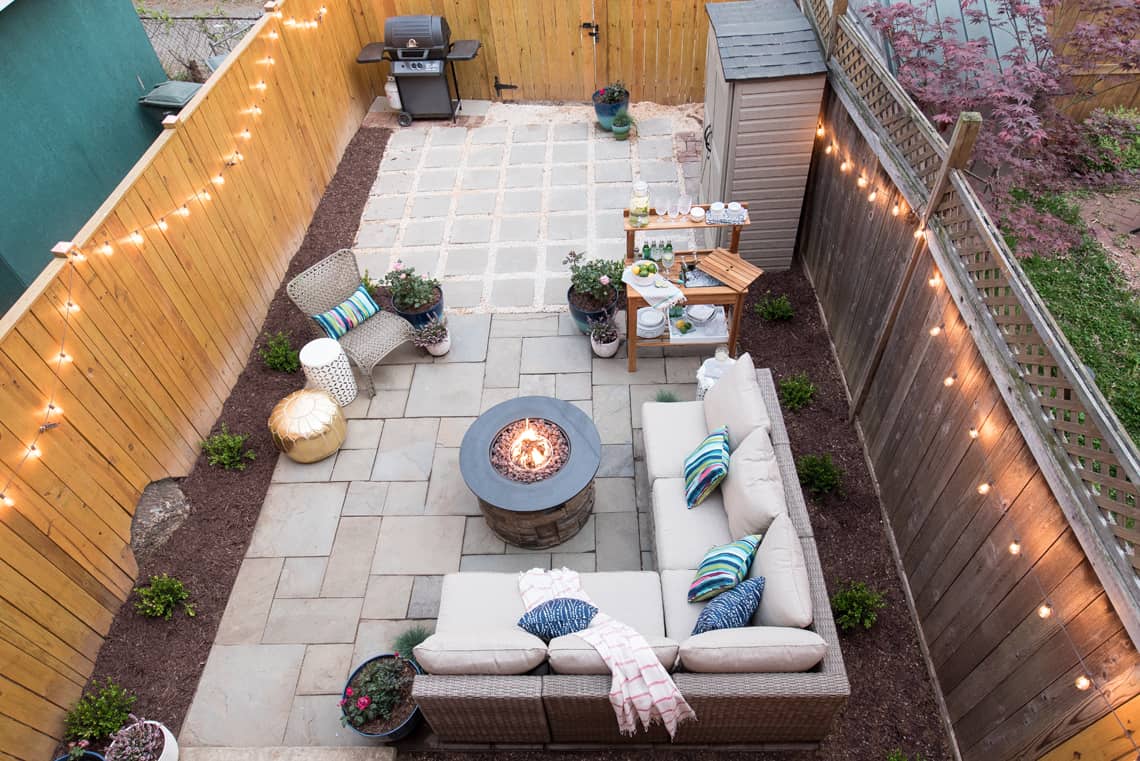 You can see we painted the back door and electrical boxes a navy blue so the door was no longer a focal point and the electrical boxes faded away.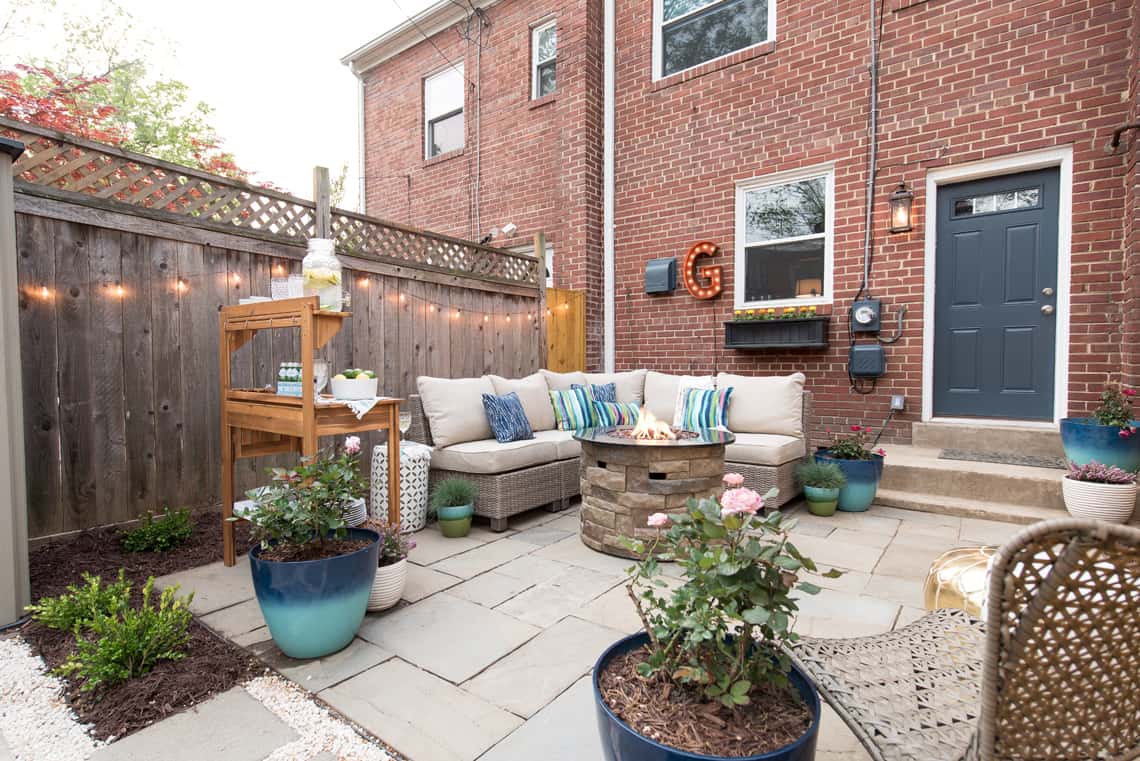 We wanted to keep the design somewhat traditional to go hand in hand with D.C. style and architecture but we did want to add some color and a little hint of boho with the pouf, garden stool and lounge chair. The gold pouf is actually not an outdoor item, but after talking with Sarah I knew this would fit in with the decor inside and would be an easy way to add a stylish seating alternative when they were entertaining.
One of the elements I ended up loving that I didn't expect was the lounge chair. I had a turquoise Acapulco chair in my plan but when we found out it was out of stock we found this funky chair at Lowe's and it really grew on me. It is so fun and comfortable and super affordable too. The only thing it lacked was a bright color but we definitely made up for it with pillows, planters and accessories!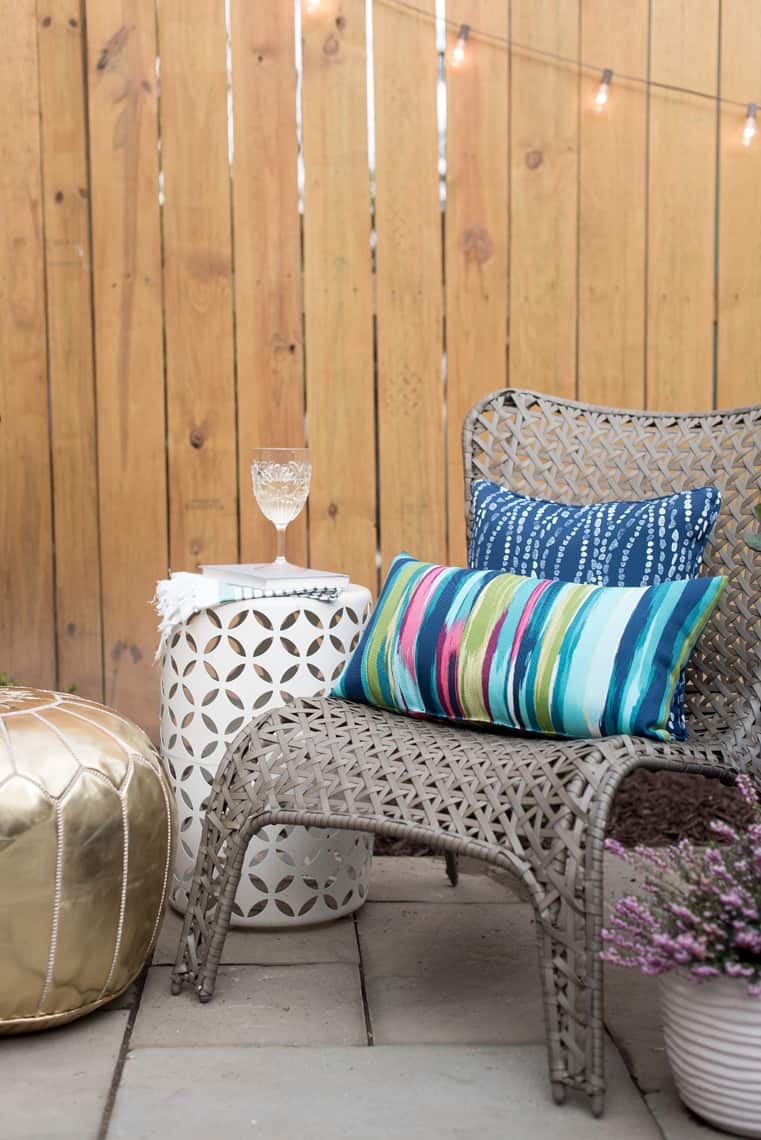 We filled these beautiful two-toned planters with roses that are easy to care for. I noticed these planters last year at our Lowe's store and I wanted them for myself but never had a place for them. At least I get to see them in the Glenn's space and they work perfectly!
One feature that I try to incorporate into every outdoor space I design is a bar or beverage/food station. A great way to do this is by using a potting bench! They are outdoor ready and often have shelves and a water basin, perfect for creating a stylish bar setup.
Check out the Outdoor Living Today Potting Bench, Dura-Trel White Potting Bench or the Leisure Season Brown Cunningham Potting Bench.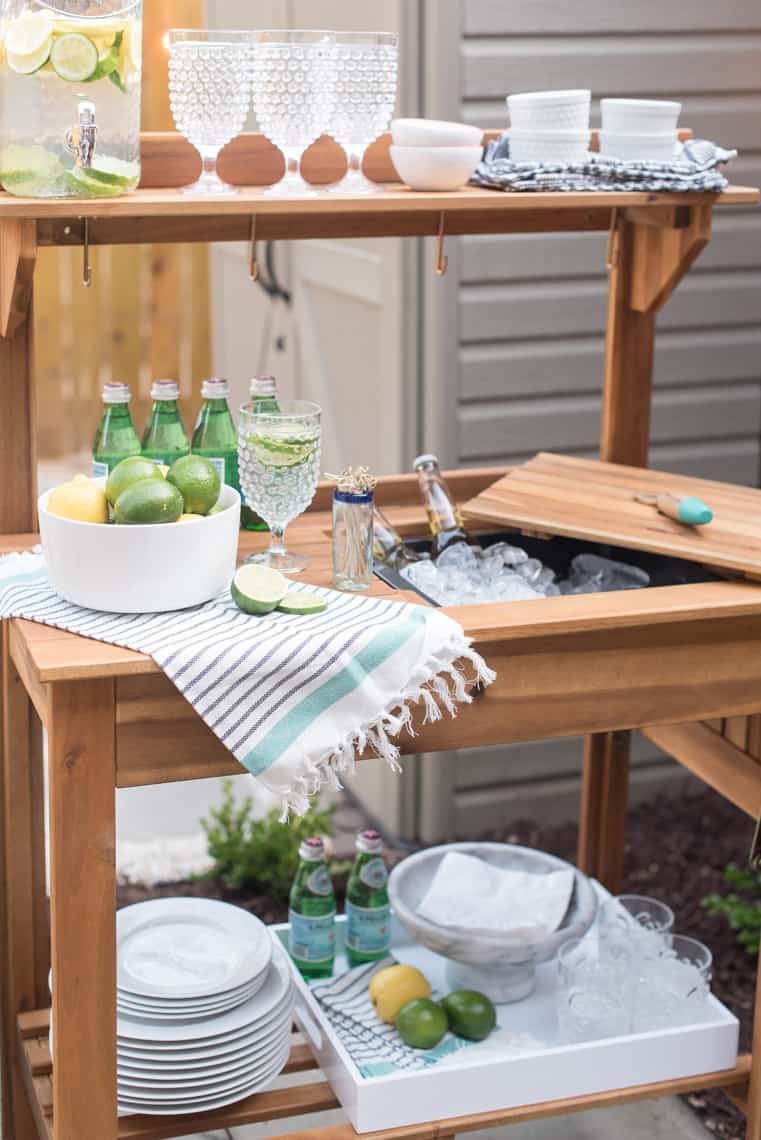 I've got to give a HUGE thank you to Michelle for all of her hard work. I'm not sure why she let me talk her into coming along but I couldn't have done it without her! Make sure you stop over at her blog and say hi. She has style for days and just bought a new home to renovate so there will be lots of fun projects over there. Oh and she knows more about boxwoods (thank goodness!) than any one person should. Thank you friend, you're truly amazing!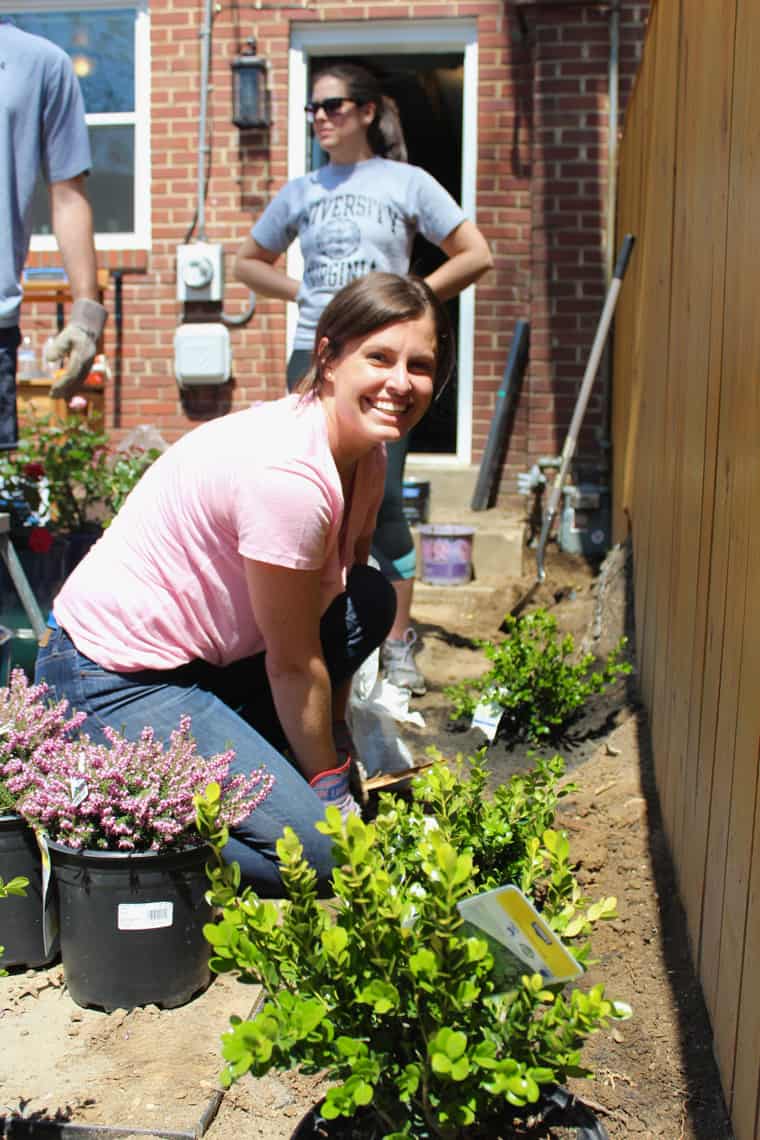 I'm thrilled with the way everything turned out and I think Sarah and Kyle are too. We had a few bumps in the road but all the time and effort was definitely worth it. I know they are going to enjoy the space this summer. Guys, don't be surprised if I knock on your door in a couple months wanting to hang out back here!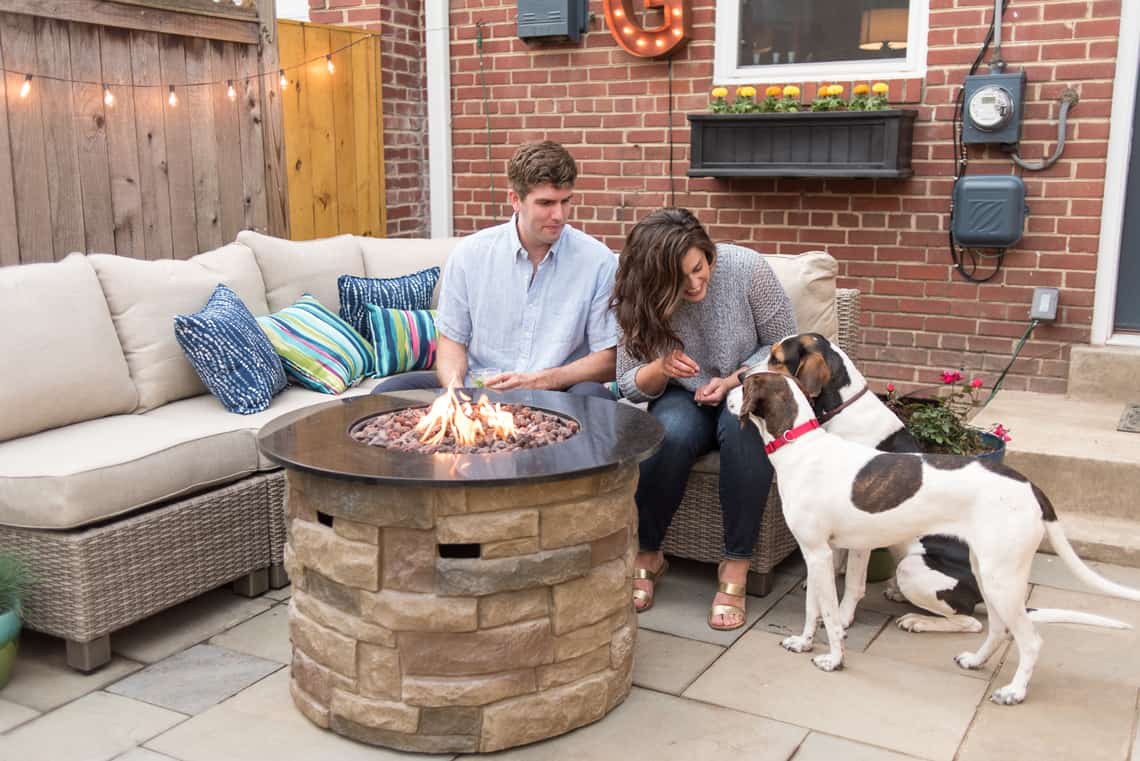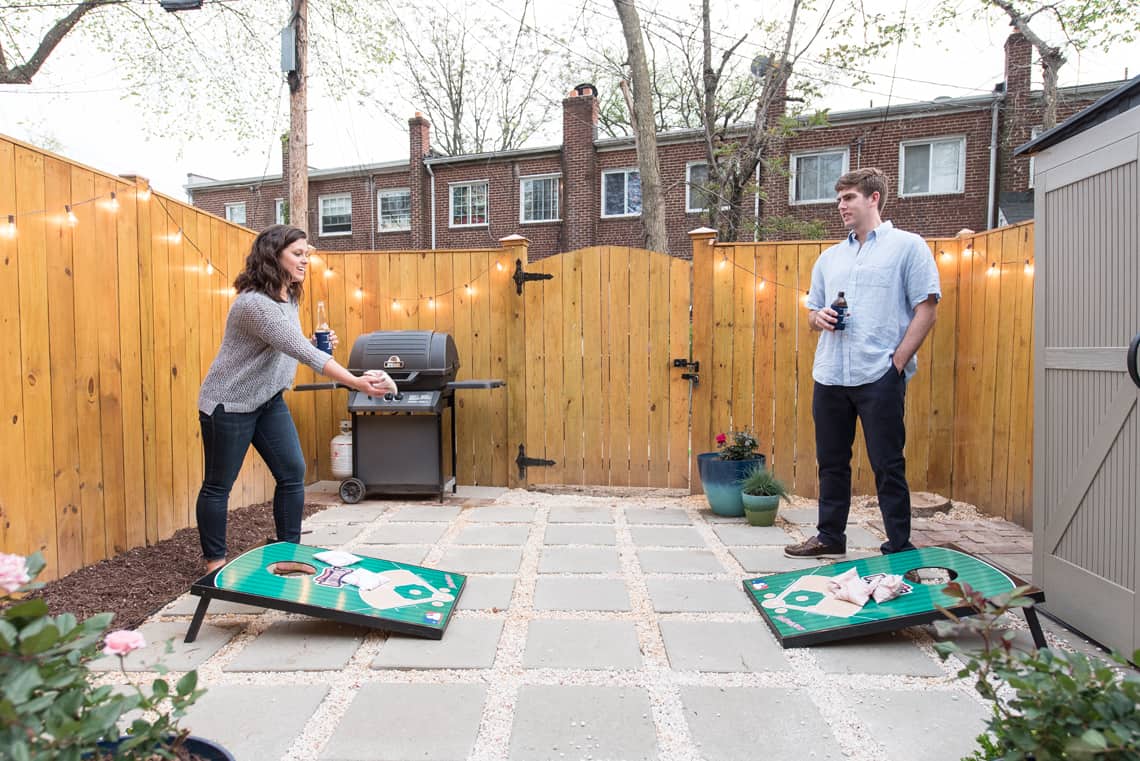 The Allen + Roth sectional was definitely the key to the space! It's is so chic and modern and it couldn't have fit more perfectly on the existing patio. It is really comfortable too which was important to Sarah and Kyle.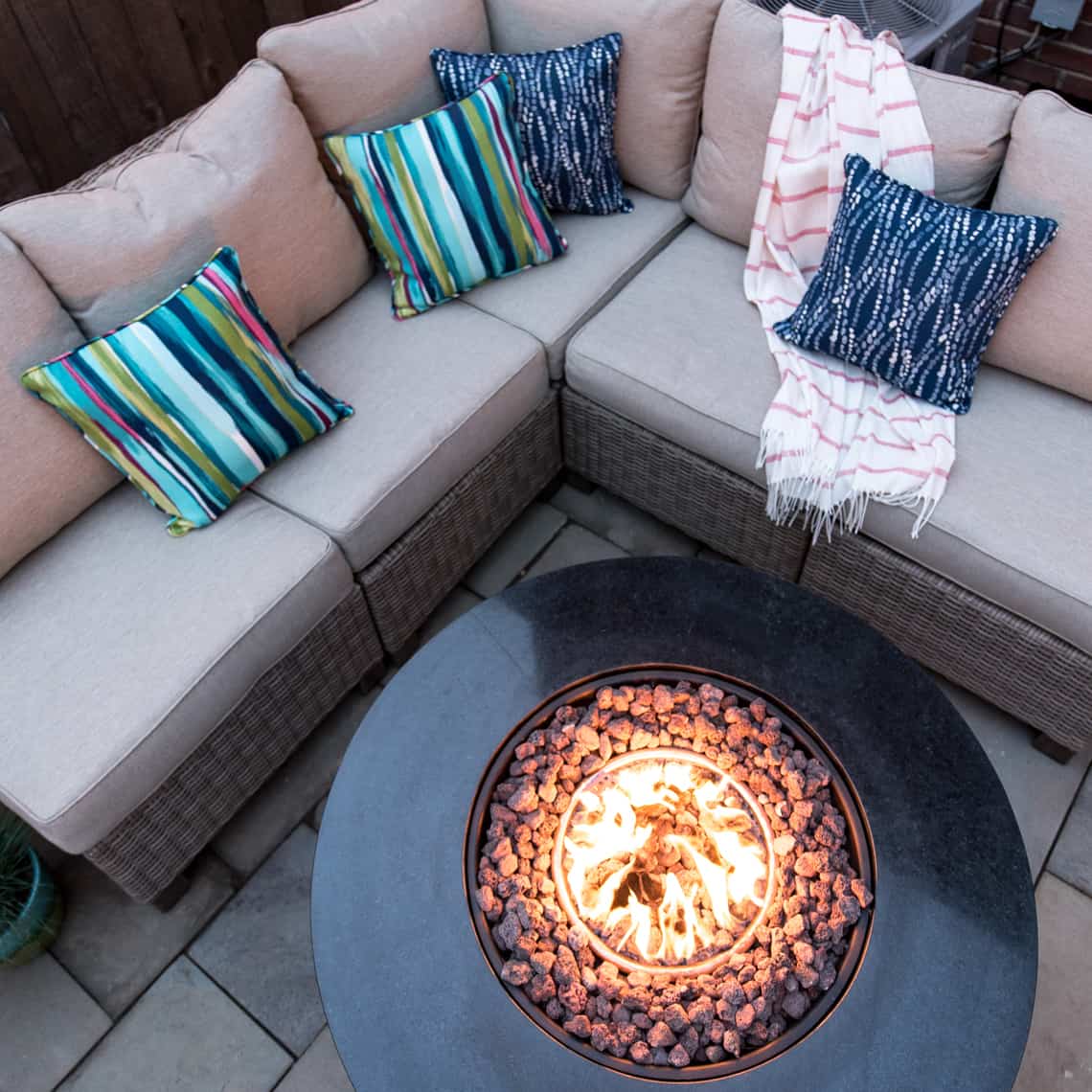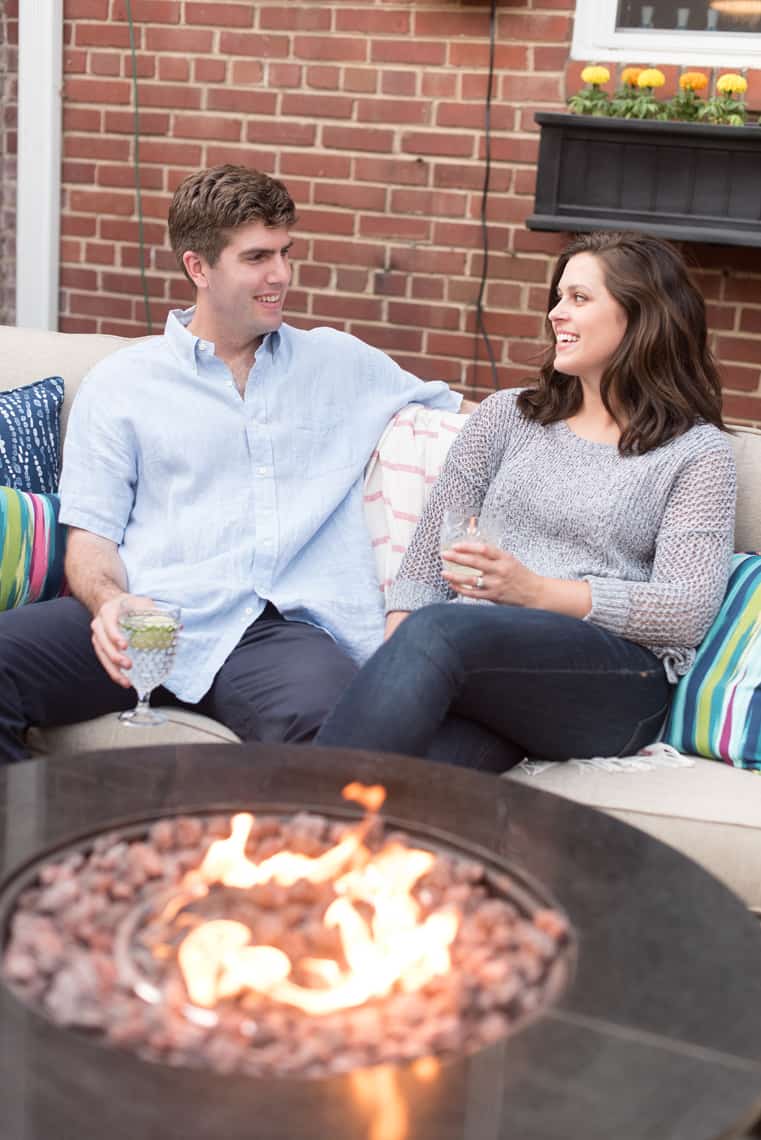 And last but not least I surprised Sarah and Kyle with this marquee "G" as the final touch! I guess it's kind of becoming my signature move. You can see the marquee anchor on my deck here!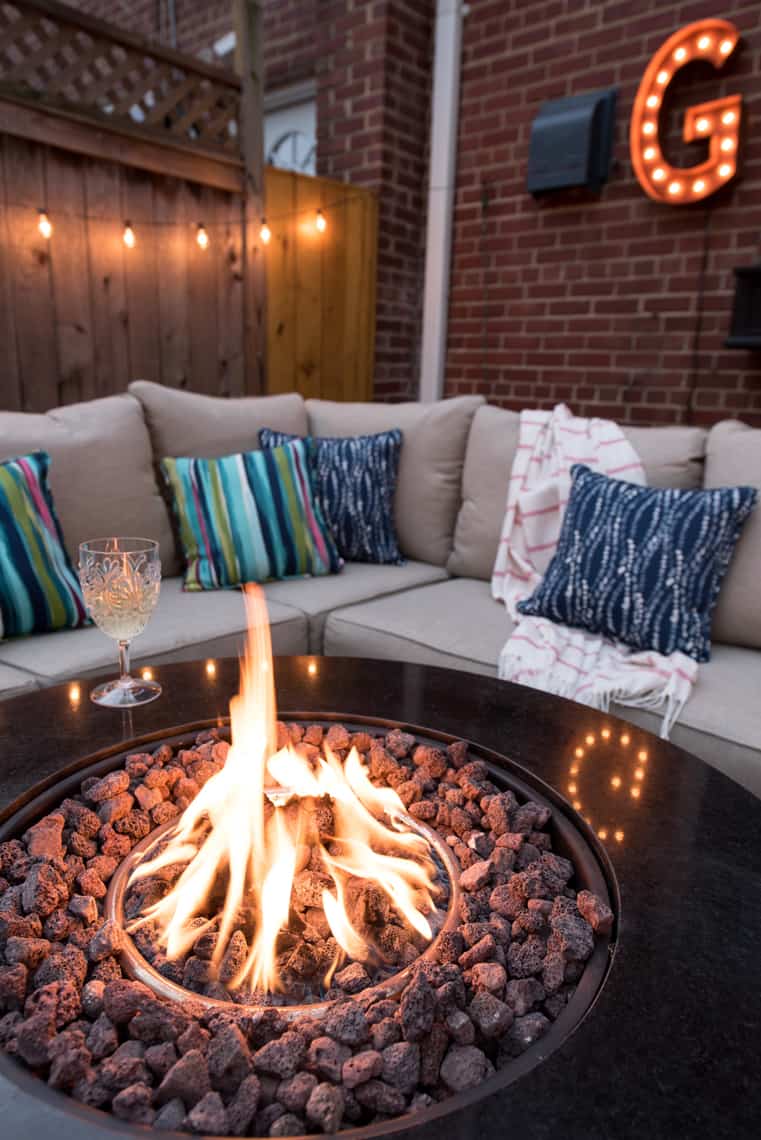 This was truly an experience of a lifetime and I'm so very grateful to Lowe's for giving me the opportunity to accomplish such a feat and to the Glenns for opening up their home and hearts to us in the process! Sarah and Kyle you guys are the most fun and so deserving of this new space!
Completely exhausted but 100% thrilled with the outcome, we said goodbye to Sarah and Kyle. After all of the planning, two long days and a couple of fun dinners we all became fast friends. I hope this shows you just how to make over a backyard and patio in just a weekend.
Shop The Look
SHOP THE PATIO
Allen + Roth Green Aqua Ceramic Planter// 2. Garden Treasures Tucker Bend Wicker Patio Chair // 3. Mayne Plastic Hanging Self Watering Window Box // 4. Wild Sports Washington Nationals Corn Hole Game //5. Allen + Roth Geometric Throw Pillow// 6. Kichler Lighting Linford Olde Bronze Outdoor Wall Light // 7. Garden Treasures Indoor/Outdoor Steel Plant Stand // 8. Allen + Roth Plug-in Bulbs String Lights // 9. Bond Canyon Ridge Propane Gas fireplace // 10. nuLOOM Living Faux Leather Moroccan Gold Pouf // 11. Allen + Roth Stripe Outdoor Throw Pillow // 12. Allen + Roth Sea Palms Wicker Patio Conversation Set
**Thank you to Lowe's Home Improvement for sponsoring this makeover for the Glenns and for choosing Simple Stylings to create it. All opinions are 100% my own. And thank YOU for supporting the brands that make Simple Stylings possible.
Cheers!