Our Updated Tiny Downstairs Bathroom
Our Updated Tiny Downstairs Bathroom
Happy Monday friends! I'm back for my third consistent week in a row posting (YAY!) and I finally have some design content to share. Please excuse the pictures because I was super busy and using my old iPhone when I shot them.
Just a little factoid, this bathroom was one of the first real projects that my dad and I (mostly dad) completed in my house before I really started blogging. I don't even have a proper post about it but you can see some of it HERE and HERE.
One of my favorite things about this bathroom remodel is the penny tile we used on the floor. I love it as much today as I did then so we didn't change that during the most recent update.
Before
Below is the bathroom before the update but this wasn't how the original bathroom looked when I bought our house. Unfortunately I don't have any pictures from the very beginning. You can see it wasn't that bad, I just wanted a new look and the vanity was in pretty rough shape.
Just fyi, this bathroom is tiny and awkward so it's hard to get great pictures no matter what camera I use. It is my son's bathroom as well as the only bathroom on our first floor for guests too.
After
For the update we painted the walls, replaced the vanity, changed the light fixture and bought a new mirror. It wasn't a ton of work but it made a HUGE difference! The paint color on the walls is Repose Gray by Sherwin Williams.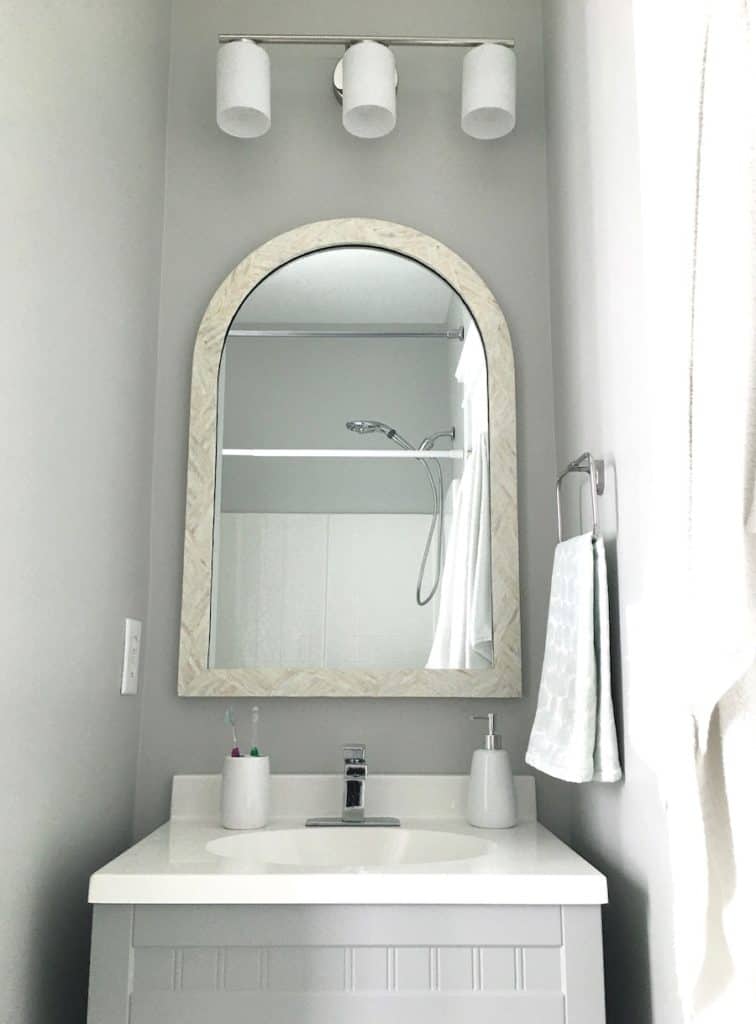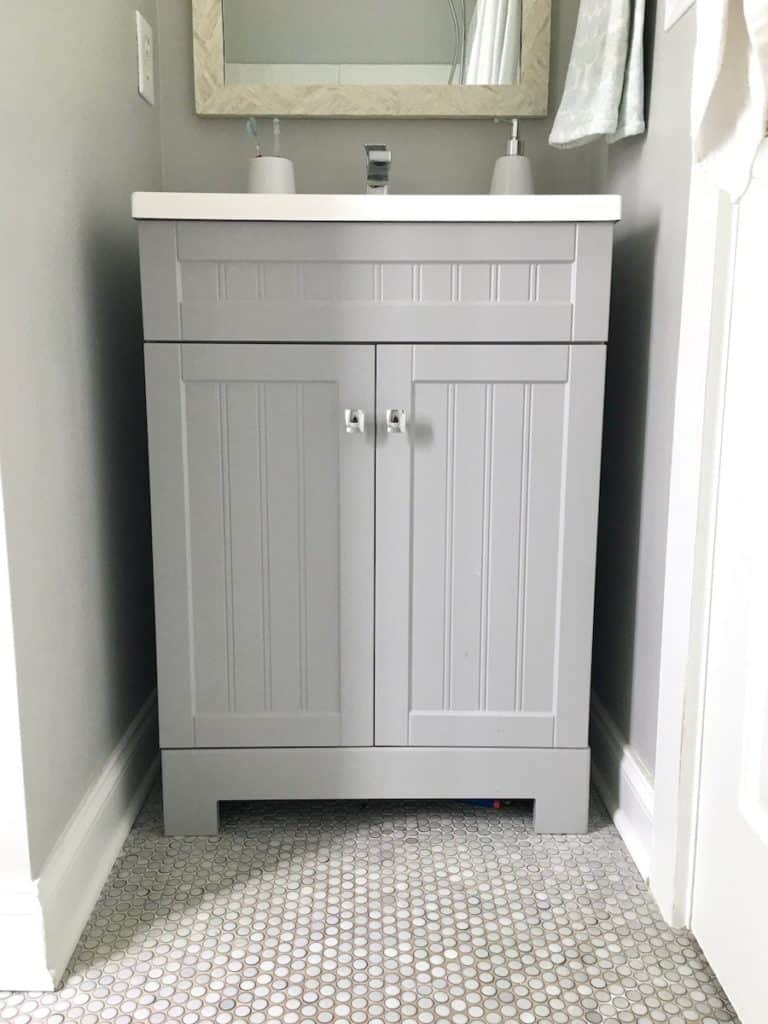 I used regular canvas curtains from IKEA for the shower curtain because they are long and I wanted to visually raise the ceiling height in here. The curtains go from floor to ceiling (almost) and I used a second shower curtain rod with a liner behind them.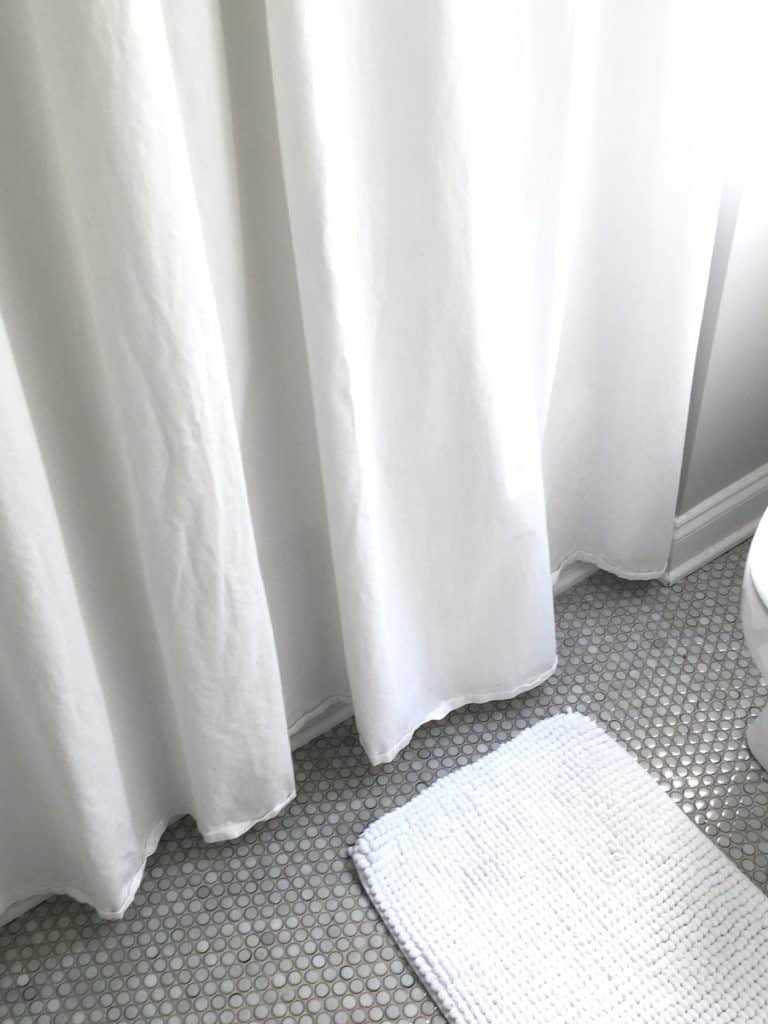 This bathroom is small but mighty! It has tight angles but a large window that bring is wonderful light that pictures really don't capture.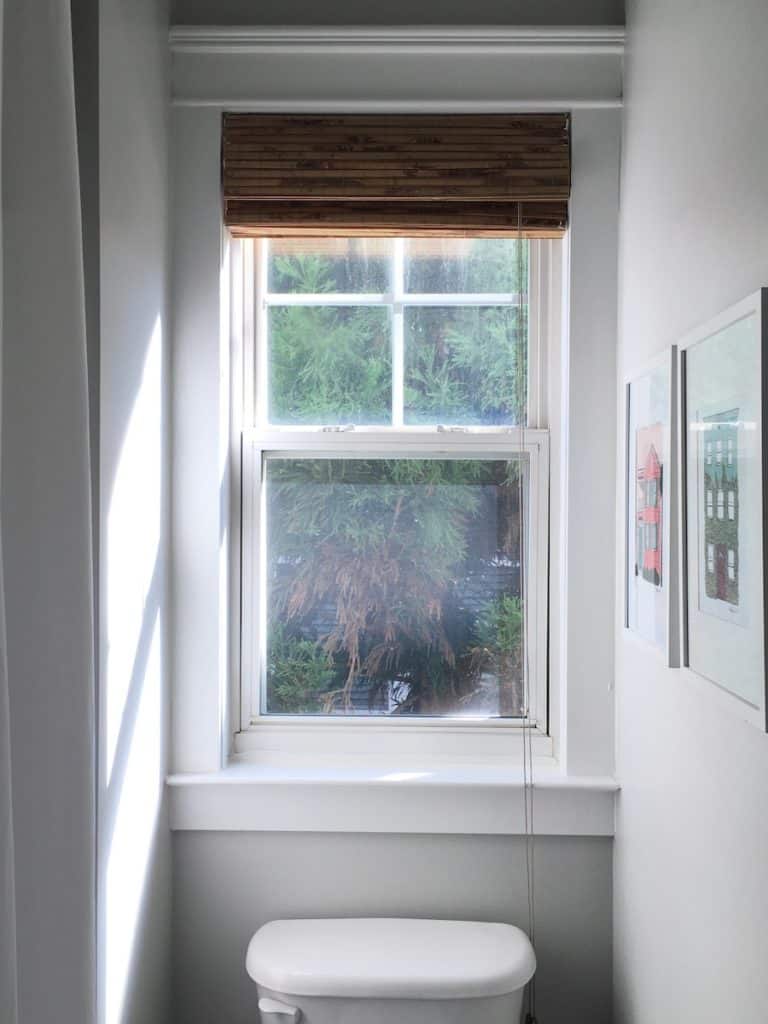 Sources
Paint Color: Repose Gray by Sherwin Williams
Vanity: Lowe's
Mirror: HomeGoods (similar)
Light Fixture: Wayfair
Floor Tile: The Tile Shop
Shower Curtain: IKEA
Towel Hanger: IKEA
Bamboo Shade (in color Hatteras Camel): Blindster.com
Hope you enjoyed this little bathroom update!
Cheers,