Coastal Cool: An Entertainment Center and Vignette
I've always been inspired by the beach and it is where my decorating style was born. I enjoy lots of different styles but a coastal inspired home is my first love. Blues, greens and grays are a beautiful color combination and the warmth of driftwood, rope and sea grass can create a perfect harmony of color and texture.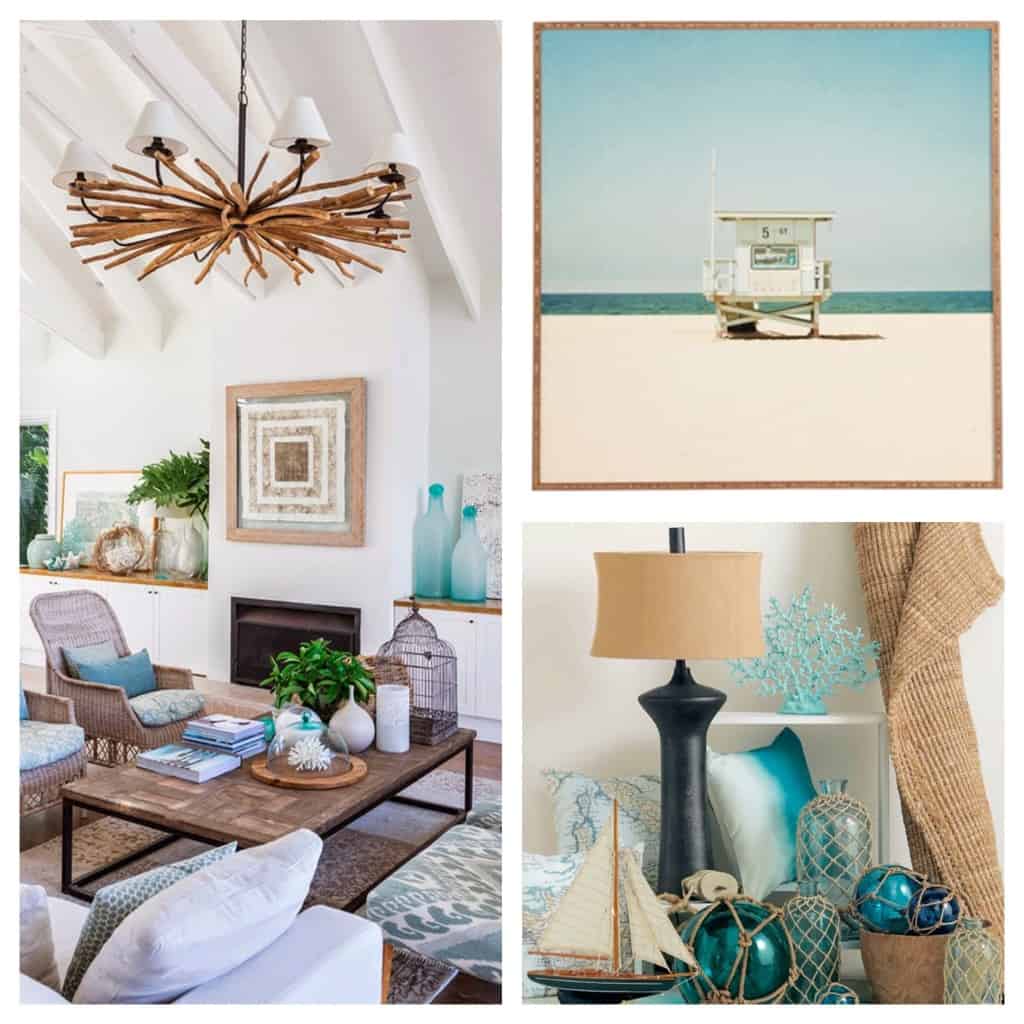 There is a blank wall in our living room next to the fireplace that has always been an awkward space and I never knew what to put there. Once I got rid of my sectional sofa the emptiness was even more noticeable. I can talk to people all day long about their rooms but when it comes to my own home there are a few pesky spaces that I have the hardest time with.
I had been looking around at thrift stores for the perfect piece and found this old country cabinet at the Habitat Restore for $40! It's terribly old-fashioned and doesn't match my style at all but it was in great condition and the perfect size for the empty wall. And it could easily house our tv equipment. I knew with a little paint it could be transformed into the perfect coastal cabinet.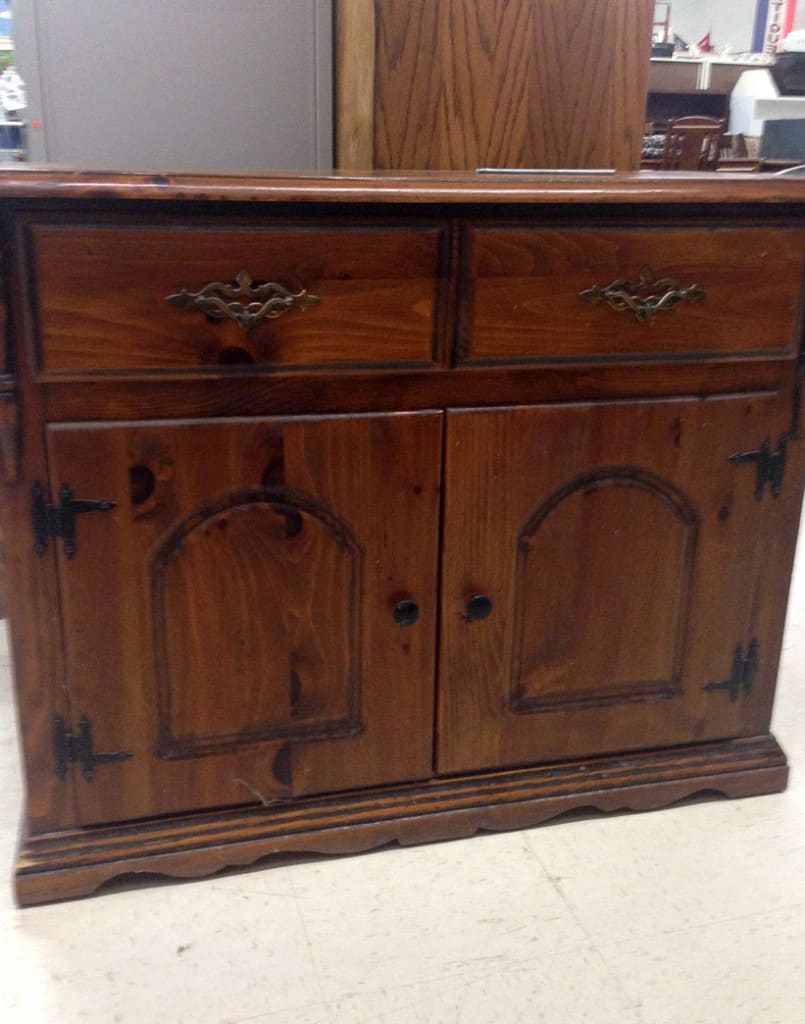 Lowe's Home Improvement recently started carry Sherwin Williams paint in their stores including an HGTV Home by Sherwin Williams line. Now I can buy the high quality paint I love early in the morning or in the evening which is a huge help with my crazy schedule.
The HGTV Home line is easy to use because they have pre-picked colors that compliment one another and grouped them into themed palettes. The walls throughout our downstairs are already covered in Sea Salt (SW 6204) so the Coastal Cool color palette would be the perfect choice for this piece.
I decided to use 3 different colors on the cabinet. I wanted something gray and white for the outside with a pop of color on the inside. Using the Coastal Cool collection and knowing the walls were already painted from the collection, I picked out my three colors in less than 10 minutes. Comfort Gray (SW 6205) would be the base, Eider White (SW 7014) for the top and a bright Cooled Blue (SW 6759) for the inside.
I found these perfect twine wrapped drawer pulls and knobs and instead of going through the trouble of changing the ugly hinges I just painted right over them so that would disappear.
Because all three of the colors came from the same palette I was confident that they would work together and there would be no need for trial and error. I love how the turquoise pops on the inside and it makes the old cabinet feel new and clean. Now we have a space for all of our DVD's, our ugly cable boxes and some blankets for snuggling.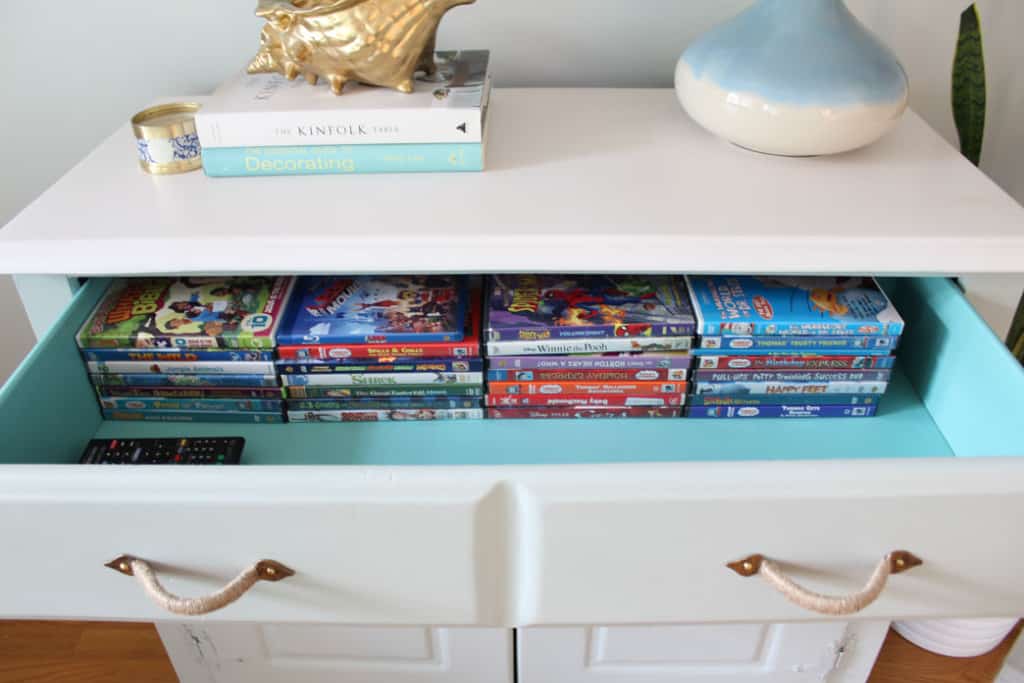 Once the cabinet was painted I used it as the perfect starting point for this coastal-inspired vignette. I'm so happy the way it turned out but I'm even happier with how easy and convenient it was to decide on paint colors. HGTV Home by Sherwin Williams collections take out all the guess work of choosing colors. Whether you love neutrals or bold traditional colors there is definitely a palette for you!
I hope you all have a wonderful weekend and if you're contemplating a paint project make sure you check out the HGTV Home by Sherwin Williams paint line at Lowe's. You might just end up painting your whole house :)
Cheers!

**A huge thanks to Lowe's for sponsoring this post. All opinions are always my own and thank you for supporting the brands that keep Simple Stylings up and running. **