Cozy Glam Bedroom Design Board
Hi there! I hope your having a great week! It's Thursday, woohoo!!!
I wanted to share with you a design board I recently created for a client's master bedroom. I love it so much that I have major inspiration fireworks going off in my head for my own room. Stop it, Summer, one room at a time :) This is what I tell myself…but yeah right!
My client has a great sense of style, especially in fashion, and she definitely is a glam girl but needs a space that is also cozy and kid friendly. Cozy bedding, a plush bench, an inviting chaise.
I am loving florals right now and I thought the emerald green and rose gave the space a feminine touch. And the gold (or copper) accents are a must for a glam space.
Originally I was going for a trendy, more geometric print rug instead of the cowhide but after talking with my client more I realized that the cowhide was a part of their identity. Her husband is from Texas so the cowhide seemed more personal and I think it is a great statement piece! And, they already own a few antlers so that's a plus.
Their bedroom is large so we decided to also create a small desk area and a reading nook.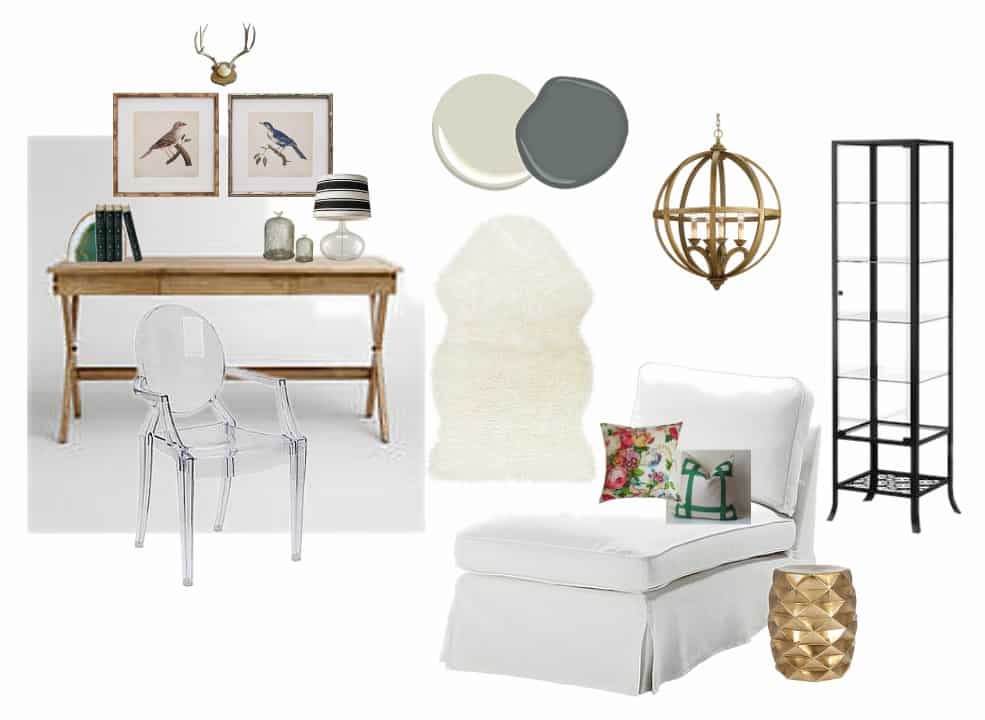 The light and bright tones with a few bold pieces thrown in feels so clean but doesn't lack in the drama department. I want to move in!
We are still working out a few details for the room. There is a huge blank wall that we are trying to figure out the best way to add some wall art or shelving. There are also four great windows that need treatments and we are trying to decide on drapes for all, or only two, bamboo shades or drapes and shades. Any suggestions?
What do you guys think?
Special Announcment: I hope to be offering online design services from here very soon if you are interested in having a design board created for a room(s) in your home. I will post an announcement so stay tuned!
Have a great week!