Master Bedroom Makeover Reveal
Good morning and happy Tuesday! I'm super excited to share my master bedroom with you today! This was more of a facelift than a makeover because the room was in pretty good shape, I was just craving some change.
Here is the board from the design plan:
Before:
The old rug was on it's last leg and needed to be replaced which is how this makeover got started! I fell in love with this rug and decided to work the room around it!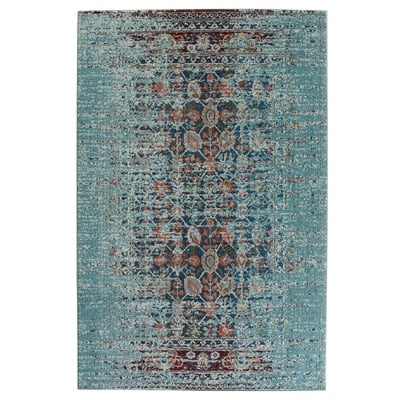 [show_shopthepost_widget id="1436124″]
I bought the rug from Wayfair for a great price but I can't find it on their site anymore :( Joss & Main does have one right now but they do sell out quick! I linked up a similar, less expensive version here too!
Because the rug has a lot of pattern and color I wanted to bring in more neutral bedding. I also wanted to add a few pops of teal with some coral, pinks and orange mixed in too!
Before I had mis-matched nightstands so I decided it was time for a matching pair of grown up ones. I used the Ikea Rast 3-drawer dresser to DIY the perfect tables. I don't like to see clutter so I knew I wanted something with drawers. I love these acrylic trays that sit on top to hold drinks, remote controls, etc.!
Once the nightstand was put together (with the incredibly annoying Ikea instructions) I stained the outside with my favorite stain then added two coats of polyurethane, lightly sanding in between coats. Then I painted the drawers white and added these cool, gold geometric knobs from Hobby Lobby!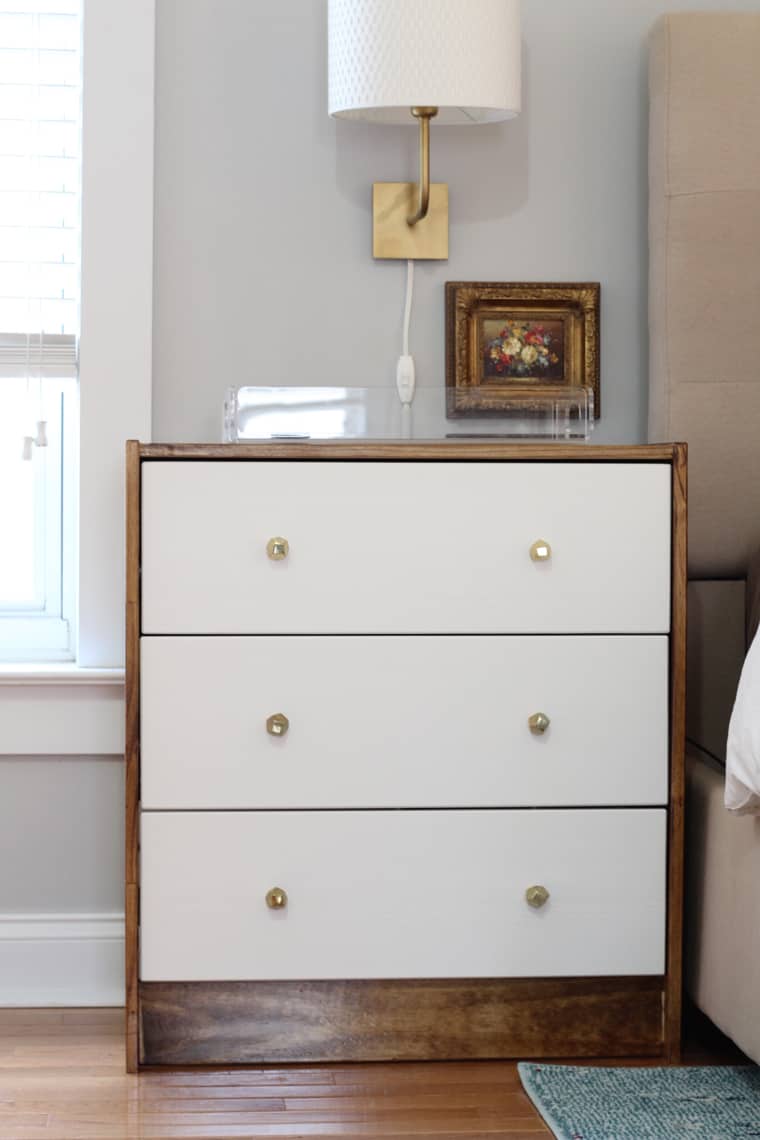 I love the rug but I think my favorite addition to the room is this beautiful teal JuJu hat! I have wanted one since I can remember and it is as perfect as I had envisioned in my head :) This one is from Old World Shoppe on etsy and their selection and prices are awesome! And guess what??? They are giving 10% off to my readers with the code: SIMPLE !!!
I'm trying to only purchase pieces for my home that I truly love instead of filling it with meaningless things. So every time I see the JuJu hat I get all giddy inside and when that happens I know I made the right choice!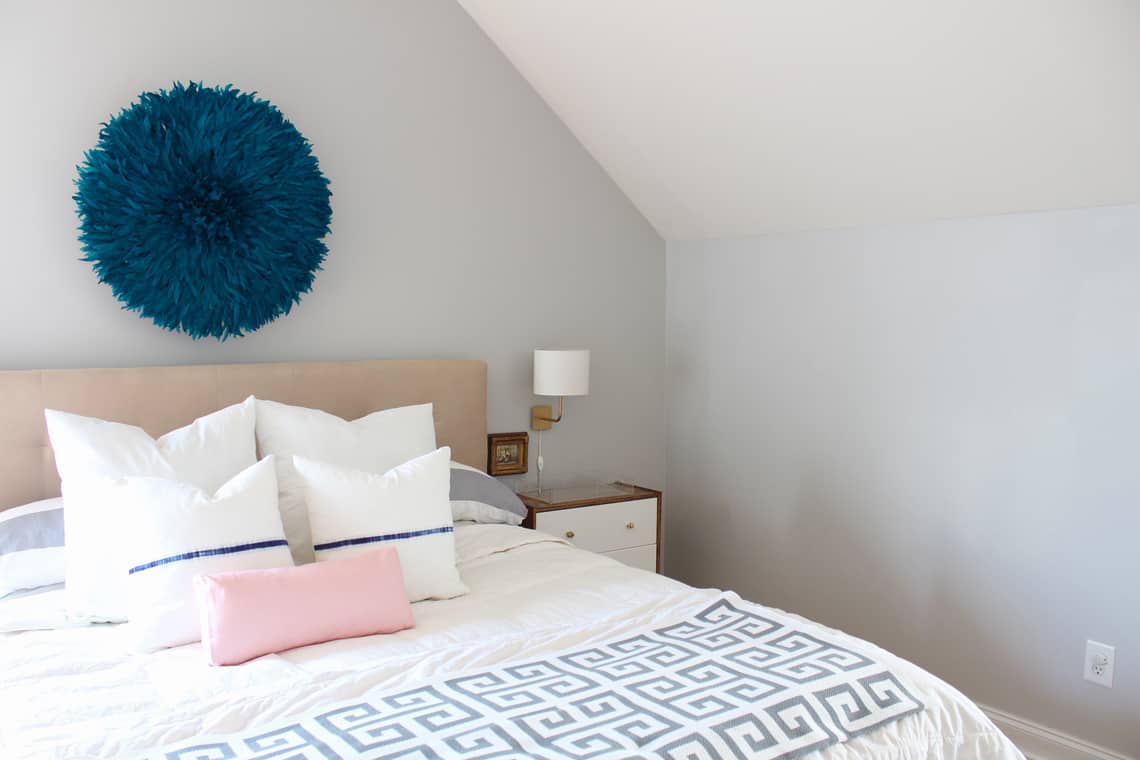 Opposite the bed is the gallery wall that I revealed last week which also gives me slight hear flutters! Do you see how I'm using the teal and pinks throughout the room?
The new dresser is a piece that I found on Moveloot and I painted the base gold. I rounded up my other favorite mid century modern dressers and chests here.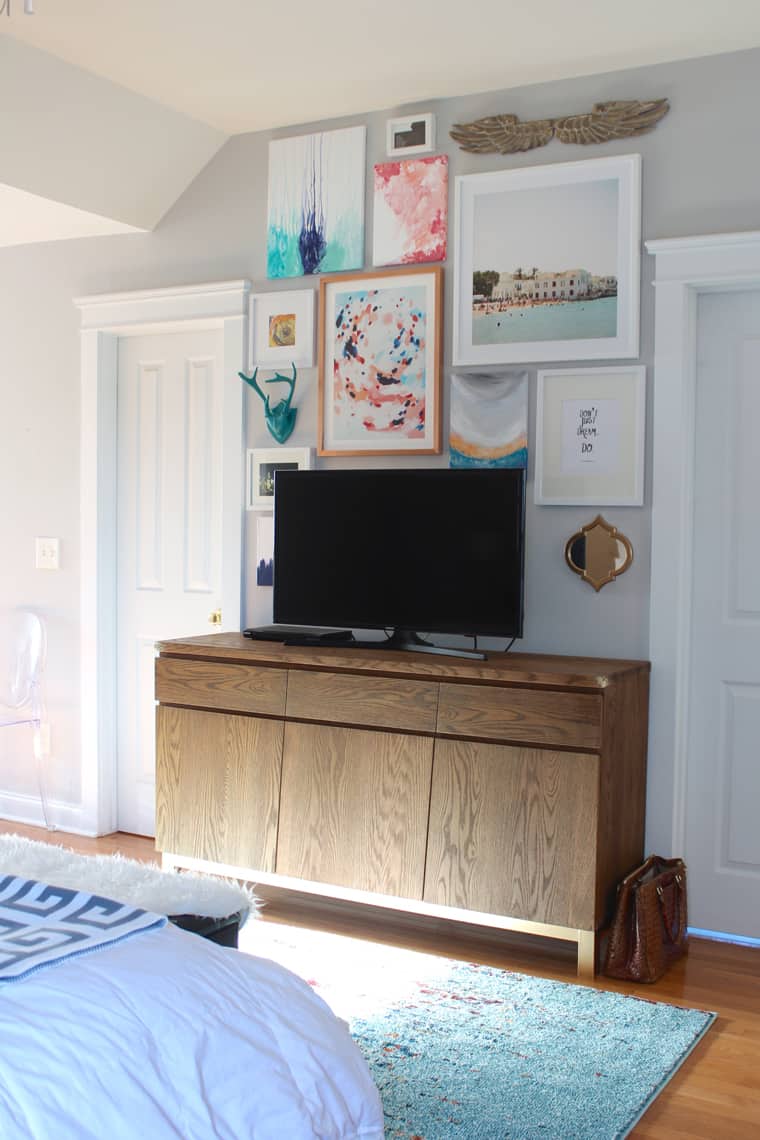 Here is the view into the office from the bedroom which is still one of my favorite sunny spots in our home!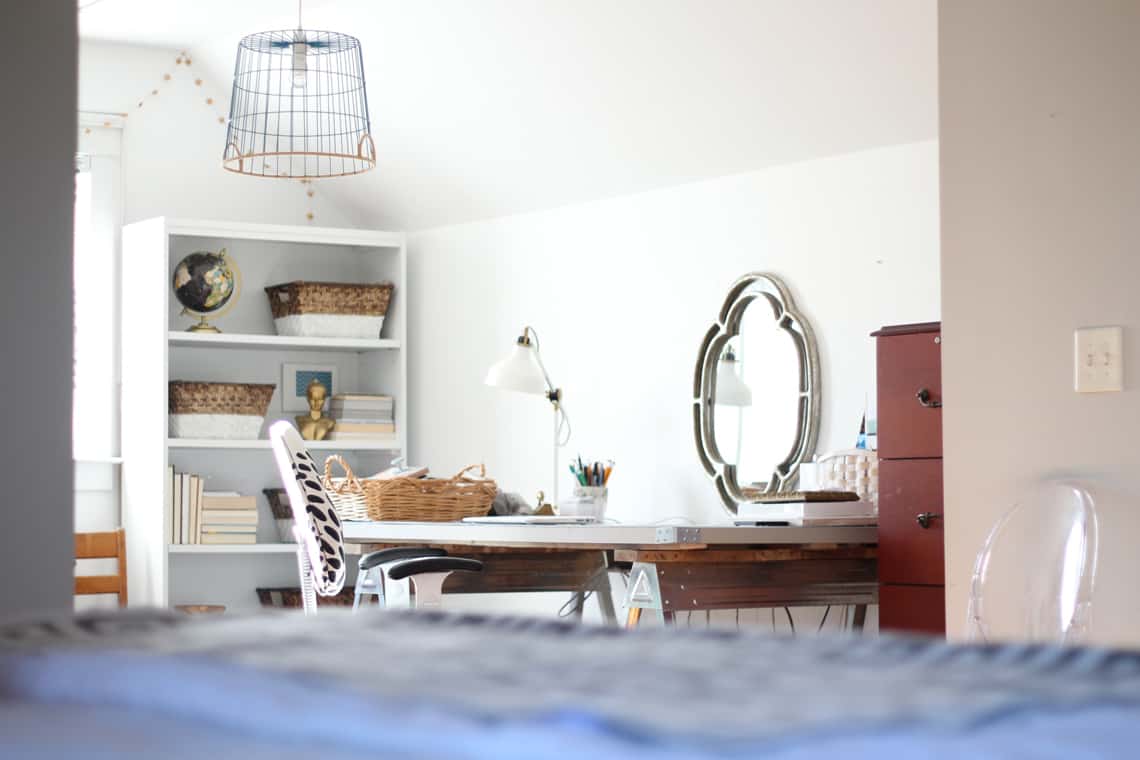 My coral campaign chest was a craigslist DIY but this one is almost identical! And yep, that's my Keurig over there at my coffee station! If you don't have a coffee station in your master bedroom you are definitely missing out!
This greek key blanket might be the thickest, most cozy blanket ever and it came from Michelle of Humble Weave. Michelle has designed a gorgeous line of stylish throw blankets and has a beautiful Instagram as well! Make sure to check her out!
The large framed beach picture is from Bombay company years ago so I can't find it online but it's still one of my favorites. My reading chair is from Ikea and the scallop pillow is another Moveloot find.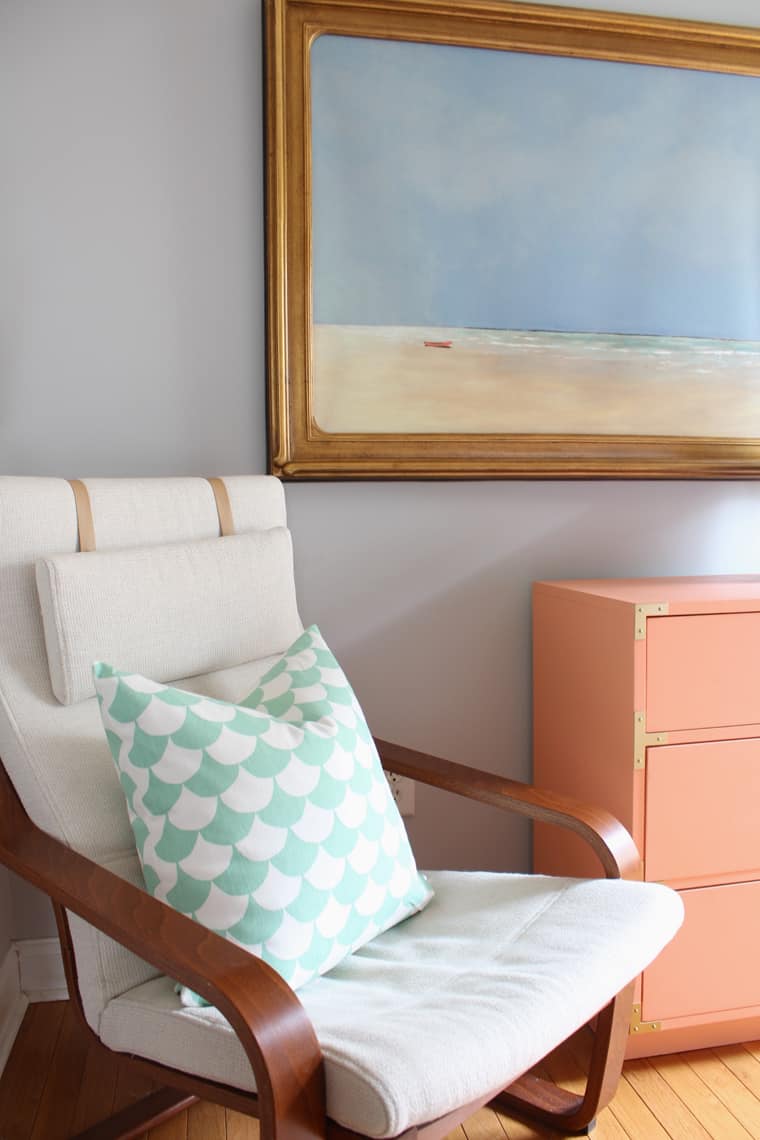 Ahh, look at those feathers! Be still my heart!
The simple stripe pillow covers and the pink pillow are from Ikea.
Scroll through and click to go to the direct product links!
[show_shopthepost_widget id="1436152″]
So what do you guys think? Do you prefer the before or the after? I do miss the basket wall but I'm loving the calmness of the new space.
If you're in the market for an affordable JuJu hat don't forget about the 10% off from Old World Shoppe! Just use the code: SIMPLE and thank me later :)
Stay tuned this week because I'll be announcing where I'll be headed for the Lowe's Spring makeover and a few other fun surprises! Make sure to hang out with me on Instagram too!
Cheers!