Master Bedroom Coffee Station
As you may know I am a mom to an amazing 5-year-old little boy who just started kindergarten so of course we are always rushing around in the mornings to get to school and work. In order to ease our transition I created a coffee station in my master bedroom which allows me to have my coffee while I start my day before my son wakes up without having to go downstairs and make lots of noise.
I have seen coffee stations in other areas of homes, a dining room, kitchen nook, etc. but why couldn't I create one in my bedroom? Wouldn't that make the most sense for me and the answer was yes! This concept has really changed my life and my son even gets a kick out of it now and likes to make it for me on the weekends :)
I created the station for very little money because I already had the tiny table, I just repainted it a light blue with a couple simple stripes from sample pots of paint I had in my garage. I bought a 2 pack of Threshold hooks from Target and mounted them on the interior of the table with 1/2″ wood screws to hang the mugs. I used containers I already owned to hold the coffee pods, creamer, sugar and stirrers.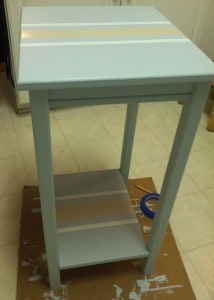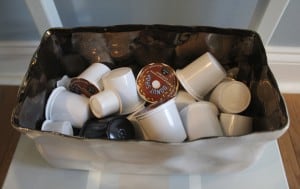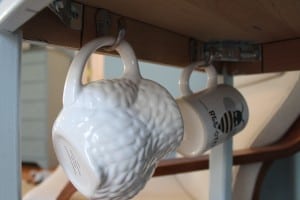 Another great thing about this for me personally is that I already had the Keurig machine that I had received as a gift from my dad. My dad and I are very close and I love him but he is not the gift giver of the family…sorry Dad :) Usually mom picks out gifts for me and my sister for birthdays and Christmas. But one year my dad bought be this Keurig machine because he knows I love coffee. This might have been the first present he had actually thought of and bought for me since I was a little girl…sorry again Dad, if I am wrong feel free to correct me :)
The problem was when I was working full time I liked to have a large mug to take with me on my long commute to work and the Keurig single serve cup wasn't cost efficient for that. So I bought a cheap pot to make my coffee and I put the Keurig on the shelf.
I hated that I didn't use it because it was such a special gift and I had even thought about selling it at one point because it was just sitting unused until I had the idea for the coffee station. Since I no longer have a huge commute and don't need a giant travel mug I can put this special gift back to use.
If you read my "Early Bird Catches The Worm" post about rising early you know that the coffee station is also perfect for my 6am-7am "me time" hour. I also hung a gallery wall of photos and art framing the coffee station so it looks more like part of the decor.
Do you guys have any clever routines for surviving the morning rush? Maybe you could benefit from a coffee station in your bedroom or another location in your home. I would love to hear your stories!
Thanks for coming by and I hope you all have a great week!
See you tomorrow, I've got a lot of productive things planned this week…