How To Disguise A TV With A Gallery Wall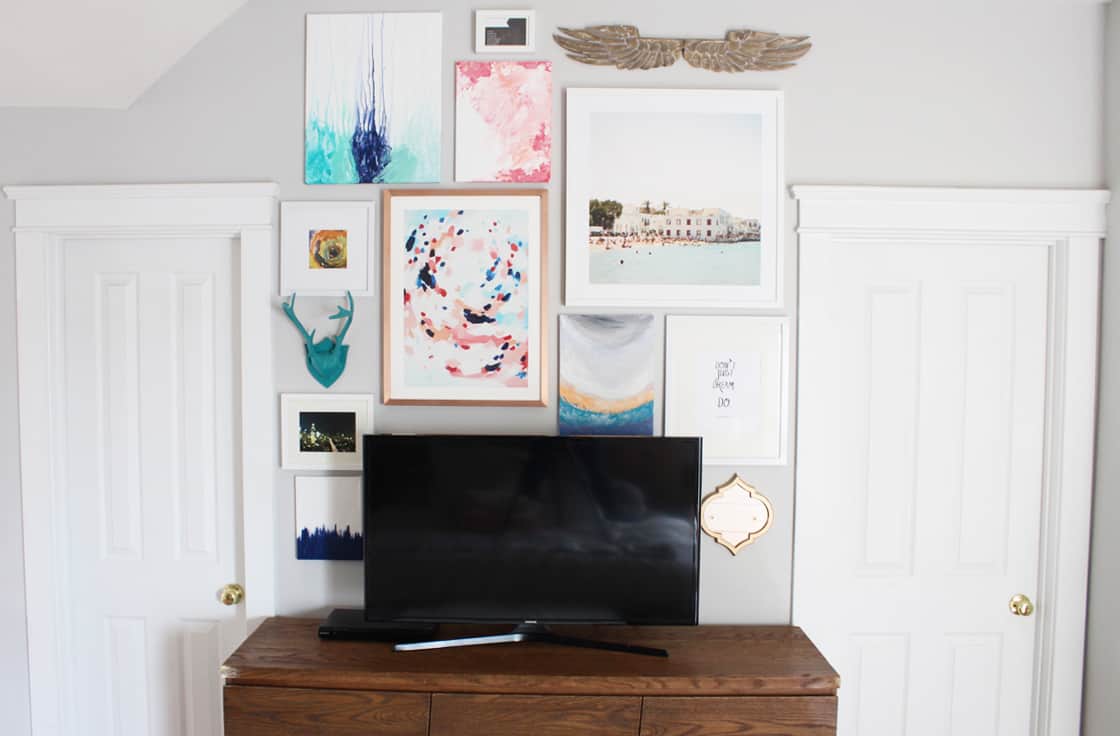 No matter what shape or size, TV's can be a huge eye sore in a room! When I started the re-design of my master bedroom I new I wanted to incorporate my TV more organically into the decor so it wouldn't stick out like a sore thumb. I did some Pinterest stalking and realized I wasn't the only on who felt this way! I decided to disguise my TV by incorporating it into a gallery wall.
I heard it through the grapevine that gallery wall's could be on their way out, being replaced by large statement art pieces, but my love affair remains strong! I have a massive gallery wall in my office, one in my little man's playroom and a small one surrounding my coffee station in my master bedroom! The master bedroom one on the coffee station wall just came down to be replaced by the one surrounding the TV. Let's just say it was getting a little out of control :)
Gallery walls can be tricky but if you go in with a plan you can easily conquer the task and end up with a beautifully curated statement wall. I suggest using sheets of paper to indicate where you want the pieces in your gallery wall to go. I can't tell you how many times I moved these frames around before I was happy with it!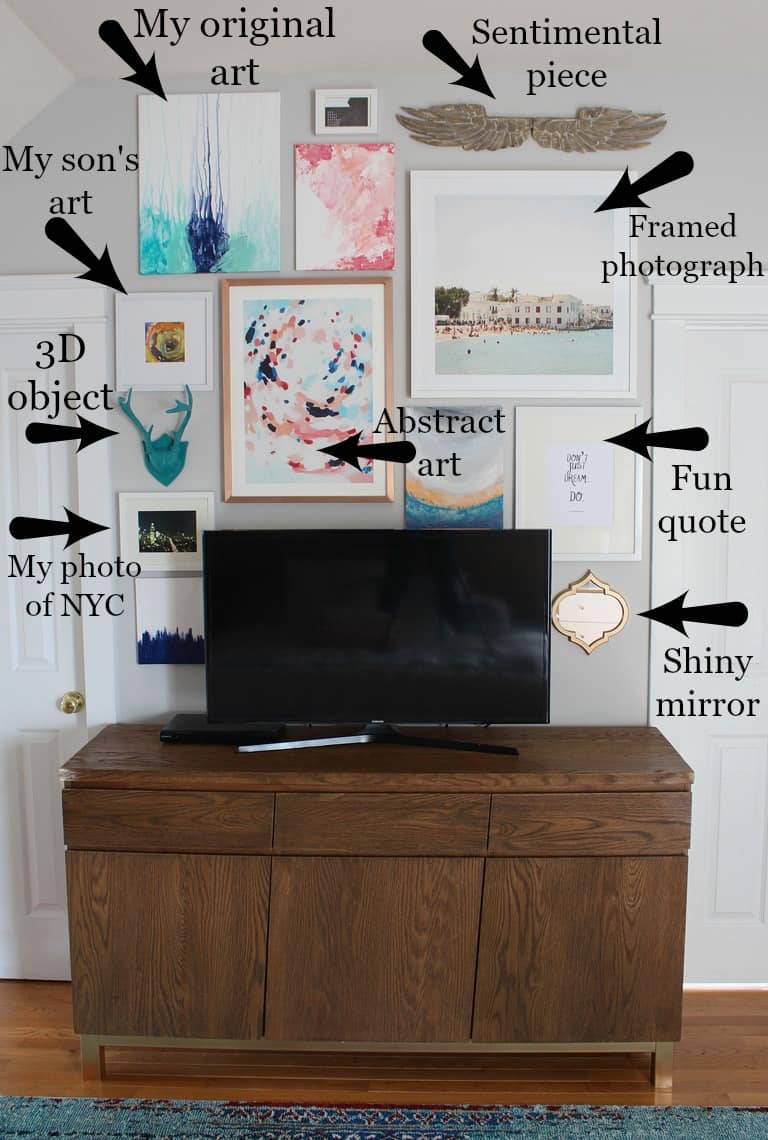 Next gather your items. Shop your home, add new pieces that you love, but most importantly think outside of the box. There are so many items that we have in our home that could be hung on the wall that you might not even think about. Here are my essential elements that make up a great gallery wall.
Essential Gallery Wall Pieces:
Abstract or other artwork

. Artwork is always important no matter your style or medium. Just make sure it's something that you love.

Unique photographs

. Whether you purchase a photograph or use one that you took, consider unique photos for your gallery wall vs. posed family pictures.

Sentimental piece

. Add pieces that mean something to you. This could be something you picked up from your travels, a piece of art your kid made, etc.

Quote.

I love using fun quotes in gallery walls. They add personality as well as negative space to the collection.

3D object

. You can add depth and interest to your gallery wall by using a 3D object. In this case I used the teal faux antlers I found at Hobby Lobby.

Something shiny

. Something shiny is ALWAYS a good idea to add a little sparkle. In this case I combined my shiny with my mirror :)

Mirror

. Mirrors are a great way to add interest and reflect light into the rest of the room.

Original or DIY art

. I love using original art because I love to paint but this could be another way to incorporate a piece your kid made or something you love that you picked up at a thrift store. Either way, original art is always special. All of the pieces that aren't labeled here are my paintings. I'm just an amateur but I love it!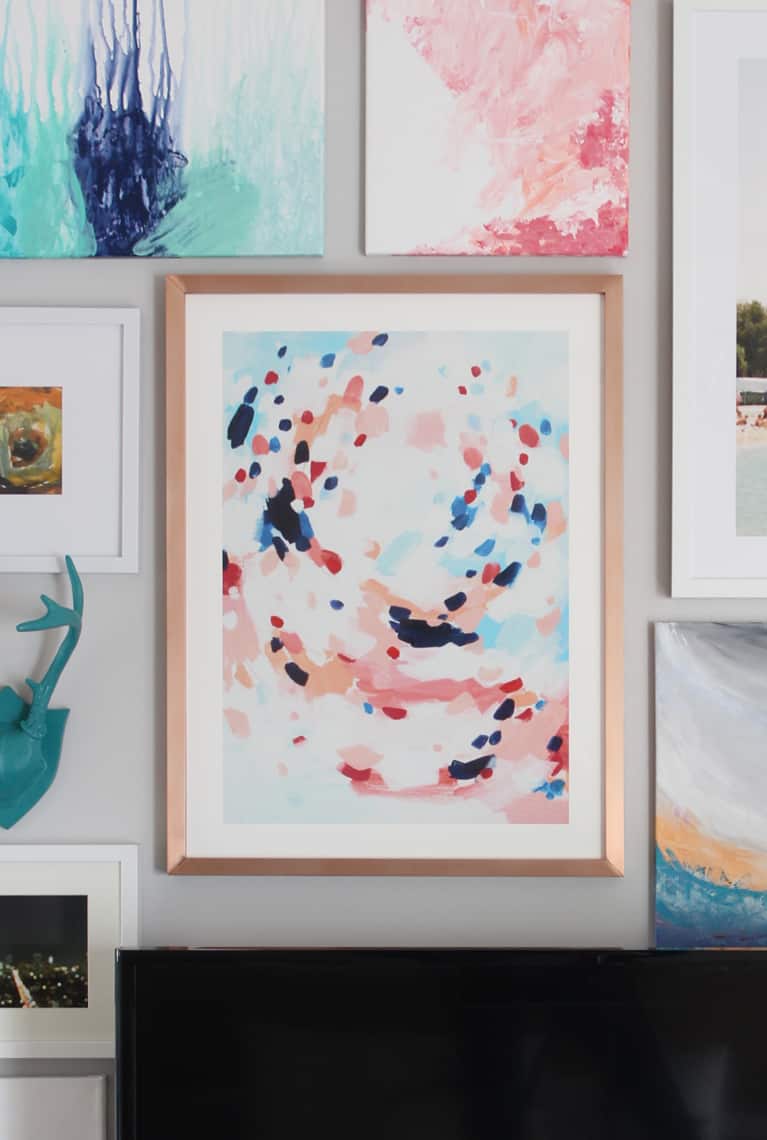 I'm sure you've heard me talk about Minted over and over again but it is one of my favorite places to find great quality art prints! They are always my go-to when I'm looking for abstract art (or any style) for my home and I love how they spotlight their local artists. I've connected with several of their artists through social media including Katie Craig who is the artist of the focal piece above! And lucky you, I'm going to be giving away one of Katie's gorgeous prints on my Instagram next week so make sure to follow along!
Here are a few of my favorite Minted art pieces right now!
[show_shopthepost_widget id="1427140″]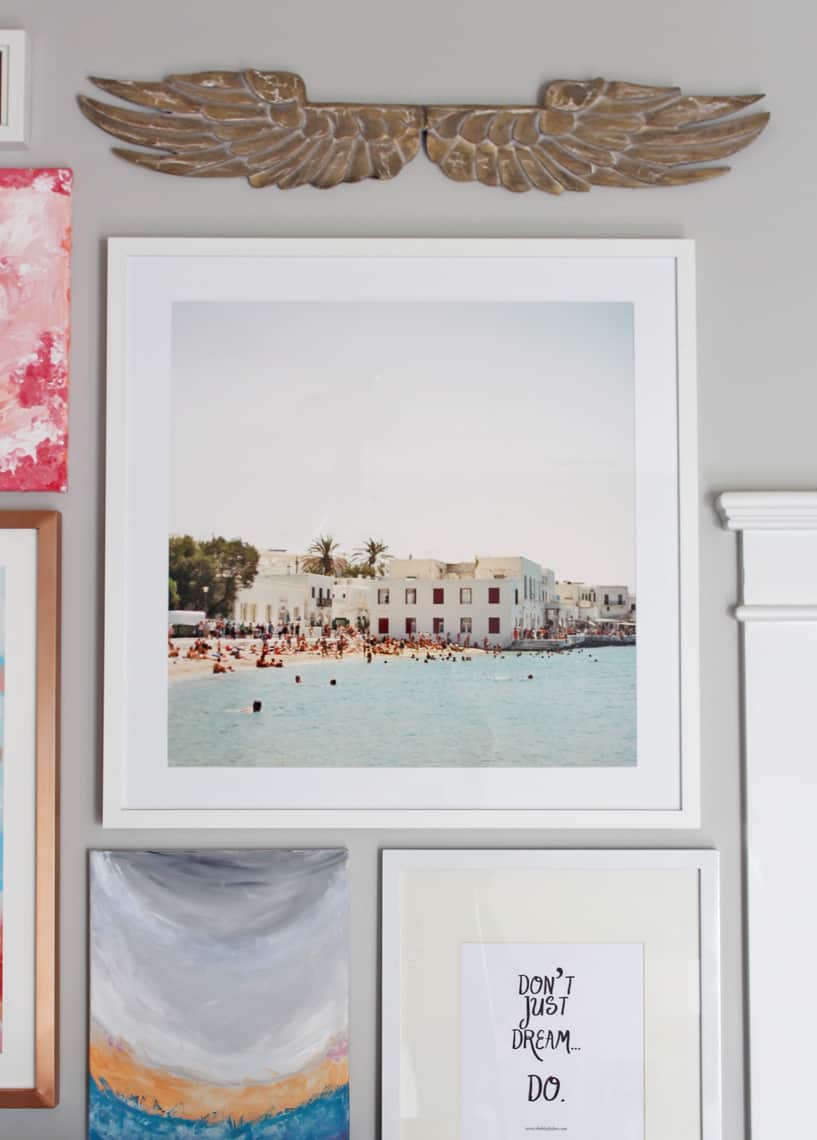 I recently discovered, Eventide Collective, a favorite new source for beautiful, on trend fine art photography and I'm head over heels for their collection. And it made my beach loving heart super happy with all of the beautiful sea scenes. It was almost impossible to decide but this image by Marta Locklear captured me!
This was the runner up! It reminded me of sitting on the beach with my family staring at the waves with a margarita in hand!
Every one of my gallery walls have been different and I have truly loved them all. I feel like they hold so much personality, like a glimpse into you life. I like to have more than one focal point in my gallery walls (if I have a focal point at all) and I think the unique abstract art and gorgeous photo share center stage without conflict. They are different enough in style and shape for the needed contrast but the colors still work well together.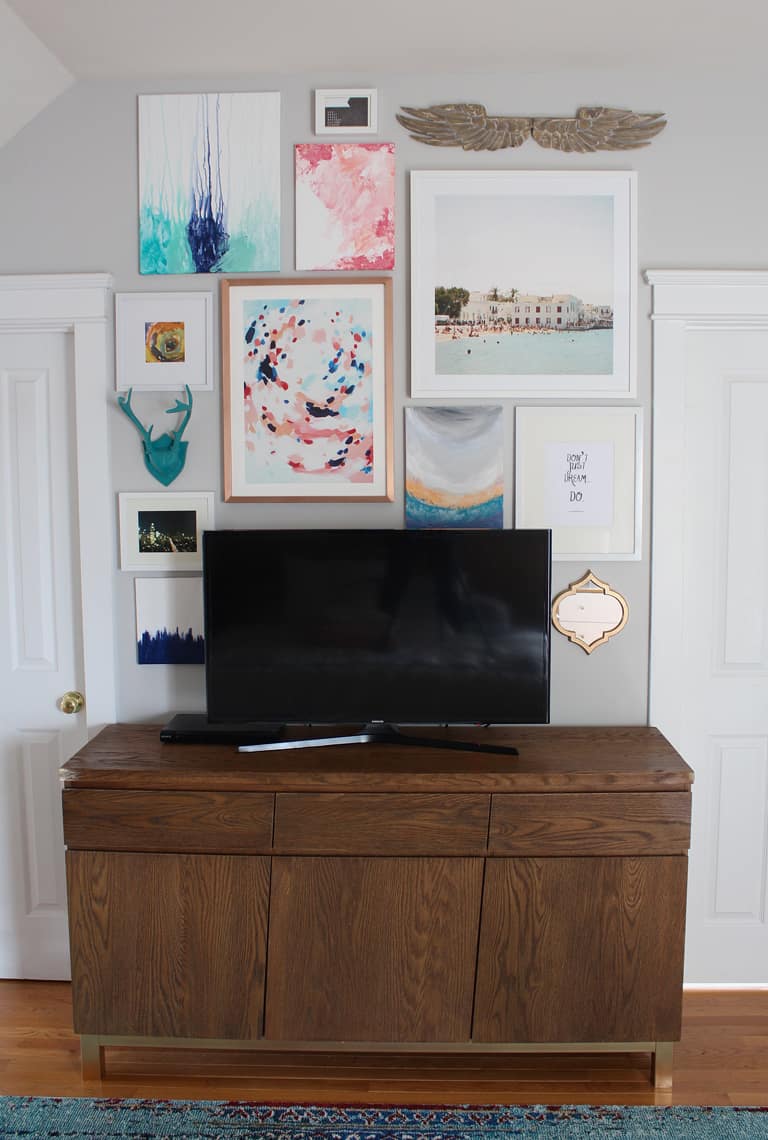 Another tip is to think about your overall color scheme before you start your wall and as you go. If you think about your pieces carefully and take your time your wall will evolve into exactly what you want!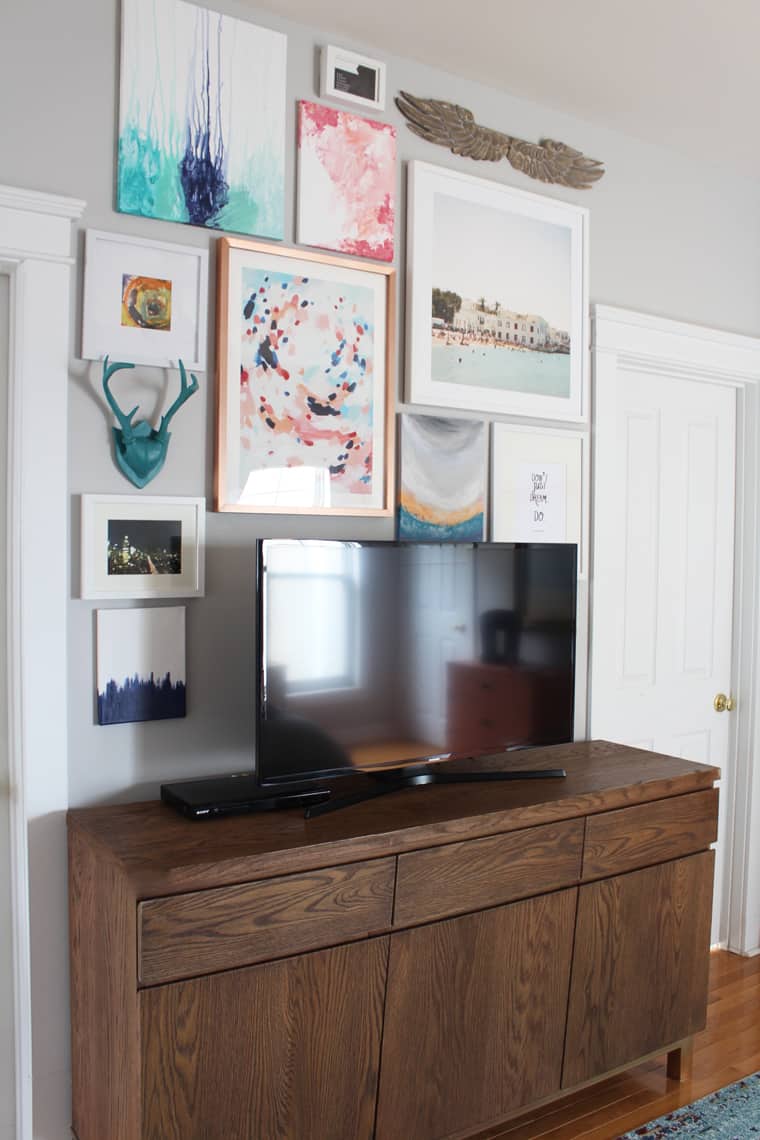 What do you think guys? Doesn't the TV look a little bit better surrounded by pretty art and photographs? Are gallery walls on their way out or are you still loving them?
I can't wait to show you the rest of the room but it's going to have to wait until next week :( We got so much rain and clouds this week that it wasn't very conducive for getting great pictures! But don't worry, it's coming!
Cheers and happy weekend!!!

[show_shopthepost_widget id="1427932″]
{Affilitate links used. Minted provided the abstract art piece and Eventide Collective provided the large framed photograph for this project. All thoughts, words and opinions are 100% my own. Thank YOU for supporting the brands that make Simple Stylings possible!}