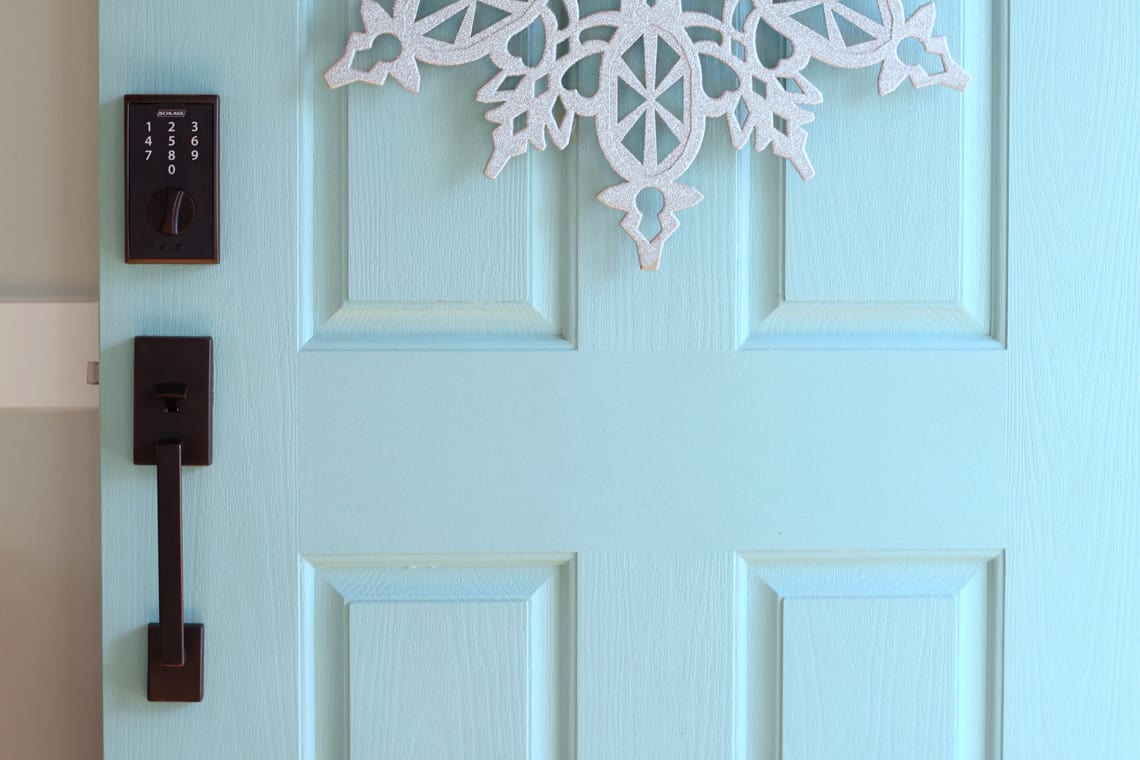 I love our little bungalow home and I put a lot of effort into making it safe, functional and pretty for us. But one of the things I often overlook are door knobs, locks and other hardware. These are never really on the top of my list because they don't make a huge impact, especially in photos, but I've locked myself out of our house one too many times and I'm finally fixing the problem…seriously though I have a problem :)
I have a habit of constantly locking the doors when we come in or leave the house, which is a good habit in one sense but on the other hand I can't count how many times I've locked myself out running out to the garage or backyard. When Schlage offered to send me their Schlage Touch Keyless Touchscreen Deadbolt locks to try out I didn't hesitate for a second. Now I don't even have to dig through my purse for my keys!
In addition to keeping me from locking us out of the house on accident, they also allow me to call in a favor from time to time (like begging my parents to swing by and let the dogs out if we're running late) without having to supply keys to every family member. I can also go for a run or bike ride with my son and not have to worry about where I'm going to stash our bulky keys.
Functionality is super important but if I'm being completely honest a lot of times for me style beats function. Luckily I don't have to choose in this case because the Schlage locks are super stylish and modern and give that finishing touch to our doors, especially the entry door. I think the Aged Bronze looks SO good against the turquoise!
I mean look at our sad old 90's brass hardware that I tried to spray paint. Seriously though, I've read lots of tutorials that tell you spray painting hardware works but unfortunately I don't buy it. Maybe if you primed it, painted it, then sprayed it with a top coat it might last longer but I just don't believe that spray paint will do the job on hardware that takes as much wear and tear as a front door. Sad, I know!
The locks were easy to install and even easier to use. All I have to do is punch in our chosen code and and we're in. And if the battery dies there is an easy way to manually reset the lock. Don't worry, that was the first thing I researched :)
I love the new found freedom that the keyless entry gives us. The back door even got some love which was much needed since we had old ugly locks on our newly painted door from our kitchen reno project!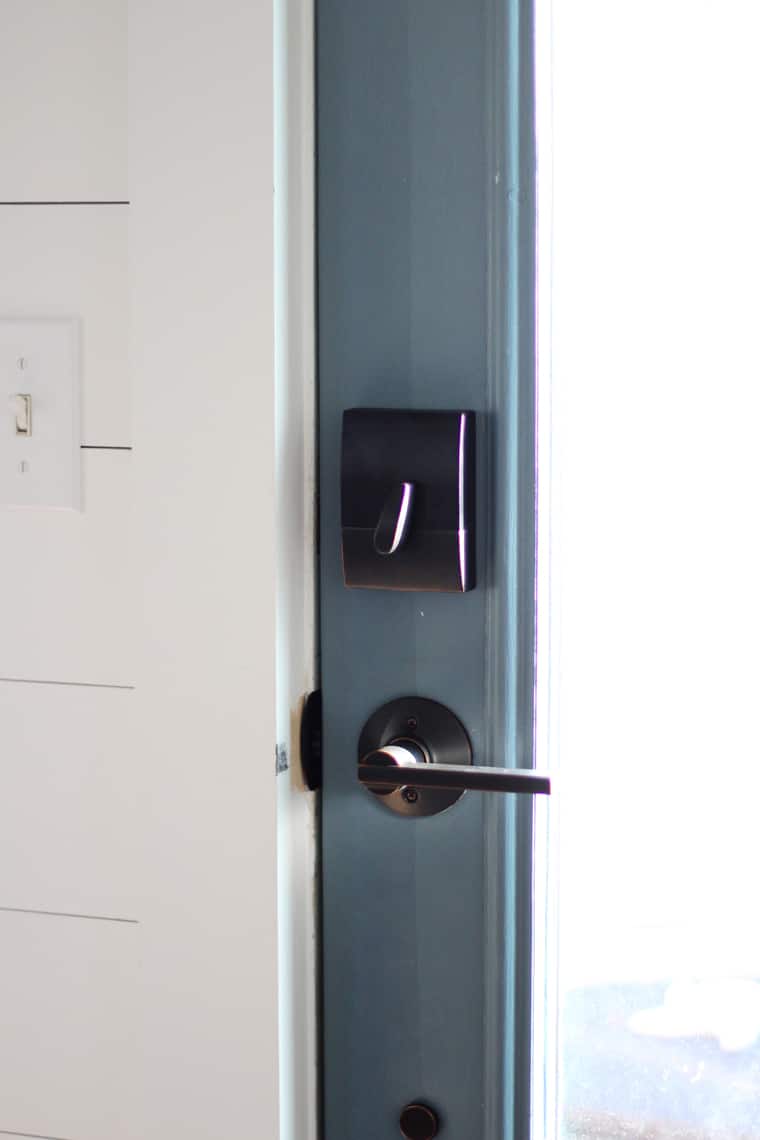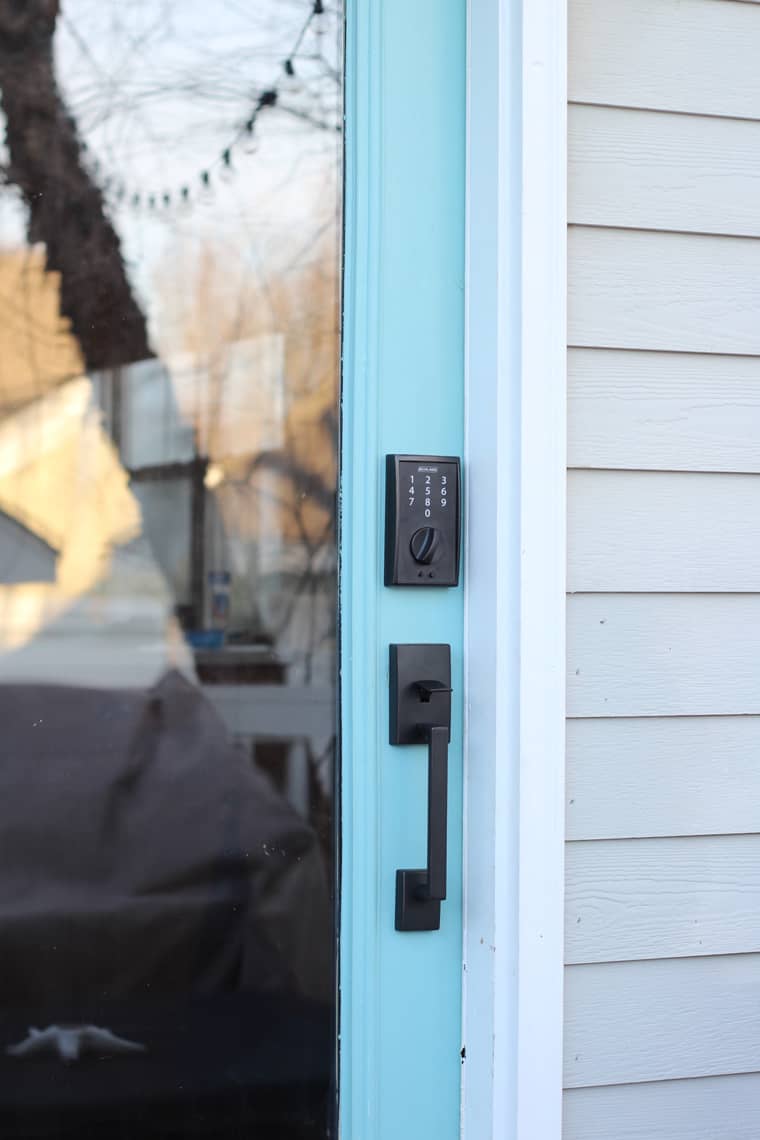 So what do you think? They are pretty good looking, right?! Do you guys prefer keyless locks or traditional deadbolts? Now I just need to update all of the 90's brass door knobs inside the house!
Cheers!

*Thanks to Schlage for providing the locks for my review. All ideas and opinions are my own.*