Kitchen Renovation: The Reveal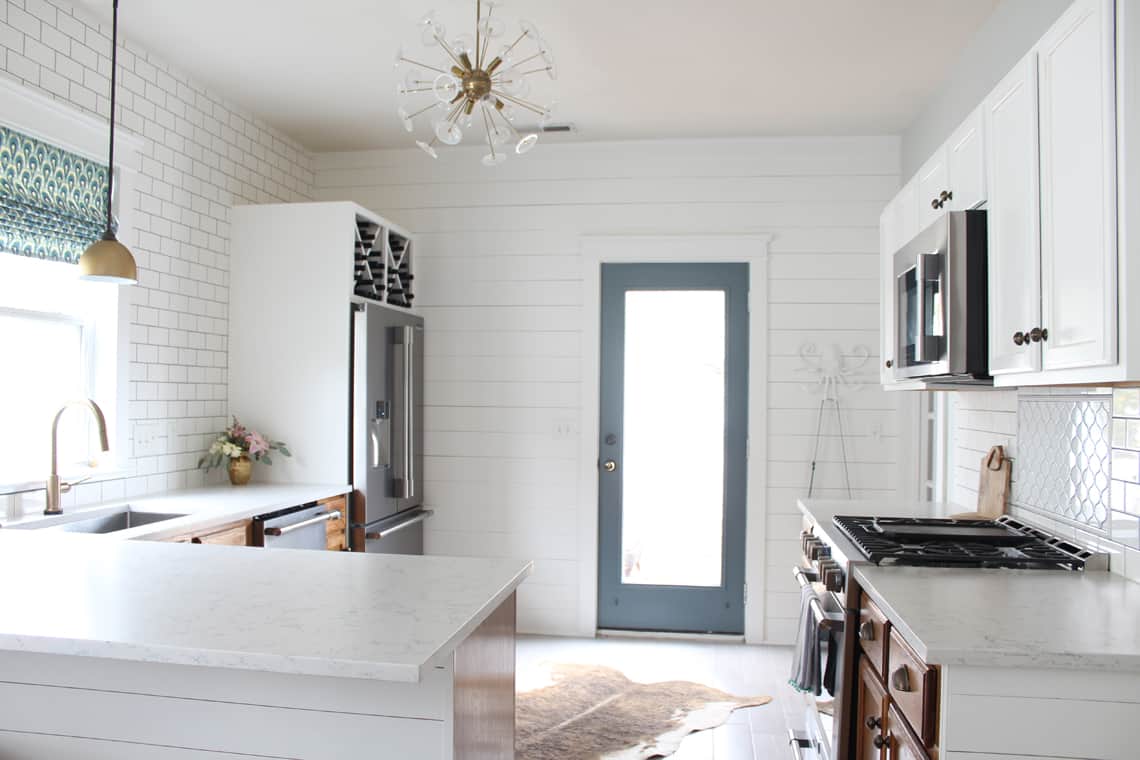 It feels like forever ago when I started dreaming up this kitchen renovation. Little did I know what it would become and how it would unfold. But nevertheless I'm so glad today has come and I couldn't be more happy with the way it turned out. As with any renovation, there are a few thing I might have done differently but the overall vision came to life better than I ever expected.
I've completed countless room makeovers and DIY projects but this is the first full-scale renovation that I have designed and executed! Being able to bring the vision that was in my head to life in this space was a lot harder than I imagined it would be. It was like putting together one big jigsaw puzzle with life-size pieces #NOTKIDDING
THE VISION: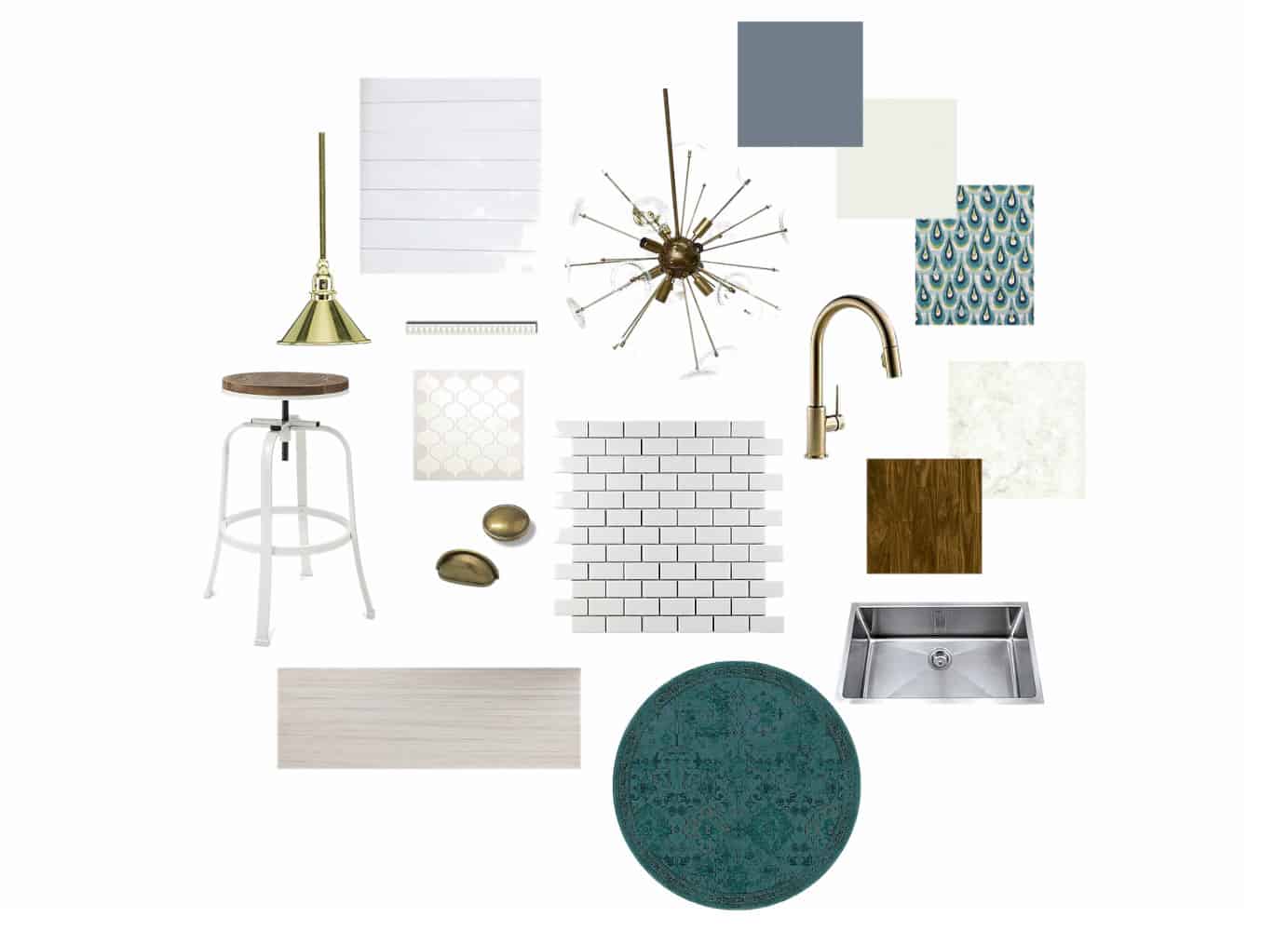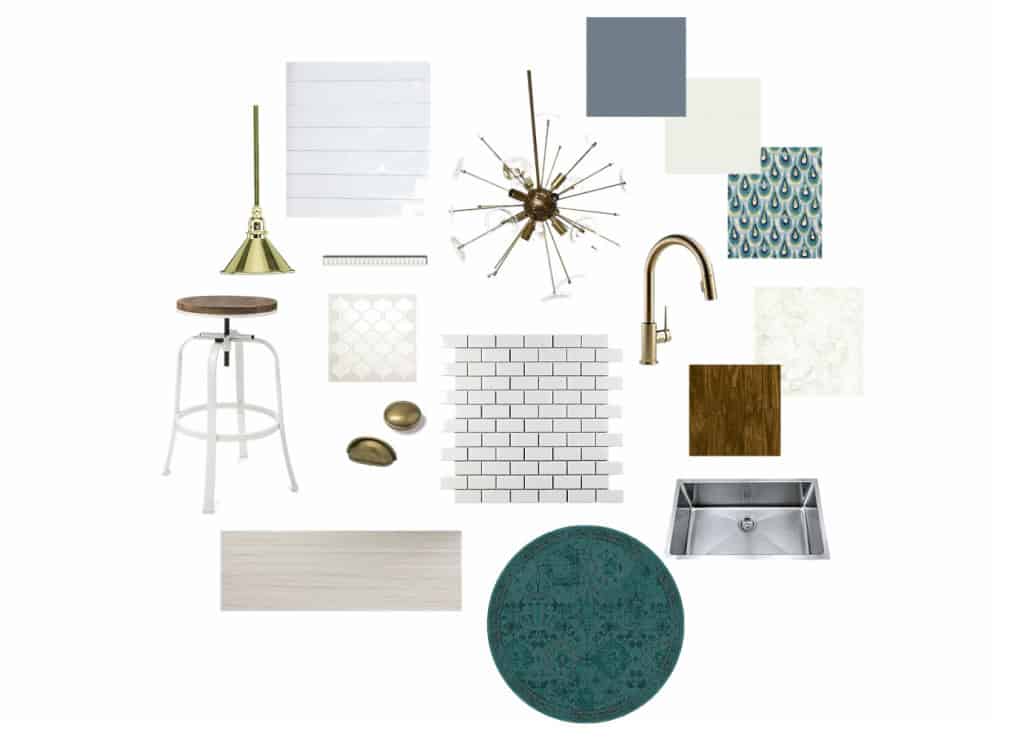 BEFORE: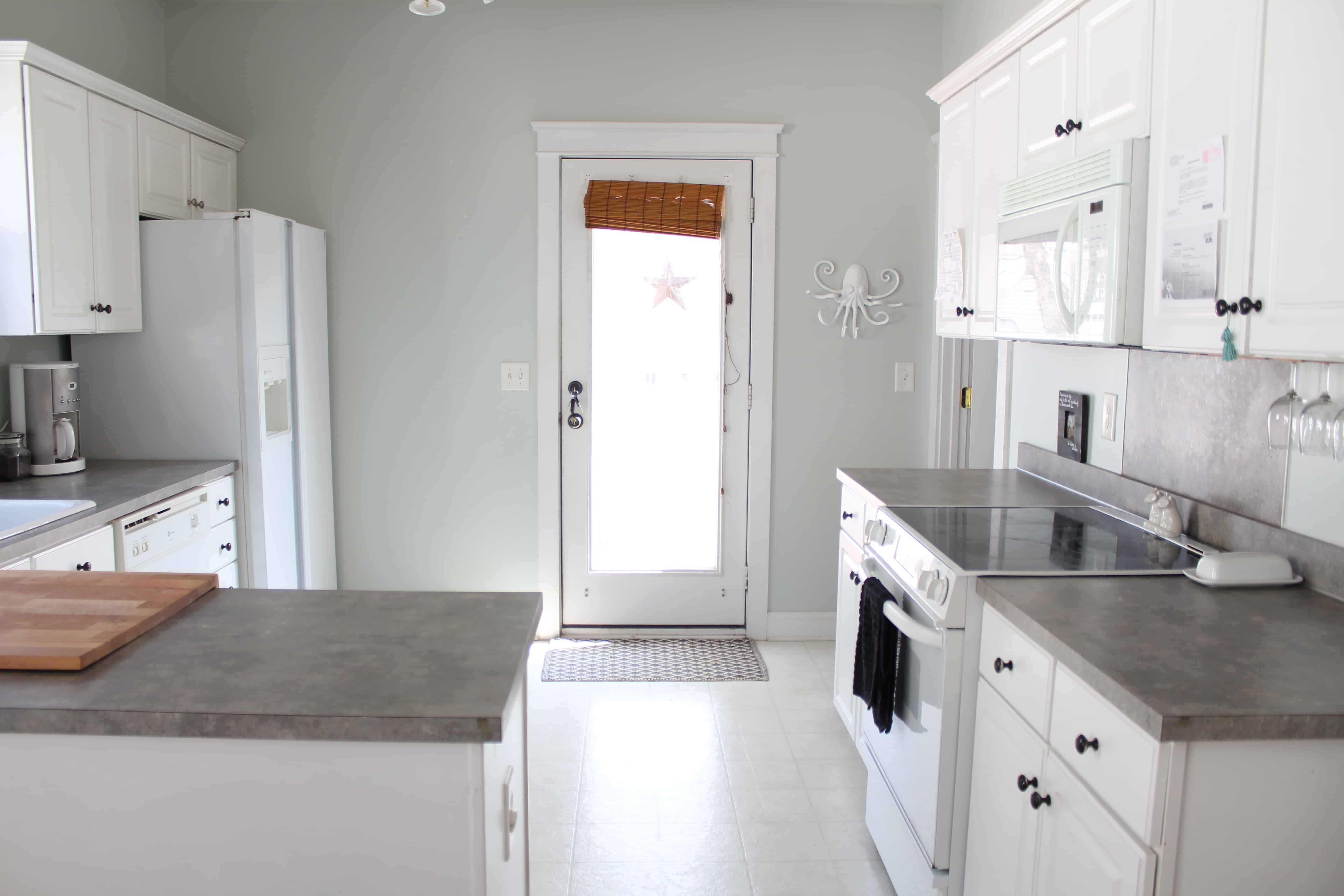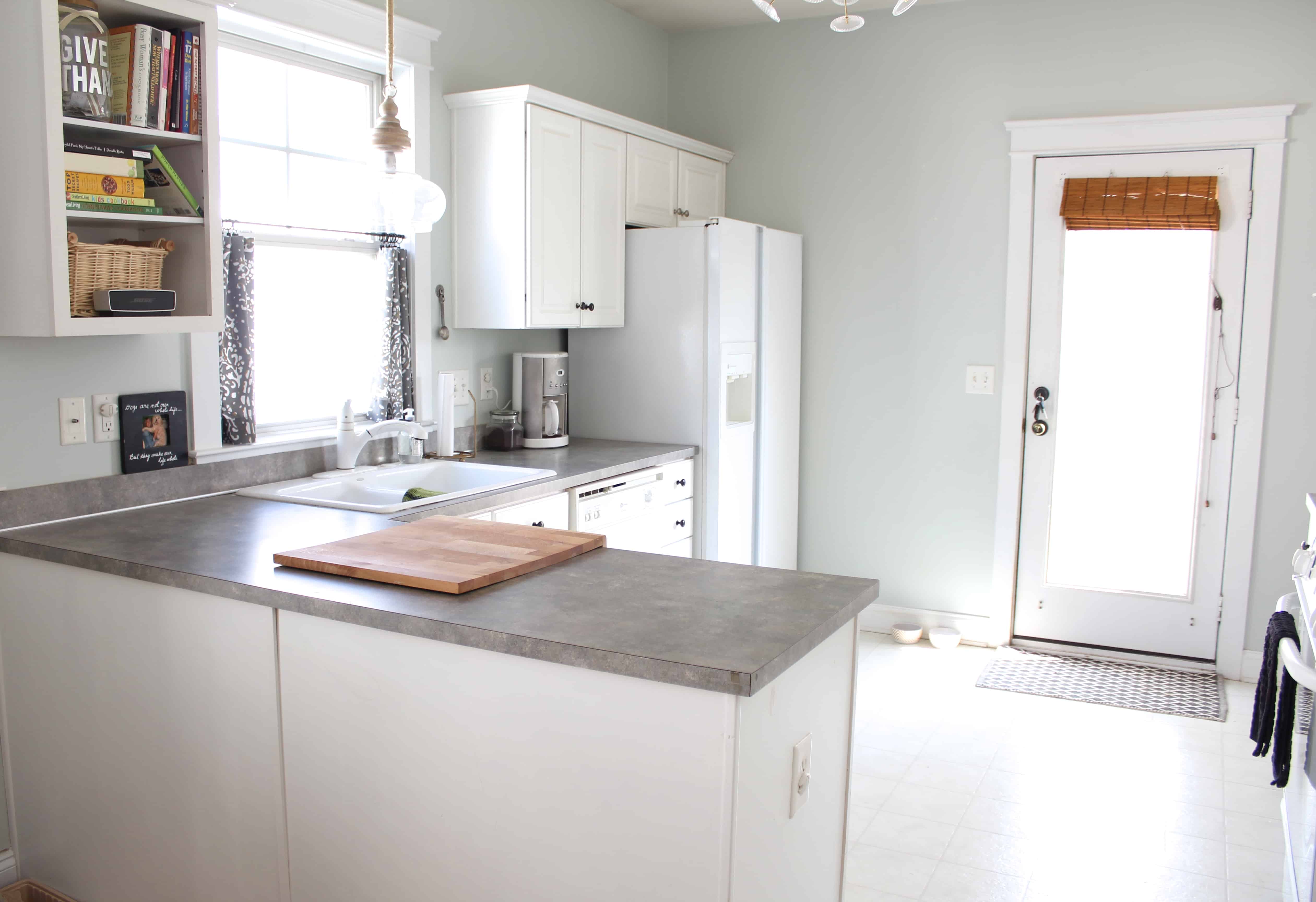 It's not the worst kitchen you've ever seen but what you can't see in these pictures are the peeling countertops, buckling floors and broken appliances. The kitchen hadn't been touched since the house was built in 2000 so it was definitely time for an upgrade.
AFTER: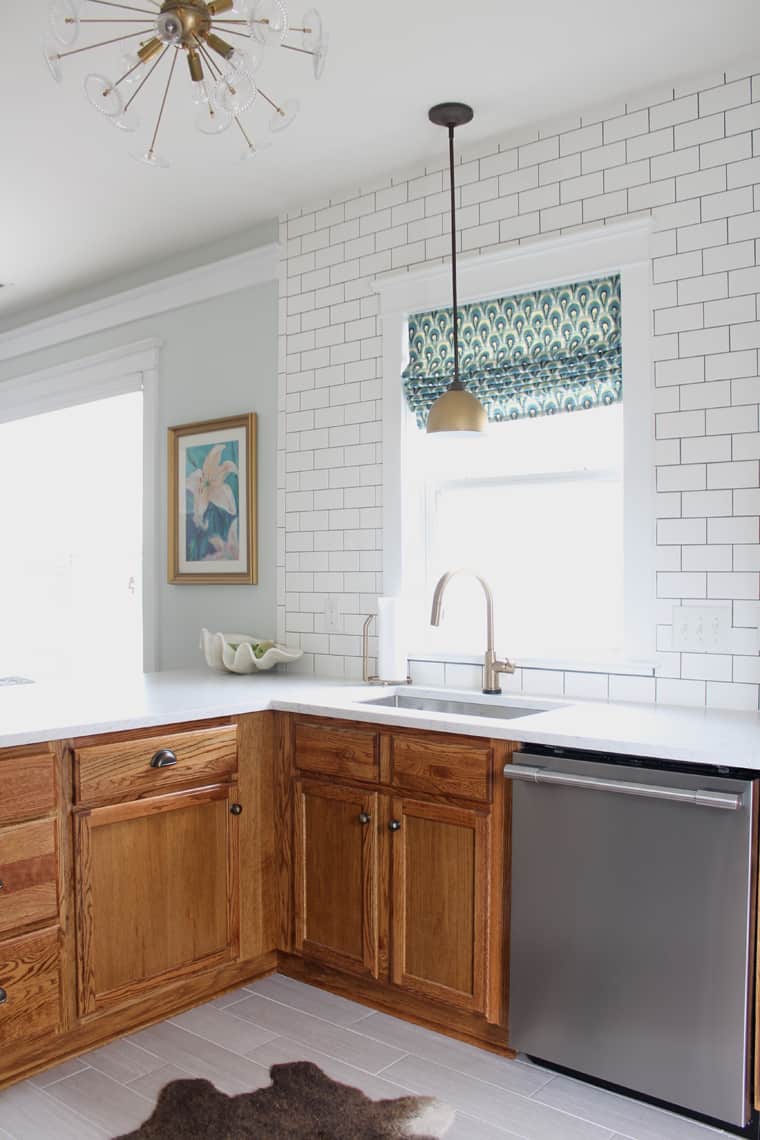 I'm so thankful for my family and friends that lent their hands and time to this project and for the amazing sponsors that believed in my vision and helped make this dream a reality. I hope this inspires you to tackle that next project on your to-do list that you've been putting off. I promise, all of the blood, sweat and tears are worth it in the end! I hope you love it as much as I do!
***
It all started with this beautiful fixture from Lucent Lightshop! It would set the tone for the style of the rest of the room.
I knew I wanted a mostly white kitchen but I also knew it needed a few bold elements to set it apart from so many other white kitchens I've seen. The funky lighting, the faucet and the dark grout really catch your attention.
The roman shade adds color to the space that it really needed. Before the shade was hung the room looked too stark. It definitely makes a statement.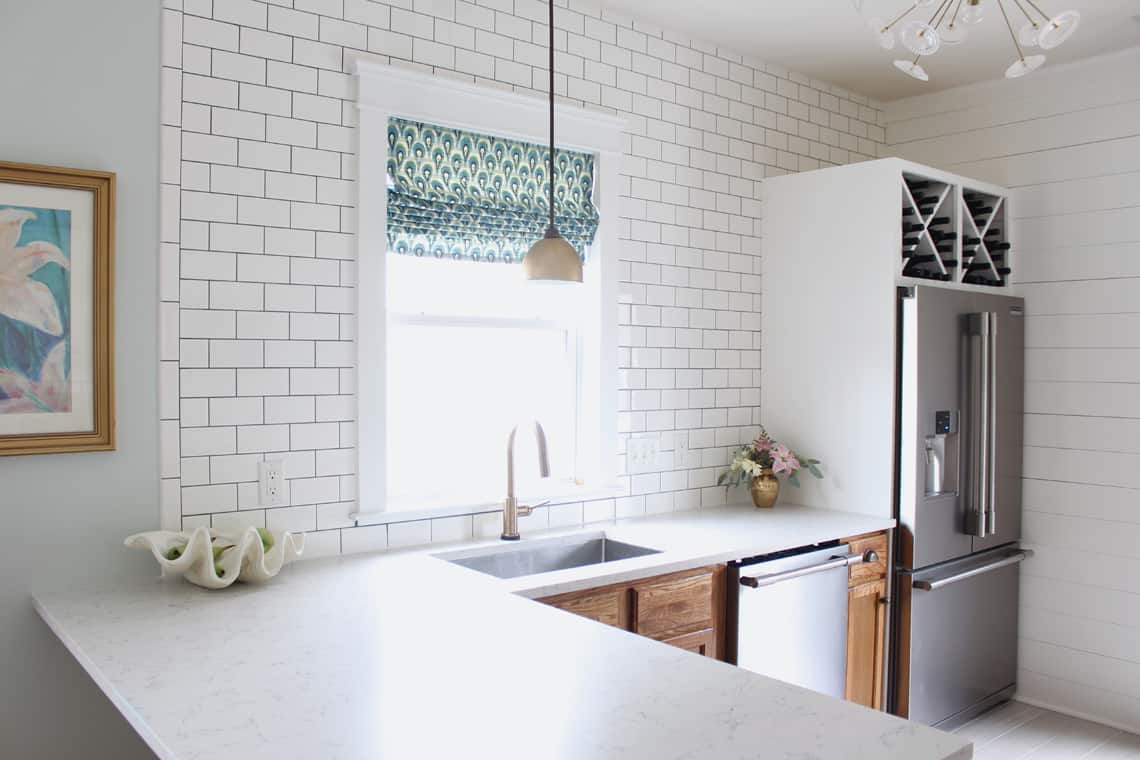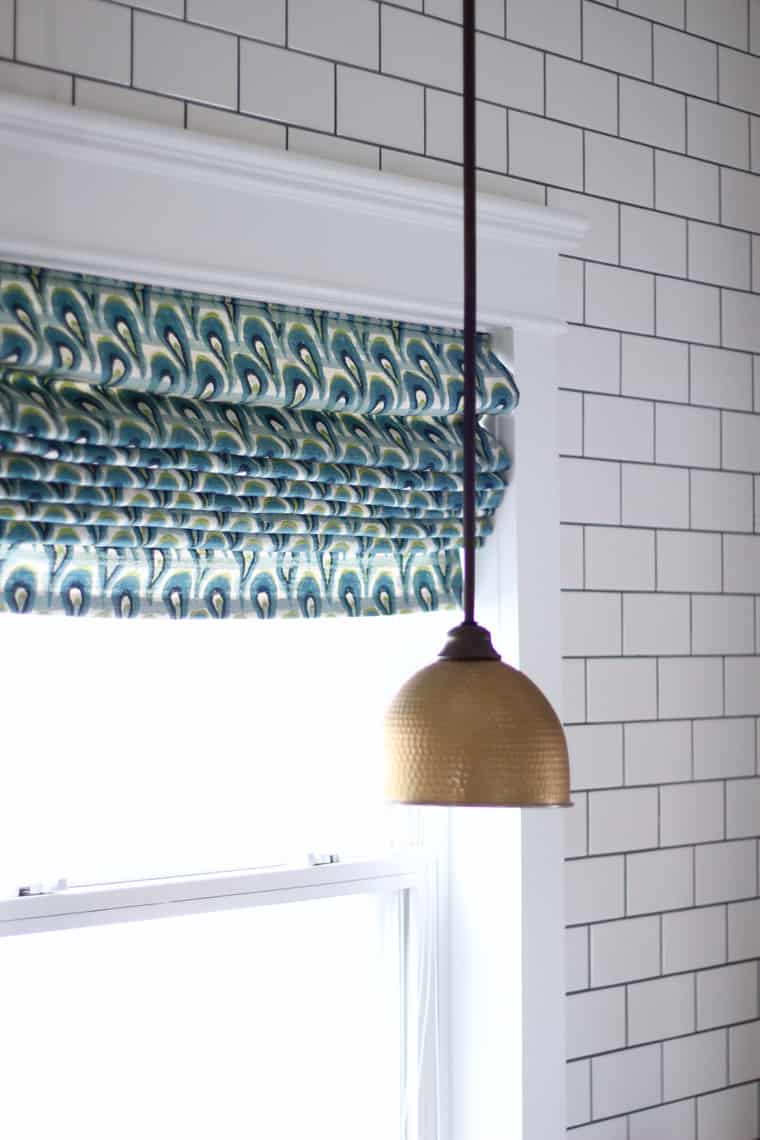 The DIY shiplap accent wall and planked bar add lots of character to the space, reminiscent of a true craftsman style bungalow. I hope to post a tutorial for this if I can muster up any remaining energy :)
It was important for me to stay true to the style of our home as much as I could. I wasn't able to get the shaker cabinets I wanted but I made up for it with the antique brass cup pulls and knobs, the paneling, and traditional white subway tiles.
If you've followed along with me during the reno you probably know that I struggled with the decision over the cabinets. At the end of the day I'm really glad that I decided to stain them instead of painting. The natural wood warms up the room and I just think they look cool! Mark my words, wood cabinets are coming back in style (in moderation of course)! Even my dad admitted I made the right decision and that doesn't happen often :) Right Dad??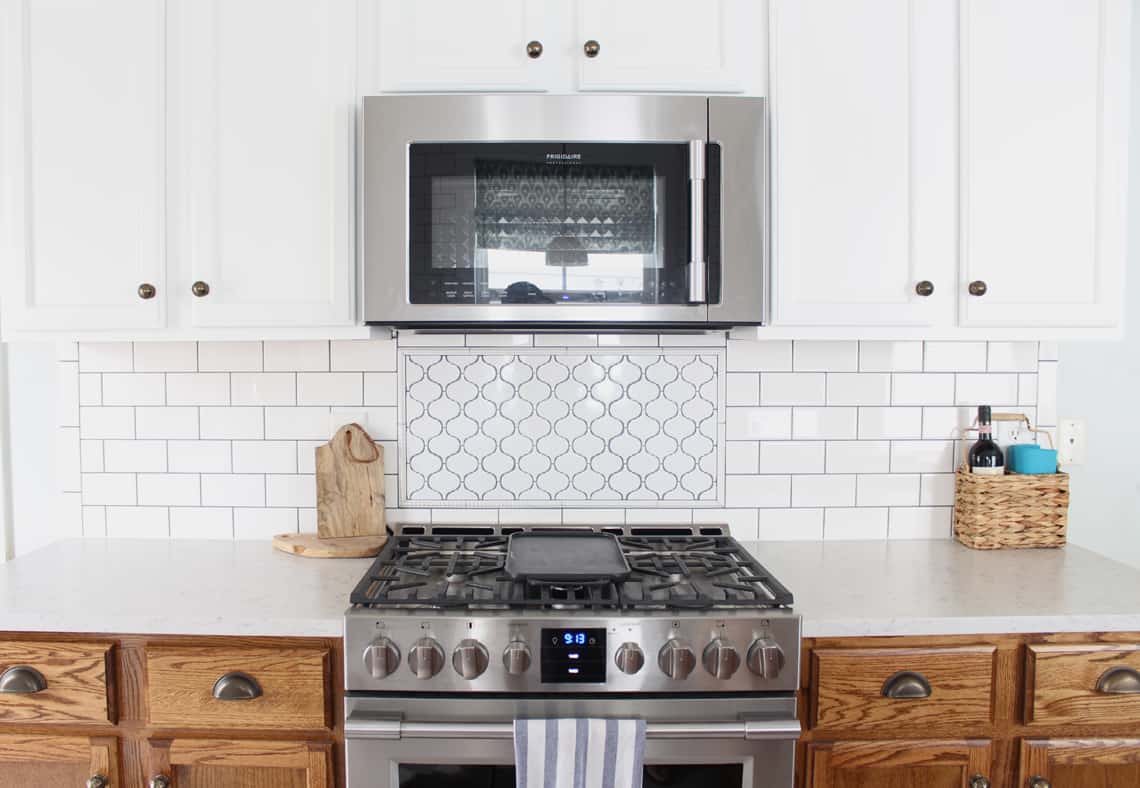 I chose this backsplash accent just to change things up a bit and create an interesting focal point! It is the same American Olean Gloss White line as the subways so they coordinate perfectly.
The dark gray grout really stands out and it almost has a slight bluish tint which I love of course. The color is called Slate.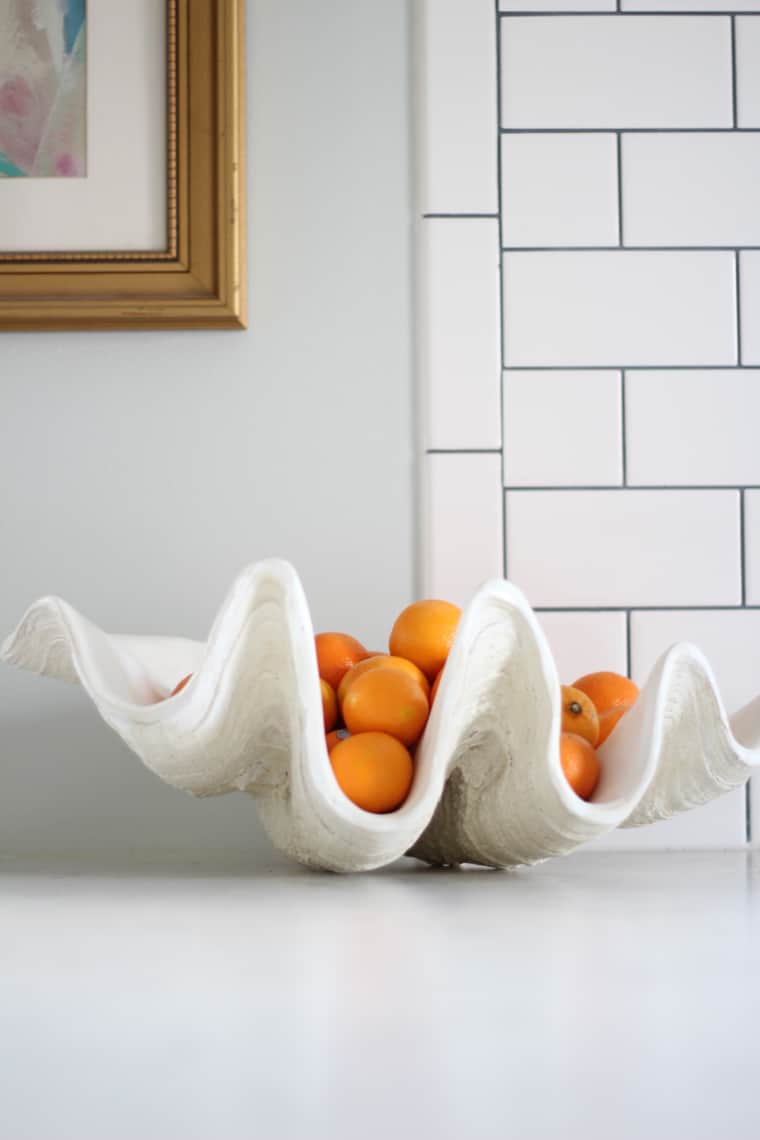 Our kitchen is a pretty small room so the counter to ceiling tile was non-negotiable for me. It is a bit dramatic but it actually makes this small space feel bigger.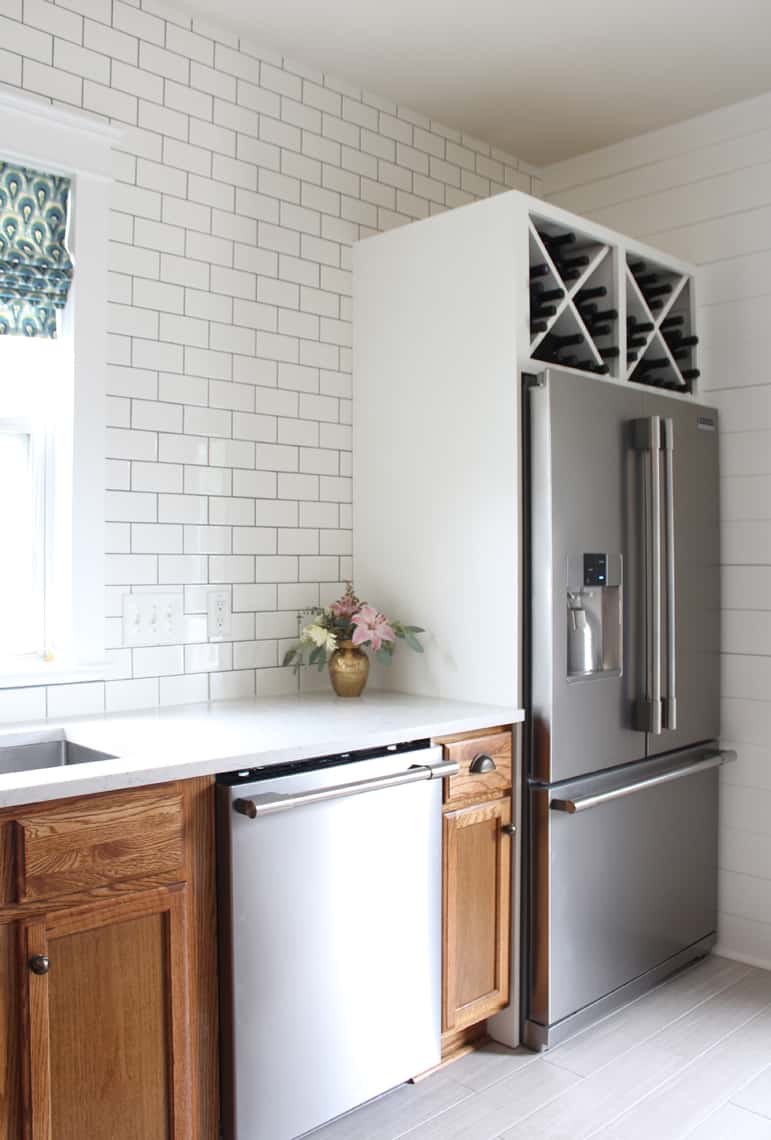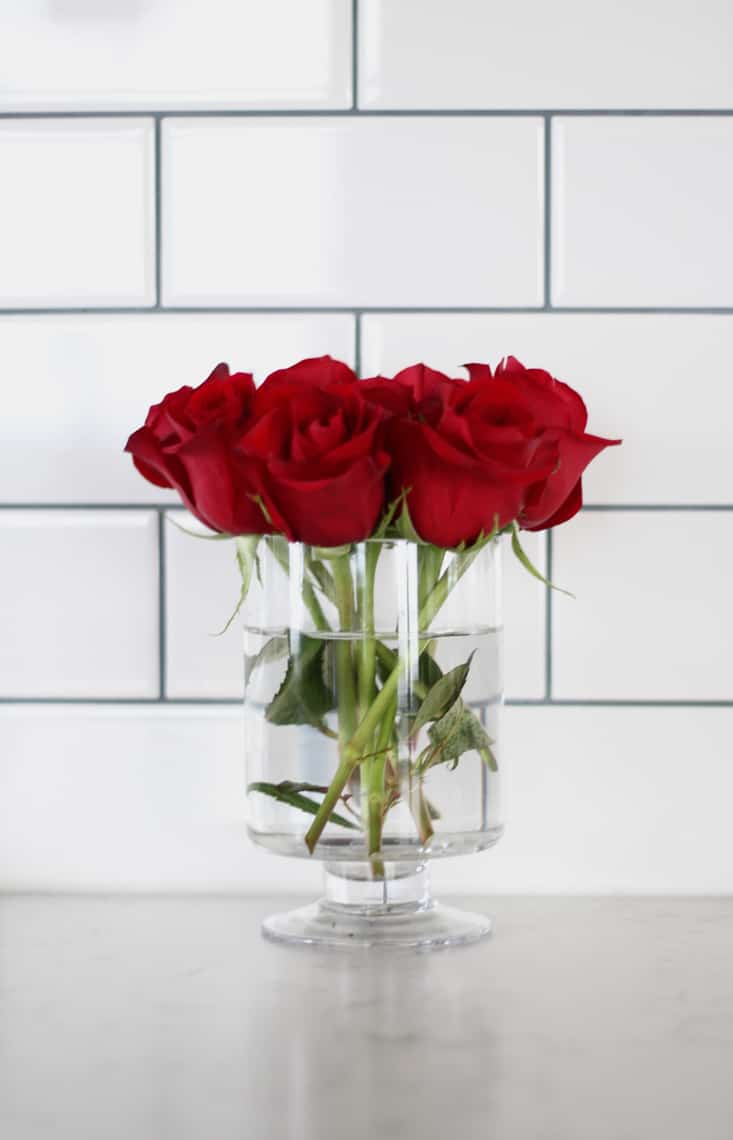 Marble countertops were never a viable option for our kitchen but I did want something with similar characteristics. I loved the quartz selection at Lowe's and I ended up going with the Silestone in Lyra Suede. At first I thought it was a little more veiny than I would have liked but it has really grown on me and for a man-made stone it resembles marble pretty well…especially in blogging photos :)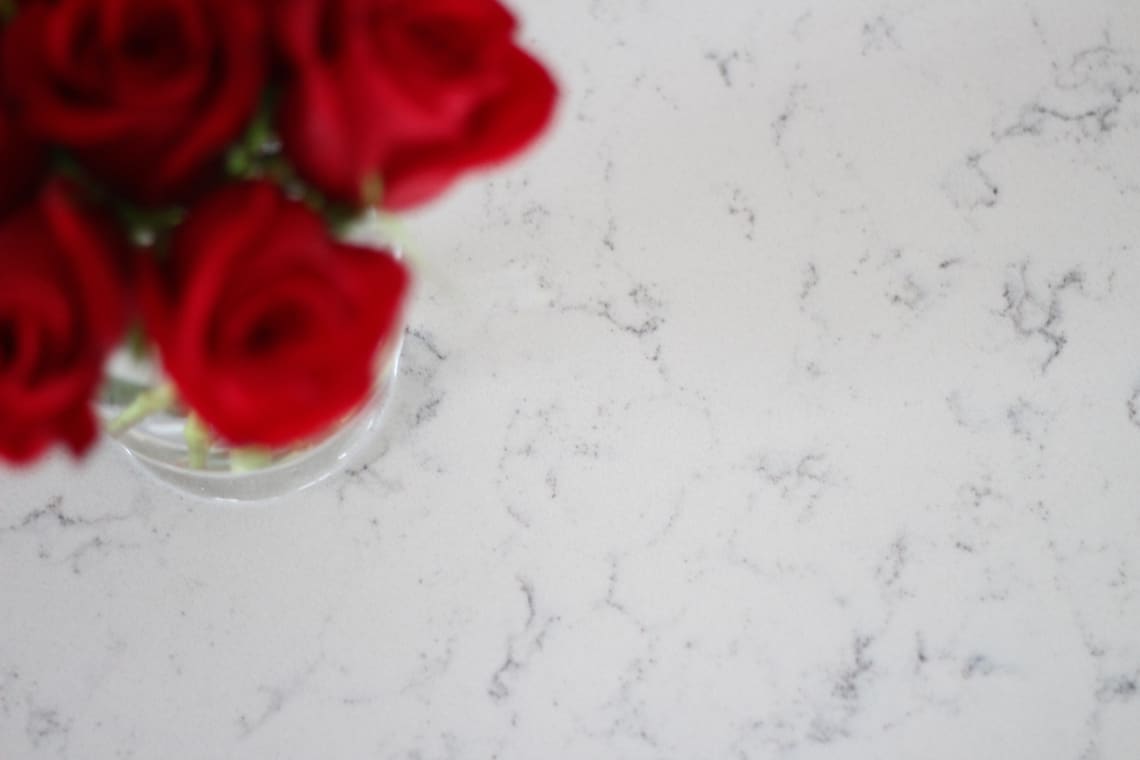 I went around and around about whether or not to build the wine rack and cabinet above the refrigerator (I was only hesitant because I was literally exhausted!) but with a lot of coaxing from a certain someone we tackled it and I'm SO glad we did!!!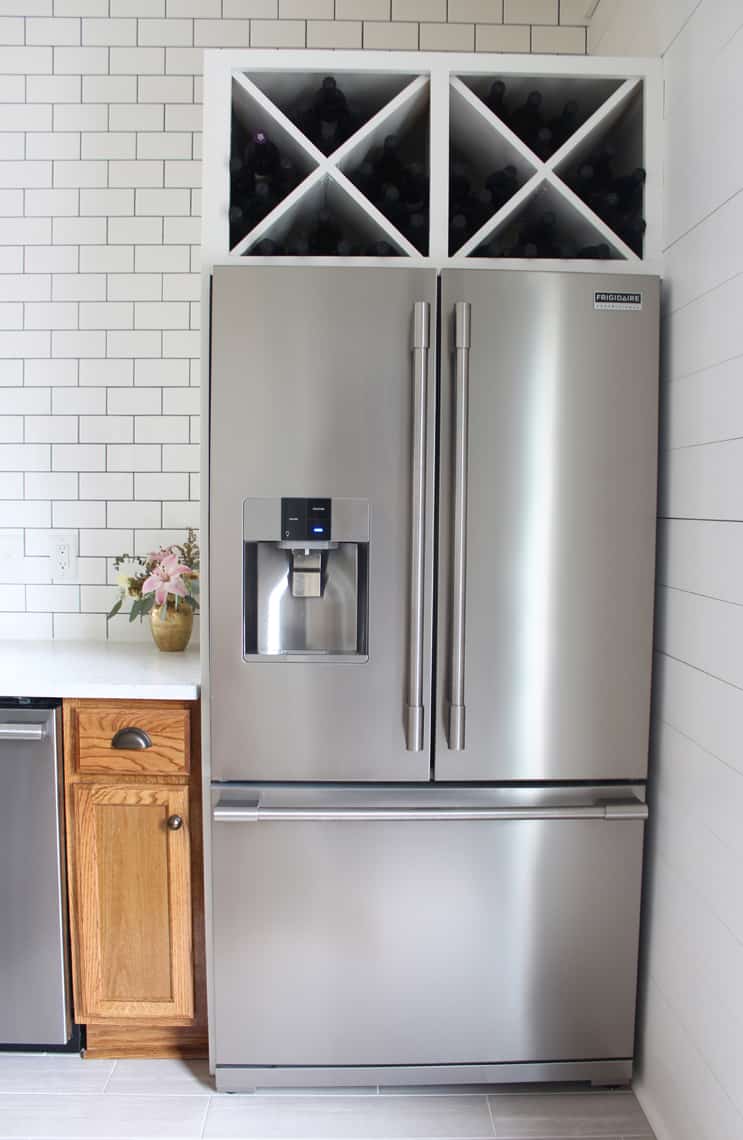 The stainless steel Frigidaire Professional appliances make our daily lives so much easier and they fit perfectly within the style of the kitchen. It is so much more fun to cook in this space now! Check out the article that our local online newspaper wrote about the reno!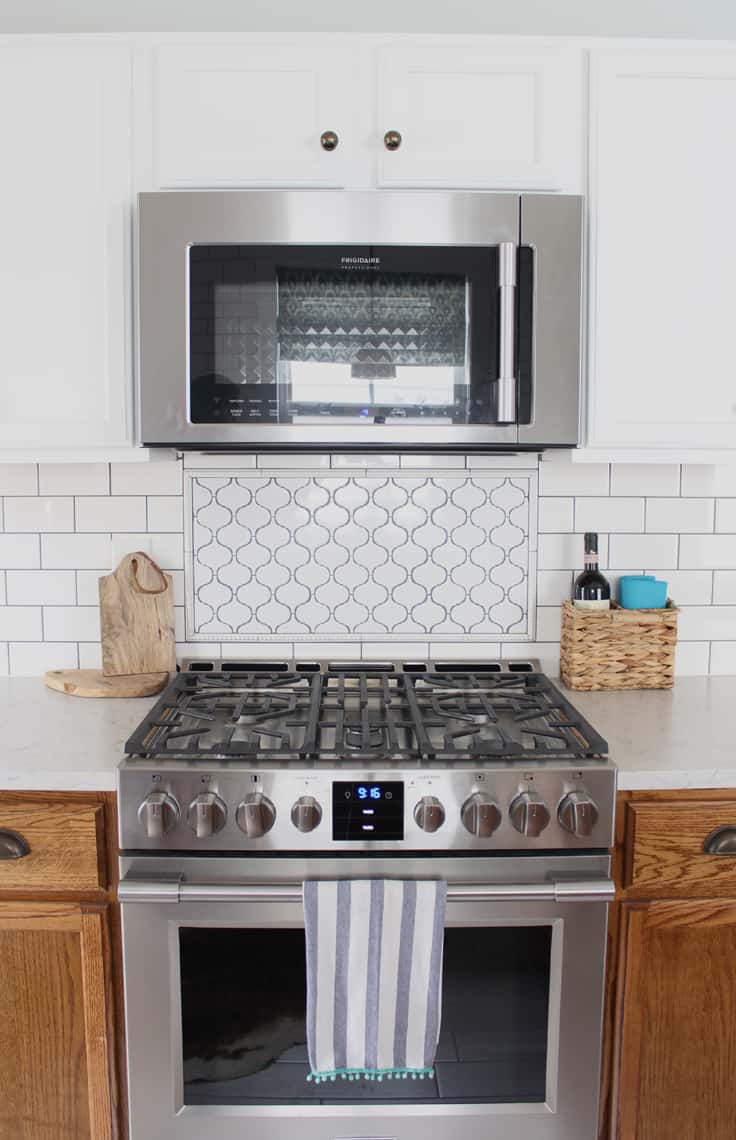 As far as paint goes, I love the Coastal Cool Collection from the HGTV HOME by Sherwin Williams so we stuck with that color palette since Sea Salt was already throughout the main floor of our home. I'm telling you this is one of my all-time favorite colors and it's so cool because it changes with the light. Sometimes it looks really pale and other times it can look pretty green or blue depending on the time of day.
The shiplap wall, bar back and upper cabinets are SW Pure White and the door color is SW Slate Tile.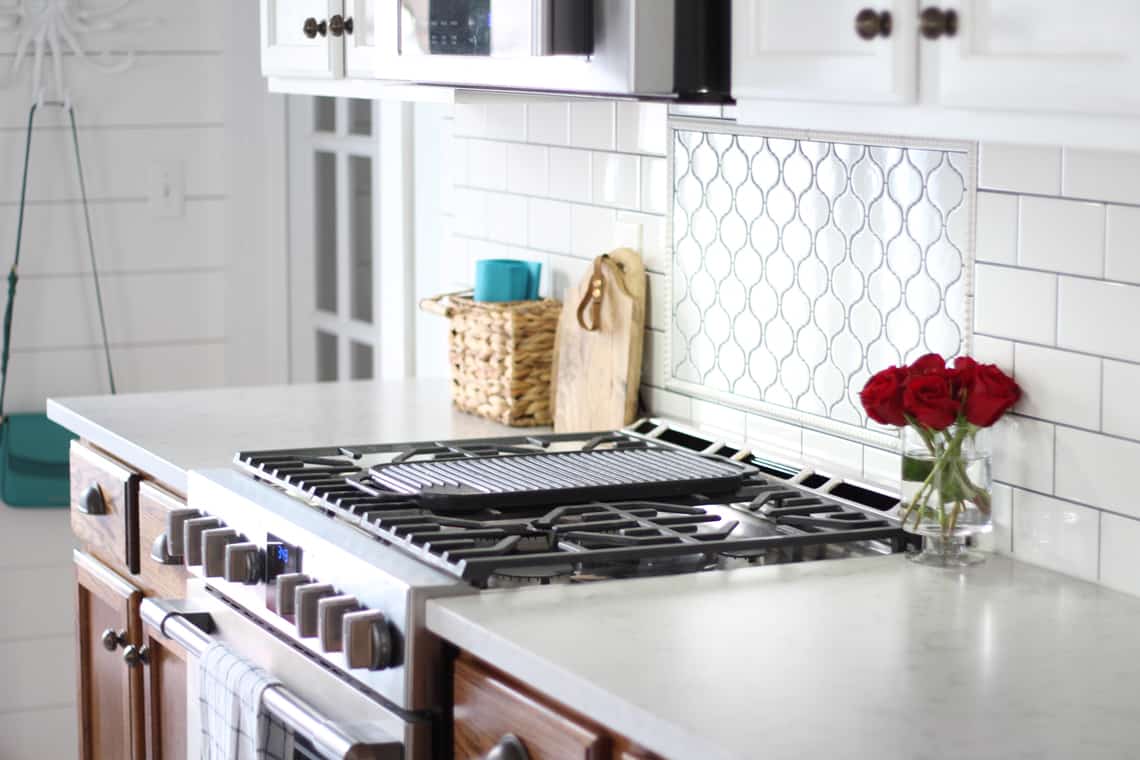 The only thing that did not get done (yet) is the open shelving on the wall surrounding the window. Yes, it is a big part of the design plan but we had an unfortunate situation with an Etsy seller where we were buying the brackets from that didn't work out. So, I'm on the hunt for floating shelf brackets that will support the weight of a full set of dishes, glasses, etc. Suggestions are welcomed! I think we may have found some but I haven't pulled the trigger yet. You can see that our dishes are still perfectly styled on our buffet lol:) Needless to say there will be another kitchen update in 2016!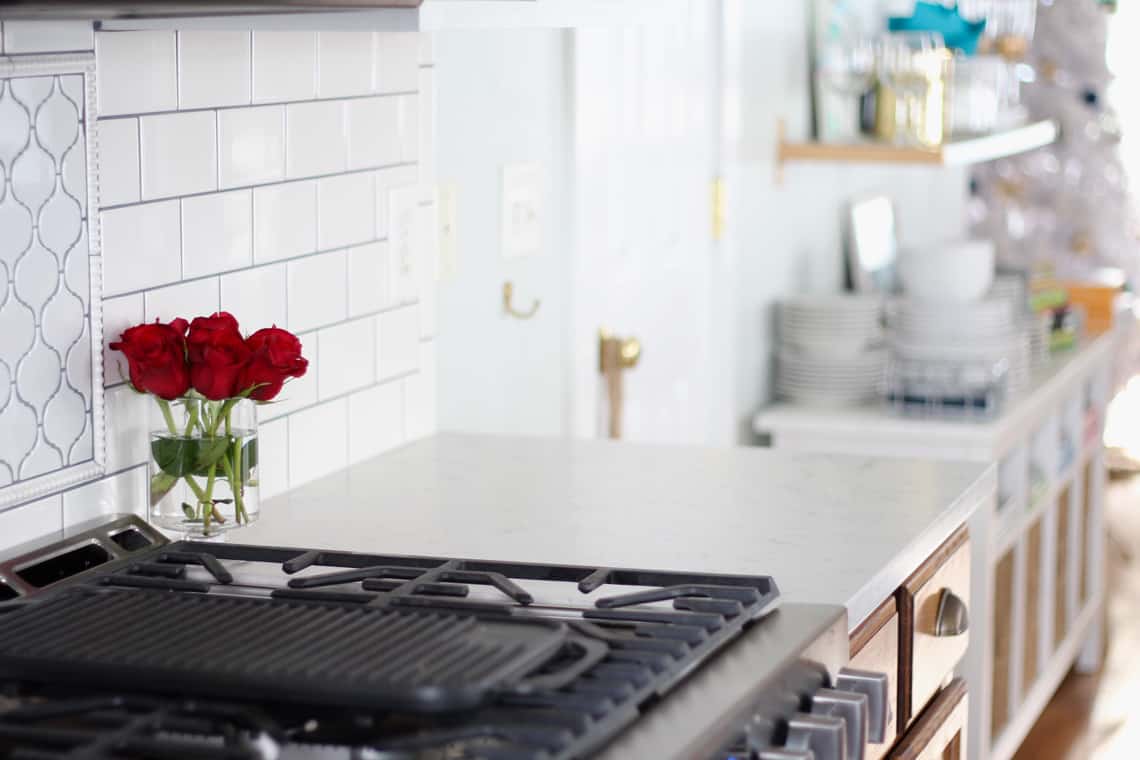 Okay, I'm dying to finally know what you guys think!!!!! What elements do you love and which ones are you not so sure about? Seriously, I can't wait to hear your feedback!
The sources are listed below. If there is something I missed let me know and I'll make sure to add it. There is also more detail in the specific posts linked below with additional source information!
SOURCES: Floor Tile, Floor Grout, Cabinets, Countertops, Sink, Wall Tile, Backsplash, Grout; Lowe's || Appliances; Frigidaire Professional || Cabinet Hardware; D. Lawless Hardware || Faucet; Delta || Chandelier; Lucent Lightshop || Roman Shade; Drawn Company ||Shade Fabric; Online Fabric Store|| Bar Stools; Target || Rug; Rugs Direct ||
***
You can shop the products here!
[print_responsive_thumbnail_slider]
***
"This renovation was completed in partnership with Lowe's Home Improvement. Lowe's provided product and materials for the project however all ideas, thoughts and opinions are my own. Thanks to Lowe's and thank YOU for supporting the brands that make Simple Stylings possible! For more project details click on the links below."
CLICK BELOW TO READ MORE:
The Original Design and Design Update
Cheers!

LINKING UP: Place of My Taste ||