Kitchen Renovation: Frigidaire Professional Appliances
Good morning friends! Today is a great day! Want to know why? Well, I'm talking all about our brand new appliance package from Frigidaire Professional!
When Lowe's and Frigidaire reached out to me to try their new Professional collection of appliances I literally jumped out of my chair! I've seen them at Lowe's and every time I walk past that gas range I think 'Viking'. It must be the front knobs but there is a luxurious look to the entire package.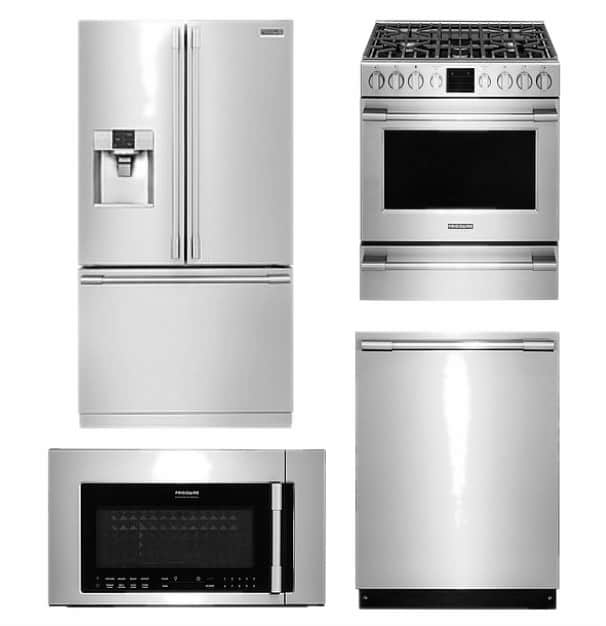 Just as everything else in my old kitchen, the appliances were falling apart. The ice maker and water dispenser in the fridge worked only when it wanted to and the glass cooktop was uneven and permanently dirty. I have replaced the heating elements in the oven multiple times and the dishwasher sounded like a ferocious growling animal when it was running. We have to turn up the TV in the living room at least 5 notches to hear it when we're washing dishes. This time around I wanted appliances that looked great and had all the functions and features we were lacking before.
GAS RANGE
One non-negotiable item when planning our kitchen reno was a gas range. The old one was electric so I was prepared to add a gas connection to the kitchen to make this dream a reality. The 5-burner freestanding gas range fit the bill perfectly! It's a beauty but most of all I love the way it cooks. It heats up so quickly and cooks our food evenly. The large burner in the middle is perfect for the cast iron griddle (which was included with the unit) and we have cooked bacon on it more times than we can count! And the icing on the cake is a built-in meat thermometer!
REFRIGERATOR
Oh, the refrigerator! You can read all the specs here but I'm going to tell you what I love about this piece. First of all, it's the same size as our old fridge and it's counter depth but it feels HUGE! The layout in the interior makes all the difference and the drawer freezer is really spacious too. You can see that even with our food in it there's room to spare and this is after a big grocery shop.
Our other favorite feature of this fridge is the dual ice makers. For some reason my son is obsessed with ice and will not drink water unless it's freezing cold. With our new refrigerator all he has to do is open the freezer drawer and fill up his cup or water bottle with ice from the tray. He can reach the ice in the door but the openings on kids water bottles are too small for the ice to fall into from the dispenser. Now he doesn't have to mess with the dispenser which makes him happy and mama happy :)
The fridge is completely digital too (as with all the appliances) which I love, especially for controlling the temperature!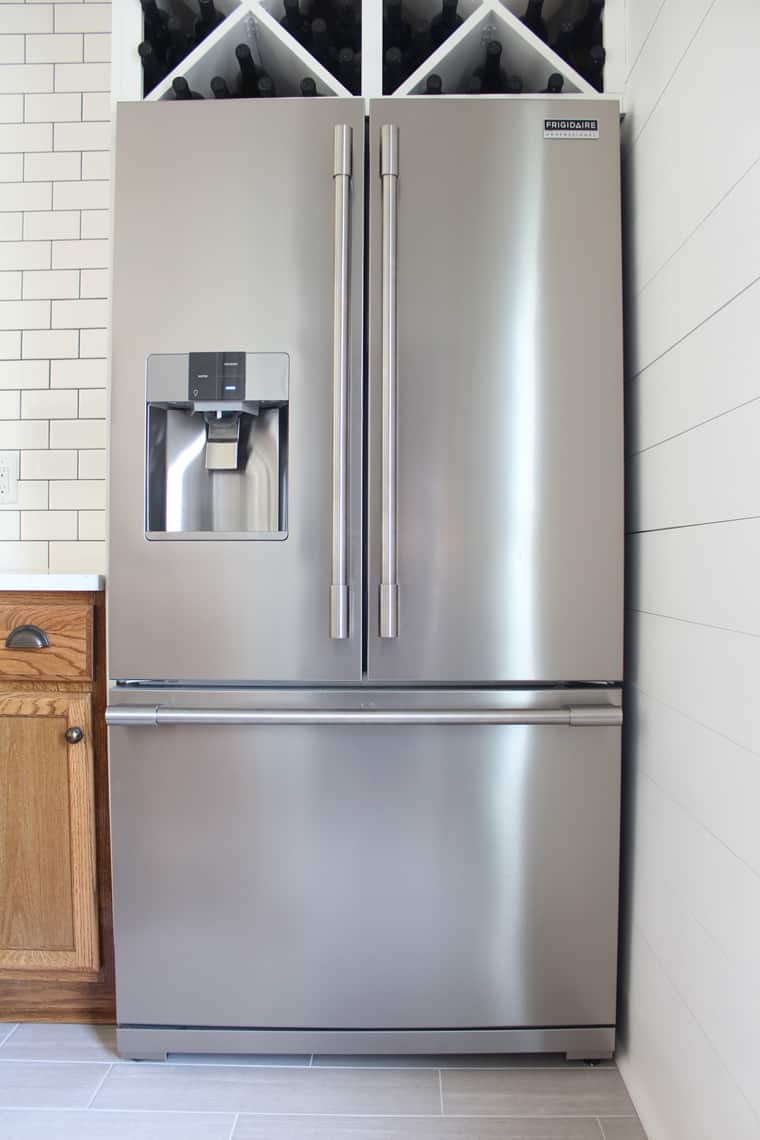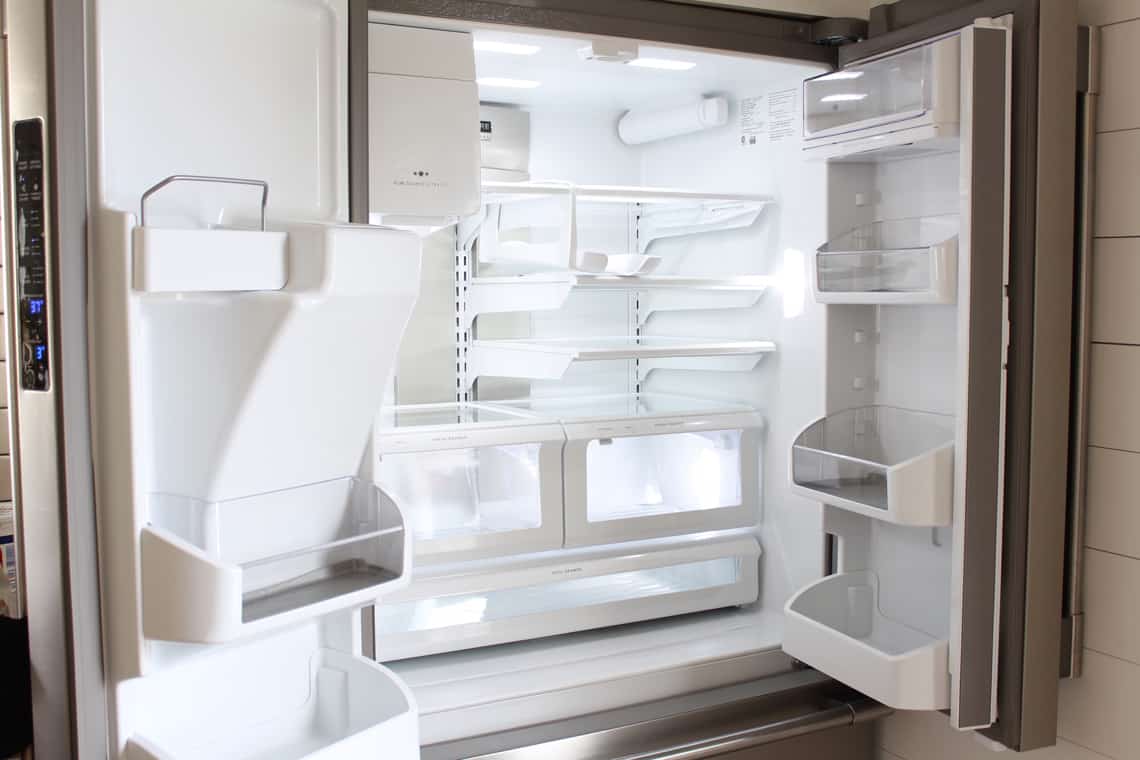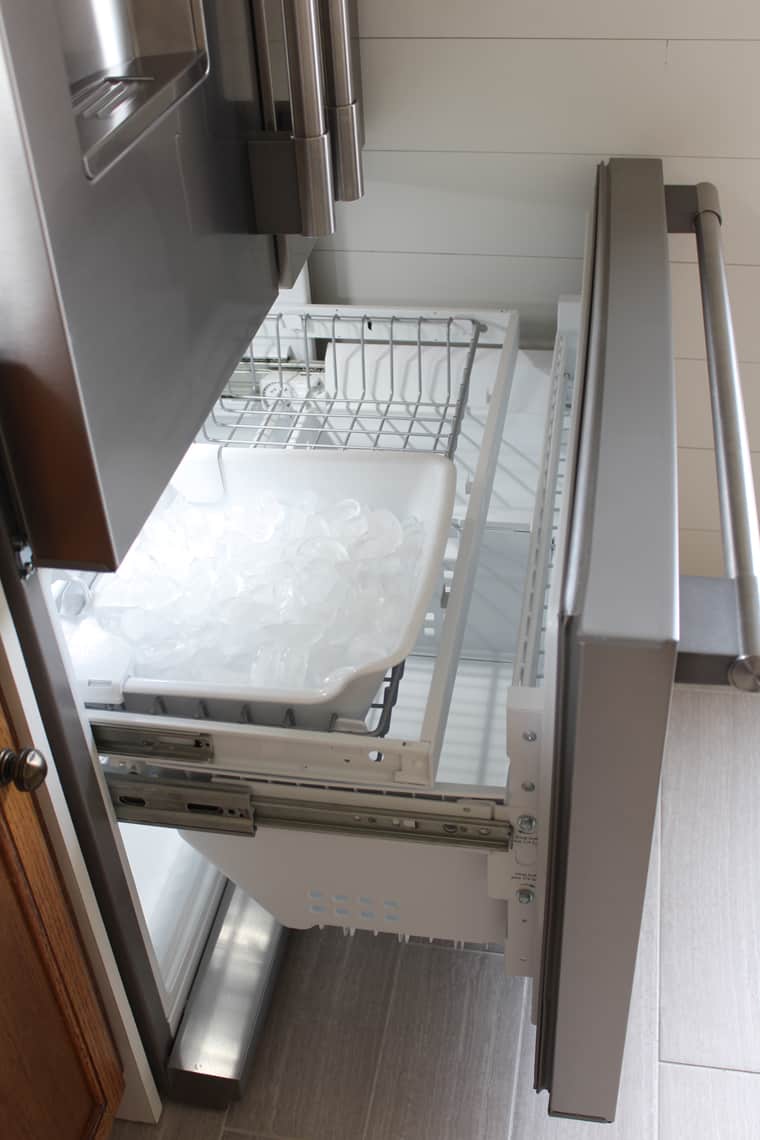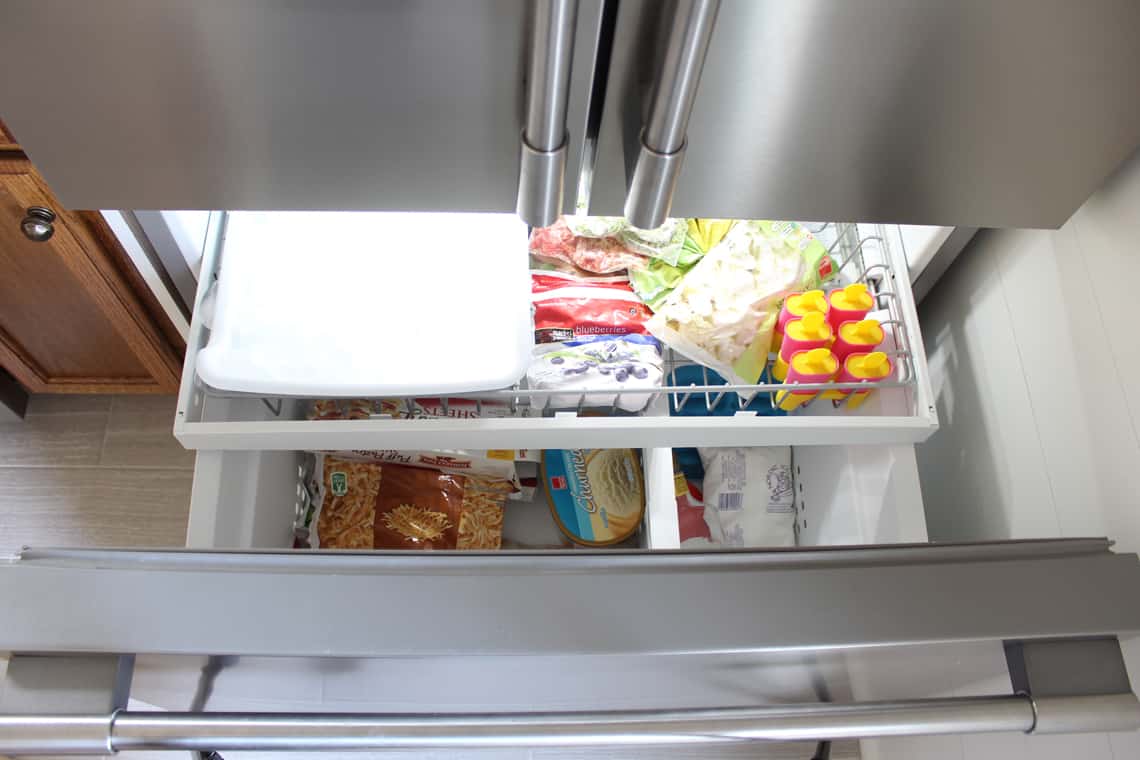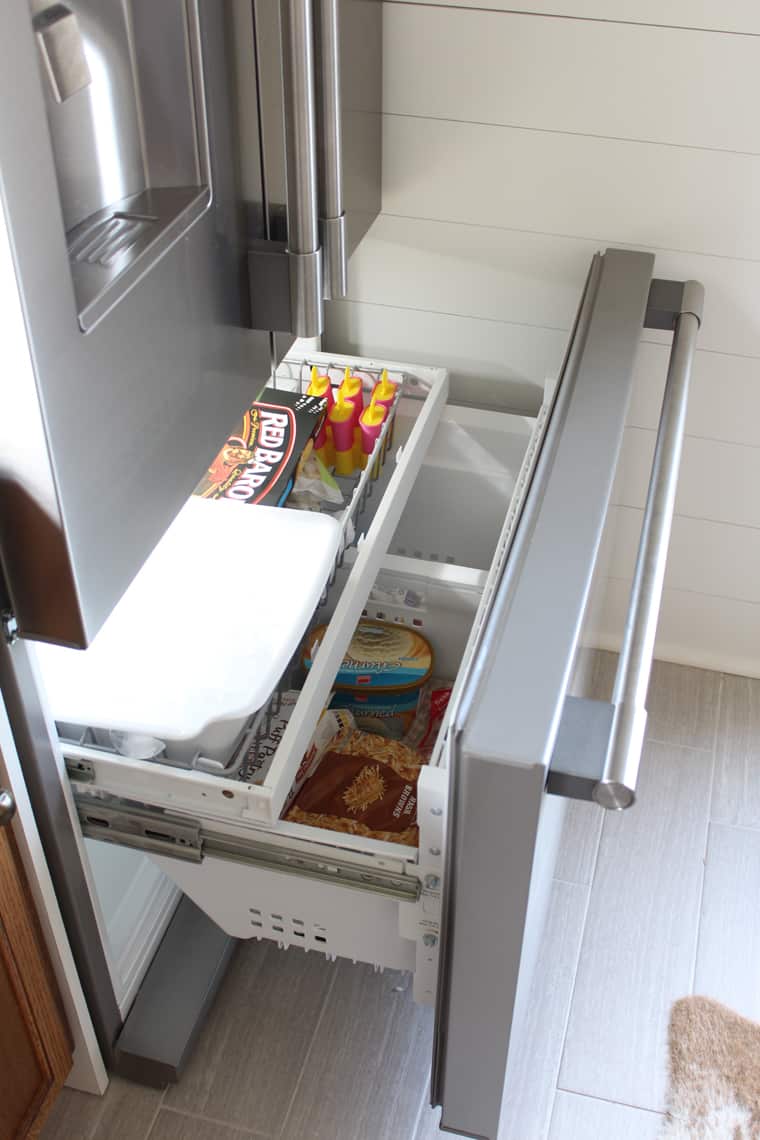 DISHWASHER
"Shhh. Do you hear that? No? Me neither!" – This is the conversation that happened over and over in our house the first week the dishwasher was installed. We couldn't believe how quiet it was compared to our ancient dishwasher before. Another reason I love this dishwasher is because I can turn off the water to the top rack if I don't have a full load which saves lots of water and I don't feel guilty for running it half full.
There is also a 30 minute quick cycle if you only have a few things to wash that aren't super dirty. This is great for sanitizing kids bath toys! Oh wait, am I the only one who washes their kid's bath toys in the dishwasher??? And let's not forget about the rubber section on the top rack for bottles AND slots that hold wine glasses!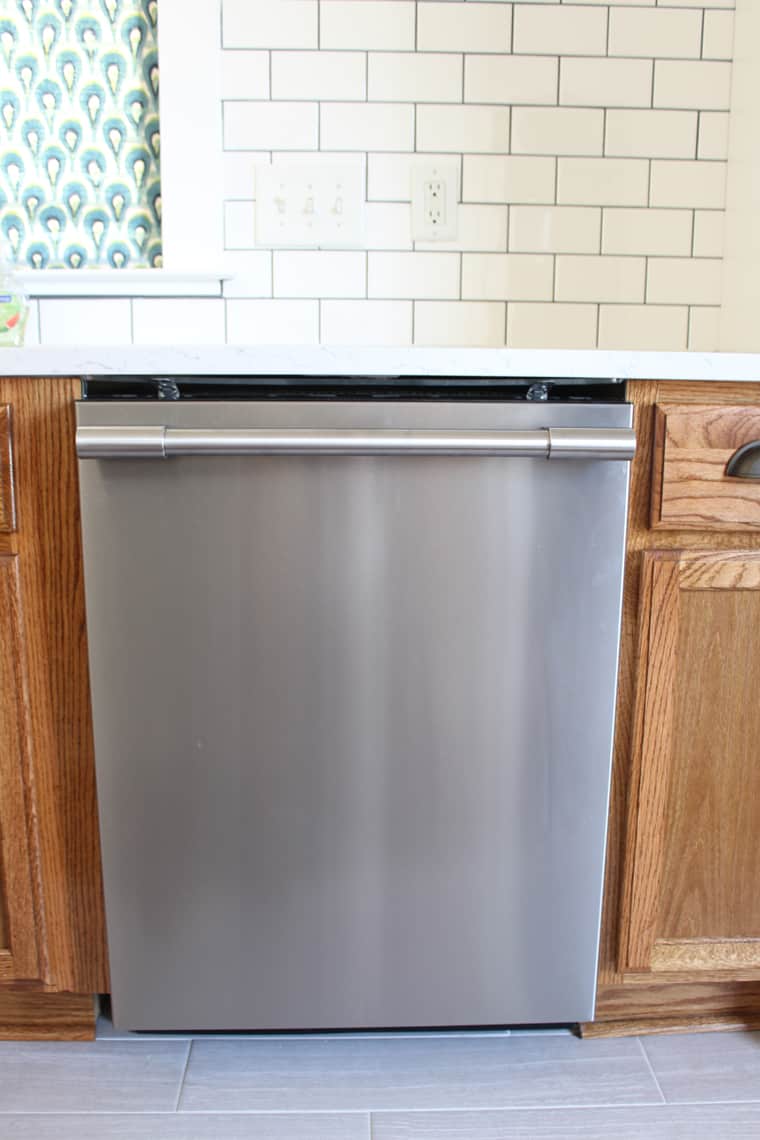 MICROWAVE
And finally let's talk about the convection microwave oven. I've never had a convection oven before and to be honest I wasn't quite sure what the difference was. Now I understand how great it is for heating foods of all kinds evenly and thoroughly. You can cook anything in this beast and it comes out perfect!
I was a little worried about the capability of the fan since I have never had a gas range before and didn't know what to expect but it is very powerful. It has a low, medium, high and turbo setting so it can handle anything that's happening down below. There really are so many features on this microwave that we are discovering every day!
We've been using the appliances for a few weeks now and my love for them continues to grow! I hope to have a post in about six months or so to update you on how everything is going and all of the new features that I'm sure we are yet to discover between now and then.
Cheers!

{Thanks so much to Frigidaire and Lowe's for providing the appliances for our kitchen and thank YOU for supporting the brands that make this blog possible. All of my words, ideas and opinions are my own.}