One Room Challenge: The Porch Project Reveal
It's finally here you guys! After a long 6 weeks it's the big reveal of the One Room Challenge Porch Project!
This challenge was a little grueling and I didn't get everything on my list done but I'm happy that we have an really functional space. I'm not exaggerating when I say we've eaten every dinner out here since I put the tables out that it hasn't been raining! It's so great and we've already seen more of our neighbors than we have in the last year. And that folks was the goal
I'm not going to do much talking in this post because I know you all want to see the results. If you missed any of the earlier posts and want to catch up from the beginning you can start here: Week 1, Week 2, Week 3, Week 4, Week 5, So let's get to it…
The haint blue ceiling was a must for me and it might be my favorite element of the space. The color is Atmospheric by Sherwin Williams and it's the perfect blue for the southern porch ceiling. Does it feel like it belongs in Charleston…no…just a little bit…??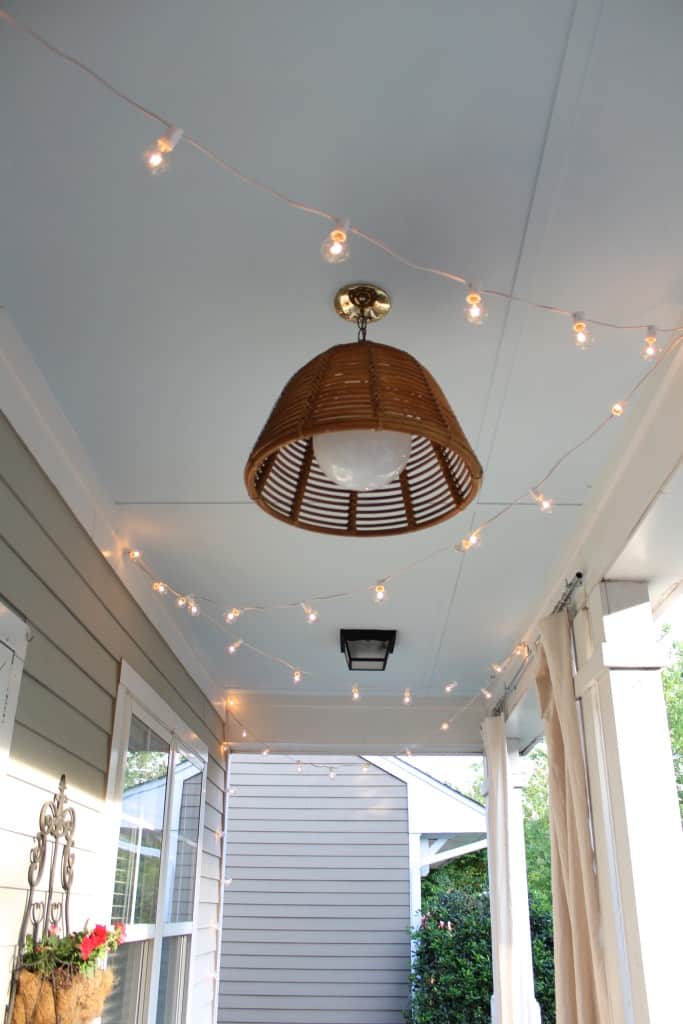 The light was a lucky score from our local Habitat Restore.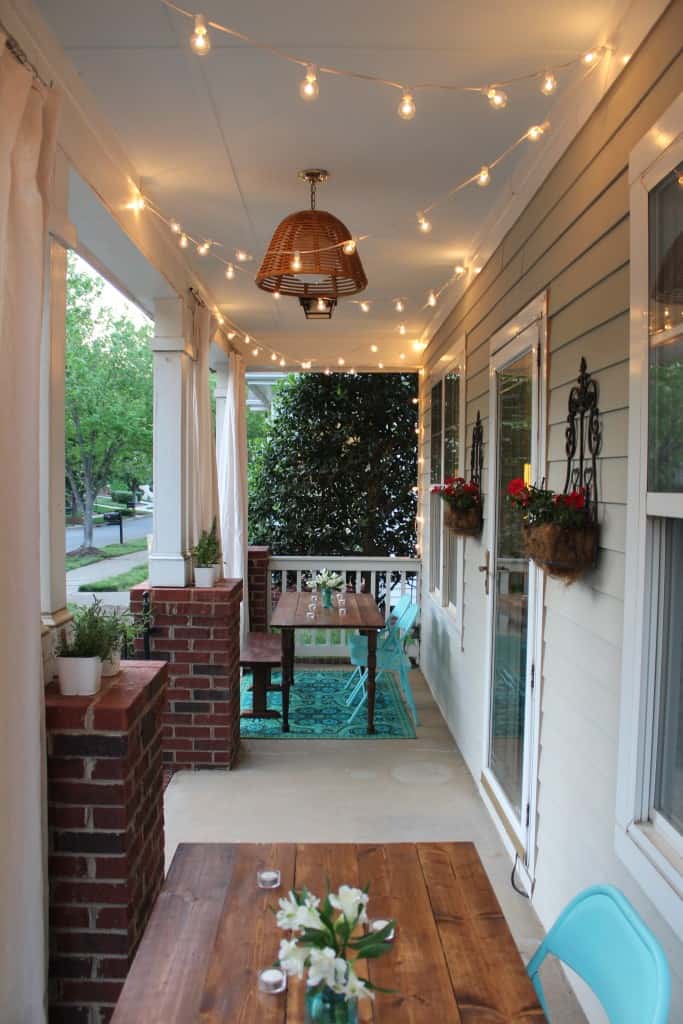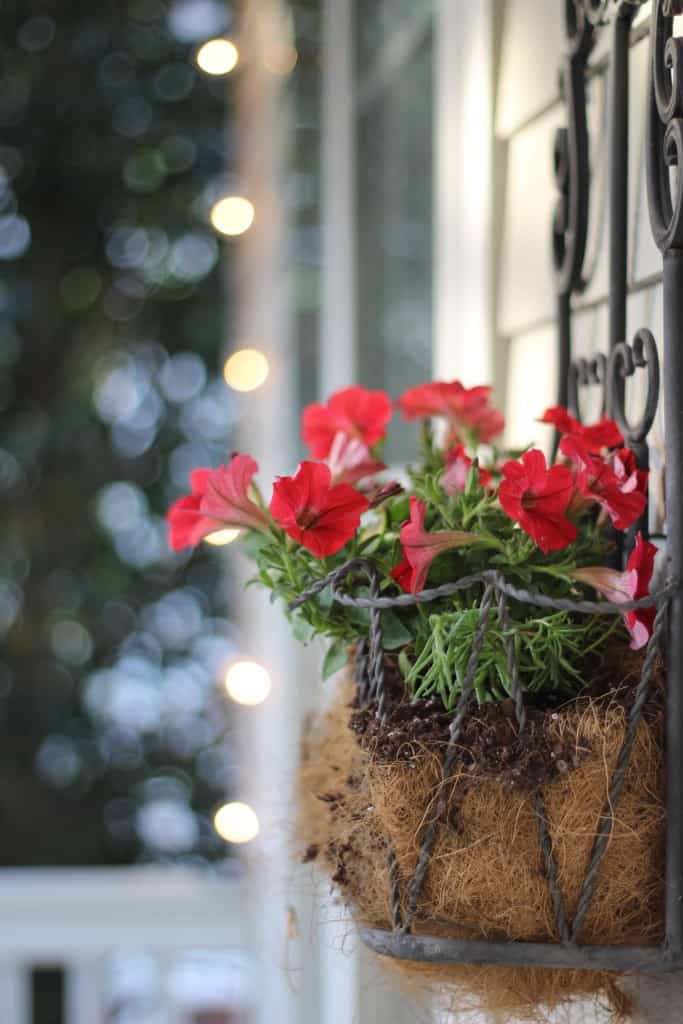 I built the tables and benches and spray painted these boring office chairs a bright aqua with my favorite Valspar outdoor spray paint, Koi Pond.
The curtains are plain drop cloths hung on rods made from conduit pipes. I used this tutorial.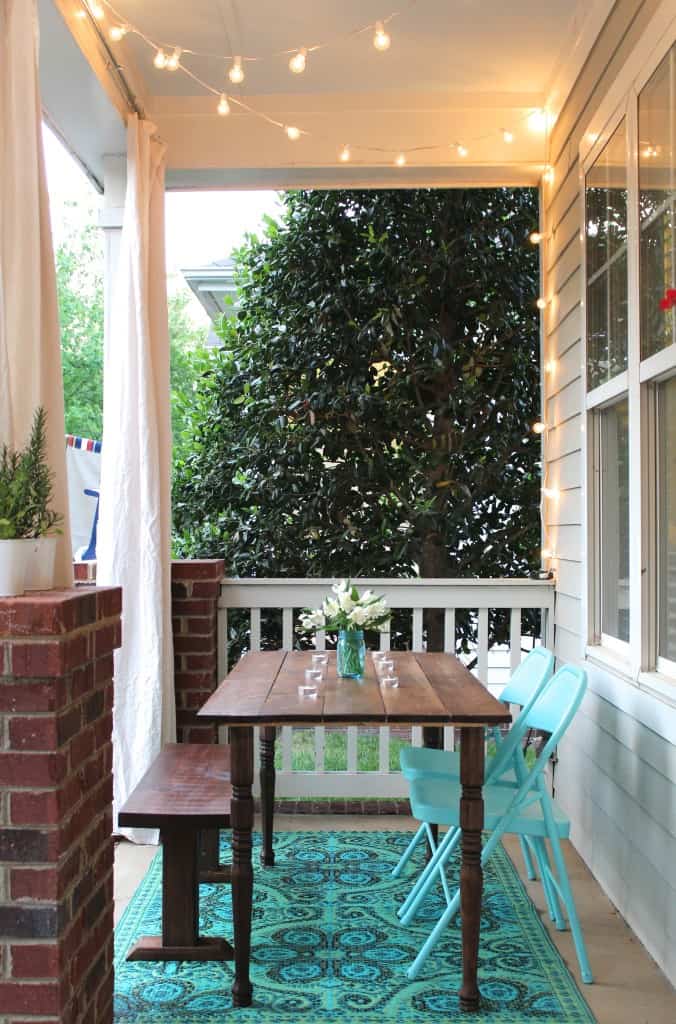 Simple aqua mason jars filled with flowers and fun bowls from HomeGoods are all we need for decor! The tealight holders are from Ikea and I found these citronella tealight candles on Amazon.
Spring alfredo with zucchini noodles recipe coming soon to a blog near you!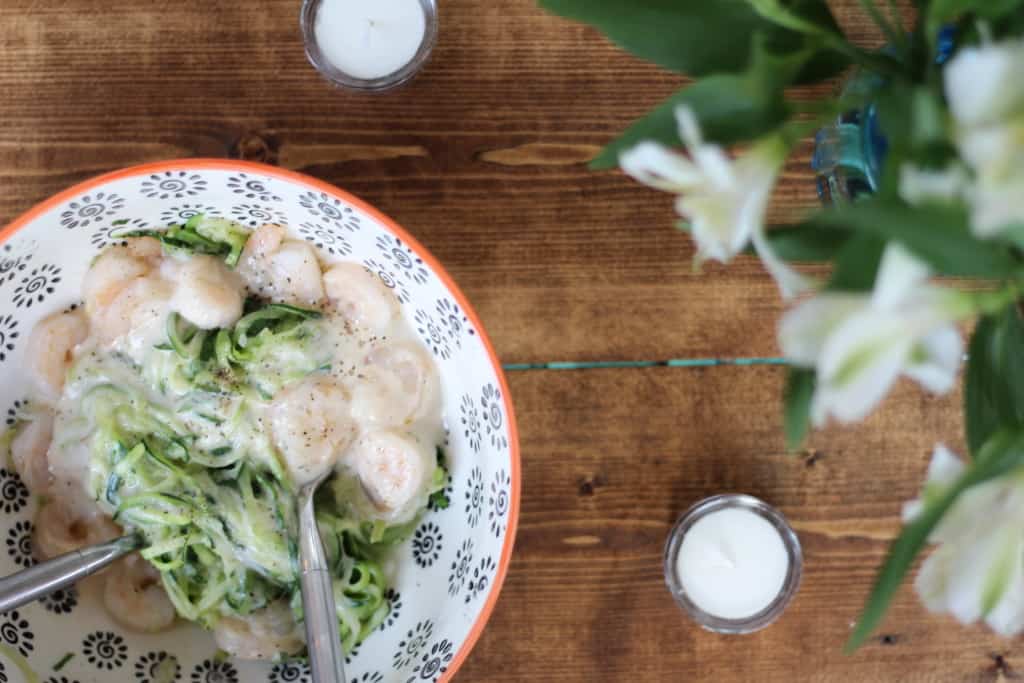 #twinklylightsmakeeverythingbetter Right?!?! I could just take pictures of the string lights and nothing else. These are from Target and they sell them in multiple colors which I love! They wouldn't have been the same with green strings!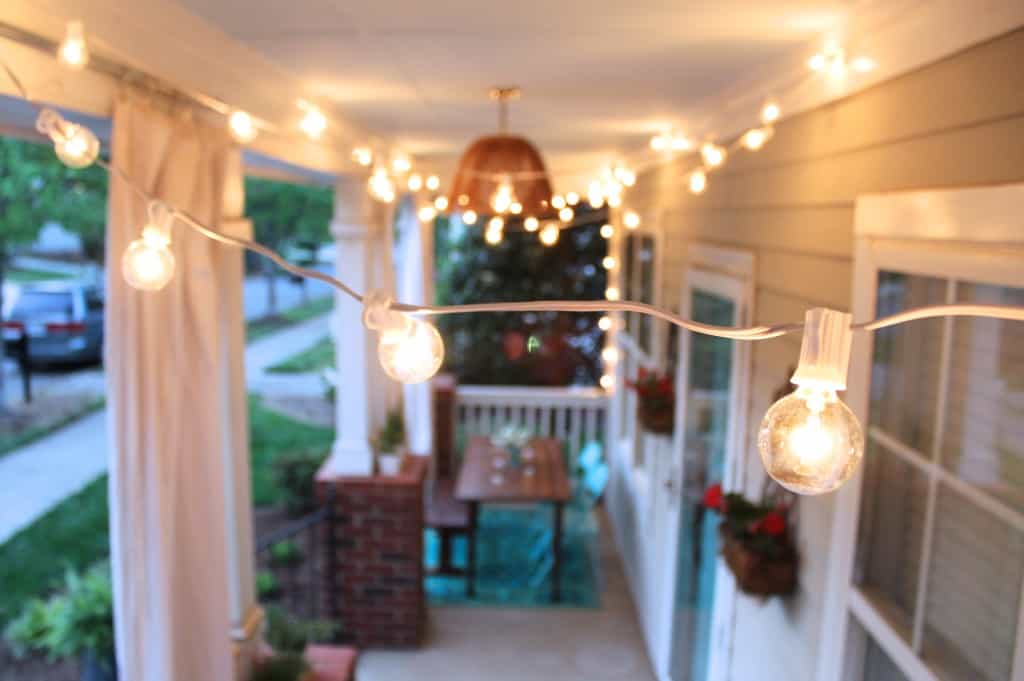 I love how the tables turned out and the rich wood color is so pretty.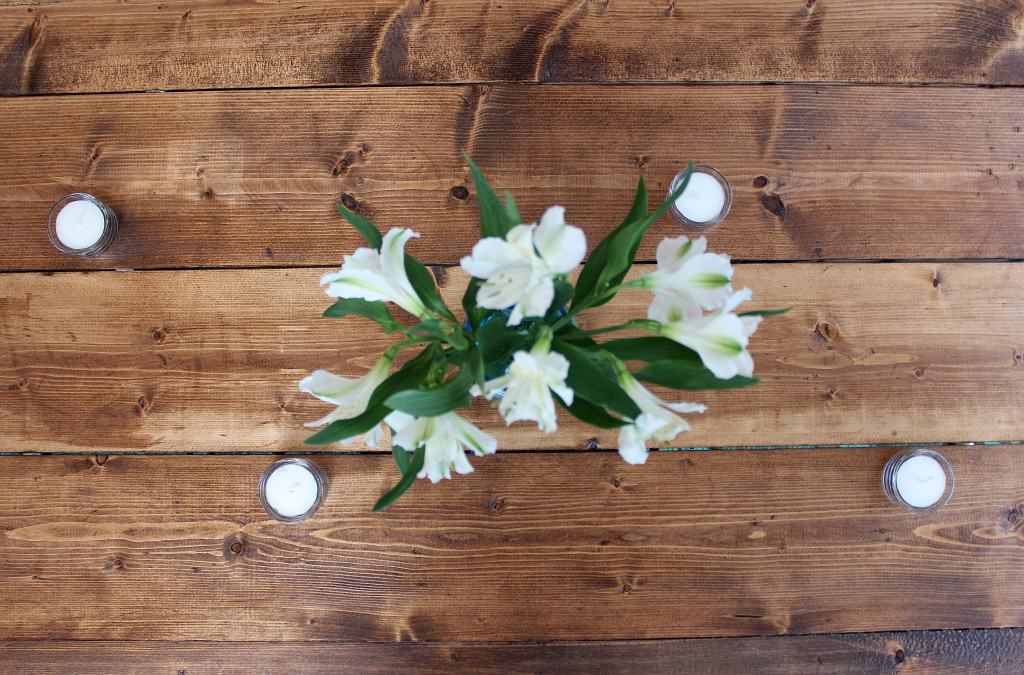 I'm so happy with the decision to remove the rails! It completely opens up the porch and allows it to function as a dining space!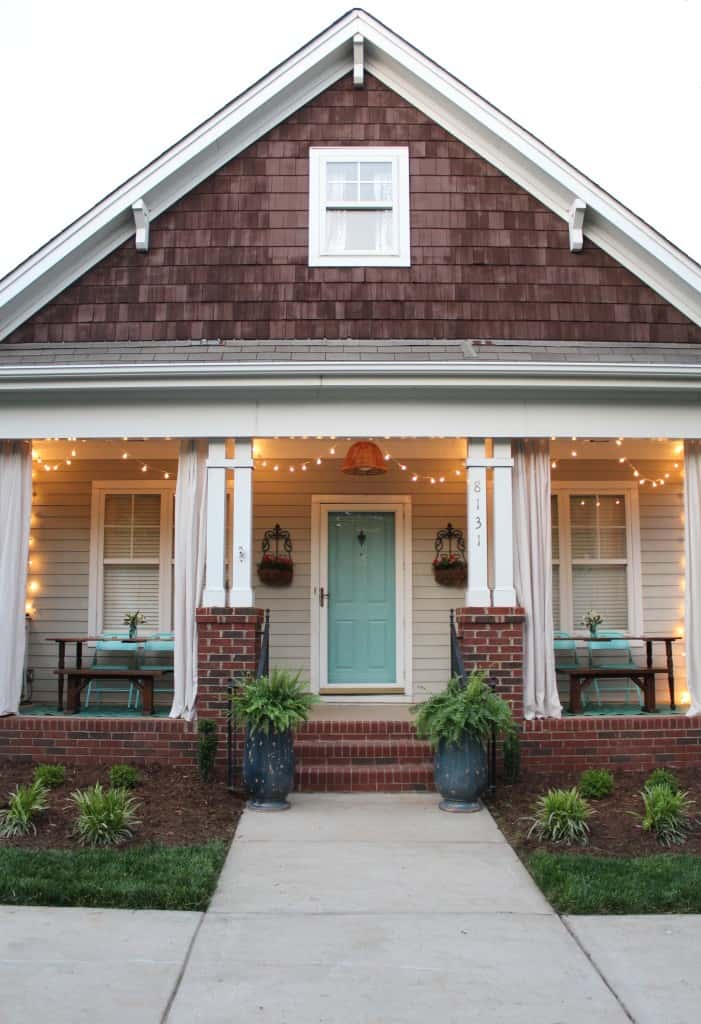 Now I bid you good day and good night! Will you all come over for dinner al fresco next week???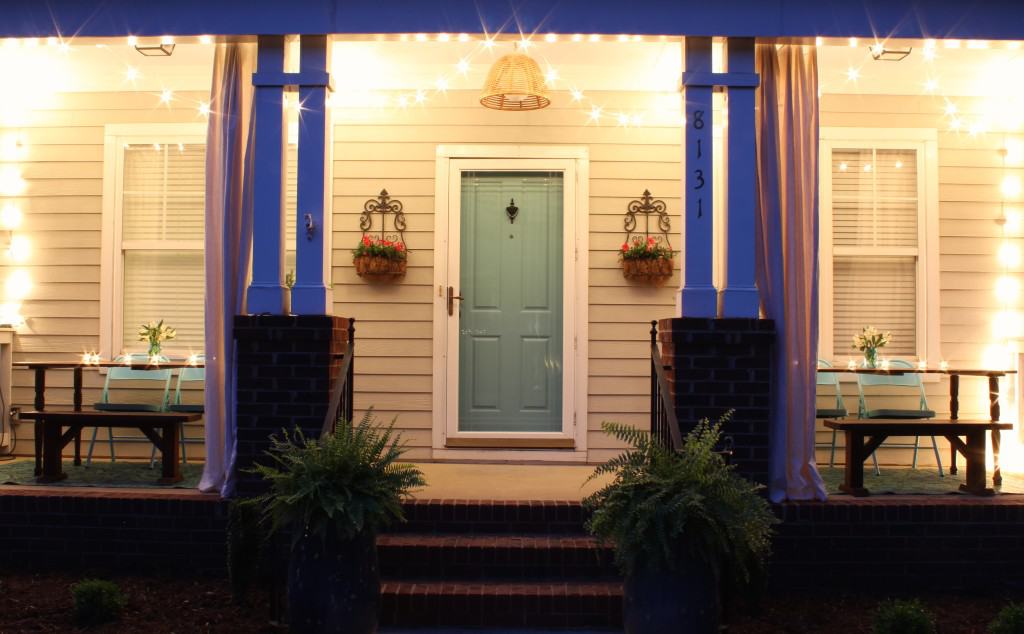 I hope you guys enjoyed the pictures as much as I enjoyed finally finishing the space!
Just a few details that didn't happen yet but they will…promise :)
1. Build Tables and benches, paint chairs
2. Pressure wash and ceiling and trim (didn't happen)
3. Make curtains and rods
4. Stain/paint concrete (didn't happen)
5. Hang pendant and string lights
6. Remove porch rails
7. Remove bushes in front and replace with new landscaping
7. Accessorize and style
8. Buy and hang fans (they arrived yesterday but I wasn't able to get them up)
And…how do you think I did on the budget? Well, the answer is not perfect but thanks to my Itsums board I knew where I was at all times instead of buying then worrying later which is usually how I roll. Check out Itsums for budgeting for your next project it really is a handy tool and plus it's free!
I'm only $108 off…not too shabby right :)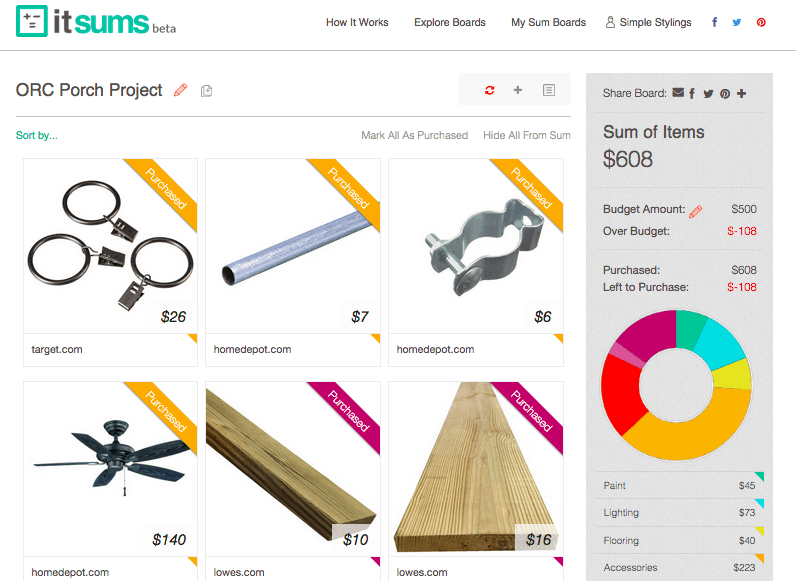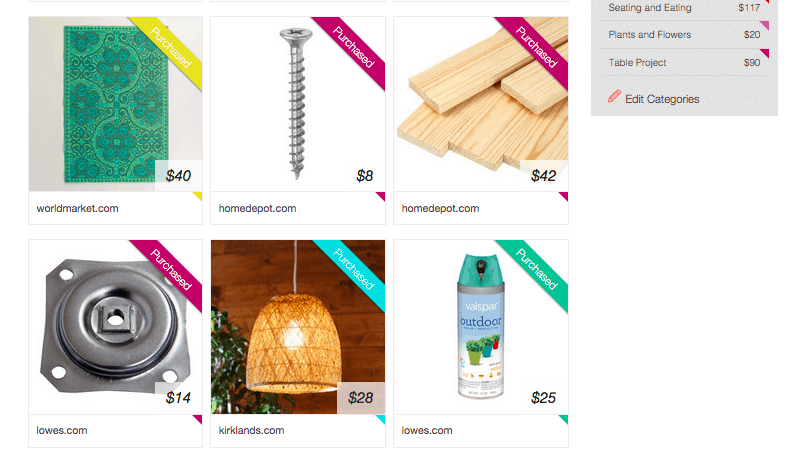 Thank you all so much for loyally following along on this journey. It's been hard work but so fun to see it come together.
Make sure to check out all of today's reveals as well as the AMAZING participating blogger reveals from yesterday! Seriously so much talent in blogland right now!
I can't wait until quitting time today so I can enjoy a celebratory drink out here!
Cheers!

[show_shopthepost_widget id="716280″]
LINKING UP: Dimples & Tangles //