Fresh Paint, Fresh Season
Happy Friday Friends!!!!
I'm already feeling more energized and productive and there's no better way to get started than a freshly painted room. And this one is all mine!!! The beginning of my master bedroom refresh is underway.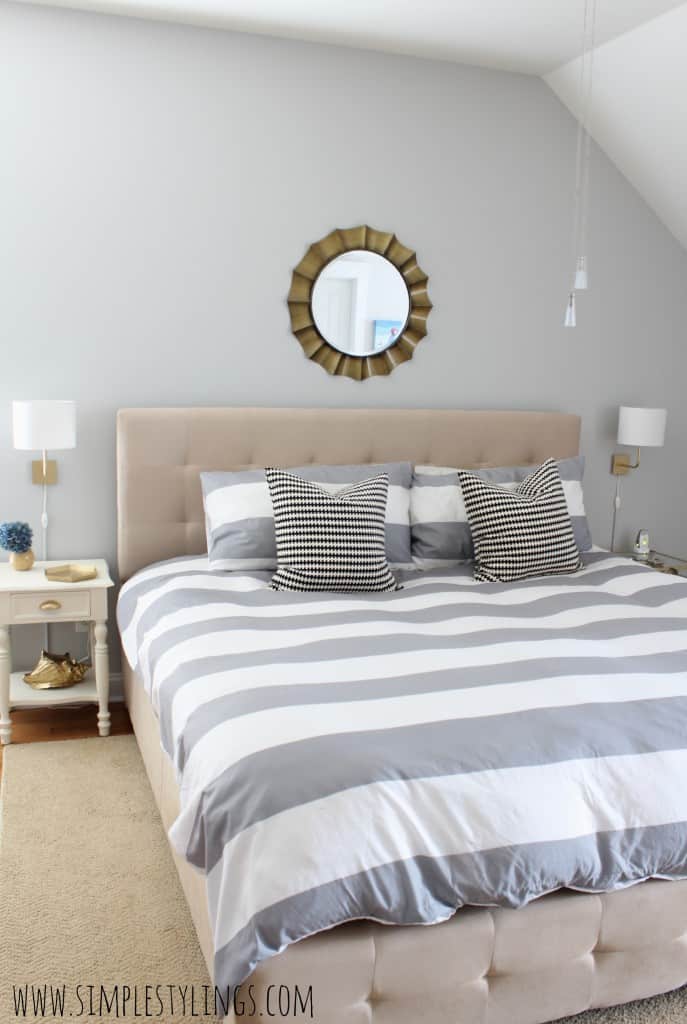 When I painted my master bedroom years ago I was going for that pretty slate blue that was really popular. Do you remember it? Well, I didn't quite get it. I think I just got tired of putting samples on the wall so I finally just eeny meeny miny moe'd it if you know what I mean.
So when Valspar contacted me about trying out their new Reserve paint I jumped at the chance to say bye bye to the blues. I wanted a neutral gray to lighten up the space and I chose Filtered Shade, 4003-1B. I was nervous about the color at first but I love the way it turned out! The paint is even low odor and no VOC's so that means it's safer for my little guy.
(This is not a sponsored post, Valspar provided the paint for my review and my opinions are 100% my own! I will only share products with you that I love and would use myself.)
Here is the old blue in good light: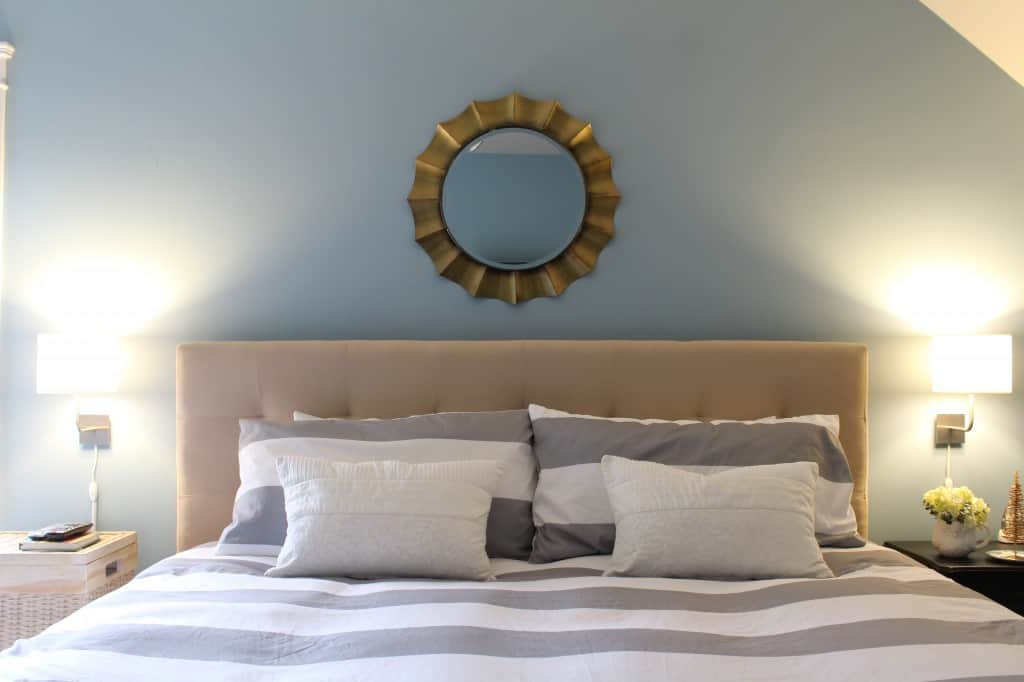 Here it is in really BAD light: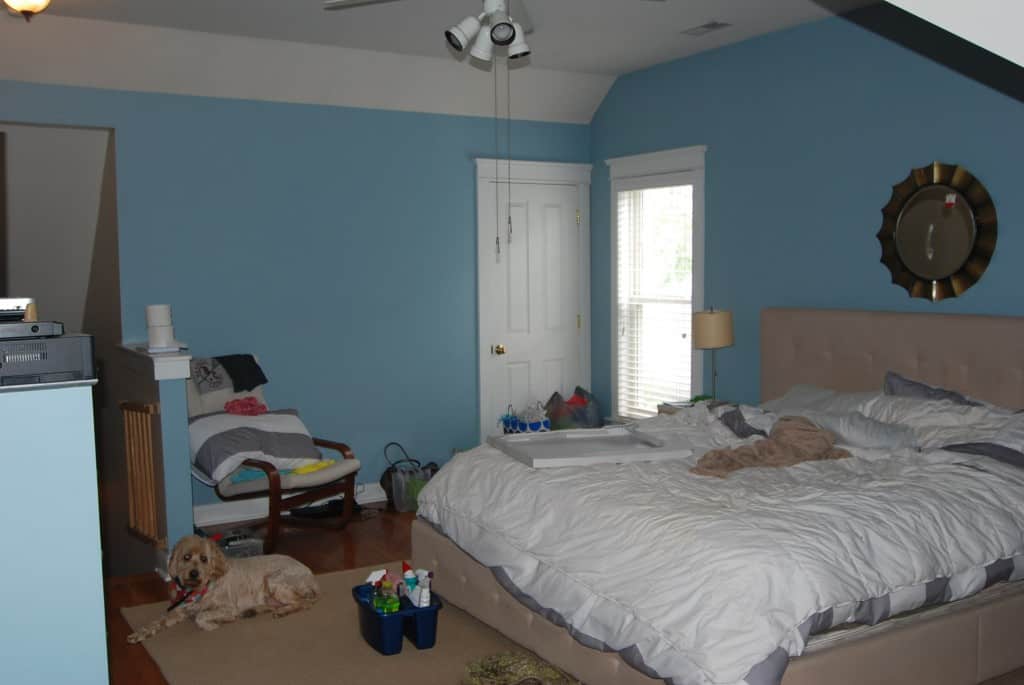 What was I thinking?!?!
There is more to come in the room but I couldn't be happier about this first step. I can't tell you what a huge difference the paint makes. It's almost like a weight has been lifted ~ weight in blue paint.
Blues are still some of my favorite colors but the blue in here was a fail and I had lived with it long enough :)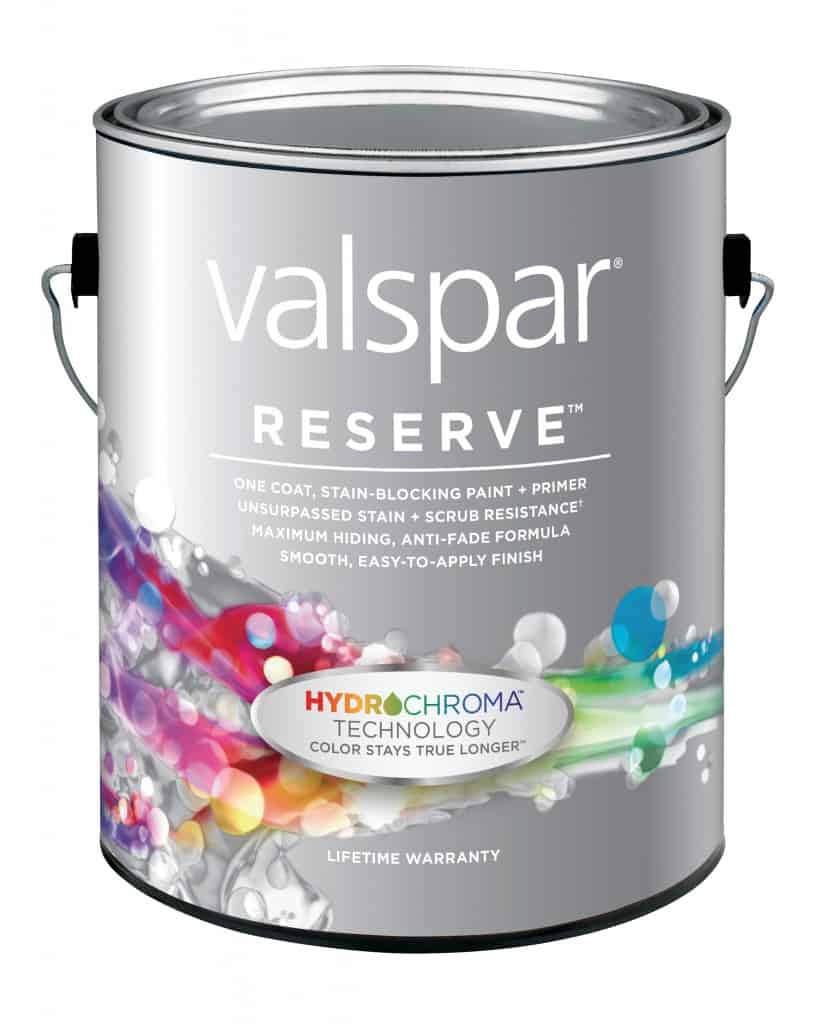 Honestly I hadn't heard about this new line yet so I really didn't think much about the product being any different than any other paint. Boy was I wrong! When they say paint and primer in one coat on the can they mean it. I covered the bad blue with no primer, in one coat, and with a lot less paint then I thought I would need.
I cut in twice just to be sure I got all the corners and I rolled the rest pretty good but one good coat did the job. And the paint was very smooth going on.
I couldn't be happier about the paint and the color!
The dresser below is actually the color of the old walls! Not really sure where I got the bright idea to paint the walls and the dresser the same color. Hey, trial and error, right?
I was worried about my beige bed getting lost when I went neutral on the walls but I'm happy it didn't!
So what do you think? Was going more neutral a good choice?
If you have a paint project coming up you should definitely give this paint a try! Lowe's Home Improvement carries it so you don't have go far to get it.
If you missed my spray painted nightstand makeover you can see it here.
I hope you have a wonderful weekend! Cheers!
LINKING UP:
DIY Showoff // Nap Time Creations // Just A Girl And Her Blog // Place Of My Taste // Migonis Home //