Home of the Month: Sunny Home of Francois et Moi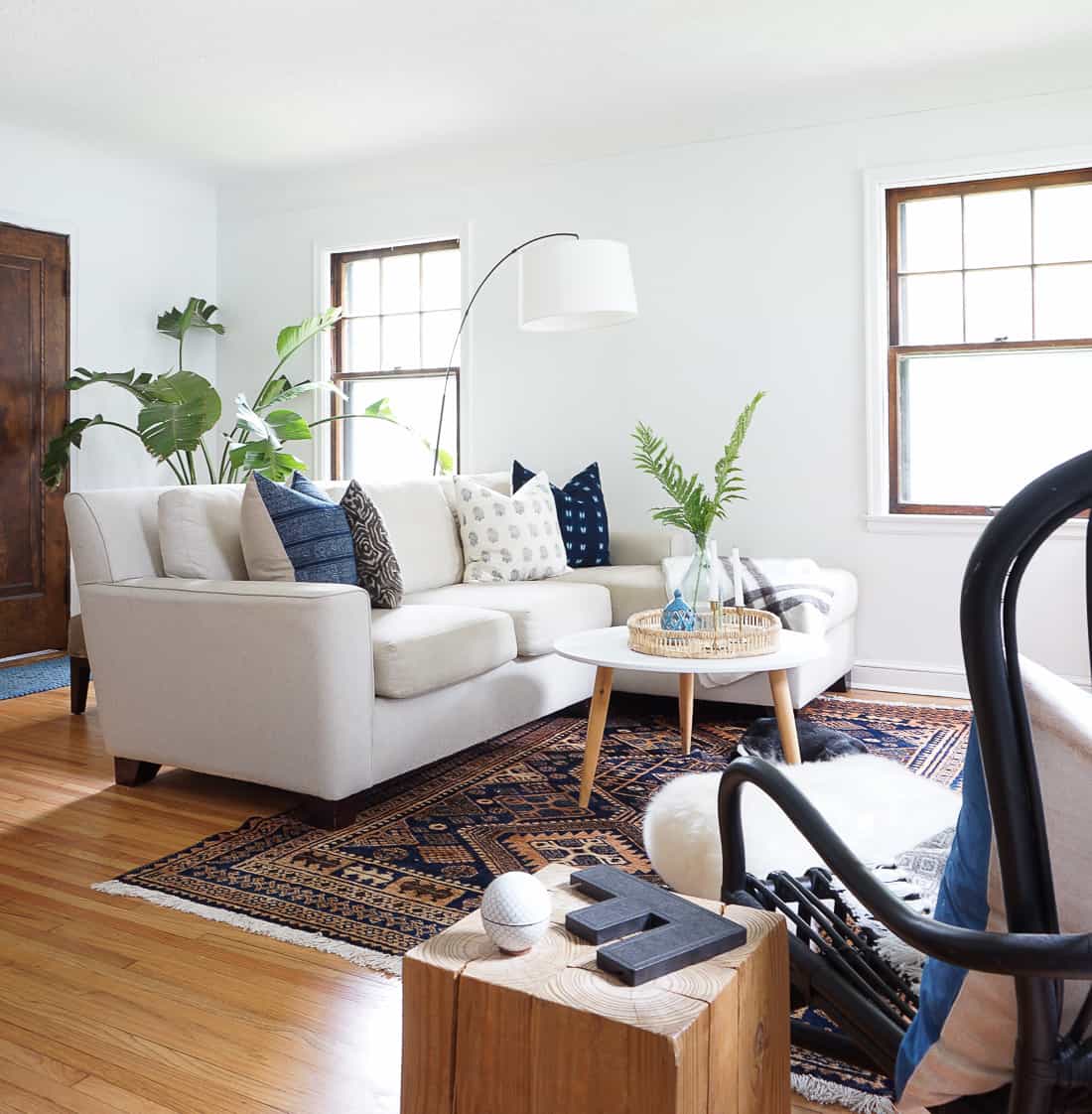 Home of the Month: Sunny Home of Francois et Moi
Happy Home of the Month day friends! Boy, do I have a good one for you today. In the spirit of the new year, minimalism, purging and all of that, the home of Erin of Francois et Moi is a breath of fresh air! It's clean, uncluttered and just plain sunny! Don't mistake a minimalist home for one that is rigid and cold, you can certainly have a cozy space while only filling it with what you love.
I recently "met" Erin via social media (thank goodness for Instagram!) and I've really enjoyed following her ability to style her home in such a simple yet beautiful way. Enjoy the tour and learning a little more about Erin:
"I'm Erin Francois from Francois et Moi, a home design blog dedicated to helping others love their home through DIY. I'd describe my style as "handmade modern." I love visually clean, modern spaces that have been softened by traditional architectural elements and handmade pieces. Though I'm drawn towards bright, modern spaces, I still want our home to feel approachable and "undecorated." Using a mélange of handcrafted and vintage pieces really help to reinforce the relaxed and casual vibe. Our home is a 1930's Tudor that we purchased a year and a half ago and are slowly renovating one room at a time."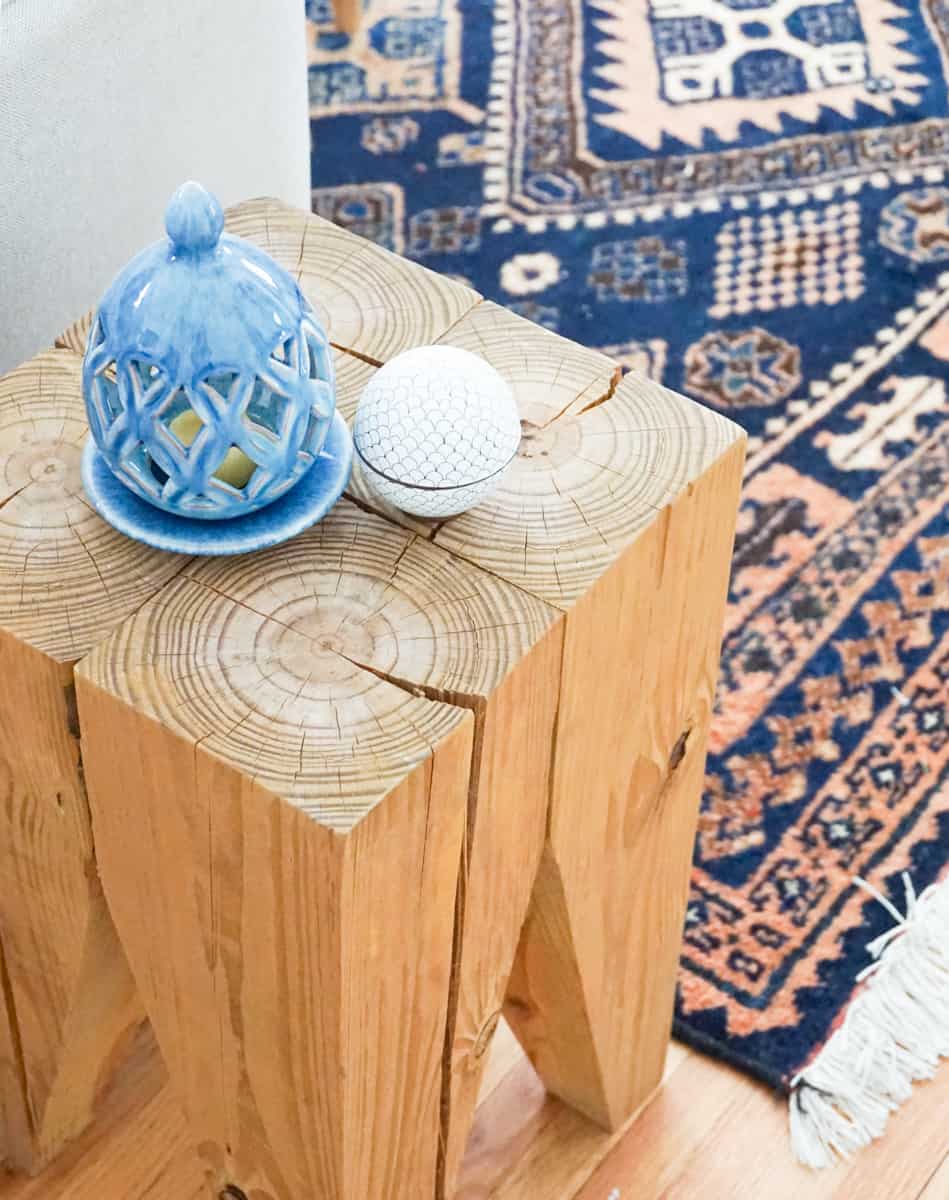 If I had to pick one design element that is crucial in every space that I create is lots of light (or bright white paint) complimented with warm wood tones somewhere in the room. Erin makes this seem effortless! The floors and front door, the textured bamboo shades and even the cutting board, stump table and woven chair are all the perfect touches to create this ambiance.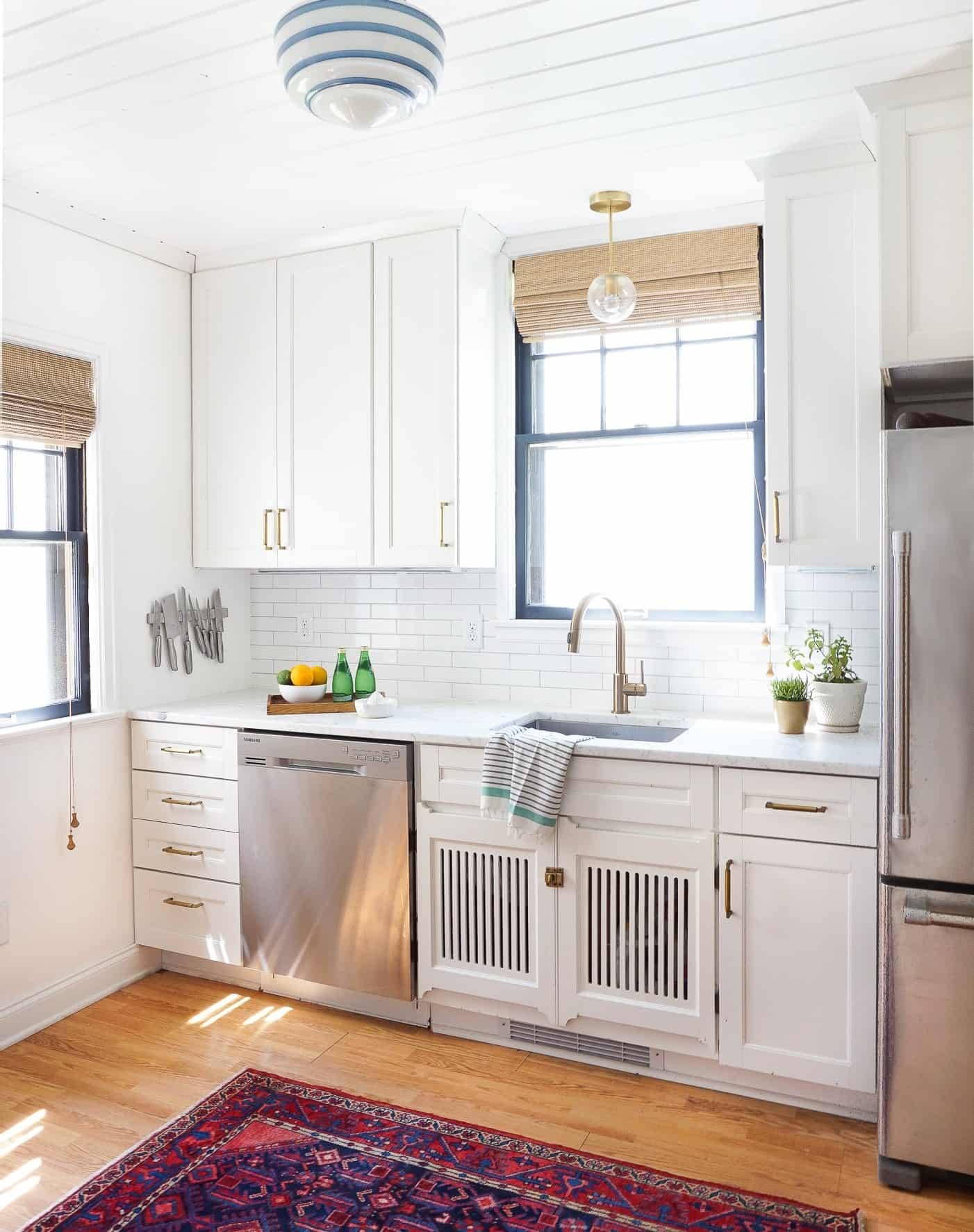 The pop of color in the vintage Kilim rug really brings the kitchen together. The schoolhouse light is so fun too!
The minimal dining room is cozied up with a fur throw and the brass sputnik-style chandelier adds a sophisticated touch to the otherwise simple room.
This bar/bookshelf/art display situation might be my favorite spot in Erin's home! I love the blue in the modern abstract art piece.
The bright white walls and cozy accents continue into the bedroom. The throw blanket adds pattern to the space and the brass is also carried over.
What I wouldn't give for my office desk to be stationed in front of those two sunny windows! I love how tidy and functional this space is. Another great rug here too!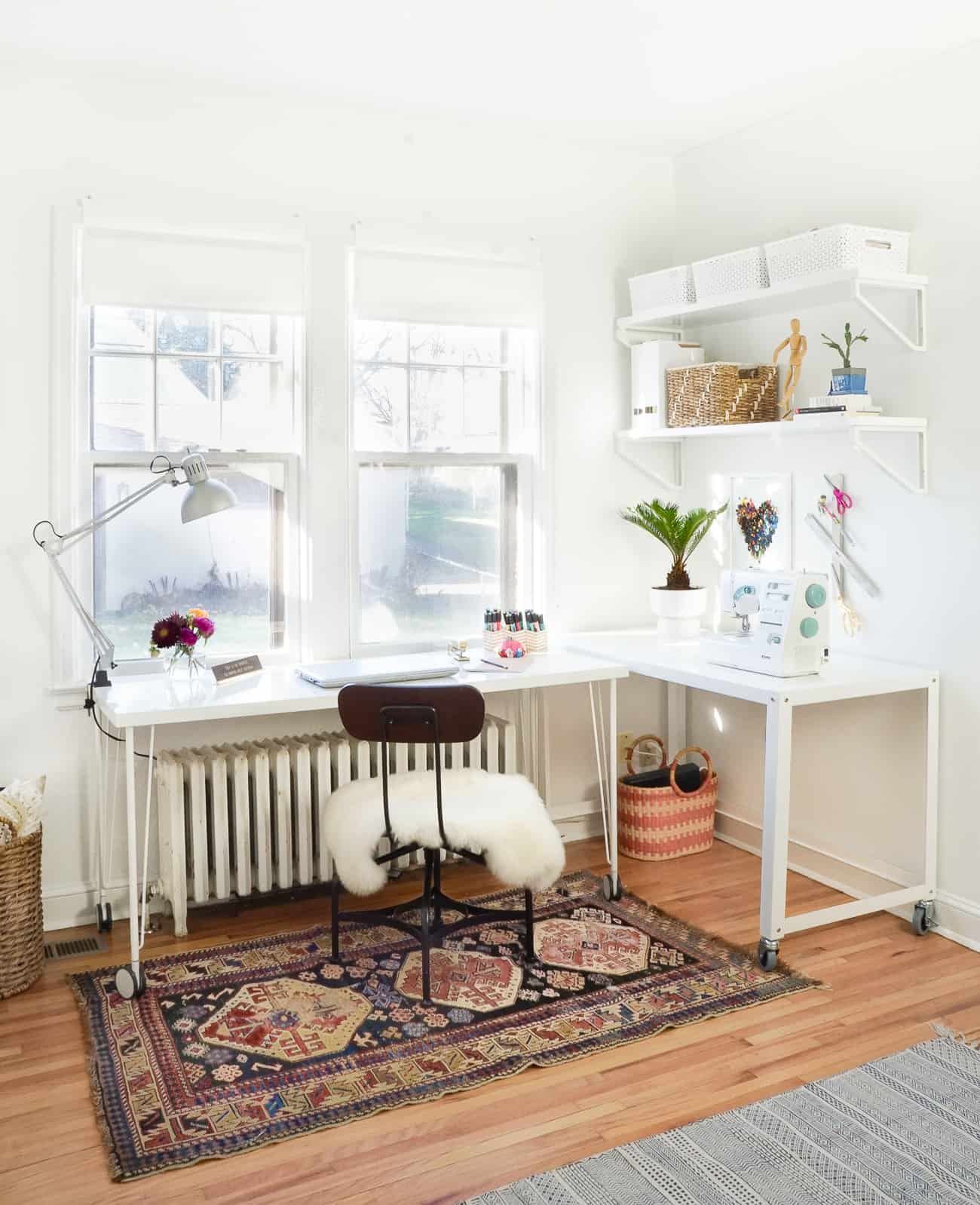 Even the "Choose Gratitude" banner and "Fear No Mess" sign seem perfectly intentional here. More warmth and texture comes into play with the woven basket full of pillows.
The bathroom is no exception – simple, classic, minimal, warm.
This compact bedroom space does not lack in character either. The cute built-ins and bed nook are the perfect use of space and the minimal decor make the room as lovely as the rest.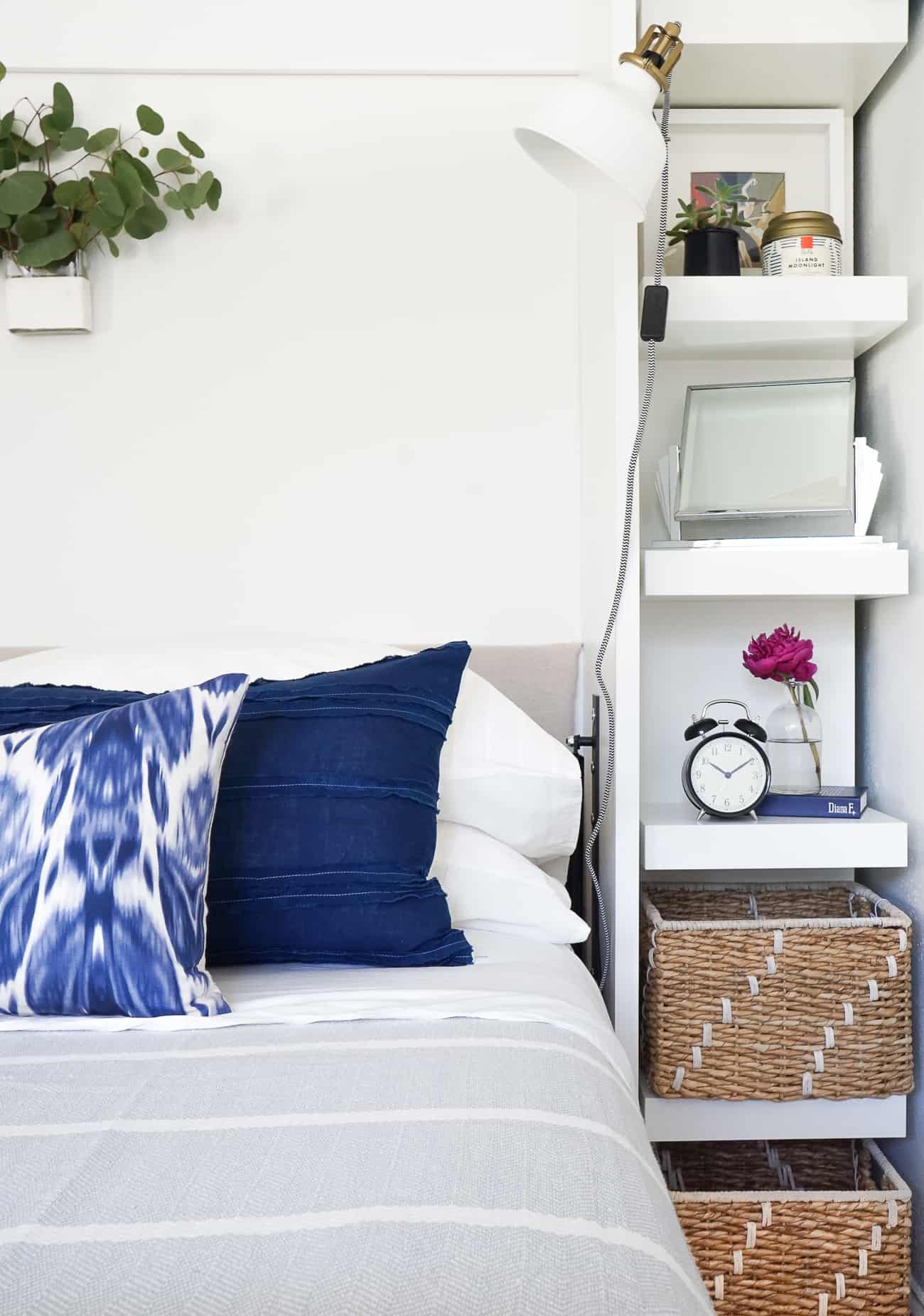 What do you guys think?!?! If this doesn't inspire you to declutter and paint some walls white I don't know what will.
Make sure to check out Erin's blog and Instagram for lots of DIY's as well as before and afters of their renovation. There's a sneak peek of her brand new nursery up right now too so go check it out. It's adorable!
Cheers!